Looking for best remote SEO jobs? Here's the best place to start your search – read about top companies hiring, skills needed, salaries.
SEO or Search Engine Optimization is significant in the online and digital marketing world. It is the mechanism by which you enrich your article or web content to be easily accessible by a search engine.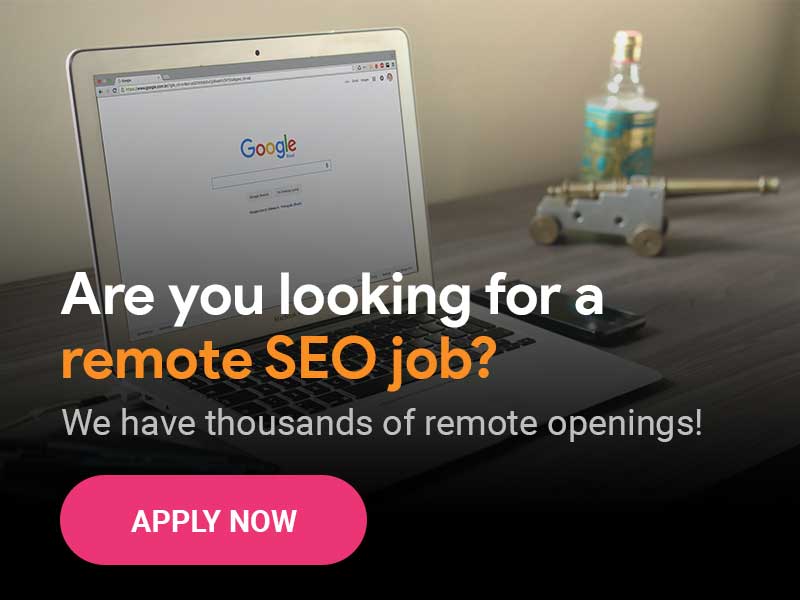 It can be Google, Bing, or Yahoo. Optimizing the websites assists in drawing traffic and visitors. You need special skills for creating SEO optimized content. Online businesses, websites and even Corporates hire SEO specialists for developing web content that is search friendly. The ultimate result is a substantial increase in the number of remote SEO jobs and roles.
SEO tasks can be easily undertaken remotely from your home or a co-working space. The activities are mainly done on laptops or desktops on a webpage. Individuals can work separately in their workspace and complete the assignments. Therefore the companies are specifically preferring to hire for remote SEO jobs in full time, part-time or even on a contract basis.
How to work from home successfully?
In this article, we will study in detail the various aspects of remote SEO jobs. First and foremost we need to know what is SEO job? And the skills required for SEO remote jobs. Secondly, we need to be aware of the duties and responsibilities of telecommute SEO jobs.
Thirdly remote professionals require certain mandatory qualifications for aspiring in SEO career. This information will help you to gear up before applying for remote or work from home SEO jobs. Additionally, the article will mention the key SEO job interview questions to assist you for the hiring process.
Also Read: Remote graphic design jobs | An ultimate read for best results
What are remote SEO jobs?
A job of an SEO specialist is to create websites that are easily tapped by search engines. The search engines essentially pick up the websites and display them to the readers as per the ranking.
SEO specialists need to analyze and review the websites, ensuring they rank high in the search engines' priority list. They leverage certain tools and algorithm to create SEO optimized content. Writing appropriate keywords and maintaining the keyword density are the critical SEO weapons.
Remote SEO content writer jobs demand awareness of the SEO techniques and tools and their implementation. Understanding the behavior and logic by which search engines rank the websites are also important for qualifying in the SEO remote jobs.
Important Tips: Google keyword planner tool is an efficient application for searching keywords. You can research and analyze keyword usage for particular website content.
Also Read: Remote customer service jobs | A priceless list of tips to succeed
Market opportunity for remote SEO jobs
According to job portals, the number of job listing for search engine optimizer jobs have quadrupled in the last five years. There are over 47500 job openings matching the keyword SEO. SEO jobs grew 6x faster than the US job market in 2019. Looking at profiles on LinkedIn shows
53% growth in the mid-West
8% growth in Northwest
1% growth in West
San Diego has the maximum number of SEO professionals, the SEO job density is 47%. Charleston is the best city for SEO professionals to get a SEO job. The most popular SEO job titles are,
Senior SEO Manager
Head of SEO
SEO Content Writer
Also Read: Remote sales jobs | A comprehensive guide for beginners
Job titles and career paths under remote SEO jobs
Search engine optimizer jobs have become exciting and challenging. Most freelance SEO professionals have had a career in marketing. We have listed some top jobs for SEO work from home jobs,
1. Search Engine Marketer
Search engine optimization and search engine marketing are often seen as a single entity, but in practice are very different. SEM is a much broader field that uses SEO principles.
2. Business marketing consultant
Some remote SEO specialist can diversify into public speaking, professional marketing or business consultants. You need to have your own businesses or have demonstrated success while you were working for someone else. You will help clients improve their SEO ranking by marketing and strategic planning.
3. Digital Marketer
Digital marketing allows you to expand on your present skill set. Besides SEO a digital Marketer also handles SEM, PPC, and Social Media. A digital marketer helps to implement marketing strategies, use SEO during content planning, utilize Social media in SEO strategy. They use various tools to drive-up traffic.
4. Marketing Analyst
Marketing analyst uses numbers to track the performance of the website and look for new opportunities to improve the ranking. They generate reports and make forecasts based on the reports.
5. Content Marketer
A content marketer is an ideal profession for SEO freelance professionals who prefer writing more than dealing with numbers. They work with creating content for blogs, the content of websites, video content, graphics, reports, and so on.
6. SEO Manager
Large organizations have a team of analysts, data managers, SEO marketers, content writers, etc. The SEO Manager manages the team and oversees the working of the team. As an SEO manager, you need to understand search engine optimization and search engine marketing.
7. Digital Entrepreneur
Many SEO professionals begin their own business like a Search Engine Optimization specialist.
Also Read: Remote writing jobs | Everything you must know
Qualification needed for remote SEO jobs
For pursuing SEO career, enlisted are the qualifications that you need to acquire before applying for remote SEO jobs or freelance SEO jobs,
A Bachelor's degree in IT, Communications, Marketing or Business

Two to three years of experience in online or digital marketing. The experience can be in conducting or executing SEO campaigns too

Knowledge on how to search keywords using tools like Google Keyword planner etc.

Well versed with the key content management platforms like WordPress etc.

Good understanding of Analytics tools and applications like Google Analytics, etc.

Fluent written and verbal communication capabilities

Awareness of algorithms and ranking logic used by the search engines

The capability of promoting websites for increasing customer base

Knowledge of programming languages like HTML, PHP, CSS, etc.
According to the eHow majority of search engine optimization jobs require the following qualifications,
Bachelor's degree in business, marketing, communications, or information technology
One to three years of online marketing experience
Knowledge of HTML, CSS, and other programming languages
The best universities for bachelor's degree in business are,
The University of Pennsylvania.
Massachusetts Institute of Technology
University of California, Berkeley.
University of Michigan, Ann Arbor
New York University.
If you want to become an entrepreneur or consultant additional qualifications will help. The best universities for a masters degree in digital marketing are,
University of Southern California
Santa Clara University
University of Connecticut
Rochester Institute of Technology
Even after graduation, it is important to remain abreast of the developments in SEO. You should attend conferences and workshops, webinars, and read blogs.
Tip: Online webinars, conferences, workshops, training programs, and courses on SEO are available in abundance. Check and attend to them to increase your competency and knowledge level.
Also Read: Remote medical coding jobs | A complete guide
Skills required for Remote SEO Jobs
Let us now discuss the key skills that you need to acquire before applying for remote and work from home SEO jobs,
1. Research Mindset
Mastering the research techniques and methods are the most important skills for remote and telecommute SEO jobs. You need to understand how the searching algorithms work. Based on the concept behind the algorithms, you have to design the website content accordingly. The keywords need to be researched based on the type of domain or industry of focus.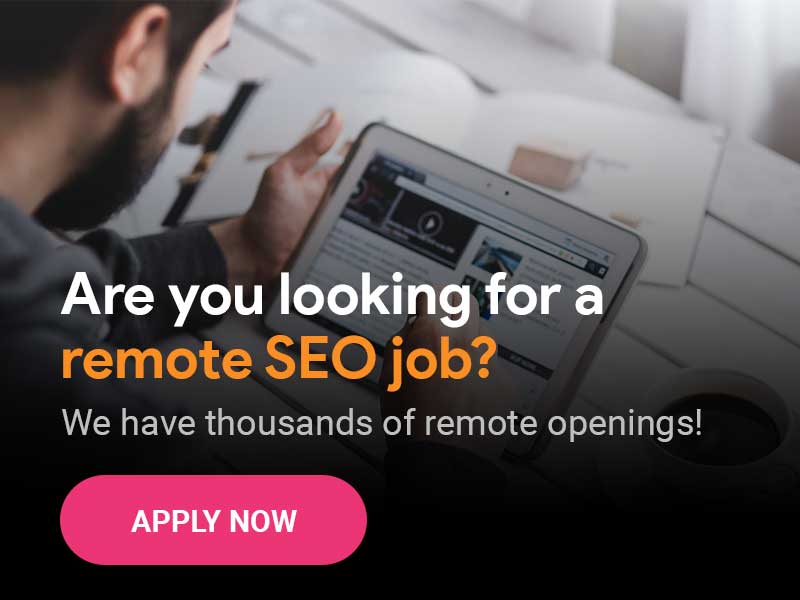 The more you are versed in this area, the more you can rank the websites higher. Once the search engines can track your website easily, traffic will increase automatically. The success and revenue earnings of a website depend majorly on the viewers and readers.
Remote Research Jobs | Research From Home
Important Tips: Search logic is often modified. You need to continuously scan the internet to understand the changes in the algorithm and apply the same in the website content.
2. Analytical Mindset
Analytics assist in determining the traffic insights for a website. You can track the site users based on country, location, date, month, etc. It also helps to understand the number of pages accessed by the visitors of the website. You have to understand how the analytics work and utilize SEO techniques in reading the data captured.
Without appropriate knowledge of analytics, SEO specialists will not be able to determine the success or failure of the websites. Any changes made for SEO optimization will be measured by the analytics tool. It essentially helps in determining the correctness of SEO implementation.
Did you know? Google Analytics is the most common tool used by almost all online businesses and websites. Hence while hiring for remote SEO jobs, they would prefer professionals knowledgeable on analytics and their usage.
3. Understand the basics of Web design and coding
An SEO specialist must be fairly aware of the basics of web design and coding. Though their main job is to promote the websites based on optimization tools and techniques. Yet they must be aware of the tags used in the web content or the articles.
Additionally, they must be aware of the themes used for the websites and the functionalities that have been modified. If required, they must collaborate with the web designers and coders to be acquainted with the functionalities handled in the websites.
Tip: Keyword usage is an art that you need to acquire smartly with experience. Remember, keywords majorly contribute exposure of the website to a large number of readers.
4. Fluent written and verbal Communications Skills
Optimizing web content demands excellent control on written communication and language. Researching on keywords and leveraging them in the web content mandate knowledge of grammar and vocabulary skills.
You will not be able to edit or review a content unless you are proficient in language and communication skills. Companies hiring for remote SEO jobs will specifically enquire on these qualifications. Besides, remote SEO specialists need to constantly interact with writers or customers for delivering the right SEO optimized content.
Verbal communication is important for conveying your messages clearly and concisely. Working in remote SEO jobs necessitates explaining each progress of your assignments through daily calls. Additionally, you need to interact with the team and your manager on any risks or issues faced.
Tip: Online courses and training programs are available for increasing the vocabulary power. You can avail those to enhance your language skills and even communication too.
6. Knowledge of Remote Audio and Video Conferencing Tools
Along with adopting mastery in SEO tools and techniques, you need to gain expertise in remote audio and video conferencing tools. The reason being the need for constant collaboration and interaction with customers, teams, and managers. You need to attend daily calls and share your progress.
Without knowledge on how to utilize the conferencing tools, you may fail to communicate effectively with the key stakeholders. You may also miss some important meetings or conversations.
The other essential aspect is, your communication devices and applications must be updated and function properly. Else it may create unnecessary disruptions and dissatisfaction within your peers, customers, and supervisors.
Tip: Connect with experts or peers in understanding the best tools or applications for communication. There are several online articles or blogs which pen down popular and reliable conferencing systems. You must review them and install on your laptop or desktop.
7. Interpersonal Relation
Working in remote SEO jobs reduces the chances of face to face interactions and communication with your team and customers. You may not able to judge the facial expressions many times of the person with whom you are speaking.
As such, your effort must be to remain polite in your conversations. You need to constantly speak to maintain healthy interpersonal relationships with all the stakeholders. Enquiring about their health and their hobbies or interests are some of the key ways to increase bonding and trust.
Never miss the deadlines for your assignments. Always inform customers or the management on any risks and issues beforehand. Apologize for your mistakes and ensure rectification immediately. Do not hesitate in consulting experts within the company.
Focus on continual learning on new SEO trends and techniques. Always ensure to build a relationship of trust and confidence with customers and company leadership. These are the keys to success in remote and freelance SEO jobs.
Remember: Never ignore in adopting the latest developments and trends of the search engines especially Google. You may lag in ranking due to negligence.
Also Read: Remote marketing jobs | Know before you start
Certifications to get remote SEO jobs
The search engine optimization jobs market is very competitive. Certification can help improve your skills and give you an edge when you look for jobs in SEO. We have listed the best certification to get for remote SEO jobs,
HubSpot Inbound Marketing Course – HubSpot makes inbound marketing and sales software tools that help companies increase visitors and convert them into leads. The course will teach you about inbound techniques. The course is perfect for candidates looking for SEO entry level jobs to improve their skills and concepts.
SEMRush Academy is meant for people wanting to start learning Content Marketing and SEO Fundamentals.
Yoast Academy Certification – Yoast products include one of the most widely used WordPress SEO Plugins.
ClickMinded SEO Training – The course is a paid course and helps non-technical people learn the basics of SEO.
Advanced Search Engine Optimization (SEO) Certification training – The course is offered by Market Motive, an internet marketing training company. The course teaches ways to improve organic traffic to a website. The course is meant for professionals with intermediate experience.
Search Engine Optimization Specialization – This course is offered by the University of California in partnership with Coursera. The course covers basic and advanced concepts.
SEO 2020: Complete SEO Training – This course is offered by Udemy.
Remember: It is always good to obtain specialization certifications in SEO. They help to understand the various methods and techniques of SEO optimization.
Also Read: Remote cyber security jobs | A how-to guide for beginners
Duties and Responsibilities of Remote SEO Jobs
Writing content for websites like articles, blogs, advertising campaigns, and promotions on social media platforms. The content needs to be SEO optimized for driving traffic and potential readers

Research and identify keywords for usage in the web content. The keywords must enable traffic and rank the websites higher in search engine prioritization. 

Understand the concept of backlinks and apply the strategies for blog promotion 

Well versed in the black hat and white hat SEO strategies and execute as per the need

Analyze and review areas of improvement in the websites for better traffic and readers

Review the reports created by the Analytics tool. Understand the impact of SEO strategies on analytics and seek improvements

Advice on strict adherence to SEO guidelines. Ensure proper compliance and provide suggestions to the company's management

Monitor the performance measurement metrics daily to understand both the positive and negative effects of SEO strategies
Also Read: Remote project manager jobs | An ultimate read for best results
Top 10 tools needed for remote SEO jobs
Whether you are looking for SEO remote jobs, or entry-level SEO jobs, or freelance SEO jobs, or SEO jobs from home you need certain tools to be able to work efficiently. We listed some of the top tools required for SEO jobs remote are,
Google PageSpeed Insight – The Google PageSpeed Insight checks the speed and usability of a website on multiple devices such as desktop and mobile. It also helps to identify opportunities to improve the website.
Moz Local Listing Score – Moz crunches data from different sources such as Google, Yelp, and Facebook to help you check how a business looks online. The results help you to fix incomplete or inconsistent listings.
Keywordtool – Keywordtool lets you enter a keyword provides long-tail keyword opportunities and commonly asked questions.
Google Analytics – Google Analytics is a must-have tool for doing SEO work from home jobs. The tool tracks traffic that comes to any website and provides keyword insight.
Google Search Console + Bing Webmaster Tool – Collectively these tools provide you comprehensive information on what the two search engines (Google + Bing) think of your website.
ahref SEO Keyword Tool – Ahref is an excellent tool for remote SEO professionals it is one of the largest SEO crawlers in the market. The tools highlight the parts of the website that need improvement.
afref Backlink Checker – Afref backlink checker is one of the best resources to show the top backlinks to any website.
SEMRush – SEMRush tool is a popular tool used by SEO professionals. The tool let you know the SEO ranking of any website, identify changes, and provide ways to improve ranking.
Moz Link Explorer – The Moz Link Explorer provides a complete link analysis and provides the most impactful links and the most linked-to pages.
Google Keyword Planner – The Google keyword planner is an extremely powerful tool. You can enter a keyword into the tool, and you can view useful statistics to plan your keyword strategy. You can view the monthly search volume, the performance of other websites using the same keyword. The planner provides alternative keywords you may not have considered.
Also Read: Remote accounting jobs | A priceless list of tips to succeed
Top 25 dream companies for remote SEO jobs
Some of the best companies to find SEO freelance jobs or SEO online jobs are,
GitHub is a subsidiary of Microsoft and is an open-source community.
Welocalize offers translation services that provide e-learning content.
Wikimedia Foundation is a nonprofit organization providing multi-lingual content.
Toptal is a marketplace for freelancers. You can find freelance SEO work
Zapier is a web-application automation platform.
Elastic is a search company that helps companies to leverage the power search.
Percona is a computer software company that helps to streamline open source.
Coalition Technology is a web design and digital marketing agency.
Achieve Test Prep is an academic support organization.
Ulatus is the "translation arm" of Crimson Interactive.
Day Translations provides translation services aim to breakdown cultural barriers.
Fastly is an internet company that helps to optimize the customer experience.
Mattermost is a messaging software provider.
Protocol Labs is a software company that creates systems and tools to improve user experience.
5CA is a customer experience tech company that helps companies provide customer services.
Modern Tribe is a digital agency and lifestyle company.
Study is an educational portal.
Trafilea is a marketing and advertising company.
Achieve Test Prep is an academic support organization.
Pandemic Professor is an academic website.
Benziga Pro is financial news and research platform.
Invoto is an award winning app design and development company.
Webstaurant Store is an online restaurant supply company.
Wangard Partners Inc is a real estate company.
eWide Technology Solutions offers a range of software services.
Also Read: Remote web developer jobs | A comprehensive guide for beginners
Websites offering opportunities for Remote SEO Jobs 
Online and digital marketing SEO remote jobs are now gaining substantial popularity. SEO optimization is an essential weapon for achieving website traffic and readers. Hence companies are focusing adequate attention on enhancing the SEO techniques and methods.
All major job websites hence are posting ample opportunities, offering multiple modes of employment for SEO professionals. There are full time, part-time, and contract remote writing, managerial, and technical SEO jobs available in abundance.
If you are earnestly seeking a search engine optimization job, then you must register in the key job websites. You can create a profile and upload your resume. This will enable potential employers to search for your profile and consider recruitment.
Alternatively, you can search for jobs based on location, type of employment, salary, or companies. Top Job boards for SEO jobs are below,
Indeed

Linkedin

Nodesk.co

Glassdoor

Zip Recruiter

Jooble

FlexJobs

Remoters

Remote Ok

Working Nomads

Remotive 

Just Remote

Angel List

Upwork
Tip: While searching for search engine optimization job roles, it is advisable to review them thoroughly. It is better to consult experts and discuss in forums before applying for remote SEO jobs.
Also Read: Remote data analyst jobs | Everything you must know
Top resume elements of remote SEO jobs
When you are applying SEO positions for any search engine optimization job or online SEO jobs from home, it is important to customize your resume to make sure it gets noticed. A good resume should start with a resume summary or objectives.
You write the resume objectives when you looking for entry-level remote SEO jobs. Experienced candidates should write a summary. Experienced candidates should describe their experience in reverse chronological order.
Describe your work duties for each post using bullet points remember to restrict work description to 5 bullet points. Incorporate actionable words or verbs in your resume.
Utilize keywords mentioned in the job ad in your resume. Mention key achievements in a sub-section. The education section should mention your degree, University or college name, and year of graduation. Here are some remote elements that should be part of your resume,
| | |
| --- | --- |
| Soft Skills | Technical Skills |
| Ability to work independently and as part of a team | On-page/Off-page SEO |
| Detailed Oriented | Keyword Research |
| Creative | Competitors research |
| Critical and analytical thinking | Link Building |
| Problem Solving | PPC (Google Adword) |
| Time Management and ability to meet deadlines | Google Analytics |
| Train new recruits | Google Search Console |
| Enthusiastic | Google Tag Manager |
| Self-motivated | Google My Business |
| Self-learning | Google Drive |
| Empathy | HubSpot |
| | SEO Tools (Moz, SEMRush, Ahrefs, Keyword planner, Majestic SEO) |
| | Content Management Tools (WordPress, Magento) |
| | Social Media Marketing |
| | CRO |
| | HTML |
| | CSS |
| | Javascript |
| | Structured Data |
| | Content Writing |
| | UX Skills |
| | A/B Testing |
Also Read: Remote recruiter jobs | A complete guide
How much do remote SEO jobs freelancers make?
A very important question as much of your passion and dedication will depend on the remunerations offered by remote SEO jobs. There are various SEO roles offered by online businesses and websites. Depending on the roles and responsibilities the salaries differ.
Typically to answer the question of how much do SEO freelancers make, it is approximately between USD 45,000 to USD 85,000 annually. This range is for conducting keyword research, link building, creating web content, and content optimization.
Companies hiring for remote SEO content writer jobs preferably offer salaries within the range of USD 35,000 to USD 100,000. The salaries for a Campaign manager, SEO team manager, and SEO Director are typically high.
The range starts from USD 50,000 and reaches almost USD 120,000. SEO salaries depend on your experience, skill sets, and location. The salary ranges from $56,183 to $80,637/year. The average SEO salary for a based SEO professional is $60,548/ year.
Salaries range from $36,000/year to $69,000/year. The average salaries for SEO Specialists are approximately $53,000/year or $13/hour. Companies based in California, Connecticut, New York, and New Jersey pay SEO professionals more than SEO candidates from other states.
The average salary in these states is $72,600/year. SEO specialists from Utah, Pennsylvania, and Illinois get paid a mean salary of $48,700/year.  
Also Read: Remote legal jobs | Know before you start
Entry level remote SEO jobs
Now you have begun to look for work from home SEO entry-level jobs or entry level SEO remote work. Here are some tips that can help,
Start building your SEO skills, know different components that make the SEO processes.

Learn some basic development skills and build-up your analytical skill.

Learn to use various SEO tools.

Google Ad Certificate is a useful certification to improve your job prospects.

Start looking for SEO jobs near me.
Look for small freelance projects to build your skills.
Before you apply for any position, customize your resume suitably.
Prepare well for your interview and skill test.
Fact: Normally the salaries vary on certain key factors – experience, geographical region, educational qualifications, and industry domain knowledge.
Also Read: Remote social media jobs | A how-to guide for beginners
What are the typical remote SEO Jobs Interview questions?
To confidently answer the question, you must be aware of the basic methods for determining success. Companies hiring for remote SEO jobs will like to hear about each of the measuring elements distinctly in your conversation. The parameters which you must highlight are,
Increase in traffic to the website or a particular post on the website

Growth in the number of followers, subscriptions to the website

Increase in signups for newsletters or emails

Increase in the count of inbound links

Driving organic traffic through the proper usage of keywords
1. From where did you learn about SEO?
A tricky question, but a common one asked by companies seeking professionals for remote SEO Jobs. Your answer will prove your awareness and confidence in SEO techniques. You can mention your previous job experiences as part of your answer.
If you have undertaken any course or attended any online sessions on SEO, you can mention it as well. Besides, if you own a website then you can talk about your experience of writing articles by following SEO Apps like Yoast SEO etc.
2. Which are the most common and popular SEO tools?
You must be well versed with the SEO tools and applications like Yoast SEO etc. There are key parameters by which SEO scoring is done on each web content. Awareness of each of the parameters is essential. Also, you must be able to answer how each of the parameters needs to be leveraged while writing the web content.
3. Define backlinks and how are they beneficial?
Websites or pages in a website can be referred from a third party or external source. This is referred to as backlink and influences SEO substantially.
4. How do you research keywords and what tools have used?
While answering the question, you need to focus on the rules used for keyword research. You must mention the check on competitiveness, volume, industry etc. If you have used Google Keyword planner, then it is advisable to demonstrate a practical example.
There can be additional questions on link building, page speed, meta tags, do follow and no follow links as well.
Also Read: Remote education jobs | An ultimate read for best results
Is SEO a good career?
Yes, SEO is still a good career option that merges science and art. It is an interesting career and there are always changes and modifications in the field. If you want to progress it is important to stay ahead of the curve and continue learning.
SEO should not be you're only skill-set. Today it has merged into the overall marketing process and is part of an organization's marketing strategy. As a remote worker, you can set your hours and have clients from different parts of the world.
Does SEO pay well?
The average salary of an SEO professional is $60,548 a year. SEOs who know how to use code get paid more 3 to 7% higher salary.
How can I do SEO at home?
There are several works from home SEO jobs posting on the internet. SEO jobs online career can be fulfilling. Here are some tips,
Gauge the understanding of your SEO expertise – you need to understand your skill level.
You need to ensure you have the proper equipment – tools, software, laptop, and internet connection.
You will need to get a website and list your services.
Start bidding for freelance projects.
Will SEO exist in 5 years?
Yes, SEO will exist after 5 years. Experts believe there will be some changes,
Social media and search engines will merge – Today internet users use social media websites to look for more information. Right now social media websites usually send you to an external website to view content, it is expected to be merged in the future. SEO will be adapted in the future.
Search engines will become competitive – The race to appear on the first page of the search engine has become competitive. SEO professionals will have to ensure that a website looks appealing and has relevant information. SEO remote expert will need to keep themselves updated with the latest practices
Does SEO require coding?
Freelance SEO work does not require coding, but understanding how the internet, search engines, and websites work and how they are all interconnected and how they combine. An SEO should know the basics following,
How the internet works that includes fundamentals of TCP/IP, HTTP/HTTPS, DNS, etc.
How search engine works – entities, web-crawler, sitemaps, XML, search algorithms, search-index, etc.
How website works – HTML, JavaScript, PHP, etc.
Understanding the processes will give you a much deeper understanding of how SEO works and help you do your job effectively.
Is SEO Dead 2020?
No SEO is not dead in 2020, SEO jobs are here to stay. According to statistics released by Google 40,000 search queries are made per second. 62.19 billion users visit the website for different queries.
As Google search techniques have become more refined with images, maps provide users with more focused results. SEO techniques help customers get more focused results. SEO will continue to survive as long as the internet survives.
Also Read: Remote interview guide | Everything you must know
Summarizing on online and digital marketing SEO remote jobs, we need to focus on seven key concepts. Analyzing the website and researching keywords are the first and foremost strategies to be adopted by SEO specialists.
Decoding the search engine algorithms and understanding web analytics are the next critical activities of remote technical SEO jobs. Last but not least are programming skills and customer management.
Hope the article has provided valuable insights on remote SEO jobs and the perquisites before applying for the SEO roles.