Are you a researcher? Passionate about remote research jobs? Here are the next steps for you to build an awesome career in research – read on!
A big boost from the latest global coronavirus pandemic reached the work from home job community. But, even before COVID-19 became a factor, more and more people had said goodbye to their arduous work commute.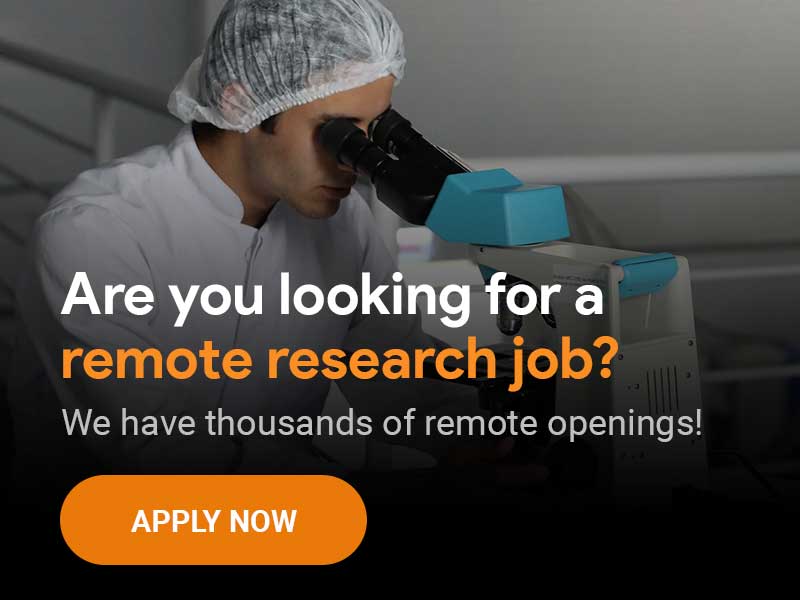 Thanks to the ever-evolving technology such as Skype, UnRemot, Slack, Zoom, Google Hangouts, authenticator applications, and cloud storage, text, and email, it is no longer a necessity to be a successful team member by sitting in an office full-time.
In fact, from a home office, several kinds of work can be done just as effectively, if not more so. Research is a very popular field in remote work. If you are looking to find the best remote research jobs, you have come to the right place!
How to work from home successfully?
What are remote research jobs?
Roles of remote research jobs can be found in academia, activism, and policy development, in foreign or environmental organizations, as well as in financial services, business, social science, and the list goes on. An ability to use research methods, plan research activities, perform research, interpret results, write and present reports is what underpins the work.
Your outputs could shape policy decisions or assess existing policies. The prospects for remote online research jobs,
Full-time – If you want full-time remote online research jobs, you will be required to work for only one research firm every working day. 
Part-time – if you want online research jobs on a part-time basis, you will be required to work for only a few hours. With this choice, you can carry out freelance research. 
Contracts – You will be required to serve a research study in contract online research jobs for a limited period as specified in the contract.
Remote Clinical Research Jobs | How To Find Clinical Research Jobs
Market opportunity for remote research jobs
The market opportunity for remote research jobs is quite high. In a rapidly progressing industry, remote research jobs are potentially on the high rise. Professionals are bound to experience rapid growth in their career in sync with market demands and potential.
As per the US Bureau of Labor Statistics, remote researcher jobs are expected to rise at a remarkable rate of 18% between the years 2019 and 2029. With more and more industries relying on the data and their extensive research for the betterment and strong market presence, the demand for remote market research jobs is bound to exponentiate.
The number of employees working as a remote researcher will jump over to 130,300 by 2029, as predicted by BLS. The researchers are expected to obtain an average salary of approximately USD 64K in a year. Compared to the other occupations, the rate of growth is substantially high.
However, individuals holding a Master's degree in marketing, market research, statistics, or business administration, are likely to earn more than the rest. Besides, remote professionals with a strong knowledge of statistical analysis involving Big Data, Machine learning, AI, will have multiple job openings in the future.
The sole reason being companies are relying heavily on market research, analysis, and strategies developed to understand the market demand and customer behavior.
Also Read: Meeting Minutes: What is it & how to write it effectively (step by step)
Job titles and career paths under remote research jobs
1. Remote clinical research jobs
You will need to conduct clinical trials to test drugs for their performance, risks, and benefits to make sure that they are safe to be allowed market entry. This job will need you to work on new and existing medicines with remote clinical research jobs, and will typically be hired either by a pharmaceutical company or a Contract Research Organisation (CRO), which operates on behalf of pharmaceutical companies.
You will usually be involved in all stages of the clinical trial, including identifying and setting up an investigational site, initiating, monitoring, and closing the trial. Clinical trials may be performed in different stages or phases, including trials on healthy individuals, trials on diseased patients, and research undertaken after a new medication has been released to track safety and side effects.
2. Remote market research jobs 
You will need to devise, evaluate data collection methods, and implement research methods like surveys, questionnaires, interviews, focus groups, and opinion polls. Further, you will also need to gather and turn complex data and observations into actionable items, reports, and presentations that can be rendered understandable.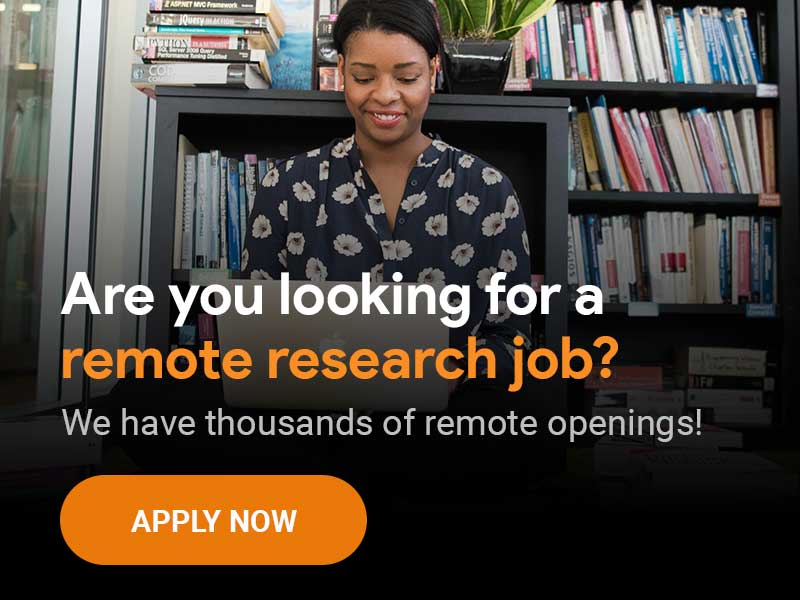 You will be responsible for analyzing data with remote market research jobs, formulating reports, and making suggestions based on research results to identify developments and forecast patterns in marketing and communications.
3. Remote social research jobs
When you are a social researcher, you will use a number of approaches such as interviews, survey questionnaires, and focus groups to examine population sample perceptions, habits, and perspectives on particular issues. Your research could focus on topics mentioned below,
Advantages system 

Delinquency 

Education  

Environment  

Gender  

Healthcare   

Population and migration 

Poverty  

Social services 

Transportation 

Unemployment  
To influence policy decisions, you will collect, analyze, and evaluate data and information, and present your findings to clients and key stakeholders.
4. Remote operations research jobs 
Remote operations research jobs involve recognition of the flaws of market models and transactions. Operation researchers perform analysis, analyze workflows, and propose improvements to business procedures. These analysts work to make sure that companies comply with standards and regulations.
They seek to increase the efficiency and revenue-making processes of a company. Remote operations researchers carry out internal audits. They coordinate with each department, meet with executives, and evaluate their work processes.
Next, they suggest changes where there are deficiencies and prepare reports for managers of executives and operations. These researchers are inclined mathematically as, graphs, statistics, and numerical data must be developed, generated, and reviewed.
5. Remote UX research jobs
If you have good analytical skills and are interested in psychology, research, and coding, remote UX research jobs might fit you well. Your role as a UX researcher will be to provide a website's users with the best possible experience by making the website as easy to use as possible.
You should also look at the content of websites and consider design elements such as colors and pictures, as well as study user behavior and preference. You will be given a more technical IT role with some businesses. UX researcher roles cross over with UX analyst roles, UX designer roles, and UX architect roles and you may be known by any of these job titles.
Tip: To excel in your remote research jobs, you must learn to take some initiative because if you do only what you are told to do, your study will never get too far.
14 Best Productivity Tips to Achieve More At Work & Life
Requirements for remote research jobs 
1. Education
Remote researchers are typically expected to have at least a bachelor's degree in the study area in which the research is based. Coursework varies greatly according to the field. 
2. Work experience
Prior work experience is not always necessary to be a remote researcher, but prior experience working in a laboratory, even during school, is often essential for scientific research
3. Home office space
When it comes to being a successful remote researcher, a good workspace is required. If you set up a customized remote home office as a foundation for your new remote job, everything else will fall into place. In addition to having all the right technological tools in place, consider what kind of space will provide an environment for you to do your best work.
4. Schedule 
Set up a specific schedule for each day. Wake up and get dressed. It sounds basic, but when you first find yourself working from home, these foundational steps may seem easy to miss. Build and stick to a schedule for your workday as best you can, barring any unexpected crises or valid reasons that may pop up and make you break away from your expected schedule.
5. Distraction-minimization
When you are working from home, getting distracted by whatever shiny bauble catches your attention and keeps you away from doing your remote research jobs can be all too easy. Whether it is the playground on social media or just sneaking in one episode of your latest binge-watching indulgence, dealing with distractions should be a top priority. You can set guidelines and commit to a self-disciplined strategy that removes the need for being micromanaged by your new remote supervisors.
6. Work-life balance
Do your family members have a firm grasp of what your remote research jobs mean to you? If they see you sitting at the computer, they may think you are just kicking back and browsing the web. From the beginning, you will need to set strict limits and work from home guidelines to let your loved ones know that you are really immersed in work for a specified set of hours and not just relaxing on the computer.
Tip: Share your research knowledge and findings in developing countries to make immense personal and professional progress that will result from engaging with different perspectives. 
Also Read: How to achieve & maintain Work-life balance
Qualification needed for remote research jobs
A Bachelor's degree in statistics, marketing, maths, social science, communications, market research, or business administration is the minimum qualification needed for remote research jobs. If you are looking for a leadership position in a remote research job, then it is best to obtain a Master's Degree in market research or similar related subjects.
To build up competency in the respective fields of job research, it is also recommended to attend additional learning courses. These courses benefits in upskilling on research methods, statistical techniques for research and analysis, and marketing.
The top colleges and universities in the US that provides courses to qualify for jobs in market research companies are elaborated below,
The University of Wisconsin, offering courses for research methods, consumer behavior, experimental design, and so forth.
The University of Georgia, one of the best colleges in the US, providing an 11 months Master of Research program
Carthage College in Kenosha, WI where the undergraduates can select research as their major subject
DePaul University in Chicago, IL, provides a Master of Science degree in research Analysis
Hofstra University in Hempstead, NY, provides a Bachelor's Degree in Business Administration and a Master of Science degree in Marketing research and analysis
Michigan State University in East Lansing, MI, conducts a Master of Science in Research program
Temple University in Philadelphia, PA, offers the students the program on Master of Science degree in Research
The University of Nebraska in Lincoln, NE, provides a Master of Science degree in the Research program
The University of Texas in Arlington, TX, has a research center for conducting research and analysis
The University of New Haven in CT provides market research learning programs and courses
Related: Remote clinical data management jobs | Manage clinical data remotely
Skills needed for remote research jobs 
Research skills are the ability to find an answer to a question or a solution to it. Research skills include collecting information about your subject, evaluating the information, and analyzing and interpreting the information in a way the takes you to a solution.
For employees in remote research jobs, research skills are critical. Some of the most required remote research skills are mentioned below.
1. Analytical skills
Remote research assistant jobs often involve compilation and analysis of data, maintenance, and updating of existing databases. You may also have to perform reviews of the literature or field studies. These further include the below.
2. Communication skills
Often, in a meeting or presentation, you will have to explain the details of your research orally. You will even have to write a letter, email or article. Therefore, you cannot restrict your communication skills to either oral or written communication; both are essential. The kinds of communication skills are,
Improving the productivity of the group

Sensitivity to problems 

Active listening  

Filing  

Surveying 

Teambuilding 

Oral communication  

Written communication 

Presentation
3. Creativity 
Analysis of information often requires a creative eye to spot trends in the data that may not be found by others. As for problem-solving, imagination is also necessary. The easy path forward is not always the best one. Remote researchers with strong analytical skills are going to think outside of the box to find effective solutions to big problems. The sets of creative skills include, 
Accounting

Brainstorming 

Collaboration 

Upgrading 

Predictive modeling 

Problem-solving 

Restructuring  

Strategic innovation

Integration
4. Critical thinking
Having strong analytical skills requires critical thinking. Critical thinking refers to analyzing facts and then determining decisions based on the conclusions. Critical thinking is what helps employees of remote research assistant jobs make decisions that help the study solve problems. It can encompass,
System administration 

Continued progress 

Checks 

Benchmarking   

Big data analytics   

Research intelligence. 

Calculating 

Analyzing a scenario  

Causal relationships 

Classification 

Comparative Evaluation 

Computing   

Correlation  

Decision-making 

Deductive reasoning 

Inductive reasoning 

Diagnoses

Dissecting 

Testing 

Keeping records 

Interpretation of data 

Judgment   

Setting priorities 

Troubleshooting  

Watching out for details
5. Technical skills – Big Data Analysis
Remote researchers will need technical skills for the establishment and operation of lab instruments and equipment. This further includes the below. Every study depends on the data. Although data gathering is easy for researchers, they need workers who can collect, coordinate, and then analyze the data. The skills most respected by researchers in data processing include, 
Algorithms 

Analytical expertise 

Big data 

Calculating  

Statistics collection 

Analyzing data 

Mining data 

Server growth 

Management of databases 

Documenting 

Modeling  

Modification  

Analyzing needs 

Quantitative research 

Quantitative reports 

Statistical evaluation
6. Project management skills 
This may seem more of a soft skill than a hard skill, but project management is essential for all research projects. Being a good project manager means being an effective leader, delegating assignments, and measuring each project's success. Some of the project management skills include,
Benchmarking  

Fiscal preparation 

Engineering

Manufacturing 

Following specifications 

Operations 

Quality analysis 

Project planning 

Quality control   

Quality assurance 

Scheduling  

Delegation of operations  

Task management
7. Observation skills
You must be able to work extremely reliably, pay careful attention to detail, and maintain records of your work. 
8. Time management skills – Prioritization
It is crucial to be able to meet project deadlines when dealing with data and statistics and to manage your time to achieve your goals. You might not be able to do every minute task associated with research.
But, you have to give priority to complete the most important tasks in a meaningful order. When assigning priority, consider factors such as when each task needs to be completed, how long it might take, how important it could be to others in the study, what could happen if a task is not completed, and whether bottlenecks in the process might disrupt any task. Prioritizing includes, 
Allotment 

Expectations management 

Prevention of waste 

Prioritizing requests and demands 

HVAs (High-Value Activities) 

Performance feedback 

Target-setting
9. Time management skills – Delegation 
Knowing what and when to delegate is an important skill. Many people oppose delegating, either because they want to retain power or because they do not want to employ assistants to save money. In the end, all strategies harm productivity and increase costs. Delegation includes,
Seeking support from experts 

Moderating meetings  

Presentation  

Teambuilding 

Leadership

Collaboration 

Motivation
Tip: Once you know exactly what you want to do, build good networks with people who will help you achieve your research targets. This will launch your research with greater speed.
Cybersecurity During Work from home | A Security Checklist
Certifications to get remote research jobs
Do you want to scale high in the competition for remote jobs research? The key to its success is to obtain professional certifications provided by reputed universities and institutions. The top certifications to get remote research jobs are,
Professional Researcher Certification or PRC – Offered by the Marketing Research Association of USA, focusing on research methods and improving business insights
Certified Clinical Research Associate or CCRA – Conducted by the Association of Clinical Research Professionals, focusing on scientific concepts, data management, and research methods and techniques
Research Administrators Certification Council (RACC) – Offers 3 certificate programs. You require either a Bachelor's degree with 3 years of experience, an Associate's degree with 5 years of experience or 6 years of experience to be eligible for the certifications

Certified Research Administrator
Certified Pre-award Research Administrator
Certified Financial Research Administrator

Certified Research Analyst (CRA) – offered by the International Institute for Procurement and Market Research (IIPMR) of the USA for college students, graduates, and postgraduates
Certified Research Expert (CRE) – offered by the International Institute for Procurement and Market Research (IIPMR) of the USA for people with 1 year of experience
Certified Research Professional (CRP) – offered by the International Institute for Procurement and Market Research (IIPMR) of the USA for people with 3 years of experience
Certificate in Market and Social Research Practice – offered by MRS of the UK focusing on providing learning courses on research methods and designs
Read: Video conferencing etiquette: Best practices for video conferencing
Roles and responsibilities of remote research jobs
Before applying for research-based jobs, it is critical to understand the roles and responsibilities typically followed in all companies. Researchers play a vital role in analyzing the data, assisting companies in understanding the market trends and consumer behavior in various fields like social, marketing, clinical, and even in UX jobs. Let us now understand the roles and responsibilities of remote research jobs for your easy reference and guide,
Gather requisite data through interviews, surveys, a questionnaire from potential customers related to the field you are working on
Use various statistical tools and software to analyze and interpret the data
Convert the data collected into charts, graphs, and quantitative dashboards to understand the patterns
Present the reports to the company leadership and management
Analyze the competitors of the company, related to their products or services and their pros and cons
Assist in devising the best solution through efficient data analysis and effective data monitoring
Understand the latest trends of your domain or field of work and use them to improvise your research and analysis
Measure the performance of the research methods and techniques with the expected outcomes and objectives of the company
Help in creating documents, brochures, and user manuals for the end-users to promote the company's products and services Monitor and forecast marketing and sales trends
Suggest recommended prices of the solutions developed after the completion of the end to end research and analysis.
Also Read: Time Blocking: All you need to know about this powerful technique
Top 10 tools needed for remote research jobs
No matter in which research companies jobs you are involved in, usage of tools eases the tasks on hand to a considerable degree. You need to remember, research is not similar to any ordinary occupation. A significant amount of time and intellect drive excellence in remote research jobs. Hereby we are highlighting the top 10 tools needed for remote research jobs,
Google Scholar – A free online research tool, aiding fast track search of scholarly articles, publications, books, abstracts, and many more. You can create a public author page and start exploring the information from the Google database.
Scrivener – Provides templates to write long articles, extensively used by journalists, lawyers, students, novelists, researchers for their projects. It has both free and paid versions.
Trello – Essentially a project management tool, aiding researchers to keep track of their daily activities and tasks along with the progress of each.
Mendeley – An excellent software, connecting you with millions of researchers globally. It allows you to refer articles from over 5000 organizations thus assisting in completing your research articles.
Scanmarker – A scanning tool, allowing researchers to read paper-based or pdf documents and convert them into online texts. It even provides facilities to translate languages. Hence if you have recorded notes in paper or referring to some pages for your research, you can easily convert them online to refer to your article.
Grammarly – An online spelling, proofreading, and grammar check software, helping considerably in creating accurate research content
Endnote – A smart tool for researchers to search for references, creating bibliographies, and framing sentences. The content can be shared with fellow researchers for collaboration and discussion.
ContentMine – A text-mining tool provides facilities to search, download articles, and refer them in your research work.
ResearchGate – An efficient tool for referring similar articles and connecting fellow researchers through its brilliant network comprising of over 17 million users
Evernote – A single place to store your notes, to do work, reference links, brainstorming ideas, well organized for usage in your research notes and articles.
Also Read: Best Morning Routines | Wake Up And Slay
Top 20 dream companies for remote research jobs
More and more companies are offering research jobs remote and in a flexible mode of operations. There is no dearth of opportunities if you are opting to build up a career as a researcher. The top 20 dream companies for remote research jobs are mentioned for your easy reference,
RetailData, based out of Glen Allen in Virginia, is a business services company
Kelly Services provides workforce solutions to various companies and is located at Troy in Michigan
Robert Half International, established in 1948, is a staffing and consulting firm
PRA Health Services, situated at Raleigh in North Carolina, is a worldwide renowned global research firm
CACI International, founded in 1962, is an information technology services company at Virginia
Gartner, located at Stamford in Connecticut, is a world-famous advisory and technology research company
CoventBridge Group, located in Florida, provides investigation services to its customers
UnitedHealth Group, a pioneering health care services firm, located in Minnesota
Kforce, operating for more than 45 years as a staffing and recruiting firm at Florida
Dahl Consulting, another staffing and recruiting firm, located in Minnesota

Amgen – Clinical research

Pfizer – Clinical research

Haynes & Company – Market research

Mintel – Market research

United Nations Development Programme (UNDP) – Social research 

Protocol Labs – Social research 

Air Force Reserve – Operations research 

NBA – Operations research 

Discovery Communications – UX researcher 

Curology – UX researcher
Also Read: Best Home Office Set Up For Remote Work
Relevant resume elements for remote research jobs
It is very essential to have a good resume when applying to remote research jobs. The elements that need to go into your resume are,
Personal details

, including name, age, gender, nationality, and contact details. 

A 

professional summary

 highlighting your experience, skills, and candidacy. In two to four lines, list the most definitive features that are important to the online research job role you are applying for. 

List 

objectives

 so the recruiter knows what you expect from his or her research, and what your contribution will be.

Highlight the 

skills 

that you have that are important for remote research jobs. 

It is important to type out your 

educational qualifications

. 

You must include any additional 

certifications or training

. 

Mention all of your 

experiences

 with research along with their assigned responsibilities. 

Write down your research-pertinent 

achievements

. 

Please state your

 interests

. 

Give 

valid references

.
Did you know? Remote research is one of the remote working areas with the highest scope for growth and profits.
Best resume software | Give the finest first impression
Remote research jobs pay structures
The remote research jobs' pay structures are quite lucrative, demanding niche expertise and experience. As per the data analyzed by the US Bureau of Labor Statistics, the median salary of remote jobs research is approximately USD 64K in a year. It can rise as high as USD 123K for experienced and leadership roles in research.
For the entry level research jobs, the pay structure starts for more than USD 34K. The median pay is a bit higher for medical researcher jobs remote, being almost USD 88K which is near to USD 42 in an hour. Survey researchers are paid comparatively low, the median being almost USD 60K.
18 Best remote companies to work for in 2020
Online job boards for remote research jobs 
You can find top remote research jobs through these online job boards –
Flex Jobs

Indeed

Jooble.org

Glass Door

Simply Hired

Working Nomads

Virtual Vocations

Remote OK

Remote

Remotive
You are all set to find the most well suited remote research jobs for yourself.
Remote Admin Jobs | A Complete Guide
Entry level remote research jobs
At an entry level, you can join as a research assistant or research coordinator. It will help to gain insight into the research activities, allowing you to gain considerable experience on the ground. You must possess an Associate's Degree or a Bachelor's Degree in research, marketing, or communications to gain access to remote research jobs.
Attending additional learning courses will stand as an advantage during the recruitment process. Certified Research Analyst or CRA certification is good for freshers to learn the research techniques and methods. The salaries for entry level remote research jobs usually vary in the range of USD 60K to USD 85K in a year.
Also Read: Remote Social Media Jobs | How to earn remotely from social media jobs
Can a researcher work remotely?
Yes, a researcher can work remotely. Also, there are some of the research jobs out there, which work best when one is remote. In the past 2 years, many global organizations have started identifying and hiring resources for research profiles, mostly remotely.
Is remote operations research a good career?
Yes, remote operations research is a good career for those who hold a Master's or Ph.D. in operations research. 
How do I become a remote UX researcher?
To become a remote UX researcher, you will need a BA/BS degree, experience as a UX research specialist, and a good understanding of UI design.  
What does a remote market researcher do?
A remote market researcher collects and analyses data on competitors and consumers. He/she studies market situations and evaluates the potential sales of a service or product. 
What are remote clinical research jobs?
A: Remote clinical research jobs include writing methodologies for drug trials, designing trial materials, and setting up trial study centers to evaluate the effectiveness of drugs. 
How do I get a job research books at home?
If you are looking for job research books then the best place to buy is from Amazon. The books can be delivered online with ease and free of delivery charges if you have an Amazon Prime membership. Amazon also provides a Kindle version and audio version of the job books, easy to read, and use.
Can you become a researcher without a degree?
If you are willing to work as a research assistant, then you may not require a degree for the job. You will be entrusted to work under the guidance of the team lead or your supervisor. But you must have sufficient insight into the methods and strategies adopted for data collection and subsequent analysis using the various software and tools.
Can you publish research without a Ph.D.?
Yes, you can publish a research article without a Ph.D. However, Ph.D. helps to legitimate the article and the hurdles faced are considerably less. A graduate or a person with a Master's degree will need to undergo certain challenges in receiving the necessary approvals for the publication. Also funding is comparatively easier if you own a Ph.D. degree.
Do you get paid to publish in academic journals?
Normally you are not paid to publish in academic journals. The chances of recruitment in a company enhance once you publish in journals. However, there are exceptions to it. Some academic or industrial institutes pay researchers for conducting research and publishing papers in certain journals, to increase their world ranking.
Do researchers make a lot of money?
Researchers earn more than the pay structure of an average occupation. The job opportunities for remote research jobs are varied. For example, medical and operational researchers earn comparatively high compared to a survey researcher or others. The pay structure of a researcher can rise to as high as USD 124K in a year.
Is research a good career?
Research improves your analytical and problem-solving skills. It enhances your innovative ideas and thoughts, gaining insights into several theories and algorithms which a normal job may not provide you with the opportunity to do so. You can bring in changes in human lives, to the world and also in the field of technology. It helps to pursue your area of interest and cultivate more on it, hence a good reason for a prospective career.