The idea of remote work is seemingly becoming popular among skilled professionals around the world. While apparently, it may seem to be an easy alternative to a personal presence in the office, working remotely has its challenges. However, those challenges are not tough to handle. Just a little perseverance leveraging the upcoming tools and technologies will lead to success. One important success factor for remote working is your home office set up, driving your productivity and efficiency. This article will guide you in creating the best home office set up for remote work.
Let us discuss some of the key preferred home office upgrades for remote workers, followed by companies worldwide.
Here's a list of things that will help you set up a perfect home office
An organized desk space
An ergonomic chair and desk
Music
Gadgets to backup your data
Good lighting arrangement
Strong and steady internet connectivity
A whiteboard
A good laptop or desktop
Relaxing & motivational elements
Quick charging points
1. A Well Organized and Elegant Desk Space
Designing a separate workspace at your home is the first step to create the best home office set up for remote work. You can either utilize an entire room space for your work or select a corner in a room as your desk space. Your work from home desk must consist of multiple cabinets and cupboards for the storage of documents and different accessories. Since you will be dealing with sensitive information from your customers, it is very essential to ensure that your work from home desk is secure and safe.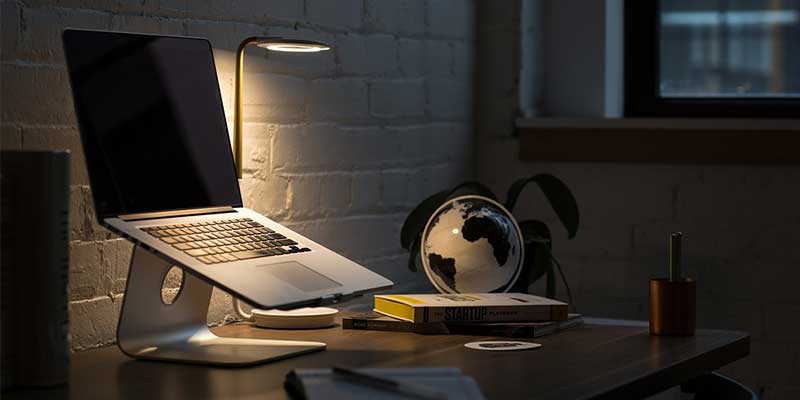 Remote work demands constant interaction with the team, peers, supervisors, stakeholders, and customers. Therefore it is essential to maintain an elegant décor in your room and near the desk space. It may not be an elaborate one with pictures and posters, but impart a professional look to your workspace.
Also read: Remote Work: Global Trends; Employee Best Practices
2. An Ergonomic Chair and Desk Set up
A common health symptom among individuals spending long hours sitting on chairs is backache which may aggregate to acute spondylitis or arthritis. Remote professionals need to spend much amount of their time at their desks, often leading to an apprehension of being prone to pains and aches. A key question is how to minimize these occurrences?
Well, the answer is, if you want to create the best home office set up for remote work then do not overlook your work chair and desk. You should focus on selecting an ergonomic chair and desk. The chair must comfortably support your lumbar and back, protecting your spinal cord from stress. Your posture will remain perfect. Several online e-commerce sites provide comfortable ergonomic chairs for work from home set up as per your posture requirements. Select one of them for your home office. 
While an ergonomic chair is essential for your body posture, a well-equipped desk is also important while setting up a home office for remote work. The placement of the mouse, keyboard, laptop, and desk height are some of the key elements of an ergonomic desk.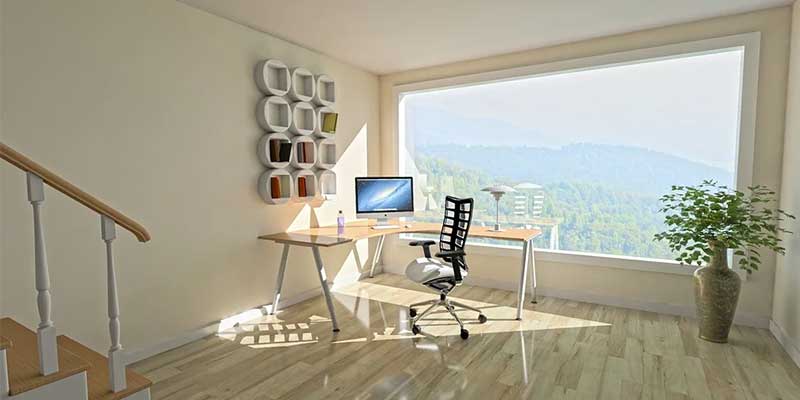 An important fact to remember: You must try and test the chair and the desk before the purchase to ensure they suit your body height, weight, and shape.
3. Music to soothe your mind
Remote work devoids you of occasional chit chats or tea and coffee breaks with your colleagues. You need to self-motivate yourself in completing your assignments on time. And just to reiterate you have to do it every day and every single moment. Hence to achieve the best home office set up for remote work, it is recommended to utilize the benefits of music. 
Music possesses the immense capacity to keep you relaxed and energized throughout the day. It impacts our efficiency and productivity immensely. So to keep your mood ongoing and to activate your mind, install speakers at your desk space. Lightening up your workspace with music is considered as one of the best practices in the list of home office upgrades for remote workers. It rejuvenates your mood and motivates you to continue your work with zeal and enthusiasm. The work quality is bound to improve, in turn benefitting the company and its goals.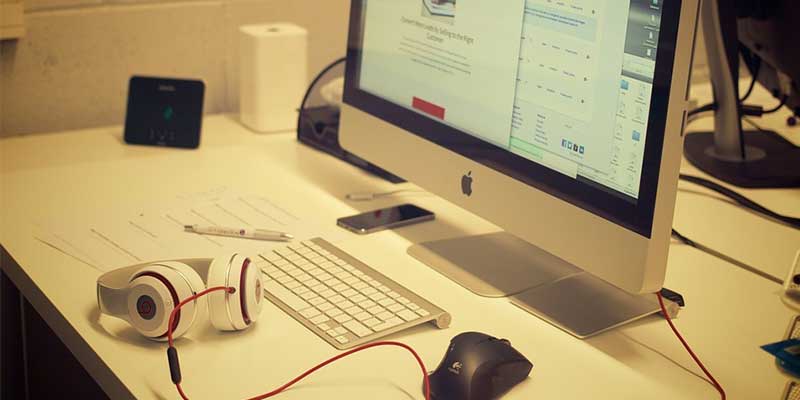 Read: How to work from home successfully?
4. Prevent data loss, ensure backups
Losing your work data is a serious risk while working remotely. Since you are not gaining access to any backup server at the office, it is important to ensure you back up your work every day. One of the common measures adopted for the best office set up for remote work is to store data in Cloud. Several product vendors provide huge cloud storage capacity for a small amount of yearly or monthly fees.
Though the Cloud storage is handled by the vendor, yet you must remember it is your data and information which is stored. In case of any technical snags, your documents will get lost. You need to be cautious of the mentioned fact while planning and organizing your remote office set up. It is advisable to store your documents and data into external hard disks and pen drives too in addition to the Cloud storage, especially the key ones. You must perform a frequent check of the information stored in the Cloud to ensure data is not lost.
5. A Cozy Lighting arrangement for your Desk Space
Professionals working out in offices do not need to worry about lights and ACs in their workspace. Those are controlled and maintained centrally for a comfortable feeling. But remote professionals need to hack their brains on the infrastructure facilities as well while designing the best home office set up for remote work. 
Two important factors need to be considered while arranging the lighting for work from home offices. First and foremost it must not affect your eyes and second is it must impart a soft and cozy feeling to the entire work environment. Too much bright light or too dim light have their repercussions. Allow natural light to enter and brighten up your room. Open the curtains and blinds during the day to welcome the sun rays. Your eyes are subjected to less stress and strain. Never work in a dimly lit workspace as it negatively impacts your eyes. Proper lighting is an important factor for remote office set up and must never be overlooked.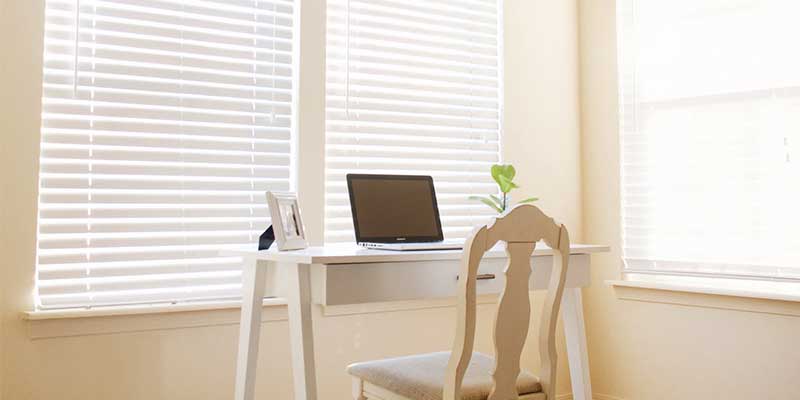 6. Seamless Communication
The best home office set up for remote workers necessitates the establishment of a robust communication system. Remote professionals frequently need to interact with their peers, team members, and customers via audio and video conferences. In the absence of efficient communication tools, work from home offices is extremely difficult to operate. You will find it tough to clarify your queries, share details on your work progress, attend regular meetings and training sessions, etc.
Try and test your audio and video systems before installing the same in your remote workspace. Purchase devices from reliable vendors after proper research and reading through product reviews. Other than the audio and video sets, the next important factor to institutionalize an effective communication system for work from home set up is the internet connectivity, internet service provider and the mobile service provider. Compare the plans and effectivity of the different service providers in your locality and select the best.
Read: Synchronous & Asynchronous Communication For Remote Work
7. Maintain a Whiteboard
One of the important criteria to establish the best home office set up for remote work is to ensure you are on track with your daily to-do activities. Missing deadlines is not a boon for remote professionals since that would break the trust and confidence of them. Maintaining a whiteboard in front of the desk space to list down the daily activities, pending work, penning down ideas and writing down the goals is a great way to be on track. It also increases your productivity and efficiency.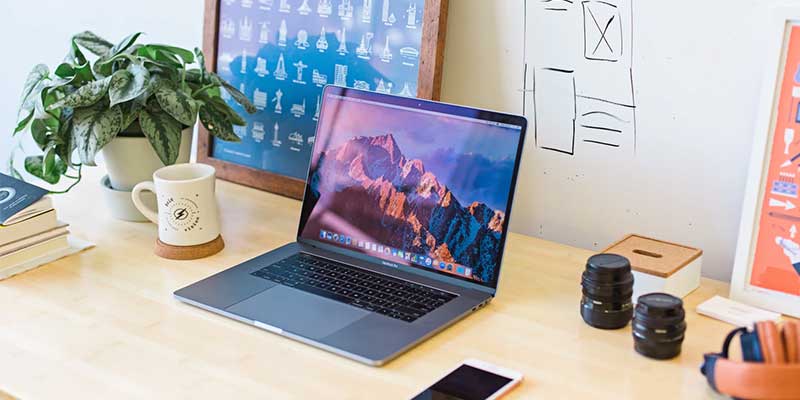 The idea of placing a whiteboard in a remote workspace may seem to be a meagre option for many remote professionals. To them, the notepad, spreadsheets, documents in their computers and laptops and their notebooks are reliable means to list out their daily activities. But little do they realize the advantages of visual effects in supporting their work. The whiteboard assists remote professionals in visually present the ideas in front of them stimulating the brains to think efficiently. Also, the daily activities written in front constantly remind them of their priorities and to stay focused. Hence it is advisable to put a comfortably sized whiteboard right in front of your desk while setting up a home office for remote work.
8. A Fast Computer or Laptop with desired features
Remote professionals are always on the look-out of a computer or laptop well equipped to handle their day to day operations catering to their requirements. Most realize that the best home office set up for remote work can only be established by a computer or laptop operating at a super-fast feed along with a large storage capacity. 
You may be a marketing professional or a graphic designer or a programmer. Each skill has different needs of applications and tools to operate in a remote environment. Hence to function efficiently in a work from home set up, remote professionals must ensure their computer or laptop has the latest operating system installed and all the necessary software and hardware.
Also read: How To Build And Sustain Trust In Remote Teams
9. A Therapeutic Feel
It is said that flowers and plants boost up our energy level and refresh our minds and hearts. So why not use their amazing benefits while designing the best home office setup for remote work. Place a small indoor plant near your desk space or set up a flower vase on your desk adorned with daily fresh flowers. Both are sure to create an amazing effect during your entire duration of work. 
Since remote professionals operate in a lonely environment the need the additional stress relief mechanism to brighten up their day. The majority of work from home offices nowadays have understood the benefit of plants in rejuvenating human brains. It is a brilliant method of inducing motivation and self-morale among remote professionals.
Tips: Plant succulents that are easy to maintain and grow. Small seasonal plants can also be used for their brightly colored flowers.
10. Quick and smart charging facilities
One of the essential aspects of remote working is availability. Within the stipulated office hours, it is very important to maintain quick and smart charging facilities for all the devices being used for work. Normally all individuals use smartphones, wireless routers, wireless mouse, smart watch and of course the computers or laptops. They cannot afford the devices to be out of charge as that may lead to loss of connectivity and even miss out on certain meetings and discussions.
Hence to establish the best home office set up for remote work, the desk space must be equipped with the latest charging accessories. Many innovative products are now available for the continuous charging of devices. They can be purchased after proper investigation of their features and benefits in the market.
Tips: If you are keen on maintaining the best home office setup, It is advisable to buy charging accessories that can cater to multiple devices.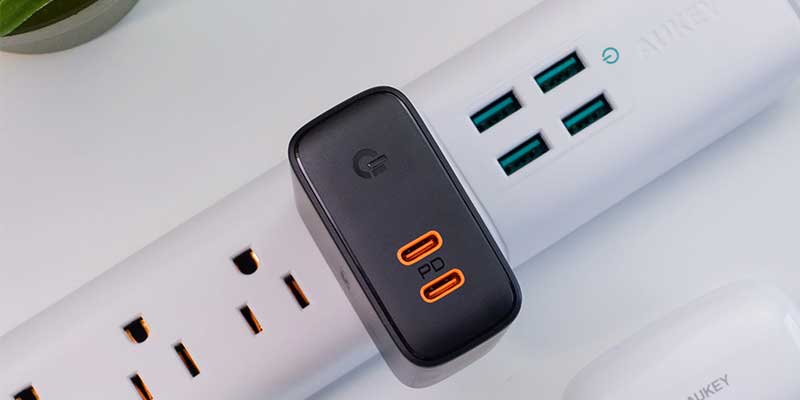 The above suggestions and recommendations are some of the key ones determining the success of remote work. If followed diligently you are sure to achieve your desired objective and goals.
Further Read: Best Practices For Remote Onboarding