Remote working is an accepted norm by the majority of the organizations eager to enrich the benefits of niche skills and operation in different time zones. But the question arises, how can remote workers perform successfully without any hiccups? What are the best remote work habits that need to be inculcated? This article will share the best remote habits which once adopted will enable the remote professionals to boost their productivity and efficiency.
Working from home is a practice and culture that needs dedication and sincerity to attain the desired success. Let us discuss some of the important and healthy habits for remote employees to handle office and home simultaneously without any disruptions. These remote habits will guide you in overcoming the challenges faced, while being away from the office environment and your colleagues. 
Content:
Be Professional
Plan your day
Work-life balance
An interesting workspace
Right communication tools
Resist distractions and good focus
Be your own supervisor
Healthy and active social life
1. Be Professional
Imagine yourself in office, working face to face with your team, peers, supervisors and even customers. Would you strive to be in your best professional attire? Would you not constantly motivate yourself to perform as per the goals and objectives of the company? Would you focus on completing your work as per the scheduled deadlines? Well, if you think logically, the answers to all these questions are Yes.
Professionalism needs to be embedded within your mind to attain a successful career, be it in your dressing habits or work habits. It drives sincerity, dedication, work quality and respect from the individual. Remote professionals must not underestimate the aspect of being professional even while working at home. Maintaining professionalism even while working out of office premises is one of the critical remote work habits. It helps to stay focused and attentive earning trust and confidence from the immediate supervisors and in turn from the company.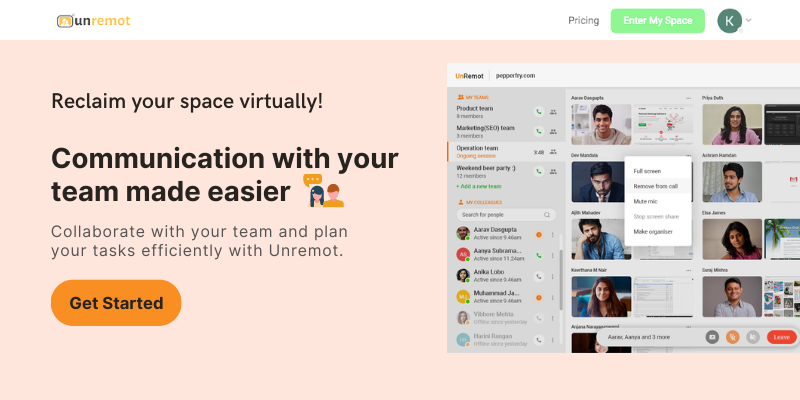 Managing Remote Teams: 13 tips that will come handy
It is recommended to avoid the distractions at home by secluding yourself in a separate workspace at home. Start your day with a proper formal or semi-formal attire. Maintain the time set for meetings, discussions and training programs. Finish your work within the stipulated time. Pick up calls during the designated office hours and never skip or find excuses to avoid conversations with the team.
2. Plan your Day
Planning is an essential and path-breaking remote work habit. You should set your remote work schedule at least 1- day prior, to organize your work effectively. Some remote professionals struggle to finish their work juggling between emails, phone calls, meetings, and their scheduled assignments. It ultimately leads to skipping some important task, which leads to discontent and inefficiency. Your workload starts piling up and you tend to lose your focus since you will be engaged in a fire-fighting mode instead of an organized execution of work.
To avoid the above-mentioned consequences, you must maintain a daily planner and to-do list. Starting your day early in the morning is one of the best habits for remote working. But yes that does not mean you jump out of your bed and start scanning through your emails. Get up in the morning and finish your daily chores. Exercise or go for a walk to refresh and energize yourself. Finish your breakfast adequately and never hurry it up. Dress up well and then proceed towards your workspace.
14 Best Productivity Tips to Achieve More At Work & Life
First and foremost you must look through the to-do list for the day and then start attending each of them as per the priority set up. Do not panic if your list is long and never try to skip some and jump into another. Stay focused on each of the activities and finish them sequentially. Delegate if needed and do not overburden yourself with the activities that can be performed in parallel with other members of the team. Do not work continuously, take breaks to rest your brain and summarize on the work completed and leftovers. Designating time for each of the activities and diligently following it is one of the recommended tips for improving productivity.
3. Work-Life Balance
You must be wondering why we are discussing work-life balance separately for remote professionals. Balancing work and life is critical for any individual working from an office or home. Well, there is a significant difference between the two. Remote professionals operate from their homes mainly though some operate from a co-working space too. Working from home has its own set of challenges. You can be distracted by your kids, family members, relatives or friends visiting you and even your neighbours.
You need to set expectations properly for your near and dear ones. They must understand the importance of your scheduled work hours. Do not entertain personal phone calls unless it is an emergency. Educating family members and friends of your work style and respecting it, is one of the critical remote work habits.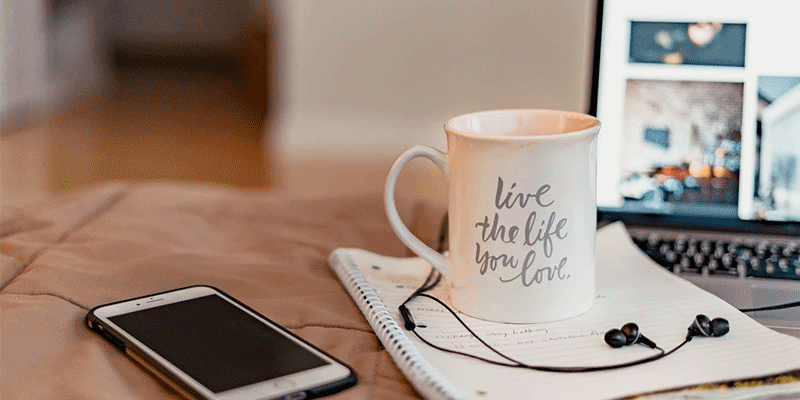 Another important part of work-life balance is your children. You need to sit with them and teach them the value of your work. Carefully divide the time of work and leisure while speaking with them. Your success and productivity are heavily dependent on the mentioned best habits for remote working.
A Guide to Setting Personal Development Goals For Life and Work
4. Create an Interesting Work Space
A comfortable, inspiring and appealing workspace influences the performance of any individual. While in office the work desks are arranged and organized by the infrastructure planning and facilities department, but in the home the environment is different. It's you who has to design your work space for an interesting and professional look. Creating a work space that rejuvenates you and motivates you to work uninterrupted throughout the day is treated as one of the essential aspects of remote work habits.
You can either finalize a separate room or a separate space inside a room for your work space. The chair and desk must be ergonomically designed to avoid discomfort while working throughout the day. Even the position of keyboard, mouse, and speakers are important. You must not land up in backaches and other ortho related ailments while working remotely.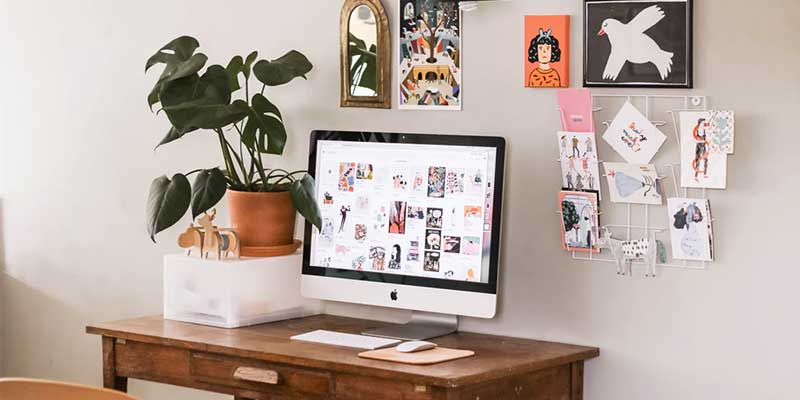 Best Home Office Set Up For Remote Work – Shoot Up Your Productivity
Decorating your workspace is also considered as one of the healthy habits for remote employees. You must have a whiteboard in front of you to note down important points that need attention and focus. Place some interesting images with motivational words in the form of pictures or desk stands. Your work space contributes a lot in boosting your productivity and efficiency.
5. Leverage Collaboration and Communication Tools
Working remotely necessitates constant collaboration and communication with the team and the customers. To facilitate these, one of the best remote work habits is to utilize online tools for conversations. The tools are effective in hosting meetings and discussions between several people located in different regions of the world. They even support screen sharing and sharing of documents, spreadsheets, and presentations.
The tools allow recording of meetings which can be referred to in the future by all. It is also beneficial for those unable to attend meetings due to any unavoidable circumstances or emergencies. In many situations, emails supported with videos and screen recordings turn out to be a much effective means of communication.
Remote workers need to collaborate more often since they are not physically present in the office. Be it sharing daily progress or resolving any clarifications, collaboration is very essential for working successfully in a remote environment. Installing online collaboration tools in laptops is one of the best habits for remote work. The collaboration happens smoothly and seamlessly.
Best Remote Working Tools That Make Life Easy
6. Avoid Disruptions and Maintain Continuity
Frequent interruptions and distractions between work tend to reduce productivity and weaken the efficient functioning of remote professionals. Hence it is very much necessary to adopt adequate measures to avoid disruptions as one of the best remote work habits. Your concentration level is maintained, your mind stays focused and your capacity to deliver timely and quality work is enhanced.
One of the tips for improving productivity while working remotely is to select an almost noise-free quiet environment as a workspace at home. Ensure not to be diverted by household chores and follow the remote work schedule planned.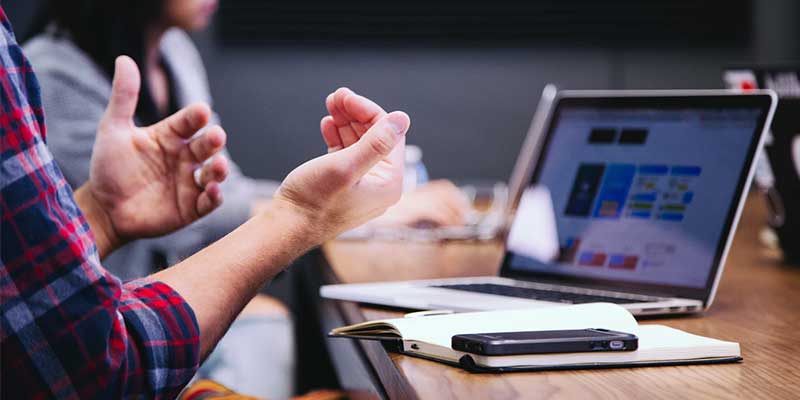 Among the many good habits of productive remote workers, avoiding social media during the scheduled office hours is considered as one of the healthy habits for remote employees. Social media disrupts the attentive power of individuals and the flow of work considerably. It slows down the thinking capacity of the human mind, leading to a delay in completing the work as per the scheduled time. All notifications from social media must be switched off during office hours. It is best to have separate phones for office and work. If that option is not affordable then the social media apps must be kept hidden while at work.
 How to measure productivity at work? | Tips to boost work outputs
7. Be Your Own Supervisor
Remote professionals must understand the fact that they will not be under constant supervision and monitoring by their supervisors. They will also not receive constant guidance or support while working remotely. Hence they must adopt self-supervision as one of the healthy remote work habits. 
You need to be aware of the fact that how your managers or supervisors think while interacting with remote professionals. There are several questions whose answers you need to understand to be able to monitor your work.
Managers are concerned to meet the goals and objectives of the company and the projects. They ensure to achieve the results within the deadlines by utilizing the resources effectively. They do not entertain lethargy, indiscipline, and avoidance. Hence to adopt the best habits for remote work, one must be able to supervise or revise their own work by answering all the questions which a manager or a leader may enquire for completeness. 
8. Remain Active and Healthy
Remote professionals tend to remain confined the whole day within their workspace at home. The habit must be vehemently avoided to stay fit and fine. Sitting at a particular space for an elongated time is not considered as one of the best remote work habits. It leads to several pains and aches in different parts of the body. 
Never sit at your work space continuously. Take short breaks, you can even accept phone calls while strolling across in the room or with a cup of coffee outside in your garden or balcony. Breathing fresh air in between work serves as a refreshment and stress relief from constant exposure to laptops. 
Eating healthy and nutritious food is also one of the best habits of productive remote workers. Food supplemented with green veggies and fruits help to remain energized and active. Working remotely often tends to induce laziness and boredom in everyday work. On the top consuming unhealthy food may tone down negatively the energy level of the body. To avoid such a situation, it is essential to keep yourself hydrated by drinking sufficient amount of water and healthy by consuming an adequate amount of vitamins and minerals.
Why can't I focus at work and how to fix it?
Conclusion:
The tips mentioned above are some of the important aspects of remote work habits which need to be followed diligently and religiously to operate successfully in a remote work environment. Remote professionals are vulnerable victims of constant diversions and lethargy. They are prone to a mismatch between work and life balance due to their affinity at home.
To attain success, people working remotely must strive to alter the mindset of enjoying too much leisure at home. While walking into the workspace at home, the situation must be like entering into the real office premises where rules need to be strictly adhered to. Set up your own rules at home during office hours and check whether you are following it sincerely.  
Since you do not need to commute to the office, do not overestimate the time available with you at home. Finish your work as per the to-do list and plan created. Identify risks and communicate those immediately to your supervisor to discuss the mitigation plans and any additional support. Seek your clarifications fast to prevent any negative impact on your work. Share feedbacks both positive and negative whenever being asked to. Your supervisor hence is acquainted with your concerns and can address them quickly. In the end, both the remote employees and the companies are placed in a win-win situation.