Here's a comprehensive article explaining how to measure productivity, the formula involved, various parameters that play a role, and tips on how work output can be boosted?
How to measure productivity?
There are several variables, including the quality of your equipment, material flow management, and overall economic considerations (for example, inflation or recession), that can affect your company's profitability.
Yet, the profitability of your company ultimately depends on the consistency of the output of your employees. And so comes the question "How to measure productivity of employees?" You may assess the efficiency of the work of your employees by utilizing efficient measures of productivity.
Did you know? Since the 1980s, Tuesdays are known to be the most productive days.
In this article, you'll learn all about how to be productive at work, as well as how to measure the productivity of your teammates. Maximizing individual and team productivity is critical for businesses to succeed and work outputs to increase.
The problem is that it has become much more challenging to carry out productivity measuring in a consistent way. So, how can today's employers in a knowledge-based workforce assess and boost productivity? It turns out that some fascinating and creative productivity measurements have emerged for businesses.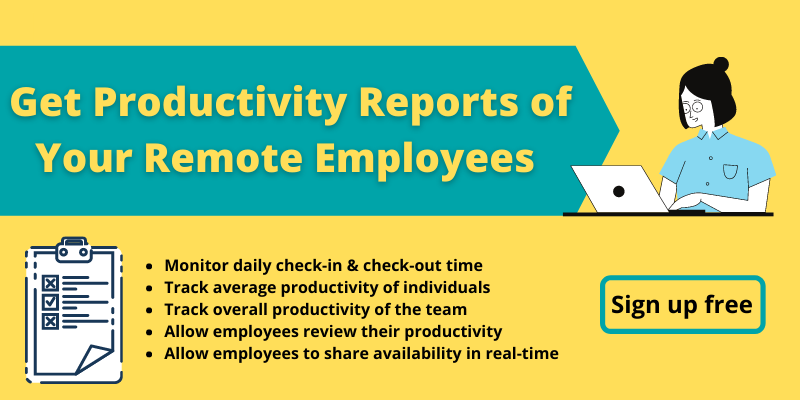 "Porductivity measurement is not as simple as the number of bushels that a worker collects in an hour."
Also Read: Virtual field trips | Critical items that you must know!
Why productivity must be measured?
Measuring Employee productivity in businesses is crucial for understanding problem areas and providing the required support to the staff members. Productivity measurement helps in understanding how operations productivity is in real-time and makes investment decisions based on it.
It also helps to assess employee effectiveness and abilities based on which management can hand out tasks and responsibilities. A productivity measure is also required as it reveals the problem areas in the system and managers can make changes based on the result. It helps an organization to utilize its resources fully to achieve customer satisfaction.
Also Read: Video conferencing etiquette | A how-to guide for everyone
What is productivity?
What does productivity mean? Productivity is the measure of the efficiency of different resources such as a machine, person, or factory. It is the ratio between the output volume and the input volume. Productivity in the workplace is a measure of production input's efficiency to produce a desired level of output.
The output here can be products or services and the input can be people, capital, or machines. Productivity is not about wages or time. Spending more time doesn't mean that a production unit is more productive. It is a measure of the overall productivity of the resource. 
Define productivity
As per Wikipedia, productivity can best be described as a ratio of aggregate output to a single input or aggregate input used in a production process. As a business or an individual, we all wish to be more productive. Productivity is a measure of the efficiency of production. 
When an employer hires an employee, they measure employee productivity by checking how much work they are doing and how efficiently they are doing it. The quality and quantity of the work are both equally important to assess a production unit's productivity. Each company has its way of measuring productivity.
Productivity formula
How to calculate productivity? The formula for productivity is fairly simple,
Productivity = Aggregate Output / Aggregate Input
However, different industries use this productivity equation in different ways. Let us look into examples of productivity in a company. For example, the company takes 10 employees to produce 100 units of a product. The Output here is 100 units and the total number of employees required to produce the product is the input. Based on this information, we can calculate the company's productivity,
For example: Productivity  = 100/10 = 10 units
Hence, we can conclude that one employee can produce 10 units of the product. 
Productivity definition economics
What is productivity in economics? Productivity definition economics is the ratio of what is produced to what is required to produce it. Any factor of production such as land, labor, capital can be used as an input in the denominator of productivity ratio.
Productivity calculations can either be done by taking one input or a combination of inputs. The former is known as labor productivity while the latter is more commonly known as multifactor productivity. Productivity in a country means combining capital and labor to produce more with the same level of factor inputs.
Also Read: Online yoga classes | An ultimate read for best results
Labor productivity
Labor Productivity is also popularly known as workforce productivity. It is a measure of economic performance that compares the amount of output produced in terms of products or services with the number of hours spent to produce those goods and services.
It means that if a worker can do more work in fewer hours then productivity is increased. For example, let's calculate productivity of a country's labor, the total output should be divided by the total number of hours. The increment in labor productivity is dependent on three major factors,
Technological Progress

Human Capital

Investment in Physical Capital
Labor productivity formula
Now that we understand what labor productivity means, let us see this labor productivity ratio formula used for labor productivity calculation,
Labor Productivity = Monetary value of goods and services produced / Total number of working hours
The result from this labor productivity formula is usually expressed in terms of output per hour. Labor Productivity is measured by plotting values on a trend line and seeing if there had been any changes in the productivity in a given time duration.
The labor calculation productivity can be increased by introducing new production techniques, targeted training for employees, streamlining the production process, etc. More detailed analyses on various methods of labor productivity calculations, examples, and industry statistics are available in the ILOSTAT offered by ILO.
Multifactor productivity
In the real world, there are several factors apart from labor that affect productivity. Multifactor productivity is a measure of all such factors which go beyond labor and include other factors such as capitals, labor, energy, purchased services, land, and materials. The formula for multifactor productivity equals the ratio of the output unit and all the input units.
Productivity = Output Unit / Input Units (Units of Labor + Units of Capital + Units of Material)
The multifactor productivity formula gives a more realistic ratio than considering the labor productivity formula alone. It is said to be a more comprehensive measure of productivity.
Productivity index
Productivity is a relative measure and for it to be relevant it needs to be compared to something. This could be the productivity of other companies or other departments of the same company. 
A Productivity index is the ratio of productivity in a certain time period to productivity in the base time period. For example, If the base productivity of a business is calculated to be 1.50 and the consequent period's productivity is 3.00, then by applying the productivity index formula,
For example: 1.65 / 1.50 = 1.10
This would indicate that the firm's productivity increased by 10 percent.
Also Read: How to work from home successfully | A priceless list of tips to succeed
How to calculate work?
Work done is an indication of how productive an employee has been in a given time period. To improve productivity, it is important to measure work done. Which brings us to our next question, how to calculate work? Work done is the ratio of the total output and the total input.
For example, a barista serves 200 drinks (output) in a shift of 8 hours (input). To find out the work done by Barista, we would divide 200 by 8, which equals 25. This means that the barista serves 25 drinks per hour of work.     
What is work measured in?
The measure of work is time taken to complete one unit of work.  The equation of work helps in indicating the time taken by an average worker to carry out a specified task at a pre-defined level of performance. There are several methods suggested for measuring work, among which Time Study is the basic technique.
The time study method records time and rate of work to carry out specific tasks under specific conditions to obtain a standard time required to carry out a job up to a defined level of performance. The job to be studied can be timed by using a stopwatch.
Calculate work needed using data
Calculating work expected from an employee beforehand helps in setting productivity standards. The work rate formula can be used to calculate work required from an employee in a given period of time under specified circumstances. Managers need to have measures to calculate time to complete specified tasks.
For example, the data acquired by the company tells that goods and services worth $60,000 are made in 1200 labor hours. It means that the company generates $50 per hour of work. Improving this number by making changes can make the company more productive and efficient.
Also Read: Trust remote teams | A comprehensive guide
Calculating work delivered after completion
Managers who work with remote teams have a hard time measuring work done by each employee. How to calculate production efficiency? How to calculate Labor Efficiency? How to determine efficiency? These are all important questions that help in calculating if the work delivered is the same as the work expected.
Work productivity definition implies whether the work output is same as the set standards by the company. Work Efficiency definition tells if the work is done in the right way as per expectations. Employees productivity is dependent on calculating work delivered after completion and time took.
Equation of work
What is the formula for work? The work measurement method includes determining the total number of tasks completed and man hours calculation. The amount of task completed in a given time duration is work done by an employee. Productivity equations help managers to determine work done.
There are two types of work done in a company. Manual work and Knowledge work, where former focuses on quantity while aiming to maintain minimum quality requirements and latter focuses on both quality and quantity equally. You need to determine the type of work done in your company to determine manufacturing productivity values.
Work efficiency calculations
Efficiency measures how much work a person can do in a day. For example, a person completes a job in two days. Then his efficiency is 50% as he is able to complete half job in a day. The formula for efficiency involves converting work into fraction format and then multiplying it by 100 to find percentage. 
The efficiency equation represents the ratio of output to input in percentage form. The Labor Efficiency formula is another way of calculating the work efficiency of an employee. Productivity Efficiency is a great way to identify opportunities to reorganize staffing, making changes in the process, etc.
Also Read: Virtual ice breakers | Everything you must know
How to calculate efficiency?
For calculating efficiency, divide the labor hours by the total amount of time spent working and multiply by 100. The closer the result is to 100, the more effective your employees are. Managers should keep in mind three things to have better efficiency,
Ensure the employees are provided with good equipment for completing their tasks.
Set realistic goals for the employees
Provide regular feedback to the employees based on their work.
A high-efficiency level indicates a minimal amount of wasted time, effort, productivity capacity, materials, etc.  Work efficiency is simple as the output divided by input.
Efficiency formula
Employee Efficiency is a measure of outputs produced by the efforts and achievements of an employee. Different kinds of efficiency in the workplace can be calculated using the below formulas,
Efficiency Formula: Efficiency = (standard labor hours / actual amount of time worked) X 100
Operational Efficiency formula: Operating ratio = (operating expenses + cost of goods sold) / net sales
Labor Efficiency Variance Formula: Labor Efficiency variance = (actual hours – standard hours) X standard rate
Productive Efficiency Formula: Productive Efficiency = (Output rate / Standard Output rate) X 100
Now let us see what is efficiency measured? Efficiency has no unit and is usually written as a decimal or in a percentage format. 
Productivity vs efficiency
Productivity is a measure of quantity whereas efficiency is a measure of quality. A high value of productivity doesn't give any insight into the quality of work done.

Productivity is output per unit time but efficiency is the best possible output per unit time. It aims at doing things the right way to achieve the maximum level of efficiency and productivity.
The sum of both productivity and efficiency is true productivity.
Productivity does not consider underlying cost into account but efficiency does.
In productivity versus efficiency, the former is simple performance whereas the latter measures how well you have performed in the given time.
Also Read: Team communication | A complete guide
What is Classical Productivity Measurement?
The basic formula for employee productivity tracking is productivity = outcome divided by input. This would let us know how much (output) was produced over a given period (input).
It seems pretty simple, doesn't it? But, when we begin to look deeper, we can notice a few cracks in this method. What is "produced" in knowledge work? What is the value of that output? Does time matter anyway? If so, then when?
Productivity is challenging to measure when it comes to knowledge work. As Professor Lynn Wu of the Wharton Business School Operations and Information Management says, "It is not as simple as the number of bushels that a worker collects in an hour." 
Also Read: Managing remote teams | A priceless list of tips to succeed
How traditional productivity measurements are failing us?
Here is a bunch of reasons why traditional productivity measurements are missing for the real-world scenarios,
1. Lack of emphasis on quality
Researchers are attempting to find ways of assigning value to knowledge workers' output. Our incapacity to have a consistent employee productivity tracking measure makes it difficult to calculate the productivity of knowledge workers.
Evaluating developers by the lines of code written in an hour or doctors by the patients treated in an hour, for example, leaves little space for the quality factor. What if another developer is writing half as much code as another, but twice as good as that? And what if a doctor has half the number of patients as another, but his good results are twice the other person's?
How to measure productivity of employees in terms of brain output? If we take the developer's example further, developers are seen as problem solvers, not code machines. They spend hours brainstorming through problems and testing solutions, but no single output in the code line is produced.
2. No questioning of the task's nature
Typically, there are many different types of tasks in one job. Knowledge jobs are complex and possess many variables, especially when compared to structured and repeatable processes in production. The task is always apparent in manual labor.
This is seldom the case in knowledge work. Think about how a digital marketer should address that question. Attempting to answer, "What is the task?" can have a range of options from attending a meeting to set up a retargeting plan and anything in between.
From patient care to paperwork, a doctor could answer with anything. A salesperson might say driving, making calls, or any of a dozen other alternatives to networking conferences. Furthermore, not all activities generate the same value for an organization.
The question "How to measure productivity of employees?" is indeed quite dicey in this sense. Does an email response build as much value as it does while working on a feature article? Many of us on the surface will just say, "no."
But what if that email connects with a contact that becomes a critical investor down the road. With too many unknown variables in the equation, it is difficult for managers to systematically calculate and maximize productivity.
3. Lack of the human dimension
Employees who would like to work with you would be delivering high-quality jobs promptly. The organization owns the means of production in the manual-work case, usually machinery or other devices, and the worker simply iterates tasks within that device.
Nowadays, the "self-evident" shared interests held by managers and staff are even more visible. In the knowledge-based economy, workers are the means of production, by way of their knowledge and skill. The output is the sequence of inventive decisions they have made in a day.
This is an essential element to be kept in mind when answering the question, "how to track employee productivity?" Management also involves monitoring the happiness of workers and creating stronger teams. Productivity optimization relies on such a human dimension.
Did you know? A Harvard report found that sleep deprivation and lack of adequate rest costs companies about $65 billion a year.
Researchers at the University of Michigan found that work environments where workers showed positive and noble behaviors scored higher on organizational success measures.
Positive practices that score high on organizational success measures,
Showing kindness 

Providing help 

Looking to have colleagues as friends 

Concentrating on meaningful work 

Evicting guilt and forgiving wrongs 

Being respectful to others 

Expressing gratitude
Today, growing numbers of companies are considering that happier employees contribute to a better business while looking into "how to track employee productivity."
Also Read: What is a virtual office | Critical items that you must know!
Best 5 strategies to measure productivity for remote employees
Here is a list of the 5 best strategies on how to measure productivity for remote employees,
1. Set clear goals and deadlines for your employees
It is important to set clear goals and deadlines for each and every task as you would in an actual office. It helps employees prioritize their work and keep track of their progress. Defining KPIs (Key Performance Indicators) is another great way of defining expectations beforehand.
Each job has a different metric when it comes to measuring productivity hence defining KPIs for every role is essential. The productivity manager and the team can work together to choose KPIs based on which year-end performance can be measured.
2. Use a task or project management software to keep track of work and create visibility in the workplace
As the remote work culture is expanding, there are several online tools that provide ways to measure time and productivity. WorkFlowMax is one such Project management tool that can come in handy. This tool lets users submit timesheets electronically and lets employers run a performance-based test to see which employees are logging most hours or finishing more jobs.
Managers should consider using different project tracking systems for different departments. JIRA is an excellent tool for tracking software development projects whereas Trello and Asana are great for Marketing teams.
3. Implement a robust productivity reporting structure
Timely and regular reports help you stay on top of everything and identify potential problems. Taking timely actions to resolve issues is crucial to meet deadlines. It depends entirely on your comfort whether you wish to get daily or weekly updates from your employees. 
Productivity measuring via reports is a proven method. Daily accomplishment reports can either be sent via a tool or by sending an email at the end of the day. A bullet list of daily tasks is sufficient for daily reports. Monthly reports can focus more on progress towards goals.
4. 360- degree feedback practice
A 360-degree feedback strategy is great for smaller tight-knit teams. This strategy measures productivity by letting you use the feedback generated from the co-workers. Each employee has their productivity evaluated by their peers (both who are senior or junior to them) in terms of how well they have contributed towards the overall company's goals.
It is important that each employee provides their honest assessment of an employee's performance towards team goals and not let personal prejudice come in the way. Managers should train employees so that they understand the correct way of providing feedback.
5. Create a Policy for measuring the efficiency and productivity of remote employees
Productivity is the number of goods and services produced by a group of employees in a given amount of time. Productivity measures help employers in assessing their profits and finding problem areas. Any of the productivity measuring formulas can be used by an employer.
A simple way to do this is by choosing input and output units and dividing the output unit by input unit. The resulting value is your productivity. Have a policy in place that lets employees know how their performance will be measured in the end.
Also Read: Productivity tips | A how-to guide for everyone
Tips on how to measure productivity of employees effectively
The old productivity measure did have some flaws. Nonetheless, successful firms have found innovative ways to answer the question, "How to measure productivity of employees?"
1. Establish a baseline
Establishing a baseline involves using the operation production numbers to set an average for a regular business day. The total is divided by the employee number, either for the whole organization or for specific divisions. A realistic example of this is a small business repair shop that takes advantage of the average maintenance services it provides. This number is then divided by the employee number needed to decide the baseline.
2. Determine goals and targets
Targets and goals change based on industry. Nevertheless, most organizations choose to set parameters that represent their business goals. Productivity targets can be adjusted based on abilities. What this could mean for customer service representatives, for example, is an awareness of their inability to manage their workflow. Their output is influenced directly by their primary task: to accept calls. In this case, the productivity target may need to be lowered by employers.
3. Allow scope for employee autonomy
The modern knowledge economy necessitates that we enforce responsibility on the individual knowledge workers themselves for their productivity. This is a great answer for "how to measure productivity?" 
This autonomy is one of the primary reasons why the old productivity measuring model falls flat. It ensures that knowledge employees have the opportunity to construct their workdays in ways they know will make them more efficient.
In a study, the nurses in a hospital were asked which duties stopped them from being successful. Primarily, the responses included tasks unconnected to the knowledge and skills of the high-value nurses, such as answering phones and arranging flowers. When those tasks were transferred to non-nurse clerks, patient satisfaction doubled within four months, and nurse turnover decreased considerably.
Automation and delegation allow us to do high-quality work in the same amount of time to improve productivity, even if we are unable to quantify the work's objective quality.
What managers could do on a team level? 
Consult with team members to ensure they focus on projects aligning with their strengths. Help them identify ways to increase the amount of time they work on what they find meaningful and reduce the time they spend on all else. 

When measuring team performance, think about what you are measuring. Benchmarking individual productivity to business goals is challenging. You must be able to tie your teams to the timely release of minimally viable products, client satisfaction scores, closed leads, and so on. Make sure employees are involved in setting these goals. 

Consider developing a streamlined yet flexible goal-setting structure. Employees themselves can determine what it looks like to be productive.
Creating these kinds of programs provides individual, team-wide, and company-wide metrics while paving the path to achieving common objectives.
4. Bear in mind the human dimension
At the root of the team, efficiency lies in personal productivity. The key to a high-performance team is to bring together individuals having strong engagement with the organization's mission and precise control of their team's activities.
The researchers on Google's "Project Aristotle" investigated the impact of less-tangible influences on team cohesion and efficiency through a study. In an environment like Google, where every detail is tracked, reviewed, optimized, and tested, the search for the makeup to the perfect team has yielded some non-technical results.
As it turns out, making the best team has less to do with integrating individually tailored rock stars and more to do with how members listen to each other and demonstrate sensitivity. Measuring cultural elements such as positivity and diversity can be approached the same way you approach measuring progress towards your production goals.
Did you know? The University of Sussex conducted a study that found that your brain is continuously damaged when multitasking. Also, attempting multitasking will significantly decrease productivity by 40 percent while increasing stress levels.
5. Decide which similarities are appropriate
The job role determines the day of an employee and is not always calculated by a single task. Alternatively, it would calculate the entirety of an employee's job. Typical job functions on any given day reflect a mix of different programs, tools, and data powered by the internet.
Add email and social media usage to the mix, and managers can quickly discover that several behaviors can decide how successful an employee will be in completing various tasks.
Furthermore, comparing one employee's everyday activities to a peer group helps managers recognize the top performers and their best practices. This information serves as a standard of efficiency for making appropriate comparisons.
6. Identify redundant procedures
Comparisons can also illustrate redundancies in routines that once removed increase output. An example would be plumbing technicians who return to the office for parts multiple times during their working day. It may be as easy as storing work vans or revamping the day's calls for service efficiently. The goal is to ensure that technicians have everything they need for assigned calls of service.
7. Request updates every day
While employees admire the freedom to do their job without a micromanager, it does not always guarantee productivity. Many people might suffer from procrastination, which interferes with levels of productivity. Asking workers for end-of-day notifications can, however, act as a motivator. When employees are aware that accountability is expected, they are more likely to keep pace with targets.
8. Utilise motivation
There are other workers whose productivity improves with their employer's encouragement. In practice, it looks like,
A culture in which employees believe that they are essential to the company. 

Clear work-related expectations so that employees fully understand their role. 

Employees need to have adequate training to achieve those goals. 

Acknowledgment when employees meet or exceed objectives relating to work.
9. Ask for employee feedback
Employers must value employee feedback because this keeps employees involved in the measuring process. Obtaining the thoughts of workers about goals and success metrics eliminates the illusion that they are just faceless numbers on spreadsheets.
Large and small companies profit tremendously when the workers feel that their opinion counts. When employees feel voiceless, not only could this cause lower productivity rates, but some businesses may even experience high turnover rates.
10. Notice the mitigating circumstances
Extenuating or unusual circumstances could affect how employers measure their employees' levels of productivity. Picking up a new job or system can skew numbers in productivity. Issues such as equipment failures and network problems during regular operations would also cause those numbers to decrease. None of these affects staff, but as a reminder, they are still worth noting.
Also Read: Decision fatigue | An ultimate read for best results
How to measure productivity of your remote employees?
One of the primary reasons why most managers hesitate about remote work is the lack of visibility. How do they know when members of their team are working? How to measure productivity of their remote team?
By default, remote work allows managers and employers to have faith in their employees. But, this does not have to mean that they remain ignorant about the appropriate minimum time that an employee spends.
With this in mind, unremot has added productivity reports that let both employers and employees monitor team and individual productivity. This feature also acts as an attendance report to give the employers some visibility.
unremot's productivity reports can be used for,
Managers can monitor individuals' daily check-in and check-out time.  

Managers can check daily productivity and average individual productivity.  

Managers could keep a weekly and monthly track of the above.  

Individuals could review their check-in and check-out time.  

Individuals will be able to track their average and daily productivity.
To avail of a free trial of 14 days, sign up on unremot now!
The answer to "how to measure productivity of employees" changes in approach across industries. Labour and material have taken a back seat for some companies to allow the use of technology to complete tasks. It is all about recognizing productivity boosters at the end of a working day.
Delays, unreasonable expectations, and lack of employee involvement all result in processes that impede a thriving workforce. Also, the use of boilerplate methods or processes will soon be overrun by individual business goals and outlooks. In the end, changing productivity expectations necessitates proving the value of how each employee's efforts align with their employer's.