Remote work was a growing trend much before it became a necessity due to the COVID pandemic. There's a good reason for that. On one hand, the latest generation of professionals desires the flexibility that remote work offers and on the other, companies get to pick employees from a global pool of candidates. This win-win situation is further supported by studies that show remote work, if done right, improves the productivity of employees. The key to hacking this benefit lies in choosing the right remote working tools for your employees.
In this article, you will discover some of the best remote work software available in the market that has been tried and tested by remote work professionals for years. Let's begin!
Content index
Benefits of using remote working tools
Best remote collaboration tools (overall)
Best online video conferencing tools
Best tools for project management
Best cloud storage services
Best time management tools
Best productivity tracking tools
Best security tools
Benefits of using Remote Working Tools
Fast and smooth communication with the stakeholders, peers, supervisor and the team

Increase in productivity by completing assignments within or before the deadline

Constant accessibility during the work hours without any disruption

Easy sharing of documents and other files related to the assignments

Efficient time and work management

Effective monitoring of the team and their work status
Best Remote Collaboration Tools
Communication is at the heart of remote working. A healthy balance between synchronous and asynchronous communication can work wonders with the productivity levels of your employees. Choosing the right remote collaboration software can play a big role in how your teams communicate the dynamics of your employees. Also, the right tool can help your employees battle one of the biggest plagues of working remotely – the feeling of isolation or loneliness.
1. Unremot
Being a fully remote company, we are painfully aware of the needs of remote employees and remote managers. And so every feature on Unremot is designed to ensure that collaboration among remote teams remains seamless. One of unremot's basic offerings –  the virtual office design allows all the employees to experience the benefits of a physical office. This feature lets the remote teams visualize their workplace as well as the availability of colleagues. Unremot's other basic features include – 
Video conferencing

One to one and group messaging

Screen sharing 

Screen Recording

Productivity reports

Task management 
Unremot is a must-have remote working tool for overall effective communication & collaboration.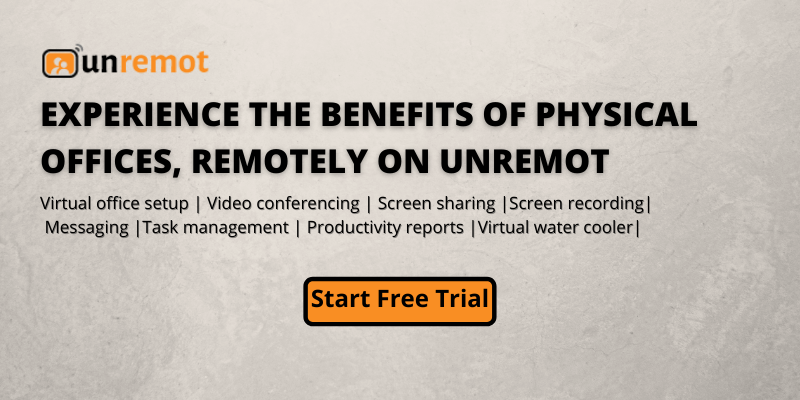 2. Slack
Slack is one of the commonly used tools for collaboration using messaging and chatting facilities. The team logs into a workspace and starts connecting through group chats or messages. The members can also exchange files between themselves. The collaboration is initiated by the admin or the owner who sends out a URL as an invitation to the others. It supports direct messaging, public and private group chats.
Did you know? Slack the short form of Searchable Log of All Conversation and Knowledge.
Also read: How to work from home successfully
3. Workplace by Facebook
The workplace is one of the remote collaboration tools offered by Facebook. It has several features like instant messaging, private and group chats, video calls, live video broadcasts, and exchange documents. It supports 50 integrations with different enterprise tools like DropBox, Google Drive, Microsoft Sharepoint, ServiceNow, Zoom, Jira, etc.
Remote Working Tools for Online Video Conferencing
Remote working professionals may either be present at a different location in the same city, a different city, or even a different country. They either select to work from home or at a coworking space. In all situations, there is an absolute requirement for visual discussions utilizing some of the good online collaboration tools for remote teams. You can take a look at our post on the best free video conferencing software to find more options. 
4. Google Hangouts
Owned by Google, Hangouts are one of the best tools for remote teams to collaborate, coordinate and communicate. It supports group chats, private messages, exchanging documents and pictures, audio and video calls. It essentially consists of two components – Google Hangouts Meet and Google Hangouts Chat. Users need to use their Gmail login id and password for accessing Hangouts.
5. Troop Messenger
Troop Messenger is a compact remote work tool for small, medium, and large enterprises. Team members can interact via instant messaging, audio and video calling, location and file sharing, and by creating unlimited groups on the go. This Slack alternative allows admins to add vendors, suppliers, and freelancers as orange members who get restricted access to the workspace. Troop Messenger can be integrated with essential apps like Dropbox and Google Drive.
6. Zoom
Zoom is one of the powerful online collaboration tools for remote teams to facilitate video conferencing, web conferencing, chats and even collaborating through mobile devices. The video quality is excellent with recording facilities. The teams can share their screens for editing or viewing presentations and documents online.
Also read: Best note-taking apps in 2020 | Note-taking made easier
7. Join me
Join me is one of the collaboration tools for remote workers for video conferencing, screen sharing, audio, and video calls. You can create your customized meeting link and send it to others for joining the call or the chat. The audio quality is good with recording facilities. The online screen sharing keeps the audience engaged enabling efficient and easy collaboration among the participants.
8. Appear in
Appear in is an effective video collaboration tool for remote teams. It is easy to access through a browser without the need of installing any software. You even do not need to register before accessing the features of the tool. At first, a customized room link needs to be created by the teams and then shared within the group for video conversations. The participants can share their screens for viewing any document or presentation online.
Read: 10 Best remote desktop & screen sharing software | Free & paid software
Remote Working Tools for Project Management
The success of remote working majorly depends on the management and organization of the project work and the team. A detailed plan needs to be prepared with a breakdown of tasks, activities, timelines, and owners. The project management tools provide easy access to the project plan and schedule to the entire team for tracking and completion of the assigned activities.
9. ProofHub
ProofHub is one of the popular remote work tools for project management. You can stop relying on email threads and concentrate on discussions at a single place in ProofHub. The tool enables you to create tasks, Kanban boards, Gantt charts, calendars for tracking schedules, and store documents and other files. You can even fill in your timesheets specifying the tasks performed along with the number of hours worked. It supports online proofing and generating reports for better project management and control. You can send out emails and chat with the participants.
Suggested read: Managing Remote Teams: 13 tips that will come handy
10. Jira
Jira is one of the best remote work tools for managing agile projects. Developed by Atlassian, Jira has a widespread customer base in over 122 countries. It has the features to define projects, tasks, activities, timeline, and assigned person for each task. The users can fill in their timesheets under each task and mark completion once the assigned task is executed. The scrum boards available in Jira assist in deciphering the incremental values and outcomes of the sprints. Jira also has Kanban Boards to track the daily progress in each scrum call.
Jira provides users with two very important features. One is the roadmap it provides by providing burn down and burns up charts, Sprint reports of the team progress and performance, cumulative flow diagrams for any scope change or creep, Velocity chart. The second is the Agile reports which portray the detailed step-by-step performance of each sprint to undertake measures for faster completion.
11. Basecamp
Basecamp is one of the popular project management tools for remote workers owing to its user-friendly features and real-time communication capability. It helps remote working professionals to keep proper track of their tasks through the usage of to-do lists, calendars, and file-sharing functionalities. It is a web-based application where the users can sign in for creating projects, tasks and tracking the progress of the items on priority and the assignments.
Read on: How to prioritize tasks and excel at work place
12. Asana
Asana is one of the best tools for remote teams when it comes to efficient work management and team collaboration. The remote working professionals can create and manage projects and their tasks in Asana easily. They can even assign tasks to their team members, mention the deadlines, communicate the same to the assigned person and track the progress of each task. The tool provides reporting facilities, file attachments, and file sharing as well. It supports integrations with Microsoft products and Gmail too.
Good read: Inbox Zero – How to boost your email management?
Remote Working Tools providing Cloud storage services
Cloud storage services have gained immense popularity due to their powerful capacity to share documents, images, presentations, and spreadsheets of large sizes across multiple people. It saves the anxiety in sending large-sized files in emails.
13. Box
Box cloud storage application is one of the efficient remote work tools for cloud content management and collaboration. It provides extensive abilities to store different types of files with security controls, encryption facilities, and compliance with the major security and audit regulations. It allows file sharing across the teams thus reducing the reliance on emails. You can invite your team to access a particular file or folder in Box for editing, viewing, uploading documents or photos as per the permission granted.
14. Dropbox
Dropbox is one of the preferred and efficient remote working software for storing files in the cloud. The application needs to be installed on your computer, laptop or even mobile devices. It can automatically sync up the files and folders from your devices into their servers. Dropbox offers a specific storage space free for users. Additional storage space and advanced sharing controls are provided on paid and premium subscriptions. Dropbox users are granted 2 GB of storage space for free. They are provided with an additional 500 MB of storage space on recommending Dropbox to other users and when the referred person starts using the application.
Suggested read: 14 Best Productivity Tips to Achieve More At Work & Life
15. Google Drive
Google Drive is one of the widely used work from home tools among professionals. Developed by Google, it supports file storage, file sharing, and file synchronization across multiple devices. You can invite your team members for editing documents, presentations, spreadsheets, and any images through collaboration. The invitees are granted relevant access based on their roles by which they can either receive read-only or read/write facilities.
Remote Working Tools for Time Management
Remote working necessitates time tracking of the effort spent by the team for the assigned tasks. Due to the absence of in-person collaboration and monitoring, it is essential to invest in a tool where the members present across different locations can lock in their time and share with all. 
16. Teamwork
Teamwork is one of the widely used time management tools for remote workers. They log in their time against the assigned tasks. You can enter the resource cost associated with each person and accordingly the expenses will be calculated. The non-resource costs need to be entered separately. You can generate the invoice based on the expenses and send it across to your client for payments. Teamwork supports different formats for reporting time – CSV, PDF, or Excel.
Must read: Time Blocking: All you need to know about this powerful technique
17. Time Doctor
Time Doctor is one of the effective remote working tools for time management and tracking. It provides the time spent by each member to the granular level of projects, tasks, and sub-tasks. Based on the time entered you can easily calculate the invoices, bill your customer and pay your employees as per the business model of your work.
18. Hub Staff
Hub Staff is one of the popular remote working tools when it comes to tracking the time recorded by your team, the tasks they are working on and the progress of the tasks. It provides an insight into the team bandwidth utilization percentage vis a vis the total amount of work. The main features of Hub Staff are recording timesheets, screen sharing and recording, employee task and time monitoring, invoicing, budgeting and billing.
Suggested: Best Pomodoro App 2020 | Pomodoro technique & how to use it
Remote Working Tools for tracking Productivity
It is very important to track the productivity of each team member in a remote work environment to ensure that each individual is operating as per the needs. While being in the office you can observe the team in person and judge the productivity, working remotely will not permit that privilege. You need to extensively collect data online from the time to analyze the productivity percentage of the team.
19. Todoist
Todoist is one of the best remote work tools for tracking the productivity of a team working remotely through its efficient to-do functionalities. It provides facilities to create a to-do list consisting of tasks and subtasks for each of the members within a remote team. You can add notes, set reminders, upload files, send notifications and generate a productivity chart.
20. iDoneThis
iDoneThis is one of the user-friendly remote collaboration tools between teams to maintain a to-do list online and log in their effort and time for the assigned tasks. It provides an email facility to remind the members to accomplish their to-do list within the deadline.
Also read: 8 Remote Work Habits Of Every Productive Employee
Best remote work software for security
Security of the company's data is one of the biggest concerns of remote companies. And so it's a good idea to have a set of reliable remote work tools in place to prevent nightmarish situations of cyber attacks or data losses. You can also check out our guide to cybersecurity during work from home for more information. Here are a few tools that will ensure safe file sharing and safety of your company's collateral.
It must become a company-wide practice to use Windows BitLocker or Mac's FileVault for encrypting and storing important files. 
21. 7zip
7Zip is widely accepted as a great tool for file encryption and compression. If your employees deal with huge amounts of data and large files, this is a tool you must have! Further, this open-source software offers compression in a variety of formats and provides a powerful file manager. 
22. 1password
Investing in a password manager like 1password can go a long way in securing your company's sensitive data. These days cyber attacks are a constant threat, and the slightest slip from anyone can lead to disastrous results. Here's when a password manager can come in handy. Password managers like 1Password, securely store all your passwords in an encrypted database. This particular app eliminated the need to store your passwords in strange servers thereby ensuring the safety of your passwords.