If you have a background in biological sciences, computer science, or any other related discipline and are looking for remote work opportunities, this is the perfect article for you. Remote clinical management is a rapidly growing field that you can explore.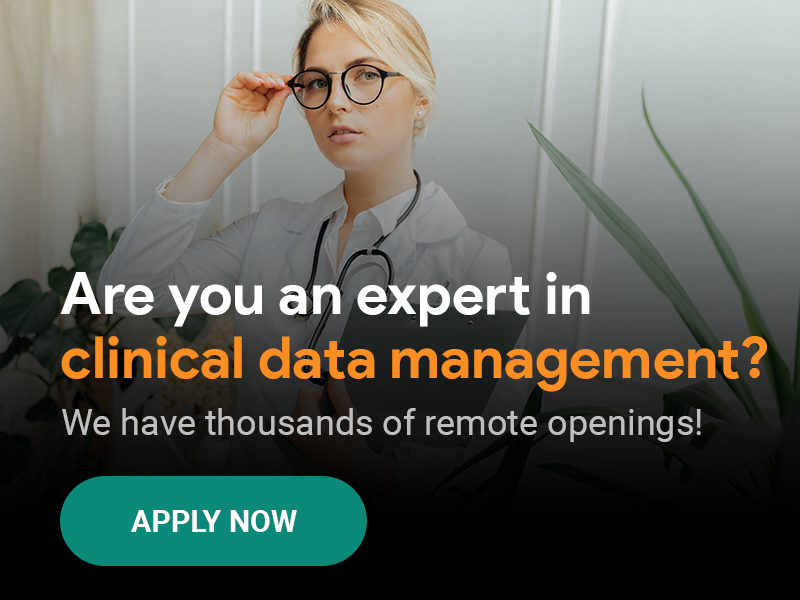 The present times are seeing remote work on the rise. Working from home can provide a huge number of benefits including flexible work hours and elimination of commute time. With remote clinical data management jobs, you can use your knowledge and skills to grow in this domain.
What is clinical data management?
One of the first questions to ask is – what is clinical data management? Clinical data management (CDM) is a vital process in clinical research, contributing to the production of high-quality, accurate, and statistically valid data from clinical trials. Clinical data management ensures data collection, processing, and availability at acceptable quality and cost. It also supports the behaviour, management, and review of clinical research studies across the spectrum as specified by the National Institutes of Health (NIH). CDM's ultimate goal is to ensure that the data supports the conclusions drawn from research. Attaining this goal protects public health and establishes trust in marketed treatments.
Did you know? In 2015, there were 11 million cases of medical data security breaches in the U.S alone!
Clinical data coordinators typically work for companies engaged in pharmaceuticals, biotechnology, medical devices, or IVD. They may also provide their service to Contract Research Organizations (CROs) that are hired to carry out clinical trials. They may also find jobs working for a large hospital or research university. Clinical data managers are constantly increasing in demand, as increased concerns about cyber-security require increased vigilance and management of data collection in clinical trials.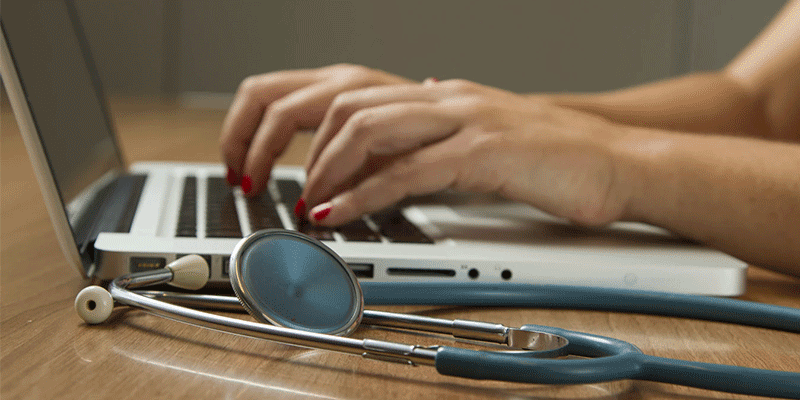 How to work from home successfully?
Are remote clinical data manager jobs in demand?
Remote clinical data manager jobs offer excellent opportunities. Online clinical data managers with advanced informatics skills are increasingly in demand. With the introduction of technology into clinical trials, organizations need experts who can harness advanced computerized data management. Most clinical trials take advantage of Electronic Data Capture (EDC) systems. These EDC systems make collection of long-term data more effective, but they do have burdensome start-up requirements such as validation, training and installation. Maintaining an EDC creates roles for clinical data coordinators as well as more entry-level clinical data specialist roles that work directly with the EDC system's maintenance and qualification.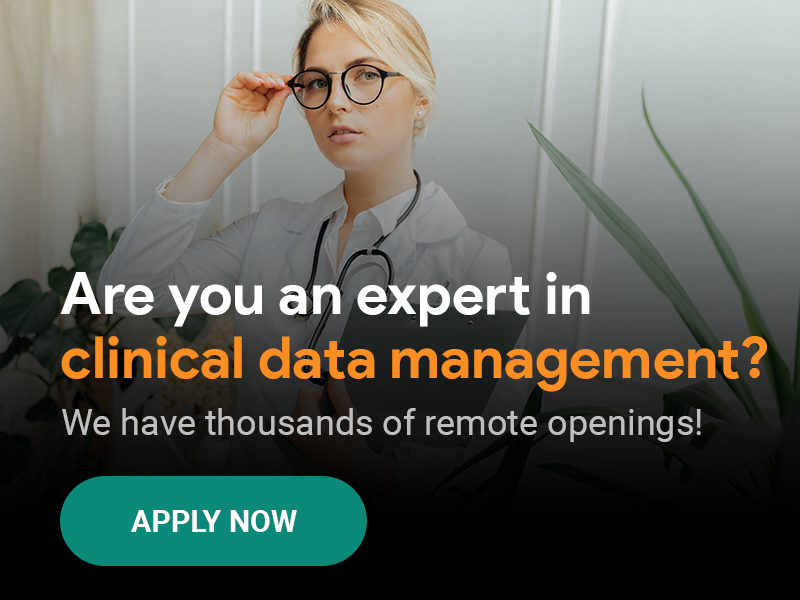 Remote clinical data manager job description
Work from home clinical data management jobs involves the collection of data from pharmaceutical, biological, or device-based clinical trials. As a clinical data specialist, you must ensure the accuracy of the collected data, properly group data, solve operational problems, and prepare statistical reports. It is very essential to know the in-depth remote clinical data manager job description in order to determine if you can grow your career in this field.
Remote Pharmacist Jobs | How To Earn As A Remote Pharmacist
Responsibilities of work from home clinical data management jobs
Direct Clinical Data Management team member activities to ensure that clinical project deliverables are done in a timely, standard, and requirement compliant manner. 

Coordinate the design of CRF in accordance with established standards and protocols. 

Create, evaluate, and validate clinical databases. 

Develop and implement SOPs, departmental regulations, and data standards to assure compliance with database quality control and data management. 

Document, authenticate, validate, and implement compliant regulatory programs to perform clinical data management activities.

Engage in study planning to facilitate the timely commencement of CRF and the design and editing of database checks.

Guide teams to collect data using methods like Electronic Data Capturing. 

Ensure that user acceptance testing, data transmission requirements, and clinical trial site deployment are well defined. 

Develop edit control requirements to ensure high data quality and produce reports. 

Coordinate the design, development, testing, and documentation of the clinical research and database analysts in clinical trial databases. 

Create, code, and test products for non-complex data management such as data entry screens and database tables. 

Manage and track the CRF flow and data required for the scanning and input. 

Utilize problem-solving and analytical skills to apply the concepts of Clinical Data Management.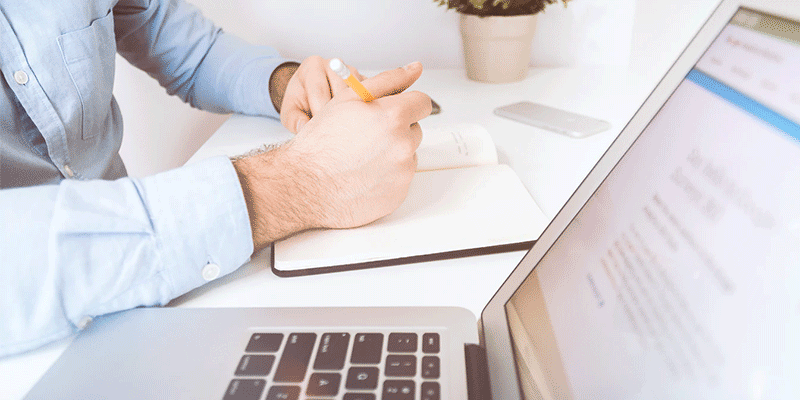 How to earn money during COVID-19 quarantine?
Positions available in remote clinical data management jobs
The positions you can apply to in remote clinical data management jobs are – 
Clinical Data Manager

Bio-statistician

Clinical Data Coordinator

Clinical Data Entry Operator

Clinical Data Reviewer

Software Programmers and Developers for those who have expertise in SPSS, SAS, and Oracle Clinical. 
Opportunities for online clinical data management jobs
You have the following opportunities with online clinical data management jobs – 
Full-time – If you want full-time remote clinical data management jobs, you have to work for a single clinical trial every working day. 
Part-time – If you choose remote clinical data management jobs as part-time, you would be expected to work for only a few hours. You can work on different clinical trials with this option.  
Contracts – You will have to serve a clinical trial for a specific period of time in contract remote clinical data management jobs.
Remote health coach jobs | How to get your dream remote job
Clinical data management job requirements
1. Educational qualification
Managers of clinical data have diverse educational and work experience. Remote clinical data management jobs require a degree in life sciences, computer science, or engineering at a minimum. Some may need graduate certifications in areas like clinical data management, health computer science, or biometrics. In addition, the Clinical Data Managers Society provides a Certified Clinical Data Manager (CCDM) program that recognizes reliable, skilled, and competent data management practitioners who are backed up by a combination of education and professional experience. Holding a CCDM shows recruiters of remote clinical data management that you have gained a certain degree of expertise in the management of clinical data.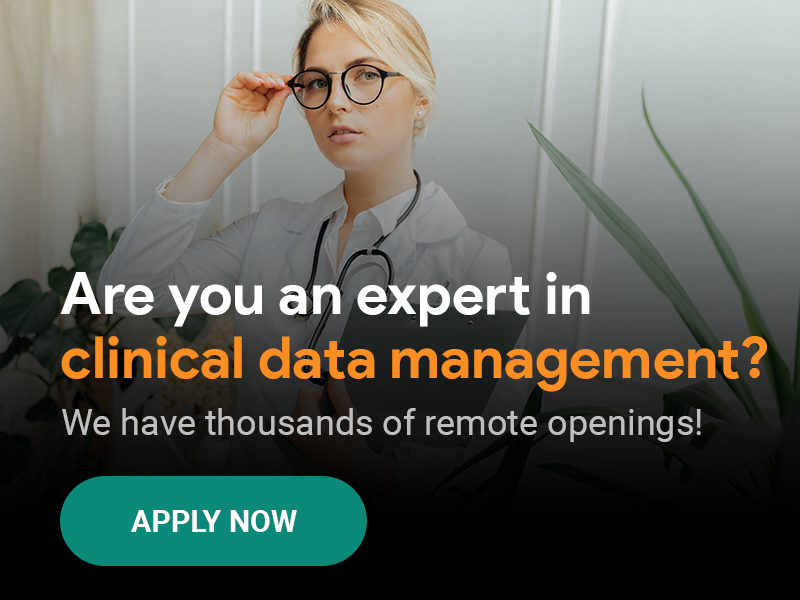 2. Work experience 
Whatever be your educational background, multiple years of experience supporting clinical data collection is required before applying to remote clinical data management jobs. In general, someone with 3-5 years of experience as a clinical data analyst, data programmer, EDC implementer or project data manager would be a preferred candidate for the position of remote clinical data manager.
Tip: Even if you are able to be an efficient clinical data manager for one study, potential recruiters will see that you have the capacity to handle larger studies.
3. Relevant skills 
You will have to work in a highly regulated environment and hence, you should have a good understanding of GCP, ICH, and other relevant regulatory requirements to ensure compliance with studies. Detailed focus from clinical data managers is needed because the success of the clinical trial depends directly on the effective data collection of their team. To decide on data collection methods and data collection suppliers, they have to be good decision-makers. Clinical data managers must also be critical problem solvers because unforeseen problems are bound to occur during a clinical trial.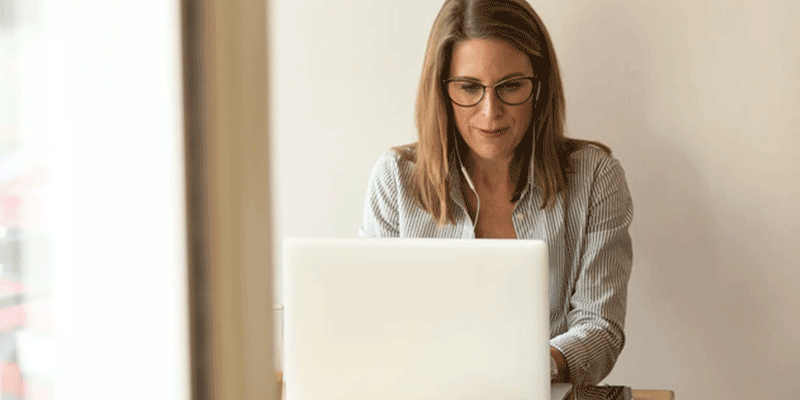 Managing Remote Teams: 13 tips that will come handy
4. Specific knowledge 
English Language – Knowledge of the English language's structure and content, including the pronunciation and spelling of words, compositional rules, and grammar. 
Computers and Electronics – Knowledge of circuit boards, processors, chips, electronic equipment, and software and computer hardware, including applications and programming. 
Customer and Personal Service – Awareness of customer and personal service delivery concepts and processes. That includes assessing customer needs, meeting service quality standards, and assessing client satisfaction. 
Mathematics – Arithmetic knowledge, algebra, geometry, calculus, statistics, and their applications.
Administration and Management – Awareness of the clinical trial and management concepts involved in strategic planning, resource distribution, human resource modelling, leadership strategy, and production processes. 
Clerical – Knowledge of administrative and clerical processes and systems such as document processing, file and record management, stenography and transcription, form design, and other office procedures and terminology.  
Law and Government – Knowledge of medical laws, legal codes, court procedures, precedents, regulations of government, executive orders, rules of agency, and the democratic political process.
5. Tools 
For data collection, you can use Instant Data Entry Application (IDEA) by Health Catalyst. 

For data integration, you can use Attunity, Informatica, Information Builders, Jitterbit, or SnapLogic. 

For big data analytics, you can use Domo.
Tip: In your data management plan, include data storage (which data will be stored for how long), data verification procedures, and a discrepancy database.
10 Best Calendar Apps For A Productive You
Skills for clinical data management remote
To be a successful remote clinical data manager, you will require certain skills. The skills for clinical data management remote are divided into general skills and technical skills.
General skills
Critical thinking skills – Using logic and reasoning to recognize the benefits and disadvantages of possible solutions, assumptions or problem strategies. Reading skills – Comprehending written sentences and paragraphs in documents related to the work. 
Listening skills – Paying close attention to what other people are saying, taking time to consider the arguments that are being made, asking questions as necessary, and not interjecting at inappropriate times. 
Speaking skills – Conversing with others to effectively convey information. 
Writing skills – Responding efficiently in writing to the needs of the trials.
Monitoring skills – Evaluating your own performance and of other individuals or organisations to enhance or take corrective action. 
Problem-solving – Identify complex problems and analyse relevant knowledge in order to create and assess alternatives and incorporate solutions. 
Coordination skills – Adjustment of actions with respect to actions of others. 
Time management skills – Managing your time and that of others.   
Decision-making skills – Consideration of the relative costs and benefits of possible actions to choose the most suitable one. 
Analytical skills – Assessing how a system is expected to work and how changes in circumstances, activities, and the environment can impact performance.
Negotiation skills – Uniting everyone and seeking to reconcile disagreements.
Decision Fatigue: What it is & How you can beat it.
Technical skills
1. Database locking skills 
Support the locking activities of the database by carefully planning and implementing listing reviews, and detecting remaining clinical and monitoring tasks. 

Carry out all Data Management activities (Study Start-Up through Database Lock) including the Data Management Plan creation and implementation. 

Perform all data management including Data Management Plan production and execution. 

Allow and help with internal assessments to allow for clinical locking of databases. 

Look for specific clinical trials using database lock. 

Implement locking procedures on the database for study close-out.
How to land the best remote data analyst jobs?
2. Data management skills 
You should be able use your management skills to – 
Study project budgets and data management personnel estimates. 

Arrange data management for conversion activities from one database to another. 

To support clinical research studies, work on internal and outsourced data management activities. 

Ensure on-time achievement of the project goal by providing study data and obtaining prompt team inputs and coordination for clinical data management operations. 

Perform general data management activities included data listing reviews, updates, and documentation practices. 

Perform all activities of database administration and data management for clinical studies of medical devices.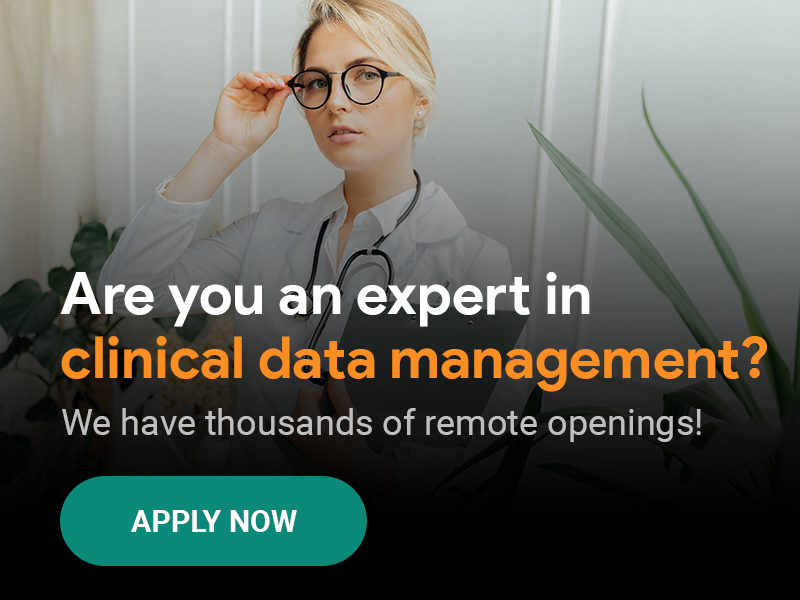 3. Case Report Form (CRF) skills 
To ensure that you have adequate CRF skills, you can check off the following pointers – 
Cultivate in-depth knowledge of CRF Submit vendor application.  

Ensure the CRFs are transmitted to data entry staff and manage data entry in a timely manner. 

Test screens for data entry and CRF design to ensure protocol and guidelines conformity. 

Assist research coordinators with studies and CRF. 

Audit confidentiality agreements, medical licenses, and CRFs. 

Analyse CRF for the detection of CRF errors or inconsistencies. 

Provide verification of the source document and CRF. 

Create spreadsheets for a project team to track missing CRF pages.

Review sources of adverse events documents and ethical compliance for missing CRFs. 

Monitor input data and generate discrepancy queries. 

Resolve queries with study site staff regarding CRF data. 

Develop CRFs that are based on accepted clinical trial protocols. 

Develop CRFs and coordinate review and approval meetings for assigned studies. 

Maintain the processing flow in Teleform Verifier of CRFs and DQFs or Discrepancy Forms to ensure that batches are sent in for entry.
Tip: Define a frequently usable library of standard form templates and edit checks to look into common errors of data entry. If you can program 10 standard checks into a form template, it can be used for many protocols.
8 Best free Video Conferencing Software – Connect, Communicate, Collaborate!
4. Data entry skills
Prepare and develop protocols on data processing, and review basic guidelines for data entry. 

Work with personnel of Data Entry to record guidelines for data entry. 

Prepare case report forms based on standards for data entry. 

Develop, maintain, and record guidelines for data entry and the conventions for data entry. 

Describe documentation for the screen for data entry. 

Provide input for data entry guidelines' enhancement.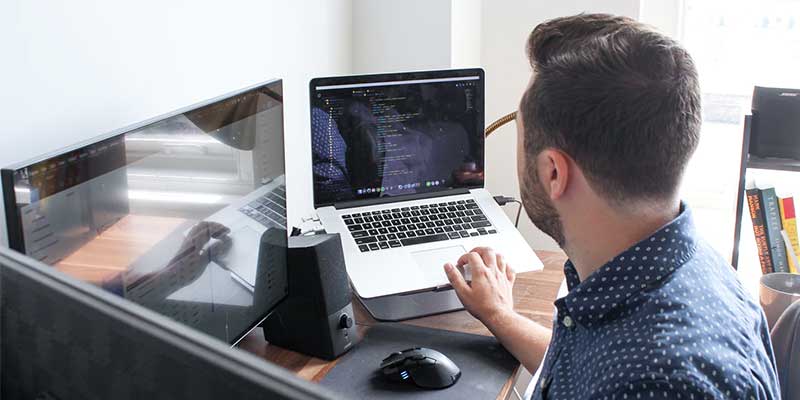 5. Compliance skills
Coordinate associate and investigator tasks to ensure policy conformity. Ensure that overall clinical goals are met and good clinical practice is followed. 

Audit the paper files to ensure that external and internal quality control standards are met. 

Ensure that providers seeking information maintain compliance and data entry done within systems is efficient. 

Manage documentation of the training to ensure compliance with corporate norms. 

Monitor the registration of patients in clinical trials at all sites to ensure that the specific guidelines are followed.
Remote Data Entry Jobs | A Beginner's Guide
6. Data editing skills
Develop, evaluate, and record edit checks based on the specific Data Management Review Plan. 

Consult data managers to specify checks for database editing and to resolve discrepancies between data. 

Test input data and assess edit checks.  

Review checks on editing, test data, and SOPs. 

Participate in the execution of test plan for electronic edit checks. 

Assist programmers in identifying required edit checks for all protocols.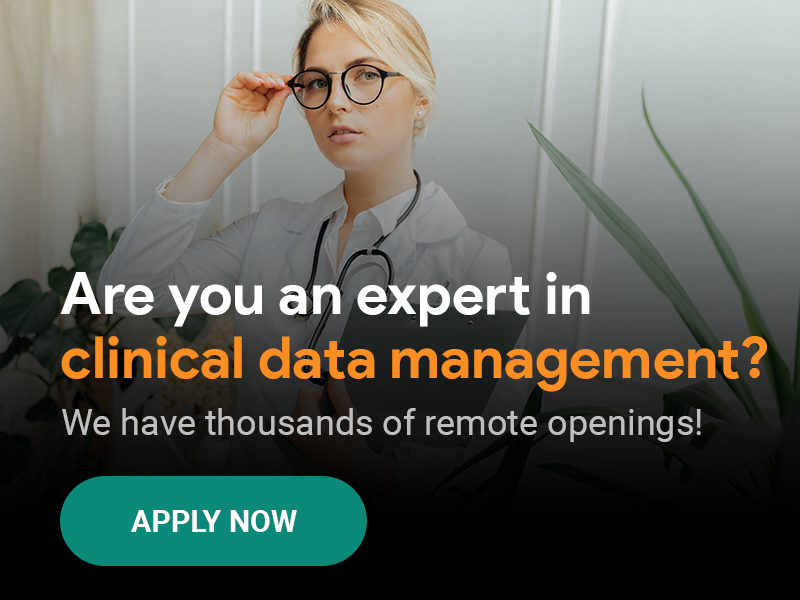 Resume for remote clinical data management jobs
The elements that must be included in your resume for remote clinical data management jobs are,
Clearly mention your personal details including name, age, gender, nationality, and contact information. 

Give a professional overview describing your experience, your qualifications, and your candidacy. In two to four lines, list the most definitive features applicable to the role you are applying for in online clinical data management. 

List your objectives so that the recruiter knows what you intend to learn from his/her clinical trial and what you will contribute to the study. 

Highlight the skills and knowledge you have that are important to remote clinical data management jobs. 

It is important to list your education qualifications. 

You must put down any additional certifications or training you have had in this field.

Mention all of your work experiences in clinical data management and their assigned roles. 

Write about your achievements appropriate for this field. 

Please state your interests. 

Provide valid references.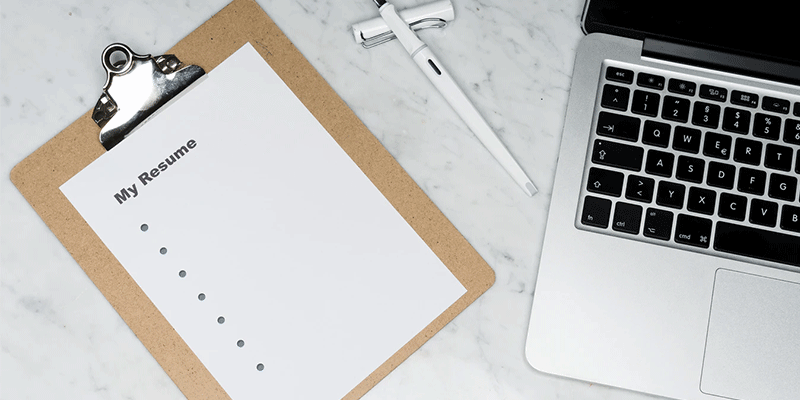 14 Best Remote Job Sites: Start your job hunt at the right place!
Top companies for remote clinical data management jobs
Once you have the required skills, knowledge, and experience on your resume, you can look up the top companies for remote clinical data management jobs.
Abbott India Ltd.

Novartis AG

Pfizer Inc.

AstraZeneca Pharma India Ltd.

Iqvia

Golden Opportunities Pvt Ltd.

Parexel International Ltd.

PRA Health Sciences 

ICON GPHS

Cotiviti, Inc.
Where to look for remote clinical data management jobs?
Online job boards are great for finding the best remote clinical data management jobs. Some of the most popular ones are – 
Naukri

Simply Hired

Indeed

Glass Door

Times Jobs

Monster India

Flex Jobs

Remote.co
Guide to conducting & attending Remote Interviews
Remote clinical data manager salaries
Remote clinical data manager salaries in India range from INR 2,85,000 to INR 9,35,00 per annum. The average salary is around INR 5,42,416 per annum. Bonuses can range from INR 10,000 – INR 99,000 and profit-sharing can vary from INR 5,000 to INR 66,000.
Utilize your skills to the best potential in remote clinical data management jobs!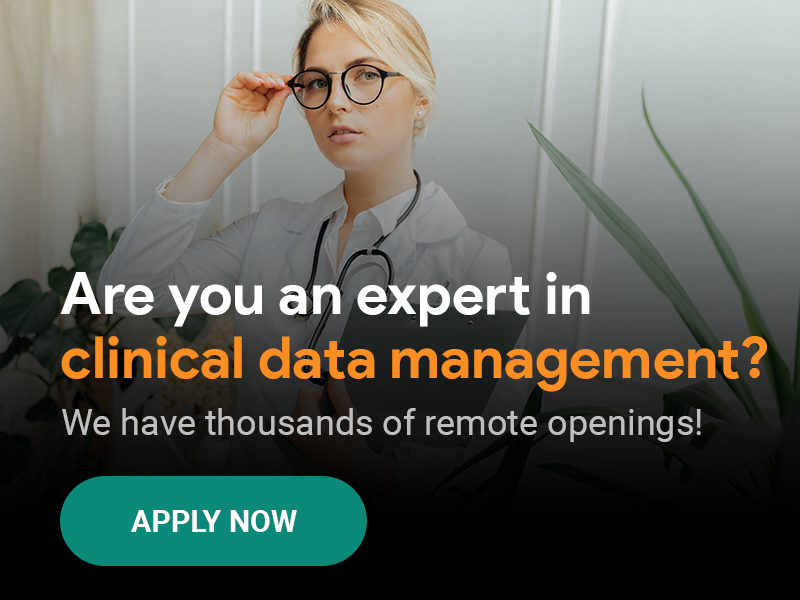 Frequently Asked Questions (FAQs)
1. What is remote clinical data management?
A: Remote clinical data management is a critical process in clinical studies carried out from a remote location to produce reliable and statistically valid data.
2. Can clinical data managers work from home?
A: Yes, clinical data manager can work from home.
3. What do remote clinical data managers do?
A: Remote clinical data managers have to collect data from a specific medical research project, manage the data as required, and present it accordingly from a remote location.
4. How do I become a remote clinical data manager?
A: To become a remote clinical data manager, you must at least have a degree in life sciences, computer science, or engineering. Additional certifications will be preferred during recruitment. Skills such as communication, problem-solving, mathematics, administrative, critical thinking, data entry, data management, and CFR are needed. You must gather work experience in data management and learn to use appropriate tools.
5. How much does a remote clinical data specialist make?
A: A remote clinical data specialist can make around INR 2,85,000 to INR 9,35,00 per annum.