Are you aspiring to be a pharmacist? If so, you must know what are remote pharmacist jobs. Read on to find everything about the top companies, skills, and qualifications needed.
Pharmacists are known by different names, some call them druggists some term them chemists. But who are they?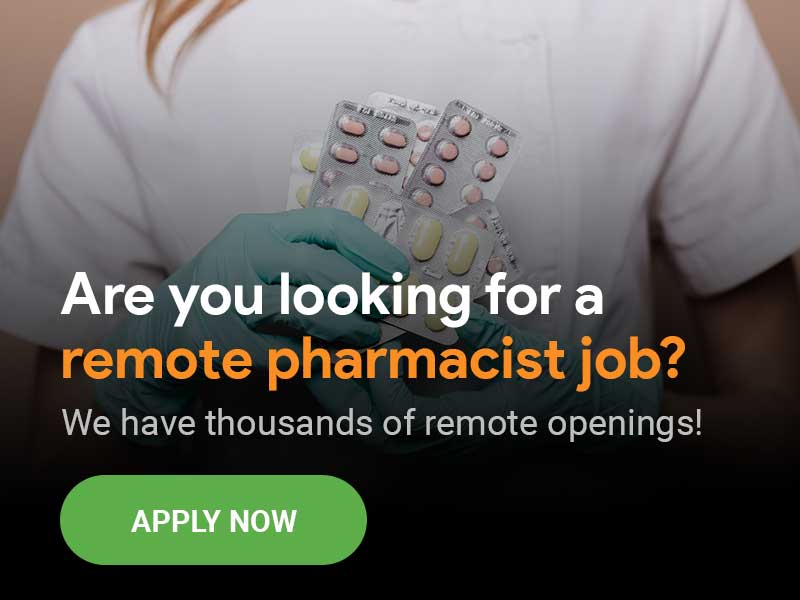 Pharmacists are experts and specialists in the usage of medicines for various kinds of ailments. They are the masters of a medicine's composition required to benefit the patients and ease the side effects. Their knowledge is utilized by physicians and health care service providers in prescribing the correct medicines and the proper dosage.
The article will assist you to get acquainted with the skills, duties, and responsibilities desired for remote pharmacist jobs. It will also list the websites providing details of the best companies hiring for remote pharmacist jobs and the various roles offered for them.
Read: What is remote working?
Market opportunity for remote pharmacist jobs
The pharmacy world is evolving and has evolved beyond distributing medicine. Today pharmacists work in statutory compliance, assist in clinical operations, health economic, clinical research, etc. Remote pharmacist interventions received a lot of attention during the Covid-19 pandemic.
Remote pharmacists proved to be a dynamic workforce, as they showed tremendous commitment to the health of cities and towns across the country. Telepharmacy was used extensively not only in the US but in other countries as well.
Virtual-care and telecommuting for patient care will continue. Virtual-care requires interdisciplinary collaboration between different fields of healthcare including pharmacists. If you are a pharmacy student, you remember you can diversify into other areas of healthcare and use technology to assist doctors in taking care of patients.
Telepharmacy Market size is forecast to reach 13.25 m by 2025 growing at 3.12% between 2020-2025. According to experts, telepharmacy pharmacy solutions will be beneficial to both pharmacists and the pharma industry on the whole.
Pharmacy graduates can work in remote settings such as retail pharmacies, medical clinics, and the pharmaceutical industry.
Opportunities and career path in remote pharmacist jobs
There is a common notion that Pharmacists essentially are only responsible for fulfilling the orders of medicines and pills as per the prescriptions or recommendations by doctors and physicians. But that's only one part of their job. They have many more functions and roles to play and hence recruited in substantial numbers by various hospitals, medical firms, and agencies. Let us discuss the multi-faceted roles of pharmacists in various places.
1. Pharmaceutical Store at the Hospital
Hospitals have their in-house pharmaceutical stores providing medicines and other medicinal needs for their internal operations as well as for outdoor patients. Pharmacists play a significant role in fulfilling such basic needs. But additionally, they are involved in an advisory role in collaborating with the doctors and physicians to bring in improvements in their treatment methods.
Due to the immense knowledge and expertise of pharmacists, hospitals confide in them many times in providing expert opinions and suggestions for the enhancement of facilities and betterment of patient care and hospitality.
2. Medical and Health Care Clinics
Clinics too like hospitals prefer to have their in-house pharmacy stores or pharmacists providing the medicinal needs as per specifications and requirements. Besides, they leverage the specializations of pharmacists in dealing with activities related to patient care that may involve consultancy on medicine consumption, dosage, and general health care.
3. Customer Care or Call Centers
Medical institutes, hospitals, agencies, and health insurance firms hire for remote and work from pharmacist jobs to provide consultancy to their customers. They provide these facilities to ensure better customer satisfaction and for the health benefits of society.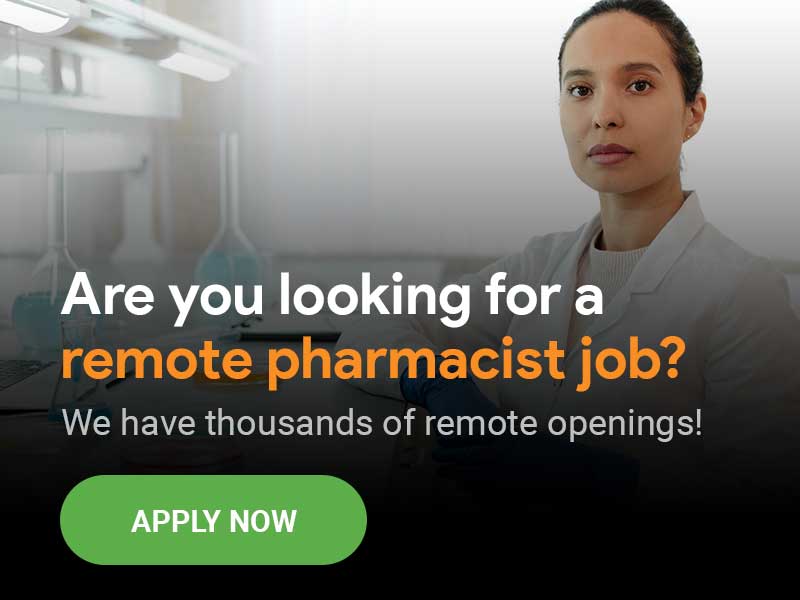 Customers come with numerous queries on particular medicine or drug, the dosage, the benefits, and often inquires on suggestions and recommendations on health care improvements. Answering their queries and assuring them of the importance of medicine used for curing ailments is one of the remote or work from home pharmacist requirements of firms.
4. Medication Therapy Management (MTM)
Pharmacists can now start their personal Medication Therapy Management or MTM remotely from their homes. They can offer freelance services for various remote order entry pharmacist jobs conveniently by staying at home.
As part of MTM, companies prefer hiring pharmacists for recommending medicines to physicians based on the analysis of a patient's genetic traits. This practice has taken quite a high precedence nowadays due to its immense benefits in curing people through medicinal innovations, beneficial for both the physicians and patients.
5. Monitoring and Prevention of side effects
An important role of pharmacists is to adopt proactive methods in preventing the adverse effects of medicines on human beings. Companies hiring for remote pharmacist jobs prefer conducting clinical trials as part of their drug monitoring and controlling activities to identify any side effects of medicines. Hence the pharmacists recruited by them are engaged in proactive monitoring drills in addition to their regular activities.
6. Recommendations for Insurance Coverage
Health and medical insurance companies hiring for remote pharmacist jobs, desire proper scrutiny of the claims before authorization and approval. Hence the pharmacists recruited by them are engaged in validating the claims as per the insurance policies.
For prior and advance claims too, they are involved in detailed verifications before approving the submissions. It is a very critical and crucial role since it involves monetary exchange and has financial impacts.
7. Medicinal Research
Research can be done through individual motivations or on behalf of any medical institute firm or agency. Companies providing remote and online jobs for pharmacists invest in medicinal research programs for bringing in clinical innovations and improvements for business improvement and betterment of society.
Hence pharmacists can actively engage in conducting experimental research on analyzing the composition of medicines, reasons for adverse effects and their preventions, improvements, and innovations in clinical trials, etc.
8. Academics
Various medical institutes, schools, and universities hire remote professionals to conduct online sessions and learning courses for budding pharmacists. It is one of the convenient and easiest among the remote pharmacist jobs you can opt for. Sitting at home remotely or even from a co-working space, you can impart your knowledge online to students located anywhere in the world.
9. Writing articles on Medicine
Health journals and magazines, online portals of medical companies, firms and agencies, Health consultancy websites recruit pharmacists full-time, part-time, or even freelancers for writing articles.
The articles cover topics related to recommended medicines for various ailments, consultancy on the usage of medicines, benefits of a healthy life, and many more. If you have a knack for writing, then these kinds of online jobs for pharmacists are noble and respectable.
Read: Remote Insurance Jobs | How To Find The Best Insurance Jobs Online?
Roles and responsibilities of remote pharmacist jobs
The remote pharmacist job definition will depend on your job profile. As a remote pharmacist, you need to be committed to assisting the patient. Some responsibilities of a remote pharmacist are,
Build a strong relationship with your patients.
Participate in patient's file evaluation and chart review for product selection, device selection, and management.
Collect, interpret, and evaluate physician medication for appropriateness, cost-effectiveness, accuracy, and safety.
Monitor the patient's progress and communicate clinical and technical information to the physician and your colleagues in the healthcare team. You may need to contact the patient.
Review the patient's history and profile to ensure proper and safe drug therapy.
Drive compliance and ensure continuous quality improvement in delivering patient care.
Enter orders into the database, track and oversee prescriptions, evaluate patient care plans, and make recommendations, if necessary.
Analyze prescription orders, review dosage instructions, and provide virtual assistance to patients.
Checking medical records and form documentation for accuracy.
Ensure pharmacies adhere to the regulatory compliances, standard operating procedure, and FDA regulations.
Assist in HR activities such as training and career development.
Good read: How to work from home successfully?
Qualification needed for remote pharmacist jobs
Those interested in remote pharmacist jobs must have the following qualifications,
College degree: You need to have completed your Doctor of Pharmacy degree or Pharm D. The degree needs to be accredited by the Accreditation Council for Pharmacy Education (ACPE). Typically Pharm D. course is a six-year course. If you have completed your graduation, you can apply for a four-year course. Most schools require candidates to take a Pharmacy College Admission Test (PCAT)
If you are interested in clinical pharmacy or research, you may have to complete a two-year residency with the option of additional training in a specialized area.
Pharmacists in the US need to be licensed. Each state has specific requirements, and you need to verify your license is valid in the state. All aspiring pharmacists need to clear the North American Pharmacist Licensure Exam (NAPLEX), administered by the National Association of Boards of Pharmacy (NABP). Most states require pharmacy graduates to clear a pharmacy law test called the Multistate Pharmacy Jurisprudence Exam (MPJE).
If you are interested in a remote pharmacist job, we have listed the best schools to complete your Pharm D. Degree,
University of North Carolin-Chapel Hill
University of Minnesota
University of California San Francisco
University of Michigan – Ann Harbor
University of Texas – Austin
Suggested read: Work From Home Nursing Jobs | Practice Nursing At Home
Skills required for Remote Pharmacist Jobs
Below are the key skills needed to be in remote pharmacist jobs,
1. Mathematical Skills
An online pharmacist must possess efficient mathematical skills and analytical power to calculate the correct and proper percentage of chemical composition in medicines. He or she has to denote how many pills or dosage is required for the various kind of ailments. These help in curing the diseases without introducing any adverse effects on the patient's health. It is one of the essential remote pharmacist job skills.
2. Knowledge in Science
The different types and percentages of the chemical composition comprising drugs and medicines determine the cure for any kind of ailments. It is one of the most important remote pharmacist job skills, requiring comprehensive knowledge of biology and chemistry. A dearth of scientific affiliation will pose a hindrance to understanding the concept or need of the chemical mix for medicines. Therefore if you are interested in remote pharmacist jobs then you need to possess a scientific aptitude and a mindset too.
3. Correct and Accurate Analysis
A mistake in combining the exact percentage of the chemicals required in a drug or medicine will seriously hamper the well-being of patients and the cure from the diseases they are suffering from. That's not what is desirable or accepted in the medicinal world. Hence being accurate and correct determines your future while opting for the job of a remote or an online pharmacist.
Tips: A pharmacist has to understand not only the medicinal composition but also the instructions and prescriptions from physicians and doctors. It is important to be extra attentive and careful while reading the documents and the notes. The smallest mistake may lead to a huge disaster, causing severe damage to humanity.
4. Multitasking Abilities
Remote professionals have to perform multi-tasks especially since they are working remotely, managing the professional world as well as personal life simultaneously while being constantly present at home. It is the same for an online pharmacist too. To aspire in your career and for your future growth, you need to equip yourself to perform multiple tasks.
It can be attending audio or video calls from health care companies, physicians, customers, or specialized pharmacies. You need to interact with different kinds of patients and deal with their health anxieties and problems.
Fact: A Pharmacist has to follow strict protocols, rules, regulations, and health compliances while performing their work and attending to patients or customers. Unless they abide by such norms, there will be errors in their activities causing substantial harm to society.
5. Proper Counselling
Proper guidance and assistance are required while providing medicines and pills to patients. Many people are ignorant of consuming the prescribed dosage at adequate intervals, thus preventing timely cure and corrective results for the treatments provided to them. It is the responsibility of pharmacists to educate the patients about the benefits of medicines on their health and the positive effects.
Facts: Expertise in counseling and influencing people in adopting the correct medicinal practice is acquired through experience. You need to study the behavioral aspects of patients, related to their knowledge about medicines and their appropriate consumption. Eventually, it will guide you to analyze and provide adequate guidance.
Tips: Various expert talks, online courses, and materials are available to gain knowledge and learning on how to judge the different human traits when it comes to health and medicine. They will assist you in enhancing your experience further, resulting in proper productivity and efficiency.
6. Technology Awareness
Almost all industrial sectors are transforming into a digital world, health and life science are not an exception. Hospitals, health care agencies, and firms, laboratories all maintain patient's database online and the prescribed medicines. The medicinal stores utilize online applications and systems to keep a track of their stock, as well as proper planning for demand and supply. While hiring for remote pharmacist jobs, companies and firms prefer a fair amount of knowledge on technology.
Tips: Pharmacists need to attain online consultation programs or may have to impart advisory counseling through online broadcasts. For both situations, adequate knowledge is needed for applications supporting audio and video conference calls as well as internet connectivity and essential software and hardware requirements.
7. Familiarity with Financial Aspects
A job of an online or telecommute pharmacist demands thorough knowledge of the financial budgets reserved for maintaining stocks and various expenses. He or she must be aware of the daily expenditures and revenue earned. Understanding the ledger, the incoming and outgoing cash flows, and the impact of taxation and other statutory rules and regulations are important to control the financial stability of a company or firm.
Tips: Companies and firms related to pharmaceuticals and medicine manufacturers leverage applications best suited for financial planning, budgeting, and calculations. While aspiring for remote or work from home pharmacist jobs, you must additionally acquire the skill of understanding the functionalities of such applications.
8. Ethical and Moral Integrity
Following certain ethical and moral guidelines is an important aspect of a remote or telecommute pharmacist. Medical situations and complexities can be multiple. In certain situations, you may not agree with the opinions of physicians and doctors. But you need to set aside your opinions and suggestions and abide by the medicinal procedures. You need to demonstrate professional etiquette and behavior while dealing with customers and other stakeholders. 
Tips: Learn to be patient and calm while working with different physicians, doctors, and customers. Do not enforce your knowledge but try to respect the medicinal expertise of doctors while preparing and providing the medicines.
Read: Video conferencing etiquette: Best practices for video conferencing
Certifications to get remote pharmacist jobs
Practices in the pharmacy field are evolving, and you must keep up with the changes. Many remote pharmacists jobs require a specialist skill set beyond your pharm D degree. If you have the required certifications, you may get an edge while you're looking for remote pharmacists jobs.
Board of Pharmacy Specialist (BPS) is an independent certification agency of the American Pharmacy Association. If you are interested in oncology pharmacist jobs, you can consider completing an Oncology certification from BPS. The BPS has recognized six practice areas,
Ambulance Care
Critical Care
Geriatric Certification
Nuclear Certification
Nutrition Support Certification
Oncology Certification
Other certifications offered by the American Pharmacy Association are,
Certified Pain Educator (CPE)
Certified Diabetes Educator
Asthma Certification
Anticoagulation Specialist (CACP)
Accredited Health Care Fraud Investigator is a certification is granted by the National Health Care Anti-Fraud Association to detect, investigate, and prosecute health care fraud.
American Society of Quality offers pharmacist various certifications for professional in the pharmacy industry such as,
Biomedical Auditor
Manager of Quality/Organizational Excellence
Pharmaceutical GMP Professional
Quality Auditor
Six Sigma Black Belt
Six Sigma Green Belt
Certified Health Data Analyst certification from the American Health Information Management Association will give you the ability to acquire, manage, analyze, and interpret, and transform data accurately and consistently.
Biopharma Certification is offered by Biopharma institute. You can choose a range of biopharma courses. Some of the courses offered by the institute are,
CCRA – Association of Clinical Research Prof.
BDCP Biopharmaceutical Development Certified Professional™
CMWP Certified Medical Writing Professional™
CPVP Certified Process Validation Professional™
CMCCP Chemistry, Manufacturing & Controls (CMC) Certified Professional™
CCCP Clinical Compliance Certified Professional™
GLPCP Current Good Laboratory Practices (cGLP) Certified Compliance Professional™
GMPCP Current Good Manufacturing Practices (cGMP) Certified Professional™
DMCP Document Management Certified Professional™
GRACP Global Regulatory Affairs Compliance Professional™
PDCP Pharmaceutical Development Certified Professional™
Good Read: Best Remote Working Tools That Make Life Easy 
Top 10 tools needed for remote pharmacist jobs
If you plan to become a remote pharmacist, you will need some tools to operate efficiently. These are some tools that will help you whether you have opted for remote pharmacy jobs or remote part-time pharmacist jobs,
Telepharm is a tool that will help remote pharmacists verify prescriptions and live-video counseling.
Mc. Kesson Pharmacy System is a cloud-based is pharmacy management systems.
GoFrugal is a pharma software catering to all the needs of a pharmacy.
Intelligent Medical Software is an all-in-one EHR, practice management, and billing platform.
Survaider offers its customers an experience management solution for business.
PrescribeWellness offers a cloud-based solution that helps improve patient compliance, customer loyalty, star ratings, and pharmacy profitability.
Redbook is a cloud-based platform that helps pharmacy retailers with several things such as inventory management.
RxMaster Pharmacy System is a point of sale and prescription system.
Helix provides software and hardware solution for pharmacists.
FSI Pharmacy Management System is a pharmacy management software system.
Read: 14 Best Remote Job Sites: Start your job hunt at the right place!
Top 25 dream companies for remote pharmacist jobs
If you are looking for pharmacist contract jobs remote these companies provide some of the best remote opportunities,
Cardinal Health Inc is one of the top American health care service providers.
Magellan Health Inc is an American for-profit health care service provider.
Humana is a health insurance company based in Louisville.
Walgreens operates the second-largest pharmacy store chain in the United States.
Pipeline Health Holding LLC is an independent national healthcare network.
Evolent Health is a health care service provider.
Molina Healthcare provides a range of health care services to individuals who qualify for government-sponsored programs.
UnitedHealth Group provides insurance with health benefits.
Cigna is an American health service enterprise providing health services based in Connecticut.
Magallan Health Inc is an American company for-profit health care company, focused on providing pharma benefits and other specialty areas of health.
CVS Health is an American health care company that owns CVS Pharmacy.
LifePoint Health- Health Support Center is a health care service provider that focuses on small towns and rural communities.
PillPack is an online pharmacy and is a subsidiary of Amazon.
Brand Institute Inc is a branding agency specializing in pharmaceutical branding.
Northwestern Medicine is an organization committed to providing advanced healthcare to communities and patients.
Bainbridge Inc provides professional services for healthcare.
Anthem Inc is an insurance company.
Merck is a global pharmaceutical company offering various therapy, vaccines, and prescription medicines.
Syneos Health is a biopharmaceutical solutions organization.
ExactCare Pharma provides pharmacy care for patients.
Soliant Health is a leading national provider of healthcare jobs and staffing services.
Medimpact Healthcare System is an independent, trend-focused pharmacy benefit manager.
Ascension is the largest private healthcare system in the US.
McKesson Corporation is an American company that distributes medicines and provide state-of-the-art health information technology and care management tool.
Northern Light Health is an integrated health service provider operating from Maine.
Read: 34 Best Remote work communities on Reddit, Slack, Facebook
Job boards for remote pharmacists jobs 
There are many websites on the internet, where opportunities from the best companies hiring for remote pharmacist jobs are listed and open for browsing and searching. They display remote order entry pharmacist jobs and other work from home and online pharmacist jobs, hiring people from different regions of the world.
You can create a profile on the websites and upload your resume for recruiters to look through your profile and consider recruitment. The jobs can be searched based on location, type of employment, salary, or companies. Some of the key websites offering a listing of remote pharmacist jobs are enlisted below for your quick reference,
Indeed 

Simply Hired

Linkedin

Zip Recruiter

Jooble

Glassdoor

Virtual Vocations

FlexJobs

The Work At the Home Woman
Summarizing the duties and responsibilities of Pharmacists, we understand that they play a critical role in the clinical world. One of the essential criteria of remote and work from home pharmacist requirements is to remain active in your field of work. Medical science is undergoing a tremendous amount of improvements. You need to keep up with the pace to survive and enhance your future growth.
Suggested read: 10 Best Calendar Apps For A Productive You
Top resume elements of remote pharmacist jobs
While applying for remote pharmacist jobs you need to customize your resume to the post you are applying for. Be sure to add your updated contact details. It is important to mention your education and license details. You need to include past roles and responsibilities.
Technical knowledge may include elements such as:-
Pharmaceutical operation
Patient Counseling
Product Safety
Clinical Application
Knowledge of pharmacy policy and procedure
Some common soft-skill elements are,
Analytical skill
Detailed oriented
Team Management
Communication Skill
Managerial skill
Good Read: Remote health coach jobs | How to get your dream remote job
Remote pharmacist jobs pay structures
Remote pharmacist annual salaries can range from $145,500 to $24,500. The most remote pharmacist earn annually from $81,500 to $119,000 with the top earners make $129,500. Cardinal Health is one of the biggest recruiters for remote pharmacist jobs. A Cardinal Health remote pharmacist jobs can earn $55-$61/hour.
The average annual salary of various remote pharmacy jobs is as follows,
Remote MTM pharmacist jobs : $55,000 to $75,000
Remote clinical pharmacist jobs : $79,000 to $147,000
Remote telecommuting jobs pay : $68,000 to $139,000
Remote retail pharmacist jobs : $81,000 to $129,000
Entry level remote pharmacist jobs
New graduates may wonder how to get a foot in the door with pharmacist remote jobs. The job market is exciting and you need to decide if you are interested in remote part-time pharmacist jobs or full-time remote job. Visit job portals for the latest openings.
Thanks to technology there are several options for new graduates opting for off-site remote entry pharmacist jobs. Some of the jobs you can consider,
Remote MTM pharmacist jobs
Remote clinical pharmacist
Pharmacy telecommuting jobs
Remote order entry pharmacist jobs
Remote verification pharmacist jobs
Remote pharmacist jobs retail
Continual learning is vital to understand the developments in the clinical world, which eventually will facilitate analysis and research work in addition to improvements in the regular functions of pharmacists. An increase in knowledge will guide you in ensuring the safety of the patients while providing them with medicines or counseling them on clinical issues.
Working remotely as a pharmacist mandates continuous interactions with your customers, different stakeholders of the companies or firms, and the team members. Building up and strengthening interpersonal relations is an important criterion of success in the world of remote pharmacist jobs.
Must read: Best resume software | Give the finest first impression
Can pharmacists work remotely?
The pharmacist can opt to work from remote locations thanks to technology. There are several options if you want to become a remote pharmacist job from home. Some of the options are mtm pharmacist remote-jobs, telepharmacist remote jobs, or verify prescription orders and confirm the prescription.
How much do remote pharmacists make?
The salary of a remote pharmacist depends on your location, experience, and job profile. The average salary for a remote pharmacist job is $100,504 annually.
What is the highest paying pharmacist job?
The pharmacy field is very vast. Your salary will be dependent on factors such as duties, responsibilities, and your specialty. Nuclear pharmacists are the highest-paid pharmacist position.
What else can I do with a pharmacy degree?
You may think that your pharm. D degree limits your career options. By now you know the common pharmacy jobs you can opt for. The course you have learned has equipped you with many transferable skills. Here are some careers you can opt for with your pharmacy degree:-
Finance
Teaching
Science Writer/Journalist
Medical sales representative
Regulatory Affairs Officer.
How can a pharmacist make extra money?
As someone who has started their first entry-level pharmacist jobs remote you are looking for ways to supplement your income to repay your student loan. You can opt to:-
Take extra shifts
Look for additional projects/assignments
Look for moonlight positioning
Start consulting practice
Teach a course
Can a pharmacist be rich?
The average annual salary of a pharmacist is approximately $125,000. It will be enough to have a comfortable lifestyle but not enough to become "rich". Your wealth creation depends primarily on how much you save and invest over the years.
Will pharmacists be in demand in the future?
According to projection, the pharmacist profession is expected to grow at 6% from 2016 to 2026. Demand for pharmacists is said to increase in different healthcare settings and will take a more proactive role during patient care. Higher rates of chronic disease will increase demand.
Is pharmacy a dying career?
No, the pharmacy profession will never die as long as there is a need for medication. A pharmacist plays an integral role in patient welfare. The profession may decline in countries where pharmacies are mismanaged, where the responsibilities are being shifted to doctors. People will continue to go to the pharmacy to get their prescribed medication. Even with the shift toward online medical stores prescriptions need to be vetted.