Passionate about remote insurance jobs? Read on to find everything you need to know before moving to a career in insurance!
Insurance is a broad term that includes many forms of coverage including life, health, car, land, and casualty. The industry offers many job openings for those with the right skills and qualifications. If you are interested in an insurance career from home, research various field positions to assess a job that best matches your preferences and abilities.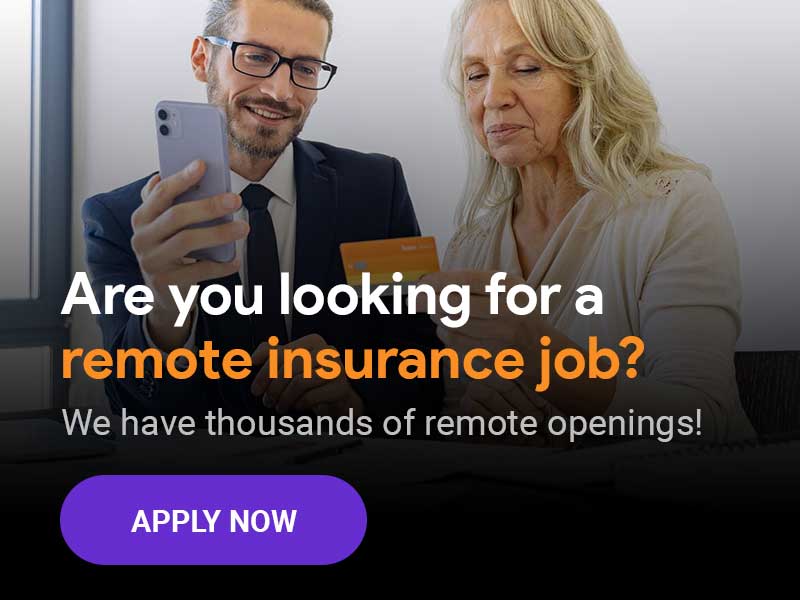 Job search sites and websites of insurance firms post comprehensive job descriptions that will help you learn about the roles and qualifications for various remote insurance jobs. An actuary, claims adjuster, and the underwriter is among the most commonly held positions by remote insurance workers.
Read: What is remote working?
Market opportunity for remote insurance jobs
A tough time demands something never happened or make people helpless to do the same. The pandemic has created a disaster for every industry which ultimately result in a recession. Employees have been working remotely, after all, who does not want to earn bread and butter.
Remote Insurance Jobs are no less, the insurance companies are facing an awful period specifically the health insurance company. As Covid-19 hit the globe, millions of people are after health insurance companies. They are facing a huge loss in order to satisfy customer's requirements.
Therefore, to calm down the disastrous problem here is a solution of remote working were in the companies are looking for some skilled employees to work from home keeping the safety measures in mind. Managing plenty of work, companies are finding a way to distribute enough work to the employees who can manage well.
According to the market statistics, the year 2020 is in complete vitality of Remote Jobs. Be it a full-time job or part time, people are considering jobs to conceal the financial losses they had.
44% growth has been seen in remote working for 5 years, where the present scenario has got 4.7 million Americans started working from home remarkably better than that of 3.9 million in 2015. Presently, remote insurance jobs are seeing upward opportunities, particularly after the lockdown.
Must read: Time Blocking: All you need to know about this powerful technique
Job types and career paths in remote insurance jobs
Work from home insurance jobs offers many positions for you to explore. The common remote insurance job roles are,
1. Actuary – Actuaries use analysis to estimate the probability of a risky event. They help insurance companies determine how much they will charge for various forms of coverage. Of the work from home insurance jobs that are listed here, actuaries make one of the highest incomes.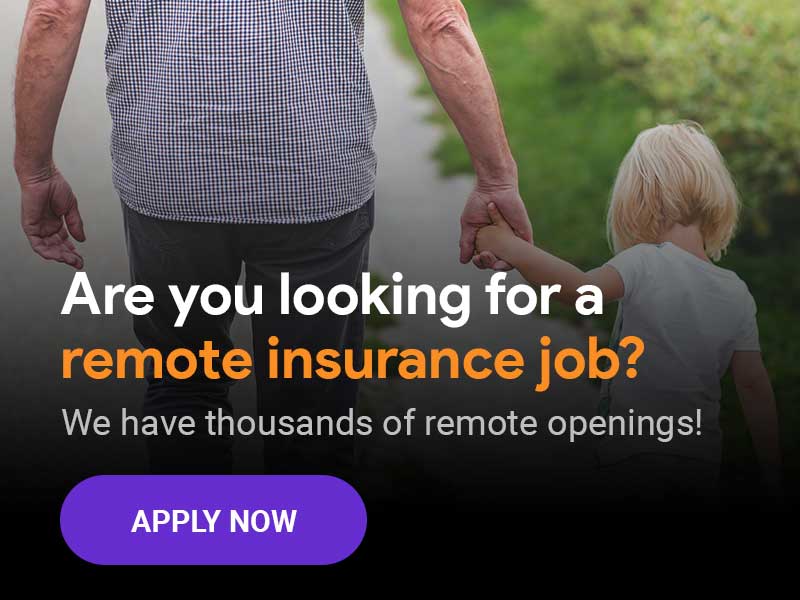 Actuaries usually work for insurance agencies and brokerages which sell multi-company policies. They can even work for a specific insurance firm or government. They also specialize in one form of policy, for example, health insurance or property insurance. Actuaries need to be able to manage statistics and arithmetic and pass a set of examinations. Job titles include,
Actuary

Actuarial Analyst

Actuarial Specialist

Actuarial Associate

Actuarial Manager
2. Claims Adjuster – Online insurance jobs include the job title of the claims adjuster. Claims adjusters work for clients who have experienced damages and are filing claims. Often known as insurance examiners, analysts, experts, appraisers, or investigators, claims adjusters have to determine how much an insurance provider will reimburse for a loss or injury. Usually, they fly to clients and inspect a property that has been affected according to a policyholder's allegations.
Their work can require analysis to decide how much a claim may be worth. They have to seek expert opinions. Some claim adjusters act as adjusters to the public. Claimants can employ a public adjuster as they prefer not to rely on an adjuster from the insurance company. Being a claims adjuster is one of the highest paying online insurance jobs. Job titles include,
Adjuster

Claims Adjuster

Claims Analyst

Claims Examiner

Claims Manager

Claims Representative

Claims Specialist

Claims Clerk 

Estimator

Examiner

Field Adjuster
3. Claims Clerk – Insurance claims clerks manage all of the insurance policy related paperwork. They could be implementing new rules, changing existing regulations, and managing paperwork relevant to arbitration claims. They are sometimes known as policy processing clerks. Job titles include,
Clerk

Administrative Assistant

Bookkeeper

Policy Processing Clerk
Suggested read: How To Build And Sustain Trust In Remote Teams
4. Customer Service Representative – This is one of the lighter telecommute insurance jobs. Representatives of customer service help consumers with different questions and complaints about insurance policies. They can also take customer details after the damage has occurred to their insured properties, and communicate with them on the phone, online, or in person. Job titles include,
Customer Service Associate

Customer Service Representative

Customer Service Manager
5. Loss Control Specialist – Prevention is the responsibility of a loss control specialist. They inspect companies to offer strategies to reduce the risk of loss or injury. Often known as risk consultants, loss control specialists travel to various workplaces to notice any possible hazards which are then reported to the insurance provider.
Read: 34 Best Remote work communities on Reddit, Slack, Facebook
6. Sales Agent – The sales agent role is another one of the lighter telecommute insurance jobs. An insurance sales agent calls customers to sell them different forms of insurance. They clarify plans, direct consumers in the selection process, and maintain insurance records of each client.
Most insurance sales agents work with insurance agencies and brokerages, while some work for insurance firms in particular. Increasing numbers of insurance sales agents provide extensive financial planning services to their clients including retirement and estate planning. Such brokers may also be allowed to sell mutual funds, variable annuities, and other securities. Job titles include,
Sales Agency Manager

Sales Agent

State Sales Manager

Loss Control Consultant/Specialist

Risk Consultant

Consultant
7. Insurance Underwriter – This is one of the most common remote insurance jobs. An insurance underwriter decides whether the insurance will be given to those requesting coverage. The underwriter tests applicants for risk and decides whether the applicant meets the minimum requirements.
An underwriter can also assist in setting premiums for various insurance plans, depending on the risk calculated. Most underwriters are employed by insurance firms, and others can work for different insurance companies. Underwriters tend to be specialized in one field of coverage, for example, auto insurance or life insurance. Job titles include,
Underwriter

Underwriting Manager
Tip: Create a brand for yourself online (through social media profiles) to increase the possibility of landing good remote insurance jobs.
Roles and responsibilities for remote insurance jobs
A person who deals in protecting financial loss or reimbursing a loss by signing a policy is known as an insurance agent. Their responsibilities are packed up with the clients as their job is to keep a check on the policy renewal, identifying risks, checking on claims, etc.
The following are the responsibilities of an Insurer
Promoting the upcoming insurance policies or renewing the existing ones to their clients.
Raising awareness to build a healthy relationship with clients and calling out to multiply customers to create a pool of contracts.
Proposing plans to safeguard their business and health by maintaining a policy keeping their budget in mind.
Maintaining a proper record book, data, statistics, and accounts for a beneficial future.
Risk Management Strategies need to be a handle to guard the risk factors.
Customer Recovery and insurance claims have to be managed in order to avoid any haphazard.
Upgrading the knowledge for the job and keep learning the description of upcoming products and services.
The completion of policy requirements should be look up every time it is notified.
Working with clients to maintain a mutual understanding is a must for the company.
Ensuring customers about the policies and signing the contract.
Must read: Best Remote Working Tools That Make Life Easy
Qualifications needed for remote insurance jobs
The eligibility for falling in the category of insurance work from home positions, a candidate must clear the entrance examination conducted by the Actuarial Society of India, Mumbai. A student who is 10+12 is perfectly eligible to register for an entrance exam. A license is hence required to work in the field of online Insurance jobs which will be issued after attending a training programme.
To opt for Insurance work from home careers, a candidate should enroll himself in the Insurance Institute of India which conducts Licentiate, Associateship, and Fellowship including another training program.
For learning the various forms of Insurance, there are subjects which conclude Principles of Insurance (Principles of Life Insurance), Practice of Life Assurance, Insurance Business Environment.
There are some of the vocational courses introduced by the Central Board of Secondary Education (CBSE) in collaboration with GIC and LIC for classes 10+2. Similarly, some of the universities at graduation level has introduced the same course so that once a candidate has completed his graduation or even post-graduation, he can directly apply for the jobs in the insurance marketing and sales of private insurance companies.
Several Posts in the Insurance Industry require the following eligibility criteria,
Administrative Officer (AO) and Assistant Administrative Officer (AAO): A candidate who is holding a Graduation/Post Graduation degree in any subject with a minimum of 50% marks with the reputed organization and is in the age of between 21 Years and 28 years can apply for this position. Recruitment will be from a written examination and an interview.
Development Officer: Any graduate between 21 and 26 years of age can apply for this position where the selection is based on the written test of English and Mathematics. If a candidate is selected, he has to serve as an apprentice for 1 year.
Insurance Agents: To apply for the post of Insurance Agent, one must have a minimum qualification of 10+2. To join as Insurance Agent, one must undergo 100 hours of classroom training conducted by the respective Insurance Company where the syllabus is formed by IRDA.
Composite Agent: The ones who sell both life and general insurance policies and the eligibility test for them is the same as for the Insurance Agents. To opt for this position a candidate must appear for an additional test which is also conducted by the Insurance Regulatory Development Authority (IRDA).
Insurance Surveyor: They must be licensed by the Controller of Insurance, the surveyor can be engineers, accountants, medical graduates, etc.
There are various courses one can pursue to achieve a valuable position in Insurance. A license from the state is required before opting for a job in Insurance.
The best colleges in the US to specialize in Insurance,
University of Illinois, Urbana-Champaign
New York University
Florida State University
Temple University
University of Wisconsin
The courses for becoming Insurance Agent are listed below,
Introduction to Risk Management
Risk Management – Managing property and Liability Risk
Risk Management – Insuring against Risk
Risk Management – Managing Life Cycle Risks
Suggested read: Best resume software | Give the finest first impression
Skills needed in remote insurance jobs
The required remote insurance jobs skills are,
1. Customer service skills
Whether as a broker, claims manager, loss adjuster, or underwriter, you will be negotiating with or on behalf of clients – and offering outstanding customer support is the key to your success. Although actuaries have less direct interaction with customers, the same skills can help you communicate with your colleagues.
Tips to grow customer service skills – ask your employer for input if you have a part-time job in a customer service sector, such as retailing or working on a customer helpline. Make a note of whenever you believe you have given excellent service. Volunteer to help out potential students on campus tours. Put extra effort into researching the knowledge that they would need.
Tips to handle your online interview – use open, welcoming body language, and smile at your interviewer. Come informed about the insurance industry. Show your ability to interact with people. Find common ground with your interviewers, or ask them what they like about working in the company.
2. Numeracy skills
Some insurance roles are more demanding about mathematics than others. Actuaries deal with statistics and computer modeling, while claims handlers simply need numbers to feel confident.
Tips to grow numeracy skills – fortunately, you use numeracy in your everyday lives all the time. The big one for students is budgeting food, rent, and bills, particularly if they split them with other friends. You may also volunteer as a club or group treasurer.
Tips to handle your online interview – do not think about using prosaic details on your curriculum vitae or during your interview. If you can clarify your effective budgeting strategies before you dive in, you will do good.
3. Organizational skills
Since you are likely to deal with a large number of clients or clients, keeping structured, accurate records are crucial.
Tips to groom organizational skills – technology often includes regular examples of organization. Think of the software that you are using to keep yourself coordinated. How did you pick them and what are they making you do? While working, carry on administrative duties such as setting up shift rotas or assigning tasks. Contribute to planning an event for a student society.
Tips to handle your online interview – do not fear thinking aloud. Explain your thinking processes when you are asked to solve a question during an interview. Even if your response is not flawless, the interviewer would be able to see your methodical approach.
4. Problem-solving skills
You may come across problems in any insurance position that needs a creative solution. As a broker, a client with special insurance needs may need to find cover. As an actuary, the measurement of a new and uncertain risk may confront you.
Tips to grow problem-solving skills – You solve issues in your daily life all the time. Think of occasions when you hit an obstacle – may be a budget deficit for a holiday, a member of a project group who at the last minute called in sick, or two staff members at your work that would not quit fighting. How did you patch it? The more that you try to do, the more problems that you will run across! Engage in something that will need you to take responsibility. Problem-solving experiences are sure to come about.
Tips to handle your interview – you will be given tasks and problems to solve and be watched during certain online interviews. Do not let that fluster you. Take your time and be imaginative. Think carefully.
5. Detail-oriented skills – as common in any work that includes payments and estimates, attention to detail is essential. The ability to pick up on minor mistakes will save you from a catastrophe caused by an incorrect decimal point.
Tips to gather detail-oriented skills – students in science will have it easier – experimental methods and computer programming require attention to detail and justify your success. Carry on activities such as college newspaper proofreading, or record-keeping for a student society.
Tips to handle your online interview – when you are asked a question by your interviewer, make sure you are clear about what you need to do. If not, ask for more information.
6. Analytical skills
Analysis of information is an integral aspect of insurance, whether you are looking at a company's risks or evaluating different insurance choices to find the right policy for your company.
Tips to grow analytical skills – you would have experience analyzing statistical data if you are a business student, social scientist, or statistician. Look back over challenging assignments and describe how you have been successful. It does not have to include numbers in the study.
Any essay that analyses the reasons for drawing a conclusion and endorsing it is a good example for your CV. Volunteer for tasks that require evidence-based decision-making – for example, choosing a venue for an event based on factors such as location, suitability, and price.
Tips to handle your online interview – to show the analytical skills you might need to do online assessments. Reference assessments can be found online and in career, advice books to help you understand the types of questions you might be facing.
7. Communication skills
You are the expert when you work in insurance – your clients and customers know much less about the issue. To get key details across in a quick, jargon-free manner, you need to be a good communicator.
Tips to grow communication skills – telephone work, such as asking for donations from friends or volunteering for a peer support line help in building up your verbal communication skills and establishing trust. Join a debating society, board of students, or even an improv party.
Enter a student magazine or take on the responsibility for the website of a group. Successfully advertising and event online is a perfect example of your skills in writing.
Tips to handle your interview – speak clearly and confidently in your interview, and communicate through open, comfortable body language. Maintain eye contact with your interviewer.
Tip: Practice answering sample remote insurance job interview questions for better performance in your online interviews.
Must read: Synchronous & Asynchronous Communication For Remote Work
Certifications to get remote insurance jobs
There are different Insurance Agents, some are tied up with the companies and others are independent and sell the policies to various insurers.
A famously known program is the Certificate in General Insurance, offered by The American Institute for Chartered Property Casualty Underwriter (AICPCU) maximum covers fundamental insurance principles and types of coverage.
Chartered Property Casualty Underwriter (CPCU)
Associate in Claims (AIC)
Associate in Insurance Services (AIS)
Associate in Personal Insurance (API)
Accredited Advisor in Insurance (AAI)
Read: Best Home Office Set Up For Remote Work – Shoot Up Your Productivity
Top 10 tools needed for remote insurance jobs
Working from the office becomes a tedious routine to follow as it takes a lot of time in commuting and preparation. How about working from home? Work from home insurance jobs requires some of the fundamental tools which will be really helpful as there are various types of remote insurance jobs that are relevant to various insurance domains,
General Insurance
Property Insurance
Casualty Insurance
Life Insurance
Health Insurance
Let us spread some light on the tools which are needed for remote insurance jobs,
Chain Ladder – R package providing methods and models which are specifically used in insurance claims reserving.
Interface for Chain Ladder using Shiny R
Stochastic Loss Reserving Models using MCMC
For Life insurance, Pyliferisk (Python) is a tool in which the python library compiles life actuarial calculations, which is simply powerful and convenient in use.
Life Contingencies in the actuarial domain
Demography – The R package demography contributes functions for demographic analysis including life table calculations; Lee-carter modeling; functional data analysis for mortality rates, fertility rates, net migration numbers; and stochastic population forecasting
Slack- Collaborating with various parties, a smart and efficient app needs to be there in your work case. Slack provides immaculate connectivity between the user and the listener. Whether android or iOs, slack supports well.
JET Insure- is a SaaS-powered insurance automation platform that simplifies the tasks for Insurance Agents. The workload of billing, proposals, quotations, renewal of policies is now under control by JET Insure. As it is the SaaS platform, reporting is under one admin only, employees need not report different agents but one team head.
Customer Relationship Management (CRM) – Growing the agency is now a trouble-free task having CRM as a tool. A lot more upgraded features are of great use for both the customer and insurer. Salesforce, Hubspot, InfusionSoft, SugarCRM, and Zoho are some of the solutions for Customer Relationship Management.
Read: Remote Meeting 101: How to have a better remote meeting?
Top 25 dream companies for remote insurance jobs
After studying a well-reputed course, how can you miss the opportunity to work with the best companies. Here is the list of top 25 insurance companies that let you work from home,
State Farm
Berkshire Hathaway
Progressive Group
Liberty Mutual
All States
Travelers Group
USAA
Chubb
Farmers Insurance
Nation Wide
AIG
Zurich
The Hartford
American Family Insurance
CNA
AUTO-Owners Group
Assurant
Erie Insurance
Tokyo Marine
Fair fax financial
Great American Insurance Group
WR Berkley
AXA
Markel Corporation
Allianz
Suggested read: Guide to conducting & attending Remote Interviews
Top 10 job boards to find remote insurance jobs
There are abundant opportunities for remote insurance jobs. Working remotely for a reliable company requires a good search. Let us have a look at the list of top job boards for home based insurance jobs,
United Health Group
Aetna
The Hartford
AFIRM
Parallon
Humana
EXL
Anthem
Erie Insurance Group
Read: 8 Simple ways to organize your life
Important resume elements for remote insurance jobs
To find the best companies to work for, having a good resume is very essential. The elements that must be present on your resume are,
Personal details

including name, age, sex, nationality, and contact information. 

A

professional summary

that highlights your experience, skills, and candidacy. Type your most definitive characteristics relevant to remote insurance jobs in two to four lines.

List out your

objectives

so that your potential recruiter will understand what you expect to gain from his or her firm and what your contribution will be. 

Highlight the

skills

you possess which are relevant to remote insurance jobs.

Educational qualifications

must be mentioned. 

Any

additional certifications or training

must be added. 

Mention all of your

insurance experiences

along with their assigned responsibilities.

Write about your

accomplishments relevant

to insurance.  

Mention your

interests

. 

Give valid

references

.
Tip: Mention all your achievements in numerical figures so that your potential employers will know the expanse of your abilities.
Once you gather all the skills required for remote insurance jobs and build a good resume, you can begin your search for the best insurance companies to work for.
Must Read: 8 Remote Work Habits Of Every Productive Employee
Remote insurance jobs pay structures
We all are facing a new normal getting introduced with Remote Jobs. A hike in the opportunities of working remotely is trending across the globe wherein the pay structures are slightly a topic going viral. Are the companies paying wisely in remote insurance jobs?
Starting with the junior level of Remote Insurance Jobs, the paying structure lies $18.75 whereas the position increases, salary reaches up to $34.86 all over the USA. Nevertheless, a lot of people are now employed because of remote working plans.
Must read: 14 Best Remote Job Sites: Start your job hunt at the right place!
Remote entry level marketing jobs
As soon as the Bachelor's degree is completed, students lookout for the option to earn. The marketing jobs are doing great in the industry, where people holding a degree in marketing management are more enrolling for jobs. Remote entry level marketing jobs are listed below,
Marketing Assistant
Marketing Analyst
Business Development Representative
Sales Representative
Bachelor's in Marketing Management is a must-have qualification to grab this brilliant opportunity. Depending upon the skills, various packages have been mentioned for the position of Remote entry level marketing jobs. $57,200 per annum or $29.33 per hour are the best salaries for Freshers enrolling for the jobs.
Can you work from home as an insurance agent?
Yes, you can work from home as an insurance agent. 
2. Which remote insurance jobs pay the most?
Remote actuaries and claims adjusters get paid the most under remote insurance job roles.
3. What are the skills need to be a remote insurance agent?
The skills needed to be a remote insurance agent are – numeracy skills, organizational skills, problem-solving skills, customer service skills, detail-oriented skills, analytical skills, and communication skills.