Are you a nurse, but want to work from home? If so, read on to find everything you need to know about work from home nursing jobs!
Many businesses are making the move from in-house employees to a more dispersed workforce of home-workers. You may be shocked to hear that the nursing sector is no exception. Although most people imagine nurses as delivering in-person care, there are a variety of interesting ways nurses can exercise their skills and still operate from home.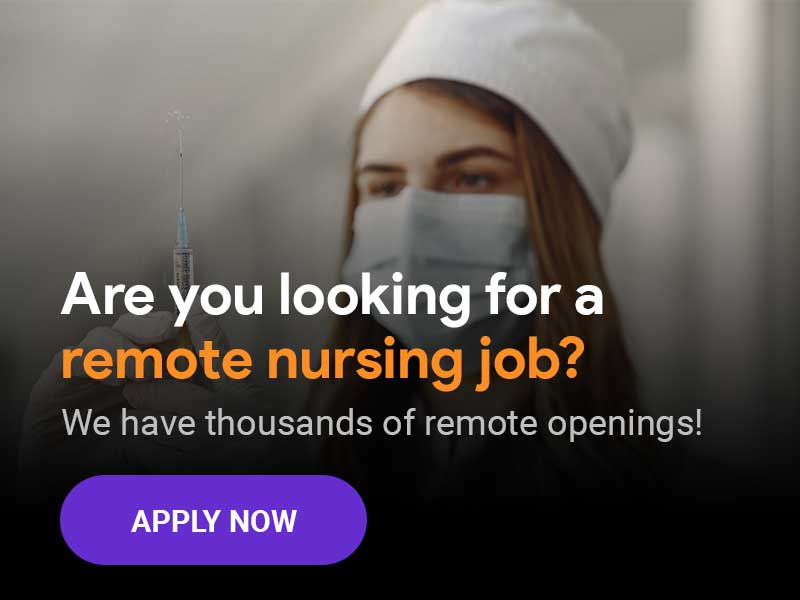 Remote nurses are required even more in these challenging times when the world has been taken over by COVID-19. If you are interested in moving from conventional care facilities, here are a few career options that will allow you to make good use of your degree and obtain work from home nursing jobs.
Read: What is remote working?
Market Opportunity for Work from Home Nursing Jobs
You might hear that there is a shortage of professional nurses in the United States. Then, it is a big opportunity for you to choose the nursing profession and become a nurse.
According to the BLS, sources revealed that the demand for nurses of increase by 19% by the year 2022. Due to the ageing and baby-boomer population in the USA, 2-3 million populations have added that require nurses.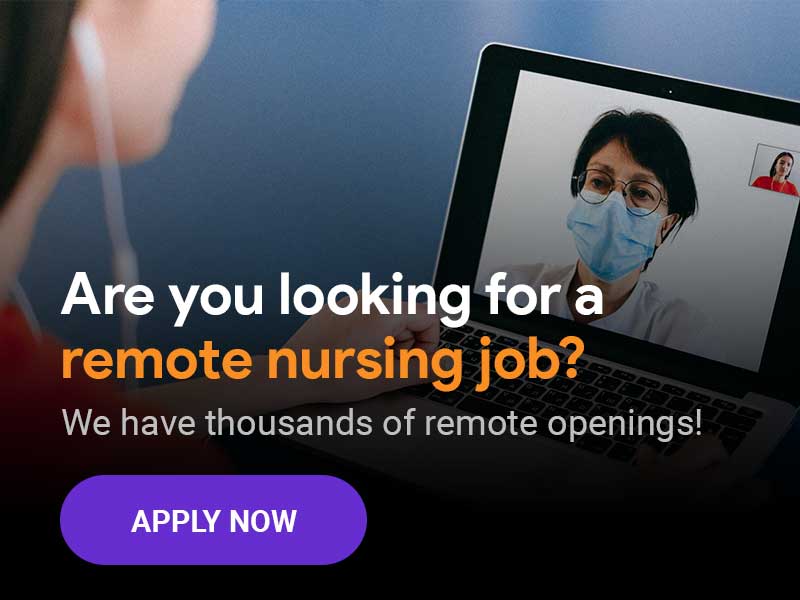 The average age of working nurses in the USA is 47. There are 55% of nurses are above 50 years of age group and are working. In the survey of 2013, around 190K RNs retired in the same year.
The American Association of Colleges and Nursing estimated that 79K qualified candidates for nursing course left it due to the staff shortage. After seeing the numbers, it looks like there is a big market for the work from home nursing jobs.
This is not so because the newly passed RNs find difficulty in getting jobs in the medical facilities due to lack of experience in them. Within time, then things started changing. It was the time of the 2008s recession. The nurses were not getting jobs. With the coming of medical staffing agencies in the market, now it is easy to get a nurse job.
Read: 34 Best Remote work communities on Reddit, Slack, Facebook
Job types and career paths of work from home nursing jobs
There are several types of nursing jobs you can take up remotely.
1. Case Management
In Case Management, nursing jobs from home are required. In this role, you will be responsible for managing claims for patients with long and short-term disabilities. You may need to work with doctors, employers, and insurance providers to help promote interaction and ensure enforcement with all concerned parties.
Ultimately, the aim is to help arrange care and support so that a target of returning to work can be set and achieved. Since much of the work can be done by phone or email, case management offers great nursing jobs from home for professional and seasoned nurses who know the healthcare industry well.
2. Telephone Triage
As one of the finest telenursing jobs, telephone triaging is on the rise. Many busy medical facilities and physicians employ nurses to perform triage over the telephone. This allows highly skilled nurses to talk to patients, evaluate their symptoms, and recommend the best course of action. Sometimes, patients call to seek to contact the doctor directly, while a nurse can answer several of their questions.
They may also want to know whether they should make an appointment, or proceed with treatments at home. The telephone triage program helps to deal more effectively with less urgent issues so that resources are better distributed. Telenursing jobs will require one to operate from home and give valuable medical advice to patients with a wide variety of problems.
Good Read: 8 Best free Video Conferencing Software – Connect, Communicate, Collaborate!
3. Insurance Jobs
This is one of the best-paying work from home nursing jobs. Making the transition from nursing to working as a specialist in insurance claims is a normal one that will allow you to have more flexibility in your job along with a good salary. Insurance firms use examiners or inspectors to investigate claims and determine whether specific procedures are covered or not.
They also work to decide how much money the insurance company has to pay for every claim. A nursing experience will help you make educated choices that are in the best interest of patients, health care professionals, and insurance companies.
4. Health Informatics
This groundbreaking new healthcare division uses technology to improve patient care and develop a stronger healthcare system. It is one of the most demanded work from home nursing jobs. To push the entire industry forward, it works to find creative intersections among technology, communication, and healthcare.
If you are interested in improving the system by designing and implementing innovative ideas, then you may be able to make good use of your nursing degree in health information technology. As the field is continually changing and taking shape, there is plenty of space for development, exploration of your interests, and enhancement of your role.
Read: 8 Remote Work Habits Of Every Productive Employee
5. Freelance Nurse Writer
Freelance medical writing is one of the most revered research nurse jobs. Medical writing is a challenging field that requires extensive knowledge of medical terminology and procedures as well as strong writing ability. The medical community depends on a number of well-researched resources that are used by practitioners and published and circulated to the public at large.
Writers may have the job of compiling publicity materials, journal posts, press releases, and much more. Today, businesses rely heavily on website content and online news stories to connect and promote their goods and services to potential customers. Skilled research nurse jobs may be an important part of a good medical website, facility, or drug manufacturer.
6. Call Center Nurse
This is another one of the telephonic nursing jobs. Although there is a strong relationship between telephone triage nurses and call center nurses, a call center job does not take as much experience. A nurse at a home-based call center will be in charge of guiding calls to the relevant parties, but will not be responsible for providing medical advice.
Essentially, this is more of an administrative role but when it comes to hiring, medical and healthcare firms will give the edge to candidates with a medical background. Bear in mind that less obligation in telephonic nursing jobs means lower pay.
Nurses provide critical bedside care for diagnosis and rehabilitation, but there is a wide range of roles that nurses can play in the medical industry. You do not even have to work in a hospital or medical office to give patients quality care and receive a decent salary. There are more ways to enjoy a flexible lifestyle than ever with online nursing jobs, where you can work from home and find a work/life balance that works best for you.
Must read: Remote medical coding Jobs 101 – Skills, Requirements, Best companies
Qualification needed for Work from Home Nursing Jobs
Do want a nursing career that allows you to work from home? In the pandemic period, it is not risky to step out. You can start your career with the work from home nursing jobs. Let us check out what educational qualifications needed to become a nurse and work from home:
To become a Registered Nurse (RN), the candidate must have a minimum Associate Degree in Nursing (ADN).
After completing the degree course, you can apply to become a registered nurse. You need to give the examination and the common courses included in the exam course syllabus are anatomy, nutrition, adult care, and medical practice.
Bachelor's Degree in Nursing (BSN): In BSN, the students learn how to provide care and obtain work experience in the medical facilities. The common courses in the bachelor's program include nursing theory, human development, and healthcare.
Master's Degree in Nursing (MSN): For advanced practice, the registered nurse should complete a Master's Degree in Nursing. Some educational institutions providing MSN degrees accept the applications of registered nurses only. In the advanced practice, the nurses include in it are nurse-midwives, nurse anesthetists, clinical nurse specialists, and nurse practitioners. The master degree courses vary from the bachelor degree ones as it focuses on the specialization part.
Suggested read: Best Remote Working Tools That Make Life Easy
Skills needed for work from home nursing jobs
You will require certain remote nurse job skills to be able to work professionally and efficiently.
1. Professional behavior
Know that whatever you say and do represents your ethical beliefs and moral standards outside of your outward presence and attitude. Nurses should always demonstrate integrity in front of patients but also in front of colleagues. To name a few, professionalism is a nursing ability that includes many areas: respect, attitude, honesty, obligation, and discipline.
Focus on your day-to-day job as part of a collective team, and note that your day-to-day role and responsibilities are just part of the wider patient care picture, even when you are functioning remotely. Tackling your job with a sense of dignity is a sign of your commitment to the nursing profession's altruistic ideal.
2. Cultural awareness skills
This is essential if full, patient-centered care is to be given. Various cultural traditions and values affect a patient's understanding of safety, wellbeing, care, acceptance of treatment, and commitment to it, and even death. Understanding, respecting, and meeting the desires and needs of your patients with regard to their particular values, traditions, and procedures should be part of both, your nursing planning and delivery of care.
Recognizing your own prejudices is the first step in delivering culturally competent treatment. From there, you can further grow your skills and understanding through educational programs at your practicing institution or organizations such as the Transcultural Nursing Society.
3. Detail-oriented skills
Developing and mastering your attention to detail not only guarantees that you will avoid a medical error, but it also helps to provide great care for the patient. Focus on active listening — observe your patient's verbal signs, and hear their words. This makes your patient feel comprehended, not just understood. It also helps you to fine-tune their unspoken concerns and needs.
This is especially important for work from home nursing jobs because non-verbal cues cannot be observed most of the time. Try to look at your work from a different perspective, too. Consider your to-do list as "people-oriented" instead of "task-oriented". Be present and mindful of every patient's requirement and avoid getting distracted thinking about the long list of other things that await you.
4. Compassion
In the health care system, nurses are at the front lines working intensively with patients, their families, and obstacles. Maintaining compassion is necessary if good treatment is to be given, but difficult to do in today's world. Nurse fatigue is a real phenomenon that requires that nurses first take care of themselves to avoid it.
Exercise, meditation, or volunteering may all be powerful ways to reconnect and cultivate the urge to support those that initially led you into a career in nursing. This is easier for work from home nurses because they can take a minute to cool off in the comfort of their home when needed. If you find you have trouble coping on your own, talk to your nurse manager about your concerns. More and more companies educate their nurses on self-help strategies and stress reduction courses.
5. Critical thinking skills
Nurses must be troubleshooters. Time and resources are always in short supply and there is an ever-present long to-do list. Skills that help balance these will make your life much easier. Critical thinking brings together information, evidence, results, and experiences and translates them into effective patient care plans and solutions.
Identify issues, and do not be afraid to talk to your supervisor. Keep up to date with the results of technical journals and get active in the processes of improving the efficiency of your service. These are only two ways you can improve your critical thinking skills.
6. Communication skills
Communication skills are very relevant to work from home nursing jobs. Remote nurses are the essential connection between patients and services, and in order to manage patient care, they must interact efficiently with other health care staff online. Be concise and logical, and remember that the way information is communicated is just as important (or more important) as what you say.
The same holds true for contact with patients. When dealing with patients and their families, be calm, measured, professional, and reassuring. If available, use visual or written communication aids, and be aware of and open to exploring reasons for communication errors. Finally, note that not everyone interacts the same way. Take the time to get to know your patients and their families and develop the most effective and secure communication techniques for them.
7. Time management skills
Place the job first. Stay structured, wherever possible, with personal checklists, flowcharts or spreadsheets. Multi-task when you can. Use the anticipatory, delegated, and supervisory nursing expertise to that end. Note that good time management requires people management.
Take the time to know and appreciate the available resources of your home, and maximize their use. Eventually, find a nurse mentor and brainstorm ways to improve your day-to-day time effectively. You must also strive to maintain a work-life balance.
Suggested read: Time Blocking: All you need to know about this powerful technique
Certification to get Work from Home Nursing Jobs
The nurses have to pass the RN course to become a registered nurse. Furthermore, the National Council Licensure Examination for Registered Nurses (NCLEX-RN) conducts the computerized examination and gives them the license. Every state in the United States has its rules and regulations to give licenses to nurses.
What are the certificates required to secure a work from home nursing jobs?
All nurses have to acquire a license after completing their graduation in nursing. They appear in the examination conducted by the National Council Licensure Examination for Registered Nurses (NCLEX-RN) and get the Registered Nurse (RN) license. Some states have set different criteria to give licenses to nurses.
Appear in the examination and acquire nurse license: The National Council Licensure Examination for Registered Nurses (NCLEX-RN) exists in two forms i.e. one for registered nurses (NCLEX-RN) and then for practical nurses (NCLEX-PN|). To get the license, the candidate needs to appear in the examination. The nurse needs to pay the fees to appear in the examination. It is a computerized examination. The question appears on the screen until the candidate answers the questions.
Certification: The nurses need to have certificates to show their professional ability to show their care for the patients. Nurses gain experience after completing the certificate courses.
Advance Certification & Patient Care: After earning the graduate and postgraduate degrees and obtain the RN license. They need to go through the advanced certification process to gain experience. It depends on state regulations.
Read: 14 Best Productivity Tips to Achieve More At Work & Life
Roles & Responsibilities of Work from Home Nursing Jobs
In the 21st century nurses is the glue hold patients' journey to take care of them. Nurses work tirelessly day and night in the medical facilities. Nursing is a highly noble profession. It has described as an art, science, heart, and mind.
What work the nurses actually do?
The responsibilities of the nurses range from treating critical patients and providing inoculation in schools. For the long term, the nurses do the monitoring of patient's health and medical history.
Key Responsibilities of the Registered Nurses (RN) are,
In the United States, Registered Nurses (RN) are the backbone of the healthcare industry. Whenever in need, the RN provides critical care to the public and their key responsibilities include:
Check the medical history of the patients.
Nurses perform the medical examination of the patients.
They check the medical reports and prior medical history before taking any critical decision.
They administered the medicines to the patients.
Nurses collaborate with other healthcare professionals while taking care of the patients.
APRNs Practice Specialist Nurses Responsibilities
The nurse practitioners prescribe medicine to the patients, diagnose illness, and treat minor injuries and illnesses.
Certified Nurse-Midwives work at the genealogical and low-risk obstetrical center.
Clinical Specialist Nurse holds the ability to handle physical and mental illness problems.
Certified Registered Nurse Anesthetists attend more than 65% of anesthesia cases.
Key Responsibilities of Practical Nurses are listed below,
Licensed Practical Nurses (LPN) are also known as Licensed Vocational Nurses (LVN). They are the support of the core healthcare team. Furthermore, they work under the supervision of RN, MD, and APRNs. They ensure the well-being of the patients by providing basic and routine care to them.
The Licensed Practical Nurses keep a check on the patient's health is deteriorating or improving.
They perform the basic nursing functions include cleaning bandages and wound dressing.
Their duty is to ensure that the patient is comfortable and well-fed in the hospital.
They administer medicine duties in some medical settings.
Read: Best resume software | Give the finest first impression
Top 25 Dream Companies for Work from Home Nursing Jobs
Medical and Healthcare sector jobs are the top categories to get remote level jobs. This category is full of opportunities that range from medical coding to nursing. Now, the newest thing is that there are opportunities for work from home nursing jobs.
Aetna: It is the nation's leading healthcare company entered in the fortune 100 lists. It provides healthcare insurance facilities and regularly hires candidates for remote roles.

Nurses and doctors are among the healthcare professionals that operate remotely at this insurance company. Certain jobs are clearly meant to be telecommuting, but after working on-site for some time, other telework options would be available. Click on "Yes" from the drop-down menu under "Potential Telework Position".

Anthem Inc: A healthcare company that serves 73 million people worldwide. Anthem provides services that include a range of healthcare and wellness.
CVS Health: It provides online and in-store prescription services. In one year, CVS health has served 1 billion people. It provides goods and services to millions of people regularly.
Doctor on Demand: The Doctor on Demand is a telemedicine company privately held by the doctors. it schedules the appointments with the licensed medical professionals.
Johnson & Johnson: It is reputed and worldwide known for providing baby care products for 120 years.
Merck: Merck is a globally recognized pharmaceutical company that offers the products vaccines and prescribed medicines.
Novartis: It is a leading pharma and healthcare solution company dedicated to improving patient lives while working on the medical challenges.
Royal Philips: Royal Philips is a healthcare service provider based in the Netherlands. It is the provider of healthcare products like watches and jewelry.
PRA Health Sciences: PRA Health Services is a research organization that works with a pharma company to make life-saving drugs.
Soliant Health: Soliant Health is a medical staffing organization that places nurses, doctors, and therapists in several medical facilities.
UnitedHealth Group: One of the most diversified healthcare companies. UnitedHealth Group offers healthcare insurance services.

More than 20 percent of the workers of this major health insurance corporation take advantage of their incentives in telecommuting. UnitedHealth Group hires registered telecommuting nurses, as well as others with insurance industry experience.

BroadPath Healthcare Solutions:  Our professional team provides home-based healthcare services. BroadPath Healthcare Solutions founded in the year 2008.
Humana: Humana Inc. is a health insurance providing company based in Louisville.

Some of its work-at-home positions possess geographical requirements, and most are for registered nurses. Many of the RN roles are for healthcare and require a home visit to patients. It also occasionally offers opportunities for chart auditors, medical coders, licensed insurance reps, accountants, doctors, writers, and salespeople. Check "Virtual/Work at Home" in the employment database of the organization.

Medix: The Company provides a workforce to the industries based in different sectors. Medix organization is based in Lombard, Illinois.
DaVita: DaVita aims to build the largest healthcare community across the world. The company headquarter is located in Denver, Colorado.
Conduent: Conduent head office is in Florham Park (New Jersey, United States). It offers healthcare solutions to its clients.
Cigna: Cigna is a global healthcare company that offers health insurance to individuals, businesses, and families and the company is based in Bloomfield, Connecticut (USA).
Study dot com: An online web portal creates a funny and interesting study material for medical students.
ClearVoice: A freelance website that prepares medical content for clients.
HCA Healthcare: An American company founded in 1968 works for profit-based healthcare facilities. HCA Healthcare's head office is in Nashville (Tennessee).
Total Triage: We have a team of nurses who provide after hour services at the patient's home.
AMC Health: Our Company with our experts' team provides virtual healthcare solutions.
CareCentrix: The CareCentrix team aim to make the patient's home the center for their care.
Wellbox: The Company founded in the year 2015 providing healthcare solutions to the providers who need chronic care and management.
Geneia: Our mission is to provide patient-centered care. We believe that there should be trust between the patient and the medical team so that it is easy to do the treatment.
Very Well: Verywell is a health website that makes contracts with writers who are healthcare experts. Compensation is based on views of the website but it provides a minimum base pay. Nurses and doctors are frequently hired.
PPD: This global Contract Research Organization (CRO) offers services in the health care industry for product discovery, growth, and life-cycle management. It employs medical writers and associates for work at home Clinical Research Associate (CRA) positions.
Suggested read: Remote health coach jobs | How to get your dream remote job
Work from Home Nursing Jobs Pay Structure
There are six nursing jobs Case Management, Insurance Claims, Telephone Triage, Health Informatics, Call Center Nurse, and Freelance Nurse. You can choose any career option among them and get the work from the home nursing job.
The pay scale for Insurance claims ranges from $64K-$70K. For the other five nursing professions, the pay structure is around $60K-$75K.
On the other hand, Nurses provide bedside care to patients in hospitals. There are varieties of roles the nurses can play working from home in the medical industry. Many job opportunities have developed in the coronavirus pandemic.
The recruiters are now looking for work from home nurses. You can enjoy your flexible work schedule while working from home or anywhere you want.
Must Read: 14 Best Remote Job Sites: Start your job hunt at the right place!
Remote Entry Level Work from Home Nursing Jobs
You can choose from the following career paths and then apply for work from home nursing jobs.
Case Management
Insurance Claims
Telephone Triage
Call Center Nurses
Freelance Nurses
Freelance Nurse Writer
To get entry-level jobs, you can apply to the following companies,
Geneia
UnitedHealth Group
Total Triage
HCA Healthcare
Wellbox
Study.com
ClearVoice
DaVita
Cigna
Medix
Broadpath
Must read: Working from home with kids – Parent's guide to remote working
Remote nurse jobs checklist
Before you apply to any job position, go through this remote nurse job checklist to land the best nursing jobs.
1. Educational qualifications
You must have a minimum degree of B.Sc in Nursing to apply for basic work from home nursing jobs. An MSN will land you better jobs while a Ph.D. in Nursing will lead the way to the best nursing jobs online. Ensure that you get additional certifications like the RN certification so that your credibility increases in the eyes of your potential employer.
2. Work experience
Even if you do not possess any work from home nursing experiences, in-person nursing job positions will be very beneficial to obtain nursing jobs remotely. After obtaining rigorous academic training, work in a hospital setting to gain more experience. The more your work experience, the better are your chances of getting good work from home nursing job.
3. Hone your remote work skills
If you do not have any remote work experience, you may be worried about finding a remote nursing job. Developing remote job experience to bolster your resume, though, is not difficult. And you most likely have remote work experience, even though the job you previously held did not completely sanction it. Have you ever responded to work-related emails or phone calls from home, or worked from home on a day of illness or snow?
Either for a nursing job or another profession, these tasks mean that you have remote expertise and experience in the work. Evaluate what other duties you can perform from home and start experimenting to stretch those competencies. The more familiar you are with working remotely, the smoother the transition to remote work becomes.
4. Build a good resume
If you have previous remote work experience, be sure to highlight this prominently on your updated resume, even if it was in another field. Note on your resume any jobs or activities that have been done from your home office and add a list to your cover letter of the skills you have learned by working remotely – such as the ability to work independently, meet deadlines, regulate your time, and more.
Most candidates applying for work from home nursing positions must have some nursing experience, at least. However, not all of them will have remote work experience.
Tip: While applying for RN certification, you can specialize in any one specific area of nursing like Pediatrics, Oncology, and AIDS, to name a few.
Suggested read: Guide to conducting & attending Remote Interviews
Important resume elements for work from home nursing jobs
Having a good resume is very essential when you apply to remote nursing jobs. The elements that must go on your resume are,
Personal details

including name, age, sex, nationality, and contact information. 

A

professional summary

that highlights your experience, skills, and candidacy. In two to four lines, provide your most definitive characteristics relevant to the online nursing job position you are applying for. 

Mention your

objectives

so that the recruiter gets an idea of what you expect to gain from his or her healthcare organization and what your contribution will be. 

Highlight the

skills

you possess which are relevant to work from home

nursing jobs.

Educational qualifications

must be mentioned. 

Any

additional certifications, licenses, or training

must be included. 

Mention all of your

nursing experiences

along with their assigned responsibilities and serving duration.

Make a note of your

accomplishments relevant

to nursing.  

Mention your

interests

. 

Give valid

references

.
Tip: Mention any minor remote work experience that you may have, even if it is not related to nursing directly.
Once you gather all the skills required for remote nursing jobs and build a good resume, you can start your search.
Read: Video conferencing etiquette: Best practices for video conferencing
Do telehealth nurses work from home?
Yes, telehealth nurses can work from home.
What nursing jobs can I do from home?
The nursing jobs you can do from home are – Case Management, Insurance Claims, Telephone Triage, Health Informatics, Call Center Nurse, and Freelance Nurse Writer.
How do I become a certified telehealth nurse?
To become a certified telehealth nurse, you must have a nursing degree, license, computer, and communication skills required to offer health advice over the telephone or video calls.