Are you into social media and searching for the best openings in remote social media jobs? Read on to find a complete guide on this topic!
Remote jobs, like no other, are gaining popularity these days. Among them, remote social media jobs aren't an exception. It is hard to imagine a company not present in social media these days. Social media is popular among the masses as anyone can take part in it.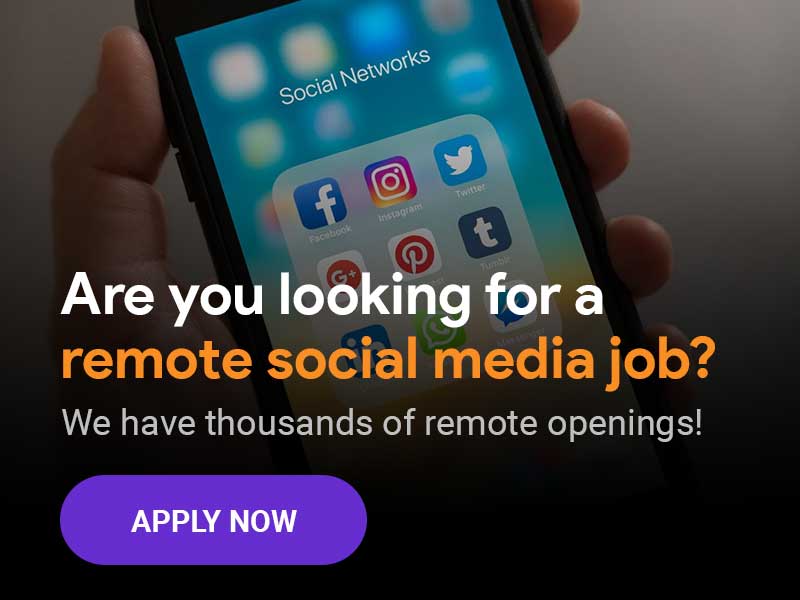 By just seeing the profile of a company, one can easily understand the nature of work, place of location, contact details, recent update/status of the company, etc. as all these details are mentioned in the particular social media sites. The social media page/site of the company is taken care of by the employees of the firm.
Read: What is remote working?
The work of a freelance social media manager or an executive is to manage all the social media channels (Facebook, Instagram, YouTube, LinkedIn, etc). The role of their job is to create contents (images, videos, write-ups, etc) that drive the brand of the company. Social media promotes the brand and engages customers.
The job doesn't limit to promoting the brand. Social media is seen as a platform by the consumers for feedback and inquiry about the product/service. Hence, the social media executive must also stay in good touch with the customers which helps in building brand loyalty and customer retention.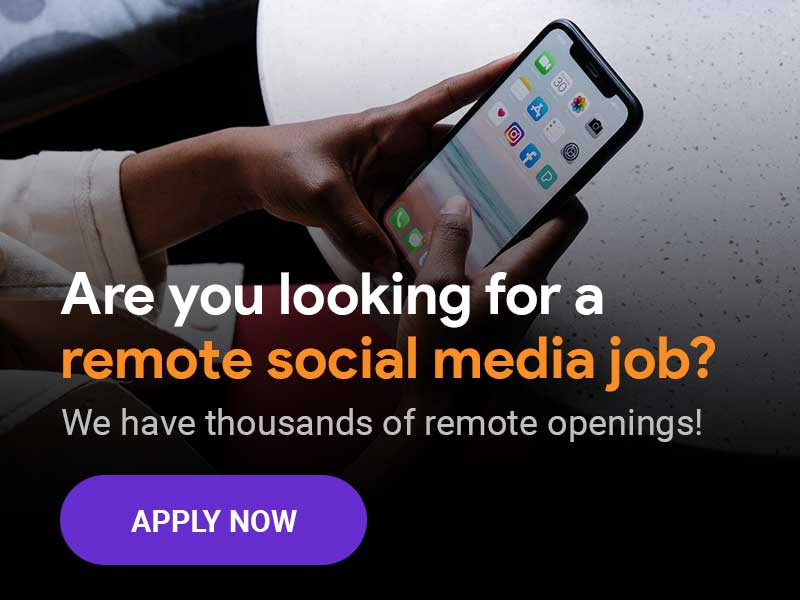 As the work of remote social media jobs is to promote the brand of the company, it is also known as 'remote social media marketing jobs'.
Also read: Remote marketing jobs – All you need to know to get the job
Market Opportunity for Remote Social Media Jobs
Are you a person who dedicates maximum time to social media? Do you love to keep your active accounts on social media sites like Instagram, Facebook, and Twitter? Anyone among you is a member of these social media platforms and posts content regularly. Then, the social media job is the best career option for you to start from it.
Social media marketing uses social networking websites and communities to introduce topics to promote their ideas among the audience. Social media marketing includes video production, viral marketing, online chat forums, and communities.
With the development of social media platforms, there are many job opportunities in this sector in the future. According to the BLS survey, 15%-17% were recorded growth in social media jobs in the past years. It is the highest development in comparison with other professions. In the coming years, you will discover a significant growth rate in the social media sector.
It will turn out to provide jobs to a large number of educated people of the society. They will get Social Media Marketing Strategist, Brand Manager, Brand Advocate, Online Communication Director, Public Relation Manager, Digital Media Supervisor, Digital Marketing Manager, and Social Media Analyst.
Job Titles and Career Paths Under Remote Social Media Jobs
Imagine that you live in your world in which you do not have to hide your computer screen with your boss. The professional world is catching up and recruiting staff to handle social media responsibilities. Here are the 10 Social Media Job titles,
Digital Marketing Consultant: It focuses on developing strategic direction in the digital marketing campaigns. These consultants get jobs in a digital marketing agency.
Digital Marketer: A person oversees all digital marketing initiatives on behalf of the company. The campaigns are often integrated across social media channels.
Social Media Director: The job of the social media director is to see social media initiatives. In this category of social media job, the person focuses on developing social media platforms. It shows how those actions will integrate into the overall business strategy.
Inbound Marketer: The inbound marketer have specialized in content marketing along with social media marketing automation software.
Social Media Account Manager: Accounts have considered the internal part of the social media platforms. There is an array of accounts prepared on social media sites.
Social Media Planner: The social media planner must develop proposals for digital advertisers and coordinate the inventory with the media team. They manage the social media accounts through mobile, emails, and web platforms.
Blogger: The blogger writes regular content. Furthermore, the person, through his or her writing, promotes the marketing message of the company.
Interactive Project Manager: IPM has complete in-depth knowledge of a variety of social media platforms. IPMs will understand the different social media protocols and have proper communication and organizational skills.
Social Media Analyst: The analyst's job is to communicate the marketing campaigns' trends and results. He or she discusses the details with the clients.
Social Media Coordinator: The Social Media Coordinator coordinates with the marketing events. He or she tracks and then analyze social media events. The coordinator is commonly associated with the social media site, i.e., Twitter.
Read: Remote writing jobs – A beginners guide to finding & acing writing jobs
Today, almost every company has a dedicated department for the social media segment one way or another. A decade before, there didn't even exist any such relation to the social media segment. The term social media marketing is something that advanced in this century became an integral part of the business scenario.
To be specific, it is difficult for any business or company to thrive in the market without a social media team. Be it a remote social media team member or even a manager, she/he is required to possess a few relevant skills to excel in this field. The remote social media job requirements are as follows. 
1. Good writing skills
Images and videos are essential in social media pages, but that doesn't drive the entire segment. Good writing is a fundamental skill for social media marketing and is required in many areas of different social media platforms. From filling up the description of the company to crafting Facebook posts and tweets. One should be able to structure the text for easy reading and to make people feel engaging. Proper subtitles, highlights, and numbering should be kept in mind as the viewers would just be skimming the text.
2. Communication skills 
As a part of the social media team, members' communication doesn't limit to colleagues and the management of the organization. They are liable for communicating with the public. One might be required to talk to the public via social media platforms like Facebook live, Instagram lives, uploading a recorded video of her/him.
As the target audience, the communication skill should be in such an effective way that impacts the target audience. The presentation skills, both written and verbal, should also be strong. 
The person should also be confident enough to go live and connect with the audience. Possessing public speaking skills will help one to interview guests, answer questions of the audience, present the ideas, etc.
Good Read: Synchronous & Asynchronous Communication For Remote Work
3. Creativity 
There are numerous companies that have their presence on almost all social media platforms. The nature of the business, code of conduct of the company, motto of the company may differ. But the way a company approaches the customers via social media platforms more or less remains the same. For example, the same kind of posts advertising the product/service, the standard format of write-ups about the company's product/service. 
The social media team of a company should possess the creativity skill as it differentiates the company from others and presents itself uniquely. Each and every content of write-ups, images, and videos should be unique. The content should be creative and appealing. This helps to keep us engaged with the customers as it leaves a different impact on them.
4. Designing skills 
Images and videos receive more engagement from the target audience. Consumers prefer to watch videos explaining the features of the brand rather than lengthy write-ups. It is important for the team members of the social media team to learn video editing. As the videos pose to be attractive and easy to learn, the team should consider video designing as an essential requirement. 
Suggested read: 8 Remote Work Habits Of Every Productive Employee
5. Consumer psychology
The social media team should have the potential to assess the behavioral psychology of consumers. With previous data and analytics, one would have a decent idea about what type of social media posts do well. Some people might be attracted to certain posts and why do people share certain posts.
Analyzing this helps in understanding the behavioral psychology of the consumers. The posts should be made on the basis of the results obtained from the analysis. If this has an impact on the consumers, it should be a continuous process then. 
Also, one needs to know what content works and what does not on different social media platforms. For example, videos are suitable for Facebook and Instagram but not on Twitter. So, one should have the basic idea of how to make a content move on different social media platforms.
This certainly does not require a degree or previous experience of high-level expertise. The curiosity to learn, to grasp things quickly, and to understand the psychology of the target segment at some level is required. 
6. Customer Orientation
Nowadays, people take all their remarks about the product or service to social media platforms. There is a huge opportunity to provide a good customer service experience. Inquiries about the brand's product/service are made by consumers by messaging them on social media platforms like Facebook, Instagram, and Twitter.
It is important for the social media team members to have conversational skills and empathy to help the customer. This has a direct impact on the revenue generation of a company.
7. Analytical skills
Even when social media started, there were no specific tools to measure the impact of marketing initiatives on social media. But, the term 'analytics' is used to refer to both social media metrics and business metrics. Social metrics include likes, comments, and shares. Business metrics include traffic, leads, conversions, etc.
The responsibility of a social media team member is to club both the metrics and present an overall view of the company's social media marketing initiatives against the business goals.
Read: Meeting Minutes: What is it & how to write it effectively (step by step)
Recommended Certification to get Remote Social Media Jobs
The social media recruiters have shared the Certification that is required by candidates to get social media jobs. In the past years, social media has become an integral part of our branding strategy. The candidates who want jobs in the social media sector should be professionally qualified.
1. Facebook Blueprint
In the world, Facebook emerged as the largest social media platform. It is one of the most effective social media channels for advertisement purposes. You should remember one thing that Instagram advertising runs through the Facebook Business Manager. The Facebook Blueprint course has two credentials: Certified Planning, Professional, and Certified Buying Professional.
The certifications are meant for marketing professionals so that they can develop Facebook pages for advertising campaigns. Each blueprint course is valid for one year, and there are two examinations in it. The cost of each exam is $150.
2. Twitter Flight School 
The social media site Twitter offers two paths that are helpful for marketers to create effective campaigns. The Marketing Leadership Course Program has been designed to help users in improving marketing strategies. The course duration of the entire program is 60 minutes, and it is free of cost.
3. Salesforce Certified Marketing Cloud Specialist 
Salesforce is a widely used term in the marketing world. On this platform, there are many social media certifications available. These courses have been designed so for those who need to sharpen their skills and experience in social media.
You must demonstrate that you have a deep understanding of social media to acquire these certificates. There are no perquisites required to start the Social Studio Course, and it costs you around $200.
4. Hootsuite Social Media Marketing Certification 
Hootsuite is among the popular social media marketing platform. It offers social media marketing training to all the marketers at different levels. It has an introductory and advanced level of certifications to help marketers develop their social media skills. These skills are necessary to get social media jobs.
The three courses are Social Media Marketing Certificate ($199), Advanced Social Advertising Courseware and Certification ($249), and Advanced Social Media Strategy Certification ($999).
5. Quintly Social Media Analytics 
Your efforts made on social media are not valuable if you do not accurately measure them. At Quintly, there are introductory courses available regarding analytics for both beginner and marketing levels. In these courses, you will get the knowledge of how to measure your performances on social media sites like Instagram, Linkedin, Facebook, and Twitter.
Must Read: 34 Best Remote work communities on Reddit, Slack, Facebook
Remote social media jobs manage all the media channels of an organization. This includes Facebook, Instagram, YouTube, Twitter, LinkedIn, Internshala, google+, etc. A social media executive is responsible for all the updates about the brands in the social media accounts of the organization to engage customers.
1. Brand awareness
One might have noticed on the social media pages of a brand or a company who posts images, videos, and contents of their brand or product/service. Tweets on Twitter, posts on Facebook and Instagram, and images on Spotify containing the ads or content of the brand links to the company's website. Images, videos, write-ups are all a source of content.
There is a human behind all these contents on social media pages and the person who creates is known as a social media executive. The content media executive produces content for all the social media channels and is responsible for the brand awareness and promotion of the brand.
2. A track on social media influencers
Despite all the inventions a different kind of marketing, the world is still tied in one way. It is word-of-mouth marketing, one of the best and most valuable ways of marketing. A significant person of sales is generated by word of mouth. One might have seen celebrities such as Dhoni and Kholi promoting the brand 'Boost'.
They are the influencers who promote a brand. They act as the primary factor to gain the attention of the target audience. Moreover, they are even beyond any recommendations from friends and family. It is important for a social media executive to track the relevant social media influencers to enhance the reputation of their brand or company.
3. An eye over the recent media trends
A social media executive should be always keeping an eye on recent media trends.  Keeping up to date with any new changes in social media pages is essential to stay in the race on social media platforms. As this is the best platform to promote the brand and keep the customers engaged.
For example, Instagram increased the time limit of a video to more than 59 seconds. 10 pictures can be posted in a single feed, where it was only 1 before. Facebook allows uploading GIFs, etc. It is important for any social media executive to stay up responsible for tracking all the changes in social media trends.
4. Work on behavioral targeting
A marketing method that uses web usage information to strengthen the advertising campaign is said as behavioral targeting. Data such as web search, frequently visited websites, purchase history, etc is compiled to create a full user profile revealing what the audience wants, avoids, and purchases.
This information is used by the companies to formulate ads with individual customers' trackable needs, preferences, habits, and interests. At last, to mention it in simple words, the primary purpose of this technique is to deliver advertising messages to the behavioral target markets that have shown interest. 
5. Social media report
A social media performance report is an essential part of a social media executive to explain the work in progress in social media platforms. The social media executives are entitled to report their senior associates, as in any department.
The report includes the statistics of a number of videos, images, write-ups uploaded; a number of likes, comments, shares, profile viewed, clicks on post links executed across multiple social media platforms. They also include the number of leads generated, number of conversions, total revenue generated, and total money spent on ads of various time frames like daily, weekly, monthly statistics.
The above mentioned are the roles and responsibilities of remote and online social media jobs. Apart from that, a social media executive or manager is responsible to hire the right person and train them, a common one among all the departments though.
6. Effective communication
Like all remote-jobs, communication is vital for remote social media jobs. You can freelance social media jobs as an executive and could even be a freelance social media manager. But you should properly communicate with your team or a senior person. Remote social media jobs are kind of jobs that require frequent communication with other departments.
To know the sales effect due to the social media campaigns, amount to be spent for digital marketing (as digital marketing is based on daily spending), formulate behavioral targeting, begin new market campaigns, create content (image, video, write-ups) for new and existing products, etc.
If an executive is responsible for a few segments of the social media department, there wouldn't be any difficulty. If a person is working as a freelance social media manager, her/his work would be dynamic in nature. Communication with other departments is inevitable. 
Top 10 Tools Needed for Remote Social Media Jobs 
New data revealed that around 6.1 remote people are doing social media jobs in the United States. It is full-time, part-time or self-employed basis. Here are the 10 tools needed by every person who is doing remote social media jobs are:
Remote Access to VPN (Virtual Private Network) to corporate resource: It is necessary to have VPN access before working on a company's remote job.
Tascam iM2 Stereo Microphone: Need to record your meetings for future work? Therefore, you should have this microphone with you.
Livescribe Digital Pen: This pen is wifi enabled. It allows anyone to digitally-capture the notes prepared for work purposes.
Evernote: This tool is beneficial because it makes things working easier.
TimeClick Software: Forget the time issues of annoying employees; the TimeClick is here to help you out in such situations. Employees can come and go out during their work. At that time, your TimeClick administrative will take care of their time off work. There will be no hassle.
Five: To simplify the weekly reporting work, then you should start using the tool Five. It is the best tool to prepare accurate weekly reports. It is only 15 minutes for any employee to prepare the report, and the manager gives only 5 minutes to check them.
Google Chrome: It is easy to use the screen capture tool on Google Chrome.
Time Zone Converter: You are working across the country, then the Time Zone Converter is the best option for you. You can check the set country's time zone and work accordingly.
Skype: You can make the use of Skype for instant calling and messaging purposes.
Google+ Hangouts: To start conference calls or one to one client discussions, then start using hangouts.
Read:  Virtual Icebreakers – How to have a smooth first remote meeting?
Top 25 Dream Companies for Remote Social Media Jobs 
Remote working is a growing cycle with technology developments. The professionals are always looking out for remote social media jobs. Therefore top 25 dream companies offering social media jobs remote are,
Doist: It is a company based in New York City with 200 employees working here. Furthermore, it works in the production and creation domain.
Close: The Company is located in two countries USA and Canada. There are 40+ employees associated with Close working in 12+ locations. It works in the domain of inside sales communication platform.
GitBook: GitBook company has 50+ employees working in Europe and across the world. It works on the documentation platform.
Atlassian: This company works on Information and Technology platform. Around 5000, employees associated with the company based in Australia.
GoDaddy: GoDaddy works on web hosting, developing, and online marketing. The company is in New York City, and 5000 employees are working with it.
Shopify: Shopify is an e-commerce platform with 5000+ employees working with this organization.
Spotify: Spotify is a music-streaming platform. A person can work with this company from any part of this world.
Upwork: it is an online workplace providing company in California. Around 400+ employees have been associated with the company.
InVision: InVision designs digital products based in New York City.
DataDog: DataDog is a scalable marketing platform with 500-1000 employees working in New York.
Twilio: It is a communication app development company based in San Francisco.
Clio: It is a legal company in Canada with 200-500 people working overseas.
Stripe: Stripe is a software development company with 200 employees working in the United States.
Hopper: It is a travel application company in New York City.
Twitch: With 5000, employees are working in this viral video community for gamers based in San Francisco.
Mural: It is a team problem-solving organization in Colorado, Atlanta, Miami, and Spain.
Abstract: It is a digital structure workflow platform in San Francisco.
PagerDuty: PagerDuty is an incidence management solution provider in the USA and England.
Code Signal: Code Signal is a cloud signal platform in the USA and Armenia.
Cyracom: Cyracom is a translation company in Arizona with 6200 employees working.
Voco Vision: It is a company in Illinois with 3700 employees working over there.
United Health Group: It is a healthcare company in Minnesota working across different domains.
ProCare Therapy: It is Florida-based staffing recruiting firm in school-based therapies specialization.
K12 Inc: An online learning company started in Virginia.
Oracle: Oracle is a computer technology company in California.
Read: Remote Meeting 101: How to have better remote meetings?
Top Job Boards to find Remote Social Media Jobs
The Google Trend graph's upward trend showed that many people are looking for remote social media jobs these days. For at least sometimes 99% of the people want to work from home. Here is the list of the job boards from where you can find social media jobs.
Flexjobs: Flexjobs has around 50+ job categories from which you can search for the jobs accordingly.
We Work Remotely: It claims to be the work largest remote work community. Around 2.5 million people visit We Work Remotely. It posts the jobs of the top 100 remote companies hiring over there.
unremot.com: unremot is among the trusted job boards from which you can get your desired work from home.
Remote dot Co: Remote started by Sara Sutton. It focuses on providing remote jobs in different categories, like remote social media jobs and content writing.
Top Resume Elements of Remote Social Media Jobs
These elements you should include to get social media jobs. We are aware of the power of social media in spreading messages. It is the best option for companies who want to do their product promotion on social media. They want to hire such candidates for their remote social media jobs should have these elements in their resume,
The person should understand the emerging social media trends and outlets.
The second thing is the working knowledge and experience.
While working, the employee should have the ability of virtual team building among other employees.
He or she can display their creativity while working on other projects.
They are aware of how to communicate during the work and of the tight deadlines to achieve.
Remote Social Media Jobs Pay structure 
You are an active member of social media websites like Instagram, Facebook, and Twitter. Then, you can find remote social media jobs for you. In the entry, you get the job only on your skill and experience. Your pay structure is around $30K-$50K. You achieve professional certifications from Twitter and Facebook.
Then you can get a salary hike of $60K-$70K and promote to a social media manager position. This is the way as if the pay structure goes for social media jobs. It depends on whether you are a full-time, part-time, or self-employed person.
Suggested read: Best Remote Working Tools That Make Life Easy
Remote Entry Level Social Media Jobs
You can get full-time and part-time social media jobs. Furthermore, you can start working on the positions,
Digital Marketer
Digital Marketing Consultant
Social Media Manager
Social Media Analyst
You can find the remote social media jobs in the following companies listed below,
Doist
Close
Spotify
Shopify
GitBook
Twitch
DataDog
Stripe
Hopper
United Health Group
ProCare
Code Signal
PagerDuty.
The work of remote social media jobs, in simple words, is to manage all the social media channels such as Facebook, Instagram, YouTube, LinkedIn, Internshala, etc. Remote/online social media jobs are also known as 'remote social media marketing jobs' as the work is to promote the brand of the business.
Creativity, writing, communication, analytical thinking, and designing are the required remote social media job skills.
Remote social media managers and executive jobs are more popular among the people these days. Compared to other remote jobs, freelance social media jobs are gaining huge popularity.
No commute, no dress code, and increased productivity are the pros of working as a remote social media executive. Should address the customer queries whenever they question, that too on non-working hours, which leads to overworking is one of the main cons of working as a remote social media manager.
Indeed and unremot.com is the best website to search for work from home social media jobs.