Are you passionate about marketing as a career? If so, you're on the right page. Find how to become awesome in remote marketing jobs. Read on!
Remote working has achieved a phenomenal leap of success in the modern world. The concept has now spread across different industrial sectors and domains. Both the individuals and the companies are earning substantial benefits from working remotely.
The advantages are both financial as well as behavioral. Remote Marketing Jobs are not an exception, with companies opting to hire marketers from various regions of the world who can work remotely at their convenient locations.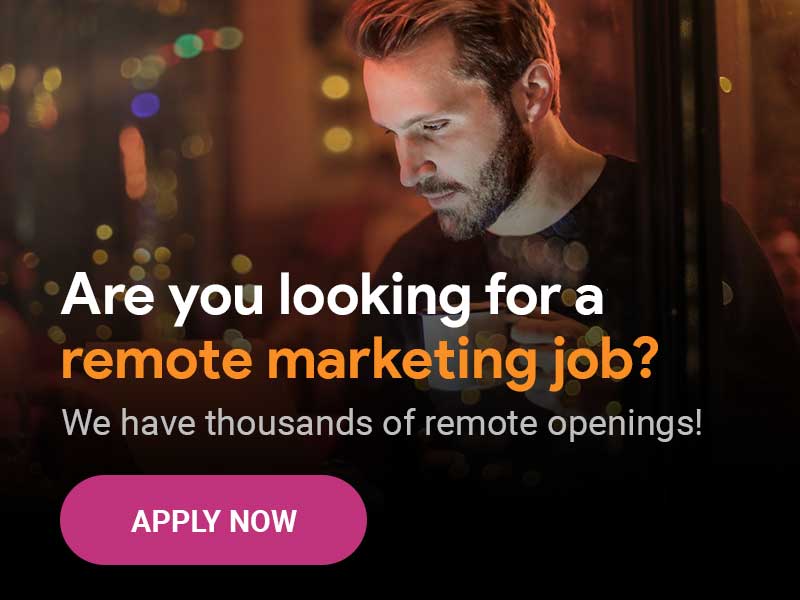 Various opportunities are popping up nowadays for work from home marketing jobs. The demands for different roles in marketing are also increasing, creating immense potential for venturing into this field. The growth curve is also attractive, enticing experienced as well as non-experienced remote professionals to seek remote and online marketing jobs.
In this article, we will discuss the skills required to become a remote marketer, roles needed for remote marketing jobs, and the companies providing virtual marketing jobs.
Also Read: Remote engineering jobs | A priceless list of tips to succeed
How to gear up yourself for remote marketing jobs?
Companies offering remote and online marketing jobs normally hire experienced or qualified marketers. Additionally, they also look for hiring freshers as well as individuals from different professional backgrounds.
If you possess a marketing degree or specialization then you are placed in a better and convenient position in terms of acceptability by the companies. Certain individuals wish to switch over from their current professional workspace to the world of remote marketing. They are recommended to undertake a marketing specialization course and obtain a certificate.
Read: Remote Sales Jobs – A beginners guide
Important Tips: It is advised to search carefully the different websites and companies offering online or classroom-based training for Marketing specialization certificates. Read reviews before deciding on investing in one of them.
Other than the educational qualifications and specializations, companies offering remote marketing jobs search for certain interpersonal qualities. The key ones being:
Excellent written and oral communication skills

Good negotiation capabilities with customers

Possess sound analytical abilities

Have a creative and innovative mindset

Ability to work with a team remotely 

Ambitious and careerist

Eager to learn more and contribute to the best of abilities

Knowledge of business acumen and financial concepts

Well planning and organization capabilities

Understand IT basics and their applicability
If you are an experienced professional, then the above-mentioned qualities are achieved through your daily interactions and work execution. You must be dedicated and committed to your work and company for being selected in remote marketing jobs and continue long term.
Also Read: How to work from home successfully?
Market Opportunity for Remote Marketing Jobs
Tech companies are moving into remote work culture giving virtual work environments importance. This is leading to a lot of openings for remote marketing positions which allows you to work virtually from anywhere. Digital marketing remote jobs are in high demand these days with a plethora of job opportunities and career possibilities.
If you are looking for a job in marketing, the first step would be to know the different types of marketing jobs available in the market. Your job role depends on your skillset, business needs, and qualification. From Social Media Strategist to Marketing Analyst, the options are plenty. 
With the rise in Social media, the marketing business has become complex. It uses algorithms, codes, data intelligence to predict what the customers need. Brands now rely on technology to serve genuine experiences and connect with their customers. This has led to the need for skilled professionals in the field of marketing who are proficient in managing specific tasks.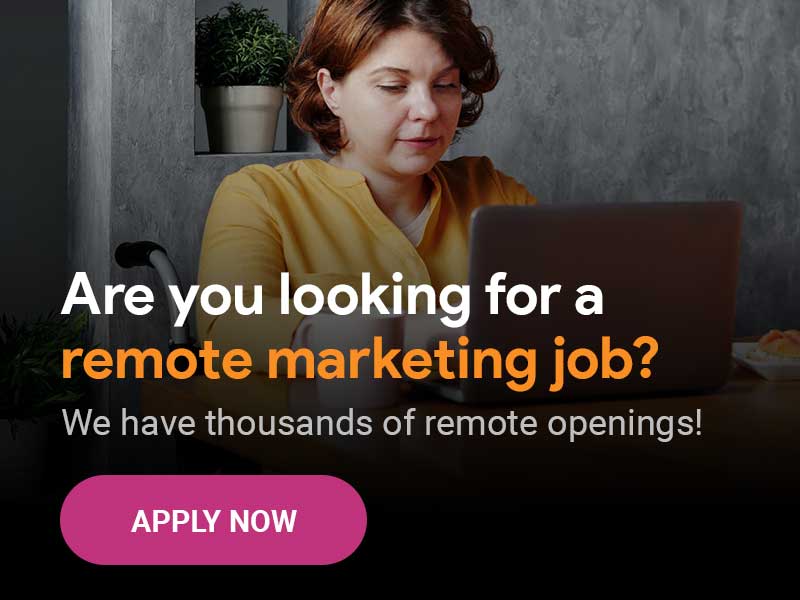 The marketing field is growing up exponentially with a constant demand for more workforce. Both experienced and freshers with marketing knowledge are welcomed in the industry. The growth in marketing is profound with the right skill set and knowledge.
Job titles and career paths in remote marketing jobs
Companies offer multiple roles for remote digital marketing jobs and other online marketing jobs, which are quite attractive and futuristic. Some of the key roles offered by them are enlisted below for your quick reference and pursuance,
1. Content Marketer 
The role of a content marketer is to write articles and blogs which are specific to the company's niche domain and target audience. The content maybe for the company's website or part of its social media communication channels and medium. You need to possess good research skills to analyze a certain topic and present it to the readers with well-versed content and interesting facts. You are expected to be knowledgeable on certain topics as demanded by the companies before venturing into the world of content management.
Also read: Remote writing jobs – A beginners guide
2. Affiliate Manager
Affiliate Marketing is now one of the prominent digital marketing remote jobs. Its popularity is increasing at a rapid pace with more and more established bloggers adopting its use and benefits.
Did you know? Affiliate Marketing is an efficient and reliable method to earn money when an individual signs up or purchases any products through your affiliate links. You need to sign an online agreement to create an affiliate relationship with different companies in exchange for increasing their sales.
If you are looking for work from home marketing jobs that cater to relationship building with customers and companies, then you can opt for this role.
3. Digital Marketer
Attracting the audience by creating interesting materials and gaining sales leads are the key responsibilities of a digital marketer. The person must be efficient in writing emails and marketing catalogs, brochures, or reading materials to generate interest among the audience. He or she must understand the concept of impressions, click-through rates, and sales-related terminologies.
Important Tips: If you are specifically looking for remote digital marketing jobs or jobs related to email marketing, then you must be capable to handle the knowledge base as well as the sales leads. Analysis and improvisation of both aspects are important for success as a digital marketer.
Suggested read: Working from home with kids – Parent's guide to remote working 
4. Copywriter
Copywriting jobs are quite common nowadays in the field of remote marketing. It is considered one of the respectable remote marketing jobs. The basic responsibilities of a copywriter are to create materials that quickly and instantly grasp the attention of the targeted audience. They review and modify scripts that are advertised or published in online e-commerce sites, televisions, social media channels, newsletters, magazines, and even video channels.
The fact you must know: A copywriter must be capable of sanitizing contents or scripts, focusing on the subject area or domain coupled with facts and figures for alluring the audience.
5. Public Relations Manager or Coordinator
Companies need a public relations manager or coordinator for promoting their brands and products to prospective customers. The person is responsible for scheduling events, organize campaigns, focus on maintaining a reputed profile of the company, and even handle crises.
He or she needs to ensure that the company's image in the market is never overshadowed or downplayed. Handling public relations of the company with the stakeholders and customers is one of the key responsibilities of a public relations manager or coordinator. It is considered one of the prestigious remote marketing jobs you can think of.
The fact you must be aware: Candidates with a bachelor's degree in English or any of the company's preferred language, journalism, business, or communications are preferred for the role of a public relations manager or coordinator.
Read: Best Remote Working Tools That Make Life Easy
6. Social Media Manager
Social media platforms like Facebook, Twitter, Instagram, etc. are nowadays the eyes and ears of various companies, intending to attract the audience through their social presence. But leveraging the platforms to promote a company's image and brand is an art one needs to adopt. They can either prove to be super beneficial by enticing more and more followers and customers or prove to just the opposite. Hence companies are hiring social media managers to handle this tricky task. It is one of the intelligent and popular remote social media jobs, you can opt to work from your home.
Important Tips: If you want to apply for the job of a social media manager, you need to be aware of the algorithms on how the media platforms operate. You need to align the company's profile and promotion strategy accordingly to gain more attention from the intended customers.
7. Search Engine Optimization or SEO Specialist
A company needs visibility on social media platforms, but that alone will not boost its sales performance. The other important criteria to gain customers is to enhance its online presence. That's exactly the responsibility of an SEO specialist. The key responsibility of the person is to produce content to fit into the radar of the search engines. You need to understand web analytics methodology and strategy. The online website content must be edited based on the algorithms to enable efficient SEO and greater reach to the audience.
Important Tips: There are several online videos and courses available to build and enhance your knowledge of SEO. It is not tough, you need to utilize your intelligence and common sense to get into the crux of the subject.
Suggested read: Best Home Office Set Up For Remote Work
Qualification Needed for Remote Marketing Jobs
A bachelor's degree in marketing or communication is usually preferred before entering the field of marketing. Several options are available for both online and offline business schools. If you are aiming for remote marketing manager jobs, then it is better to get an advanced management degree such as an MBA or equivalent. 
Master's programs usually take one to two years to complete. Certification is not particularly required in the field of remote marketing careers but there are some professionals credentials available to hone your skills further and establish your expertise in an area.
These certifications give you a competitive edge against other applicants and establish you as a qualified professional in the marketing field. They help you keep updated with the latest technologies in the market and show your eagerness to learn and grow constantly. 
For work from home marketing jobs, you must additionally be qualified to work on your own by completing projects within the deadline. A self-starter individual is best suited for remote marketing jobs. Marketing companies are hiring people who are detail-oriented with a creative mindset and excellent communication skills. Enrolling in a free digital marketing course before applying for the job would help clear the interview.
Also Read: Remote call center jobs | A comprehensive guide for beginners
Skills Needed for Remote Marketing Jobs
Basic skills needed for remote marketing jobs,
1. Excellent self-organization
To stick to remote working you need to be a self-starter and self-motivator. Working from home can be unstructured hence self-organizing skills will come in handy.
2. Time management
Another key component of working remotely is time management. As you won't have a manager monitoring your daily activities, you must manage your time effectively.
3. Strong written and verbal communication skills
Good communication skills immediately make your resume more remote-friendly in front of the hiring managers. Know-how of general online communication platforms such as Google Hangouts and Zoom would make your work easier.
4. WordPress
WordPress powers a quarter of all websites across the world. As a marketing professional either your employer will already be using WordPress or would want to make the shift. Either way, it would be beneficial to have an understanding of WordPress and all its features, plugins, etc. 
5. Creative and Analytical Abilities
To succeed in marketing you should have a creative as well as an analytical mindset. An analytical mindset will help you in understanding the technical aspect of the job.
Roles and Responsibilities of Remote Marketing Jobs 
The responsibilities of remote marketing jobs depend on the different types of marketing jobs. A marketing professional may have to handle a wide variety of tasks based on the role in the organization, experience level, and marketing field. Some common roles and responsibilities of at-home marketing jobs are,
Design, build, and maintain the social media presence of the brand as a digital marketing professional.

Brainstorm new and creative growth strategies

Get acquainted with emerging technologies and provide suggestions and thought leadership wherever required.

Collaborate with marketing operations on strategic and infrastructure solutions.

Email marketing jobs remote workers have to build the forecast and prepare reports showcasing engagements from email marketing campaigns.

Remote content marketing jobs require their employees to publish and distribute content, including editing and proofreading.

Transform content into digital marketing campaigns for the brand.

Develop and oversee marketing campaigns.

Present campaigns and strategies to the client and work with them closely.

Contract negotiation with clients and vendors.

Organize several market research regularly and create brand strategies based on the results and findings.

Develop price strategies for the product and meeting the client requirements and the firm's needs.
Also Read: Remote startup jobs | Everything you must know
Recommended Certifications to get Remote Marketing Jobs
There are hundreds of marketing certifications available depending on which specific field of marketing you wish to work in. Certifications from reputed organizations are useful in boosting your skills and advancing your career. 
We have listed down recommended certifications to get remote marketing jobs in the field of digital marketing,
1. Google Ads Certification
Google Ads certification is given to those who have a basic or advanced understanding of Google Ads. It tests your knowledge of the concept of online advertising.
2. Google Analytics Individual Qualification Certification
Google Analytics IQ certification is awarded to those who show proficiency in Google Analytics and digital analytics practice. Google provides beginners and advanced courses to prepare for the certification exam.
3. Facebook Blueprint Certification
The Facebook Blueprint Certification is a formal recognition of your in-depth understanding of Facebook marketing skills. Each Certification comprises of two exams which can be taken in any order.
4. Hubspot Content Marketing Certification
A course built for those who wish to understand the impact of content marketing and boost their company's ROI. Hubspot provides all its courses and certifications for free.
5. Hootsuite Social Marketing Certification
The Social Media Certification by Hootsuite establishes you as a social media marketing master.
Top 10 Tools Needed for Remote Marketing Jobs
1. Google Drive – Google Drive provides free of cost cloud storage to store your documents, files, pictures, and videos. 
2. ProofHub – Proofhub is a single powerful software that works as an all-in-one project management and team collaboration software.
3. Milanote – Milanote is a note-taking app that helps you create boards and brainstorm ideas with your team.
4. Slack – Slack provides different channels to help collaborate with your team. You can share files or connect over a voice or video call.
5. Zoom – Zoom is a video conferencing tool that helps you facetime with your team and co-workers.
6. Jira – Jira is a useful tool when it comes to tracking tasks and issues, filing bugs managing agile projects, etc.
7. Trello – Trello is another tool useful for agile project management. Trello is a marketer's favorite tool.
8. Time Doctor – Time Doctor is a time tracking tool. Time Doctor's monitoring feature helps in tracking the work activities of remote workers.
9. Teamwork Projects – Teamwork Projects is a workflow software platform for finishing tasks. Remote team members can assign tasks to each other and tag concerned members.
10. Dropbox – Dropbox is an alternative to Google Drive for storing your files and documents in a cloud.
Top 25 Dream Companies for Remote Marketing Jobs
Many companies are providing opportunities in the remote jobs marketing field. Big brands and industries have started employing people remotely to get access to a wider skillset. These companies are offering part-time remote marketing jobs to those who are unable to commit to a full-time job due to unavoidable circumstances.
If you wish to work remotely, marketing jobs will provide you with several opportunities in different areas of expertise. Many of the digital marketing jobs allow employees to be location independent and let their creative juices flow without being confined in a cubicle.
We have listed down the top 25 dream companies for remote marketing jobs,
Google

Apple

L'Oreal

Sony

Nike

Adidas

Nestle

Heineken

Oracle

Shell

General Motors

Toyota

Intel

Bain & Company

IKEA

Pepsico

General Electric

KPMG

Procter & Gamble

Microsoft

Barclays

Credit Suisse

Grant Thornton

Bank of America

Ford Motor Company
All the above companies are the best in the industry with the good work culture and pay scale. They post regular job openings to hire people in marketing for part-time, full-time, and remote assignments. The job listings can be found under the career section of their respective websites or you can browse through an online job portal.
Also Read: Remote medical transcription jobs | A complete guide
Top 10 job boards for remote marketing jobs
Ample virtual marketing jobs are available in the market that can be executed at the comfort of your home. Various websites and portals host job opportunities from different companies and acts as an interface between the firms and the applicants. Let us now discuss the best job sites that you can search, for your dream role in remote marketing,
1. FlexJobs
It is one of the reliable sites to search for remote and telecommute marketing jobs. Both part-time and full-time job opportunities are available in the portal. You can select your preferred job categories and search for roles. The editors of the website verify the authenticity of each of the job roles posted by the companies. Hence you can stay assured of the authenticity and security of the job opportunities and roles advertised or displayed on the website. Besides, the candidates can scan through various articles and helpful guides available to aid you in the field of remote marketing.
2. unremot.com
This is one of the most technologically advanced remote collaboration platform for remote marketing jobs. One can find freelance/remote work from across the recruiters around the world, while also collaborating with them over video-based virtual rooms and chats.
3. Remote.com
The website is continuously updated with the latest opportunities and roles in online and digital marketing remote jobs offered by many companies. It has a basic plan based on which the applicants can gain access to common search capabilities. But if you need to understand the details and compensation of the jobs listed, then you have to invest in their premium plan. The response rate from the companies posting jobs at remote.com is high and will never leave you disappointed.
Also read: 8 Remote Work Habits Of Every Productive Employee
4. WeWorkRemotely
The advantage of searching for jobs on this website is that its user-friendly navigation mechanism. There is no application fee charged by the company. Regular jobs are posted in the portal which includes remote social media jobs and telecommutes marketing jobs. Its home page displays the list of the key job opportunities available providing you with all the convenience to search for the desired job roles. The name of the company and the work type – full-time or part-time is also mentioned along with the job roles. You can click on each link to review the details and then apply as per your preference.
5. AngelList
If you are interested in the role of an online marketing manager in one of the startup companies, then AngelList is the place where you can search for jobs for the same. The website posts fresh jobs every day mainly from almost 100,000 startup companies. They even provide the option to directly connect with the founders of the companies for additional details. Before applying for the jobs, you can check the salary and the current financial condition of the companies. There is no fee charged by the website, you can search for as many jobs you desire based on your skill set and experience level.
Important Fact: You need to create a profile on the website, strong enough to attract the companies. No resume or cover letter is required to attach for job applications.
Read: 14 Best Remote Job Sites: Start your job hunt at the right place!
6. Pangian
It is one of the best online communities listing job opportunities from almost 312 companies based in different regions of the world. They have successfully connected with remote workers present in approximately 121 countries as per their recent data statistics. Additionally, it provides facilities to chat with fellow remote workers and gain insights into the future remote working trends and tips for success. The website also provides different articles or blogs to guide the applicants on remote working techniques and best practices.
7. Hubstaff Talent
It is one of the popular websites to seek the role of an online marketing manager or a social media manager. The website displays job listings from companies who are looking for hiring full-term or contract basis – hourly rates or at a fixed price. A wide variety of remote marketing jobs from different companies are posted frequently on the website. The home page provides a search option via keywords to browse for the open job requirements. You can even create your profile from the home page. Social media marketing, email marketing, Facebook advertising, market research, SEO, Content marketing, sales, lead generation, and branding are the different job skills available for hiring in the website.
Read: How to achieve & maintain Work-life balance
8. Jobspresso
The website hosts a huge volume of jobs, hence opens up excellent job openings for applicants seeking remote jobs under marketing and sales categories. They are active in Twitter and you can follow them for the latest job postings. You can either search from their features job list or latest job postings for a quick search of the openings. Else if you want to explore the Marketing and Sales category in detail, you can do that too with ease from the home page. You need to enter the keyword, location, and category – full time, freelance, internship, or part-time to browse for the job opportunities.
9. Hey Marketer
Hey Marketer is a free site for online marketing jobs. It has well-curated job listings in the remote marketing field. They also have a great variety of roles ranging from content marketing, social media management, ads analytics, etc. Their main focus areas are marketing jobs in Tech, SAAS, and E-commerce. You can subscribe to their website and get relevant job listings directly in your inbox.
10. Marketer Hire
Marketer Hire is a robust job board that has listings from some of the best companies and brands in the world. It is a network of freelance marketers which requires a rigorous screening process to be a part of. The application process is tough and only 5% of the total applications are accepted by the Market Hire team. The wide range of roles from renowned companies makes all the efforts worthwhile.
11. Demand Curve
Demand Curve team wants the best marketing freelancers in their team hence you need to go through an extensive screening process before becoming a part of the network. They boast of some of the best marketing talents in the virtual marketing jobs space. Job roles can range from brand marketing, email marketing, etc.
Also Read: Remote business analyst jobs | Know before you start
Top Resume Elements of Remote Marketing Jobs
Top resume elements of remote marketing jobs to be considered while preparing your resume,
Include stats and figures

to showcase strong performance in the past. Numbers stand out in the resume and highlight your achievements.

A sharp

skills section

with relevant marketing skills and remote working skills should be mentioned.

Mention marketing

certifications and relevant awards

in the field of marketing.

Keep the education section simple and focus more on past jobs and experiences.
Add a summary section to give a short intro to your professional journey so far in the marketing field.
Remote Marketing Jobs Pay Structures
The demand for marketing professionals is projected to grow as fast as the average for all other jobs. But the demand in marketing majorly depends on the area of marketing. As newspaper media is on the decline, the marketing needs in electronic media will be more.
Even the pay structure varies vastly depending on the marketing field. The average salary of a marketing specialist and a market research analyst is $71,570 annually whereas a marketing manager earns an average of $149,200 annually. A bachelor's degree and a master's degree in marketing can add up substantially to your pay package.
Remote entry level marketing jobs
Remote marketing jobs are open to both experienced and freshers. Do not worry if you want to get started with marketing and have no prior experience in the field. There are several entry-level jobs in different fields of marketing that would be a perfect fit for you.
Although it would be a good idea to get marketing certifications or training to have the basic skills and knowledge required for the job. Here are a few remote entry-level marketing jobs to consider,
Marketing Analyst

Marketing Assistant

Sales Representative

Business Development Representative

Market Research Assistant

Social Media Manager
Some final tips on remote marketing jobs
Join Facebook Groups which post about new job opportunities in remote marketing

Review each company and its job requirements thoroughly before applying for a job

Gear yourself before the job interview through self-learning and interactions with experienced or fellow remote marketing professionals.

Learn the skills of promoting brands and products via all the popular social media platforms

Improvise your negotiation and communication skills

Work on your creative skills in advertising and promotional activities since that's the capability most companies will be looking for

A strong grasp of the language is very essential to continue surviving in the remote marketing world for long term

Browse through various video clippings and channels to understand the tips and best practices for being a successful remote marketer.
Further read: Contemplating Career Change? Here's all you need to know
Hope you are now conveniently equipped with the weapons for pursuing a bright career in remote marketing. There are numerous opportunities available in the market, you need to skillfully tap on them and be a remote marketer.