Are you passionate about remote legal jobs? If so, you're on the right page – read to know about the companies, best jobs, skills needed, and pay scales!
Remote working and work from home are a rising trend in the highly advanced modern world of today.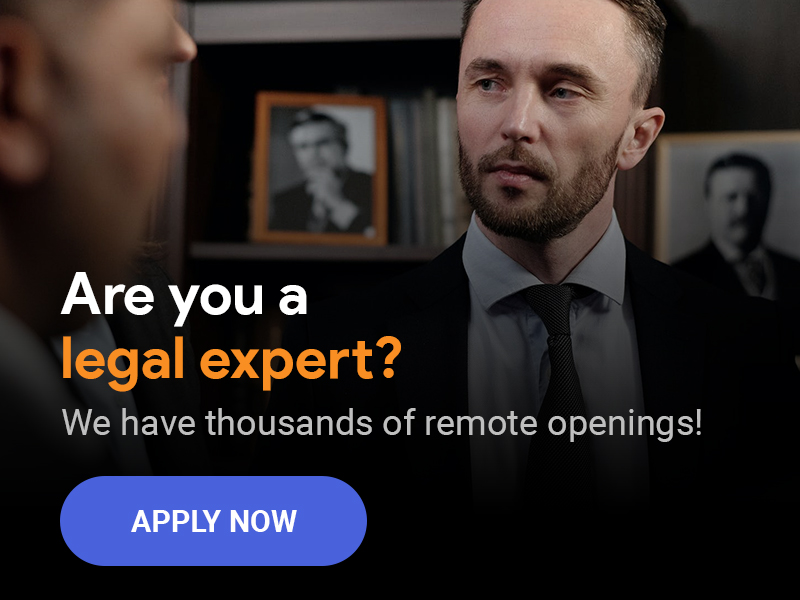 Almost all the domains and genres of professional jobs are shifting to avail the potential benefits of working remotely. Remote legal jobs are not an exception and law firms and organizations are gaining comfort in hiring remote workers for this noble profession.
The best part of becoming a remote attorney is you get the liberty to live in exotic places while my work does not stop. You don't have to crib about going to courts and boring chambers every day. 
Both remote experienced and entry-level legal jobs and roles are being offered by many firms. For individuals, skilled and qualified in legal skills, can comfortably now stay at home and work at their convenience at any of these firms.
The jobs are reliable and beneficial for their future growth and career. In this article, we will discuss multiple facets of legal jobs – the skills required, types of remote legal jobs, duties, and the companies or firms hiring remote and work from home legal jobs.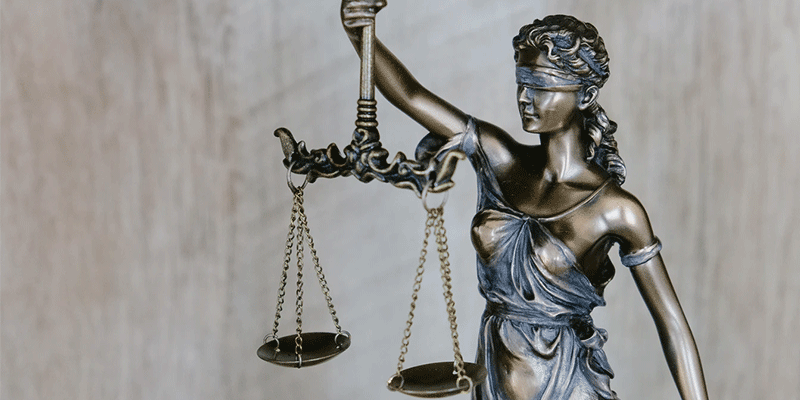 Job titles and career paths of remote legal jobs
The following is a summary of job titles and broad career paths one can pursue under remote legal jobs. Broadly, the career of a remote legal jobs professional is monetarily rewarding based on a survey in 2018 on remote legal jobs salaries, having an average pay of USD 120K a year.
Remote attorney document review jobs
If you are someone with a law background or aspiring for a remote document review job then you will be amazed to know the scope of these jobs. The average salary for remote attorney document review jobs is pretty good like other lawyers who go to court on a regular basis.
The payment you get for document review would be based on the location and merits of the company you are getting employed with. But the average salary for such jobs in a mediocre company is more than 26 USD per hour.
Remote patent attorney jobs
This is another remote profile wherein the patent attorneys advise their clients on inventions, designs, trademarks, know-how as well as on how to protect their software products and plant varieties.
The major responsibilities of the job include drafting expert opinions, oppositions, nullity claims, cancellation suits, objections, and third-party submissions. Also, you need to evaluate the intellectual property rights of third parties and collision risks if any. You need to advise the client on contract-related matters, specifically licensing agreements.
Remote contract attorney jobs
As a remote contract attorney, you work as a lawyer for law firms or an individual lawyer on a contractual basis. A remote contract attorney is an attorney who works on legal cases on an as-needed or on a temporary basis when the regular attorney is loaded with a lot of work or is absent from the office.
The contract can be for a few days or weeks or may extend to certain months. Contract attorneys practice law without a guaranteed employment term. That is, the project requirements may end early or be extended. Typically, when the project is over, contract attorneys move on to the next project if he is required.
Otherwise, the role will end without prior notice. The most important benefit of this job is the high pay such attorneys get.
Remote attorney editor jobs
Remote attorney editors are lawyers who use their legal education in publishing articles, papers, documents, and more. Such attorneys are responsible for conducting legal research, writing, and providing analysis of legal developments. Often such job responsibilities require reviewing and editing manuscripts and other materials created by attorneys, outside authors, and other legal associates. This is a pretty easy job but requires special knowledge of writing from your end.
Remote immigration attorney jobs
The role and responsibilities of remote immigration attorney jobs include the following,
Preparing and drafting various forms for client visa petitions.
Setting up communication cycles with individual clients, employers, and family clients on a regular basis regarding visa applications, knowing their history, and special requirements.
Drafting letters on behalf of clients that need to be sent to various governmental entities
Calling agencies to get real-time updates of the applications filed.
Remote IP attorney jobs
Remote intellectual property attorney jobs involve an array of legal matters relating to matters of virtual property in things like inventions, logos, and artistic works that require the application of someone's mental efforts and intellectual labor.
The matters are majorly divided into the following categories- patents, trademarks, and copyrights. Also, some remote intellectual property attorney jobs also involve matters related to trade secrets, which are basically the formulas, patterns, and devices used by individuals or organizations to make their products different from others.
Your primary duty will be to handle patent applications and reviewing the patent application prosecution prepared by associate attorneys. The responsibilities include reviewing, drafting, and negotiating technology agreements (that includes inbound/OEM license agreements, MSP/ISV agreements, partner interoperability agreements, strategic alliance agreements, payment processing agreements, consulting, and development agreements).
You also need to ensure compliance with third-party agreements, open-source licenses, security attestations, and government regulations and certifications.
Real estate attorney jobs remote
The role of a real estate attorney is to give a legal expert opinion on legal and regulatory matters that involves the purchase, sale, and management of rental properties. All you need for this profile is deep expertise in real estate law. The remote attorney should be a flexible and creative thinker who can thoughtfully apply existing rules while assessing and explaining the business risks to the clients. Possessing superior communication skills and the ability to explain complex issues in an accessible, user-friendly manner can do wonders for you.
Trademark copyright attorney remote jobs
The attorney should have deep knowledge of trademark and copyright, domestic and international clearances, prosecution, and enforcement. This profile usually requires managing a global trademark portfolio and drafting pleadings for the courts.
Preparing and responding to cease and desist letters and handling other enforcement matters is another major part of the job. Excellent writing, active marketing, business development skills, and strong interpersonal and communications skills are required to complete the job.
Article writing jobs remote attorney
One of the best paying jobs in the legal profession is article writing. Article writing attorney is required to take the firm, to a whole other level of proficiency, building a strong online presence for the legal business whether it is a website or a magazine.
Legal firms hire a remote article writing attorney to increase their exposure and credibility in the legal business. Creativity, proficiency in English, legal accuracy, and innovation are what employers look for in an article writing attorney.
Junior corporate attorney jobs remote
Remote junior corporate attorney jobs are decently paid and give a good start to the freshers. The role and responsibilities include organizing and reviewing contracts and assuring that established contracts are updated and orderly recorded.
Reviewing agreements and other legal forms is usually a routine task. The attorney should possess a proactive approach in identifying and analyzing legal issues and communicating effective legal advice to the clients.
An efficient attorney who works independently on matters of significance to the organization should acquire in-depth expert knowledge and the proven ability to lead efforts to resolve complex issues.
Remote financial transactions attorney jobs
If you want to work as a remote finance attorney, the following will be your key responsibilities,
Providing practical in-house legal advice and support on a wide range of finance transactions to the clients that include banks, borrowers, and private equity houses on banking and financial matters
Advising on corporate lending transactions (responsible for both lenders & borrowers), leveraged acquisition finance transactions, project finance transactions and asset-backed/receivables finance transactions
Engaging in the drafting, negotiating, restructuring, and reviewing of a variety of financing documents such as loan facility agreements, security documentation, inter-creditor agreements, ancillary documents, corporate authority documents, and more.
Senior level remote attorney jobs
The remote senior level attorney is usually charged with providing cross-functional team leaders with legal advice that he has achieved by years of hard work for all corporate transactions. In this position, the senior attorney identifies legal issues within the business and provides legal analysis and possible legal solutions.
He also gives recommendations for addressing critical legal and policy issues in order to ensure that the business's legal and overall objectives are met. The Senior Lawyer needs to advise different departmental leaders across the business on applicable laws and the interpretation of legal documents in a manner that avails a practical legal approach while properly managing the connected risks to their individual areas of business.
Key skills for remote legal jobs
The array of remote legal jobs are quite abundant in number, varying on the scope of work and the responsibilities embedded in them. Yet all the online legal jobs demand certain key skills to exist within an individual before being suitable to work as a legal professional.
1. Analytical Power and Logical Thinking Capability
One of the most important remote legal job requirements is the ability to analyze the facts, figures, and information and leverage logical reasoning to conclude. Pieces of evidence in various forms are available or provided to legal professionals on any legal matter.
They are expected to utilize their intellectual minds to thoroughly investigate each of the facts and information. Based on the study, legal professionals must derive logical answers, interpretations, and judgments on the reining legal issues or problems of the assigned work.
Read: How to earn money during COVID-19 quarantine?
Important Fact: If you are seriously looking for being hired for remote legal jobs, then you need to work on your analytical and logical skills judiciously. That's essentially what companies look for, as there may be thousands of hidden facts and information which normally may not be visible or available to a common person.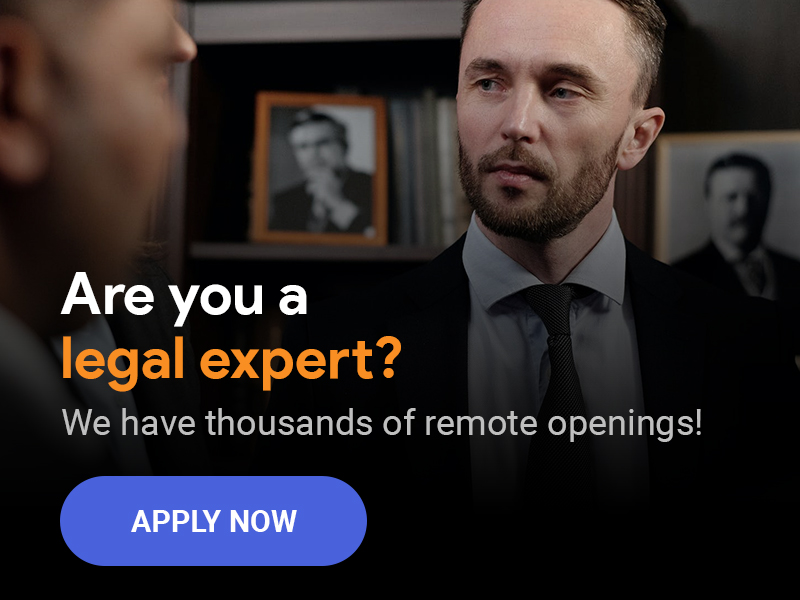 2. Tracking the Right and Proper Evidence
Locating the documents, pieces of evidence, facts, figures, and information in a legal matter is an important responsibility of a legal professional. Awareness of which evidence to search for, where to search them and what to look for falls under the purview of a person involved in remote legal jobs. Many pieces of evidence are available online and some are not. Detecting the correct and required information is essential for successful legal analysis and research.
Important Tips: Though remote legal jobs are essentially operated from home or a co-working space, yet sometimes you may need to travel to locate evidence or perform further research.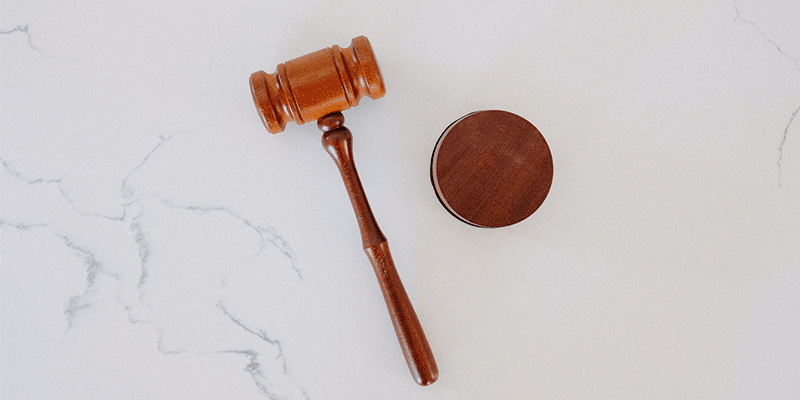 3. Awareness of Legal Rules and Regulations
Remote and online legal jobs mandate constant awareness of the existing and changing rules and regulations in the legal world. Statutory laws are the governing factor of maintaining legal obligations of a region and the different departments or activities prevalent in a region. Without them, the whole system will fall apart and there will not be any discipline or organization in a region or a country. One is it enforce them strictly and another is to ensure they are followed and not violated.
Good Read: How to work from home successfully?
Legal professionals are expected to take care of the second part. And to do so they must be well equipped with the legal ammunition and knowledge on the legal rules and policies.
Important Tips: Legal policies and statutory regulations keep on changing depending on the economic conditions or financial obligations of a region. Legal professionals are expected to keep a constant track of them and seek to gain adequate knowledge by the extensive and detailed study.
4. Extensive Research Capacity on Legal Matters
Deep extensive research capacity on the facts and evidence of the legal findings are the keys to a successful legal career. Private and public firms and companies hiring for remote legal jobs will evaluate the interest, eagerness, and capability of detailed research abilities. When we talk about legal research, there are various techniques and methods which need to be learned and adopted by legal professionals to track down the correct legal interpretations. Several software applications and technologies are available that aids legal research. It is advisable to scan and leverage them during your research work.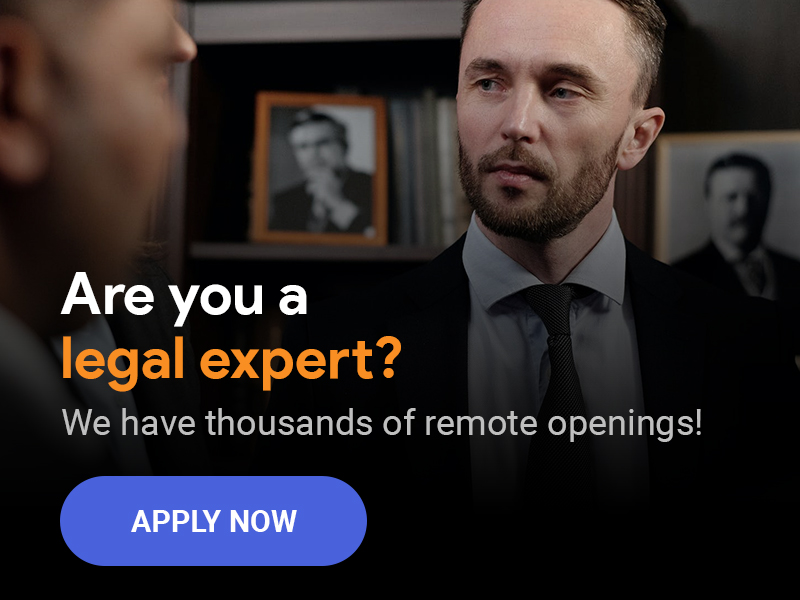 Important Tips: To be proficient in remote legal job skills, it is important to be tech-savvy too. You must constantly follow the internet and online forums to understand the latest systems and applications. As a next step, ensure to leverage them in your research and analysis work for efficient results.
Suggested read: Remote work policy – What it is & how you can create one easily!
5. Communication
Efficient and fluent oral and written communication capabilities are the mandatory aspects of remote legal job skills. It is one of the basic and powerful tools of a legal professional. The key reason behind it is to convey the correct and appropriate facts, figures, and information to the authorities. The communication needs to be imparted in clear and concise terms without any ambiguities. Proper legal terms must be embedded within your conversations and written messages or documents for acceptance and compliance with the legal rules and policies.
Important Fact to remember: Listening attentively and cautiously is also a crucial aspect of communication. It assists to strengthen your message and documents.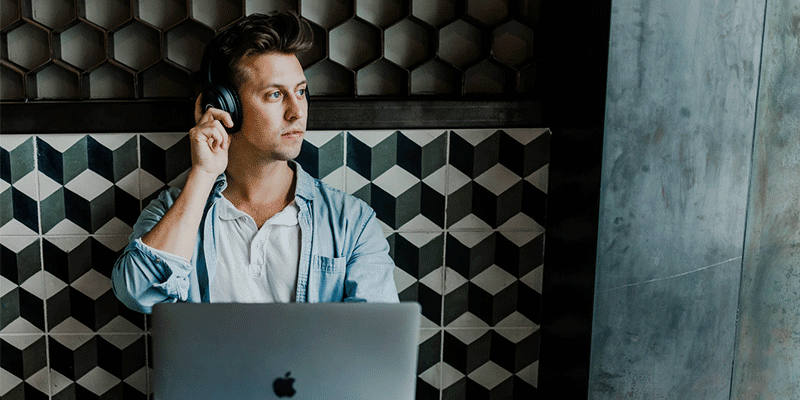 Read: Synchronous & Asynchronous Communication For Remote Work
6. Effective Time Management
Remote professionals, many a time, are billed on the hours of work. They are provided with strict deadlines to complete their assigned activities. The same rules hold for remote legal jobs. The more you accomplish your work by multi-tasking or investing more resources, the greater is your productivity. Eventually, it increases your earning and potential for future growth in your career.
The best way is to maintain a planner and an online calendar to keep a track of the ongoing as well as upcoming activities. You can also adopt the traditional method of maintaining a handwritten plan and placing it at your workspace location in your house. The visual display of a planner in front of you works effectively, prompting you to finish your work within the designated time.
Important Tips: Numerous applications and tools are available on the internet for managing and organizing tasks, activities, and the time for each of them. You can even monitor your remote team through these online systems by assigning tasks and deadlines for them.
Read: Managing Remote Teams: 13 tips that will come handy
7. Collaboration and Interpersonal Relation
Working remotely necessitates the need for effective online collaboration with peers, managers, experts, and your team. Whether you are into full time or part-time legal work from home, you need to engage and collaborate with legal experts or specialists for any kind of suggestions and discussions. You may need either guidance or may need to impart your knowledge and understanding to other team members in the legal department of the company or firm. The very fact that you are not present physically in the office premises, demands more online collaboration and greater interpersonal relations.
Important Tips: It is advisable to join social media groups or online forums for lawyers and legal counselors for advice, tips, guidance, and best practices to aid your job.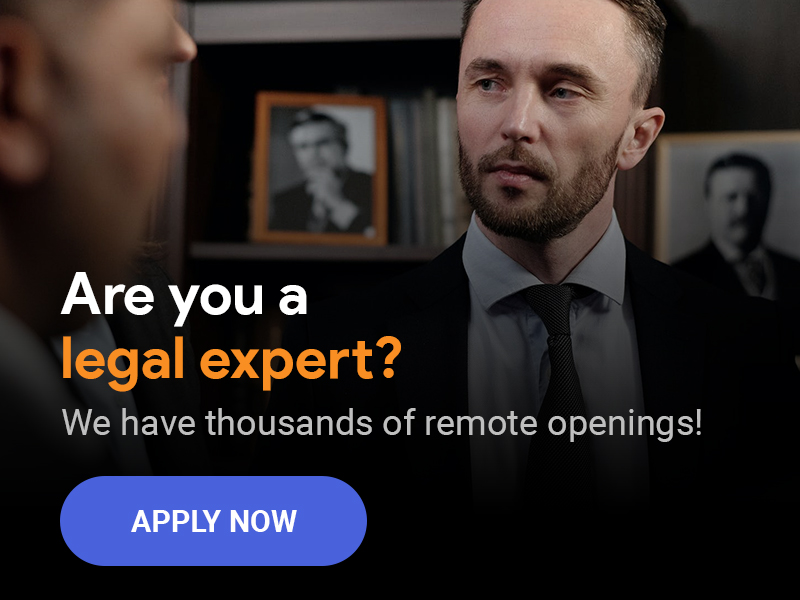 8. Technical Skills and Ability
Technology plays a prominent role in modernizing several activities in various work sectors including the legal domain. Almost all remote lawyer jobs or even remote legal assistant jobs require preparing and maintaining documents, project planning, creating presentations and training manuals, and even invoicing and billing activities. All these activities are seamlessly handled by the phenomenal advanced applications and technologies guides by digital techniques.
Awareness and potential usage of these modern and digital systems are very essential for the smooth execution of your work. Since you will be working remotely, hence knowing how to install and use the applications is of paramount importance.
Good Read: Deep Work Summary: 5 Key takeaways to help you be more productive
Important Tips: Emails, Instant messaging and chat, audio and video conferencing have also undergone phenomenal advancements. You must be proficient in handling them as part of your remote legal job requirements skills.
9. Prompt Customer Service
Legal counselors and lawyers need to handle customers almost every day. Since the law is an extremely sensitive and confidential matter for individuals and firms, prompt and honest customer service serves as the pillar for building confidence and trust. Hence an important criterion for remote and work from home law jobs is to bring inefficient and prompt customer service with appreciable results. Mastering the skills of customer interactions and service is an art and needs dedicated focus and attention for attaining the desired satisfaction level.
Important Tips: The first impression is critical to gain success in remote legal jobs. It is advisable to work on customer service skills and the techniques to gain confidence.
Suggested read: 34 Best Remote work communities on Reddit, Slack, Facebook
10. Dealing Conflicts Smartly
Legal issues invite conflicts and complications between individuals as well as companies. One of the important aspects of remote and work from home legal jobs is to smartly handle and resolve conflicts between the different stakeholders with due acceptability. While doing so, you may need to interact and deal with people of varying characters. It might burn you out or cross your threshold limit of tolerance. If you allow the conflicts to overcome you, then you turn out to be unsuccessful in your job. Therefore companies hiring for remote lawyer jobs or jobs related to it prefer individuals who are intelligent and smart to handle conflicts and bring in proper resolution.
Important Tips: Handling conflicts need expertise and experience. It is recommended to attend online webinars, TED Talks, join discussion forums, and interact with experts to learn the art of conflict resolution.
Interesting Fact: Legal counselors and lawyers often need to allow conflicts between parties and that's the trickiest part. It may either lead to a negative situation or a positive result. Efficient legal personnel needs to balance these two to achieve the desired result.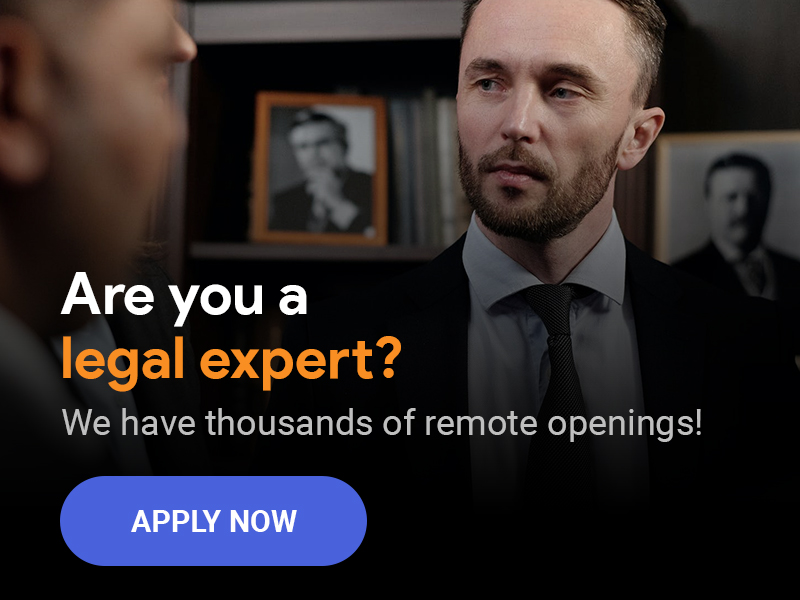 Roles and responsibilities of remote legal jobs
Before applying for remote legal jobs, it is important to understand the duties and responsibilities of legal professionals.
Act as the counselor for customers in understanding the legal policies and obligations that need to be followed diligently. Advise steps to be undertaken in case of defending or prosecuting lawsuits. 

Research and analyze the findings of any legal case and devise strategies to protect the legal bindings of a company or an individual business.

Study the various legal policies and statutory obligations that need to be complied by companies and firms. Provide active guidance on following them and advise of any legal prosecutions that may occur in case of a breach.

Creates legal and contractual documents between a company and its customer. They even review contractual terms and agreements put forth by any customer for initiating business with the company.

Prepare leases, contracts, mortgages, deeds, patents, wills and other legal documents for businesses as well as individuals.

Files appeals at different courts for the benefit of the customers. Prepares legal briefs for aiding relief from false legal threats



Read: 8 Remote Work Habits Of Every Productive Employee
Typical roles offered in remote legal jobs
The key roles that you can apply for full time as well as part-time legal work from home jobs,
Defence or Criminal law attorneys working for individuals, business or government

Government counsels, preparing legal policies and regulations for a particular country or a statutory unit (legal entity)

Corporate counsels, advising corporate executives of a company or an organization on taxes, property interests, contractual agreements, patents and copyrights and other legal obligations with government and customers. 

Legal aid lawyers work for private, nonprofit organizations for disadvantaged people. They generally handle civil cases, such as those about leases, job discrimination, and wage disputes, rather than criminal cases.

Environmental lawyers, representing government agencies, and advocacy groups on handling legal matters related to complying with environmental laws and policies

Tax lawyers, guiding customers in dealing with complicated tax regulations and abiding them 

Intellectual property lawyers, advising customers on trademarks, patents, copyrights related to the entertainment and the academic industry 

Family lawyers, handling family legal issues like marriage, divorce, adoptions etc.

Securities lawyers, guiding companies on issues related to stock exchange policies and disclosures
Read: Cybersecurity During Work from home | A Security Checklist
Top 10 job boards for remote legal jobs
Enlisting the key job sites to apply for both experienced and entry-level legal jobs,
1. Remote.co
Whether you want to search for remote paralegal jobs or remote attorney jobs, remote.co is one of the most reliable and best job sites. Depending on your flexibility to work as a full time professional or part-time, jobs are listed on their online job portal. You can be a fresh graduate, looking for your first job or experienced personnel, remote.co takes care of all types of remote legal jobs. You can search by entering any keyword or a company's name on their webpage. Additionally, the website lists the key remote legal job roles from different companies.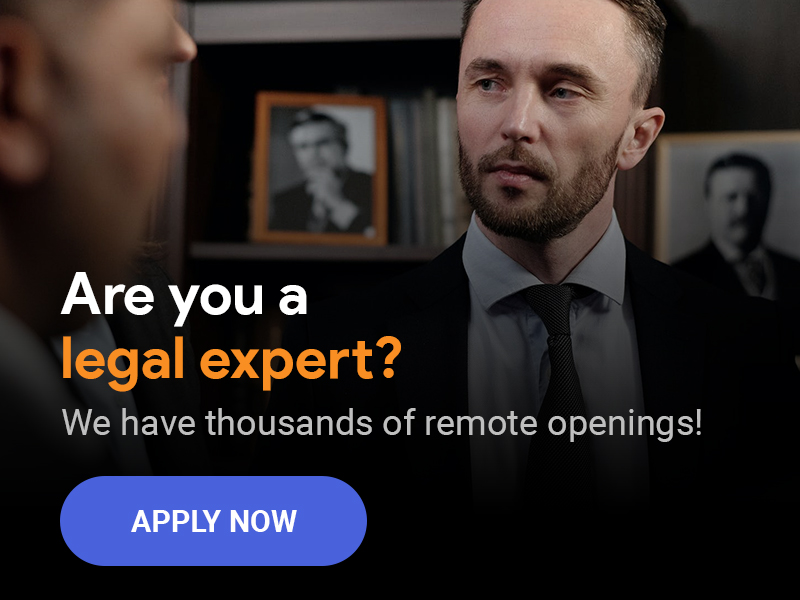 2. unremot.com
This is one of the most technologically advanced remote collaboration platform for remote legal jobs. One can find freelance/remote work from across the recruiters around the world, while also collaborating with them over video-based virtual rooms and chats.
3. FlexJobs
The website hosts numerous job opportunities of different employment terms – full time, part-time, freelance, telecommuting, temporary, flexible schedules. It lists remote attorney jobs, remote legal assistant jobs, jobs related to legal secretary, litigation secretary, legal billing clerk, policy specialist, and many more. Different industries and companies related to Retail, IT, Government, Insurance, Medial, and Publishing post remote legal jobs almost daily on the website. You can find the current job listings on their jobs landing page. For applying to the preferred jobs, you need to sign up and create a profile on the website.
Suggested read: 14 Best Remote Job Sites: Start your job hunt at the right place!
4. Indeed
You can upload your resume to the website for easy search by employers hiring for remote legal jobs. You can search for the remote legal jobs by location and filter your search by salary, job type (full-time, part-time, contract, temporary, or internship), location, company, and experience level. The website has the provision of sending job alerts to your email id once activated.
5. Workingnomads
The website hosts various work from home and remote legal jobs, posted by companies and firms from different industrial sectors and government agencies. Their legal jobs page displays all the listings along with the name of the companies and the job type. You need to click on each to find the details and the job description.
6. Remoteok.io
Lists remote paralegal jobs, attorney jobs, lawyer jobs, and many others on their legal jobs page along with the company names and keywords. You need to click on each link to understand the details. The Apply button is present against each job title at the landing page itself for ease. You can check the age of the jobs and then decide to apply for it.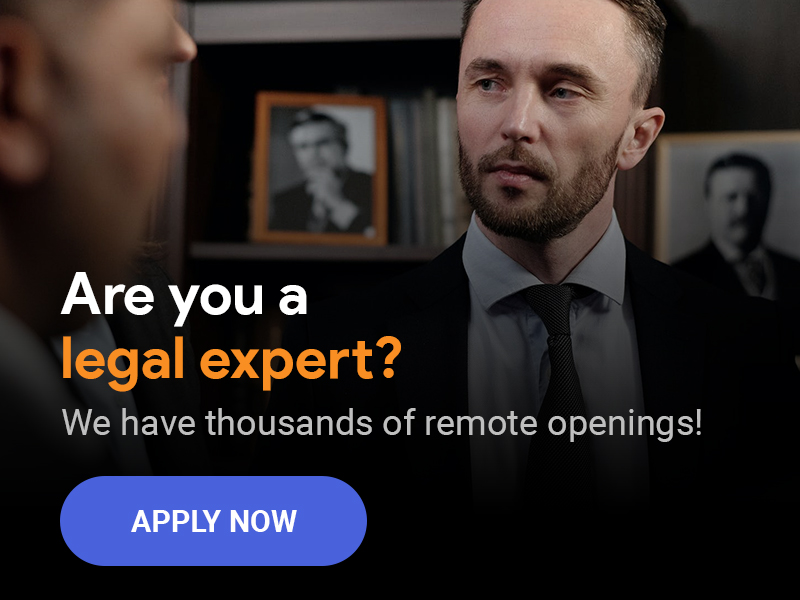 7. AngelList
One of the best job sites to browse for remote legal jobs and apply for the same. It provides a brief of the job description and the salary range at the landing page itself to aid your decision. Each job title also mentions the location and employment type. You need to click on each of the links for details.
Good read: Best Remote Working Tools That Make Life Easy
8. Simplyhired.ca
The job site offers the listing of remote legal jobs – part-time, full-time, temporary, contract, casual, commission, and volunteer employment terms. The best feature of the website is you do not need to navigate to a different page to understand the details of a job title. The summary and the details of each job are displayed on the landing page itself. Even you can apply for the job on the same page.
If you are sincerely looking for a career as a legal professional, the key information mentioned in the article will surely guide you in pursuing the same.
Can a lawyer work remotely?
Certainly yes. Although the answer depends on your practice area and what a typical day looks like for you. It is possible to complete at least some of your legal work remotely. One can even provide an excellent client experience through digital media while not in the office.
How do I become a remote lawyer?
Chalking out a plan with your partners can help you. You can even speak to your clients via video conferencing and if it is possible you can attend video conferencing hearings. With the onset of modern technologies, lawyers can draft and review legal documents, get them signed electronically (digital signatures) and keep clients updated.
Can legal secretaries work from home?
Yes, a lot of virtual assistant jobs are coming up. It is also easy to register yourself with different portals available online. The legal secretaries have to tailor themselves as per the needs of the senior attorneys or the firm partners. Legal secretaries can line up the meeting of the clients, also draft the documents, keep communicating the status of the cases to the clients, and more.