Are you wondering if all you need right now is a career change? If so, here's a piece that can help to answer those grueling questions for you!
Are you seriously contemplating a career change? Are you confused about starting up your new career? In this article, you will receive complete guidance as to the steps that need to be undertaken for a career change. It will answer several of your questions about how to change careers, what job is right for me, and how to find a new job?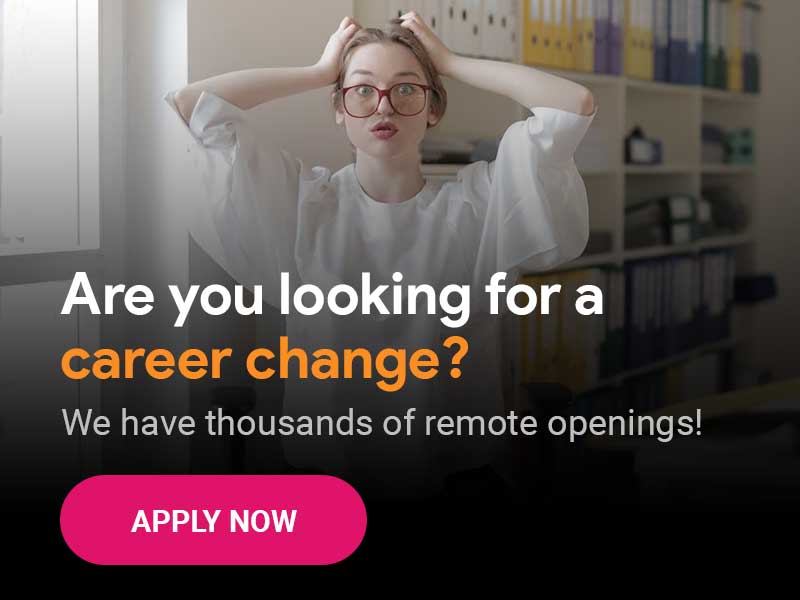 But before we answer the questions we first need to understand why do professionals think of career change and what are the advantages of a career change. Only then you will be able to judge your position and suitability for a new career.
Also read: What is remote working?
Why do people change careers?
There are various factors by which professionals are driven for a career change. Some of them are professional related and some are personal. Enlisting a few key reasons which induce individuals to change their career,
1. Higher and Better pay scale 
Once you are experienced and expert in your particular domain or technical area, you will be confident in comparing the compensation structures and incentives of companies offering similar kinds of roles. It is one of the key driving factors for individuals to shift their jobs to a company offering higher compensation package and better incentives. 
Balancing professional and personal life is a major concern for many individuals especially the womenfolk. Taking care of kids or any old or ailing family member may often force people to work remotely at home. Sometimes personal ill health forbids people from traveling regularly to the office.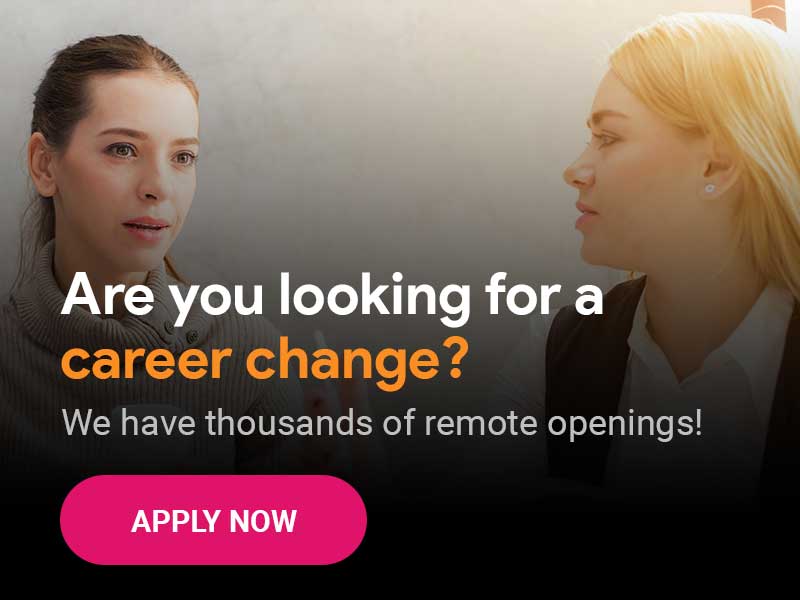 Financial problems too force people to reduce their cost of commuting by working remotely at home. Hence many professionals tend to shift to companies, offering the luxury of remote working.
3. Loss of Interest
Working on a similar job for years may bring about monotony and loss of interest. Some individuals desire to shift to a new domain of interest. This inevitable passion drive individuals to look for a new career and a new company.
4. Excessive stress at work
Different job categories demand varying levels of physical and mental stress. Some can cope up with the stress and some can not. Excessive stress often leads to brain fatigue and numerous other kinds of ailments. To avoid such situations, many professionals tend to shift to a low stress job and hence opt for a career change. 
5. Looking for a new challenge
Your old role is not exciting anymore and you feel the daily tasks have become mundane. A challenging work environment is required to grow as a person and in your job. A career change can give you the push needed to venture out of your comfort zone and face new challenges every single day while you try to establish yourself in an entirely new field.
6. Change in values, ethics, and morals
We as humans are constantly evolving and what seemed important at 22 might not excite us anymore. Your priorities might change as you grow in life and the current workplace is not fulfilling your needs anymore. These changes in values can be aligned with a career shift.
7. Realization of Passion
You don't always realize your passion at the beginning of your career. After spending a significant amount of time in a job there might come a time when you find your true calling. Or even if you do there might be financial reasons to stop you from pursuing it at an early age. A career shift is a norm when you have to chase your long-term dream.
An average person switches careers at the age of 39 years when they reach a mid-career point according to Indeed's latest survey. 49% of workers have made a dramatic shift in careers. People have made a career change from IT to marketing, or from finance to teaching. Job workers from the age of 25-34 years held jobs for a median tenure of 2.8 years.
Important Tip: Judge yourself to understand whether your urge for a career change is driven by any of the factors mentioned above. When you search for a new job, you need to ensure that your criteria are fulfilled else your effort will be fruitless.
Also Read: 18 Best remote companies to work for in 2020
What are the advantages of a career change?
Are you telling yourself "I want to change career" but still confused. To help you out here we are listing down the key benefits to change jobs. 
1. Avoid career stagnation
If you feel stuck in your job and have felt that way for a long time now, it might be time to start thinking about how to change profession. A timely change of career can avoid your career going into a rut. Only 14% of the total U.S workforce believes that they are having the right job while more than half want to change careers. 
2. Learn to adapt
Adaptability is the need of the current job market for constant growth while thinking about how to switch careers. With technological advancements changing the way we work it has become necessary to adopt the latest technologies.  
3. Stronger sense of purpose
Changing jobs can give you a new sense of beginning and make you feel more excited about your work. A career change can be frightening but it also brings the sense of adventure that makes us alive from time to time. Close to 80% of workers under 25 showcased a desire to switch professions.
4. Higher earnings
Sometimes money can be a motivation behind changing careers. Few industries offer more money-making opportunities than others. For eg, Science and technology have the maximum salary increase in the last 10 years at 75% increment while hospitality and tourism are the least at 36% increment.
5. Better work environment
Most of the people feel frustrated in their current work environment either due to a bad boss, or company culture, or lack of work-life balance. You can either stay put or decide to make the switch. A career change can give you a fresh start in a new company with a new boss. A better work-life balance might be possible in some other profession. 
If you can understand your career needs and are confident about your abilities, then a career change will surely be advantageous for you. Your pay scale is sure to increase, leading to improved mental health. It will generate immense motivation and boost up your concentration level. You can get rid of your physical and mental stress while focusing on your new venture. 
In the next section, we will focus on discussing the strategies and tips to answer the most common question – "How to change careers?"
You Should Know: People are often worried about a career change at 30, a career change at 40, and even a change in career at 50. Though you are habituated and experienced to work for a particular job or role, but do not be disheartened. If you are focused and determined then you can overcome the hurdles involved in searching for a new job and settling down into a new career.
Also Read: 14 Best Remote Job Sites: Start your job hunt at the right place!
How to do a career change?
Are you wondering how to change my career? Do you want to know the best way to change careers? If you are frustrated with your current job and are thinking of switching careers then it is never too late to start. The best way for changing careers is to assess your interests, values, and skills by taking a career assessment test. Upgrading your skills can help shift careers. A change of careers can be a daunting task but not impossible to achieve. It helps to provide a new direction to your career and explore new areas.
Step 1 – Create an Attractive Resume
The moment you decide on a career change, first and foremost focus on your resume. Check if your resume is updated with all the skills and expertise you possess. Your experiences of working in various assignments and projects must be spelled out highlighting your roles and activities in each of them.
Be clear, concise, correct, and honest while detailing your experience in the relevant fields of interest. Focus on your key skills specifically since your obvious target will be to grab a job matching your main competencies. Your resume must focus on the following key aspects:
Your aspiring career goals and professional aim

A summary of your experiences in a chronological order

Educational qualifications

Professional training and certifications

Awards and accolades

Leadership abilities

Communication skills

Customer handling capabilities
Important Tips: If you have achieved any significant milestone in your career then do not forget to mention it in your resume by highlighting it in bold.
Step 2. Analyze the current job and role
Analyzing the positive and negative aspects of your current job and role is a key exercise to be performed to answer the question of "How to find a new job?" The new job must be capable to overcome the negative features of the current job.
Else it is not worth opting for a change in the career. You will be dragged into the same environment, leading to the same amount of dissatisfaction and demotivation. While performing the analysis, you need to note down the enlisted key points,
Is your bandwidth fully utilized?

Are you able to upgrade yourself with the innovations and upcoming technologies?

Does your current company help promote your ideas and compensate accordingly?

Do you feel self-motivated with the work assigned?

Are you able to sync up with the current team?

Do you receive adequate training on the latest trends?

Does your company or managers encourage and sponsor to attend seminars and conferences on related fields of interest?
The above points are some of the factors to judge your satisfaction level. You need to measure the difference and rank your current job and the newly applied job before deciding finally for a change in your career.
Step 3 – Focus on Building a Professional Network
With numerous job sites offering jobs in various industry categories offered by different companies across many countries in the world, it is sometimes confusing to understand – "What job is right for me?" To ease out your comfort, it is advisable to build a strong professional network. 
The advantages of creating a network or be a part of a professional community, are numerous especially when you need to understand your market value in the professional world. You can seek advice from experts on which companies to focus on, which skills are trending and possess a bright future and when is the right time to change your career.
There are ample ways to create a reliable and trusted network, some of the key ones are highlighted below,
Seek professional communities in your region and enroll in them

Search for co-working spaces and occasionally work out from there

Attend seminars and conferences and meet people

Join sports groups like running groups or cycling groups or hiking groups where you have a chance to meet people from different professional backgrounds and experience.
Being an active member of a professional network is beneficial in receiving support and guidance while looking for a new job. You can discuss your concerns in your current job and role. You can debate the best of companies to apply for new jobs. You can consult the experts in your network before deciding finally to switch your career.
Step 4 – Search Jobs attentively
If you are seriously looking for changing your career, then you need to be focused and attentive while searching for jobs. There are many job sites with thousands of listings to search for. But you need to perform a substantial analysis before applying for them. You cannot just simply click on multiple Apply buttons and wait for the companies to contact you.
Firstly, search for the reliable and trusted job sites that publish jobs of your related skill categories. Do not confuse yourself by hopping through innumerable job sites. Many prominent job sites display the featured jobs and trending jobs on their home page. Go through them thoroughly and check if they match your skillset.
Other important criteria are to understand the background, market performance, revenue, missions, and objectives of the company hiring for the posts. Many job sites mention the rankings of the companies. Check and verify the details before applying for the posts submitted by them.
Advice: It is your career and future, any wrong or unnecessary step may ruin or slow down your growth. So before you decide to apply for a job, think multiple times and consult experienced professionals and experts for support and necessary guidance.
Step 5 – Upgrade your Competencies
Before applying for a job, it is a good practice to analyze your current competencies. You must list down your skills and assign ranks to each of them on a scale of say 1 to 5 or 1 to 10. The skills or competencies listed must be your key ones, mentioned or highlighted in your resume.
If your analysis states that some of the competencies are not scaled higher, then focus on those separately. Look out for educational websites that offer online or classroom courses. Discuss with peers and experts the best ways to upgrade your competency levels.
Attend classes online or register for courses and study materials. The best way to judge yourself is to appear for exams and certification programs. You can even visit your office library or any professional good library for books if you do not like reading online. While upgrading your skills, the following points are to be considered,
The latest trends and innovations in the desired skill or competency

Real-life or practical examples of renowned practitioners in the respective field for better understanding of the subject

Ability to answer minute details on the subject with clear concise thought process since many companies deep dive during interviews
Tip: You may present a topic in front of experts or peers and analyze your preparatory levels. Answering tough and logical queries will enable you to judge whether you have successfully upgraded your competency level.
Step 6 – Ring fix your Priorities and Responsibilities
We need to understand a small but important difference while undergoing a career change in 30, career change in 40, and beyond. The personal priorities and responsibilities and financial dependencies for each of them vary.
When you are in your 30s, your financial burden and personal responsibilities are less than when you are in your 40s. You can dare to embrace risks in your professional life which may be without pay or venturing into innovative areas of interest. But as you grow older, you hesitate to undertake such risks as there may be severe impacts on your family and your personal life. 
It is recommended to list down your priorities and responsibilities clearly and analyze the percentage of risk you can consume while shifting to a new job. Financial stability is also an important element while fixing your priorities. There may be situations when you need to compromise your salary to venture into your area of interest.
Though you can confidently try it out at your 30s, you may have to think twice before trying at your 40s or 50s. Instead of venturing into a different area of interest maybe you can venture part-time or move into a new job with a similar work profile as your current one. 
Tip: It is good to be ambitious and careerist, but at the same time, you need to be mature and conscious in your search for better opportunities. You need to maintain a balance between both personal and professional life while shifting into a new responsibility. It is better to be cautious before than in the future when situations turn out difficult and tough.
Step 7 – Practice Patience and Reduce Overconfidence
Searching for a new job be it in the same skill or different skill requires patience. You may not receive your desired job or role in a week or a month. Patience is very important while switching to a new job.
You need to search for many companies and the jobs posted by them. You need to analyze and judge each of them whether they would at all benefit you or not. If you are haste in your decisions, you can easily land up in the wrong jobs or incompetent jobs killing the actual purpose of a shift in career.
Overconfidence is another important aspect that defeats the purpose of a shift in career. There are umpteen amounts of tempting jobs in the professional world. You may think of applying for them without judging your competency levels or skill set.
Eventually, it may result in embarrassment during the interview process, preventing you to apply for any jobs in the future in those organizations.
Tip: Remember certain companies and organizations do not permit candidates to appear for interviews for a certain period if the candidates are unsuccessful in the interview. So be extra cautious while applying for jobs and avoid chances of rejection.
Step 8 – Prepare well for the Interviews
Interviews need to be considered seriously since it would in the end decide your future and career path. They are the stepping stone for your success in your new job. It is recommended to search for probable interview questions for a particular skill or role.
You can even seek guidance from experts on the questions that need to be prepared before appearing for the interviews. You must note down certain points while preparing for an interview,
Prepare on the technical and domain aspects of your key skills

Prepare a summary of your experience and skillsets as part of your introduction

Be confident and prompt in answering the queries

Ensure to speak in a respecting tone 

Be attentive throughout the interview duration and avoid any kind of disruptions

Phone connections or video connectivity must be appropriate
Never forget to greet your interviewer. Acknowledge the phone call or video conference call immediately. Do not forget to understand the details of the role for which the company is hiring you.
If you have any confusion then it is advisable to clarify all the doubts at the time of the interview. You need to remember the interview process is the most efficient tool to create a positive impression on the company.
Now that we have discussed the key strategies that need to be adopted for a change in your career, it would be easy for you to decide and shift to a new job. So even if you want a career change in 30, career change in 40 or beyond, you need not worry about the risks involved.
You need to follow the strategies diligently and with confidence, success will be knocking at your door. You can acquire a suitable job as per your interests and passion. Shifting to a new job will be much easier for you.
You just need to be consistent in your attempts and honest with yourself. Never forget to upgrade yourself at whichever age you are in and ensure to stay ahead in the competitive professional world.
Read: Guide to conducting & attending Remote Interviews
3 famous examples of successful career changes
If you are looking for a new career and have no idea how to change career. Here are examples of successful career changes that would inspire you to take the giant leap. 
Example 1 – Jeff Bezos, the founder of e-commerce giant Amazon, made a career shift at the age of 31. He used to work on wall street in the computer science department for several companies such as Fitel, Bankers Trust, etc.
The idea of starting Amazon came to him during a cross country drive. And he has not looked back since then. His net worth is calculated at approx $200 billion making him the first person to do so.
Example 2 – Stine Dulong, a business criminal lawyer, made a career shift to start her pottery studio. She felt unhappy and unmotivated as a lawyer that led her to change her profession. Her Instagram has a huge following of 47,700 people with 17 retailers selling her work. Her new job is keeping her happy and satisfied.
After a few years into the new role, she feels positive about the finances and reinvested all her earnings to expand the studio. Her work is gaining popularity which led her to studio expansion and doubling her number of classes both online and offline.
Example 3 – Julia Child used to work in advertising, media, and secret intelligence before she decided to write her cookbook at the age of 50 years. The famous cookbook launched her career as a celebrity chef and she eventually became a TV cooking show host.
She is known for bringing French cuisine into America's mainstream kitchens. Her book is still in print after 53 years of launching and became the no 1 New York Times Best Seller in the year 2009. Her story tells us that you're never too old to learn something new.
Also read: Synchronous & Asynchronous Communication For Remote Work
Dos and don'ts of career changes
Do you want to change career? Then be prepared with a solid action plan. Here are some dos and don'ts of career changes to follow while changing professions.
Do consider further education to develop new skills and knowledge enhancement.
Do use your network for finding a new career.
Do ask yourself "Should I change careers" and jot down the pros and cons.
Do take a proactive approach in changing careers.
Don't have unrealistic expectations regarding the success and the money.
Don't rush the job process.
Don't dwell over the loss of your old job.
Suggested Read: 14 Best Productivity Tips to Achieve More At Work & Life
How to make use of technology for a successful career change? 
If you are wondering how to change your career or don't know how to switch jobs then technology will come to your rescue. There is no dearth of information regarding career change and success stories to inspire you to make a shift in your career. Jobs changing is made easier through technology usage.
If you're looking to be a chef, writer, journalist, etc which may seem a little difficult to achieve without any experience in the field but you can start your own social media profile or blog from the comfort of your home. You can find several career change tips if you're unsure about how to switch jobs.
If you are unsure about which career is suitable for you there are several online career assessment test that offers free career assessment and gives tips on how to change jobs in a suitable field. A career aptitude test can help you narrow down your job choices based on your skills, qualification, and interest.
Using the modern resources and platforms that technology has to offer can help you in turning your passion into a profession. Social media platforms help in widening your network and connect with experts in different fields who can provide advice on how to change professions.
Read: How to work from home successfully?
Is it OK to change careers at 30?
Yes, it is perfectly alright to make a career change at the age of 30. If you know your strengths and have something you are passionate about then making a career shift at 30 would be a completely doable idea.
What is the best career to start at 40?
Are you thinking about how do I change careers at 40? There are several career options to go for in your 40s. Here are some of the best midlife career changes that you should consider at 40.
Dental Assistant

Event Planner

Human Resources Manager

SEO specialist

Web Developer

Business Management

Information Technology
Also read: How to develop your skillset
How many times does a person change careers?
An average person changes profession around 5-7 times in his lifetime according to career change statistics. This number is going to increase with the rising number of job opportunities and career options available in the market. To change a profession one needs to be prepared.
How do I switch careers without experience?
Are you starting a new career and wondering how to change career paths without any prior experience? Don't worry because you can still change careers by following these basic career change advice.
Get further education.

Use your network.

Be willing to learn the basics.
Is job hopping bad?
Job hopping is considered helpful and beneficial if done within a limit. Too much job-hopping can create a red flag in your career. Constant career switching is not appreciated by employers unless there is a valid reason. A minimum of two years in a job is normal.
What are the best jobs for a career change?
If you are looking to change careers then here is a list of the best high-paying jobs you should consider while deciding to change your career.
Data Scientist

Social Media Manager

Market Research Analyst

Software Engineer

Financial Planner

Consultant

Project Coordinator
A free career assessment test or a free career aptitude test online can help you determine the job best suited to your skills and interest.
Also Read: Remote non profit jobs | A comprehensive guide for beginners
How long should you stay at a job if you hate it?
In an ideal scenario, one should stay at their job for at least two years before you make a switch. But if you feel stuck in a job there is no point in waiting longer to quit and start somewhere else. 
Are 6 months too soon to quit a job?
An average employment tenure for most workers is 4.2 years and leaving a job within 6 months to 12 months is a little sooner. But if you hate your job then leaving within 6 months is not the worst idea.