Are you an aspiring product manager? If so, try remote product manager jobs – here's a comprehensive guide to find awesome remote roles as product managers!
Every year thousands of products are released. Product managers play a vital role in bringing products to the market. With firms becoming virtual there are several remote product manager jobs available today.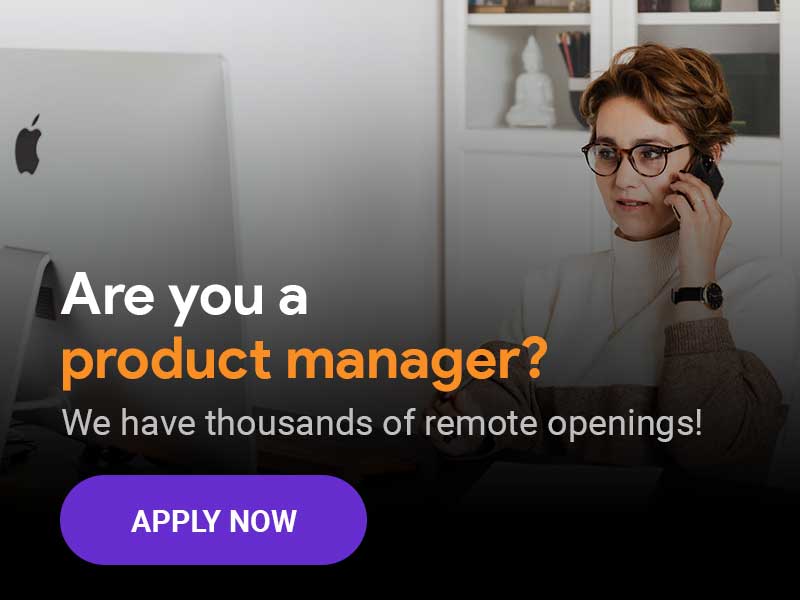 Product managers are involved in the coordination of the design, implementation, and launching of a product. They work with various teams to ensure the product launched has the right features. If you want to become a remote product manager you need to learn to interact with various stakeholders – colleagues, end-users, and investors.
Also Read: Remote interview guide | Everything you must know
Market opportunity for remote product manager jobs
Remote work is rapidly growing in all industries. Product management will move front and center in many businesses. The product manager could increase gross margins by 34.2% – is the summary of a study by Product Geeks Foundation, SFA.
The remote product manager trend is here to stay. The job could full-time, part-time, or contract jobs. With the adaptation of collaboration tools such as slack, designers, and engineers can work from remote locations. Remote product manager jobs becoming popular, it is in the top 10 jobs in the best remote jobs and is considered to one the best jobs for technical people.
With the rapid changes in technology, remote product managers need to learn constantly and to be ready for an environment of frequent changes. According to statistics remote product managers time management is distributed for,
creating and managing roadmaps – 72%
collection and systematization of ideas – 55%
prioritizing features – 41%
roadmap sharing – 34%
interaction with teams (marketers, sales, support, etc.) – 23%
Also Read: Virtual icebreakers for Remote teams | A complete guide
Job titles and career paths under remote product manager jobs
The product manager careers path is exciting with an interesting career trajectory. There can be significant variation in titles, responsibilities, and appointing and promotions depending on the company.
Factors such as company size, budget, goals, will have an impact on how the product team. You must continue to learn as the industry evolves. The career path of a remote product manager is as follows,
Associate remote product manager positions are entry-level positions. You will report to the product manager. You don't get to choose your assignments but will have ownership of them. You will need to collaborate regularly with other team members and other teams such as UX.
The remote product manager is a mid-level position. Product managers are responsible for strategy, roadmaps, and features of the product.
Senior remote product manager/Senior technical product manager is a senior-level position. You will have similar responsibilities as a product manager but at a higher level. Senior remote product managers are expected to have a solid background in product management.
Director product management remote will require leadership experience with the ability to built and trust a team to do the work. As a director of product management remote, you will be expected to focus on building a better process and honing an exciting one. You will be spending a significant time researching the market landscape.
Remote VP of products will require you to be less involved in the product development process. In large organizations, there may more than one remote VP of the product depending on the number of product lines. Activities of a remote VP will be required to work on product organization, budgeting, strategic alignment, etc.
Chief Product Officer is usually present in large organizations. The chief product officer oversees all the product development activities.
Also Read: Remote work policy | Know before you start
Qualification needed for remote product manager jobs
Here we will be focusing on focusing on the qualification required to become product manager remote and product manager will be the same. Product managers usually have a bachelor's degree in business. You could also have done your bachelor's or master's subjects like computer science, engineering, communications, marketing, economics, public relations, statistics, advertising, and management.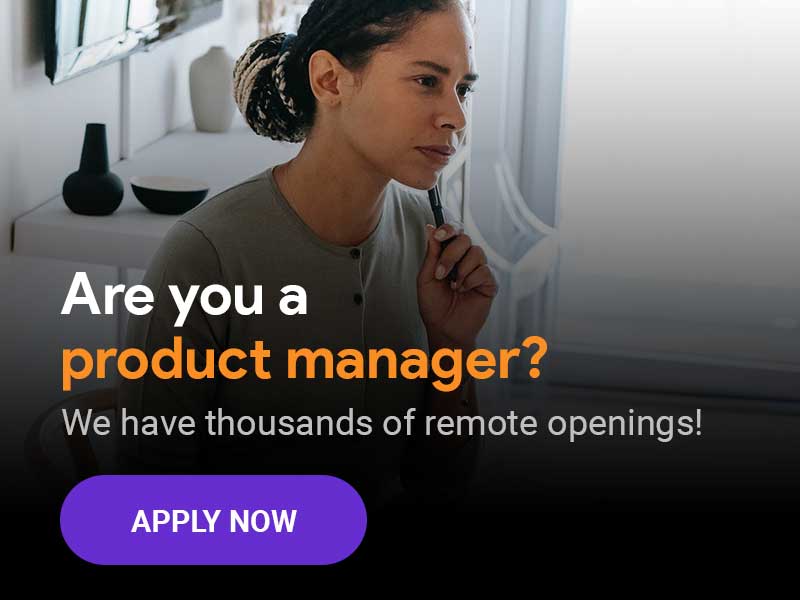 Companies that have a larger product line may require advanced degrees from the product manager. You may need a specialized branch of education such as agriculture or technology if you want to work in a specific industry. Some of the best courses offering product management to undergraduates are,
Milwaukee School of Engineering
University of Colorado Boulder
Kansas State University
University of Wisconsin Stout
University of Portland
The best MBA courses for product Managers are,
Carnegie Mellon University, Topper School of Business
MIT, Sloan School of Business
UC Berkeley, Hass School of Business
UCLA, Anderson School of Management
Also Read: Virtual water cooler for Remote teams | A how-to guide for beginners
Skills needed for remote product manager jobs
With many companies opting for the remote model, a remote product manager job in the United States is becoming fairly common. But what are the skills required for a remote product manager job?
Strong negotiating skills
Selflessness
Empathy
Curiosity
Technical and process related skills that are highly in demand are below,
Requirement gathering is an important skill. You need to know what the client wants. You need to talk with the management team, clients, and potential team. Requirement gathering involves questioning various stakeholders and determine the features of the product.
Implementation planning and spirit management entail dividing complex problems into small problems. In agile development teams, you will need to work for one-to-two weeks block called sprints.
Specific software and tool skills as a product manager you need to be familiar with the technology used by the team.
Also Read: Remote graphic design jobs | An ultimate read for best results
Roles and responsibilities of remote product manager jobs
Irrespective of where you work at an office or a product manager work from home your roles are the same. Different companies may have specific responsibilities that you may need to undertake. Here are some responsibilities a remote product manager has,
Lead the development of the product and its planning across the entire lifecycles of the product.
Define product vision, strategy, and roadmap.
Discover user requirements through user interviews and market research.
Develop the positioning and vision for the product.
Use various tools to produce wireframes and prototypes, to gather feedback from customers.
Define quantitative and qualitative metrics and use them to measure the success of the product. Review the work and ensure it meets the specifications.
Create actionable user stories.
Create and manage the product roadmap.
Maintain communication with clients and stakeholders.
Collaborate with other departments such as engineering, marketing, and support to ensure business and customer goals are met.
Lead the product team from the front and take responsibility for their actions.
Recommends or provides inputs in setting product prices
Develop proposals for new products and improvements in existing products
Also Read: Remote customer service jobs | A priceless list of tips to succeed
Certifications to get remote product manager jobs
A product management certification is a formal confirmation that an individual is capable and has the required skill to be a product manager remote. The top 5 product management certifications have been listed below,
1. Product Management Certificate, Product School – Product School is the leader in Product Management training. The 40-hour product management class teaches you to build a digital product from end-to-end, lead cross-functional teams. The training helps you prepare for your interview as well.
2. Pragmatic Institute's Product Management Certification – the Pragmatic Institute's certification course covers topics such as defining roles and responsibilities, focusing on feedback, and building a product the customer wants. The institute has outlined a six-step learning journey:- foundation, focus, build, launch, price, and business of data science. The Pragmatic Institute offers online and offline modules
3. AIPMM Certified Product Manager Credential through 280 Group – this rigorous certification is in partnership with the Association of International Product Marketing and Management (AIPMM). The course highlights the core skills to become an effective product manager. The course includes learning modules, quizzes, interactive exercises, study materials, and mock exams to prepare candidates for the Certified Product Manager exam.
4. PDMA New Product Development Certification – developed by the Product Development and Management Association (PDMA), the New Product Development Certification is recognized all over the world
5. Professional Scrum Foundations Training by Scrum.org – the comprehensive course is ideal for product managers wanting to learn more Scrum principles. In the two-day course, you will learn about Agile Scrum fundamentals and their practical applications. Besides theory, you will have team-based exercises that help you use the concepts you have learned.
Also Read: Remote sales jobs | A comprehensive guide for beginners
Top 10 tools needed for remote product manager jobs
Project management tools are software applications that remote project managers use during the product lifecycle. Remote project manager involvement is key to ensure the product is a success.
1. Collaboration and productivity tools – For a product team to be successful, team members need reliable and easy-to-use tools to share and review files and content. These tools are even more important when the team works from remote locations.
Online collaboration and productivity tools are a single source to help the team to review the product progress. Dropbox and GoogleDrive are some of the collaboration tools available in the market.
2. Digital Communication tools –  Communication is a vital part of any project. A remote team needs to communicate reliable and convenient manner. Coordinating a team working on different aspects of the program while ensuring everyone on the team is informed and motivated is difficult.
Real-time chat and video applications have helped remote team chat and share information. Slack, Zoom, and GoogleMeets are some great video apps.
3. Productivity Roadmap Software – When a roadmap is saved as a spreadsheet it becomes difficult to track changes and understand the latest version is. Web-based roadmap software tools help to create, maintain, and share the product roadmap with the entire team. Apps such as ProductPlan can help create a visually compelling roadmap easily that can be shared with your team.
4. Project and Task Management – One of the components of project management is day-t0-day management. Online project management tools help to make remote product manager job much easier. These tools allow you to keep track of your team's progress across the tasks and milestones. Jira, GitHub, and Azure DevOps are some of the project management tools you can use.
5. Programming Language – SQL and Python are useful programming tools that allow product managers to extract, organize, and leverage data.
6. Data Analysis App – Competition is growing, and customer expectations are increasing exponentially. Product managers need tools that help them make product decisions. You need data-driven business intelligence. Several web-based analytical tools such as GoogleAnalytics let companies analyze their web traffic. Gekoboard provides analytics on apps and web traffic.
7. Design and Wireframing Tools – The interface of the software or app is important. You may find it difficult to explain or view how features or tools should look like. Product management teams can use visual product teams, prototyping, and wireframing Some options you can use are Invision, Mockplus, and Sketch.
8. User Experience Testing – Usability testing apps have been one of the most useful tools for product teams in recent times. These tools allow organizations to view how users interact with their products. The team can learn what aspects of the product are liked and aspects that confuse the users. Your team can understand features that are not used because of the placement. Hotjar, Fullstory, and Usertesting are some of the best user experience testing apps available.
9. User Feedback and Insight – Cloud-based apps makers have made it possible to send customer surveys easily. Tools are available to allow you to get direct feedback from customers using the product. Gathering and analyzing the data can give your team insights to help you improve the product. Pendo and UserVoice are some of the popular apps that allow you to get user feedback.
10. Timezone – While working with remote teams your team members may be present across the country or the world. Timezone helps you set meetings or chat with someone across timezones.
Also Read: Remote writing jobs | Everything you must know
Top 25 dream companies for remote product manager jobs
Some of the best companies to work as a remote product manager are,
10Up is a web designing and development consulting jobs.
5CA is a customer experience tech company that helps clients optimize customer support by leveraging technology.
Arkeney is a consultancy agency that builds business software, trains programmers, and produce books.
Automattic is a web development company that considers remote work an essential aspect of its business model
Buffer creates social media management tools.
Chainlink Labs provides secure and reliable open-source oracle solutions.
Doist makes various web apps, desktop app, mobile app, and browser extensions.
Elastic is a search company that helps people to search and analyze their data efficiently.
Fastly is an internet company with a content delivery network that helps online business supply.
Genuitec is a software development company that helps enterprises streamline their development cycles.
Ghost is an elegant blogging platform that is open-source, free, and customizable.
GitLab is an open-source platform that helps users develop products more quickly.
Invision provides design collaboration and a prototype platform.
Mattermost is message software that improves internal collaborations.
Modern Tribe is a digital agency and lifestyle company creating custom products.
Percona is a company software company that streamlines open-source software.
Protocol Lab is a software company that creates a tool and system to address technical web challenges and optimize the user experience.
Rocana offers analytical tools for IT departments.
Scrapinghub is a web-crawling expert.
Toptal is an open marketplace that connects freelancers to startup organizations in Silicon Valley.
Ulatus provides the translation arm of Crimson Interactive, one of the largest language service providers.
WeLocalize is a translation service specializing in e-learning content, product manuals, web content, and more.
Wikimedia Foundation is an NGO promoting the growth, development, and distribution of multilingual content.
X-team is an IT company that provides on-demand developers for a brand looking to scale up their business.
Zapier is a web-application automation platform that connects web apps, automates tasks, and helps to create more efficient processes.
Also Read: Remote medical coding jobs | A complete guide
Top job boards to find remote product manager jobs
Whether you are looking for a remote product manager jobs or time product manager listed below are some of the best job board websites,
Indeed
Flexjob
Upwork
Remote
Weworkremotely
Nodesk
Ziprecruiters
GlassDoor
Skillcrush
LinkedIn
Also Read: Remote marketing jobs | Know before you start
Top resume elements of remote product manager jobs
While applying for product manager remote jobs you must highlight your product management skills. Listed below are some common uses resume elements for remote product manager jobs,
Best Practices
Budget
Product Lifecycle
Cross-Function teams
Customer Analysis
Data Analysis
Digital Advertising
Financial Analysis
Forecasting
Milestone
Presentation
Product Design and launch
Product Lifecycle
Risk Management
Strategy
Stakeholders
Swot Analysis
User research
Technical expertise to be included in remote product manager resumes,
HTML
CSS
JavaScript
UX/UI Development
A/B Testing
Beta Testing
It is important to highlight your problem-solving capabilities. You need to show that you can focus on results and outcomes.
Also Read: Remote cybersecurity jobs | A how-to guide for beginners
Remote product manager jobs pay structures
Your salary as a remote product owner will depend on your experience, size of the company, and location.
The average salary of associated product managers is $96000/year. Salary ranges from $ 63,000/year to $129,000/year.
The average salary of a remote product manager is $108,992/year. Salary ranges from $71,000/year to $146,000/year.
The average salary for sr. technical manager jobs is $141,578 /year.
The average salary for director product management remote is $146745 per year.
Also Read: Remote project manager jobs | An ultimate read for best results
Entry-level remote product manager jobs
It is not easy to get hired as a product manager without relevant experience. You need to work your way up from an associated product manager, to remote product manager. You can then gradually progress to apply for Sr. technical product manager remote job position, and then direct product manager level.
The best way to get hired is to apply to various positions posted on job boards. Companies often list opening in the career sections on their website. You can get certifications to improve your prospects. Start working in small organizations or start-ups to gain relevant experience. Certifications will help to boost your confidence and improve your skill-set.