Are you a college student looking to earn money in your free time? Then, you can do remote jobs for college students.
It is the best way to earn money in your free time. The students can work from anywhere and anytime. It can be a part-time or full-time work from home job role. Some companies hire college students in remote roles. For example, you check the internships section of Apple's website.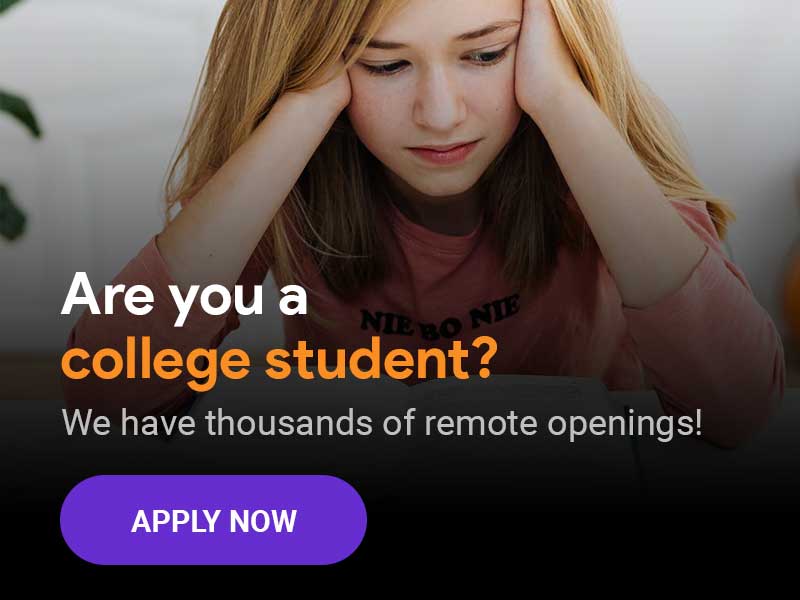 There you can find jobs for you based on your skills. Similarly, other companies post the internship requirements on their official websites and other freelancing platforms on the internet. You should regularly check them to secure a job for you.
Also Read: Remote accounting jobs | A priceless list of tips to succeed
Market Opportunity for Remote Jobs for College Students
You are searching for work from home jobs. Then, you will find different types of positions are available in the companies. The positions for remote jobs for college students may look similar to you but you are paid for them differently based on skills and efficiency.
In the coronavirus pandemic period, there is an increase in hiring candidates for remote jobs. Reputed companies like TCS and Microsoft allowed their employees to work from home.
Furthermore, they gave work from home internship offers to college students. The students can learn new things in their free time. In the internship period, the company gives around $1K-$2K stipend.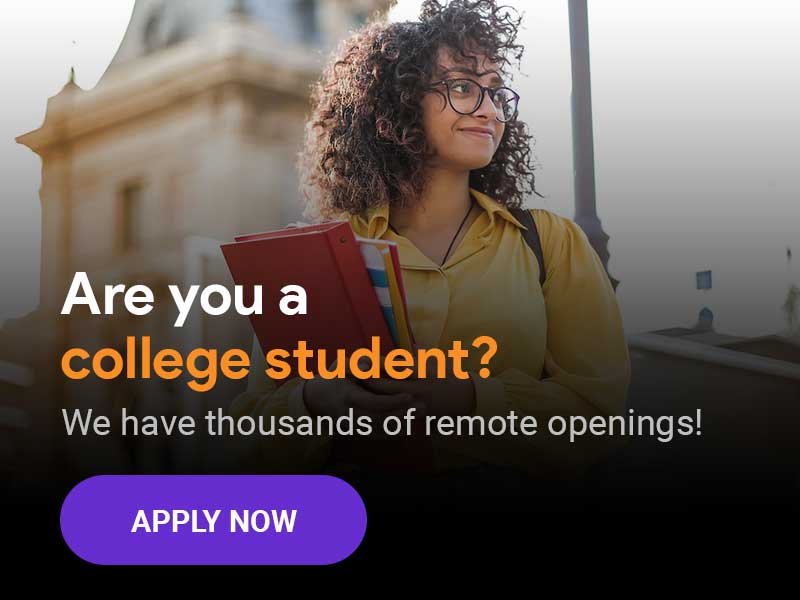 The positive trend is towards the remote jobs. Therefore, college students should acquire the knowledge of software required while working for any company in a remote job position.
Also Read: Remote web developer jobs | A comprehensive guide for beginners
Job Titles and Career Paths under Remote Jobs for College Students
Earlier, many jobs used to be done in office settings. Now, things have changed a lot with technological advancement. You can do some jobs anywhere you want. Best job titles under remote jobs for college students are,
1. Virtual Assistant – Virtual Assistants provide their administrative services to work from home. You can think of an administrative role that you can do at your home. The responsibilities of a virtual assistant include taking the calling, sending emails, and coordinating with the team regarding work. To get the Virtual Assistant job you should be a multitasking personality.
2. Data Entry Clerk – Another job that can do remotely is as Data Entry Clerk. You should have strong typing and communication skills for this job position. Still, you check carefully while looking for online data entry jobs. Many companies entered the market and doing scams by not paying the data entry clerks. You should think wisely before starting work with any company.
3. Remote Internships – Virtual Internships are the best option for college students to gain some skills and earn money too. They can get internships in which field they want to begin their career. Many employers are hiring remote interns for their companies.
4. Social Media Manager – Now, every company wants to be active on social media platforms. From there, they can get information about their customers' likes and dislikes. Therefore, the company wants to hire young and enthusiastic people who have complete knowledge of social media. This is the perfect job for youngsters.
5. Online Tutor – You hold expertise in a particular subject then you can start your online tutoring classes, as it is the job of college students they can do at their home. Furthermore, you need not spend money. You need a laptop and a stable internet connection to start your online tuition center.
6. Freelance Writer – Freelance Writing is a popular career option for college students who want to work from home. They can work for a website if not then they can start their blog on any niche and earn money. You should post regular content to attract the readers on their blog and then apply for Adsense to earn money.
7. Online Resource Manager for College – Colleges need online managers to manage their websites. You have web skills then this online job for college students is for you.
8. Call Center Agent Virtual – The students with excellent communication skills and possess multitasking abilities can apply for the call center agent job role. Some other positions available are telemarketing, reservations, appointment scheduling, customer services, and sales.
9. App or Website Tester – Web designers and developers are usually looking to hire testers to check their websites or apps. In this job, you have to look for bugs and issues. A tester is paid around $10 per site that you test.
10. Technical Support Representative – Many companies are looking for college students to handle their company calls. They get paid for their work. The students who have problem-solving and communication skills can apply for this online job for college students.
Also Read: Remote data analyst jobs | Everything you must know
Qualification Needed for Remote Jobs for College Students
The students who are searching for online jobs should have the ability to read and write and basic computer knowledge. Now, every work is done on computers. For some specific online jobs, the college students must have the desired qualification needed by the employers.
For the website tester job role, a student should have a B.Tech degree in Computer Science. He or she should be from a technical background.
There are no such qualification requirements for freelance writing jobs. The candidate should have English knowledge. Moreover, some companies hire writers who should have a graduate degree in Mass Communication/English.
Meanwhile, the person should hold a graduate degree for technical support representative, virtual assistant, and data entry clerk online jobs for college students.
You are willing to start your online tutor work then you must have at least a graduate degree in the subject you want to teach to the students.
Online Resource Managers should know how to manage the websites and basic computer knowledge is required for their job.
Meanwhile, the college students who want remote jobs should check your educational qualification required before applying for the job. They should have the idea that they are fit for the job role of a freelance writer, virtual assistant, or not.
Also Read: Remote recruiter jobs | A complete guide
Skills Needed for Remote Jobs for College Students
You must have these skills in you if you want jobs online for college students. These skills will help you in getting better paying remote jobs for college students.
Leadership is the quality that every employer wants in his or her employee. A good leader should have the ability to motivate the team and get the work done on time.
Clear communication is another skill needed to get an online job. You are not present in the office. Try to present on the phone and other communication modes when needed.
You are working from home. It is difficult for you to establish strong teamwork skills with your team. You should try to communicate clearly and stay on one track while working.
In this time, being skilled with problem-solving skills are necessary. You should have good analytical skills to solve any problem.
You are applying for the content writing position then you must have good grammar and writing skills. The content written by you should be error-free, as it will be published on the website. It is part of your job to create content free from any grammar mistakes.
Also Read: Remote legal jobs | Know before you start
Roles and Responsibilities of Remote Jobs for College Students
Most college students are looking for part-time jobs during their studies. They can complete their education and in their free time make some money too. You should have the ability to keep a balance between your job and your studies. Roles and Responsibilities for work from home college students' jobs are listed jobs:
The students should be good at time management while working for a company.
You should know how to manage all things with the team.
For content writing work, you should have grammar and keywords knowledge.
You should have listening skills when working with the organization.
You must have the efficiency to complete all the projects on time.
Keep updated with the tools like Teamwork, Basecamp, and Slack.
Interpersonal communication skills play an important role when you are managing your task working with an organization.
You need to be available on the communication platforms whats app, emails and calling.
Also Read: Remote social media jobs | A how-to guide for beginners
Recommended Certifications to get Remote Jobs for College Students
Millions of people are working from home in this digital era. The numbers are continuously growing annually. Many fields provide you work from home opportunities. You should have these degrees to start working from home.
English or Journalism Knowledge – One of the common remote jobs for college students is content writing. There is no degree required to start working as a content writer. In some specific writing field, the employer demands that you should have at least a degree in English or Mass Communication.
Early Childhood Education – Daycare centers are the most traditional work from home professions. You should have the ability as to how to deal with the children. Specialized certification in Early Childhood Education will help you to keep children happy in your center.
Web Designing and Development – Around 2 billion websites are active on the internet today. These numbers are increasing daily. Therefore, there is a huge demand for web developers. You can join a technical institute to get the designing and development knowledge.
Information Technology – Technological innovations have increased the scope of IT jobs now. There are many IT-related degrees you can earn and then start working online. Furthermore, you can enroll in a technical college and study Information Technology.
Accounting – At this time, Bookkeeping and Accounting are among the trending career options you can choose. You need to keep yourself updated with the latest Accounting terms. Moreover, you may begin your career in this field after completing one year of Associate Degree in Accounting.
Foreign Language Knowledge – You may enable you to work from home after completing a certificate course in a foreign language. Then, you can find remote translation jobs according to your ability. The translators who are fluent in a particular language are well paid.
Also Read: Remote education jobs | An ultimate read for best results
Top 10 Tools needed for Remote Jobs for College Students
The need for remote work has grown over time. Therefore, many companies discovered and implemented tools that enable employees to coordinate with the team while working from home. 10 Helpful tools needed for jobs online for college students are,
WhatsApp – Using whats app you can communicate with your national and international clients easily. Additionally, a great communication platform works using the internet. You can make free wifi calls and chat using it.
Google Drive – On Google Drive, you can keep your files safely in one place. Here you can organize all the things in one place.
Dropbox – It is not possible to share large files through emails. You can make use of Dropbox. It is a great and effective tool for freelancing work and sharing a large number of files.
Canva – Canva allows you to design pictures and templates and you can share these templates at Canva itself. It is a time-saving tool for designing and then sharing the work done.
Google Hangouts – Google Hangouts is a convenient and popular option for communication and managing your schedule.
Zoom – You can schedule your online meetings with the easy-to-use desktop platform Zoom. These meetings are organized from your desktop and phone. This is the tool that you must have on your phone.
Trello – Using Trello, you can create a dashboard. Highlight your projects on the dashboard. You can highlight the important things red-colored.
Microsoft Office Teams – With the help of Microsoft Office Teams, you can easily download the applications Outlook, Excel, Word, and Powerpoint. By using this tool, you can download an app not only this you can make video calls with your team members.
Google Suite – Google Suite is a budget-friendly Google platform available on the internet. It allows you to communicate with your team. You can also share the documents on Google Sheets, Google Docs, and Google Slide.
Taskworld – At Taskworld, you can manage your projects and organize your tasks. With the evaluation feature in it you can give feedback on the job projects.
Also Read: Remote data entry jobs | A priceless list of tips to succeed
Top 25 Dream Companies for Remote Jobs for College Students
Who does not dream among us to get work from home job? You get flexibility while working from home. Perfect work-life balance no need to commute to the office every morning and stuck in the traffic. These 25 dream companies that provide jobs for college students are,
Cactus: Cactus is a communication solution providing organization.
Appen: Appen is an organization that provides technology services.
Landi English: It is an e-learning company fusing global education resources and internet technology.
io: It is an online community where employers can hire workers for web development and designing work.
Enago: It provides English language editing services.
Wikimedia Foundation: An organization working to provide free content on the internet.
Autho: The company is serving 70 clients across the world in the field of identity-as-a-service (IDaaS).
Xapo: A bitcoin services providing company.
Toptal: A labor marketplace that connects with the freelancers and clients acts as a bridge between them.
Clevertech: Clevertech is an Information Technology company that creates custom technology solutions.
Monetize More: It is a web-monetization business company.
Study dot com: An online portal that provides free tuition to a particular community.
DataStax: It is a privately owned software company.
Modus Create: The designing and developing firm believes in optimizing the user experience.
Automattic: A web development considers remote work as part of its business model.
Trafilea: It is an advertising and marketing company.
United Nations Development Program (UNDP): It is a global network that is trying to bring change to developing countries.
Student Loan Hero: The mission of this company is to educate and empower graduates.
Elastic: A search company that helps to explore and analyze their data in a different way.
Missional University: An online institution that provides higher education.
Unbabel: The Company works in the field of translation and artificial intelligence.
Time Doctor: It is a productivity and time tracking software.
Status Research & Development: A technology company offers a tool for browsing, chatting, and doing secure payments.
Aeolus Robotics: It is an organization working to bring change in the marketing world.
GitHub: It is an open-source coding-hosting website, social networking, and publishing website.
Also Read: Remote health coach jobs | A comprehensive guide for beginners
Top Job Boards to find Remote Jobs for College Students
Many online sites are there on the internet. You can search for remote jobs for students from there. The best sites to find online jobs for the students are,
unremot.com: On Unremot, it is easy to find jobs for college students. You can get tips on how to search for jobs from the blogs available on the website.
Flexjobs: This website provides a $6.95 weekly paid service to search for jobs. You will get notifications when the work is available that suits your profile.
We Work Remotely: A free website that offers work from home jobs and internships.
Remote OK: This website features remote work opportunities. You can filter your search and find technical and non-technical jobs.
UpWork: You can find freelance writing and work from home jobs from this website. It is one of the most trusted jobs providing online platforms.
Freelancer: Without paying anything, you can make eight bids on projects on this website.
Guru: It is one of the largest remote jobs for college students providing websites on the internet. Here you can drill down the opportunities you are looking for.
SimplyHired: Employers post jobs on SimplyHired. You can check on these jobs and then apply for them.
Fiverr: It is the perfect website to get jobs online for college students.
PeoplePerHour: This website is doing a better job by creating a market for clients and freelance workers.
Also Read: Remote software engineer jobs | Everything you must know
Top Resume Elements for Remote Jobs for College Students
Are you looking for a remote job? Then, you should be aware of what elements you need to add to your resume to get the job. List of elements you should add in your resume for remote jobs for college students,
Mention time-management and problem-solving skills.
Write about our educational qualifications and hobbies.
Having good work ethics will be beneficial for you to get the job.
You can embrace your negotiation and conflict resolution skills in your resume.
Tell the employer about active listening skills that can help you in your work.
Also Read: Remote editing jobs | A complete guide
Remote Jobs for College Students Pay Structure
We are living in a wonderful time where you can study and work from home. You can get great flexibility if you can find online work from home for college students. There are some jobs available for work from home that pay you well.
The average salary of an online tutor goes around $13-$20 per hour.
We spend our maximum time on social media. Turn your hobby into moneymaking as a social media manager earns $62,000 as per indeed.com records.
According to indeed.com, freelance writers are paid a $62K annual package while they are working for a company.
Also Read: Remote illustration jobs | Know before you start
Entry Level Remote Jobs for College Students
Be ready to face competition in entry-level remote jobs. There is less competition for experienced roles. You should not demoralize yourself as there many job opportunities available for the fresher too.
One such job opportunity is of the virtual assistant. In this job, you should excel in communication skills to manage calls and appointments.
Another entry-level job is data entry and you should have excellent typing skills for this role. You need to put in extra hard work while looking for an online job with decent pay and you have limited skills in you.
Beware of the online scams that are happening now choose wisely before taking any remote job for college students.