Are you searching for remote editing jobs? If so, your search should end here – we've compiled a comprehensive list of dream companies, details on salaries, and skills needed.
Documents, manuscripts, novels, blogs or any kind of formal or informal articles require scrutinization and corrections appropriately to enhance its readability and acceptability to the recipients.
That's what exactly is the job of an editor. Book publishing firms, newspaper agencies, television channels, website owners and sometimes even the telecommunication and advertisement departments of many Corporates seek for good editors. They offer remote editing jobs for obtaining the best talent from any region of the world.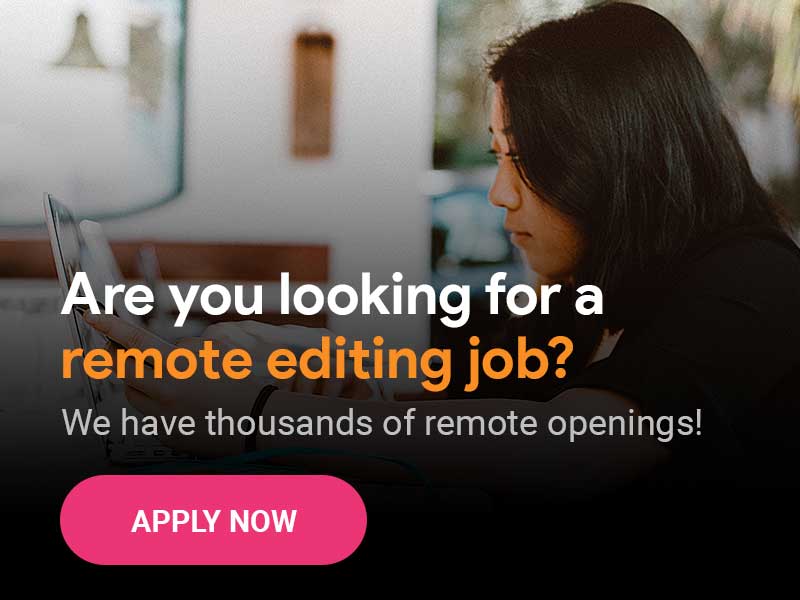 Editing jobs can be performed easily from home or a co-working space location or even by digital nomads. Therefore there are high demands for remote editing jobs with the majority of the companies providing lucrative offers to interested candidates. In this article, we will discuss the skills required to be a good editor, the key roles and responsibilities required for remote editing jobs and the websites offering the job opportunities.
Before we start discussing the topics, let us understand briefly what is editing and what is proofreading. Editing is correcting or modifying content to remove errors, punctuation flaws and grammatical mistakes. Proofreading is to identify and mark the errors for the content owner to rectify and revise.
Also Read: Remote SQL Jobs | A complete guide
Market opportunity for remote editing jobs
As per the data of Global Workplace Analytics, there has been a 44% growth in remote work over the last 5 years. Remote editing jobs to have caught this trend over the years. Many US studies suggest that by 2030, traditional workplace working would become obsolete. Indeed, workcation is a new trend that is catching everyone's attention.  
A lot of companies are offering remote work editing jobs from home. They offer scientific, technical, medical, and humanities proofreading services for which they hire candidates all around the world. You can get a chance to work with such companies sitting anywhere in the world. Indeed, what has caught our eyes is Cambridge Proofreading Worldwide.
It provides editing and proofreading services for the medical, social, life, engineering, and physical sciences, business, and economics fields. Editors have a wide variety of options. They can work on dissertations, research proposals, admissions papers, and more. Also, they can pick up the subject o their choice.
Also Read: Remote Jobs for College Students | Everything you must know
Key roles to apply for remote editing jobs
Below are the possible roles one can take under remote editing jobs,
1. Proofreaders and Junior Editors 
Proofreaders read and rectify spelling, grammatical and punctuation errors to ensure they comply with the editorial policy of the company. They also ensure the readability and acceptability of the articles, after studying and analyzing the audience and the readers.
Other responsibilities include coordinating with the writers & giving them suggestions to change specific words, introduce mature vocabulary, or arrange sentences appropriately for better readability and clarity. They also assist in providing facts, figures, use cases, and data to support the reading materials.
2. Publication Editors or Assistants
They essentially work for book publishing companies or provide freelance services for reading and editing manuscripts of books submitted by writers. As a publication editor, you are also responsible for proofreading services and suggestions for the better flow of the story. They provide ideas and thoughts for stories to the writers, guiding them to design and frame the plot of a story.
3. Executive, Managing, and Assistant editors
These roles are ranks in an editorial job depending on the years of work experience and responsibilities. They normally are a part of a newspaper agency or firm, advertisement firm, television channel or agency, magazines or firms dealing with public relations.
The key duties are to plan, design, and edit the daily written ad social media publications by the respective departments to the general public.
Also Read: Remote Product Manager Jobs | A comprehensive guide for beginners
Qualification needed for remote editing jobs
Most of the remote editing jobs don't require much training. You need to have the following skills,
You should have a flair for writing and an interest in writing and editing, it's not that difficult to get through.

You must have command in a language. Moreover, most of the editors are required to hold a Bachelor's degree in the language of preference (depending upon the hiring company). For example, if you want to become an English content editor, you may be required to hold a UG degree in English or at least should have a command of it. 

However, it is not necessary for a number of remote editor positions as the employer cares more about skills and language proficiency rather than the educational qualifications of the editor. So, holding any bachelor's degree could also work as long as you know the language.  

You can apply for a PG degree or diploma course in journalism or mass communication after graduation. This will also help you in learning different aspects of digital content and marketing. 

For those who are interested in working for a publishing house, a PG certificate or diploma course is mostly mandatory. There are many such courses throughout the world in editing and book designing.
Also Read: C# Remote Jobs | A priceless list of tips to succeed
Skills required to be good at remote editing jobs
Before you start applying for remote and freelance editing jobs, you must be aware of the pre-requisite skills needed to qualify for them. Let us understand the key qualities required to be a good editor:
1. Expertise in the individual domain
The companies and firms usually hire for remote editing jobs, focusing on a particular niche area or specialization subject topic. It may be politics, sports, travel and entertainment, hospitality management, medicine, science and many more.
Without proper knowledge on the subject area, it is not possible to bring in improvements or enhancements in a particular pitch. The editors need to understand the audience, the expectations from any article, and the acceptability criteria while suggesting the requisite modifications.
Tip: It is advisable to go through various scholarly articles available on the internet to increase the knowledge level on a particular topic. You can also scan through useful videos to be acquainted with the tips and tricks of understanding the audience and their requirements.
2. Follow the Business etiquette
Customer satisfaction and trust are two very important criteria for success as an editor. To achieve that, the first and critical step is, to be honest, and loyal to your commitments. That's part of the right business etiquette between an editor and his or her client. It is one of the essential editor skills that companies, firms and agencies look for while hiring for remote editing jobs.
Fact: Editors are expected to be prompt in telephonic or video calls and emails. It is a good practice to acknowledge emails from customers assuring them of proper service.
3. Planning and organizing abilities
Editors are expected to work in multiple assignments with different deadlines. Besides, since you will be working remotely, there will be daily status checks by your supervisors. You also need to attain conference calls with customers.
Along with all the professional assignments, there will be personal commitments too. To carry out all the responsibilities efficiently, while maintaining a balance between both professional and personal life, you need to maintain a planner.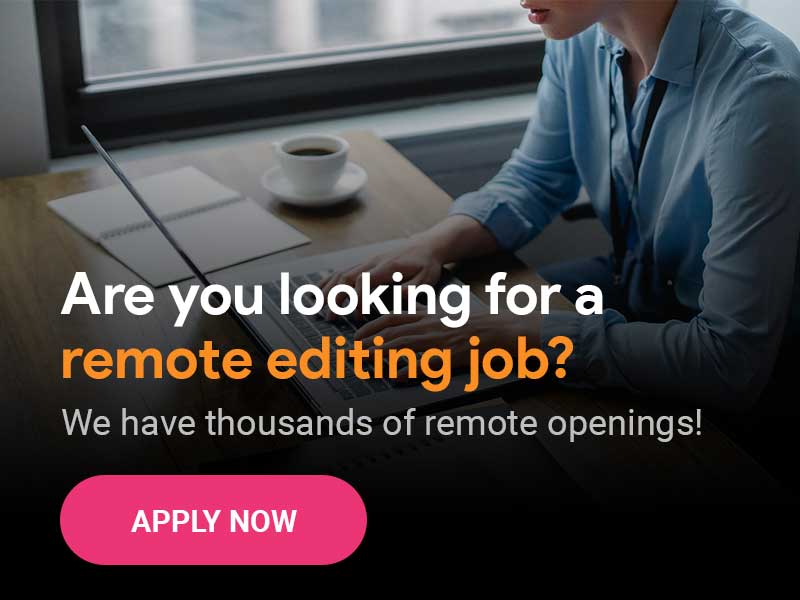 The planner must contain all the tasks that need to be accomplished in a day and the stipulated duration and time for each. Better planning and time management are essential for remote and freelance editing jobs.
Tips: Nowadays there are multiple online planners are available for remote professionals for effective time management. You can install one of them in your desktop or laptop or even your mobile devices for proper planning.
4. Respect for the Writers
Editors will be encountering numerous writers with various writing skills and abilities. The writing style will not be the same across all of them. As an editor, you need to respect every writer. You may disagree with the writing style, yet you need to keep patience.
In case of disagreement, it is better to engage into one on one conversation to understand the writer's intentions and thought process. Accordingly, you need to provide your suggestions and modifications without hurting the writer's ego.
Tips: Do not enforce your thoughts on a writer or drastically change the manuscript. Show empathy and care in editing articles since any piece of work written by a person has an emotional value attached to it which needs to be honoured.
5. Technological Acquaintance
Working remotely demands constant availability digitally through smart devices, computers, laptops, video and audio calls and instant messaging. You need to understand the applications installed for achieving the above purpose.
Else you may not able to establish the adequate online or virtual relationship with your customers, peers, supervisors or team. Along with your professional editing skills and knowledge, you need to a bit tech-savvy.
Tips: Keep yourself equipped with the know-how of latest operating system versions, chat and instant messaging software, video conferencing systems and other applications aiding your work.
6. Good Grasp of Language
Editors are hired to edit or proofread articles in different languages. It may be English or any other local language of a region. Companies hiring for remote proofreading jobs and editing jobs prefer sound knowledge on the language for which they have been recruited.
They must be strong in vocabulary and possess excellent grammatical skills. Identifying errors must be fast with proper checks and corrections. It is a must requirement to be a successful editor, be it for an individual business or working for a company.
Tip: Several tests are available on the internet to check your language and grammar skills. You can keep on attempting them to keep increasing your abilities for better performance.
Also Read: Medical coder interview questions | An ultimate read for best results
Certifications to get remote editing jobs
New York University awards the degrees to those who complete three required courses and two electives in three years. The University of California San Diego approaches the task differently, it offers a one-year intensive certificate consisting of five required courses and three electives.
There are also various online editing courses in Canada and the U.S. ACES is a professional organization representing copy editors in the United States. Whereas Editors.ca, is serving the same function in Canada, both offer certification courses to editors.
American River College also provides a 2-year course for aspiring editors. All courses are online courses and are spread over a period of time.
Also Read: Accounting Interview Questions | Know before you start
Top 10 tools needed for remote editing jobs
If you are looking for remote editor positions, online editing jobs, or copy editing jobs from home then you must possess certain tools to accomplish the task. Here's a list of the top 10 tools that will be required at home editing jobs. 
Grammarly

Readable

Portent's Content Idea Generator

OneTab

Reedsy

WordCounter

ProWritingAid

HubSpot's Blog Ideas Generator

Surfer
You must now be wondering what will these tools do for you? Well, if you are looking for work at home editor jobs then these content writing tools can,
Improve your writing: You can write coherent content without grammatical or structural errors.
Increase readability: Helps you write content that the readers can enjoy and find it engaging.
Helps you find fresh content ideas: You can easily find trending topics that interest your audience. It ensures you have fresh content ideas that you will need for online copyrighting jobs
Helps in creating exceptional visuals: The tools help writers discover visuals that match with editing work that you pick up. You get insights about what colors to use, what hashtags should accompany the images, what themes, keywords, etc.
Help you get the content organized: Writers stay focused on producing quality content and not on proofreading and creating visuals. The audience can also enjoy consistent content and you can also achieve the target of remote writing and editing jobs with the help of these tools.
Also Read: Teacher interview questions | A how-to guide for beginners
3 steps to becoming a successful editor
Here is a summary of 3 steps to becoming a successful editor,
1. Earn the appropriate Academic Qualifications
A Bachelor's degree in English, Mass Communications or Journalism is a must requirement while applying for remote proofreading jobs or editing jobs. The duration of the degree programs is normally 3 to 4 years. Distant courses are also available for study and then attempting for the exams.
Both online courses and classroom-based training are provided as part of the degree programs. You will receive extensive training and guidance on language, composition, creative writing, literature, reading abilities etc.
2. Gather requisite experience
For freshers, it is essential to gain the first-hand experience by joining internship programs or work as an assistant editor for any company or individual business firm. Once you are familiar with the job needs and gain substantial experience, then you can start applying for experienced remote editing jobs.
On one hand, you will be able to showcase your experience for better roles and compensation package. On the other hand, you will learn the basics of remote editing.
3. Career Growth
The more you demonstrate your dedication to handle multiple tasks and finish them efficiently, the more you will exponentiate your experience level. You can seek for higher roles and responsibilities and create a promising career for the long term.
Many editors shift to flexible options of freelance or online proofreading jobs and editing jobs through contract-based employment instead of being full time associated with a company. This broadens their experience horizon much better, even leading to more recognition and acknowledgement.
Also Read: Health coach interview questions | Know before you start
Roles and responsibilities of remote editing jobs
Below are the critical roles and responsibilities of remote editing jobs,
Correct and rectify spelling, punctuation, and grammatical errors after proper verification and validation

Modify or rewrite manuscripts, if required, for easy acceptance by the audience and the readers

Provide supporting facts, figures and reference to strengthen the authenticity of the articles

Assist and guide writers on their publications for appropriateness, flow, acceptability and corrective language

Providing ideas and thoughts on various topics to guide the writers in planning their content

Help in creating digit content for online publications, social media promotions, and multi-media broadcasts as per the reading and writing guidelines 

Identify the photos, videos and illustrations for supporting a story or an article and embed the same to create an attractive pitch

Review and approve the submitted documents or manuscripts for final publication or circulation to the readers

Design and frame the writing and editorial policies of a company or a firm, along with the copywriting rules and regulations

Ability to divide articles into meaningful chapters or parts to increase readability

Capable to communicate ideas and thoughts both verbally and written in clear and concise terms

Willingness for continual learning to improve the editorial and proofreading skills

Active, agile and positive attitude are the key characteristics of an editor
Also Read: Illustration interview questions | A complete guide
Best websites to find remote editing jobs
1. Indeed
You can search for amply remote and online proofreading jobs and editing jobs on the website depending on your experience and qualifications. It lists jobs posted by different publishing companies, news agencies, advertising firms and websites for editing and proofreading manuscripts, documents and stories.
The website provides multiple filter options to fine-tune your search for the jobs. You can shortlist the jobs based on salary, type of job – full time, part-time, contract, internship etc., education level, subject, location, company and experience level.
2. unremot.com
unremot.com is one of the most technologically advanced remote collaboration platform for remote data analyst jobs. One can find freelance/remote work from across the recruiters around the world, while also collaborating with them over video-based virtual rooms and chats.
3. Remote
If you want to work for editing and proofreading jobs from home, then the particular website is one of the most reliable and best job sites for the same. Depending on your flexibility to work as a full time professional or part-time, jobs are listed on their online job portal.
You can search by entering any keyword or a company's name on their webpage. Various academic institutions and training institutes also post jobs looking for copy editors, and proofreaders for editing their online and web content.
4. Glassdoor
You can create your profile on the website, upload your resume and mention your job preferences to be noticed by prospective employers hiring for proofreaders, copy editor jobs and many more.
You can search for job opportunities based on the job title, company or location. The jobs can be sorted via their posting date ranges and for specific work from home and remote job types. You can save the selected jobs in your profile for shortlisting and applying for them.
5. SimplyHired
SimplyHired is a preferred website to search for remote copy editor jobs, proofreading and assistant editor jobs, providing ample opportunities to apply in prominent firms for publishing, advertising, news and many more.
The search criteria can be filtered by date, job type – full time or part-time or contract-based, and salary. You can even enter your email address for receiving job alerts whenever there is a new job posting on the website.
6. ZipRecruiter
For both editing and proofreading jobs online and remote, ZipRecruiter is one of the preferred websites, displaying a wide range of job opportunities to browse and apply. Each job title provides a short description along with the company name and dates at the summary landing page. You can click on the links for the details and apply if found suitable. Additionally, you can search the jobs based on the job titles or categories.
7. FlexJobs
FlexJobs hosts numerous job opportunities of different employment terms – full time, part-time, freelance, telecommuting, temporary, flexible schedules.  So if you specifically want to work for editing and proofreading jobs from home or any remote location, then FlexJobs is your answer for seeking the appropriate jobs.
Various book publishing houses and firms, advertising, music and entertainment forms, newspapers and news agencies post jobs daily in the website. You can find the current job listings on their jobs landing page. For applying to the preferred jobs, you need to sign up and create a profile on the website.
8. Workingnomads
For editing and proofreading jobs online and remote both, you need to visit the website which lists numerous job opportunities, posted by companies and firms specializing in publishing articles, stories and manuscripts in various online platforms.
Their jobs page displays all the listing along with the name of the companies and the job type. You need to click on each to find the details and the job description.
Also Read: Animation interview questions | Everything you must know
Top 25 dream companies for remote editing jobs
If you are looking for entry level copy editing jobs, part time editing jobs, legal editors jobs, and more then you must know about the below-mentioned companies,
Cactus: They are a communication solutions provider and provide academic editing jobs. 

Appen: A technology services company working across a variety of industries, a host of work from home editing jobs provider. 

Landi English: An e-learning company that uses Internet technology with global educational resources

Gun.io: Helps employers meet and hire professionals in the mobile and web industries

Wikimedia Foundation: An NGO dedicated to fostering the growth, development and distribution of free, multilingual content

Xapo: It provides services related to Bitcoin

Auth0: Serves clients across diverse market sectors in 70 countries

Clevertech: An IT company that creates custom technology solutions

Toptal: It connects freelancers with startup organizations and companies

MonetizeMore: Offers technologies designed to increase ad revenues for publishers

Study.com: Brings tuition-free college to the limelight

Enago: It provides freelance editing jobs in remote locations

DataStax: A computer software company

Modus Create: A design and development firm

Automattic: a web-development company that considers remote editorial jobs an essential aspect of its business model

Trafilea: A marketing and advertising company that help build customer-centric global brands online

UNDP: Its committed to bringing change to developing countries

Student Loan Hero: A company that educate and empower college graduates.

Elastic.co: It helps people leverage the power of search to "explore and analyze their data differently"

Missional University: Dedicated to training students to become leaders for Christian ministry and missional practice

Unbabel: Artificial intelligence powered human translation platform

GitHub: An open-source code-hosting website for programmers

Aeolus Robotics: A company committed to the world's first generation of household robot  

Status Research & Development: A tech company offering a discovery tool on the Ethereum Network

Time Doctor: A tracker of productivity and time-tracking monitoring software
Also Read: Video editor interview questions | A comprehensive guide for beginners
Top resume elements of remote editing jobs
You are searching for remote writing or remote editorial jobs while preparing the resume you should mention these,
Writing and effective communication skills with the team.

Knowing how to use Zoom, Google Hangouts, Asana, and Wrike.

Highlight the relevant writing editing jobs from home experience.

You should highlight qualities of problem solving, quick learning, flexibility, and punctuality.
Remote editing jobs pay structures
The annual average pay of entry level editor jobs in the USA is around $45K. Due to a lack of writing and editing experience, the writers are paid less. The pay of jobs in editing depends upon the experience the editor has. Entry level copy editor jobs can fetch you around $33K initially, and the highest possible pay scale can be up to $83K.
Entry level remote editing jobs
Editing positions for newbies are difficult and require the editors to showcase their writing and editing skills along with their knowledge of the English language.
After gaining two to three years of work experience in online copy editing jobs then the candidates shall have ease in applying for the jobs. One should not stop learning, as it is a continuous process required in editor remote jobs. Eventually, it becomes easy to approach the clients for work.
Also Read: Dispatcher interview questions | A priceless list of tips to succeed
How do I get a job editing books at home?
Answer: If you are looking for remote book editor jobs then you must register yourself with job searching sites like indeed.com. According to Glassdoor, freelance copy editing jobs from home pay anywhere from $15 to $50 per hour. The need for freelance book editors continues to be strong. Many online publications provide online editing jobs to outsource their editing tasks, and self-published authors need their manuscripts professionally edited.
Do editors work from home?
Answer: Content editing jobs from home are easy to find as editors get the opportunity to work with minimal supervision. For the right editor, this level of independence can be very rewarding. Work from home editing jobs gives a lot of freedom to editors i.e. to set their own hours and choose their own projects—which takes discipline and consistency.
Is editing a good career choice?
Answer: Editing jobs from home is the perfect career choice for a writer. It allows for creativity and much freedom, unlike any other profession. It has its fair set o challenges and drawbacks. The job really pays well if you are the right candidate.
How do I become a freelance editor with no experience?
Answer: If you want entry level editing jobs then you must start guest posting and blogging. You can also register yourself for a freelance editing course. Also, you should get some work samples ready to showcase to prospective clients. 
How do I break into freelance editing?
Answer: For you to pick up online copy editing jobs, it is mandatory you have a background. To create that background you need to read a lot, be thorough with the modern grammar practices, decide the type of writing you want to edit, create a portfolio, and build a network.
How do I start my own editing business?
Answer: To start your own editing business or become a remote editor you need to get permits and a license. Furthermore, you need to decide what kind of editing you will opt for, and what will be the charges. You should also have formality with style guides, and the structure of your business.