Are you passionate about support jobs? If so, here's a beginners' guide on remote tech support jobs. Read on!
Almost, all types of companies and industries are digitalized these days. A technical problem is the by-product of digitalization, which is inevitable. This is where the requirement for tech support engineers arises to tackle technical problems.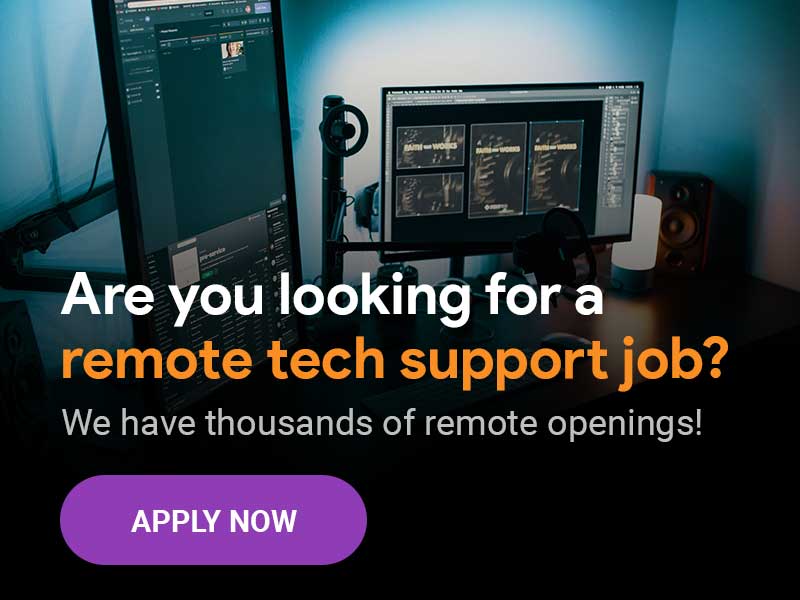 But these jobs necessarily don't require the employees to stay in the office to resolve the technical issues. The job is to provide technical support for computers. The technician and the customers are located in different locations.
The engineer is also responsible to work and maintain the office's system and software. Hence, this job is perfectly suitable to work online staying at home. Remote tech support jobs are common and usual these days.
Also Read: What is remote working?
What are remote tech support jobs?
Tech support engineers work for both external users (clients and customers) and internal users (employees) of an organization. The work of a technical support engineer is to configure operating systems, resolve network issues, and using remote desktop connections to provide immediate support.
Email, phone call, and chat applications are used as the tool for communication to answer users to resolve the issue. In simple words, the work of technical support is to oversee and maintain the company's hardware and software systems.
The tech support engineers play a vital role as they assist in resolving the technical issues concerning the company's software infrastructure and customer accounts. Most of the digitalized company has a dedicated department for technical support. A technical support engineer is also known as an 'information technology technical support engineer'.
Also Read: Best Remote Working Tools That Make Life Easy
Market opportunity for remote tech support jobs
Tech support roles are the backbone of a fast-growing business in almost every industrial sector. Hence the market opportunity for remote tech support jobs is experiencing a substantial rise in demand. To fulfill the ever-growing demand, companies are hiring remote professionals skillful in tech support.
Important Fact: Studies by the U.S. Bureau of Labor Statistics (BLS) reveals that between the years 2019 and 2029, remote tech support jobs are to achieve a Year-on-Year growth of about 8%, which is fairly high above the average standards. The focus will be more on remote tech support jobs with a skill set on cloud computing, AI, and big data and the latest digital trends in information security.
Remote tech support jobs serve as the lifeline of success for the company. Both internal and external stakeholder's satisfaction depends on a skilled tech support team. With the companies adopting digital and modern technologies to scale up automation capabilities, more and more associates competent in multiple skills will be required.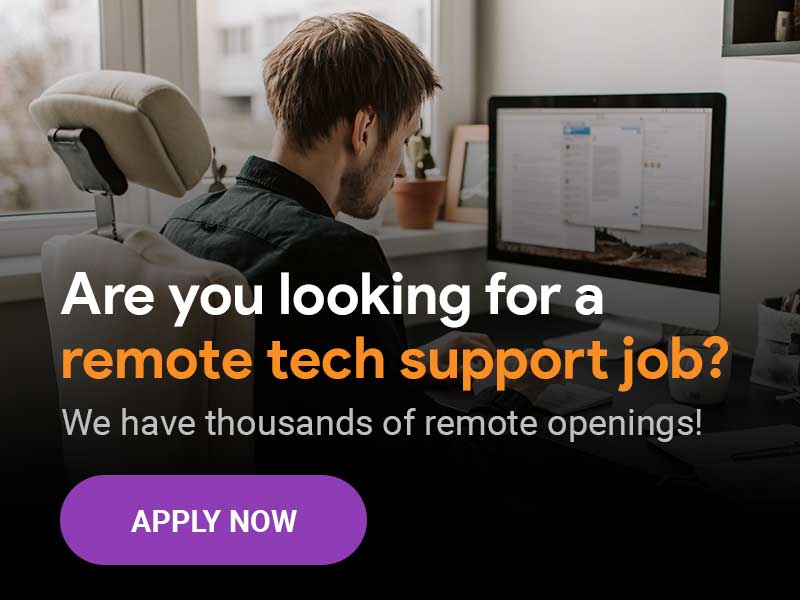 Understanding the potential issues in the systems and provide a full-proof solution demand a good grasp of the technical concepts. Therefore the need for hiring the appropriate professionals is vital for bringing in customer satisfaction and in turn the company's success.
Also Read: Time Blocking: All you need to know about this powerful technique
Job titles and career paths under remote tech support jobs
If you are looking for information on job titles and career paths under remote tech support jobs, you must focus on a key aspect. The job opportunities are many and the career path is also attractive, but without the right amount of knowledge and dedication growth is challenging. The key tech support roles are illustrated below, for your reference,
1. Technical Support Associate
The job title is essentially provided to freshers or the junior support personnel. The work is mainly to perform analysis on the potential issues reported, perform deep-dive analysis, and suggest the appropriate solution. Can be conveniently performed remotely full time or part-time
2. Technical Support Specialist
With experience and expertise, you can opt for the role of a technical support specialist. The expectation is to handle multiple issues of different complexities. Provide innovative solutions to tackle the problems and at a much faster pace.
3. Technical Support Analyst
The role of an analyst is to handle the Level1 issues reported by customers. The expectation is to resolve the max percentage of the issues before deciding to triage to the next level.
4. Technical Support Lead
The majority of the companies own a sizeable tech support team. A team leader is vital to guide and monitor the team along with the timely resolution of the issues. Once you gain sufficient hands-on experience, you can aspire for this role
Also Read: 9 Best screen sharing software
Qualification needed for remote tech support jobs
The qualification needed for remote tech support jobs is not extensive or tough. If you are eager to apply for remote tech support, then just follow the list below and you can gear up fast.
A Bachelor's Degree
Specialization in Computer, IT, Electrical or Electronics is preferable
3 to 5 years of experience is better if you are shifting your company
Knowledge of programming languages is a boon
Must be proficient in operating systems and database administration
Voluntary certifications from the CompTIA (Computer Technology Industrial Association) are preferred by companies.
An important aspect to remember: The voluntary certifications provide a helpful guide in understanding the best practices in troubleshooting issues and their speedy resolution.
The Top colleges in the US that grant a Bachelor's degree in Computer Science and IT are,
Massachusetts Institute of Technology (MIT)
Stanford University
Carnegie Mellon University
University of California, Berkeley
Harvard University
Princeton University
Yale University
Harvey Mudd College
Brown University
Georgetown University
Each of them offers undergraduate and postgraduate programs in computer science and IT. The undergraduate or Bachelor's degree programs, that are essential for obtaining remote tech support jobs, are for a duration of 4 years. The yearly tuition fees vary between USD 42,000 to USD 58,000 on average.
Also Read: How to work from home successfully?
Recommended certifications to get remote tech support jobs
Certifications and training courses for tech support personnel are offered by several educational platforms. The programs are available online and hence you can easily attend them conveniently from your home. The recommended certifications to get remote tech support jobs are elaborated below:
1. Google IT Support Professional Certificate or Coursera
The course duration is for 6 months with 5 hours per week. There are assignments, interactive labs associated with the course. The best part if the certificate is signed by the top global employers – Walmart, Home Depot, Cognizant, Infosys, UPMC, RICOH USA, Intel, and many more. Thus you are granted direct chances of being recruited by these companies on successful completion of the course.
2. CompTIA A+ Certification from Udemy
There are 2 certifications for the learners – Core 1 (220-1001) and Core 2 (220-1002). The first course is of 17.5 hours duration and the second one is of 15 hours duration. Video is available on demand.
3. IT Support Fundamentals by Microsoft
The course duration is for 4 weeks with 3 to 4 hours of learning weekly. It imparts knowledge on the role of an IT support personnel, the duties and responsibilities and the basics of case management
4. Free IT support courses by Alison
Alison provides opportunities to learn from its 1000 free online educational courses for tech support. The courses are classified into Certificate courses each of 2 to 3 hours duration, Diploma courses for 8 to 10 hours duration, and Learning paths for niche skills for 18 to 20 hours duration.
Also Read: Remote Software Engineer Jobs | A Complete Guide
What skills do remote tech support jobs require?
The work of a remote tech support engineer doesn't just go on with the technical issues. The work of tech support jobs comprises two different dimensions of work. One is to work on the problem-solving issues and for that, the candidate would need to learn technical skills.
The other one is to answer the colleagues and clients whenever they face any issue with the working of a system. The communication should be in layman's terms to a person who even doesn't have any technical background. This soft skill should be developed eventually. Let us see what are the important skills required for a remote tech support engineer. 
1. Operating system
An operating system is system software that runs on a computer. An operating system (OS) manages the computer's process and memory as well as the system's hardware and software. A computer is useless without an operating system. The OS helps to communicate with the system even without knowing the computer's language.
Mostly, the operating systems are usually pre-loaded on a computer you buy. It is possible to upgrade and change the OS. The modern operating systems use a graphical user interface (GUI) which lets you use your mouse to click buttons and menus. Graphics and text are the combinations used to display it on the screen. 
As a technical support engineer, one should possess good knowledge and idea about different operating systems. As these are all the very basics, one should be capable enough to handle and resolve the issues relating to OS. The most common among them are MS Windows, Mac OS, Linux, etc.
2. Diagnosis and troubleshooting
Wikipedia says 'troubleshooting is a form of problem-solving, often applied to repair failed products or processes on a machine or a system'. Troubleshooting is a systematic and logical way to search for the source of a problem to solve it and make it operational again.
In simple words, it is to diagnose the trouble in the management flow system caused by a failure or similar kind. Forensic engineering is a useful method to trace the problems in the process and a wide range of analytical techniques are available to determine the cause for failure. 
Practically, one will identify and troubleshoot the software and hardware problems helping the customers to install the applications and programs. To identify and troubleshoot the technical issues include account setup and network configuration.
3. Remote desktop connection
Remote desktop connection (RDC) allows you to virtually connect any computer or device to connect to another computer. It is a client application that allows the users to have access to the person who hosts it. Once the connection is successful, you can access the resources of the computer you have connected to.
Most of the outsourcing jobs work on this basic RDC connection. It helps you to connect to a particular system from any place and work from distinct locations. Like any other digitalized solution, the RDC is also prompt to errors. A remote tech support engineer should possess a deep understanding of the functioning of RDC in order to diagnose and resolve the issues whenever they arise.
Facts: India has been the leader in the outsourcing market with a size of USD 52 billion. The banking and financial services sector grounds around 40% of the market share. The role of Remote Desktop Connection in outsourcing accounting and taxation services is phenomenal. 
4. Computer systems, network and other devices 
A tech support employee should have a good idea and a basic understanding of the functioning of computer systems, different networks, tablets, and mobile devices. Strong knowledge of the fundamentals is necessary to identify the root cause of problems.
To provide installation and support services for the hardware and software applications, to look over the connectivity issues, perform the quality tests, and other basic issues, knowledge in the fundamentals of computer science is necessary to identify and eliminate the issues.  
5. Problem-solving
The nature of remote technical support jobs is to solve problems. The tech support division helps the colleagues and customers to use the technology and to work efficiently. It is their responsibility to ensure that the technology is working properly.
It is also their work to come up with solutions whenever there is a technical problem in the system. The tech support employee should come up with solutions for all kinds of problems. Hence, problem-solving skill is essential for a remote tech support employee to thrive in her/his job.
6. Other technical skills
Tech support staff works in maintaining the computer systems, ensure the smooth and seamless running of computer systems, and fixing problems as they arise. Install, configure software and hardware, set up accounts for the employees, work on the regular updates, and respond to other system-related queries. 
A tech support employee is also responsible to maintain the records of software licenses, renewing the license of the software, re-stocking equipment after analyzing the requirement, and staying up to date regarding the changing trends in technology. It is beneficial if an employee possesses relative experience dealing with specific kinds of software, hardware, applications, and systems.
7. Interpersonal and communication skills
The job of a technical support engineer is to break down the complex technical concepts so that one can teach a person in layman's terms who may be using the technology without understanding the complex logic and engineering behind it.
One should also be comfortable in translating the technical concepts for different audiences and presenting & articulate the information in a clear manner. Back and forth conversations with the customers and clients are unavoidable.
To listen to minute details, for remote tech support jobs, is very important here to diagnose, resolve, and communicate the problem-solving steps. They need to be able to listen to each and every concern of the clients and calmly help them to resolve the problem.
8. Customer service
At last, what makes up the business is customer satisfaction. This is one of the primary roles of work from home tech support jobs. As you won't we working with your colleagues at the company and clients or customers, a good sense of customer service is an asset as the employee would be helping people on various tech expertise, and ensure the better running of the installed technology without disruptions or solving it whenever they arise.
There might be issues with the network or even a customer might not understand the procedures clearly. Patience is the key here. Tech support engineers have to deal with impatient and frustrated clients. To repeat the problem-solving procedure again and again, until the customer or colleague understands it clearly requires a lot of patience and kindness. 
Tips: Install and configure the hardware and software, maintain and monitor the systems and troubleshooting is the major skill a company looks at a candidate during an interview.
Also Read: Best resume software | Give the finest first impression
Roles and responsibilities of remote tech support jobs
Technical support engineers always have an endless queue of issues to resolve. They need to prioritize the workflow. The following are the important tasks of a remote tech support engineer. 
A tech support engineer is responsible to install and configure computer applications. The employee is also a person in charge to monitor the systems and software. Identifying an error before it occurs is the reason to monitor the system continuously

To arrive at certain decisions consulting the users regarding the best and appropriate tools to employ. A technical engineer configures the operating system. Monitoring tools are also purchased through an enterprise service provider or custom developed.  

One of the important duties of a tech support engineer is to troubleshoot (a logical process to find the source of an issue) the technical issues. The issue is diagnosed and resolved if the issue is reproduced. Escalating a case to different tiers is the best thing to endure in a timely resolution. In these cases, a tech support engineer should be familiar with the escalation workflow process. 

These engineers design computer systems to meet the certain requirements of the organizations and clients. 

The responsibility of the tech support engineers doesn't limit to installing and resolving the issue. Another primary task is to interact with customers. To guide them to solve the problems they face via a phone call or email. 

Their responsibility includes educating customers. The engineers should also communicate with the newly recruited employees and offer training to them. At times, they might be required to participate in forums and seminars and to take online tutorials to train for various purposes. 

The engineer should maintain the records of software licenses and renew them whenever required. She/he should also document the technical knowledge in the database. 

To deploy new hardware and software systems and to update them whenever there is a call for the same. 

To provide feedback to customers, ensure proper logging and resolving of all issues and maintain a record of them, and to ensure that the computer systems are functioning properly after troubleshooting.
Also Read: How to achieve & maintain Work-life balance
Top 10 tools needed for remote tech support jobs
Remote professionals heavily rely on efficient and robust tools for the smooth functioning of their activities. Technical support remote jobs are not an exception. Here are the top 10 tools needed for remote tech support jobs, to ease your life at work,
ConnectWise Control – One of the preferred tools for remote IT Support jobs, designed by Elsinore Technologies. It is essentially a remote desktop application that can be leveraged to deploy custom plugins, perform scripting, integrating with other peripheral applications. You can either use an email link or a code in the tool website to initiate screen sharing sessions
GoToAssist – If you handle an extensive number of issues every day, then this is the best tool for you to opt for. The majority of the professionals engaged in remote support jobs, use the tool for diagnosing problems. The tool is hosted in the cloud, with robust features for service desk administration and IT monitoring. It has a screen recording feature for reference while solving the problem tickets.
DameWare Remote Support – DameWare by Solarwinds is one of the most popular tools used by professionals in IT support remote jobs. The tool has been effective for helpdesk support and resolving issues for remote servers and machines. The key feature of the tool is that it is lightweight and convenient to use.
TeamViewer – A widely used software used by the majority of the professionals engaged in remote tech support jobs from home. The tool is used for troubleshooting extensively by medium-size companies. But even small and large companies use it due to its convenient features and file transfer abilities.
Slack – Collaboration and communication are vital for successful execution in a remote environment. Therefore you must select the right tool for it for faster coordination. Slack is one of the best tools used for work from home customer support jobs.
Apple Remote Desktop – One of the reliable tools when it comes to delivering remote tech support jobs work from home. Due to its capability to handle a large volume of data, the remote technical support job can be performed seamlessly while connecting to a large number of computers.
BeyondTrust – A secure tool, enabling controlled remote support by connecting to different devices. Any online support jobs can be executed with ease, allowing support of remote computers running on various operating systems like Linux, Windows, Mac.
Trello – Coordination, status tracking, and progress monitoring are of utmost importance in a remote working environment. Trello offers features for managing the tasks, assigning members to tasks, and the timeline for each task. It is very efficiently used for remote customer service jobs, assisting to calculate the performance metrics of individuals.
Grovo – Other than the normal tech support activities and project management tasks, training, and competency building is essential for upskilling the team members. Grovo provides an effective training and learning platform, allowing to allocate training to the team members and tracking the progress.
Dropbox – Emailing large size documents to customers sometimes is cumbersome. Dropbox is a perfect tool to resolve your problems, offering you provisions to share documents with customers. You just need to share the link with the customer via email.
Top 25 dream companies for remote tech support jobs
By now we have fairly understood how to gear up for remote email support jobs or any other kind of remote tech support jobs. The next question that may be arising in your mind is where do I apply for the jobs?
It is for sure you don't want to be lost among a whole gamut of companies offering remote work. Besides, companies have to be reliable and secure. Here is a list of the top 25 dream companies for remote tech support jobs that are preferred by professionals,
Autho, a company operating in 70 countries serving customers in various markets
10up, a company dedicated to web design and development consulting services, distributed worldwide
Arkency, a pioneer in conducting webinars, publishing books, create business software, and also impart training to programmers
Trafilea, an advertising and marketing organization that helps in curating e-commerce strategies for customers to promote their products and brands
com, an online portal for education
Articulate, software development company, creating tools for facilitating e-learning
Buffer, provides a social management platform with a customer base of 60,000
Toptal, a sort of a marketplace where the freelancers connect with companies and firms in Silicon Valley, US
Enago, a company offering editing services to authors
Cactus, a provider for communication solutions focusing on pharmaceutical companies and academic institutions
Wikimedia Foundation, a nonprofit company that develops and distributes free content in various languages
Automattic, a web development company
Aeolus Robotics, an AI-based company that introduced the world's first generation of household robot assistants
GitHub, a website providing solutions for programmers to network and publish content
Toogl operating in 5 continents and 9 different timezones
Doist, with a team across 20 countries
Scrapinghub, employees present across 40 countries
Unbabel, a platform for artificial intelligence-driven translation engine
United Nations Development Programme (UNDP)
Appen, a technology services company that uses human-annotated data
io, an online platform for employers to assemble and recruit professionals
Xapo, a company specializing in providing services on Bitcoin
Clevertech, an IT company
DataStax, a private company dealing with computers
co, a company providing a search engine for data exploration and analysis
Top job boards to find remote tech support jobs
Internet is nowadays beaming with innumerable job websites offering a multitude of opportunities for remote tech support jobs. Be it remote customer service positions, remote tech support specialists, or email customer service jobs, there is no dearth of roles.
The crux is to watch out for the roles, salaries, and remote employment modes that suit your preference and needs. The top job boards to find remote tech support jobs are enlisted below for your quick reference,
WeWorkRemotely
Jobrapido
Indeed
Remoteok
Glassdoor
Simplyhired
Dynamitejobs
Remotive
Angel
You can filter based on the location, salary range, employment mode, and roles. It is better to register on some of the websites for receiving updates on job opportunities. Additionally, your profile may appear under the search criteria of potential job recruiters. Ensure you mention all the skillsets and experiences in your profile details and description.
Before applying for the job, it is recommended to check the company background and the authenticity of the roles. Many of the websites facilitate communication between the candidate and the company for any queries before applying for the roles. The websites sort out the recent job postings along with the company names for easy search.
Top resume elements of remote tech support jobs
Creating a strong resume is the key success criteria in remote tech support jobs. You must focus on specifying the right skillset and past experience for attracting the hiring companies. Here are the top resume elements of remote tech support jobs that you must focus on mandatorily,
Programming skills and coding knowledge
Usage of remote tech support and desktop support tools
Mention your tech support roles in the prior engagements
Your duties and responsibilities must elaborate on how you perform troubleshooting of issues effectively
Any specific innovative ideas that have created a significant differentiation in customer service
Interpersonal and communication skills
Certifications and training courses attended
Remote tech support jobs pay structures
The remote tech support jobs pay structures are quite remunerative. The senior roles receive an annual salary of about USD 50,000 to USD 60,000 in a year. A junior technical support person can initially start a career with USD 20,000 to USD 26,000 per year.
If you prefer to work on a contract basis, then the average earnings range from USD 9 to USD 21 per hour, depending on your years of experience, skillset, educational qualifications, and certifications.
The pay structures may vary according to the roles. A tech support specialist with a considerable amount of experience and expertise in working in different roles and technologies may earn up to USD 120,000 per year.
Remote entry level tech support jobs
Typically companies hiring for remote entry level tech support jobs, offer the following roles:
Customer Service Support
Support analyst
IT Junior Technical Support
Application Support Staff
A Bachelor's degree in Computer Science or IT is a must along with certifications offered by the top colleges in the US. Knowledge in programming, hardware, software, operating systems is required accompanied by excellent communication and interpersonal skills.
As an entry level tech support specialist, you can expect a salary ranging between USD 20,000 to USD 21,000 in a year. With constant dedication and attention, you can easily raise the ladder and gain a substantial hike in salary.
What are remote tech support jobs?
The work of remote tech support jobs is to resolve the technical issues of computer systems including hardware, software, and other network-related IT problems.
Is the work of online tech support jobs limited to working just for the office system setups?
No, the work of online tech support jobs doesn't limit working for office system setups. They are also required to work for external users such as customers or clients to resolve the technical issue. 
What is work from home IT support?
There are several terms to describe remote technical support jobs. Work from home IT support, online tech support jobs, IT technical support engineer jobs, work from home tech support jobs are the other terms used commonly to refer the remote technical support jobs. 
What is tech support?
Tech support (technical support) refers to the range of services offered to the customers by the company for technology products or services including system hardware, software, etc. 
What are the tech support job requirements?
Good knowledge about the operating systems, remote desktop connection, fundamentals of computer science, other technical skills, diagnosing and troubleshooting, problem-solving skills, customer services, and communication skills are some of the tech support job requirements. 
What are the responsibilities of remote tech support jobs?
Install and configure the computer applications, monitor systems, and software, configuring the operating system, troubleshoot the technical issue, interact with the customers, educate the customers and to train the recruited employees through the webinar, and updating the software whenever required are the major responsibilities of remote tech support jobs. 
What are the pros and cons of freelance tech support jobs?
Freelance with many companies, no dress code, and commute, increased productivity, engaging with new and many persons are some of the advantages of freelance tech support jobs. Need to work anytime there is a technical issue, to talk to the impatient and frustrated customers till their satisfaction are the main disadvantages of work from home tech support jobs.
What are the major skills required for entry-level technical support jobs?
Install and configure the hardware and software, maintain and monitor the systems and troubleshooting are the major skills required for entry-level technical support jobs.