Are you a writer? If so, remote writing jobs are for you. Read on to find everything you must know to find the writing jobs with the best pay!
Writing is a gift, enabling a person to express his or her feelings and passion for various genres of life.
It can be travel, technology, lifestyle, food, customs and traditions, entertainment, programming, design, etc, and even remote medical writing jobs – the list is endless. Do you know that you can end up in a bright and promising career by honing your writing skills?
Remote and Freelance writing are now the talk of a day where numerous firms engaging writers and bloggers in building up their resources and tutorials for their online websites and e-commerce sites. An obvious question that may arise in a beginner's mind is which are the best remote writing jobs available in the market and where to find them?
This article will serve as a beginner's guide of remote writing jobs, for those who are willing to venture into the writing world and earn a living. But before we proceed into the list of such jobs, you need to understand the skills to be acquired and your preparedness for the new profession.
Read: What is remote working?
Market Opportunity for Remote Writing Jobs
The demand for content is growing in the market on a huge scale. Therefore, many youngsters who can write content in simple English can become content writers and earn money from remote writing jobs.
There is no need to have a professional degree to become a writer. Many recruiters hire writers who have a degree in mass communication or literature background. The content writing field is extensive.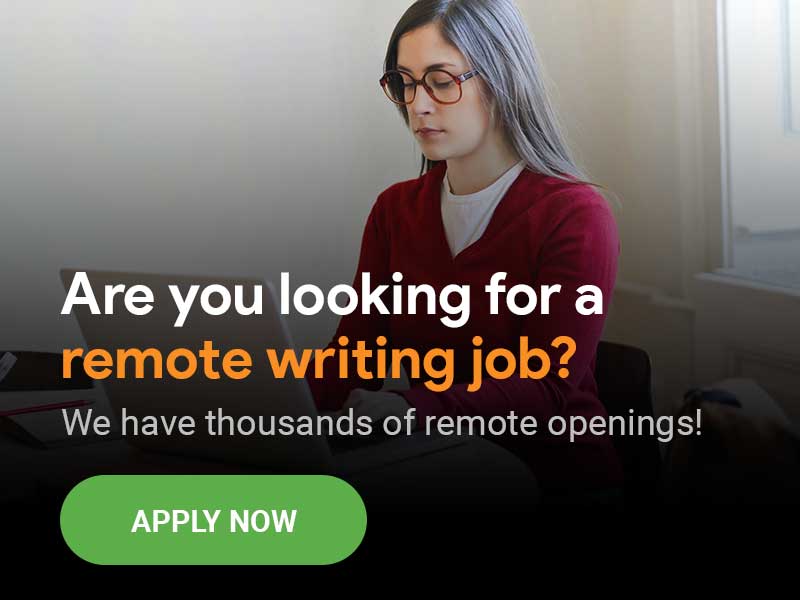 Around 2 billion websites are active online and within time, this number is increasing. Every business wants to make its online presence Internet has become an important part of your lives.
In the future, content writing will become one of the trending career options to choose from. In the beginning, the writer gets a $33K annual salary for writing content. He or she can earn up to $80K-$90K by gaining experience and working on their skills. You can check online that content writing is among the fastest-growing professions available now and in the future.
Also read: Virtual Icebreakers & How to have smooth first remote meeting?
Job Titles and Career Paths under Remote Writing Jobs
Content Writing is a skilled-based career as no specialized qualification is needed to work as a writer. You should know how to research a topic and write a grammatically correct article for your client. Some of the likely remote writing jobs career paths are,
Web Content Writer: The web content writers write the content for websites. You have to write articles about the company and its services. They are expected to create optimized content used by the company for marketing work. Many companies are offering full-time jobs for web content writers.
Freelancers: Your roles and responsibilities depend upon which company you are working on the freelance writing position. For the research purpose, you can study different blogs and then write engaging content for the company.
Creative Writer and Editor: Various publishing houses are hiring creative writers and editors. The writers have to write blog posts on trending topics. Furthermore, you are responsible to write motivational letters, scholarship letters, and essays for the organization.
Marketing Content Writer: They have to coordinate and write content for blogs, testimonials, newsletters, email templates, corporate presentations, and reports. You need to keep yourself updated with the latest writing trends.
Blogger: Blogging is helpful for you to become a better writer in your interest area. You can create a network of people who respect your ideas. There are three kinds of bloggers. The first blogger group writes for passion, the second one writes for money and the third type of blogger group writes content online to spread knowledge.
Script Writer: For multimedia training modules, the writer has to prepare the script on a particular topic. You must adapt to working on multiple platforms as a scriptwriter. In your job, you have to come with new ideas for preparing interesting and engaging content.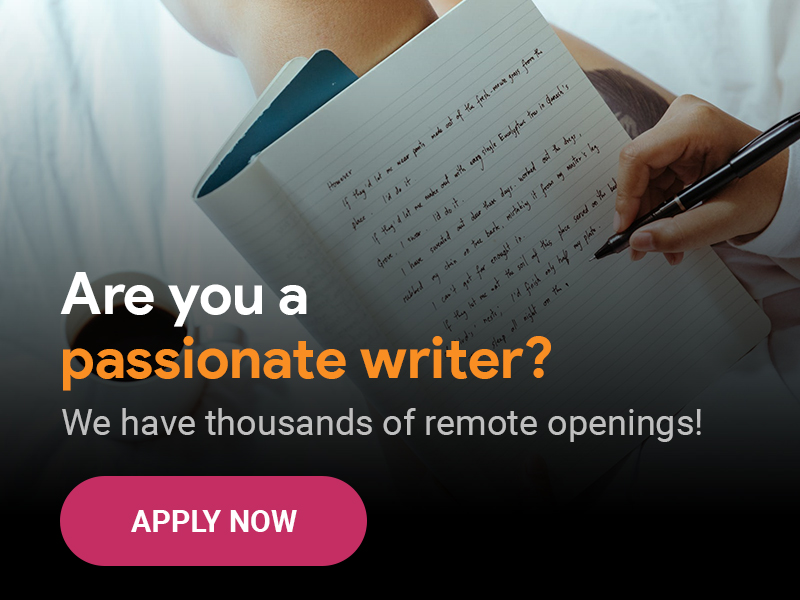 Qualification needed for remote writing jobs
A dedicated content writer should know how to write content in simple and correct English and aware of SEO techniques. The readers can go through your content available on the search engines. On the other hand, for specific jobs, employers want educationally qualified writers.
The writer should have a Bachelor's degree in English, Mass Communication, Marketing, and Journalism or a relevant field from a recognized college or university.
You should have a working knowledge of content and copywriting.
The content creator knows how to upload the content in the content management system.
He or she must be proficient in using Microsoft Office for writing the content.
You can work in the fast-paced environment of the company.
Communicate with your team members effectively.
Handle multiple projects and submit the work on time.
Knowledge of editing is a must for a content writer for an online content writing job
Read: Deep Work Summary: 5 Key takeaways to help you be more productive
Skills needed for remote writing jobs
You get some great rewards being a freelance writer. Depending upon your work position, you can work from anywhere and at any time. Still, the job of a writer is not easy at some points. Here are the 7 skills that every writer must have who is doing a remote writing job,
Research Skills: Strong research is important for content. It adds value and creditability to content. A writer has to find reliable sources while preparing the content to write.
SEO Understanding: Great content writers are always aware of the latest SEO trends. The readers would not find our content on Google if you don't use SEO friendly headings.
Able to Meet Deadlines: The clients that are giving you the content have the deadlines that you have to meet. You are delivering high-quality content on time shows that you are trustworthy and reliable.
Edit and Proofread content: Before sending your content to the editor. You should check carefully every point.
Deliver quality content to stay in demand: You are writing good quality content without any grammar mistakes. Then, you can get freelance writing jobs easily. One thing you should remember to update yourself with the latest SEO trends. Therefore, you can join the online writing community and do a discussion with fellow writers.
Establish a proper communication channel with the clients: You want to understand things that you are clients want from you. Then, do a proper communication with them.
Stay Focused while writing content: Some writing niches require focus and understanding from the writer. You should keep yourself away from all the distractions while writing content. It is easy to complete all the tasks on time.
Suggested read: 14 Best Productivity Tips to Achieve More At Work & Life
Certifications to get remote writing jobs
The backbone of the online marketing campaign is well-researched and engaging content. Any brand or business that wants to make a strong presence online should have appealing content.
Therefore, new and experienced writers should take some certificate courses and learn new things. Content is the king for developing a business presence online. The best certification courses a writer can do to get freelance writing jobs are,
Creative Writing Certificate Course offered by Wesleyan University
Udemy's Ninja Writing Course four levels to become a master writer
Content Writing/Blogging/Copywriting courses of Udemy
Certificate Course of Udemy How to become an exceptional writer
Margaret Atwood's Creative Writing Course
Web Content Writing Classes at Udemy
Content Marketing Strategy course by the University of Pennsylvania
Search Engine Optimization (SEO) courses offered at the University of California
Northwestern University's Professional Content Strategy Course
English Writing at Lund University
Business English learning course for non-native speakers by The Hong Kong University of Science & Technology
Science Writing Course at Stanford University
Learn English and Advanced Grammar at the University of California
Professional Branding course offered at the University of Virginia
Business English Communication Skills by University of Washington
Read: 18 Best remote companies to work for in 2020
Roles and responsibilities for remote writing jobs
You should be aware of the online writing job roles and responsibilities while applying for the job. Here is the systematic guide will help you to understand the responsibilities of a content writer.
Do the complete research of the topics assigned to them by the employer.
To promote products/services the writer should write a clear marketing copy.
Using content management systems prepare well-structured content drafts.
The writer should proofread and edit the post written before publication.
Then, you can send your content to the editor for creative inputs and approval.
Maintain coordination with the marketing and design team for
Follow the Search Engine Optimization (SEO) guidelines and do keyword research properly.
Use the social media platforms Instagram, Twitter, and Facebook for content promotion purposes.
Research and recommend new topics on write content on them.
You need to identify customer needs and gaps in the content prepared.
Ensure that the content is prepared properly keeping all things in mind like the style and font.
You have to update the website content when needed.
Top 10 tools needed for remote writing jobs
Whether you are working from home or anywhere around the world, it is tricky to collaborate with your team while not physically present. Thanks to the software technology available, that makes the lives of work from home writers easier. We have listed the 10 tools you must have working as an online writer.
Google Drive: It is a complete driver suite software available free to use. You need just an internet connection to use Google docs, Excel sheets, and upload pictures anywhere across the world.
Google Hangouts: Using the Google Hangouts tool you can communicate with two to three people at one time. This tool is useful for you as free. You do not have to spend big bucks to organize video conferencing.
Skype: Are you aware of the Skype communicating software? It is simpler to use and technically impressive tool for chatting and making calls.
Slack: You have not used the Slack software then start using it soon. It is a communication and collaboration tool getting positive responses from everywhere. The beauty of the Slack tool is its versatility. You can go to private and open communication using it.
Trello: You need to manage your team remotely then Trello is a decent tool for you. Using this tool, you can prepare task cards and checklists. Then, assign all the tasks to your teammates with the deadlines.
Deekit: Are you missing your office whiteboard to swap down ideas with your team? Deekit is the next best thing for you as a virtual whiteboard. You can freely visualize and share your ideas.
Take a Break Please: Without the constant office interruptions, the remote workers can take constant breaks to relax their minds and soul. Take a Break Please is the application that reminds you of your break time.
Every Time Zone: One of the biggest issues with the remote workers is to keep everyone's track. Every Time Zone is a cool application that makes your work easier.
Workfrom: It is great enjoying your freedom working from home. Sometimes, you miss the busy office situations. Workfrom helps make workspaces in different cities. You can find places from there.
Nomad List: This tool is similar to web application Workfrom. Nomad List has the community of digital nomads at 6851 and still counting. The people can interact using Nomad List while traveling.
Four-Step Approach for Readiness
In the beginning, it may seem to be very challenging to establish yourself as a potential writer. There is immense competition among the freshers as well as the experienced writers and bloggers. You need to prepare yourself for the competition in the correct way to outstand others, gaining preference for prominent firms and organizations hiring content writers.
Special attention is needed if you are opting for remote writing jobs since you will be operating remotely without a physical presence on the office premises. Companies need to gain trust and confidence in their skills and abilities to continue working with you for the long term. Let us focus on a four-step approach as preparation for acquiring remote writing jobs,
1. Decide Your Genre
The first step is to analyze your strengths and interests in the subject areas or genre of writing. Plenty of writing topics float in the digital and online world, but you need to select the ones which you can specialize and provide adequate justification. You must be comfortable with the genre or the subject area.
Important Tips: It is advisable to select your specialized area where you have real-world experience. You must be capable to provide interesting facts and examples on the topics to entice your customers. Do not select multiple subject areas, 3 to 4 should be fine for consistent focus and attention.
2. Create Writing Samples
Companies offering remote writing jobs will request writing samples. Hence you need to be prepared for showcasing your experience and expertise. A good idea is to start your blog or website and pen down articles related to your genre or specialized areas. You can also guest post on other websites or blogs for creating visibility for your writing skills and talent. These methods will help you to promote your work and be recognized among the companies hiring remote writers.
Important Tips: Do not hesitate to post on a website or a blog even if you are not paid or paid for a meager amount. Your sole objective must be to earn recognition and create writing samples in your niche areas. The reason is in the end, you need to get a good remote writing job.
3. Develop SEO optimization skills
Specializing in SEO is one of the key qualities for remote freelance writing jobs. Nowadays companies hiring content writers specifically mention SEO skills. Numerous videos and online tutorials are available to develop SEO optimization skills and apply the same to your articles and blogs.
The fact you must know: An article strong in SEO assists in gaining organic traffic to a blog or article. This increases the ranking of the website as well as popularity. It may also lead to greater monetization of the website.
4. Apply for Remote Writing Jobs
A good amount of research is required while applying for remote content writing jobs. The article will provide you with effective guidance on the best remote writing job sites. You must leverage your intelligence and analytical mind in judging and shortlisting the appropriate remote content writing jobs and apply for them. For beginners, there are many entry-level remote writing jobs that may pay less but will equip you with sufficient experience and expertise.
Important Tips: Do not be hasty in selecting and applying for remote freelance writing jobs. Be patient and utilize your conscious mind in deciding the right jobs for you.
Read: Inbox Zero: How to boost your email management! – Productivity hack
Essential remote writing job requirements
There are two parts to remote writing job requirements. One is the required skill and qualification of the applicant or the content writer. Second is the requirements of the companies while hiring for remote writing jobs. If you want to shine as a freelance content writer, then first and foremost you must possess the necessary passion, dedication, and intention to engage your readers.
You do not require a special degree for being a writer. It's important to be a good read if you want to improve your writing skills. Your vocabulary power must be strong enough to create an interesting article or blog. Your writing must never be monotonous or dull. Some companies prefer a formal tone whereas some prefer a conversational tone.
You need to adapt to both and learn to tune your writing accordingly. Your grammar skills need to be very strong and must never be compromised. Before applying for any remote writing and editing jobs, the above skills and requirements must be given due focus to succeed in your venture of professional writing.
Companies hire remote content writers for various purposes. The most common among them are the blog posts on any specialized or niche subject area, newsletters, tutorials, product reviews, ebooks, and news articles. The payments vary depending on the amount of research that needs to be done and the complexity of the article topics.
Important Facts to remember
You must be motivated to work remotely at your home or any co-working space

Patience is mandatory in the world of content writing

Learn to overcome the challenges that you encounter in your writing venture and move ahead
Also Read: Meeting Minutes: What is it & how to write it effectively (step by step)
Where to find remote writing jobs?
There are various ways to search for remote creative writing jobs, as enlisted below:
1. Facebook
Facebook hosts several groups dedicated to content writing jobs, tips, and suggestions. You can join them to check the jobs and vacancies available. You need to type in certain keywords to search for the appropriate Facebook groups, like content writing or freelance jobs, etc.
The groups consist of members who post requirements for much remote work from home writing jobs. Depending on your skill, requirements, and compensation criteria, you can contact the recruiter and share your profile and experience for interview and selection.
2. Freelance and Content writing websites
These provide opportunities to surf through a list of remote creative writing jobs, both part-time and full time. There may be jobs related to a particular niche subject area or multiple topics. The beauty of these websites is they post ample entry level remote writing jobs especially for beginners.
3. Network in co-working communities
Remote professionals are often advised to operate once or twice a week in a co-working space or even full time too. For beginners in freelance content writing, it is especially recommended to be part of a co-working environment to interact and collaborate with fellow writers.
You can find out active and prevailing content writing jobs in the market from the co-working communities. They can increase their social network and learn from experts in various genres. It helps to stay motivated and focused and induce a sense of creativity.
4. Target websites
Research on the websites which publish content related to your genre or niche subject areas. Connect with them and pitch to improve their content or blog posts by sharing your writing samples and ideas on topics that will benefit the companies.
Many websites have their preferred compensation package and many lookouts for a pitch from the content writers and authors. Be flexible to adapt to any of the approaches if you are a beginner, while not downplaying your skill or talent.
5.  Other Social Media
Social media platforms like Instagram, Twitter, Linkedin are also a great way to connect with recruiters of remote writing and editing jobs. Create accounts in each of them and network with writers, authors, and bloggers. Publish your articles often to gain attention from the companies hiring content writers. 
Important Fact to remember: Be aware of any scam groups or websites, while applying for remote writing jobs. You must review and check on the recruiters and even discuss with fellow writers regarding the authenticity and security of the jobs.
Also read: Best Remote Working Tools That Make Life Easy
Popular job boards for remote writing jobs
As a beginner, it is first difficult to receive high compensation for your work. The key reason being the need for appropriate experience. But do not be disappointed with the low payments. Your first target must be to produce high-quality work, gain substantial experience and then you have all the privilege to venture out for high payment writing gigs.
Important Tips: For beginners, it is advisable to continue on the full term job and engage in freelance content writing as a part-timer. If you do not have a full-time job, it is recommended to change your lifestyle to afford your living within your compensation package.
Let us now discuss in brief some of the prominent remote writing online job sites, that will eventually guide you to prepare your own remote writing job checklist,
1. Upwork: It is one of the prominent remote writing job sites offering jobs in various fields of content writing. You can search through their huge job postings from different clients around the world. Each of the requirements posted by a client has a budget associated with it. You can agree to work for the budget specified or you can present your rates.
After applying for a job, you will be invited to write a letter of proposal, mentioning your qualities and specialization and your expected compensation. Once selected, you will be offered work and the payment details by the client.
2. unremot.com: This is one of the most technologically advanced remote collaboration platform for remote graphic design jobs. One can find freelance/remote work from across the recruiters around the world, while also collaborating with them over video-based virtual rooms and chats.
3. Fiverr: It is a platform enabling both beginners and pro for enticing clients to look into your writing profile and rates and grant jobs. To start with, you need to create a profile in Fiverr specifying your qualities.
Next, you must mention within USD 5 what are the services you can provide, the rates can be made higher based on the add on services which you can provide over and above the basic requirements. It is an excellent website to showcase your talent and invite prospective clients to offer you freelance content writing jobs.
4. Freelancer: It is one of the popular and reliable remote writing job websites, providing ample opportunities for beginners to search and bid for jobs. You have to first create a profile on the Freelancer website and then start looking for jobs.
You need to bid for the jobs posted and once you are selected your payment will be based on the bid price agreed between you and the client. The greatest advantage of this website is you can mention to a maximum of 100 skills and can opt for withdrawing daily payments.
5. Scripted: Though essentially known for connecting well-known clients with experienced and qualified writers, there are ample opportunities for beginners as well. If you have a website of your own where you publish interesting content or have done guest posting, then you must leverage that expertise and experience in Scripted.com. The writing samples will assist you in grasping the best writing jobs from prominent customers.
6. FreelanceWritingGigs: It provides an excellent platform for beginners and those who intend to join internship programs. The website lists job postings from various clients starting from remote medical writing jobs, technical writing jobs, writing jobs for entertainment, travel, lifestyle, programming, designing and so on.
It even provides tips and suggestions on betterment in content writing. Each job contains a detailed description of the requirements. You need to carefully go through them and then apply for your preferred ones.
7. Writers Domain: It acts as an interface between the clients and the content writers. To qualify for a member in the Writers Domain, you need to submit writing on a topic, undertake a test on grammar, and then fill up the application form. After review and approval, you will be granted access to the website for searching for jobs.
The payment for your writing will be granted by the Writers Domain, who will act as agents for the clients for whom you will be working. Each content you produce will be thoroughly reviewed to ensure it meets all the rules and guidelines set forth by the clients. 
8. Constant Content: It is a platform that has a strict and disciplined process of access into its job listing. Other than providing a writing sample on the topic mentioned by the editorial team, you also need to attend a quiz.
Once succeeded, you will be granted all the relevant accesses to browse through the jobs and apply for them. Besides the website publishes blogs on writing tips and how to produce high-quality content.
9. Guru: It is a free Basic membership as well as paid Executive membership for the remote content writers. Beginners are suggested to avail the free membership plan and search for jobs matching their specialization and interest.
Once you have gained sufficient experience and earning a good amount of money, you can look for a paid membership plan. The members need to bid for each job and await approval from the client. Once done, the payment is based on the agreed bid amount.
10. PeoplePerHour: On this website, the members can search for remote writing jobs in their region or locality. Hence the clients, on the other hand, can connect with potential writers in the same area or adjacent neighboring areas.
Also, you have the flexibility to search for jobs posted by clients from any corner of the world. To gain access to the website and its remote writing job checklist, you need to fill up an application form and await approval from the editorial team.
11. FlexJobs: Be it travel and entertainment or lifestyle and parenting or technical writing jobs remote work positions, FlexJobs has the answers to all. It is one of the popular and reliable websites to search for your dream jobs in the writing world.
The jobs submitted by the clients on the website are thoroughly reviewed and audited to prevent any scam. The jobs are categorized based on the experience and skill levels of the freelance content writers ranging from beginners to experts.
12. Linkedin: Linkedin is an important platform for beginners as the profile gets noticed by prospective clients and companies. You need to create a good profile on the website, stating your experience, educational qualifications, expertise, and any publications. Once done, you can apply for potential jobs posted on the website or even respond to clients interested in your profile.
It is advisable that whenever you apply for either non-technical or technical writing jobs remote work positions, you must ensure to perform thorough research and analysis on the job websites. The above list will guide you in browsing through the best and popular remote writing job websites and proper in your career.
Read: Working from home with kids – Parent's guide to remote working
Top resume elements for remote writing jobs
You are searching for remote writer jobs while preparing the resume you should not forget to mention these things.
Display your skills that are required for a freelance content writer. It includes your writing and effective communication skills with the team.
You should know using Zoom, Google Hangouts, Asana, and Wrike.
To highlight your relevant writing skills use your experience.
You should have these qualities of independent problem solver, quick learner, flexible, and punctual.
Make it known to your employers that you want the remote job. In some cases, the company mentions about their head office details. They are hiring writers who work from home full-time.
Further Read: How to earn money during COVID-19 quarantine?
Remote Writing Jobs Pay Structures
According to indeed.com, the annual average pay of a remote writer in the USA is around $45K. Due to a lack of writing experience, the writers paid less. He or she gains experience than can apply for the higher paid jobs.
Many reputed websites like indeed and glassdoor.com have compiled the data regarding content job online pay structure. Through glassdoor.com, records revealed that freelancers' writers earn around $33K initially, and then their income can increase up to $83K.
Working as a writer, the person learns many things including community building. It is useful to get good freelance writing projects in the future.
Suggested read: Contemplating Career Change? Here's all you need to know
Entry Level Remote Writing Jobs
A new writer has to face competition in getting their first job due to the competition. Everything is possible when the writer has skills and English language knowledge.
After gaining two to three years of work experience in online writing jobs then there is no much competition for applying for the jobs. You can easily secure a well-paid job after getting experience.
You should stop learning, as it is a continuous process. It will benefit you in the future. You can one thing during weekends try to learn new writing skills. Then, it is easy for you to approach the clients for work.
Read: Team Communication 101: What is it & How you can crack it!
What are the highest paying writing jobs?
The highest paying remote paying jobs are as follows,
Creative Writing
Lyricists and Poets
Technical Writers
Academic Writers
Copywriters
Bloggers
Editors
News Reporters
Magazine Writers
Social Media Managers
You want the highest paying writing work then start improving your skills.
How do I become a writer with no experience?
You can follow these simple things to become a freelance writer with no experience.
Start your blog on WordPress in any niche you want.
You can start writing guest posts on someone else website.
Prepare your portfolio on the content marketing platform i.e. contently.
Create t writing samples on the free writing websites.
Is a writing degree worth it?
Getting a degree is never a bad thing. A writing degree will not work for you if you do not have the skills. You are ready to start your writing career then focus on your English writing and grammar skills, not the money. It will help you to get content writing jobs online.
Can you become writer without degree?
There is no professional degree required to become a writer. You need to have English writing skills while applying for online writing jobs. For academic writing, employers ask for professional qualifications in a particular subject. Apart from that, you want to become a writer then no need for any formal degree.