Are you an accountant? Or aspiring to be one? If so, you are here at the right place now – read on to find everything about remote accounting jobs, best companies, salaries, and skills needed!
Balancing payments, maintaining the accuracy of financial records, and preparing and compiling tax returns are the responsibilities of an accountant.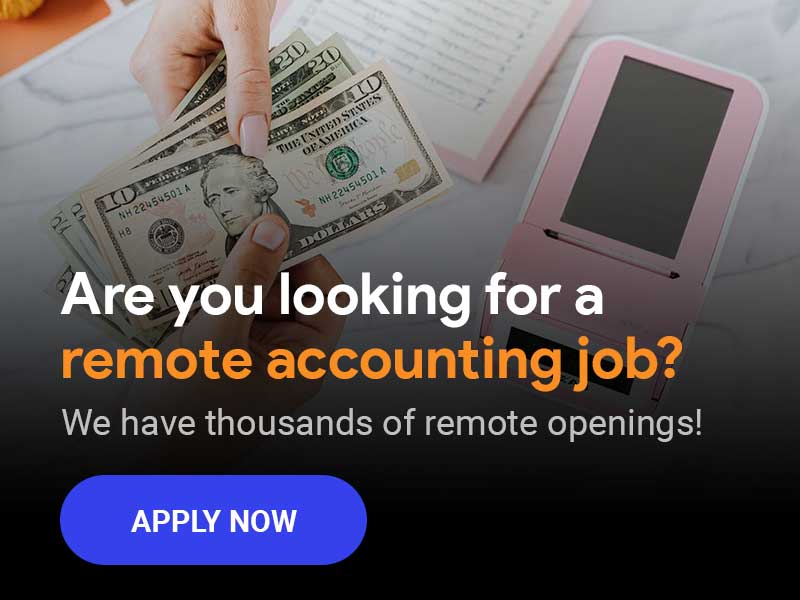 These duties can be fulfilled remotely as well. This may be one of the most important reasons why remote accounting jobs are becoming a very popular option for accounting professionals who seek flexibility in work.
According to the figures given by the Federal Bureau of Labor Statistics, the overall job outlook for accountants is quite promising. The rapidly growing global economy and increasing complexity of tax regulations are sure to widen the job market for auditors and accountants by a great percentage in the near future. Cloud computing and automation have added ease to remote accounting jobs, building its appeal even more.
Read: Remote Work: Global Trends & Employee Best Practices
What are remote accounting jobs?
To be precise, work from home accounting jobs involve accounting, financial oversight, or bookkeeping. Very similar to the traditional office job, the duties of remote bookkeeping jobs include,
Examination and verification of financial statements 

Computation, preparation, and filing of tax returns and other work that is tax-related

Provision of help to businesses so that they can trim costs and function more effectively

Maintenance and regular updating of books and financial records 

Making sure that the procedures of accounting follow best-practice standards

Supervising payroll operations 
Remote bookkeeping jobs provide several flexible opportunities to work remotely. The opportunities for online accounting jobs are
Full-time – If you choose full-time online accounting jobs, you will be expected to dedicate every working day to one company only. 

Part-time – If you choose part-time remote finance jobs, you will be obligated to work for only a few hours. A part-time position will be very profitable during the tax season. 

Contracts – In contract remote finance jobs, you will have to serve a company for a specific time duration as mentioned in the contract.
Tip: Enable automated workflows between different apps for ease of collaboration with team members.
Suggested read: Cybersecurity During Work from home | A Security Checklist
Market opportunity for remote accounting jobs
Online or remote accounting jobs are considered to be a prestigious occupation and an ever-growing field of work. Ensuring stakeholder satisfaction is the dream of almost the majority of the companies and that involves the right financial statistics, analysis, and reports. Hence a constant rise in the demand for accountants.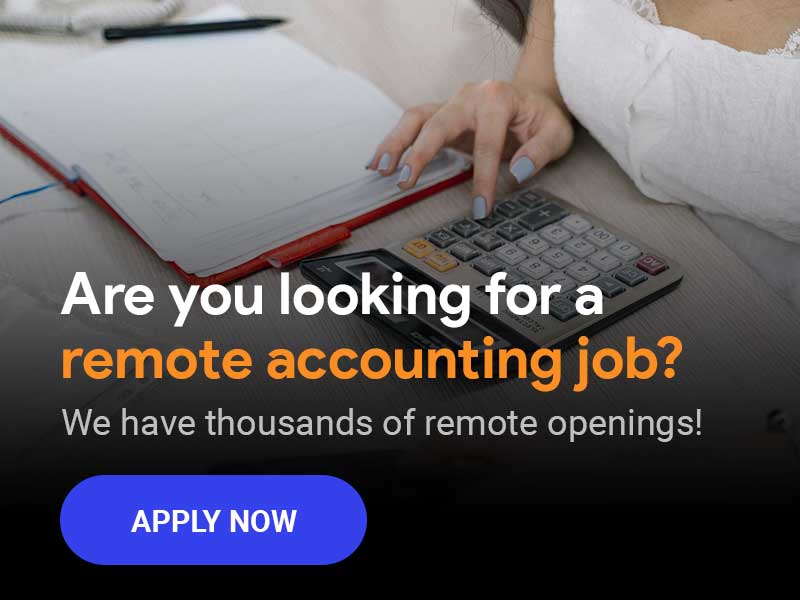 The key advantage of aspiring for this particular profession is you can apply for both full time and part time accounting jobs online at the comfort of your home. According to the US Bureau of Labor Statistics, work from home accounting jobs is expected to realize a 4% growth within the years ranging from 2019 to 2029.
A jump of 61,700 employees in online accounting jobs is expected by 2029, leading to total employment of approximately 1,537,600. This is compatible with the growing percentage of jobs in all other trending occupations in different industrial sectors or domains.
Accounting and Finance Jobs are exponentially dependent on the health of the economy. A rise in the economy will directly influence the demands for accountants and financial analysts. To stand ahead in the job competition, it is recommended to complete the Certified Public Accountant (CPA) certification and obtain a license.
It not only increases your chance of being accepted in a job but also opens up higher roles in accountant and finance jobs. Both for accounting jobs part time or full time, certifications and additional learning courses or training are vital for success in the field of accountancy.
The BLS has also presented facts that the US states that will contribute to the growth of online and virtual accounting jobs are Texas, California, Florida, New York, and Pennsylvania. People residing in US or planning to relocate to US will have immense opportunities to apply for accounting jobs remote and as online employment mode of operation.
Job titles and career paths under remote accounting jobs
The job titles and career paths under remote accounting jobs are in no dearth while comparing to other occupations. An entry level accountant can easily rise up to a senior position by virtue of experience and assuming higher responsibilities.
Besides those who excel in their work field, are either promoted or obtain higher roles as managers, supervisors and even partners in the companies. Many rise up to executive positions, entrusted with management or internal auditing of firms. So if you are aspiring for accounting and financial jobs, you can rest assured you have a plethora of opportunities at your doorstep.
Accountant – The role consists of different sub-roles, as per the demands of the industry or the types of duties. For example Accounting manager, Accounting officer, Staff accountant, Business Analyst, CPA, etc. Their work primarily involves preparing, analyzing, and maintaining financial records, reports, and statements. It is one of the most popular accountant jobs working from home.
Accounting Clerk – He or she works under the supervision of accountants. Helps in maintaining the financial records involving data collection, entry, and calculations. The typical sub-roles are bookkeepers, accounting secretary, finance clerk or administrative assistant
Auditor – Verifies and check the internal financial records, validating adherence to the statutory rules and regulations, and the accounting standards. The typical sub-roles are internal auditor, financial auditor, audit manager, revenue tax specialist, etc.
Chief Financial Officer – A high executive rank in the field of accounting financial jobs. A CFO is phenomenal in managing the finances of an organization, reporting to the CEO of a company. The entire accounting department operates under the flagship of a CFO.
Controller – Monitors and controls the preparation of financial statements, reports, budgets, and taxes for a company. The typical sub-roles are treasurer, comptroller, Director of finance, finance manager, or finance Vice President.
Financial Analyst – Evaluates the market trends and statistics, and recommends investments. They focus on the cash positions of the company and the feasibility of purchasing or issuing stocks. Typical sub-roles are planning analyst, equity research analyst, credit products officer, real estate analyst, portfolio manager, etc.
The good news is that the above mentioned titles are applicable for both remote accounting jobs part time as well as full time.
Qualification needed for remote accounting jobs
Qualification needed for remote accounting jobs is indeed special and specific to the financial domain. Remote and flexible accounting jobs are a demand in the market among professionals. But for obtaining respectable accounting jobs online work from home, you must acquire the appropriate credentials for suitability in the job market.
If you are aspiring for accountant jobs from home, you need to possess the following educational qualifications,
Mandatory Bachelor's Degree in statistics, economics, accounting or related domain
Desirable or optional to apply for higher roles, you must go for a Master's Degree in Accounting or Business Administration with a major in Finance
Besides, professionals must obtain a licensed certification of CPA for filing reports with the SEC (Securities and Exchange Commission)
Additionally, if you can gain a few years of experience in a firm as an intern or as a fresher, then your chances of obtaining an accountant job work from home, increases considerably
The best US colleges and universities offering degrees and courses in accounting and finance are enlisted below,
University of Pennsylvania – Average tuition fees USD 81,378 per year
New York University – Average tuition fees USD 56,140 per year
Columbia University – Average tuition fees USD 76,195 per year
University of Michigan – Average tuition fees USD 55,328 per year
Northwestern University – Average tuition fees USD 73,404 per year
Cornell University – Average tuition fees USD 58,586 per year
University of Texas – Average tuition fees USD 45,321 per year
Boston College – Average tuition fees USD 56,580 per year
Michigan State University – Average tuition fees USD 51,855 per year
Ohio State University – Average tuition fees USD 56,426 per year
Read: How To Build And Sustain Trust In Remote Teams
Skills needed to succeed in a remote accounting job
You will require six skill sets to perform exceptionally in a remote accounting job.
1. General knowledge of business
There is a constant expansion in the roles of finance and accounting professionals. Taking into consideration the frequent interaction with people of other departments, the accounting professionals of today need to be able to see the bigger picture and understand how every role affects the organization. Having sound knowledge of the business you are involved in is crucial to the quality of work that you bring forth to the organization.
2. Communication skills
As you will be applying for the post of an accounting professional, it is quite obvious that you will have to collaborate across different departments. You will be expected to communicate with many clients and colleagues. Those who you interact with might not be very savvy with numbers like you and therefore, you will have to be able to provide the information to them in an easily understandable manner.
Irrespective of whether you communicate through phone conversations, email, or online presentations, you will have to convey your information very concisely and clearly so that your credibility increases.
Though having technical skills can give you interviews for remote accounting jobs, it is essential to note that recruiters look for professionals with an executive presence, a collaborative personality, and adaptability. Conflict-management abilities are also a must. Although these skills are not taught in a classroom space, they can be learned by observing others dealing with professional situations.
3. Leadership skills
As an accounting professional, you will have to be an ambitious self-starter who can come up with novel insights, handle projects, and motivate team members while being a good leader.
When the leaders of your department or partners of your organization are handling the business aspects, you will have to be the aid when your colleagues require help in managing their initial busy-season audit. Your seniors might even look to you for innovative ideas with regard to the enhancement of compliance procedures and ensuring service continuity to clients.
4. Technical skills
Recruiters often find it difficult to hire people who can bring technical skills to a remote accounting job. The usage of software specific to finance is a given. Accounting automation is becoming very popular in many accounting firms and organizations around the world. Some examples of technical skills
Advanced ability to use Excel 

Experience with Enterprise Resource Planning (ERP) like Oracle, SAP, and the like

In-depth knowledge and practice with big data analysis, Structured Query Language (SQL), and advanced modeling techniques 

Familiarity with business intelligence software like IBM Cognos 

Microsoft Visual Basic skills

Possession of an aptitude with Hyperion for financial reporting and analyst roles 

Deep knowledge of QuickBooks for jobs in small and midsize firms
If you feel that you require more training in technical skills, request your recruiter for on-the-job training or take up training elsewhere for areas that you feel deficient in.
5. Orientation towards customer service
Customer service skills are a must, irrespective of whether you are involved in private or public accounting. If you are applying to a public accounting firm, you should be able to sustain the current customers and bring in new customers. If you are applying for a corporate accounting job, you should be able to cater to the needs of the other managers and departments of your organization.
Accounting professionals are expected to display good customer service skills by patiently listening to the concerns of the customers, external or internal. Having a positive attitude towards customers can be very beneficial, particularly when there is a lot of stress in the work environment. It is also important to ensure that you do not overpromise in matters of deliverables or deadlines.
6. Additional experience
Recent times have got recruiters looking for compliance, risk, and internal audit professionals who can ensure regulatory compliance. This stands valid especially in the virtual bookkeeping services industry.
Several organizations seek people who have knowledge and experience with Know Your Customer (KYC), Anti-Money Laundering (AML), Comprehensive Capital Analysis and Review (CCAR), and Financial Industry Regulatory Authority (FINRA).
Recruiters are also more likely to hire individuals who have experience in revenue recognition. The American Institute of CPAs (AICPA) provides courses of revenue recognition that can increase your understanding of the new revenue recognition principles and help you in making relevant decisions about revenue recognition.
Certifications to get remote accounting jobs
Professionals aspiring for accountant finance jobs, must possess a professional certification for better career advancement and obtaining good roles in a company. The best accounting certifications to get remote accounting jobs are elaborated below,
Certified Public Accountant or CPA – In the US, a CPA is considered in high regard and a potentially suitable candidate in accountant financial jobs. The course duration is of 1 year with 4 levels of examination. The certificate is granted by the AICPA, the American Institute of Certified Public Accountants
Chartered Global Management Consultant or CGMA – The certification is granted by AICPA and CIMA, the Chartered Institute of Management Accountants. You can appear for the exams anytime within four chances in a year
Certified Management Accountant or CMA – CMA is granted by the Institute of Management Accountants or IMA. The course duration is for 1 to 2 years
Chartered Financial Analyst or CFA – It is granted by the CFA Institute, a non-profit organization in the US. The time to complete the certification is 18 months, but it can be extended to 2 years.
Certified Financial Services Auditor or CFSA – CFSA is a certification specially designed for the auditors. You will need an experience of 2 years in any financial services firm
Certified Internal Auditor or CIA – CIA is granted by the Institute of Internal Auditor or IIA. The course duration extends from 18 months to 1 year.
Certified Information Systems Auditor or CISA – CISA certification is granted by the Information Systems Audit and Control Association or ISACA. You need to be experienced in systems auditing and security controls, to be eligible for the exam
Roles and responsibilities of remote accounting jobs
The key roles and responsibilities of remote accounting jobs revolve around maintaining and ensuring the financial and accounting records are accurate and are reported timely to all the stakeholders. Here is an elaboration of the duties that need to perform in finance and accounting jobs,
Prepare the financial records by gathering data from the transactional systems and manual entries
Check reconciliation errors during period-end closure of books and resolve them for accuracy in the financial records
Generate the financial statements and reports including Balance Sheet, Profit and Loss statements and cash outflow and inflow reports
Examine and scrutiny the financial statements to ensure compliance and adherence to the accounting standards and the statutory regulations
Computation of taxes on the financial transactions and file tax returns
Audit and inspect the books to prevent frauds and data manipulation
Proactive identification of financial risks and challenges and suggest undertaking the necessary precautions to prevent financial losses
Helps in preparing budgets and forecasts for the upcoming financial year or fiscal year
Introduce industrial standards and best practices to improve accounting efficiencies and even leverage accounting software for greater productivity
Suggest innovative ideas and methods reduce costs and increase revenue
Many professionals employed in the accounting jobs work remotely with ease, performing each of the duties mentioned conveniently from their homes or any co-working space.
Must Read: Best Remote Working Tools That Make Life Easy
Top 10 tools needed for remote accounting jobs
Appropriate and efficient accounting tools and software play a major role for home based accounting jobs. Virtual connects are an essential part of remote working and hence the usage of tools is a mandatory need for seamless functioning in any online accountant jobs or remote accountant jobs. The top 10 tools needed for remote accounting jobs are illustrated below,
Practice ignition – One of the widely used tools in accounting remote jobs, providing smoother client management and coordination.
DocuSign – Professionals working in remote accounting mode of employment prefer using DocuSign for e-signatures on documents used for agreements with clients and other confidential documents.
Accelo – One of the best project management tools for accountant work from home jobs. It offers a centralized system to maintain client information, billing data, project tasks, and activities.
Slack – Slack is the most preferred email and communication tool for remote accountants. You can set up meetings, appointments, and even send instant messages.
Google Calendar – It is one of the most widely used calendar and scheduling tools for accounting jobs online. The tools is available free, allowing the sharing of calendars
QuickBooks – A very popular and robust accounting tool for jobs in accounting and finance. It helps in bookkeeping, recording and managing invoices, expenditures, and revenue.
AuditFile – The tool is hosted in the cloud, allowing ease of audits and reviews, leveraged in many accountant bookkeeper jobs
Zoom – A renowned worldwide virtual meeting tool used extensively by the majority of the work from home accountant jobs.
Google Drive – An user-friendly file sharing tool, hosted in cloud and utilized to exchange files and organize documents. It is widely used in accounting online jobs.
Earth Class Mail – A remote accountant receives emails from many clients containing confidential financial files and documents. Earth Class Mail is one such virtual mailbox tool used in online accounting jobs from home.
Suggested read: How to earn money during COVID-19 quarantine?
How to get remote financial analyst jobs?
In order to obtain the best remote financial analyst jobs, you will have to fulfill a few requirements.
1. Getting the relevant education
To be able to qualify for the best entry level finance jobs, you will require the minimum educational qualification of a bachelor's degree in accounting, finance, business administration, or any other related field. A few recruiters also accept associate's degrees in accounting or bookkeeping. The required educational qualifications will differ according to the type of accounting field that you choose.
2. Choosing an area of expertise
If you want to find the best entry level finance jobs with flexible employers, you will have to choose the field of accounting you want to pursue. There are four major fields,
Public accounting – This job involves provision of services to a wide range of clients like corporations, government entities, small businesses, non-profit organizations, and individuals. 
Management accounting – Management accountants will be required to focus on producing financial analyses and decision-making advice to leaders of organizations in accordance with the goals, projections, and needs of a business. 
Government accounting – Government accountants are expected to record and manage financial transactions for taxpayers and government entities.
Internal auditing – This job primarily involves tracking and managing the internal control processes of an organization to minimize risks. Objective analyses of the organization's financial status will also have to be provided.
3. Availing certification
One of the most commonly demanded qualifications for virtual bookkeeping services is a Certified Public Accountant (CPA) License. To obtain this license, you will have to pass the Uniform CPA Examination which is administered by the American Institute of Certified Public Accountants (AICPA).
A CPA License can be kept current only by continuing education credits. To be an internal auditor, a different certification must be availed for which the Institute of Internal Auditors is a significant certifying organization.
Read: How to work from home successfully?
Top 25 dream companies for remote accounting jobs
Hiring for financial accounting jobs does not experience a downfall unless there is economic depression. Accounting Firms operating at a large scale, medium-size or smaller businesses are constantly on the look-out to recruit professionals for remote accounting positions.
These companies provide roles and careers in both accounting part time job as well as full time job. The top 25 dream companies for remote accounting jobs, that you must definitely target to enhance your remote accounting careers are mentioned below,
Accounting Principles, a job placement and recruitment firm
Citizens Bank, providing financial and banking services in the US
eXp Realty, a real estate and brokerage firm
Flagstar Bank, a financial services firm
Intuit, manufacturer of various accounting tools like QuickBooks
JPMorgan Chase, one of the Big Four banks, offering financial services
Kforce, a recruiting and staffing firm
Robert Half International, staffing, recruiting and consulting firm
Summit CPA Group, an accounting firm providing financial solutions
Supporting Strategies, provides financial services and operational support as an outsourcing agency
UnitedHealth Group, a healthcare company focusing on benefits and insurance coverage
USAA, offering financial services to US military personnel and their family members
Vaco, recruiting and staffing firm
American Express, established in 1850 and located in New York City, is a multinational financial service firm in the US
Allianz Life, a life insurance company in the US, providing life insurance and annuities products to its customers
Capital One Financials, a financial services firm in the US dealing with credit cards, bank loans etc.
Goldman Sachs, an investment bank and financial services company in the US, dealing with securities, assets, underwriting, securities and investment management activities
Morgan Stanley, established in 1585, is a financial services company and investment bank in the US
New York Life Insurance, one of the world's largest insurance firms
TIAA-CREF, financial and retirement services company in the US offering remote working facilities
Fannie Mae, a mortgage firm in the US, with 6 branches in the country
Chubb Limited, an insurance company, dealing with property and casualty insurance
Edward Jones, a financial services firm in the US, servicing customers in North America through 14,000 locations
Boston Consulting Group, founded in 1963 and established to perform excellently in leading-edge management consultancy and advisory activities.
Travelers, an insurance company in the US dealing with personal and casualty insurance for travelers
Important Fact: f you are worried about the question of "Where to search for remote accounting jobs near me?" then you must register on the different job websites advertising the vacancy for roles from the above-mentioned companies.
Read: How to land the best remote data analyst jobs?
Building a good resume for a remote accounting job
Your resume will reveal to the recruiters of a remote accounting job whether or not you are fit for a particular job position.
Personal details

including name, age, sex, nationality, and contact information. 

A

professional summary

that highlights your experience, skills, and candidacy. Ensure that you mention your most definitive characteristics in two to four lines. 

List out your

objectives

which will make the recruiter understand what you expect to gain from his or her organization and what your contribution will be. 

Mention all of your

accounting experiences

along with accomplishments, if any. These could include,

Size of the budgets managed by you 

Total amount of investments managed by you and the profits received from them  

The net worth of the company that you have worked for and your main responsibilities there 

Size of the investments reconciled by you

Number of contracts negotiated by you 

Total amount of money that you have earned or saved for the company using your efforts, knowledge, and experience

Educational qualifications must be mentioned.

Highlight the

soft skills

that you possess.

Make a list of the

technical skills

that you have which can benefit the organization. 

Write about your

interests

. 

Give valid

references

.
Tip: It is highly recommended that you quantify your accounting experience in your resume.
Read: Best resume software | Give the finest first impression
Hottest markets for remote accounting jobs
What makes these markets the hottest is the fact that most of them are based online, in remote-first or remote-only environments. Therefore, it is very easy to find remote accounting jobs here. These markets will also provide maximum potential for the growth of your career in accounting.
1. Cloud Accounting
In this digital world, almost every accounting firm is making use of cloud-based accounting apps. As a remote accounting job seeker, it is easier to find a career opportunity in a cloud accounting firm than in other market. Cloud accounting jobs will require you to use cloud-based accounting systems like Xero, QuickBooks Online, and Intacct along with software like Expensify, Gusto, and Bill.com.
Cloud accounting is the hottest market because it hires many more accountants remotely than a traditional office space does. Most of the cloud accounting firms hire remote accountants locally with the provision of work flexibility.
2. Software as a Service (SaaS)
The second most popular source of remote accounting jobs is the Software as a Service (SaaS) market. There are several SaaS companies that have come up all around the world owing to the rise of the subscription economy. This means there are more remote accounting jobs.
One issue with the SaaS companies is that they are very competitive. They offer competitive salaries and the best perks. They typically look for extremely strong talents, which is why an active CPA License and a bachelor's degree in accounting or a related field is required.
3. Ecommerce
Ecommerce has become very prominent in modern times where millions of customers are shopping online. Many online retailers do not have physical office spaces with accountants in them. Even those retailers who have physical office spaces distribute their workforce because accounting need not be done in the field.
To land a remote accounting job in ecommerce companies, you will have to become skilled in using apps such as Stripe and Shopify. For sales tax related job positions, you can get yourself familiar with apps such as TaxJar or Avalara.
4. Startups
Startups usually tend to be more accepting of remote work than already established businesses that work in physical office spaces. Several early-stage startups look to hire remote accounting professionals because, most often, only one person is needed to manage financial activities. They typically hire controllers, bookkeepers, and CFOs.
Tip: Create a network with fellow accountants to avail more opportunities for career growth. 
Also read: 34 Best Remote work communities on Reddit, Slack, Facebook
Online job boards for remote accounting jobs
After you pick a hot market, you can search for remote accounting jobs on online job boards.
1. FlexJobs – FlexJobs was founded by Sara Sutton. You will find over 50 categories of remote work on this job board. Several well-established companies post openings for remote accounting jobs on FlexJobs. With the payment of a small monthly membership fee, you can gain access to these job listings.
2. unremot.com: This is one of the most technologically advanced remote collaboration platforms for remote accounting jobs. One can find freelance/remote work from across the recruiters around the world, while also collaborating with them over video-based virtual rooms and chats.
3. Remote – Co-founded by Sara Sutton, Remote is a great website to find remote accounting jobs. Well-known companies are tied up with this job board. The job listings get updated regularly so you can always apply for a remote accounting job. There is no membership fee to search for jobs on Remote
4. Working Nomads – Working Nomads was founded by a couple of nomadic workers who traveled from city to city. This is why the list of remote jobs on this website are very authentic and of great quality. Almost all of the job listings on Working Nomads are full-time positions. The remote accounting job category is quite vast. From time to time, part-time and contract positions get listed on this website.
5. Indeed – A frequently visited job board, Indeed is quite popular for listing remote accounting jobs.
6. Simply Hired – Simply Hired is an online job board that offers very appealing remote accounting jobs. The job listings get updated regularly.
Polish your resume and go on a hunt for the best remote accounting jobs!
Further read: 14 Best Remote Job Sites: Start your job hunt at the right place!
Remote accounting jobs pay structures
Remote accounting jobs' pay structures to vary depending on the roles, seniority, and experience. Let us try to understand the different salary ranges of accounting finance jobs, for a fair idea of the job market.
An Accounting Payables Specialist earn in the range of USD 34K to USD 55K
A Tax Accountant earns approximately within the range of USD 51K and USD 88K
A Senior Accountant's pay structure is normally between USD 52K and USD 96K
A Finance manager earns a bit higher between USD 74K to USD 132K
An Accounting Director earns quite a decent salary ranging between USD 88K and USD 174K
A Controller earns almost similar to an accounting director USD 78K to USD 155K
A Chief Financial Officer or CFO earns a handsome salary staring from USD 86K to as high as USD 286K or beyond
All the above roles and the respective salaries are applicable for both jobs in full time and part time accounting work from home and even contract related accounting jobs.
Entry level remote accounting jobs
If you are opting for entry level remote accounting jobs, the roles that you can seek for are that of,
An accounting assistant
A role in accounting bookkeeping jobs
In part time remote accounting jobs as an accounts receivable specialist
In accountant jobs entry level as a clerk
For accounting jobs from home data entry related
Staff Accountant
The salary of both full time or part time accounting work from home jobs at an entry level varies between USD 54K to USD 74K. Remote accounting careers are significantly dependent on the certifications obtained, over and above the mandatory educational qualifications.
For the entry level full time or remote part time accounting jobs, a Bachelor's degree is mandatory in accounts, economics, or statistics.
Can an accountant work remotely?
Yes, an accountant work remotely and there are various roles for telecommute accounting jobs offered by many financial services firms. They either offer accounting contracts jobs or a full time and part time accounting jobs from home.
Bookkeeping jobs, telecommute CPA jobs, financial analysts, auditors are some of the options for a remote accounting job. To avail the benefits of hiring skilled personnel located at various regions, companies are preferring to create an employee base with remote workers for an accountancy finance job.
How much do remote accountants make?
The median salary in accountant telecommute jobs is almost USD 70K in a year. The less than 25% from the median are recorded to have earned USD 55K for an accounting job online. While more than 25% from the median, earned a salary of USD 93K per year in an online accounting work position. In US, the highest and best paying areas for an accounting finance job, are New York, USD 100K, followed by Salinas in North California and Bridgeport in Connecticut, USD 94K.
What is the highest paying job in accounting?
The highest paying job in accounting posts is that of a CFO or Chief Financial Officer. The salary starts from USD 86K and can rise as high as USD 280K or more. The next range of high paying accountancy jobs is that of a controller or an accounting director, earning more than USD 170K. A finance manager comes next in range, salary being more than USD 130K under the category of telecommuting accounting jobs.
Is accounting a stressful job?
Finance Accounting jobs involve accurate calculations and processing of financial data, statements, and reports. The data is crucial and vital since it is related to the financial stability of the company and is shared with the stakeholders. Errors may lead to penalties and loss of market value.
Hence accounting jobs at home are comparatively stressful compared to other occupations, but on the other hand, it is prestigious and challenging. Professionals in an accounting and finance job are respected and are the intellectual lot in a company, defining the financial health and goodwill.
Are accountants rich?
Certified Public Accountants or CPAs working as CFOs in an accounting job work from home, belong to the elite class of highest-paid professionals in the world. Besides if you can open your accounting firm or engage in a partnership with an accounting firm, even in accounting telecommute jobs, you can even become a millionaire.
At what age do most accountants retire?
The retirement age for online accounting jobs work from home was 60 to 62 years till two years back in 2018. The age is now being increased to 65 years and is expected to even increase to 67 years by the year 2023. Professionals who are working as partners in home based jobs accounting often retire earlier, within 58 years.
What is a remote accountant?
A remote accountant is an accountant who works remotely with flexibility while fulfilling regular accounting responsibilities. 
How to get remote accounting jobs?
Remote accounting jobs can be found on online job boards like FlexJobs and unremot.com.
What do remote accountants do? 
Remote accountants analyze financial statements, prepare and file tax returns, and supervise payroll operations.