Are you a data analyst who does not want to travel to work every day? If yes, then this is the perfect article for you. We have for you a complete guide on remote data analyst jobs.
Remote data analysts use specific data obtained from a company to construct maps and data presentations and apply different analytical methods to arrive at potential outcomes. They also interpret data in concise terms that can be readily interpreted by their clients and present the findings for use in strategic decision-making.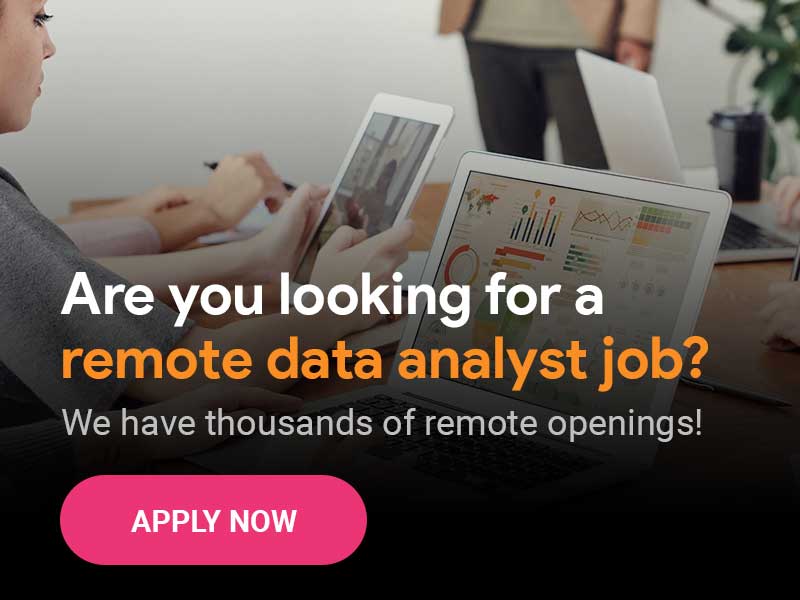 Accuracy, analytical thinking, and timeliness are just some of the important skills that any data analyst needs; so if these skills are right up your alley, you may want to start applying for those positions!
Read: Managing Remote Teams: 13 tips that will come handy
Market opportunity for remote data analyst jobs
Data analytics is required in almost all industries as it helps companies make sense of their data. It helps in transforming raw data, organizing it, and drawing conclusions based on the data to draw predictions.
Data Analytics has become a ubiquitous role across the industry due to the increasing amount of data. Data analyst is forecasted to be one of the most sought-after jobs in the year 2022 calling for almost 2.7 million job postings. The talent gap makes data analysis a promising job market for young professionals. 
To get a remote analyst job one must have good analytical skills and be comfortable with mathematics and statistics. Good knowledge of SQL and Excel is a mandatory requirement for employers. The World Economic Forum has predicted that close to 85% of companies will adopt big data and analytics technologies.
WEF has also found that 96% of the companies have plans or likely to have plans to hire permanent employees for data analyst positions with relevant skills and knowledge to fill the analytics related roles. This will also lead to rising in work from home data analyst jobs, remote jobs data analysts can do without being location dependent to keep up with the advancing times.
Also Read: 8 Remote Work Habits Of Every Productive Employee
Job titles and career paths under remote data analyst jobs 
Data Analyst is a highly rewarding career that offers several career paths to choose from based on your interest and preference. We have mentioned here job titles and career paths under remote data analyst jobs that you can consider,
1. Entry level data analyst roles
If you are willing to start your career in the field of data analytics but have no experience yet, there are several entry-level roles available depending on what career path you choose. Get started as a junior data scientist, junior data engineer, data analyst, BI developer as an entry-level professional.
2. Mid level data analyst roles
Once you gain experience as a data analyst and consider yourself proficient with the basic tasks and tools used in data analysis, look forward to advancing in your career. Getting a certification is a good option to get better roles and salaries. A mid-level data analyst can work as a Senior BI, Senior Data Engineer, Senior Data Analyst, Senior Data Scientist, etc.
3. High level data analyst roles
You have spent years of learning and honing your skills in the field of data analysis and finally, feel ready to take up higher roles. An advanced management certification or a master's degree in the field of analytics, or big data would help in getting you high-level data analyst roles.
Some of the job titles one can aim for while moving up the ladder are Lead data scientist, Director, VP, Product Manager, Lead data analyst, Lead data engineer, HOD, Team Lead, etc.
Also Read: Working from home with kids – Parent's guide to remote working
Responsibilities of remote data analyst jobs
Remote analyst jobs require searching for data and offering reports and visualizations to clarify what information the data hides. If someone helps people around the organization understand specific questions with charts, the position of the data analyst (or business analyst) is filled out.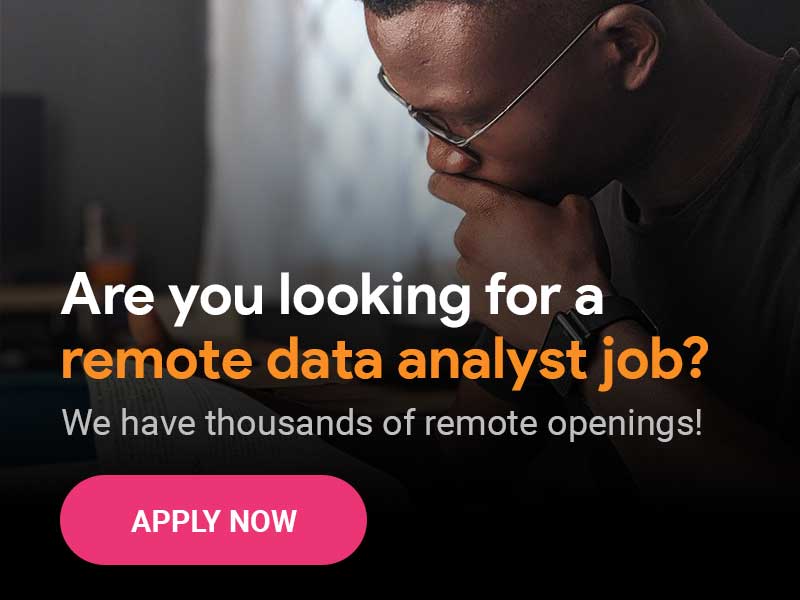 Remote data analysts are in some ways similar to junior data scientists, or a remote data analyst job could be said to be the first step on the road to a typical remote data science job. A remote market analyst is similar to work from home data analyst, and is more concerned with the market consequences of the data and the subsequent behavior.
For example, will the firm need to spend more in Project X or Project Y? Data analysts would use the work of the data science team to convey a solution.
The opportunities for remote data analyst jobs are
Full-time – If you choose full-time remote data analyst jobs, you will be expected to dedicate every working day to one company only.
Part-time – If you choose part-time remote data analyst jobs, you will be obligated to work for only a few hours. You can be a freelance data analyst with this choice.  
Contracts – In contract remote data analyst jobs, you will have to serve a company for a specific time duration as mentioned in the contract.
Tip: Work continuously on the analytical tools preferred by a company of your choice before applying for a remote data analyst job there.
Also Read: Deep Work Summary: 5 Key takeaways to help you be more productive
Qualification needed for remote data analyst jobs
We are listing down the qualifications needed for remote data analyst jobs in a 5 step guide below,
1. Earn a Bachelor's Degree
Get a bachelor's degree in the field of finance, statistics, information technology, computer science, etc. Keep focused on project management or database management subjects during these courses. Few universities that offer bachelor's degrees in analytics are Florida International University, Iowa State University, Virginia Tech, etc. 
2. Learn basic data analysis
Take an online course, or get yourself an internship to learn the basics of data analysis. The chances of getting a remote analyst job are low for inexperienced professionals. You can also take up freelancing work to gain some knowledge in the field of data analytics.
3. Go for Certification courses
To further enhance your skills, expertise, and knowledge in the field of data analysis, consider enrolling yourself in a certification program. It will help you get an edge while applying for a role as an analyst. Also, look for data analyst jobs remote work requirements to work from home.
4. Get an entry-level data analyst job
After you have gained some experience and a basic understanding of data analysis get yourself an entry-level job or work as a junior data analyst. A positive mindset, quick problem-solving skills, and critical thinking are few skills that employers look for while hiring as a data analyst.
5. Consider a master's degree
After six months to one year, if you are proficient in your work, it is time to move up the ladder. Take up an advanced certification course or go for a master's degree in data analytics, big data management, or data sciences.
Many universities partner with companies to help you get a master's degree while working. George Washington University, Virginia Tech, University of Delaware are some good universities that offer master's courses in analytics.
To summarise, below is a list of requirements that you will have to fulfill certain remote data analyst job requirements before applying to companies.
A bachelor's degree in computer science from an accredited university or college

Experience as a data analyst, or a similar job position

Ability to collaborate with other parties to determine possible risks

Ability to analyze existing databases and tools, and provide recommendations for software solutions

Capacity to translate market needs into words that are non-technical and lay

High level experience in large scale database management methodologies and processes

Established expertise in managing big data sets and relational databases

Knowledge of addressing and metadata standards

Great communication skills, both written and verbal

Quiet workspace 

Good internet connection 

Efficient work schedule
Also read: 34 Best Remote work communities on Reddit, Slack, Facebook
Remote data analyst job skills
Some of the most important remote data analyst job skills are,
1. Analytical skills
To do well in data analysis, you will need a general analytical mindset. Remote data jobs require problem-solving. You will need to be skillful in facing certain problems and applying logic methodically to solve them.
2. Mathematical skills
It can get unwieldy when the data becomes big. The data you deal with will need to be analyzed and organized using mathematics. The level of mathematical skills depends on the details of your job position and its responsibilities. Yet, it is fair to expect that the average data analyst will be well-versed with statistics, linear algebra, and calculus.
3. Statistical skills
You will need statistical skills to play with the results. Data allows you to make use of it to slice and dice, and gain the information you need to draw logical conclusions. You need to learn statistics to derive information on larger populations from smaller data sets. This is the basic law of data analysis.
4. Data interpretation skills
Data analysis all about the process of transforming numbers into insights. A data analyst in the corporate world should concentrate on analyzing vast data sets and linking them to activities that can generate business impact.
5. Data visualization skills
The final review of the data is only half the fight. You will need to persuade others to believe and follow your ideas to achieve an effect. People are visual beings. For us, processing information by analyzing a thoughtfully created chart or graph is usually much simpler than looking at a spreadsheet.
6. Algorithmic skills
An algorithm is a well-defined series of steps for solving a particular problem. Data analysts use algorithms to guide computers to obey a set of rules or patterns. Understanding how computers can be used to do the job is important for processing and analyzing data sets that are too big for the human mind to handle.
7. Machine learning skills
Machine learning is the set of algorithms used to make predictions based on a collection of known information. It helps Amazon recommend items that are focused on the history of your purchase without any human intervention. This collection of algorithms will use the power of computers to discover knowledge for you. To manage large data sets, you would need to use computers to expand your thoughts.
8. Deep learning skills
Deep learning usually refers to the collection of machine learning algorithms that expand a simple neural network to higher complexity levels, allowing them to operate on much larger data sets and perform far more operations than standard models. Typically, the data becomes this big with the processing of images and signals.
9. Natural Language Processing (NLP) skills
Natural Language Processing (NLP) utilizes computer science, linguistics, and machine learning techniques to interpret the human language, usually as unstructured text. Popular NLP applications include: text classification (for example, is this news story false or real?), sentiment analysis (for example, how much do consumers like my product?) and topic modeling (for example, what are some popular themes that people speak about?).
10. Business skills
Data means nothing if it is not contextual. Most businesses rely on their data analysts not only to mine data sets, but also to communicate their findings to different stakeholders and to bring forward suggestions that can be implemented. Communication is an ability that is often underestimated but can make or break a project.
Not only do the best data analysts have the ability to work with massive, complex data sets but they also appreciate the intricacies of the enterprise or company for which they work. Having general business knowledge enables them to ask the right questions, and come up with insightful solutions and suggestions that are actually feasible despite any constraints that the company may impose.
11. Communication skills
As a remote data analyst, you will need to have in-depth knowledge of your organization and also understand the wider market in which it works so that you can interpret the insights effectively. Once your interpretation is complete, you will have to be able to convince your organization and other parties involved to accept and approve your solutions and suggestions. Communication skills are key to getting your analysis across and creating a difference for your organization.
Also Read: 14 Best Productivity Tips to Achieve More At Work & Life
Certifications to get remote data analyst jobs 
Data Analytics is a popular field required to measure the success of companies by analyzing their data. Data and big analytics have become the lifeline of several businesses. Data analyst jobs work from home has become the most sought after role in the field of technology. There is a skill gap between the number of positions available and skilled professionals.
If you are interested in remote analyst jobs, a certification program will help you get into the entry-level roles. A certification course helps you gain the expertise and knowledge required to grow in the field of data analytics and big data. There are several certification programs that you can opt for to gain skills and experience and get a higher salary in the data analytics field. We have listed down the ten most popular programs for remote analytics job below,
Microsoft Certified Solutions Expert (MCSE): Data Management and Analytics
Cloudera Certified Associate (CCA) Data Analyst
Certified Analytics Professional
SAS Certified Data Scientist Using SAS 9
EMC Proven Professional Data Science Associate
Microsoft Certified Data Analyst Associate
Microsoft Certified Azure Data Scientist Associate
Associate Certified Analytics Professional
SAS Certified Advanced Analytics Professional Using SAS 9

Amazon Web Services Big Data Speciality Certification
Also Read: How to work from home successfully?
Perks of data analyst remote jobs
The below is a summary of perks of being into remote data analyst jobs,
1. Flexibility
In a job that can strain the eyes and exhaust the brain, a flexible schedule would let you take breaks when your body needs them. Additionally, a flexible schedule allows more flexibility for non-work related tasks, meaning you would not forget to feed your cats or frequently clean your house.
Working at your own speed will lead to a greater understanding of the job you are doing and a lower risk of professional burnout. Remote finance analyst jobs with a flexible schedule will give you the freedom to work in a manner most convenient to you.
Co-working rooms, coffee shops, the local park or your home office can be picked for your work. Wherever you determine that you are most successful is where your remote finance analyst jobs can be done.
2. Convenience for ambiverts
Ambiversion is a concept not so commonly recognized as extroversion or introversion. Remote business analyst jobs may be a dream occupation for ambiverts, who can cope with moving from introverted to extroverted personalities.
The introverted side would appreciate that working with colleagues remotely restricts interactions and helps you to work at your own pace, without waiting for others. Remote working also makes for a more comfortable atmosphere without noise, disturbances, and unnecessary experiences that stem from anxiety.
Although this may restrict the practice of certain social skills, there is always the possibility of keeping in touch through video calls. You will also be called in remote work to actually show the analyzed data, which is where the extroverted aspect of you comes into play. A good dose of daily contact is a perfect refresher for social situations.
The best thing is that you can analyze your data in isolation and develop your presentation skills so that you can deliver your results without a delay on the day of submission of data analysis.
3. Better productivity
Considering that you are a self-motivated person who needs little or no guidance, you will find that when working remote business analyst jobs, the quality and quantity of your work increase. With fewer distractions and the comfort of working in your own office, you may find extra motivation and become more successful in getting things done.
Sometimes, the breaks you take will be your driving power, resting you for a fraction of time. They can be a big factor in enhancing the quality of your work in an area like data analytics, which demands the utmost attention and concentration.
4. Independence
When you are a work from home data analyst, you are basically your own boss when it comes to performance development methodology. You need not wait for someone else's data or work needlessly for systems that only slow you down.
When remotely working on data you will sharpen your decision-making skills and select the most appropriate analytical techniques and presentation approaches to convey your findings.
You can also practice and improve your self-disciplinary skills and cultivate appropriate work habits without someone looking over your shoulder all the time. With this advantage, you can even be a freelance data analyst.
5. Broad application of data analytics
People usually point out the difficulty of blurring the line between home and workplace while operating remotely. Yet from a different viewpoint, it is likely that the skills you learn at work can be the same skills that can support you in life.
Working in data analytics can sharpen your eyes to become more accurate and fine-tune your focusing abilities. You can also be motivated to make informed decisions by using your data analysis skills, like almost knowing the exact outcomes you should expect from a situation and planning accordingly.
Keeping these five benefits in mind, it is clear that remote data jobs provide versatility and freedom that will boost the work-life balance that everyone yearns for. They will also help you avoid long and tiring commutes, droning meetings, and much more.
Tip: Consistently sharpen your statistical and technical expertise to gain more success.
Suggested read: Synchronous & Asynchronous Communication For Remote Work
Top 10 tools needed for remote data analyst jobs
Here is a list of the top 10 tools needed for a remote data analyst job,
1. R-Programming/ R-Studio – R is the leading data analytics tool used for statistical analysis and data science. RStudio is the most widely used integrated development environment. 
2. PYTHON – Python is an extremely convenient programming language compared to others. It is used for data crawling, cleaning, modeling, and constructing an analysis algorithm in data analysis.
3. SAS – SAS is a programming language used for data manipulation. It is easily accessible, manageable, and used for data analysis from any source.
4. TALEND – Talend is a tool used by data analysts who focus more on the technical part of data management. It is a Java-based ETL tool and data integration platform used by experts.  
5. Apache Spark – Unified Data Analytics Engines like Apache Spark support big scale data-processing with the help of an extensive ecosystem consisting of Spark SQL, streaming, machine learning, graph computation, Python APIs, etc.
6. Excel – Spreadsheet applications are one of the most conventional forms of data analysis tools. Excel can be used in data analysis for quick analysis of data where complex computation is not required. 
7. Splunk – Splunk is a data analysis tool that helps in searching and analyzing machine-generated data. Users can pull all kinds of data, perform analysis on it, and present it in several formats.
8. Rapidminer – Rapidminer is one of the top data analysis software used for remote analytics jobs. The tool is powerful enough to generate analysis based on real-life data transformation settings. 
9. Highcharts – Highcharts is a data visualization tool and platform. It is a multiplatform-library that helps developers in adding interactive charts into web and mobile projects.
10. Tableau Public – Tableau Public is free software that will connect any data source to real-time updates presenting on the web which can further be shared on social media or with a client.
Good Read: Time Blocking: All you need to know about this powerful technique
Top 25 dream companies for remote data analyst jobs
Here are the top 25 dream companies for remote data analyst jobs,
Microsoft

is an American Multinational Technology Company. It has several

part-time remote data analyst jobs

to offer.

Exzac

provides professional consulting services and risk management. It is one of the major

data analyst remote jobs

providers.

Hallmark Global Technologies

is a world-renowned end-to-end IT services company.

Nicholis State University

is a public university in Thibodaux, Louisiana. It offers several roles in the field of data analysis.

Pure Storage

found in 2009, develops all-flash data storage hardware and software products. 

Ulab Systems

is developing groundbreaking technology for digital dental treatment planning.

Sigma Data Systems

is known to provide its expertise in the world of Big data. It helps clients by understanding the problem and providing a solution using several tools and frameworks.

SPEC INDIA

is a company with 30+ years of established experience.

MobiDev

has 11 years of experience in providing end-to-end delivery from consulting to design to product support.

Light IT is a data science company that provides software solutions of all kinds.
XenonStack is an enterprise data and AI platform development and solutions company for Hybrid, Multi-cloud environments.
HQSoftware is a business software development company with offices in Europe and the USA.
Prolifics is a global digital transformation company with expertise in data and analytics.
Xplenty offers solutions for marketing sales, customer support, and developers in several industries like retail, hospitality, advertising, etc.
SG Analytics is one of the leading companies working in the field of data research and analysis around the world.
Sumatosoft provides expertise in the field of data analysis and the Internet of Things.
Sciencesoft is based in the U.S. It is an IT consulting and Data Analytics company.
Pragmatic Works has over 25 years of experience and has an official partnership with Microsoft.
Beyond the Arc provides valuable insights into Data Analysis, Data Management, and Content Marketing.
PSL Corp has an industry hold in the fields of Advertising, IT, Cloud computing, etc.
Trianz is an American based company known for Digital Transformations.
Beyond Key Systems is a software development and IT consulting company that offers data analyst remote jobs.
Geomotiv

is a software development company with specialists in a wide range of technologies.

Accubits is a global solutions provider that applies Artificial Intelligence and blockchain technologies.
HoC Solutions is a U.S. based blockchain development company.
Read: 14 Best Remote Job Sites: Start your job hunt at the right place!
Top job boards to find remote data analyst jobs
Now that you have all the skills and a great resume, you must be wondering how to get a data analyst job remote. Online job boards are the best places to find remote data analyst jobs.
Tip: Develop good connections on LinkedIn for better job prospects.
1. Working Nomads – Founded by a couple of nomadic workers who traveled from city to city, Working Nomads provides a great list of authentic and high-quality remote jobs. Almost all of the job listings on Working Nomads are full-time positions. The category of remote data analyst jobs is very appealing. From time to time, part-time and contract positions also get listed on this website.
2. unremot.com: This is one of the most technologically advanced remote collaboration platform for remote data analyst jobs. One can find freelance/remote work from across the recruiters around the world, while also collaborating with them over video-based virtual rooms and chats.
3. Remote OK – Remote OK is an online job board of great quality where you can find a range of remote jobs, including remote data analyst jobs. It has an impressive and regularly updated list of job opportunities for remote data analysis.
4. FlexJob – Founded by Sara Sutton, FlexJobs offers over 50 categories of remote work. Many reputed companies post openings for remote data analyst jobs on this job board. You can gain access to these job listings with the payment of a small monthly membership fee.
5. Remote – Remote dot co was co-founded by Sara Sutton. It is a great website to find remote data analyst jobs. Several well-established companies are tied up with this job board. The job listings get updated regularly so you can always apply for a remote data analyst job. There is no membership fee to discover jobs on Remote.
6. Simply Hired – Simply Hired is an online platform that offers very appealing opportunities for those who seek remote data analyst jobs. This job board also regularly updates its list of job openings.
You can now apply for the best remote data analyst jobs and work from the convenience of your home!
Important resume elements for remote data analyst jobs
Your resume is what will speak for you when you apply to remote data analyst jobs,
Personal details

including name, age, sex, nationality, and contact information. 

A

professional summary

that highlights your experience, skills, and candidacy. Your most definitive characteristics must be mentioned in two to four lines. 

List out your

objectives

so that the recruiter understands what you expect to gain from his or her organization and what your contribution will be. 

Highlight the

skills

you possess which are relevant to remote data analyst jobs.

Educational qualifications

must be mentioned. 

Any

additional certifications or training

must be included. 

Mention all of your

data analyst experiences

along with their assigned responsibilities.

Write about your

accomplishments relevant

to data analysis.  

Mention your

interests

. 

Give valid

references

.
Read: Best resume software | Give the finest first impression
Remote data analyst jobs pay structures
An entry-level remote data analyst is not paid much when compared to average US income but it is still pretty good. An entry-level data analyst earns around $34,500 annually which keeping in mind the complexity of the job is decent.
Once you have gained some experience and got promoted to the role of a junior data analyst, the pay gets significantly better. According to Glassdoor, a junior analyst gets a salary close to $70,000 per year. Making the number higher than the average salary.
With more experience, as you progress to be a senior data analyst, you can earn a bit under $107,000. Data Analyst can be a high paying and rewarding job for someone skilled and experienced. At a higher level, it gets easier to find data analyst jobs from home.
Entry level remote data analyst jobs 
A data analyst needs to have a bachelor's degree in either finance, economics, statistics, mathematics, etc. An entry-level data analyst can earn anywhere between $40,585 – $78,832. To work efficiently as a data analyst one must be proficient in any one of the programming languages.
High decision-making skills, comfortable in Microsoft excel, excellent communication skills are some of the desired attributes to become a data analyst. A data analyst can get started in the industry as a junior data analyst and move further ahead as the experience increases.
If you are entering the field of data analysis without any prior experience, consider taking an online course and certification. After successful completion, look for an internship or some freelance work before applying for a high profile data analyst job.
What is the career path for a data analyst? 
There are several roles a data analyst can hold during their career span. A data analyst with no experience can get started as a business analyst or a junior data analyst with a basic certification course in data analysis.
After one to three years of experience, one can get promoted as a data analyst. After two to three years in the field, you can progress to be a senior data analyst, a data analytics consultant, or a data scientist.
Can a data analyst work remotely?
If the question " can a data analyst work remotely" has crossed your mind then the good news is yes, it is completely possible to be location independent while working as a data analyst as they have to work individually on a personal system.
Remote data analyst is required to analyze and examine data for drawing predictions for their clients. Part-time remote data analyst jobs are also available for people who do not wish to work full-time.
What are the top 3 skills for data analyst?
Structured Query Language, SQL

is the most important skill that a data analyst should know. SQL is a necessary tool required to manage and store data and a data analyst should be familiar with SQL query to analyze and manage large databases.

Critical Thinking Ability helps search for a solution for a database query. It also helps in understanding what data to collect and how to process it.
Proficiency in Microsoft Excel is required for a quick analysis. Excel is not suitable for handling large data but advanced Excel methods like Macros and VBA are still widely used.
Is data analyst a hard job?
Data analyst is not a hard job. You have to be consistent in your learning and slowly and gradually you will start getting it. If you love numbers and solving problems, the role of a data analyst can be fun and extremely challenging. Familiarity with a programming language will make it easy for you to be a data analyst.
Is data analyst a stressful job?
Data Analyst requires to sot through a huge number of data and solve complex problems using data analytics techniques. It requires you to work independently work for long hours and can be stressful if you do not find it interesting. For someone who loves working with numbers and finding solutions to complex problems, being a data analyst can be fun and adventurous.
Can data scientists work from home?
Data Scientists can work from anywhere remotely as it majorly consists of analyzing data, crunching numbers, coding, presenting insights, and creating prediction models based on it. Data Analyst work from home option is not new to the industry as more and more professionals are looking to work remotely. Data Analyst works remotely as their work is independent and can be done on an individual system.
Are remote data analysts in demand?
Yes, the changing times and the fast-paced digital world have raised the demand for remote data analysts.
What does a remote data analyst do?
A remote data analyst helps companies make better decisions through analysis of data like sales figures, transportation costs, and market research from a remote location. Remote data analysis also involves translating numbers into simple English.
What are the remote data analyst skills?
Remote data analyst skills include – mathematical, analytical, problem-solving, and programming skills, to name a few.
How do I get a remote data analyst job?
You can get a remote data analyst job through online job boards like unremot.com, Glass Door, and Indeed.