Are you a person who lives for the thrill of a new project? Do you love delegation, organization, and checking off milestones? Would you always volunteer to supervise your class in school and become the leader of group projects in university?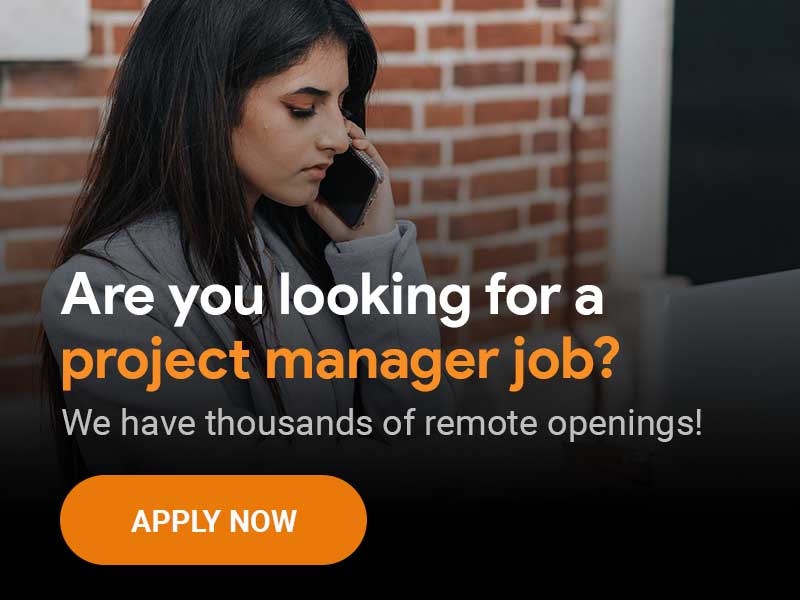 If your answers are yes, yes, and yes, project management is the job for you! Every project in every industry requires a manager. Project management-oriented jobs are on the rise.
But, are you worried that you cannot pack your schedule with commute time every day to get to work? Don't worry, because we have all the information you need about remote project manager jobs.
You can work from home and fulfill your passion for project management. Before we go on to remote working, you need to understand who exactly a project manager is.
Who is a project manager?
Every time that any company takes on a project, anything from the construction of a building to the publishing of a book, there is a requirement for one person to oversee the project from inception to completion. This person is called a project manager.
A project manager has to supervise all the moving parts, make a list of everything that needs to be accomplished, delegate work, mark off the work accomplished, and hold responsibility for the success or failure of a project.
Some industries have been raised on the backs of efficient project managers from the very beginning like those of manufacturing and construction.
Read: Managing Remote Teams: 13 tips that will come handy
The whole process in these industries revolves around producing a building or making a product. Technology has led to a fast-paced world where conducting business and reaching out to customers has become quite complicated.
Project managers are now highly demanded in other industries as well, including online businesses and entrepreneurial endeavors. If you are someone who is inclined towards remote working and have very good organizational, leadership, and communication skills, remote project manager jobs are the best pick for you.
Types of remote project manager jobs
Remote working is much in demand today. Remote working is work that is done away from an office space, in a remote location. If your area of interest is project management and you want to work remotely, you can definitely obtain work from home project manager position.
The job opportunities for a remote project manager are,
Full-time – If you choose a full-time virtual project manager position, you will be expected to dedicate your time to one company only. 

Part-time – If you choose a part-time virtual project manager position, you will be obligated to work for only a few hours. 

Contracts – In a contract work from home project manager position, you will have to serve a company for a specific time duration as mentioned in the contract.
Remote management jobs are not difficult to come by. You need to understand the responsibilities of remote management jobs, have certain skills and traits, and a good resume before finding the remote project manager job best suited for you.
Read: 8 Remote Work Habits Of Every Productive Employee
Tip: Get yourself familiar with project management tools like Slack and Trello.
Market opportunity for remote project manager jobs
The market opportunity for remote project manager jobs is no less compared to other remote jobs. Coordinating and managing remote teams through robust online audio and video conferencing, planning, and organizing tools have been quite easy in the modern era. More and more companies are posting for job opportunities on job portals and websites.
Companies with a global presence, seek local language speaking project managers many times. This is essential to meet their requirements of executing projects in regions where customers prefer interacting in local languages.
Important Tip: It is recommended to collect substantial feedback about the company before applying for the jobs.
Career paths under remote project manager jobs
Project Managers have a bright career path and there are numerous roles available in the market. Almost all industrial sectors look for project managers for planning, organizing, coordinating, status tracking, and for the end to end delivery of projects within the stipulated time. Some of the key career paths under remote project manager jobs which you can opt for are,
1. Junior Project Manager
It is good to start your career as a junior project manager where you are entrusted in controlling small projects or programs. You must have a minimum experience of working in a similar kind of engagements as a module lead or track lead. This particular role in the list of remote project manager jobs will provide you with practical hands-on experience as well as additional exposure while working under senior project managers.
2. Senior Project Manager
Once you earn substantial experience in project management, then you can opt for the higher roles. The senior project manager role is essential to manage and control a project of magnitude say of 100+ members. Sometimes it can be multiple projects say 3 in number.
3. PMO or Project Management Office
You can even join as a PMO for a company. The PMO works closely with the program manager, project manager, and the program sponsor. The main duties involve status tracking, progress monitoring, revenue tracking, milestone checking, and risk management. They do schedule meetings as part of program governance and control procedures.
Market opportunity for remote project manager jobs
The market opportunity for remote project manager jobs is increasing exponentially at the rate of almost 1.5 million jobs per year. The prestigious Project Management Institute or PMI anticipates that the job openings for remote project managers to reach about 22 million by the year 2027.
The simple and basic reason being project managers are in demand in every industrial sector like Financial Services, Construction, Fashion, Retail and CPG, Utilities, Heath care, Digital businesses, IT, etc.
The salaries of the remote project managers are also quite lucrative. The entry-level remote project manager salary is about USD 59,680. The growth is fairly high and as you advance in your career the salary structure also enhances. Companies seek specialized, certified, and highly experienced project managers to plan, organize, and execute successfully the end to end projects and programs. Hence the demand curve never tilts down.
Besides, many companies provide special recognition awards to the best project managers. These awards motivate them to invest more and more time and effect on the successful delivery of the programs. And that is the key criteria of the company's success in the competitive market.
Every year the PMI announces special professional awards for the Project of the Year, PMO of the Year, Project Excellence Award, Fellow Award, Young Professional Award, and many more. The sole objective is to increase the talent, passion, and motivational level of professionals in the field of project management.
Responsibilities under remote project manager jobs
You must fully understand what will be expected of those who apply for project manager jobs remotely. The responsibilities of work from home management jobs are,
1. Developing a project idea
When you are part of a company, you will come across different kinds of clients with different expectations. Some clients may give you the exact details of what they expect to be done in a project and how to do it while some others may simply present an idea and expect you to figure out how it can be accomplished.
Whatever may be the case, work from home management jobs carries the responsibility of breaking a project down into actionable steps.
2. Assembling the required team
Those with remote project manager jobs will be expected to put together an efficient team that can accomplish the different objectives of a project.
For example, if your project is to build an effective social media marketing campaign with short video clips, you would have to hire a graphic designer, videographer, copywriter, market researcher, commercial composer, and other people as required.
3. Establishing coordination among the different parties involved
After assembling the required team, remote project managers have to give assignments to every team member. You will have to lead the team and ensure that all the members have clearly understood what is expected of them.
You will be required to keep the members on target and pump them up with the enthusiasm and creative energy. Any delays must be looked into quickly so that the momentum of your project does not suffer.
This could include dealing with work that has been poorly executed or replacing those team members who are unable to do the work they signed up for.
Recommended read: Best Remote Working Tools That Make Life Easy
4. Taking care of the project budget
Project management also involves money management. You should be able to handle the cost of production, freelancers, and services to the satisfaction of your client.
5. Meeting deadlines
Remote project managers have to ensure that the team reaches every milestone on time. This is absolutely essential for the final project to conclude on the appointed day or even earlier. A project thrives on its deadlines, especially in a rapidly-moving online world that is highly dynamic.
Read: Time Blocking: All you need to know about this powerful technique
6. Engaging with the parties involved
Apart from established coordination with your team members, you will also have to engage in communication with all the parties involved. If your client is just one person, then you will have to continuously interact with him or her, and if it is a company, then you will have to interact with several people from that company.
This must be done in a respectful and professional manner. You must make the effort to understand the culture of the company when you are communicating with their managing employees.
7. Facilitating a smooth transition
For projects that involve a continuous service such as the launching of an app, or minimal upkeep such as book promotion, remote project managers will have to oversee the handoff from their team to the client.
Taking note of these responsibilities can be useful when you establish guidelines for your project.
Tip: In stressful situations, regulate your breathing pattern so that you do not lose your temper with your clients or team members.
Preferred skills & traits for a remote project manager jobs
To be successful in project management, certain remote project management skills and traits are required. These are,
Organizational skills – These skills are the most important skills needed for remote project manager jobs. You will need to know from where you can recruit strong talent, how to create and stick to a budget, and plan assignments for yourself and your team members. 
Read: How to achieve & maintain Work-life balance
Communication skills – Remote project manager jobs involve a lot of finely-tuned communication. You will have to interact with clients, people from the industry, and your own team members. Effective communication is the key to keep your project going, especially in remote work. 
Contract management skills – You must be able to obtain contracts regularly in order to make profits. Contract management involves being able to manage resources within a fixed budget and meeting deadlines. 
Risk assessment skills – Depending on the kind of industries you get projects from, you will have to obtain specific knowledge about the services, processes, and terms about that industry. This will help in gauging the possible risks to your project and you can take action accordingly. 
Technological skills – As you will be working remotely, you must have the skills and knowledge to use various digital platforms for project management such as Slack, Basecamp, Smartsheet, Microsoft Project, Trello, and the like.
Emotion management skills – Remote project manager jobs can be very stressful. You must be able to handle your emotions well so that they do not interfere while communicating with the parties involved in your project. Recruiters always look for people who can stay composed under immense pressure.   
Adaptability – It is very essential for remote project managers to be adaptable. You will be expected to adapt to the changes in industries, team members, clients, and technology. 
Creativity – It can get difficult to manage big projects and huge teams. Creativity needs to come forth in the form of a plan of action and communication with team members and clients so that work gets done smartly and smoothly.
Read: Team Communication 101: What is it & How you can crack it!
Apart from skills, you will also require experience. If recruiters see on-the-job experience on your portfolio, they are more likely to hire you. It is highly recommended that you establish well-placed connections who can vouch for you.
You can start building your portfolio with small projects that will show potential recruiters that you are truly passionate about project management and have the skills and experience to positively contribute to their projects.
In addition to skills and experience, you can further your training through certification courses from online colleges like Liberty University and Kaplan University. You can also apply to the Project Management Institute (PMI) for certification. This institute offers many types of certification with varied requirements in education and experience. 
Recommended certifications to get remote project manager jobs
An efficient and smart project manager is the key to the success of a program or project. Though prior experience plays a crucial role in project management, certification is no less important in enhancing the knowledge level.
In other words, project management certifications are a big boon in your career growth and enhancement. Even companies check for certifications in your resume to rank candidates during the hiring process. The recommended certifications to get remote project managers are enlisted below for your easy reference,
1. PMP or Project Management Professional
PMP certification is the best in the industry. You need a Bachelor's degree or a Diploma to apply for PMP. The other pre-requisites are 4500 hours to 7500 hours of project management experience and 35 hours of project management training. The price is USD 405 for members and USD 555 for others.
2. PRINCE2 Foundation or Practitioner
Both the certifications are approved and recognized globally by major companies and firms. You need to complete the Foundation certification or PMP to apply for the Practitioner certification. The fees are USD 200 for the Founder and USD 340 for the practitioner
3. CAPM or Certified Associate in Project Management
CAPM is a prominent certification for increasing your knowledge level. It is valid for 5 years. You either need a Diploma or Bachelor's degree with 1500 hours of experience or 23 hours of project management training. The price is USD 225 for members and USD 300 for others.
There are other certifications also like the CSM or Certified Scrum Master, CPMP or Certified Project Management Practitioner, PPM or Professional in project management, etc.
Top 10 tools needed for remote project manager jobs
Remote working demands the usage of robust online tools for better management and coordination with the team and with the company leadership.
Slack – Slack is one of the best remote working tools for collaboration using messaging and chatting facilities.
ProofHub – ProofHub enables us to create tasks, Kanban boards, Gantt charts, calendars for tracking schedules, and store documents and other files.
Jira – Jira is used mainly for managing agile projects. It has the features to define projects, tasks, activities, timeline, and assigned person for each task.
Basecamp – Basecamp is very popular among remote workers as a project management tool. It helps to keep proper track of their tasks through the usage of to-do lists, calendars, and file-sharing functionalities.
Asana – Asana is used for efficient work management and team collaboration. It helps to create and manage projects, tasks, and assign tasks to their team members.
Teamwork – Teamwork is a widely used time management tool where the team members can log in their time against the assigned tasks.
Time Doctor – Time Doctor is used for time management and tracking, allowing to record time to the granular level of projects, tasks, and sub-tasks.
Hub Staff – Hub Staff helps to record tasks and track the progress of the tasks. It also provides an insight into the team bandwidth utilization percentage
Todoist – Todoist provides facilities to create a to-do list consisting of tasks and subtasks for each of the members within a remote team.
iDoneThis – iDoneThis is a user-friendly remote collaboration to maintain a to-do list online and logging in effort and time for the assigned tasks.
Top 25 dream companies for remote project manager jobs
Project Management is a popular workstream in the majority of companies. Many have a lucrative offer at their disposal to hire the best of the professionals as their project managers. A hardworking, knowledgeable, and person with excellent communication and interpersonal skills are the need of the day.
But all ambitious and career-oriented professionals have in mind a dream to work in prestigious companies for a better experience and faster growth. Here are the top 25 dream companies for remote project manager jobs, where you can apply for your preferred roles,
Appirio with an employee base of 700,000 and headquartered in San Mateo in the US
Carlson Wagonlit Travel present in over 150 territories and countries worldwide
Automattic, a web development company
Coalition Technologies, a web design, and online marketing agency
Datavail, an IT company in North America
Dell, a world-famous provider of computer technologies
General Dynamics, a defense and aerospace firm, present worldwide
GitHub, a website providing solutions for programmers to network and publish content
PRA Health Services, a research firm specializing in introducing life-savings drugs and medicines
UnitedHealthGroup, a healthcare firm with 180,000 employees
Genuitec, a software firm providing technologies to about 16,000 companies in different parts of the world
Groove, working in a completely remote environment and providing software products and services to 4500 businesses
Hubstaff, a company specializing in creating tools for time management, payroll processing, and attendance tracking
InVision, working with remote staff in 14 countries
10up, a consulting company for web strategy, engineering and design'
Arkency, a consulting firm, creates business software, conducts webinars and educates programmers
Articulate, software development company that creates e-learning courses
Buffer, working remotely in several countries, specializes in social media management tools
Zapier, with no headquarters specifically but scattered across various remote locations
Toogl operating in 5 continents and 9 different timezones
Doist, with a team across 20 countries
Scrapinghub, employees present across 40 countries
Rocana, comprising a fully distributed remote team and offering IT analytics services
Knack, with a customer base of about 3000, a pioneer in creating a cloud-based database tool
GitLab, with employees located in 3 continents and operating in a full remote mode.
Elements of a good remote project manager jobs resume
These are the components that you must include in your remote project manager resume,
Personal details

like name, sex, age, nationality, and contact information. 

A

professional summary

of two to four lines that highlights your skills, experiences, and candidacy. Your most definitive characteristics must be mentioned here. 

You must provide a list of

objectives

for the job position you are applying for. This would help the potential recruiters understand what you can contribute to their companies. 

Mention the

knowledge and skills

that you possess which are needed for the remote project manager position.  

Enter all the

work experience

you have in the field. Ensure that you mention any accomplishments in this domain if any. 

Educational qualifications and certifications

must be mentioned. 
Tip: Showcase your successes with numbers in your resume.
Suggested read: How To Build And Sustain Trust In Remote Teams
Where to find remote project manager jobs?
Now is the time to start searching for the best remote project manager jobs. There are three ways to find remote project manager jobs,
Personal connections – Check with your family members and friends if they know of any remote project manager job. Surf through your business contacts on LinkedIn to see if any of them need a project manager. 
Project Management Institute (PMI) – After getting yourself certified in project management, you can become a member of PMI. Apart from establishing your cred, this institute offers its members a job board. 
Online job boards – There are several online job boards to find the best remote project manager jobs.
Some of the online job boards are,
1. Simply Hired is an online platform that offers very exciting opportunities for those who seek remote project management jobs. The list of jobs on this site gets updated frequently.
2. unremot.com is one of the most technologically advanced remote collaboration platform for remote jobs. One can find freelance/remote work from across the recruiters around the world, while also collaborating with them over video-based virtual rooms and chats.
3. Remote OK is a site of great quality where you can find a range of remote jobs, including remote project manager jobs. It has an appealing and regularly updated list of job opportunities in remote project management.
4. FlexJobs is one of the most visited sites for remote work. This online job board has over 50 categories of remote jobs, including remote project manager jobs. This list of jobs is updated every day, so there is always an opportunity for you to grow your career. FlexJobs requires a membership fee that is to be paid every month. The fee amount is worthy if you take into account the amount of money you will earn if you land a job from this site.
Read: Working from home with kids – Parent's guide to remote working
5. Remote(dot)co is very popular as it displays only those remote jobs which are very flexible with location. You will find many remote project manager jobs on this site. Well-established companies are tied up with it. This job board was co-founded by Sara Sutton, the founder of FlexJobs. There is no fee to become a member there.
6. Indeed is a very commonly used job board for remote project manager jobs. In the Search bar, type "work at home" or "work from home" and choose the company that you want to work for.
7. Glass Door is a popular job board for remote working, Glass Door provides a list of several opportunities for remote project management jobs. Job listings of well-known companies are posted on this website. Glass Door mentions the benefits, reviews, and salaries of every job listing.
8. Virtual Vocations is an online job board that was founded by Adam Stevenson and Laura Spawn. It is a great website to find remote project manager jobs. Virtual Vocations has been functioning since 2007 and hosts a vibrant range of remote project manager jobs that are regularly updated. There is a small membership fee that you will have to pay to be able to access this board.
Read: Guide to conducting & attending Remote Interviews
Tip: Use different keywords to search for remote project manager jobs on online job boards.
Succeeding in remote project manager jobs
Here is a remote project manager job checklist for your productivity and success.
1. Create a neat workspace
You must build a dedicated workspace that is free from any kind of distraction. Keep the workspace clean and professional. Do not eat or watch TV in that space. Try to create this workspace away from the kitchen.
2. Collect all the required material
Some of the materials that you will require for a remote project manager job are –
Quiet workspace

High-speed internet connection

Updated operating system on your computer 

Online project management tools
3. Build a schedule
Remote project management jobs require coordination among different people with different working schedules. Therefore, as a project manager, you will have to establish a commonly accepted schedule for productivity and ensure that the team members and yourself do not steer away from it.
Read: Best resume software | Give the finest first impression
4. Establish an agenda with marked priorities 
As a remote project manager, you will be the team leader. It is your responsibility to create daily agendas with the most important tasks on the top followed by less important tasks.
Hurry, hone your skills, build your resume, and find the best remote project manager jobs!
1. Can project managers work from home?
Yes, project managers can work from home. 
2. How to get remote project manager jobs?
You can get remote project manager jobs through personal connections, the Project Management Institute, or online job boards like FlexJobs and Remote(dot)co. 
3. What does a remote project manager do?
A remote project manager has to communicate with clients, develop project ideas, form a team, assign tasks, and meet deadlines. 
4. How do project managers work remotely?
Project managers can work remotely with a quiet workspace, high-speed internet connection, updated operating system on their computer, and online project management tools.