Are you a cybersecurity specialist and passionate to work from home with remote cyber security jobs? If so, this page answers all your questions – read on!
Cybersecurity is a niche skill and occupies an utmost important position in today's world being dominated with the state of art technologies and their frequent advancements. The IT landscape of companies and firms are in constant threat of security breach by hackers and scammers.
Cyberattacks are a matter of grave concern, exposing sensitive and personal data in the hands of unknown individuals. The interesting part is companies are now hiring for remote cyber security jobs to harness the best skills from different parts of the world.
Cyber security specialists draw a handsome salary every month especially because of their expertise in eliminating cyber threats and preserving the company's security. Their roles and responsibilities to fight against cyber-crimes are considered prestigious and very important in the world of digital security.
In this article, we will discuss the qualifications and skills required to become a cyber security expert, the duties of cyber security specialists and the websites where you can look for remote cyber security jobs.
Read: What is remote working?
Market Opportunity For Remote Cyber Security Jobs
The cybersecurity market is growing exponentially with a dearth of skilled professionals in the market.  Cybersecurity professionals work in companies and industries of different sizes to protect their data from attacks and breaches. Job positions for cybersecurity professionals have grown three times faster than other IT job positions. 
The cybersecurity field is constantly evolving with new threats surfacing every day. With that, the need for cybersecurity professionals has increased manifold and will increase in the coming future. 
According to the Bureau of Labor Statistics, the growth rate for cybersecurity jobs is projected at 37% from 2021-2022. IT professions are in high demand these days and an added element of security makes it more critical and sought after. The market opportunity for remote cybersecurity jobs is on the rise as more and more professionals wish to go location independent.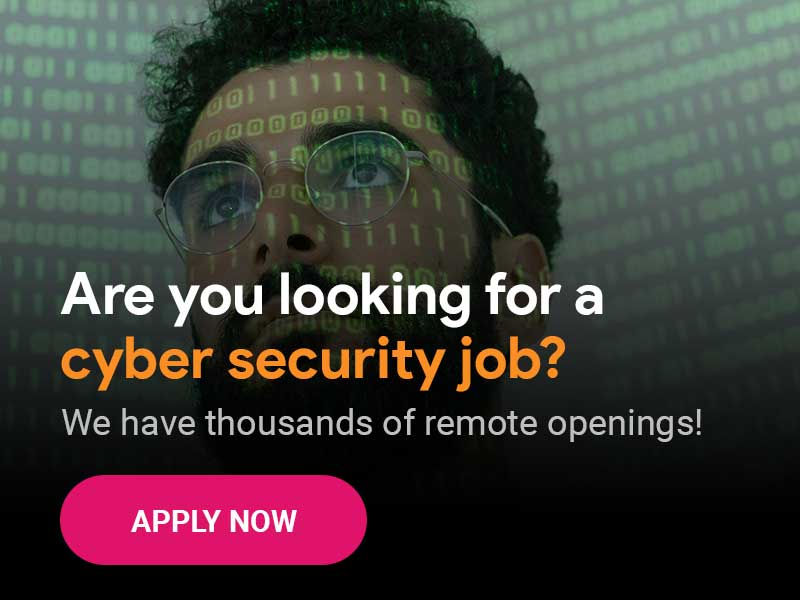 To cater to the needs of employees, companies are adopting remote work culture these days. Most of the work requires monitoring and protecting the system which can be done from anywhere with new technologies in the market to ease our work from home needs.
Job Titles and Career Paths Under Remote Cyber Security Jobs
The most common job titles and career paths under remote cybersecurity jobs,
Security Architect –

After minimum qualification, work as a security administrator, systems administrator, or network administrator.

Get promoted to a mid-level role as an analyst or a security engineer. Apply for the role of a Security Architect once you have sufficient knowledge.
Security Consultant – After minimum qualification, take up an entry-level role in remote IT security jobs, remote security jobs, etc. Take more roles and responsibilities to move up to a mid-level role as an engineer, auditor, or analyst. Enroll in advanced training and certifications to get a higher role as a security consultant.
Penetration tester – After minimum qualification, get an entry-level role in freelance cybersecurity jobs. Gain ethical hacking skills with training and certifications. Take up a penetration tester or ethical hacker role. Move up the ladder at the position of Senior penetration tester, security consultant, security architect.
Chief Information security Officer – After minimum qualification, you are qualified for remote security analyst jobs or work as a programmer. Gain experience and take up a middle-level role. With advanced training and certifications enter a management position overseeing the security team. Enroll for MBA or certifications with a management focus and get promoted as a CISO.
Suggested read: 8 Best Free Video Conferencing Software!
Qualifications for remote cyber security jobs
To qualify for both remote and work from home cyber security jobs, you need to first earn a degree in Computer Science. Additional certifications available for specialization in cyber security is critical for attaining the required knowledge.
Cybersecurity specialists are expected to possess stupendous programming skills. They need to have extensive knowledge of system administration, network security, and infrastructure vulnerabilities. The key skills expected by companies while hiring for remote cyber security jobs are,
Detailed knowledge on IT systems and applications including networks, hardware and software

Analytical capability for identifying the weaknesses and vulnerable points of the systems and applications

Frame logic and design for increasing the security measures to prevent malicious attacks

Knowledge on how hackers function and the software or algorithms they use to breach security

Attentive and awareness of the latest and emerging technologies in cyber security space
Important Tips: Several online tutorials and courses are available to enhance your knowledge level beyond your normal educational qualifications. The courses are conducted by cyber security experienced professionals of reputed organizations, hence you can gain innumerable insights into the trending strategies.
Recommended read: Guide to conducting & attending Remote Interviews
Skills needed for remote cyber security jobs
For a successful career, let us try to understand the skills and expertise that you need as prerequisites before applying for remote security jobs in the cyber space.
1. Programming Knowledge
Both entry level cyber security jobs and work from home cyber security jobs for experienced professionals demand a sound knowledge of programming languages like C, C++, Java, PERL, PHP and Shell scripts.
This learning is essential since programming is the backbone of a system or application. You will not be able to analyze cyberattacks, design, and develop security defense mechanisms or algorithms without being aware of the intricacies of computer programming.
Important Tips: Along with the knowledge in programming languages, you must also keep yourself geared up with the understanding of operating systems, networking, database, infrastructure, system architecture.
Read: Remote medical coding Jobs 101 – Skills, Requirements, Best companies
2. Detecting Intrusions and Threats
Cyber attackers utilize powerful Trojan software and other spyware to breach a company's security wall or firewall and steal vulnerable data. Companies can be exposed to substantial financial loss due to the intrusions into their systems and applications. As a cyber security expert, you need to possess a thorough knowledge of the best intrusion detection software or application. Remote cyber security jobs demand the capability to suggest companies with the latest and advanced threat detection systems. The cyber security specialists must be able to leverage the features and functions of the software to prevent the spyware and malware in intruding into the company's security zone.
Important Tips: It is recommended to clear the CISM (Certified Information Security Manager) and CISSP (Certified Information Systems Security Professional) certifications to qualify for remote and telecommute cyber security jobs.
3. Proactive Malware Analysis
One of the important cyber security remote job requirements is awareness of both preventive and reactive methods to prevent malware intrusions and threats. They need to understand and analyze the malware attacks and devise a strong security code or algorithm to proactively prevent the intrusions.
Also in case of attacks, you must be efficient enough to help recover the company through back up plans and disaster recovery plans for running the business as usual.
Interesting Fact: Negative impact on business and loss of revenue are the two very important criteria that companies and firms focus on to avoid and prevent. Hence reputed companies invest a huge amount of money in cyber security. If you are skilled and qualified, you are sure to earn lots applying for remote information security jobs.
4. Risks and Mitigations
Cybersecurity specialists are expected to analyse risks of cyberattacks and devise preventive and corrective mitigations against them. They must possess the intelligence and smartness to constantly discover the risks affecting a system's or an application's security.
The mitigations must be designed fast and risks tracked to closure. It is one of the key cyber security remote job requirements that companies look for during their hiring process.
Important Fact: A cyber security expert must be capable to foresee any kind of threats and attacks intending to break the security system of a company and prepare for all possible mitigations to prevent any breach.
5. Analysis of Security
Cyber network security jobs mandate a thorough analysis of all the possible and sustainable security options to stop any breach to a company's sensitive and personal data. The cybersecurity professionals must develop innovative and smart solutions, defeating the malware from penetrating the vulnerable points of the security systems.
Interesting Fact: Demand for Information Security Analyst jobs has been increasing exponentially every year. This has substantially enhanced the chances of recruitment in reputed companies, hiring to strengthen their security analysis department.
6. Skill in Cloud Security
Hosting applications and systems in the cloud are the new technology trend. Almost all the product companies are offering cloud solutions to their customers, essentially because of its tremendous advantages on reducing costs.
The ease of access is also another benefit of using cloud applications. But then it introduces the risk of being hacked and breach of data. Hence companies nowadays prefer skills in cloud security while hiring for remote cyber security jobs.
Important Tip: Along with the cybersecurity essential certifications and related educational qualifications, it is important to be aware of cloud security. You may attend online courses or certifications to develop skills in cloud security.
7. Awareness of the New and Latest technologies
With the rise of cyberattacks and threats, technologies are rapidly advancing to prevent malware and spyware from penetrating the security wall of companies. Hence cyber specialists must be constantly updated with the new and latest security systems and applications along with the emerging trends.
This will develop a relationship of trust and confidence with the companies. It will increase the dependency on you to safeguard the data and security of the company. This one of the important criteria for remote and online security jobs.
Important Fact: Installing and using old versions of systems with loopholes exposes the applications to vulnerability and threats. If you are not able to upgrade the security systems as per the latest standards, then the company is exposed to multiple cyberattacks.
Read: Best resume software | Give the finest first impression
Recommended Certifications to Get Remote Cyber Security Jobs
Here are the top 5 recommended certifications to get remote cyber security jobs for both entry-level and experienced professionals,
Certified Information Systems Security Professional (CISSP) – Getting a CISSP certification makes you equipped with the knowledge and skills to design, implement, and manage a world-class cybersecurity system.
Certified Information Security Manager (CISM) – If you're already working as a cyber security professional and need to move ahead in your career a CISM certification would help you with that. It is rated as the highest paying and most sought after IT certification.
EC Council: CEH- Certified Ethical Hacker – A certified ethical hacker establishes you as a person with the understanding and knowledge to look for weaknesses and vulnerabilities in the system. An ethical hacker uses the hacking tools lawfully and legitimately to assess the security position of the target system.
Certified in Risks and Information System Control (CRISC) – CRISC prepares a person for unique IT challenges and enterprise risk management. It also helps in positioning IT professionals as strategic partners to the business enterprise.
Certified Information Systems Auditor (CISA) – This world-renowned certification is a standard of achievement for professionals who audit, control, monitor, and assess information technology and business systems.
Also Read: Team Communication 101: What is it & How you can crack it!
Roles and Responsibilities of Remote Cyber Security Jobs
Before venturing into the world of cyber security and applying for network security jobs, it is important to understand the duties and responsibilities of cyber security specialists. Here are the key ones mentioned for your quick reference,
Finalize the segregation of duties matrix along with the Business and IT leadership. Design and implement the user access controls in all systems through methods such as single sign-on, authentication etc.

Ensure strict monitoring of application and network access and performance. Implement an alert and notification mechanism to track unusual activities.

Health check and audit of security compliances and best practices. Application of security norms, rules and regulations must also be performed at frequent intervals.

Apply automatic patch updates on applications and software to ensure the installation of the latest checks and enhancements into the systems.

All applications and systems of the company, both on-premises, and cloud, are to be accessed via comprehensive vulnerability management systems. Building firewalls into the application infrastructure and networking systems is also a critical activity of cyber security specialists.

Install tools to detect proactively any attempted cyberattacks from malware and spyware

Discuss with the company's IT team and set up an extensively tested business continuity plan and disaster recovery plan

Employees of a company must be able to identify any suspicious activities and report them as soon as possible to prevent further harm. An important responsibility of the cyber security specialist along with the HR team of the company is to spread awareness among the employees.

Identifying the risks and vulnerable points in the hardware and software of the company's application ecosystem. Bring in corrective actions to mitigate the risks.

Liaise with the police or the security investigation department for security breaches and cyber threats is also considered a vital duty of cyber security specialists.
Suggested read: Best Remote Working Tools That Make Life Easy
Top 10 Tools Needed for Remote Cyber Security Jobs
Here are the top 10 tools needed for remote cyber security jobs,
Mobile Hotspot

to provide you high-speed internet wherever you go. Some good options to invest in are Karma and Verizon Jetpack MiFi.

Cloud Storage

helps you access data from any location. Apps like Google Drive, Dropbox help in cloud storage.

Video Conferencing apps

like Skype, Zoom, and Slack help in virtually connecting with your team for a meeting.

Security Tools

like VPN, Password manager, and online backup

are as important as an effective internet connection for a remote worker. 

Encryption Tools

are required to provide encryption at several levels to protect your data helpful for cyber security jobs remote professionals.

Antivirus Tools

like ClamAV helps in scanning viruses, trojans, and malware that could steal your data.

A snort

is an important tool used in information technology security jobs. It is an IDS/IPS Tool that helps in detecting and analyzing network traffic. They create an alert and block any impending attack.

Automation Tools

to help you automate the mundane and repetitive tasks to increase your productivity.

Remote Desktop Software

connects you to a computer at a different location. It allows you to log in to the computer remotely for monitoring and troubleshooting purposes.

Project management software like Jira, Trello, and Airtable is used to manage a vast number of tasks or workflows with deadlines.
Read: Synchronous & Asynchronous Communication For Remote Work
25 Dream Companies for Cyber Security Jobs
Companies and firms that look for cyber security specialists and experts are enlisted below. They post jobs on open positions and roles in different job websites and online portals.
They span across the Governments of any country, network service providers, banks and financial institutions, schools, institutions, colleges, and universities, airline operators and companies, IT department of companies handling large, confidential, and sensitive data, and Security Consultancy firms. 
Every business and enterprise these days have understood the importance of hiring cyber security professionals. With the online shift of businesses, the risk of data breaches and cyber-attacks has increased. To combat this, companies are hiring cyber security professionals to help them monitor and assess their systems.
If you are looking for part time cyber security jobs, freelance cyber security work, remote cybersecurity jobs, etc, we have created a list of top 25 dream companies for remote cyber security jobs,
CrowdStrike

Fortinet

Infoblox

Blackberry

Palo Alto

A-LIGN

FireEye

Zimperium

Deep Instinct

White Ops

Threat Quotient

McAfee

eSentire

Valimail

Avast

Coalfire

Verimatrix

Sonatype

RiskIQ

Carbon Black

ThreatConnect

Siemplify

Netscout

Pulse Secure

Gigamon
All these companies provide part time remote cyber security jobs, computer, and network security jobs, telecommute cyber security jobs, etc to professionals who wish to work from home due to personal commitments. If you're looking for a high-paying and lucrative career in IT then making a shift to cyber security would be a good idea. These companies provide several job opportunities for both entry-level and experienced professionals.
You can find the job listings from these companies on their respective websites or several job portals listing cyber security remote jobs for tech professionals. Before applying for a role ensure that you have the required eligibility for it.
Read: 14 Best Productivity Tips to Achieve More At Work & Life
Top Job Boards for Remote Cyber Security Jobs
1. CyberSecJobs – It is one of the prominent websites providing listings for numerous work from home and remote security jobs. The jobs are offered in various categories like penetration testing, digital forensics, vulnerability assessment, systems security analysis, information assurance and many more.
You need to type in the keywords to search for the jobs on the website. The website also hosts various job fairs for the prospected candidates to attain and meet employment agencies and firms hiring for remote information security jobs. You can find different resources and articles to provide guidance for a successful career in the field of cybersecurity space.
2. unremot.com: unremot is among the trusted job boards from which you can get your desired cyber security work from home.
2. CyberSecurityJobs – The website hosts both remote and telecommute cyber security jobs job posted by many companies on their portal. They list jobs for different modes of employment – contract, full term, internship, part time and temporary.
The jobs for niche skills and roles and high pay are listed under the premium categories and rest under the standard categories. You can browse jobs on the website by job roles or by country. You can even check for the featured recruiters and the latest jobs from their home page.
The other way of searching is to enter the keywords and then browse for the jobs. The popular job roles available at the website are that of cryptographer, information security officer, security analyst, cyber security consultant, network security expert, chief information security officer and so on.
The fact you must know: Cybersecurityjobs.net displays remote network security jobs from almost all the geographies of the world including US, UK, Europe, India, Australia, China, and many countries of Latin America, Asia Pacific and Africa.
Important Tips: The website provides extensive insights into remote cyber security jobs in the form of interesting articles and frequently asked questions (FAQs). It is advised to avail the resources for proper growth and guidance in your career.
3. Dice – The website provides a listing of several roles under cyber security jobs remote categories. Various reputed large and medium scale companies and firms post their job requirements on this particular website. You can shortlist your search for jobs by selecting the job title, location, company, employment type, and work from home availability.
The website displays jobs for a contract, full-time or part-time depending upon your preference. You can apply for Cybersecurity engineer roles, security analyst roles, security manager roles, information assurance roles, and many more.
4. CareersInCyber – Known as CiCS, their website is significant in offering jobs across various cyber security roles, namely security analysts, programmers, security managers, security consultants, security architects, security auditors, information assurance and security, head of cyber security, penetration tester, and others.
You can browse through the jobs by entering the job title or location. The website offers a feature to upload your CV into their website, allowing employers to locate your profile for suitable roles. You can check for the featured cyber security employers and cyber security jobs at their home page and search based on the list. The website also provides options for receiving job alerts and notifications.
Important Facts: The website provides useful advice and news on the cyber security industry. It even assists you with the probable interview questions for cyber security jobs remote and work from home categories.
5. CyberSecurityProfessionals – A popular website to search remote cyber security jobs across various roles, countries and job types. It lists jobs for different employment terms – permanent full time, contract full term, permanent part time, the contract part time, permanent and contract.
The various job roles offered are that of security IT auditor, cybersecurity director, cybersecurity analyst, head of operations and technology risk, penetration tester, cyber risk manager, and so on.
6. The Muse – Muse makes remote job searching easy along with highlighting remote work opportunities and tips to get started. It will help you find internet security jobs from home to suit your needs.
7. FlexJobs – Flexjobs has a listing of more than 20K jobs over 50 career categories. You can find cyber security jobs from home, information security remote jobs, part time information security jobs, etc on this portal.
8. AngelList – AngelList is a top site for start-up jobs for those who have always dreamed of working for a start-up but unfortunately do not live in a start-up city hub.
9. PowerToFly – PowerToFly posts work from home cyber security jobs regularly for women in tech.
10. Monster – Monster hosts plenty of online cyber security jobs under its job listings. 
Top Resume Elements of Remote Cyber Security Jobs
We have listed the top resume elements of remote cyber security jobs that should be kept in mind while preparing your resume,
Provide a

professional summary

, in the beginning, to give a brief about your professional journey so far

Mention all the

skills

that are directly or indirectly related to the job position you are applying to.

Write the

experience section

in reverse chronological order, mentioning the latest experience first.

List down any Cyber Security related

certifications or training

that you have done. 

Mention

awards and achievements

relevant to the job position.
Also Read: 8 Remote Work Habits Of Every Productive Employee 
Remote Cyber Security Jobs Pay Structures
Remote cyber security jobs pay structure depends on the job role, location, and experience. A cyber security professional earns an average of $16,000 annually or $55.77 per hour. Steve Morgan, in his article in Forbes, mentions that the top cyber security salaries in major U.S cities might reach as much as $380,000 annually.
According to Indeed, The salaries for remote information security jobs vary from $11,46 per hour for a Security Officer to $59.42 per hour as a Security Consultant. Pay Scale may also depend on the company, where larger enterprises offer more money.
Remote Entry Level Cyber Security Jobs
Many people enter the field of cyber security straight after completing college and few choose to transition from another IT role. To get computer security jobs one should have a general understanding of the IT field. Later one can progress further to protect and secure technology.
There are several career paths in the field of IT, and multiple ways to start your career in this field. Here are some of the common remote entry-level cyber security jobs to get your career started,
IT technician

Network Engineer

Web Developer

Network Administrator

Systems Administrator