Are you a recruiter by profession? Struggling to find the best remote recruiter jobs? Here's a comprehensive guide for you – read on!
Businesses of all sizes and kinds are muddling around for creative solutions to enable regular operations without the slightest possible disturbance. Contingency plans need to be made not only to cope with the present situation but also for potential problems such as possible future deflation, rising market costs, growing global connectivity, and more.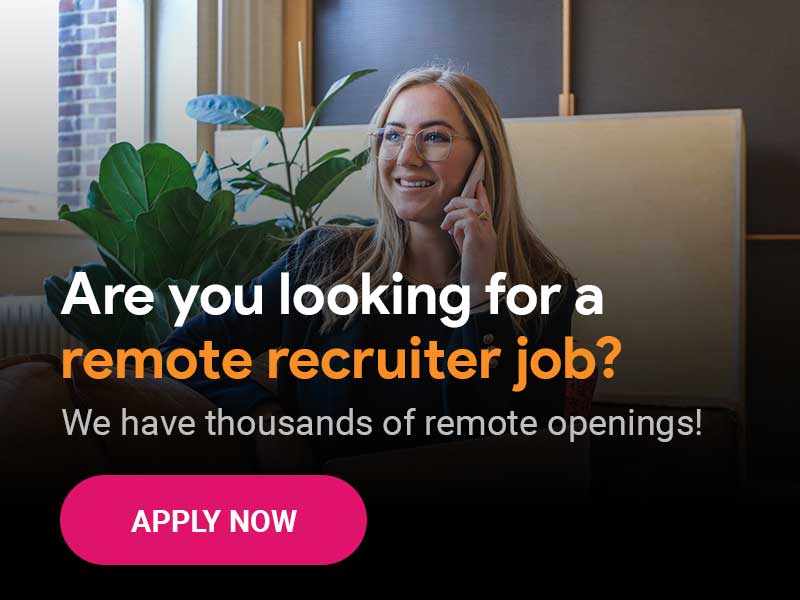 Most of the world's workforce is working from home and since this way of working can extend months into the future, remote work translates into remote recruiter jobs. Recruiting departments should be able to stick to the current condition of the workplace and prepare for potential problems in recruiting.
Also Read: Remote gis and sensing jobs | A priceless list of tips to succeed
What is remote recruiter jobs?
Recruiters for remote jobs focus on overseas and/or developing markets where there is an availability of qualified employees. Rather than carrying out the HR function from a traditional office space, remote recruiters perform the entire process of discovery, screening, and testing of potential employees from a remote location.
Remote recruiter jobs demand that the staff stick more faithfully to the remote protocol in order to prevent a decline in productivity. Recruitment priorities, targets, working hours, and working media are kept transparent while hiring remotely.
Also Read: Remote work policy – What it is & how you can create one easily!
Market opportunity for remote recruiter jobs
There will always be a requirement for HR Jobs. Presently hr jobs remote are one the best remote jobs in the country. Many leading companies are opting for hiring remote staff for their organization. Experts believe that between 2018 and 2028, the recruiter for remote jobs, is expected to grow at 5%. According to projections, the recruiter jobs remote vacancies are expected to go up to 33,000.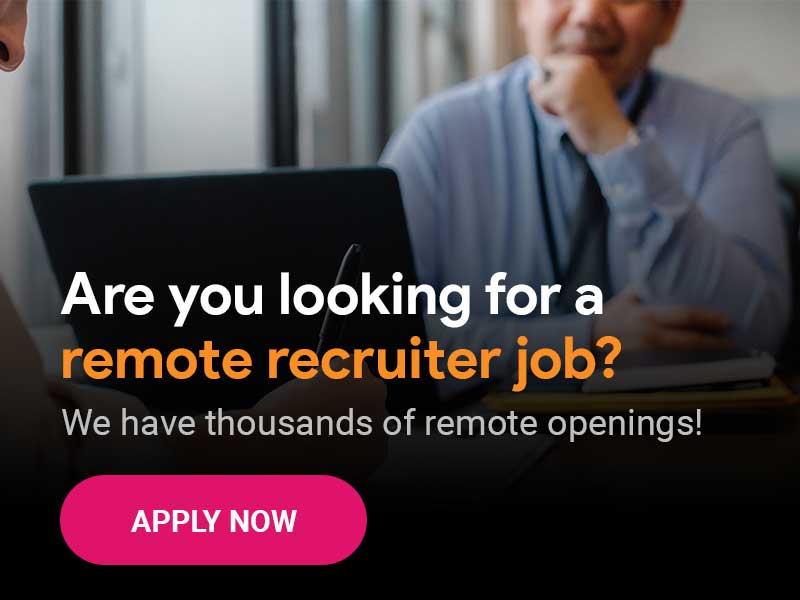 As a remote recruiter, you can opt for a full-time position, part-time position, contract-based, and hourly contracts.
Virtual career events and fairs gained prominence during the Covid 19 pandemic. The gap between legacy talent management systems and new recruiting and AI talent management systems is closing rapidly. After the pandemic, the trend of remote jobs will continue with many multinational continuing to recruit remote candidates.
Also Read: Remote tax preparer jobs | A comprehensive guide for beginners
Job titles and career paths under remote recruiter jobs
The career path for a virtual recruiter is not well documented. For the first year for recruiter remote-jobs, most candidates learn about the core tasks of sourcing, interviewing, and presenting. You are likely to learn more about the core recruitment process in large organizations.
After four years, many candidates who opt for remote talent acquisition jobs can either work in an agency or continue to work as a senior Corporate Recruiter. Agencies often give you the opportunity to added responsibilities of training less experienced candidates. Many remote recruiters opt for specialization in a specific area.
After ten years, many virtual recruiters opt to become entrepreneur remote recruiters and start their agencies. Some of the job titles available for remote recruiter jobs are,
Talent acquisition consultant
Human resource specialist
Recruiting coordinator
Recruitment manager

Personnel Manager

Staffing Consultant

Talent Scout

Head Hunter

Interviewer

Classification Specialist

Employment Manager
Also Read: How to accept a job offer | Everything you must know
Core elements of centralized recruitment processes
The below is a summary of core elements involved in centralized recruitment processes,
Selecting a forum for reliable collaboration such as Slack, Skype or Google Hangouts. 

Arranging daily/weekly sync-ups in advance for the team to come together to review work and ensure that no one is lagging behind. 

Planning occasions for the team to get together at happy hours or monthly meetings, either online or physically. 

Choosing a platform that will hold all professional data in one place.
Human Resources and Recruiting are exciting areas with many benefits for those who enjoy helping people get in touch with good work and providing support and preparation guidelines to business workers. Human Resources professionals can be generalists, or they can work with recruitment, employee relationships, benefits administration, workers' compensation, career development, and promotions, while recruiters are more limited to seeking qualified contract or permanent job placement candidates and working closely with firms to help them fill their open jobs. Sales are a key aspect of recruiter work.
Also Read: How to turn down a job offer | A complete guide
Opportunities for remote recruiting jobs
Full-time – If you choose full-time remote recruiter jobs, you will be expected to dedicate every working day to hiring candidates and managing human resources for one company only.

Part-time – If you choose part-time remote recruiter jobs, you will be obligated to work for only a few hours. 

Contracts – In contract remote recruiter jobs, you will have to serve a company for a specific time duration as mentioned in the contract.
Tip: Ensure that you streamline your entire process of recruitment so that you hire the best candidates for a job. 
Read: Guide to conducting & attending Remote Interviews
Roles and responsibilities of remote recruiter jobs
The recruitment process is a key function of any organization. It involves writing concise and clear job requirements, posting them online, screening potential candidates, and communicating with the manager and staff. The responsibilities of a remote recruiter are as follows,
Design and Develop recruitment strategies with your Recruitment Manager.
Writing detailed and precise job descriptions and posting them on several job boards to draw the best candidates.
Correspond with Manager/Supervisors to ensure the job description is accurate.
Source resumes from job board websites or social media websites.
Screening candidates based on their resumes and job applications.
Conducting interviews to filter the best candidates for the position.
Analyze the applicant's relevant knowledge, skills, soft skills, and experience.
Develop a professional relationship with prospective hires during the selection process.
Following up with prospective hires.
Assist with organizational socialization to help recruit integrate with the organization
Answer queries about the recruitment process and vacancies politely and efficiently.
Monitor and apply the best HR practices.
Promote the organization's reputation as a great place to work.
Also Read: Remote document review jobs | Know before you start
Qualification needed for remote recruiter jobs
There is no formal education required for remote recruiter jobs. Most companies ask for at least a high school diploma or equivalent. Usually, most recruiters are graduates in Psychology, Business, Marketing, Human Resources, and sociology. Some higher recruiting positions may require a post-graduate degree in human resources.
The best universities to complete your graduation in human resources if you are interested in remote recruiter jobs are,
University of Nebraska-Lincoln
University of Pennsylvania
University of Wahington-Seattle Campus
San Diego University
University of Michigan-Dearborn
The best universities to complete your masters in human resources for a virtual hr job are,
The University of Illinois at Urbana-Champaign
University of Wisconsin-Madison
Texas A&M University
Vanderbilt University
New York University
Read: 34 Best Remote work communities on Reddit, Slack, Facebook
Remote recruiter jobs skills
Here is a list of the most important remote HR jobs skills,
1. Communication skills
As a remote HR professional, you have to be able to express yourself clearly, both verbally and in writing. The human resources area needs much debate because the team is in charge of recruiting, which includes a series of interviews.
Apart from this, a remote HR manager deals with a lot of people every day, listening to their questions irrespective of whether they are relevant to work or not. Through these experiences, they win the employees' trust and confidence, thereby strengthening organizational interrelationships.
A remote HR manager also designs and produces the policy handbooks and publishes memos for the benefit of all the employees who need strong writing skills.
2. Organizational skills
HR includes several roles like recruiting, training, performance evaluations, professional growth plans, and employee relationships, but is not limited to them. A remote HR manager manages all of these tasks and takes a systematic route to go through all of the processes.
HR requires a lot of documentation to be coherently filed, including employee profiles and legal records. Keeping all the procedures and administrative activities organized would help to improve your productivity as a remote recruiter as you will be able to handle several tasks at the same time.
3. Decision-making skills
HR requires a lot of decision making. During the online recruiting process, you will have to determine whether or not an applicant is the best fit for a job. Recognizing good talent is not easy, especially for a remote recruiter.
It needs strategic thinking, experience, and intuition. Effective decision-making skills will also be required when discussing a downsizing problem. It will be a part of the role of HR to effectively get the message across even in the midst of a crisis.
4. Training and development skills
An important feature of human resources is training and development. Remote HR administrators are responsible for creating incentives for organizational growth so as to improve efficiency and increase value.
For example, planning leadership and management training sessions would give the employees more diverse skills. These skills will then help them undertake additional duties while simultaneously focusing on their career development.
5. Budgeting skills
Compensations and rewards are provided by remote HR. The same applies to training and growth, social events, performance evaluations, and so on. Such tasks must be integrated into the strategic planning and budgeting of the company, taking into account the objectives of each department and their individual roles. The remote HR manager's primary task is to reduce spending on unnecessary activities.
6. Empathy
The HR team deals with a lot of people and their concerns, from workload and conflicts in the workplace to salary complaints. As a remote manager of human resources, you need strong empathy to understand what a person is going through before you make any judgment. It could sometimes be a situation when an employee just needs to get something off his/her chest and only needs a listening ear.
In some other situations, he/she might be airing his grievances so he can get help. Whatever be the case, it is the remote HR manager's responsibility to listen to the employees and address their issues immediately.
Tip: Develop healthy emotional intelligence and do not let the emotions of your personal life affect your relationship with employees.
Also Read: Synchronous & Asynchronous Communication For Remote Work
Certifications to get remote recruiter jobs
The recruiting and sourcing world has become dynamic and is evolving. You need to improve your skillset and be aware of the latest practices in recruitment. Certifications help remote recruiters stay on the top of their game. We recommend some certifications that will help if you are looking for part time hr jobs or online hr jobs.
1. HR Certification Institute (HRCI) – The HRCI is a prominent institute running for over 40 years. HRCI offers multiple certificates depending on your experience level. HRCI offers the following certifications,
Associate Professional (aPHR) certification is perfect for freshers in human resources.
Professional in Human Resources (PHR) is geared for professionals working in human resources.
Senior Professional in Human Resources (SPHR) is designed for planners and policymakers.
2. Society for Human Resource Management (SHRM) – The Society for Human Resource Management (SHRM) is the largest human resource society in the world and operates in 165 countries. SHRM offers two courses,
3. AIRS – AIRS specializing in recruiting training services and offers eight accredited and industry-recognized courses. The courses are well-known for the innovative approach. AIRS offers the following courses,
Certified Diversity and Inclusion Recruiter (CDR)
SearchLab (CIR)
Professional Recruiter Certificate (PRC)
Recruiting Academy
Certified Social Sourcing Recruiter (CSSR)
Hiring Heroes: A Field Guide to Veteran Recruitment
Certified Social Media Recruiter (CSMR)
Elite Certified Recruitment Expert Certification (ECRE)
4. National Association of Personnel Services (NAPS) – NAPS is a membership-based recruiting organization, non-members can take the certification, but it will be more expensive. The organization offers two certifications,
Certified Personnel Consultant
Certified Temporary Staffing-Specialist
5. DevSkiller – The DevSkiller Tech Recruitment Certification Course is a free course covering the basics of IT recruitment. You learn the latest information about the developer's landscape. The course is ideal if you are interested in remote technical recruiter jobs.
While you are not required to have any specific training before starting a recruiting career (apart from a college degree), there are various useful online courses like the above available.
Besides that, always remember that there is room within your profession for growth and improvement. Networking is a big part of recruiting and a popular way to expand your connections and professional relationships.
Also read: Team Communication 101: What is it & How you can crack it!
What makes great remote HR jobs?
Efficient remote HR jobs have an organization-specific recruitment process that aims at finding the right person at the right time for the right job. It is a step-by-step approach to bring in talented people who can help the firm expand.
There are 7 main steps in an all-inclusive recruitment process, but it can vary from company to company depending on the complexity of operations, vertical market, company size, current recruitment workflow, organizational structure, and selection process.
7 main steps in a recruiting process
Identification of hiring needs 

Preparation of job description 

Talent search 

Screening and shortlisting 

Interviewing 

Evaluation and offer of employment 

Introduction and induction of the new employee 
Read more: Decision Fatigue: What it is & How you can beat it.
Importance of work from home recruiter jobs
The ideation and implementation of the recruitment process is the responsibility of work from home recruiter jobs. Every tireless recruitment process is usually aimed at attracting eligible applicants and enabling as many job seekers as possible to apply.
This allows a wide pool of skilled candidates to be established in a competitive job market, which minimizes the time involved in identifying applicants while filling positions for the company's current and future needs.
A well-planned and thoughtfully designed recruiting process helps the hiring team select the right applicants more efficiently while staying focused on engaging the appropriate applicants for optimum conversion.
Tip: Look at every resume with fresh eyes and ask for a second opinion before shortlisting candidates for a job.
Suggested read: 8 Remote Work Habits Of Every Productive Employee
Benefits of remote human resources jobs
Remote human resources jobs are very beneficial to remote recruiters. Some of the advantages of work from home HR jobs are,
1. No commute
The noise and rage of commutes in the morning and afternoon is the woe of many workers. Fighting your way on the roads or by train can take a minimum of 5 to 15 hours every week! Audiobooks and podcasts are helpful, but you know they do not solve the issue of hectic commute.
Such exhaustion definitely does not prepare any single person for a successful working day. Remote recruiter jobs will resolve this problem for you as you can work from the comfort of your home. You can also save money on gas with work from home HR jobs, and more importantly, reduce the environmental effects of emissions caused by commute.
2. Better health
How many times has your sick colleague turned up in the workplace due to their workload? How many times has the flu or any other virus circulated due to the close quarters of an office space? If you are someone who has seen every infection being passed around the workplace, it can be such a blessing to be a work from home recruiter.
From the viewpoint of healthy eating, you will have more control of your everyday decisions and you will not have to fight the temptations caused by the vending machine's food, or the potluck. You also need not be a victim of the doughnuts brought in by someone out of "kindness".
3. Increased productivity
As a work from home recruiter, you will have the advantage of being more productive. You can plan your day according to your lifestyle and the company's requirements. You can take many mini-breaks in between work so that you can perform better and contribute more effectively to the process of recruitment.
In a traditional office space, there is a lot of scope for personal talks and chatter to interfere with and prolong your work. With good planning, online meetings can be of great value.
4. Easy mobility
You can do your online job recruitment anywhere in the world as long as you have good Wi-Fi connectivity. As a remote HR, you can recruit positions from around the globe without relocating and rooting your whole life.
You will not be a victim of career geography, where you have to change where you live in order to get the job you want. Removing this problem of career advancement will significantly reduce your stress and give you hope for your future endeavors.
Read: Best resume software | Give the finest first impression
Success attributes of recruiters for remote jobs
Online job recruitment requires you to make phone or video calls and the schedule may not always be optimal depending on the place from which you are hiring candidates. Remote working a normal workweek requires a lot of self-control. You might miss out on a lot of social events and dinners.
If you can, we would suggest that you overlap the office hours a little bit and plan your calls during that time. Find out which sort of environment makes you work best. Make sure it has natural light and is comfortable. Co-working spaces are also a good choice if you find that you are most positive around other working people, or in an office-type environment.
All the choices are different, so you will have to figure out what will drive you to success. With any remote job, contact consistency is crucial, particularly in recruiting, where you do not automatically complete projects or tasks like in other careers.
Tip: Widen your network with professionals who have experience in the job that you are hiring for.
Also Read: Virtual Water Cooler For Remote Teams | Remote Working Made Fun
Top 10 tools needed for remote recruiter jobs
Software technology is evolving, and with it, HR Tech is changing. HRTech has improved tremendously. Typical applications/tools include LinkedIn Recruiter, which is the recruitment side of the web that allows you to search for profiles, directly communicate with professionals, and exchange details about the current job you are hiring for.
Monster and Indeed also provide similar apps, offering live updates to the talent available and giving information about shifting career directions. Salesforce is another platform that may be used by larger companies in their business book but is not always offered remotely. Listed below are the top ten tools used to make the remote human resources jobs easier,
Applicant Tracking System (ATS) – Applicant tracking systems help you organize candidates for the recruitment process. ATS helps collect information and organize candidates based on experience and skillsets and filler applicants. TalentlyTrack is a widely used ATS.
Recruitment Marketing Software – Recruitment marketing software will help you automate, streamline, and improve recruitment marketing operations. Talentlyft's Recruitment Marketing Platform
Candidate Relationship Management Software – Candidate relationship management software helps to recruit, engage, and nurturing candidates. SmashFly, Yello, and Aventure are of the best CRM in the market.
Candidate Sourcing Software – Candidate sourcing software is software that will help you proactively find qualified candidates. You will be able to scan profiles to retrieve passive and active candidates with their contact details. Upsider and Recruit Robin are some of the candidate sourcing software available.
Video Interviewing Software – Video interviewing software will allow you to conduct online interviews and become an important part of the remote recruitment process. The top video interview software is ConveyIQ, HireVue, and Wepow. Virtual meeting software such as Zoom and Google meet are also use
Candidate assessment and testing software – Candidate assessment and testing software allow you to carry out online candidate assessment on prospective candidates. You will be able to test the candidate's knowledge, technical and soft skills. You can use Test Reach, Criteria, and Owiwi.
Employee Referral Software – The employee referral software program will help you automate, streamline, and improve your company's employee referral program. You will be able to create and send engaging referral campaigns and encourage your colleagues to recommend suitable candidates. The top employee referral software is Employee Referrals, Role Point, and Real Links.
Background check software – Background check software tools allow you to perform criminal background and meticulously vet your candidates. Accurate, Checkr, and Clearstar are background check software in the market.
Employee Advocacy Software – The employee advocacy tool helps companies help use their employees as brand ambassadors for their company. You can build pre-approved content to share on their social networks. Some of the employee advocacy software in the market are Smarp, Sociable, and EveryoneSpecial.
Job Boards and Aggregators – Job boards are places where companies post their job posting positions. Some of the best job boarding sites have been listed below.
Social Media – To stay on top of job listings and enhance your business book's continued growth, social media is another medium you will have to use to get the word out that you are looking for the perfect candidate for a specific job. Hootsuite helps you to handle all your social networks from one location, including pre-scheduling posts. For example, if you have an opening for a full-time job position, Hootsuite will ensure that it keeps updating your networks.
Suggested read: Best Remote Working Tools That Make Life Easy
Top 25 dream companies for remote recruiter jobs
Many companies are looking for candidates for remote recruiting positions to manage their human resource activities. These jobs allow you to work from home or remote locations. We have compiled a list of dream companies that offer remote recruiter job opportunities,
Kelly Services is one of the best staffing companies, connecting skilled workers with top companies.
Amazon is the largest online retailer in the world.
Robert Half International is one of the leading global professional staffing and consulting companies.
Alright Solutions is an information technology and services company.
Randstad is a global recruitment company.
Ajilon is a leading permanent and temporary staffing company.
Kforce is a staffing and recruitment company. They offer temporary, short-term, and long-term assignments.
Paylocity offers a range of flexible job opportunities.
24 Seven is a offers complete talent recruitment company.
SAP provides enterprise software and services and employs over 65,000
people around the world.
WinterWyman is a talent acquisition company.
UnitedHealth Group is a healthcare insurance company.
Ceridian is an award-winning, global resources software company.
Macy's is one of the largest retailers in the US.
Cozymeal offers part-time, freelance, and remote jobs throughout the country.
Johnson & Johnson is a multinational company employing over 120,000 professionals throughout the country.
Adecco is a global leader in recruitment.
Dahl consultation is a certified women's business company.
UKG-Ultimate Kronos Group is a cloud computing and technology company.
Avispa Technology is a staffing and recruiting firm.
Alexander Mann Solution is a staffing and recruitment company.
Aerotek is one of the country's best staffing firms.
CSI Companies provides complete staffing solutions for companies across the US.
Beacon Hill Staffing Group is considered a staffing leader across the country.
Top job boards to find remote recruiter jobs
Whether you are looking for work from home hr jobs or part-time hr job, here are some of the top job boards to find remote recruiter jobs,
FlexJobs
Just Remote
We work remotely
Remote
Virtual Location
Working Nomads
Pangain
Remotive
Remote Ok
Also Read: Remote quality assurance jobs | A how-to guide for beginners
Resume components for remote recruiter jobs
It is very crucial to build a good resume before applying to remote recruiter jobs. The important elements that must go on your resume are,
Personal details

including name, age, sex, nationality, and contact information. 

A

professional summary

that highlights your experience, skills, and candidacy. Ensure that you mention your most definitive characteristics in two to four lines. 

List out your

objectives

which will make the recruiter understand what you expect to gain from his or her organization and what your contribution will be. 

Highlight the

skills

you possess which are relevant to the job position you are applying for. 

Educational qualifications

must be mentioned. 

Any

additional certifications or training

must be part of your resume. 

Mention all of your

recruiting experiences

along with their responsibilities.

Write about your

accomplishments

relevant to this field. 

Write about your

interests

. 

Give valid

references
Also Read: Remote help desk jobs | An ultimate read for best results
Remote recruiter jobs pay structures
The pay scale for remote hr jobs depends on your experience, skillsets, the industry, and location. The salary for recruiting jobs from home depends on if you an internal recruiter or an external recruiter.
The annual salaries of remote hr jobs range from $179,000 to $20,000. The average salary ranges are between $41,000 and $64,000. This does not include the bonus some firms offer.
Entry-level remote recruiter positions get $40,000 (including bonus and overtime pay)
While the average salary of mid-level remote hr positions is $55,000 and senior remote hr executives is $60,000.The salary for remote technical recruiter jobs is $46,000/ year. The freelance hr jobs can earn anywhere between $20-50/hour depending on your experience. Some employment agencies will pay you entirely on commission.
Further read: Working from home with kids – Parent's guide to remote working
Entry level remote recruiter jobs
Whether you are looking for hr jobs from home or part-time hr jobs, finding your first job can be difficult. If you are interested in remote recruiting jobs you don't need a degree. But candidates that have completed their bachelor's degree in human resources or a related field will have an edge.
An internship in the recruiting industry or a human resource department either before or after graduation could help you launch your career. Recruitment certifications can help improve your confidence levels.
While preparing your profile on portals such as LinkedIn examine if you have transferable skills that will help you as a recruiter. You need to learn to sell yourself and your skill sets. Networking is one of the best ways to get a job recruiter jobs from home. As a fresher, you need to decide if you want to work in a recruitment agency or opt for a corporate company.
Also Read: Remote esports jobs | A priceless list of tips to succeed
Can HR work remotely?
Yes, it is possible for HR to work remotely.
What does a remote recruiter do?
A remote recruiter identifies talent and locates it. A job listing is posted online and the remote recruiter shortlists suitable candidates for an interview. After an assessment of the interview performance, he/she decides if a candidate should be hired or not.
Where can I find remote recruiting jobs?
Remote recruiting jobs can be found on online job boards like FlexJobs and unremot.com
How to become a freelance HR consultant?
To become a freelance HR consultant, you must have the required skills and qualifications, plenty of networks, and the capacity to maintain a work-life balance.