Remote quality assurance jobs is an excellent field for those hunting work from home jobs. The barriers to entry-level testing jobs are low.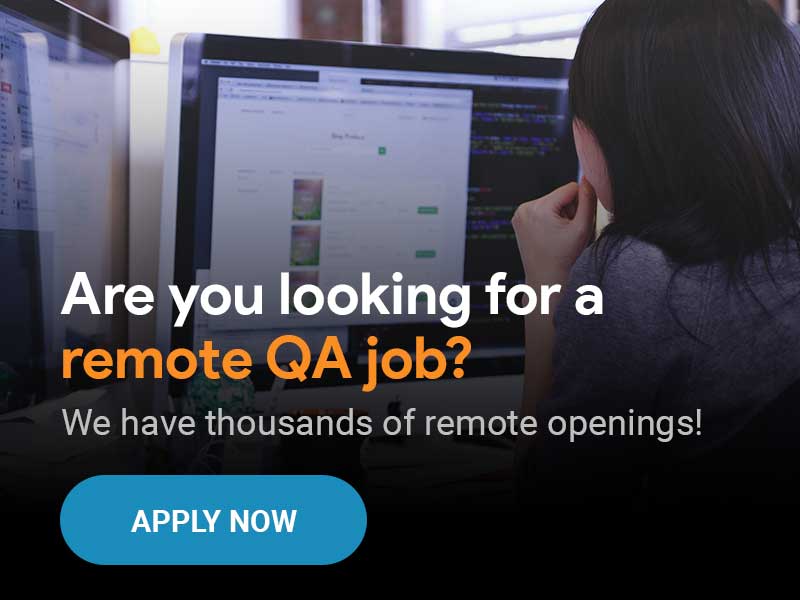 You may only need access to the Internet for remote QA jobs, and an eye for detail. The remote-friendly employers often want a degree in computer science and relevant experience for more specialized remote quality assurance jobs. In this article, you will find all the information needed about QA remote jobs.
How to work from home successfully?
What are remote QA jobs?
Quality assurance (QA) is a way to eliminate errors and failures in manufactured goods. It reduces issues when providing consumers with products or services. Quality assurance involves administrative and operational tasks.
These tasks are carried out in a production system to meet the specifications and objectives for a product, service, or operation. It is the systematic assessment, comparison with a norm, process control, and a related feedback loop that confers avoidance of errors.
This can be contrasted with quality control which focuses on the output of the process. Quality assurance encompasses two principles: "fit for purpose" (the product should match the intended intent); and right" first time" (mistakes must be prevented).
When the above tasks are done remotely, it's qualified as remote QA jobs. Not all the job profiles under QA can be delivered effectively remotely, but there are a few, which we will deal with in detail in this article.
Did you know? According to The Bureau of Labour Statistics, Quality Assurance is a "new and emerging occupation". Therefore, it is sure to be very profitable. 
More about remote QA jobs
Remote QA jobs involve building on a company's credibility, with a relentless dedication to meticulous production. The ideal candidate is extremely coordinated, methodical, and professional.
He or she must have the requisite expertise to take the company's products to the next level concerning quality, health, and security. In remote QA jobs, you will be charged with developing a comprehensive QA program that not only protects the quality of the products but also promotes a "quality culture".
Through this culture, all employees will be actively involved in ensuring quality in both the production and the finished product.
Career path for remote QA jobs
Different companies and different sectors around the world lookout for quality assurance analysts and testers to make sure that the products they manufacture are as per the quality standards. Thus, when it comes to job availability, the career path under remote QA jobs is quite bright.
These days, remote QA jobs for software are also abundantly available. These professionals are engaged in testing the quality, functionality, and usage of different software and hardware components.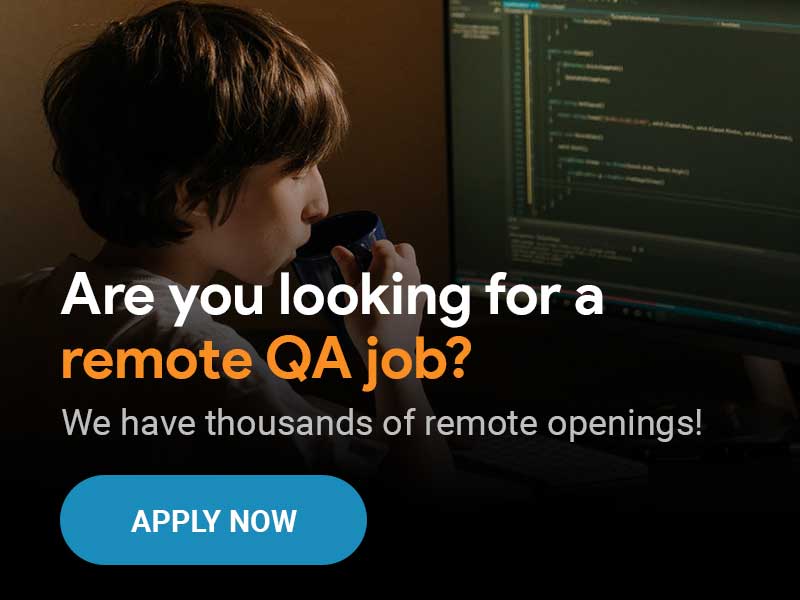 You can get remote QA jobs just after your graduation in any stream, but to have a permanent career as a Quality Analyst, you may need to go for certain certification courses. Good quality courses will help you in understanding a product's makeup and what might go wrong in the production process.
Some potential employers may also ask you for experience in this sector. Thus, it is important to look out for opportunities whenever possible in Quality Assurance when you are still studying in college. Good communication skills, problem-solving skills, and the ability to work independently on different projects will help you to get higher growth in your career.
QA is a sector that has lots of flavors to the role. You can start your career in QA as a QA Tester and with gradual skills and experience, you can move up the ladder. In the first few years of your career, you can get the opportunity to work as a QA process facilitator and QA Auditor. As you gain enough experience in the field, you can become QA Tool SME or a QA coach who is also known as the QA Scrum Master.
Career paths in the QA sector can fall through two major areas. The first area refers to quality control and the other one relates to Quality Assurance. People engaged in Quality control work in the field of testing different products and finding defects. Thus, they are given the responsibility, if a product can be launched in the market or not.
People engaged in Quality Assurance attempts to improve good production standard. Thus, they have the role of minimizing the issues that create defects in the first place.
Depending upon skills and interests a person can get employment opportunities in the different manufacturing industries. From aerospace to pharmaceuticals and from automobiles to food, QA professionals are needed in all industries.
The career path toward remote QA jobs begins as soon as you pass out from your college, and this path can help you to reach all potential heights within a few years. All you need to do is to have great learning and in-depth knowledge about all sectors that use testing methods and procedures.
Thus, try to get adequate information about the healthcare sector, the software industry, the telecom sector, and the manufacturing sector. Domain-specific knowledge will help you to mold your career in a better direction.
You can also look out for different industry-specific certifications to help your career move forward. Thus, if you keep on working towards improving your skills and knowledge, a career path under remote QA jobs is quite fulfilling.
Market opportunity for remote QA jobs
Every industry and every sector wants to test their products and goods they manufacture. But, before these products are launched in the market, it needs to get tested by a qualified Quality Analyst.
The market size of Quality testing and Quality Analysis exceeded $40 billion in 2019 and this growth rate will certainly witness an increasing trend. In North America alone, this sector will witness a growth rate of 8% till 2026. Growing demand for different software due to the digital revolution is pushing the demand for skilled and experienced QA.
Different software development processes are based on remote software testing processes. As per a study, it is being said that the market will need more than 100,000 Quality Analysts by the end of 2022.
Thus, there is no dearth of market opportunity for remote QA jobs, especially if you are highly skilled. So, brush up your skills and get ready to give interviews to big software giants who need people who can work remotely without making any compromise on the quality of work.
Responsibilities of remote QA jobs
While you are into remote QA jobs, the below are some of the key responsibilities that may come to you,
Plan, implement, and supervise incoming and outgoing product inspection and testing to confirm compliance with specifications and quality deliverables. 

Assist in the tracking, recording, and reporting of quality standards as well as CSR, environmental, health, and safety goals/KPIs operations.

To ensure compliance with company standards and external regulatory criteria.

Evaluate and examine product concerns or recorded quality problems. 

Develop or amend the complaint and inspection protocols for the organization to ensure the identification. Investigation and adequate complaint documentation.

Monitor procedures for risk management and maintain and analyze problem logs to identify and report recurring management and product development issues. 

Provide guidance and assistance to the quality assurance team on the main processes, structures, strategies, and policies.
Best Remote Working Tools That Make Life Easy
Type of jobs under remote QA jobs
The following are the types of remote QA jobs,
1. Remote QA analyst jobs
Remote QA analyst jobs mainly focus on data and the below are their key focus areas.
Initiation of data collection 

Coordination of data collection 

Creation of reports

Usage of statistical methods
Remote Software Engineer Jobs | A Complete Guide
2. Remote QA software jobs
Remote QA software jobs focus on testing and improving the software and the below are the key focus areas,
Application of quality principles to the development of software

Design or specification of test methods for inspection of software 

Designing test methods for verification of software

Design or specification of test methods for validation of software

Provision of recommendations for product improvement
3. Remote QA auditor jobs
Remote quality auditor jobs include performing audits and the below are the broad remote QA jobs functions.
Creation of audit reports 

Following up on audit corrective action 

Carrying out process audits

Doing systems audits 

Carrying out product audits

Making supplier audits
Remote tech support jobs | A complete guide on getting tech support job
4. Remote QA technician jobs
Remote QA technician jobs involve performing basic quality duties and the below are the broad remote QA jobs functions,
Carrying out calibration 

Reporting on inspection results 

Gathering of data 

Carrying out special quality testing

Writing of procedures 

Conducting of product qualifications
5. Remote QA tester jobs
Remote QA tester jobs involve running tests on new software products to ensure quality and the below are broad remote QA jobs functions.
Creation of test plans

Accumulation of scenarios and test data for use during testing

Identification of problems and running debugging programs to fix issues
Good read: Best Morning Routines | Wake Up And Slay
5. Remote QA automation jobs
Remote QA automation jobs include testing web and mobile apps to find any bugs and test functionality and the below are the important remote QA jobs functions.
Design and execution of tests

Identification and reporting of bugs 

Installation of apps and databases

Identification of quality issues

Collaboration with members of the engineering team
6. Remote QA engineer jobs
Remote QA engineer jobs mainly focus on the development of the inspection process and the product with the following remote QA jobs functions.
Installation of statistical sampling processes 

Improvement and monitoring of inspection processes

Writing procedures 

Specification of inspection and testing equipment 

Aid in formulating quality assurance policies

Carrying out audits

Interfacing with customers, engineering, and suppliers 

Issuance of corrective action reports
Remote Research Jobs | Research From Home
Tip: Before applying to a company for a remote QA job, research its QA testing tools and automation processes. This will help you identify whether or not that company is the right fit for you.
Qualifications needed for remote QA jobs 
The following are the requirements for remote QA jobs,
1. Educational qualifications
A minimum of a Bachelor's degree in Computer Science or a related field is required to land good remote QA jobs. Professional certifications like Quality Auditor, Six Sigma, and Quality Engineer will be preferred. 
2. Work experience
Recruiters of remote QA jobs usually prefer those candidates who have previous experience in this area. This includes the demonstration of testing best practices, defect management practices, and version control practices.
10 Best Calendar Apps For A Productive You  
3. In-depth knowledge of quality assurance
To enhance the testing process, one needs to be acquainted with sufficient knowledge of the testing methods and technologies present in the market in relation to the project needs. Testing methods are less market and domain-dependent and more analytical.
There are ample options for various testing processes, such as bug tracking tools, automation tools, and GUI testing. For any domain in quality assurance, cross-browser testing is very important. Due to the various outlets available, it is becoming popular.
LambdaTest is one of the top suppliers of cross-browser testing tools with hundreds of mobile and web browsers. With their device array, such tools help QA specialists debug and find errors effectively.
4. Glocal approach
As a QA specialist who is into remote QA jobs, it is necessary to understand individual device components and how they communicate with each other. The existence of growing stakeholders in modern organizations makes it difficult to grasp the full operation of such processes.
This has landed focus only on the individual components. You must test the application holistically. For this, you must have the capacity to remove yourself from the system and get the viewpoint of an outsider.
This view of the components would also give you a better understanding of the system and any mistakes in its internal function. This is what is called the Glocal method, controlling both global activity and local function.
Team Communication 101: What is it & How you can crack it!
5. QA skills
It is essential to have QA skills such as technical, communication, project management, business, and thinking skills to thrive in this industry. 
Tip: To land profitable remote QA jobs, develop strong, vast networks on LinkedIn, QA groups, and former co-workers. 
Recommended certifications to get remote QA jobs
Getting a certification in QA is imperative not only for personal knowledge but also for maintaining the consistent quality of products manufactured in the market.
The QA team has an important role to play when it comes to maintaining the product usable for consumers and also for maintaining the standard quality of the product. Following are the major recommended certifications to get remote QA jobs.
| | |
| --- | --- |
| Name of certification | Need for certification |
| Certified Test Engineer (CTE) | This certification is best for those people who are new to the industry and want to boost their resume and experience. |
| Certified software quality analyst (CSQA) | This certification includes quality control as well as quality assurance. To get this certification, candidates need to have at least a year of experience. |
| Certified Associate in Software Testing (CAST) | This certification will help candidates in getting a foundational understanding of QA testing. |
| Certified Manager of Software Quality (CMSQ) | This certificate shows that a candidate is professionally capable of all QA skills. |
| International Software Testing Qualification Board (ISTQB) | Getting this certification will make you an internationally qualified QA. |
Skills for remote QA jobs
The following are the much-required skills for remote QA jobs,
1. Logical Thinking
It is not as easy to do quality assurance as is often presumed to be. It holds great importance for any phase of software creation. A knack for analytics and logical application of the concepts is required for any of the remote QA jobs.
It is important to evaluate the given situation when testing software, and thus establish a solution for the same. The process of thinking and the right mindset will help to break the problem down into parts. This will make it easy to examine the elements of the problem and its relations.
8 Remote Work Habits Of Every Productive Employee
2. Reporting and communication
Quality assurance can be a lengthy and agonizing process that requires the tester to sit down for hours and evaluate a certain situation. Having invested these hours, it is important that the correct message is sent to the higher authorities as someone leading in remote QA jobs.
This leads to correct release decisions and timelines being made. A good report, along with clear communication is important for the establishment of healthy accountability and trust among all stakeholders. It conveys all the steps taken, the bugs identified, the bugs solved, and any other problems encountered.
3. Business thinking
A well-structured business model is the start of an app or program. One of the most significant competencies of remote QA jobs is the ability to simulate real-time business scenarios. This method of mapping business scenarios mentally is important because it enables the simulation of complex problems.
Every project has user stories that are incorporated. These stories explain the type of interaction that happens with the system, and the result of the system. The outcomes of these experiences must be consistent, and the testers need to recognize various situations where continuity can break.
This makes it important that QA specialists recognize the system's boundaries. They must also verify that the effect of various processes on the system is desirable.
Inbox Zero: How to boost your email management!
4. Automation skills
Although having experience in manual testing is important as a QA professional, there will be times when it is better to rely on automation. A given module undergoes many changes in implementation over the life cycle of a project.
Each release process requires a thorough test cycle to ensure the reliability of the program. As a best practice, regression testing will follow up on even the small adjustments. This means that the same tests would be performed for every new implementation.
Automating tests for situations where the repetition occurs gives the QA tester plenty of time to focus on more challenging test scenarios.
5. Programming skills
It is an outdated idea that programming expertise is only required by developers. In modern times, even QA specialists need basic skills in programming. It will help to understand the workings of a program and make it easier to test the same.
Although testers do not need to code like the application developers, learning the code will give them an advantage when finding and fixing errors. It will speed up the final product's testing cycle and quality. It also reduces the chances of further glitches and inefficiency.
Remote Project Manager Jobs | A Complete Guide To Get You Started
6. Project management skills
Quality assurance competencies are a mix of technical and professional aspects. It is absolutely critical for every person to be able to take ownership of the project to handle both aspects to deliver consistent performance in remote QA jobs.
Being able to handle a project as a software tester means getting the product shipped after a full test. Project management is a valuable skill because it contributes to better management and production performance. It also encourages a sense of responsibility.
7. Technical skills
This means recognizing the popular and new patterns that have arisen. It will give you a sense of the method, its scalability, and the challenges that lie ahead. Technology is constantly evolving, and it can get incredibly hard to keep up with it. There are different ways you can try to stay abreast with technology.
Check for the top trends which are frequently released by well-known publications and online tech news website. The search for technology trends on a search engine will get you started well. 

Follow up on social platforms, the profiles of people who are industry leaders. Platforms such as LinkedIn and Twitter allow you to follow industry leaders who regularly post the latest tech information on their feeds. 

Join communities on tech. With communities emerging on Reddit, Telegram, and so on, finding and joining the ones where discussions are taking place about the latest trends is easier than ever.
Good read: 34 Best Remote work communities on Reddit, Slack, Facebook
8. Planning and documentation skills
Planning and documentation form the basis of the entire quality assurance process. A good software tester needs to have a well-defined action plan based on the requirements and timeframe for the test phase.
This will ensure that resources are distributed accordingly. In addition, documenting is an ability that many QA specialists prefer to ignore, but a well-documented testing method helps get a better review. This helps the team simplify future solutions to any bug or error that might occur.
9. Cross-browser testing skills
The requirement for browser compatibility testing is greater than ever before. The abundant availability of browsers, along with multiple device cultures and variations in screen sizes is the reason.
It allows QA specialists to test their applications for different devices over different browsers running on different OSs. Cross-browser testing is key to ensuring a smooth post-launch run.
14 Best Productivity Tips to Achieve More At Work & Life
`10. Front-end communication skills
Communication at the front-end is with the customers. Remote QA jobs ought to make their correspondence transparent and descriptive. In addition to being brief and clear, all presentations should be well supported with examples and proofs.
Any questions that the client has posed should be taken as a suggestion and addressed with well-crafted solutions or explanations. This ability makes the remote QA jobs professionals an important part of the team and requires a high level of excellence.
Top 10 tools needed for remote QA jobs
Following are the top 10 tools needed for remote QA jobs. Get equipped with all these tools before you start your remote QA job.
HttpMaster: This tool helps testers to observe website services and also monitor their response.
McCabe TQ: This tool makes data analysis tasks quite easy.
NeoLoad: NeoLoad is helpful in measuring and analyzing website performance. Neoload can help QA professionals to optimize their test runs.
Testlink: This tool is made to document different types of test cases and suites. The data reports by test link are quite manageable for QA professionals who want to track, trace, and manage data efficiently.
CloudTest: it is one of the most efficient cloud-based tools that helps in fast and transparent testing methods.
HP QC: this is one of the most used and popular testing software available in the market. This tool is quite reliable when it comes to establishing and managing the testing process.
Appium: This tool is every QA's best friend when it comes to simulating tests for mobile apps.
Bugkilla: This is a great open-source java tool for a web application.
Aptest: this tool enables consistent test runs.
Loadster: This is a web page performance tester tool.
Top 25 dream companies for remote QA jobs
If you are thinking about taking up a remote QA job, you should look at this list of top 25 dream companies for remote QA jobs.
TestBytes: mobile app testing, game testing, and automation testing
Alqa: This company provides manual and automation testing in domains like finance, banking, and eCommerce.
SPEC India: This New Jersey-based company provides IT solutions, and it also provides security testing and analysis.
Science Soft: the company is involved in providing manual testing, automation testing, and DevOps.
DeviQA: This company provides QA consultancy services
Hidden brains Infotech: This company provides services like product maintenance and support.
Powercode: This company also provides testing and maintenance services
BairesDev: This company provides testing and maintenance services in addition to website development services.
Testmatick: The company provides services like mobile app testing and game testing.
QA source: QA source will help you in QA outsourcing services.
Zymr Inc: This company provides testing and maintenance in the field of cloud and cybersecurity.
QATestLab: The company is involved in providing mobile testing, functional testing, and Automated testing.
LambdaTest: This website offers cloud mobile, Web, and API testing.
Algoworks: This website helps in salesforce development and testing
Nex Softsys: This company also offers QA and testing services
Awsquality: this is a company engaged in salesforce development and testing
Synergytop: This company helps in mobile applications along with quality analysis.
Abstracta: The company provides extensive testing in different domains.
Rademade: This company is helpful in the design of products from development to maintenance.
Codebright: the company provides strategic consulting services.
Agile infoways Pvt. Ltd: This company offers eCommerce and quality assurance
Sunflower lab: This company helps in getting mobile testing as well as functional testing.
Systematix-Infotech-Pvt-Ltd: The company is engaged in quality CRM as well as Quality Assurance.
Blue-label-labs: The company offers strategic development and quality assurance of the product.
FluidAttack: This company offers IT security services and also performs security testing.
Necessary elements for a remote QA job resume
Building a strong resume is very important when applying to remote QA jobs.
Personal information

including name, age, gender, nationality, and contact information. 

A 

professional overview

that highlights your experience, your skills, and your candidacy. List the most definitive features in two to four lines that are important for the online QA job role you are applying for. 

List your 

objectives

 so that the recruiter knows what you are expecting from his business, and what your contribution would be. 

Highlight the 

skills

 you possess that are essential to remote QA jobs.

Typing down your 

educational qualifications 

is essential. 

Any additional 

certifications or training

 must be included. 

Mention all of your 

QA work experiences

 and their assigned roles. 

Write down the 

accomplishments

 pertinent to QA. 

Please specify your 

interests

. 

Give valid 

references

.
Tip: Before submitting your resume to a recruiter, ensure that you ask your friends and former colleagues to give you feedback on it. 
Suggested read: Best resume software | Give the finest first impression
Online job boards for remote QA jobs
You can find many more remote QA jobs through the following online job boards,
Remote.co

Flex Jobs

Remote OK

Simply Hired

Glass Door
What is the job profile of remote QA jobs? 
Remote QA jobs involve the preparation, execution, and monitoring of incoming and outgoing inspection of products. This is done to ensure compliance with specific requirements and quality deliverables.
How do you land remote QA jobs?
You can land a remote QA job by getting a Bachelor's degree in Computer Science or a related field and availing of some additional certifications like Six Sigma. You must be fluent with testing tools and the latest technology for quality assurance. Skills such as business, communication, analytical, technical, documentation, and project management are required to excel in this job.  
Where can I find remote QA jobs?
Remote QA jobs can be found on top online job boards such as Flex Jobs, unremot.com, and Remote(dot)co
Can QA specialists work remotely?
Yes, QA specialists can work remotely. 
Which are the best companies for quality assurance and software testing jobs?
Some of the best companies for quality assurance and software testing jobs are SAP and PixelCrayons.