The rapidly evolving digital world has made work from home easier than ever. However, working from home can become a herculean task without proper planning. The tendency to take the luxury of time and flexible work hours for granted creeps in. Often, this results in complete confusion, disorganization, and lack of motivation. Productivity could also be affected immensely. The most efficient solution to this problem is to have the best calendar apps to schedule your day and accomplish your tasks with ease. Keep in mind that the best schedule app for you would depend upon your lifestyle and needs.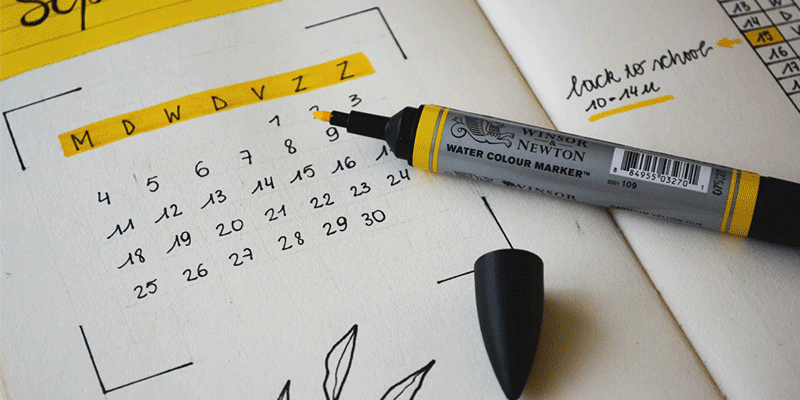 Must read: Best Remote Working Tools That Make Life Easy
What makes a good calendar app?
The best calendar apps send you reminders about events, give a view of your schedule, and help in using time effectively.
The best calendar apps that we have shortlisted have the following characteristics – 
Ease of use 

Customizable features

Promising design

Sharing options

Presence on many devices
Best calendar apps in 2020
1. Google Calendar – Best free calendar app
Devices – Web, iOS, Android
Cost – Free with a Google Account
The best free calendar app, Google Calendar is very popular. With this app, you can build many calendars in one app with the use of your Google account. These entries could be sent to any other online calendar as well. A major advantage of Google Calendar is that it can be connected to business apps like Trello. This digital calendar makes it very easy to identify events and their dates through the feature of color coding. Integration with G Suite apps is also available. A lot of good remote collaboration tools like UnRemot offer google calendar integration.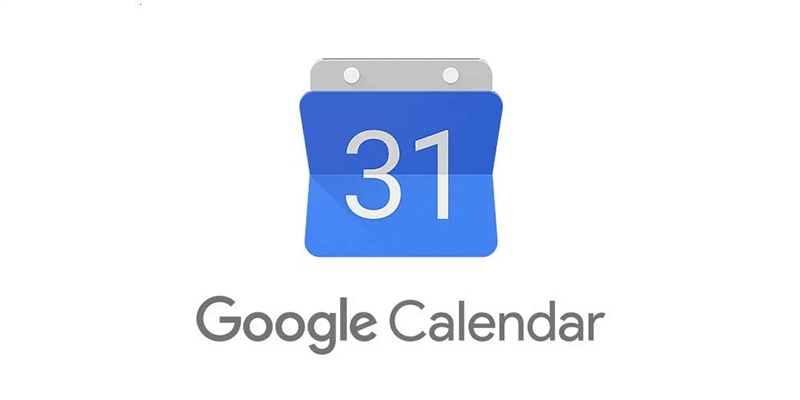 2. Apple Calendar – Best schedule app for Apple devices
Devices  – Web, macOS, iOS
Cost – Free with Apple ID or iCloud
The default scheduling app to store calendar entries made to all Apple devices, Apple Calendar is built into iOS and macOS. You can also update your entries through a web-based app on iCloud.com. A very good calendar app, Apple Calendar provides you the option of pulling information from any calendar that makes use of CalDAV, Google Calendar, Yahoo, and Microsoft Exchange. To all new events, you can add locations, titles, notes, invitees, and reminders. Travel time estimates can also be factored into alerts for events. Integration is available for all Apple devices. Notifications from Apple Calendar can be seen in the macOS and iOS sidebars.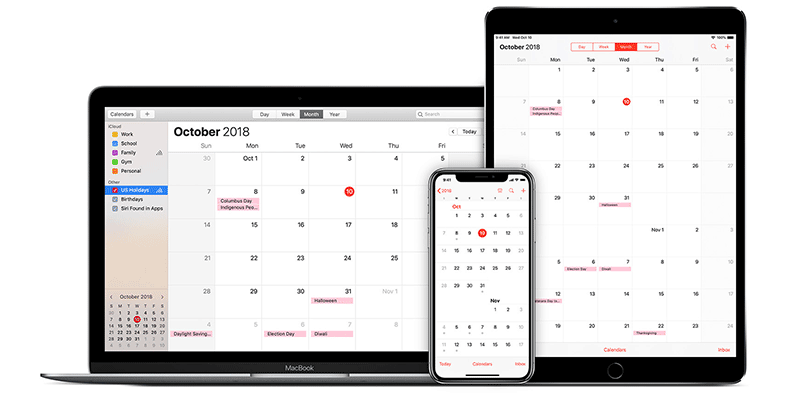 Suggested read: 34 Best Remote work communities on Reddit, Slack, Facebook
3. Microsoft Outlook Calendar – Best agenda app for businesses
Devices – Windows, Web, iOS, macOS, Android 
Cost – Free for iOS and Android; paid plan available from $5.99 per month for Office 365 subscriptions
A personal information manager, Microsoft Outlook Calendar is the best agenda app for businesses. Its desktop app provides the option of combining your email, notes, calendar, contacts, and tasks into a single view. The mobile apps provide the option of combining your email and calendar. Microsoft Outlook Calendar allows you to share your calendar with co-workers as you work from home.
Exchange Server accounts and relevant permissions let you and your co-workers to subscribe to and manage each other's schedules. There is also an option using which you can drag and drop an email onto the calendar icon to make it an appointment. A great feature is that several times zone views are supported.
4. Any.do – Best scheduling app for staying organized
Devices – Web, iOS, Android 
Cost – Free; paid plan available from $5.99 per month which gets billed annually
One of the best calendar apps, Any.do is very useful to those people who need to stay organized. Location-based reminders can also be received through this calendar. Travel time estimates can also be added to notifications prior to any event. The mobile app makes great use of the small screen. It sends notifications to remind you to preview your agenda at the start of every day. Color coding options are available on Any.do calendar app for different events on your calendar. The bottom of the screen shows a snap of the tasks assigned to the date you select.
Read: 8 Best free Video Conferencing Software – Connect, Communicate, Collaborate!
5. Thunderbird Lightning Calendar – Best calendar app for Linux users
Devices – Windows, macOS, Linux
Cost – Free
Along with being a fantastic email app, Thunderbird's calendar app is one of the best calendar apps. The app has a tab for your calendar, email, and tasks. You can conveniently switch between scheduling, communicating, and managing your tasks and events. The calendar tab in the app shows a summary of your schedule for the day. Four views are offered by the calendar – day, week, multi-week, and month.
The app has a very convenient search function that is enhanced with time filters. The major advantage of the Thunderbird Lightning App is that it is a calendar, personal email client, and task management app all in one. Although the app is available for Mac and Windows, it is the first choice for Linux users who need a powerful calendar app.
6. 24me – Best calendar app for managing several calendars
Devices – Android, iOS
Cost – Free; paid plan available from $5.99 per month or $35.99 per year for labels, alerts, and customization
Building your schedule with several apps on a mobile phone can be very frustrating and confusing. 24me is an app that exists to get rid of this problem for you. A single mobile assistant, it provides a uniform interface for notes, tasks, appointments, and meetings. You can connect your Google Calendar, Yahoo, Outlook, Exchange, and iCloud calendars to this app so that you can view everything in one place.
What's great about this app is that it also connects to financial providers like banks, social networks like Facebook, and utility providers. You will receive alerts when your bills are due and can make the payment in only a few steps. Being integrated with Siri, 24me allows you access without even opening the app. With the Apple Watch app connection, you can check your upcoming events on your wrist!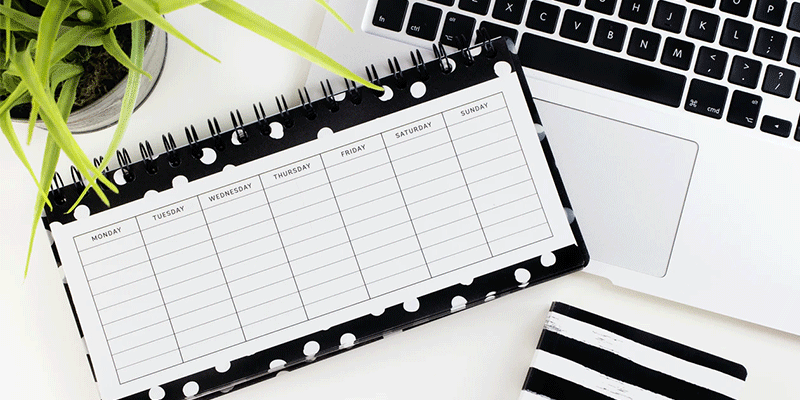 Good read: 9 Best screen sharing software
7. Fantastical 2 – Best paid scheduling app
Devices – iOS, macOS
Cost – Free trial available for 21 days; paid plan available from $4.99 for iPhone, $9.99 for iPad, and $49.99 for macOS
Fantastical 2 has everything you need to keep yourself organized on Apple devices. It also has the Apple Watch app companion. Fantastical 2 works best on desktop. It is very appealing with its cheerful colors. You can make additions of notes, URLs, locations, and invitees to an event with ease.
Integrations with the rest of the system allow the app to give you a Today view widget, share sheet extension, and Handoff support. When you type an event's name, the app itself parses your words into calendar fields to bring out related information such as the availability of team members and addresses. The creation of events with natural language is the best feature of Fantastical 2.
Suggested read: Time Blocking: All you need to know about this powerful technique
8. TimeTree – Best calendar app for collaborations
Devices – Web, iOS, Android 
Cost – Free
A collaborative calendar app, TimeTree allows you to create useful calendars. It aims to understand what exactly your needs are and creates calendars accordingly. For example, it asks you whether the purpose of your calendar is for personal plans, work, family, friends, or groups. Every option provided to you has a detailed description so that you can decide your purpose carefully.
You can create as many calendars as you want as there is no limit to the number. When you create multiple calendars, all your events will be shown in an overlay which would give you an idea of what your complete schedule looks like. There is also a color coding feature for each calendar. You can also import different calendars like those with the list of national holidays.
9. My Study Life – Best agenda app for educators and students
Devices – Web, iOS, Android 
Cost – Free
My Study Life is a calendar app that is specifically designed for educational purposes. Schedules in the world of education vary considerably from those of the private sector. Those pursuing education follow the term or semester system instead of the quarterly one. These educational calendars are filled with unusual situations and exceptions. My Study Life caters to these conditions. You can log your classes, assignments, study times, and exams to this calendar. The app also allows you to track the progress of your task completion which shows up as a percentage.
Read: Best resume software | Give the finest first impression
10. Cozi  – Best calendar app for families
Devices – Web, iOS, Android 

Cost – Free; paid plan available from $29.99 per year
Family schedules involve many conflicting events, work and study appointments. Made specifically for busy families, Cozi consolidates several calendars, shopping lists, and to-do lists in one app. Members on the calendar are given assigned colors so that when an event is created by one person, the others know who has created it. Cozi also has journaling and messaging features.
Now, you can choose the best calendar apps to stay organized and focused while working from home.