Working in an office, spending your whole time and energy is a terrible lifestyle. Administrative jobs are like glitters, it seems to be easy but becomes dizzy once you get involved in the task.
Please don't get me wrong, I'm not against being employed or someone who hates the admin jobs. But around 48% percent of the employees feel stressed out and drained in their respective jobs, this number increased by almost double in the case of Americans. Almost 80% of Americans don't even want to work in offices.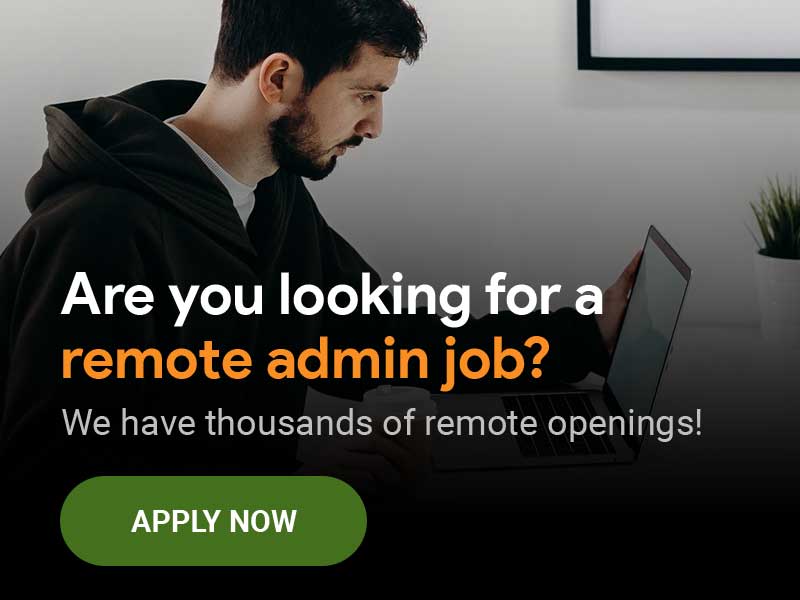 To get rid of this problem you should consider seeking remote jobs. Remote admin jobs can turn out to be the most suitable job for you.
What are remote admin jobs?
Now don't get confused, you can't say that you have remote admin jobs because of your flexible working schedule, it also doesn't include 4 days' work from home options. Almost every company is providing these facilities to their employees.
Remote admin jobs are those jobs, which can be done irrespective of any offices and other company locations. You either work from home or assigned to any particular location for a task.
Fortunately, in remote admin jobs, you don't even need to visit specific places to get your boss's work done, this is one of the beauties of remote admin jobs. Till now you might have got an idea of what you will do in your next job.
Remote admin jobs are those jobs that perform managerial works of an organization from the comfort of your home. You do the work, interact with clients, and don't need an office to work.
Read More: What is remote working?
Are you really good at remote admin jobs?
I know you are frustrated with your current job or you are a complete beginner who is just wondering this will be a perfect career for you, as it doesn't need you to go to the office. The advantages of working for remote admin jobs are obvious, but there are higher chances that you are not happy with your current job, and things will be in your favor just by applying for another company.
Check your personal circumstances and know what exactly you want.
Remote admin jobs have some definite but not visible disadvantages. Given below are some of the negative points, that will give you a proper vision and will help you to make a better decision for your life-
1. Same workload (if not more)
Getting a remote job doesn't mean that you'll have to work less. It solely depends on your boss and the type of project you are dealing with. Of course, you are free from working hours but who knows there will be a need for extra time right from the comfort of your couch.
How to work from home successfully?
2. Lesser Social Life
Okay, it might sound funny and you are thinking that's why I am choosing a remote job over an office job. Probably, you're a bright extroverted person who likes to interact with colleagues and generally made them laugh. In this case, getting an opportunity to work from home might not be for you.
This is surely a serious concern, many remote workers have accepted the truth that their social life has reduced because of their work and being in the home habit. You can easily make many virtual friends from social media but having no physical presence of people will surely lead to a higher rate of loneliness.
3. No Fun at Lunch Hour
Almost every employee watches the clock repeatedly and just waits for lunchtime not because they are overworked but to laugh with their friends. Unfortunately, remote jobs don't have any lunch breaks and if anyhow you consider taking a break, you will be unable to listen to someone's stories.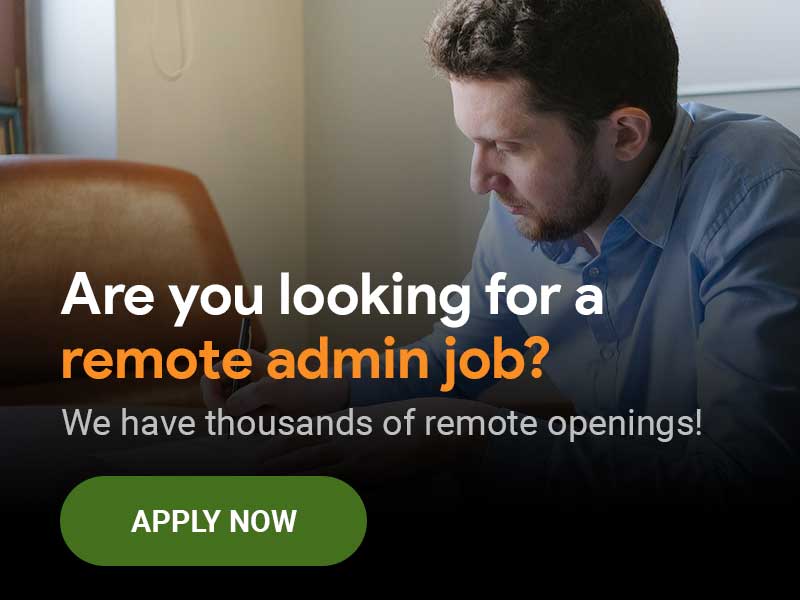 These points are really effective and can't be ignored at all, moreover, remote admin jobs can be a tough job, especially for beginners. As you are not in contact with anyone or you can't see someone's progress. It will be difficult to manage the work.
8 Simple ways you can combat remote work loneliness
Career paths under remote admin jobs
Virtual admin jobs can be an independent freelancer or work for an organization. A specialist virtual admin assistant usually earns more than a general admin assistant. Virtual admin can start assisting more senior executives such as CEO or COO as they become more experienced. Virtual assistance can become executives themselves.
Permanent remote executive managers will get promotions as per their skill sets. After sufficient experience, they can become consultants.
Remote system admin salary depends on the size of the company and its location. There are various certifications you can do to advance your career faster. It takes 10-15 years to become a system architect. System architects can diversify into cybersecurity. There are courses and certificates if you wish to move to cybersecurity. Remote system administrators who understand IT systems and give concrete solutions to improve the system can become an IT consultant.
Market opportunity for remote admin jobs
Small businesses prefer to outsource their tedious administrative jobs to remote administrators. Remote working is one of the biggest trends in the business world today. Several companies like startups operate on skeletal staff. Around 95% of remote jobs today have a location requirement. With internet speeds increasing in the US, remote job opportunities are said to rise by 400%.
According to a recent survey, 49% of startup prefers hiring virtual administrators or assistance. The global virtual assistance market is estimated to be at $1.1 billion in 2011. According to projections, it is expected to reach $11.9 billion in 2024. These jobs can range from short term contracts or long-term contracts. They can be permanent or temporary jobs. 
Remote work is just not for entry-level jobs. There are opportunities for mid-level and senior management as well. As the companies go virtual, position like remote executive position also increases. The best industries for remote executive management jobs are in healthcare, customer service, and education. The ability to video conference more easily have made a remote executive manager work much easier. 
As offices around the world are becoming virtual, employees need to connect to the network. The US Bureau of Labor statistics believes there will steady growth in remote system admin jobs for the next two years. It is expected to grow by 12%.
Types of remote admin jobs
Administrative work is mostly related to the top level and upper-middle level management. These are widely divided work, which is related to the managerial, and organizing work. There are various types of administrative jobs. Here is the list of, some of the highest demanding jobs
1. Executive Manager
Executive managers control all the interior affairs of the company. Basically, he ensures the worker's comfort and organizes executions. He works silently but performs the most essential and complicated tasks. Tasks like, managing project budget, securing flights for travel purpose, hiring management and many other common duties are part of this post
2. System Admin Jobs
A system administrator usually regulates the organization's arrangement of computer networks. The System Administrator's obligations incorporate investigating equipment, programming, and other technical administration issues. You should make sure the guarantee of all processing tasks runs with ideal execution and security.
The role of system admin jobs becomes more crucial when doing this remotely, you got no physical access to the resource. To apply for this post, you ought to have a great capacity to take care of issues, and utilizing your ability and figuring arrangements. The best system administrator will always be a cooperative person, ready to deal with all help demands with graciousness and polished skill.
Remote Project Manager Jobs | A Complete Guide To Get You Started
The keys roles for a system administration job are-
Monitoring system performance and ensuring everything is running smoothly.
Debugging the error in general projects
Providing technical support to other workers
Keeping database management safe and secure.
3. Virtual Admin Jobs
Virtual admin jobs demand a person who manages the creative and technical part with the general staff. These types of jobs are generally contract-based. A committed virtual administrator is someone working in the office and web association just as guidelines given by the organization. The remote person worked either in the workplace type restaurant or in their home. The general virtual administrator is also called an online clerical specialist.
Important skills for remote admin jobs
To make your life easy and getting a high paid remote admin job is great. But, to maintain this job style you'll have to learn some of the vital skills. These skills for administrative jobs include both hard and soft skills, depending on your job profile. Remember, having a strong command of administrative skills will help you to reach a higher post in any industry.
The common skills every employer seeks in an employee are,
1. Communication Skills
You know why this skill is mentioned at the top of this list. Communication is the diamond of this world. Having a master's level in communication skills will make you successful in every aspect of life. The same goes for the corporate world.
The administrative job requires a lot of good communication. Most of the time you need to manage other people, persuading clients by removing their doubts and justifying to them, why your company is the best choice they will ever make for them. Even the slightest barrier in communication can cost tons of money for any company.
Note that here, communication skills also refer to writing skills that include email writing, project descriptions, greetings, and many other documentations.
Team Communication 101: What is it & How you can crack it!
PRO TIP- To be a good communicator, you first need to be an amazing listener. That's the first step of persuasion. No matter how hard you try to convince them, without knowing their issues or problems nothing can be resolved.
2. Problem Solving
As Mark Zuckerberg once said in his interview-" Don't focus on committing mistakes, you are just wasting your time. Rather, try to learn and solve that mistake as fast as you can"
The problem is a universal element of the industry. You can't deny the fact that coming with one solution to a problem is capable of giving rise to many other drizzling problems. Therefore a company desperately wants an employee who acquires good problem-solving skills. This is the most demandable skill of top-level management.
Problem-solving skills are mostly related to these types of works,
Client relation
Goal-oriented tasks
Team-work related projects
Problem resolving
Best Remote Working Tools That Make Life Easy
3. Management Skills
"The art of doing a task most effectively and efficiently is known as Management". Any administrative post is not bound to any limits, a person should be able to work on many different things simultaneously. This is why you should have a strong command of management also. You can save a lot of time and effort on your own. The management skills are needed in many situations, like-
Bookkeeping
Inventory Management
Team management
Project completion
Appointments and Meetings
4. Technical Skills
You can't ignore the technological concept when working in a corporate job. In today's time, every company has adopted the maximum of technology. To maintain competition with this world, you must adopt the basic technological skills that include programming, hardware knowledge, decent command in data management software like Google docs, Google Sheets, and Powerpoint.
Moreover, you should be well aware of the company's software, browsers, and other hardware. While doing a remote job the need for expertise increases drastically, as it might be possible, you're not physically present at the location where the technical error arose.
Remote tech support jobs | A complete guide on getting tech support job
Certifications for remote admin jobs
There are a bunch of formal training programs that may help you get better in your career as a remote admin. Some of them are below,
Certified Administrative Professional (CAP)
Certified Medical Administrative Assistant (CMAA)
Professional Legal Secretary (PLS)
More insights into these certifications can be found on the Study.com website.
Top 10 tools needed for remote admin jobs
Office administrators have a wide range of responsibilities. They need to learn multitasking, efficiency, time-management, and patience. There are several tools available that can make you more effective. The tools may differ depending on your administrative role. The top 10 tools needed for a remote admin job are,
Hootsuite allows remote administrators to administer social media platforms of organizations. The tool allows them to create and save social media posts and set them on a timer. You can manage multiple social media platforms on behalf of your organization. The built-in analytics provides feedback to track the success of a social media campaign.
Cloud-based systems are an excellent office administrative tool that allows you to share important documents. Dropbox is a handy tool that is convenient in case you work remotely. You or your team can upload their files, and others in your office will be able to access it. Another popular cloud-based is Google Drive.
EverNote allows you to take notes during team meetings. It is versatile and works well with other apps. The app lets you save and share files with your team members.
TripIt is a useful tool to use if you need to manage the travel plans of one or more executives.
24Me allows you to set reminders for paying bills, meeting, and deadlines. It can sync up your to-do list, notes, and calendars.
ScheduleOnce is designed to ease the hassle of setting up a meeting or appointment. It can be used to set up an in-house meeting or used by clients to schedule their appointments.
Scoro is a work management software allowing managers to manage projects, bills, provide sales support, and allow employee collaborations.
ProWorkFlow simplifies the task of assigning staff, track time, and reschedule projects. It helps teams to get a clear-cut picture of accountability, pending tasks, bills, and reporting.
Google Calendar is an excellent tool for remote admin. to set team targets.
Google Meets is a communication tool that allows you to stay in touch with clients and teams globally. Other tools similar to Google Meets are Microsoft Teams and Zoom.
Top 25 dream companies for remote admin jobs
Remote administration jobs are an ideal fit for people who excel at multi-tasking, managing diverse responsibilities, and provide support to executives. It is important remote administrative professionals are self-motivated and communicate well. The top 25 dream companies for remote admin jobs are:-
Accounting Principal's head office is in Jacksonville, Florida. The company is a recruitment agency, specializing in placing accounting and financial professionals.
Aerotek is a leading global staffing company. Aerotek has 200 offices and has a large number of contractors.
Ajilon was earlier called TRAK Company. The company is a permanent and temporary recruitment firm.
Beacon Hills Staffing Group is a staffing solution company that provides temporary staff, contract consult, direct hires, and executive searches.
Belay is a virtual solutions company that provides virtual administrative assistants, webmasters, copywriters, and bookkeepers.
Boldly is a virtual business services company with employees across Europe and North America. The company provides virtual services in executive assistance, marketing, and project management.
Cardinal Financial provides a range of mortgage products.
CVS Health is the US's largest provider of healthcare services and prescriptions. The company serves over 5 million customers daily.
Equity help to provide the ideal virtual assistant to professional in different fields.
eXp Realty is a cloud-based brokerage company that offers an immersive cloud environment allowing agents to interact, engage, and learn.
Guaranteed Rate is a mortgage and financial service company with 175 offices across the country. It is the 8th largest mortgage lender in the US.
K12 is in Herndon, Virginia. The company provides educational solutions to children and youth through web-based interactive classes.
Kelly Services is a staffing company that specializes in finding skilled workers for different industries.
My BTLR is a virtual assistance company that provides services to small business owners.
Paragon Planner offers territory management, appointment-setting services, and sales support to their clients.
Profit Factory is a company based in Canada that provides educational and consulting services to companies and assists them to make their processes, projects, and people more efficient.
Robert Half International is a specialized recruiting firm in the US. The firm has 400 offices across the country.
Scribekick is headquartered in Virginia. The company provides its services to doctors.
TTEC helps brands interact with their customers.
Tremco manufactures and sells roofing material.
TaskVirtual provides services ranging from personal assistance, business assistance, web design, and development.
United Health Group is a diverse healthcare company. The company is one of the leading providers of benefits services and healthcare coverage around the US.
Wells Fargo is a financial service company that provides a range of financial services.
Unity Technologies helps companies create interactive 2D, 3D, and virtual reality experiences.
VaVa Virtual Assistance is a virtual assistance provider.
Places to find remote admin jobs
Till now you've got almost every essential of a 'what is admin work', now comes the main purpose of why you read this long article. Searching for remote admin jobs and getting one, is not that much difficult as it seems to be. All you have to do is, build a resume for yourself and start hunting for job posts, before providing a list of the best websites that will surely help you to get your dream job, I must urge you to read details of every job post before applying. Believe me, this is a life-saving tip. People often just apply for jobs without knowing they aren't fully remote.
Some of the best websites to find remote jobs are,
1. Flexjobs – Flexjobs is an amazing and most trusted remote work board. It posts full-time, part-time, and freelancing gigs for more than 50 vocation fields! Also, this place is best for remote online employment for individuals having no or very little experience. Flexjobs screens each and every activity presenting, to ensure it's from a genuine organization to shield you from tricks.
However, Flexjobs requires a small monthly fee of 14.95 dollars per month. I think this is a worthy investment as in return you get hundreds of jobs postings
2. unremot.com is one of the most technologically advanced remote collaboration platform for remote admin jobs. One can find freelance/remote work from across the recruiters around the world, while also collaborating with them over video-based virtual rooms and chats.
8 Remote Work Habits Of Every Productive Employee
3. Angel list – I think considering the Angel list will be the best choice for beginners. The job board is full of present jobs that include the recent startups also. The best feature of them is their transparent salary feature, which lets you know the expected salary for a particular job.
4. Remote(dot)co – This is my favorite one. The most attractive feature of this website is that it contains live rankings of the top companies and job posts. The job board is completely filled with sales and marketing opportunities, which will easily make you apply for many work from home administrative jobs.
Well, some interesting questions may crop up, while you decide to work from home.
Will I actually be able to work from home?
Almost 90% of the people, who work from home, have this question. Often, they feel that they will lack the tempo needed to work from home and will feel like a day off. There are distractions in the home, which can be avoided in the office. But, if you are determined enough to put in a good number of hours, you can work with the same good output, as in the office.
Does working from home actually mean working for long hours?
There seems to be a misconception about the nature of working in an office and that in working from home. The main thought process behind this misconception is that as a remote worker, the schedule will entail, starting early and working till late hours. This scenario does exist, but with little planning, it can be avoided.
Best Remote Working Tools That Make Life Easy
Achieving the first success is generally the most difficult part of the whole process. Similarly landing your first job will involve a lot of effort, rejections, and patience. Beginners should know the actual term "What is admin work?", before even searching for remote admin jobs.
Pay your full attention while making your resume, that is the only thing to showcase when starting out. I hope this article has guided you with the A to Z of remote administration jobs framework.