Playing game occupations are enticing opportunities. From childhood, as soon as the thumbs are long enough for people of old age, everyone unleashes their joy while playing video games.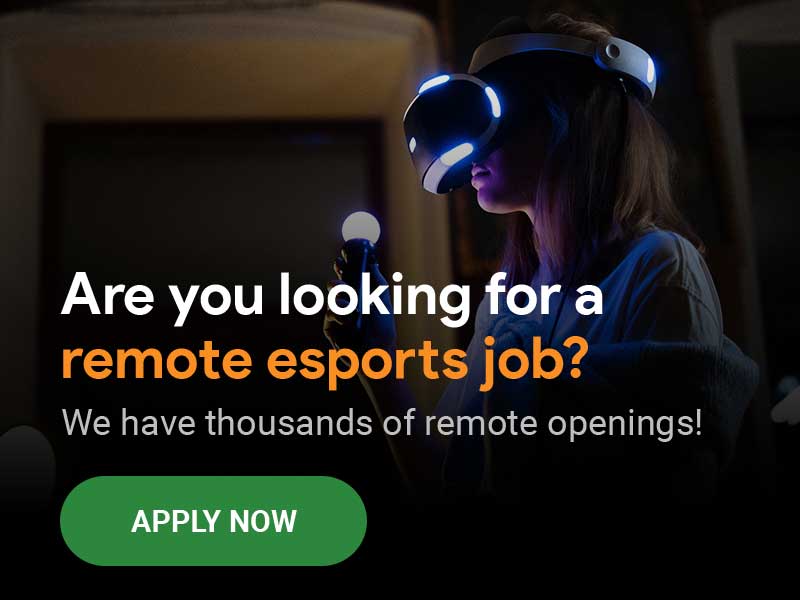 In the last few decades, the game industry has grown tremendously. The major changes took place following the arrival of games based on sensors and virtual reality. Video games are stress relievers as well. Some computer games contribute to human brain growth and improve an individual's smartness. Remote esports jobs are gaining popularity like other remote jobs these days, Hitmarker Jobs being the leading esports job provider.
34 Best Remote work communities on Reddit, Slack, Facebook
Remote gaming jobs
Remote gaming jobs involve the creation and development of video games for a variety of formats, such as consoles, PCs, mobile phones, and web browsers. The ideas, scripts and storylines of video games, audio designer soundtracks, computer game developer programming codes, and video game animator graphics are combined to create a video game.
These are the responsibilities of remote esports jobs 
Create strategies for gaming projects which include the specifications and features of the game. 

Game designers plan the characters, landscape, activities, and storyline after receiving the idea, specifications, and features of the game. They divide the project into smaller parts for the respective teams to take up their tasks.  

Decide which programming language is suitable for the target platform of the game. 

Write codes which enforce the logic of the game, allowing the player to communicate with the game world and its characters. 

The scenery and characters are created using 2D and 3D modelling by graphic artists. They even develop graphics for maps and game art. 

Test the games to identify and report flaws in the software, also known as bugs. The primary purpose of testing a game is to help make sure that the game performs according to plan. 

Automated testing tool is used to assess broken functionality and features, and to check for error code. 

Produce an overall soundtrack – sound effects, sound mix, ambient audio, character voice, and sound effects for the action of the game. 

The video game employees continue to handle new feature requests after a game has been produced and make improvements in the game. 

Design the updates such as the introduction of new levels and characters.
Tip:
Ensure that you have good internet bandwidth to be able to perform efficiently at remote esports jobs.
How to find remote video game jobs? | A short guide
Remote jobs for gamers
1. Video Game Designer
A video game designer serves as the starting point for a video game production. Everything begins with a concept; a video game is no exception. Throughout the pre-production level, a computer game designer designs the video games content. The designer drafts the proposal and includes some essential information like target market, budgets, specifications, and the like. One of the best remote jobs for gamers, video game designing is pretty much like movie making.
2. Video Game Developer 
A video game developer, as the name suggests, is a software developer specializing in the development of video game play. This is the development process of video games. Developing video games is among the best gaming industry jobs online. A game developer can range from one person who assumes all the responsibilities to a person who works with a big business where the responsibilities are divided between employees in disciplines ranging from design, art, programming, testing, and the like.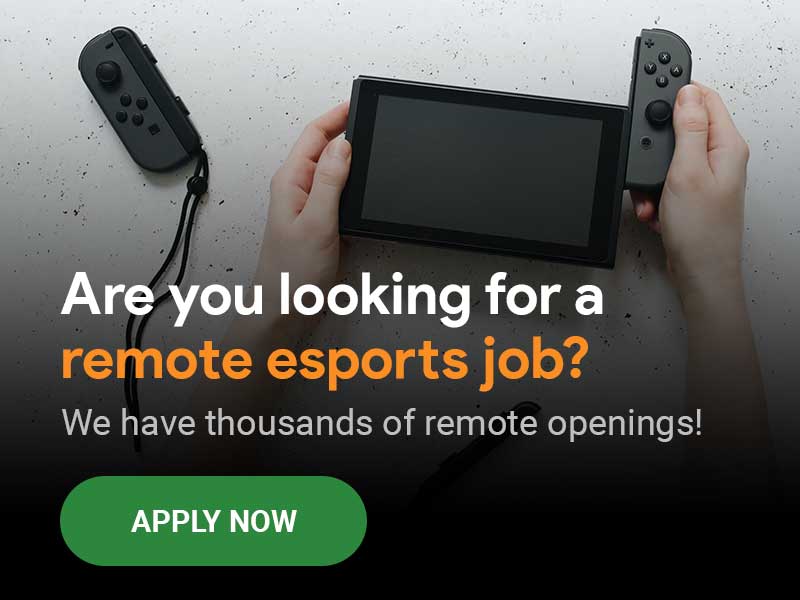 Working with a large organization helps the individual grow in a more specialized way. A video game developer programmer codes for video games based on the guidance provided by a video game designer. Without a doubt, developing video games is one of the most lucrative gaming jobs online.
Remote web developer jobs | Beginners guide
3. Video Game Tester
Game tester jobs at home are a subset of developing video games. The primary function of home video game testing jobs is to discover and document the defects in the software, also known as bugs. Video game testing is a quality control process of video games software. Game tester jobs at home require one to play hours of a video game and submit glitches, if any, to the creator of the video game. The employees test the user experience to ensure that the players are engaging, interacting, and having fun with the game. As one of the most enjoyable gaming jobs online, remote game tester jobs are primarily responsible for ensuring the game performs according to plan.
4. Video Game Writer
Video game writing, one of the best gaming industry jobs, is the art of composing video game scripts and narratives. Remote jobs for video game writers are typical of a freelance profession. The writing of video games is similar to a screenplay. For a film, there are many differences between writing scripts and narratives as video games are of a non-linear and interactive nature. In a given period of work, video game writers become part of the production team. The role of video game writer jobs remotely is also designing the central storyline of a video game and working on the dialogue portion. For freelance content writers interested in this field, video game writing is among the most fascinating esports careers.
Remote Animation Jobs | How To Land Your Dream Remote Job
5. Audio Engineer
Video games without an audio track, are nothing. A sound designer is a person who generates and manipulates audio elements for the game. To give a sense of realism and uniqueness, an audio engineer must create custom sound effect libraries. In the game industry, the role of a sound designer is close to that of filmmaking and television production. An audio engineer or sound designer is responsible for the overall soundtrack production of a game – sound effects, sound mix, ambient audio, character voice, and sound effects for the action of the game. The game's soundtrack should suit the producer's dream for the production of the new world's overall aesthetics. All those looking for musical esports careers, this is the best pick for you!
6. Video Game Animator
Among the most vibrant remote jobs for esports, animation stands out. A video game animator puts together art and technology to create immersive animated pictures, characters, and video game worlds. The goal of the animation remote jobs for esports is to make the characters in the game come alive. High-quality animations are produced by a video game animator. They accomplish the expected looks of the characters and environment that the game design team and programmers create using relevant graphical software.
Remote Graphic Design Jobs | A Beginner's Guide
7. Shoutcaster
Remote esports caster jobs hire commentators who provide running commentary during live matches and usually engage in pre and post-game discussion. Often, they would need to consult players and other experts. Like football and other games, there are commonly two types of esports shoutcasters – play-by-play casters who provide on-the-fly commentary and color casters who provide supplementary facts or observations, typically during a noteworthy moment in a game. Remote esports caster jobs are known to provide very interesting experiences to gaming enthusiasts.
Other remote esports jobs include
1. Esports Athlete
An esports athlete is a professional gamer who signs a deal with a team from an esports league and takes part in tournaments. A pro gamer should have extensive experience and training with the chosen game.
2. Esports Coach
Like any other sport, there are also coaches for the esports teams. There are experienced players who have completed their careers as athletes and are eager to share their experiences with newcomers. An esport coach should keep pace with any game changes, study the tournaments to get ideas, identify their players' strengths and weaknesses and develop strategies. The coach should also track players' health and recommend different activities because esports require a continuous sitting posture which can be detrimental to players and impact their performance.
Remote marketing jobs | All you need to know to get the job
3. Marketing/PR Executive
Remote esports marketing jobs are the best choices for those with a background in media studies. In general, established teams and firms will have a separate department concerned with public relations and marketing. Remote PR executives may collaborate with publishers and influencers to ensure favourable and high-profile publicity for their brand. Positions in remote esports marketing jobs will be responsible for maintaining a budget, positioning promotional sponsorships, and securing sponsorships to expand their fan base or client base. Marketers and promoters may be key to a particular tournament or esports event being successful.
4. Legal Expert/Financial Expert
Attorneys, legal experts, accountants, and lawyers will typically support e-sporting clubs and corporations with creating contracts, settling lawsuits (in and out of court, or by arbitration), negotiating and collaborating on other complex compliance matters. Some organizations will have an internal financial staff to maintain top accounts and manage income and outputs. These areas may be well-paid but will generally require a degree or other qualification in higher education.
5. Sales/Partnership Manager
Sales in esports are very similar to sales positions in other industries. Sales managers or executives may be responsible for ticket sales, sponsorship agreements, and hardware sales. They must grow their customer base or fan base, and come up with new ideas to create excitement around a brand and generate revenue. Esport teams may even have their own partnership executives who are needed to initiate relationships with other companies and partners. They will work with partners and sponsors on joint projects, help generate revenue for the team, and work on initiatives to involve and commercialise their fanbase.
Remote Sales Jobs – A beginners guide
Did you know?
Although gaming laptops provide the feature of portability, desktops offer better capacity during esports competitions.
Requirements for remote esports jobs 
A basic Bachelor's degree is required to apply for remote esports jobs. The following are the other requirements  –
1. Programming language proficiency
Programming language skills are a prime requirement for remote esports jobs. Once the initial design of the game has been accepted, the programming language for developing a game must be decided. Selection options depend on many aspects such as target platforms, the programming staff's programming language experience, and the libraries  and APIs being used. An employer does not expect you to be fluent in all the coding languages. The recruiter will assess your ability in the programming languages you have already learnt. He/She will then determine how easily you can learn new things.
C, C++, C#, Java, JavaScript, Python, Tcl, Pascal, Swift, Assembly, Visual Basic NET, Objective-C, and Lua are the programming languages that predominate the world of today's video game industry.
Working from home with kids | Parent's guide to remote working
2. APIs and Libraries
APIs – An Application Programming Interface (API) is a computer interface that defines interactions between several software intermediaries. The API, in simple words, refers to the guidelines and tools prescribed by a computer operating system. The APIs are a set of pre-constructed commands which allow interaction between different software. 
Graphic APIs – Today, computer games lacking graphics are nothing. Back in the 1990s, rudimentary 2D graphics used to be the norm for games released. The power of images, the art of influencing emotion and immersion in a world of games is all due to the graphics. As MS Windows has been pre-installed on most sold PCs, it now has the highest user base. The most popular MS-Windows graphical APIs are OpenGL and Direct3D. Google Android is the most popular computing platform, as it comes pre-installed in most of today's smartphones. Android has the second-largest user base, with OpenGL and Vulkan being the popular graphic APIs used in it.
Libraries
In computer science, a library is a collection of the non-volatile resource base that computer programs use, often for the development of software. In simple words, the libraries are called a collection of precompiled routines that a program can use.
Team Communication 101: What is it & How you can crack it!
In video game programming, the key decision is to decide which libraries and APIs to use. That decision is based on the platform of the target. Many APIs and libraries are readily accessible which keep track of key game programming tasks. Some libraries handle sound processing and graphics rendering. For example, libraries for MS Windows may not be obtainable for Xbox, and vice versa. But, there are game frameworks available which allow the development of cross-platform. This helps programmers program a game in one language and get the game running on multiple platforms. Knowing how to do this is essential to land entry level remote gaming jobs.
3. Organization skills
Developing a video game is not a job one person can perform. The creation of a video game involves many tasks – designing a game, programming codes for the same, writing scripts and narratives, testing the game, adding a soundtrack, animating the game with graphical software, and much more. Multiple teams are allocated the tasks, and each team is responsible for the tasks assigned. It is important to organize the teams and make a successful project.
8 Simple ways to organize your life
4. Creativity
The key factor to landing entry level remote gaming jobs is being creative. Hundreds and thousands of games have saturated the market. Your innovation in the business will provide a strategic edge. To produce attractive games for the audience, understanding of the cultural tastes and choices of the target audience is required. Creativity is what you can rely on to build a sustainable business in which you can keep making games boundlessly.
5. Staying updated about latest trends
The play store is flooded with lots of video games. But, not all of the games in the market succeed. There are a couple of games which fascinate the gamers and become a hit. The preferences of the target audience have to be identified. It is a game designer's responsibility to stay updated on the latest trends in the industry. It is also important to know what is going on with the competitors and the gaming world at large. It is essential to remain in continuous touch with children and gamers. Games are developed for the audience and would be a total flop if the games are not designed according to their interest. The more you learn, the more you will know what makes your audience engage with a game.
Best Home Office Set Up For Remote Work
Tip 
Try to get top-notch headsets, keyboards, mouse, and cameras for better productivity in remote esports jobs.
Significant features of a remote esports job resume
It is very necessary to build a good resume in order to land esports jobs.
The components that go into the resume are
Personal information

including name, age, gender, nationality, and contact details. 

A

summary

of your experience, qualifications and candidature. List the most convincing job position-specific features you have in two to four lines.   

Present your

objectives

for the recruiter to know what you expect to gain and what your value to his or her esports venture will be. 

Outline the

skills

that you have in remote esports jobs.

Indicate your

educational qualifications

. 

Include any additional educational

certifications or training

.  

Highlight all the gaming

 job experiences

you possess with their assigned duties. 

Type out your gaming

achievements

. 

Do indicate your

interests

. 

Give accurate and correct

references

.
Best resume software | Give the finest first impression
Top companies hiring for remote esports jobs
PlayStation 

Rockstar Games

Sumo Digital

Take -Two Interactive 

Wooga
18 Best remote companies to work for in 2020
Online job boards for remote esports jobs
Visit the following online job boards to find the best remote esports jobs – 
Hitmarker Jobs 

Jobs in Esports

Glass Door

Indeed

Simply Hired 

Zip Recruiter

Jooble.org

Jobsmarket.io

Flex Jobs

Remote OK
Frequently Asked Questions (FAQs)
1. What are the video game industry remote jobs?
A: Remote jobs in the video game industry, in simple words, involve working with a particular team to design and build video games from a remote location.
2. What are remote esports jobs?
A: Esports is one of the video game types. It is a video game related to sports competitions. Remote esports employees are associated with the production of video games for competitive sports.
3. What are remote video game job requirements?
A: The main skills needed for remote video game employment are programming languages, APIs and libraries, graphic APIs, and imagination.
4. What are real online game testing jobs?
A: Real online game testing jobs involve ensuring that a game is defect-free and error-free by testing.
5. What are remote esports job descriptions?
A:  Writing storylines, scripts, and codes, developing the game's graphics, and creating audio tracks are some of the tasks of remote esports jobs. They can also involve shoutcasting and marketing.