Video game jobs are an elusive and tempting career. From childhood, as soon as the thumbs are long enough to old age people, everyone unleashes their joy of happiness playing video games.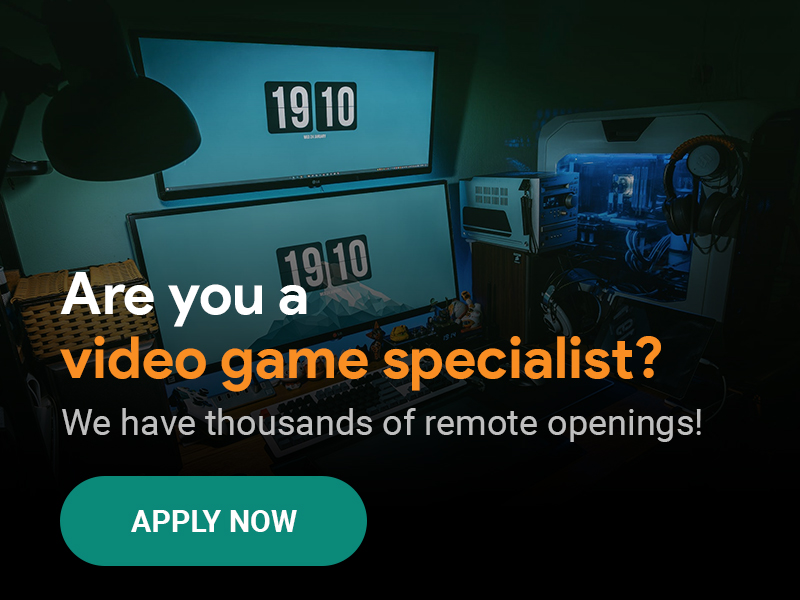 The gaming industry has evolved tremendously in the past few decades. The major changes took place on the arrival of sensor-based games, virtual reality, etc. Video games are also the stress reliever of many people. Some video games are associated with human brain development and improve the smartness of an individual. Like other remote jobs, remote video game jobs are gaining popularity these days.
Video game jobs
These jobs are related to creating and developing video games for a variety of formats such as consoles, PCs, mobile phones and web browsers. Video game designers' ideas, script and narratives of video game writers, the soundtrack of audio designers, programming codes of video game developers, and graphics of video game animators are merged to create a video game.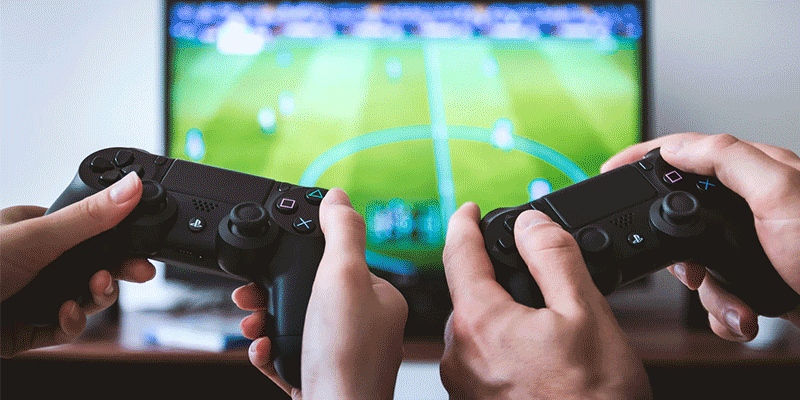 Video game job roles offered for remote employees
All most all the video game job roles that are offered to office going employees are offered to the remote employees. The list of them is as follows.
1. Video game designer
A video game designer acts as a starting point for developing a video game. Everything begins with a concept; a video game isn't an exception. Likewise, a video game also begins with a concept. A video game designer designs the content of video games in the pre-production stage.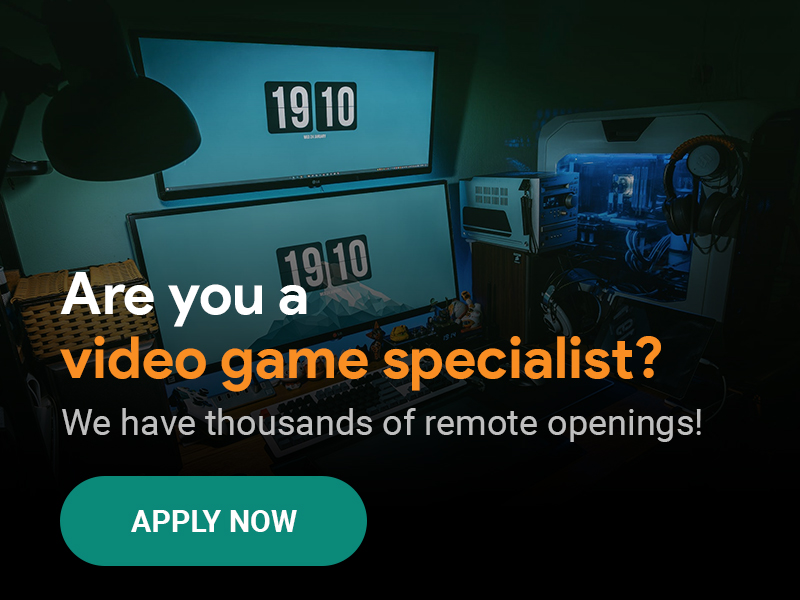 The designer drafts the proposal encompassing a few important details such as target audience, budgets, requirements, etc. A designer of a video game is very much like the director of a film.
Remote Graphic Design Jobs | A Beginner's Guide
2. Video game developer
As the name suggests, a video game developer is a software developer who specializes in video game development. It is the process of creating video games. A game developer can also range from one person who undertakes all the responsibilities to a person working with large businesses where the responsibilities are split between employees in disciplines ranging from design, art, programming, testing, etc. Working with a large company helps the individual to grow more in a specialized direction. A video game developer programer codes based on the instructions given by a video game designer.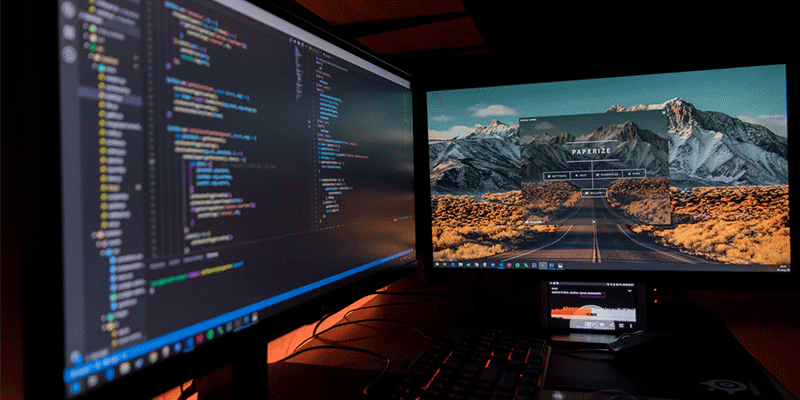 3. Video game tester
Video game testing jobs from home is the subset of video game development. The primary function of video game testing jobs from home is to discover and document the software defects, also known as bugs. Video game testing is a software process for quality control of video games. These game testers play a video game for hours and report bugs (if any) to the video game developer. In remote game tester jobs, the employees test the user experience to ensure the game is engaging, interactive and fun for the players.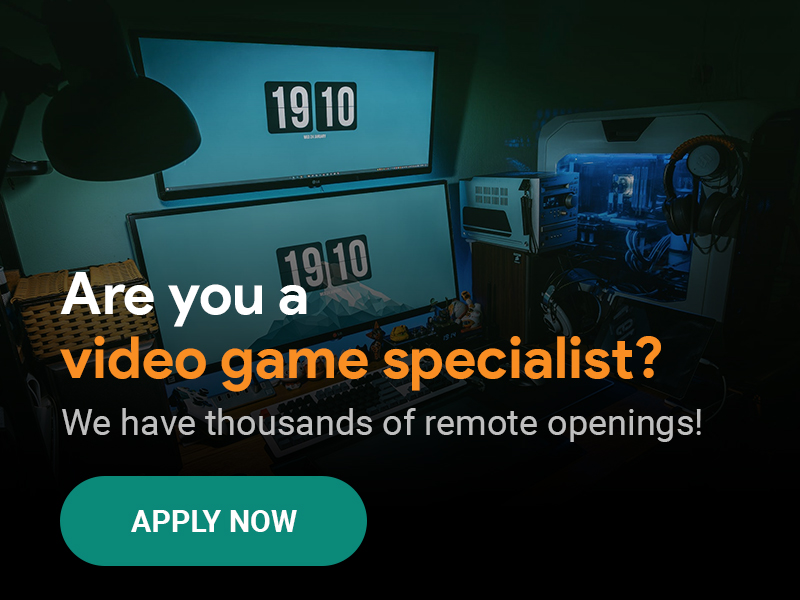 The main responsibility of remote game tester jobs is to ensure that the game performs according to the plan and intended way.
Best Home Office Set Up For Remote Work – Shoot Up Your Productivity
5. Video game writer
Video game writing is the art of writing scripts and narratives for video games. Remote video game writer jobs is a typical one for a freelance profession. Video game writing is similar to screenplay writing. There are many differences from writing scripts and narratives for a film as video games are non-linear and interactive in nature. Video game writers are a part of the design team during a certain period of work. Creating the main plot of a video game and focussing on the dialogue part is also the work of video game writer jobs remote.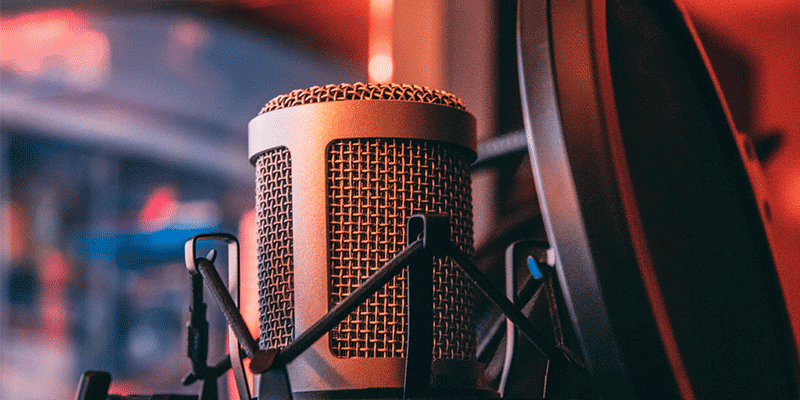 6. Audio engineering
Video games are nothing without an audio track. A person who generates and manipulates audio elements for the game is a sound designer. To give a sense of realism and uniqueness, an audio engineer has to create libraries of custom sound effects. The role of a sound designer in the gaming industry is similar to that in filmmaking and television production. An audio engineer or sound designer is responsible for an overall production of a game's soundtrack – sound effects, sound mix, ambient audio, character's voice and sound effects for the game's action. The soundtrack of the game must match the producer's vision for the overall aesthetic of the new world being created.
Remote Software Engineer Jobs | A Complete Guide
7. Video game animator
A video game animator combines art and technology to create interactive animated images, characters and environments for video games. The goal of the video game animator job is to make the game characters come alive in the game. A video game animator produces high-quality animations. They meet the desired looks of the characters and environment designed by the game designing team and programmers using relevant graphical software. 
Remote video game job requirements
So much is going in the gaming market and also, as an attractive and tempting career. To excel in a video game career, a merger of technical and creative skills is required. In simple words, as a game developer, you would be required to do the following tasks – design ideas, write programming codes, graphical designing, scriptwriting, game testing, etc. To accomplish these tasks, you would need to master a few skills.
Best Remote Working Tools That Make Life Easy
1. Proficiency in programming languages
Proficiency in programming languages is a primary requirement for remote video game jobs. The programming language for developing a game must be decided once the initial design of the game has been agreed upon. The choice of selection depends upon many factors such as target platforms, (programming) language familiarity of the programming staff, and libraries & APIs being used. An employer won't expect you to be fluent in all the coding languages. The employer would test your ability in the programming languages you already know and how quick you are learning at new things. 
C, C++, C#, Java, JavaScript, Python, Tcl, Pascal, Swift, Assembly, Visual Basic NET, Objective-C, Lua are the programming languages that are prevalent in today's video game job's landscape.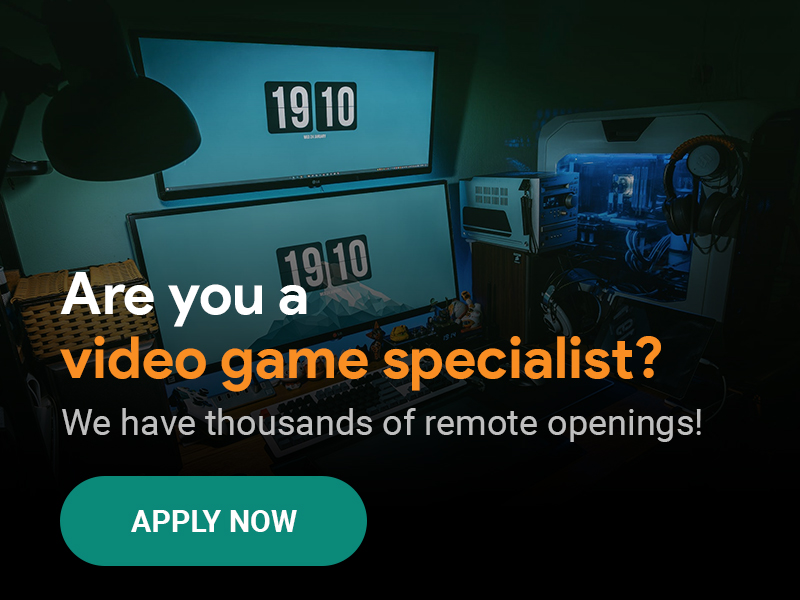 2. APIs and libraries
APIs:
Wikipedia says 'an API (application programming interface) is a computing interface which defines interactions between multiple software intermediaries'. In simple words, API refers to the protocols and tools prescribed by a computer operating system. The APIs are a set of pre-built commands that allow different software to interact. 
Libraries:
Wikipedia says 'in computer science, a library is a collection of non-volatile resources used by computer programs, often for software development. In simple words, a collection of precompiled routines that a program can use is called libraries.
The key decision in video game programming is to decide on which libraries and APIs to use. This decision is based on the target platform. There are numerous APIs and libraries available which take care of key tasks of game programming. Sound processing and graphics rendering is handled by some libraries. For example, libraries for MS Windows development may not be available for Xbox and vice versa. But there are game frameworks available that allow for cross-platform development. This helps the programmers to program a game in a single language and have the game run on several platforms.
34 Best Remote work communities on Reddit, Slack, Facebook
Graphic APIs:
Today, video games are nothing without graphics. The rudimentary 2D graphics used to be the norm for games released back in the 1990s. The power of images, the art to influence emotion and immersion in a game world is all because of the graphics.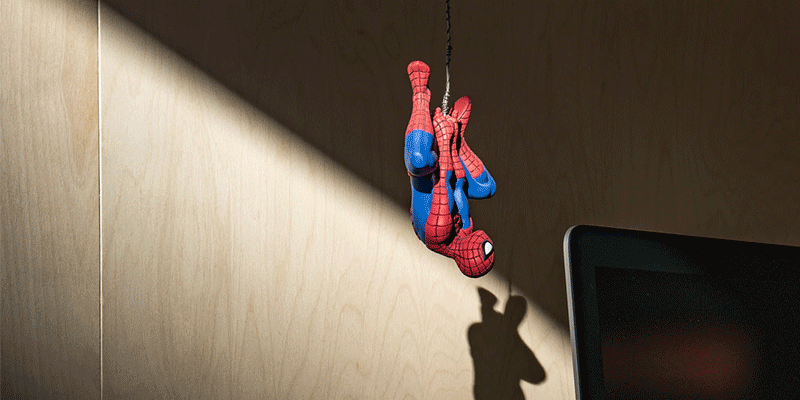 As MS Windows was pre-installed in most of the PCs sold, it has the largest user base now. The most popular graphic APIs for MS-Windows are OpenGL and Direct3D. The most popular computing platform is Google android as it comes pre-installed in most of the smartphones sold today. Android has the second largest user base and the popular graphic APIs used in it are OpenGL and Vulkan.  
3. Creativity
Being creative is the key factor for remote video game jobs. The market is saturated with hundreds and thousands of games. Your creativeness is a competitive advantage in the market. Understanding of cultural tastes and preferences of the target audience is required to produce audience attractive games. To build a sustainable business where you can keep making games limitlessly, creativity is what something on which you can rely upon.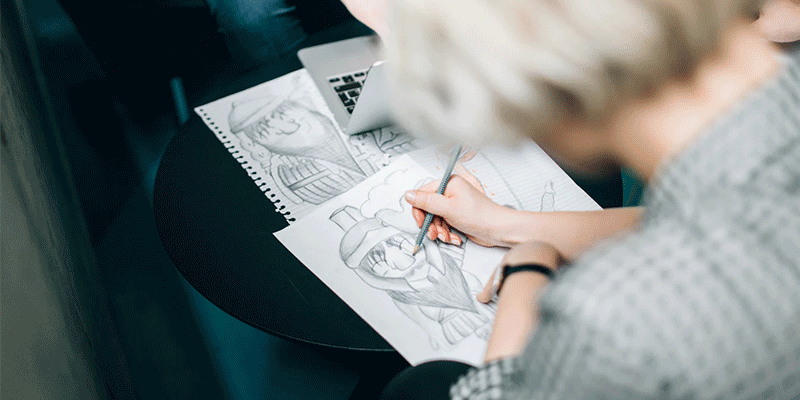 8 Remote Work Habits Of Every Productive Employee
4. Organization skills
Video game development is not a job that could be executed by one person. There are many tasks involved in creating video games – to design a game, program codes for the same, write scripts and narratives, test the game, add a soundtrack, animate the game using graphic software, etc. All these tasks are not executed by a single person. The tasks are allotted to multiple teams and each team is responsible for the assigned tasks. To organize the teams and to make a project a successful one, being highly organized is important.
Read more: 8 Simple ways to organize your life
5. Stay abreast on the trends
Lots of video games are flooded in the play store. But not all games succeed in the market. There are a few games that fascinate the audience and becomes a hit. It is necessary to identify the preferences of the target audience. It is the responsibility of a game designer to stay updated on what's trending. Also, it's important to know what is happening with the competitors and the general gaming world.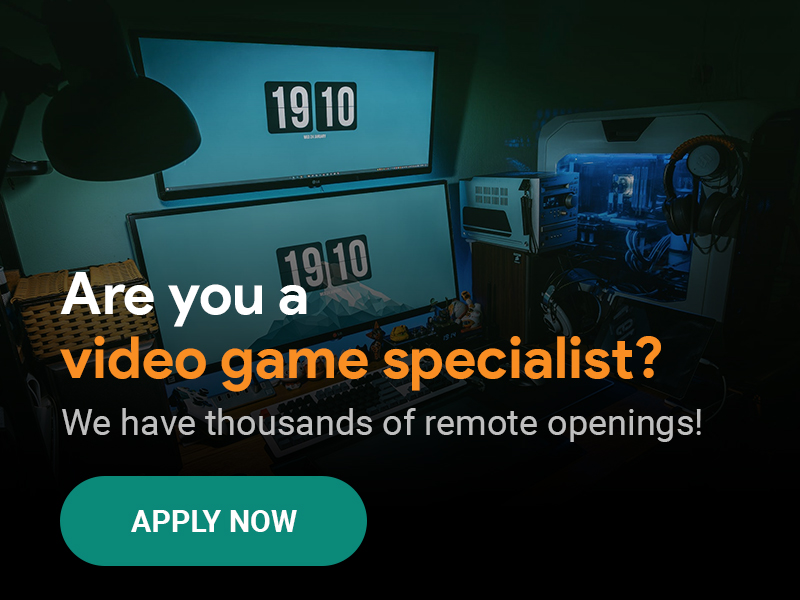 Staying in continuous touch with kids and gamers is essential. Games are developed for the audience and if the games are not designed as per their interest, it is a total flop. The more you observe, the more you will know what makes a game click with its audience. This helps you to refine and improve your gaming ideas.
Did you know?:
'Tennis for Two', a tennis simulator game produced in 1958 was the world's first video game designed and developed by William Higinbotham and Robert Dvorak. 
Roles and responsibilities of remote video game jobs
Remote video game employees work on teams to plan, design and produce video games for game consoles, computers and mobile phones. The work of remote video game jobs is to develop ideas, create visual content for the game, write codes and implement all game's features and functionality as per the desired plan. Lots of opportunities exist for individuals who prefer to work from home. The specific duties and responsibilities may vary, but these are the core tasks associated with the job.
Develop plans for the gaming projects including the game's specifications and features

After receiving the idea, the game's specifications and features, game developers plan the characters, environment, activities, storyline, etc. They break the project down into smaller parts for the respective teams to handle each activity

Write scripts and narratives for the video games

Decide a programming language suitable for the game's target platform

Write codes that implement the game's logic and allows the player to interact with the game world and its characters

Visual designers use 2D and 3D models to develop the scenery and characters. Graphics are also created for game art and maps

Test the games to detect and document the software defects, also known as bugs. The main purpose of testing a game is to ensure that the game performs as per the plan

Automated testing tool is used to check for broken features & functionality and inspect the code for errors 

To produce an overall soundtrack for a video game – sound effects, sound mix, ambient audio, character's voice and sound effects for game's action

After production of a game, the video game employees continue to handle new feature requests and make improvements in the game

Designing the updates like introducing new levels and characters
The above mentioned are the responsibilities of remote video game jobs. A part of these responsibilities tends to be a company's remote video game job description for the employees.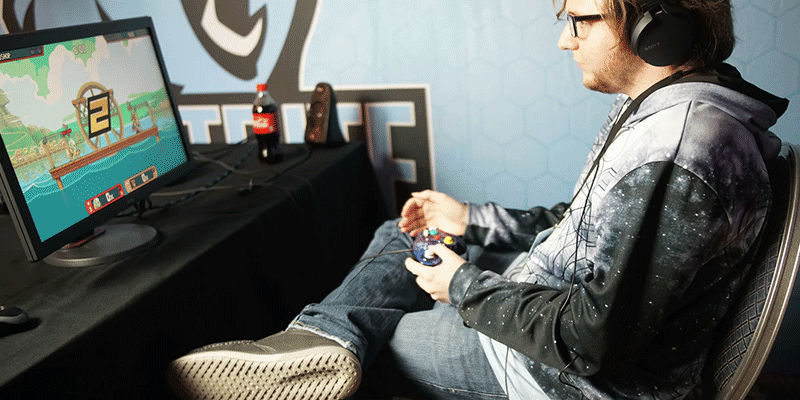 Guide to conducting & attending Remote Interviews
FAQs
1. What are the video game industry remote jobs?
Video game industry remote jobs, in simple words, is to work with a specific team to design and develop and video game. 
2. What are remote esports jobs?
Esports is one of the types of video games. It is a video game related to sports competitions. Remote esports jobs are related to the development of sports competition video games. 
3. What is a video game review job?
Video game review jobs can also be said as the other term used to describe 'video game testing'. The employee tests the software to make sure that the game is free of bugs, glitches, and other problems. 
4. What are remote video game job requirements?
Proficiency in programming languages, APIs and libraries, graphic APIs, and creativity are the major skills required for remote video game jobs. 
5. What are remote video game job descriptions?
Write narratives and scripts, write the code, develop the graphics of the game, and create audio tracks are some of the responsibilities of remote video game jobs. This also tends to be the remote video game job description of many companies.
6. What is real online game testing jobs?
Real online game testing jobs are to perform testing which makes sure that the game is defect-free and error-free.