Are you passionate about sales? And, do you want to pursue the best paid remote sales jobs? If so, read on – this page has everything you'd ever need!
Waking up early in the morning, working out a bit, freshening up, preparing the meal for the day, traveling loads of distance amidst the pollution, extreme weather, traffic to reach the workplace is very common in everyone's life.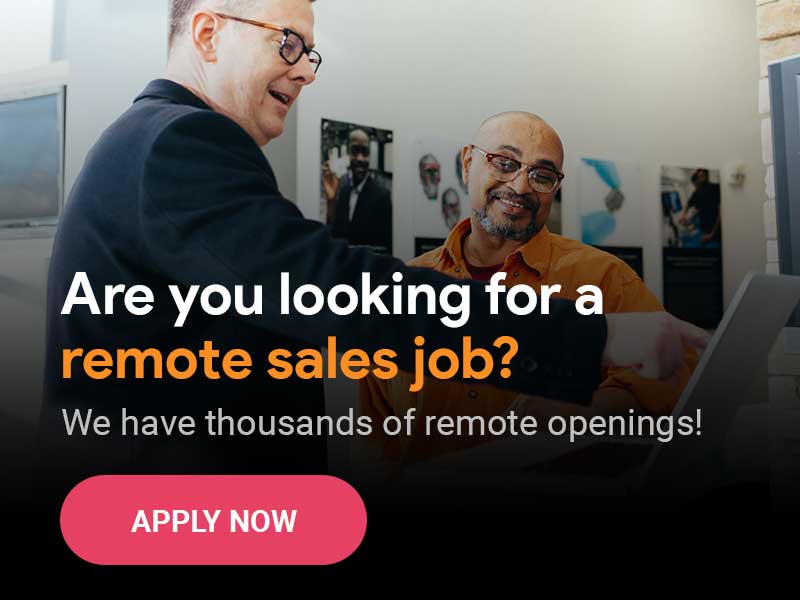 Remote working is convenient, tension free and it is gaining popularity among the masses these days. According to Quartz, US Census data indicates that 5.2% of the US workers completely work at home in 2017, which is about 8 million people.
Among several works from home options such as sales, digital marketing, freelance writer, web developer, video editing, social media management, etc. This article focus on remote sales jobs, their advantages, skills required, equipment required, duties, etc.
What are remote sales jobs?
A person working at home, communicating with the clients/strangers by phone to market the brand of the business can be termed as remote sales jobs. In simple words, remote sales jobs can be said as the marketing of goods or services by telephone. The common term used to define a remote sales job is telemarketing. Remote sales employees can also be termed as telemarketers and online sales representatives.
Many companies that hire employees for sales jobs are declining the traditional practice of asking the employees to reach the office. As the work is just to communicate with potential customers by phone, the companies are shifting the workplace to the respective houses of the employees.
This kind of online sales jobs from home is best suitable for persons looking out for entry-level work from home job opportunities. A remote sales job wouldn't be a recommended one for those who are hesitant to speak. As this job involves talking to strangers most of the day on the telephone, it is advisable for the candidates to think twice before involving in it.
Must read: How to work from home successfully?
Why choose remote sales jobs?
With more employers changing the call centers to remotely staffed, more online sales jobs from home are emerging. As per the reports, almost 60% of the marketing managers of fortune 500 companies say telemarketing is very effective for leads and customer outreach. It also says that 70% of the business-to-business sales comes from human interaction where 56% of them started with telemarketing. 
The advantages of work from home sales jobs remain more or less the same compared with normal remote jobs. Few of them being no commuting, increased flexibility, customized office, happier work-life balance, etc. are the common advantages of remote sales jobs. Improving communication skills, improving to build a good rapport, preparing a good sales pitch are the skills one could learn from being a remote sales employee.
Read: Synchronous & Asynchronous Communication For Remote Work
The market opportunity for remote sales jobs
Every organization has a sales and marketing department. Sales representatives bridge the gap between businesses and their customers. Remote work is increasing across the board.
The trend of hiring workers remotely has been increasing at a steady pace in recent years. After the Covid-19 pandemic, 51% of Americans started working from home. Remote sales jobs remain one of the top remote jobs in the country since 2017. During 2019, remote sales positions alone had over 29,000 postings in the virtual vocations portal. Remote sales positions accounted for 10% of all remote postings.
According to the Bureau of Labor Statistics, the sales industry will remain steady till 2028 spearheaded by the service and wholesale industry. The projected growth across the niche sales industry for the next decade is as follows,
Insurance sales 10% growth
Sales Management 5% growth
Sales Engineering 6% growth
The educational requirement for remote sales jobs varies widely. Jobs in sales management, account management, sales engineering, remote technology sales jobs, and remote sales executives require bachelor's degrees. On the other hand, sales agents, online retail workers, part time sales jobs, and sales representatives require a high school diploma or equivalent only.
Qualification needed for remote sales jobs
Many professional occupations require a specialized four-year degree. Many online sales jobs from home, especially telecommute sales jobs do not require a formal four-year degree. However several sales industries such as the pharmaceutical industry require candidates to have at least a 4-year degree.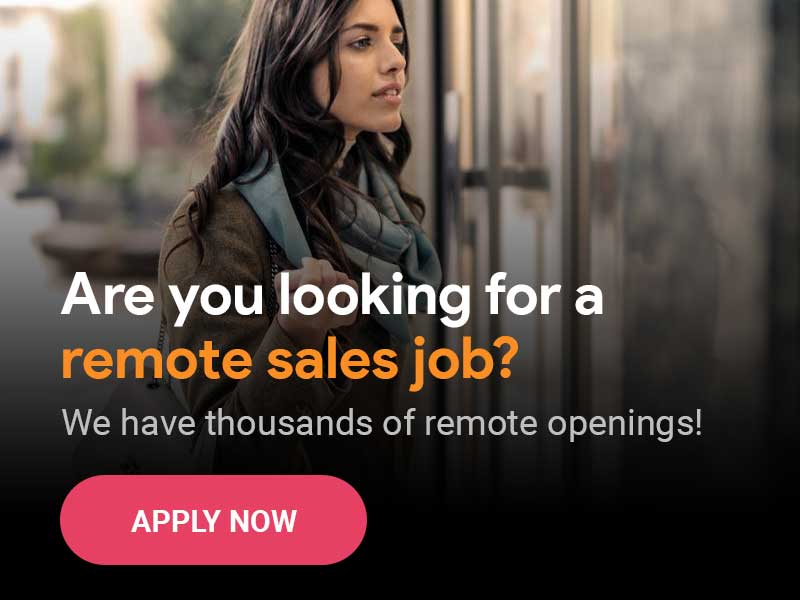 And, having a degree can give you an edge while applying for remote technology sales job. Listed below are some degrees that can improve your prospects whether you are opting for a full-time or part-time sales job.
Pharmaceutical sales require the candidate to have a bachelor's degree. Degrees in biology or chemistry will give you an edge.
Bachelor in Finance is considered to be useful. A financial degree will help you to understand and explain the financial implications of sales to the client and your organization.
Masters in Business Administration (MBA) opens the door to senior leadership positions. The advanced degree will make you eligible for vertical advancement and responsible expansion opportunities.
Bachelor's in Marketing gives you an in-depth understanding of effective marketing strategies for products or services. You will learn different marketing approaches you can employ.
Liberal Art will give you a well-rounded education and give you a degree of proficiency in different subjects. Some universities and colleges offer "concentrations" to supplement the liberal art degree. The best concentrations are business management, finance, marketing, and sales.
Skills required for a remote sales employee
As one would be talking throughout the day, it is essential for a remote sales employee to possess good communication skills. 
Networking skills would slightly impact the working of a remote sales employee. A good rapport during the previous call acts as a better reference point and builds trust among the customers.
To not forget, the work of a remote sales employee is 'to market the goods or services of the company by telephone'. The employee must also learn sales skills. Few companies might prefer an experienced employee as this segment of the organization ultimately deals with a stranger turning out to be a potential client or customer. To specify the experience part, relevant experiences such as working in a retail environment, commission basis work, purchase/sales department would quench the thirst. Deep knowledge about the practical know-how of the industry is an added advantage. 
The work you carry out must be completely organized. Remote sales employees should maintain a proper database to whom she/he has contacted and to record the customer information and other relevant information. Most of the organizations stick to their own software and some others maintain it in MS Excel. Therefore, the remote employee should maintain a proper record of the contact information for the generated leads.
Companies want people who are self-motivated. You will have to stand on your own as you won't have your boss to monitor you continuously. You need to focus on your work and maintain the same spirit throughout the entire shift. That is the kind of confidence and self-motivation an employer might expect from you. Read through the job description and highlight the relevant qualities. It is better to reflect on some of the qualities in your resume or during an interview.
Tips: Establishing a good rapport with the clients is key in this job. This would have a good impact on the companies as they have the potential to generate leads and increase revenue.
Must read: Best resume software | Give the finest first impression
Recommended certifications to get remote sales jobs
Remote sales positions are challenging and rewarding. Succeeding in sales requires confidence and the ability to successfully convey the benefits and features of the product or service to your audiences. While training and certifications cannot teach you the soft skills required for a sale. It can give you the edge during hiring for work from home sales jobs positions. The following sales-related certifications will increase your knowledge base and prove you have the drive to work towards your goals.
1. Certified Inside Sales Position (CISP)
The AA-ISP is a global association that aims to advance the position of inside sales. The CISP certification is aimed at sales executives and account managers.
The rigorous course has 10 modules followed by live sales call role-play calls. The certificate holder needs to complete at least five continuing sales education (CSE) credits every three years to maintain the required credentials.
2. Certified Professional Sales Person (CPSP) 
The National Association of Sales Professionals (NASP) offers a Certified Professional Sales Person (CPSP) certification. The certification is targeted at sales executives, CEOs, and sales professionals. The training includes a 45-day challenge online series, aimed at developing sales habit, creating and implementing a "personal identity", and improving communication and influencer skills.
3. HubSpot Inbound Sales
HubSpot is well known for its inbound sales and marketing software. The company offers several certifications through their HubSpot Academy. The Inbound Sales certification helps the sales professional identify potential buyers, create strategies to reach the customer, and make custom presentations. HubSpot offers five free associated online courses.
4. RISE Up Sales Certification 
The National Retail Federation (NRF) Foundation offers the RISE Up Sales Certification program. The program offers three credentials aimed at entry-level salespeople looking to improve their skill sets.
5. Consultative Sales Certification (CSC)
Consultative Sales Certification (CSC) by The Sales Association is a comprehensive program to enhance your sales capabilities and performance. The focus is on core consultative sales competence.
Read: 8 Simple ways to organize your life
Tools and equipment for remote sales jobs
Required equipment for a remote sales employee differs from company to company. The equipment required by a remote sales employee to work efficiently is as follows
1. Computer/Laptop – This is a basic requirement for all remote jobs. If you use browser-based call center software, there wouldn't be a need for a telephone line, VoIP connection, or a VPN. Most of the companies might ask you to arrange for a computer/laptop and they would assist in setting up the software. 
2. Internet connection and headset – The basic requirement is not just limited to a computer/laptop. Internet connection is also a primary requirement. Few companies would reimburse the internet charges and this varies from company to company. If there isn't a need for a telephone, a headset is required to talk to the customers connected to the computer/laptop.
Suggested read: Best Remote Working Tools That Make Life Easy
3. Browser-based software – Using browser-based software is the most common among companies. It just requires a computer, headset, and internet connection and the setup of the software is easy. One doesn't need to install or configure hardware or software. Logging into the website is what you need to do.
One can access all the details of the call logs, contact database, previous contact history of a customer by integrating CRM (Customer Relationship Management technology) providing the employees with a comprehensive overview of each caller. This helps in enhancing the employee's capabilities and to keep the dispersed team engaged on the same page in real-time.
4. CRM – Customer Relationship Management (CRM) is a technology used for managing all your company's relationships and interactions with customers. CRM is a tool that helps with contact management, sales management, product management, and more. A CRM system helps the remote sales employee to manage external interactions and relationships.
This solution also helps you focus on your organization's relationships with customers and even with colleagues. Employees working remotely easily miss important information about each customer such as email, contact numbers, call logs, demographics, etc. But CRM helps in compiling all such information. 
5. Call recording – In a day, a remote sales employee talks to hundreds of people. During a phone call, an employee must ensure the conversation is pleasant, answer all his questions, ask him all your questions, take proper notes, etc. At times, the employee might miss to note out some important information.
To be even more cautious, it is better to record each and every call and store it in the system. They can ever pass it on to their team. So the next time any employee would need more information about the interaction, they can listen to the call recording.
Read: How to earn money during COVID-19 quarantine?
6. Smartphone – In companies where they don't provide browser-based software to call the customers, a smartphone and a headset are enough for most of the activities. Though a telephone would also work the disadvantage of a telephone is you won't have clear data of the call logs. And in a smartphone, the call records automatically after installing a proper application for the same. 
7. Spreadsheet Software – If a company has a CRM solution, one can note all the details of the call in the technology itself. But for companies that don't have a CRM solution, it is advisable to use MS Excel or any similar software.
MS Excel helps in the easy tabulation of the contact number, name, demographics, details of the call, and other required details. MS Excel is the widely used spreadsheet software by most of the companies that don't have a CRM setup.
Read: Guide to conducting & attending Remote Interviews
8. Flexible working hours – The working hours of a remote sales employee are not flexible. You simply can't call a customer post evening or early in the morning. So you must certainly be working the set hours. In the end, your work hours will at least be limited to the normal working hours. 
But these work from home sales jobs is nowadays outsourced. The employees working hours will depend on the normal working hours of the client's demographics. If you are based out of Australia and your target customers are based out in London, your work hours would be the normal work hours of the London timings, which is GMT 10 am to GMT 4 or 5 PM.
9. Home office setup/ co-working area – It is also important to ensure a better workplace as this kind of remote sales job requires an isolated place. It is vital to have such a distraction-free workplace. To maintain professionalism, you cannot have anyone enter your place when you are working.
Most hiring companies insist on strict rules about the kind of workplace that an employee should ensure. A private room and a phone no one can access is always a part of the rule book.
Suggested read: Best Home Office Set Up For Remote Work
Responsibilities of remote sales employee
A remote sales employee solicits orders for goods or services by identifying prospects, telephoning customers, persuade customers to buy services. While the responsibility of a remote sales employee differs from company to company, let us see the list of responsibilities that are common in place. 
To identify the prospective customers by going through the directories, existing database of the companies. In most companies, the list of directory of the potential customers is kept ready for the employee. 

Call the prospective customer by browser-based call software, automatic dialing systems, telephonic equipment, etc. 

Inform the customer about the goods or services by following a prepared sales talk to give product information and the price quotation.

Persuade the customer to buy the goods or services.

To accept orders by recording the basic details of the customers like name, address, the product they require, etc. 

Answer telephone calls from potential customers to address an issue or a query that have been solicited through advertisements.

Schedule appointments for sales representatives to meet the prospective customers to attend a sales presentation

Secure all the information by completing database backups.
Read: 8 Remote Work Habits Of Every Productive Employee
Top 25 dream companies for remote sales jobs
Sales jobs are well-suited for working from home. Remote sales position allows you to work from home. Remote sales jobs will require you to travel sometimes. Here some of the companies that offer the best remote sales jobs:-
Amazon is a Fortune 500 company and is one of the largest online retailers in the world.
Concentrix is a California based company, providing high-quality communication
Grand Canyon Education-CGE is a nonprofit organization involved in education.
Oracle is a cloud applications and platform service company.
Madelia is a computer software firm making customer management software.
Robert Half International is an international professional staffing and consulting firm.
Salesforce helps businesses of all sizes and industries connect. The company specializes in CRM and customer success platforms.
Thermo Fisher Scientific is an international biotech company.
Twilio is a Platform as a Service cloud communication company that allows users to make and receive calls and texts using web service API.
UnitedHealth Group provides healthcare services to customers and clients.
Veeva provides cloud-based solutions for the life science industry.
Day Translations is a company that improves global communication.
Introverted Visionary is a consulting company.
Inscub specializes in WordPress development and plug-in.
Introverted Visionary provides holistic health practitioners.
American Express provides credit cards throughout the world.
Xerox offers virtual office programs.
Apple offers telecommuting an in-office position.
Humana is one of the leading health insurance companies.
ADP provides human resource software and services.
CyberCoders help IT professionals find jobs and offers resume writing service.
IBM is a multinational technology and consulting company.
com is a cloud-based software company selling CRM software.
Microsoft develops, manufactures/develops, licenses, and sells software, consumer electronics, and computers.
Thomas recruiters offer jobs and career opportunities on a global scale.
Top job boards to find remote sales jobs
Here is a list of top job boards for a remote sales position,
Flexijobs
Upwork
Fiverr
Glassdoor
Monster
Weworkremotely
Ryrob
RemoteOK
LinkedIn
Top resume elements of remote sales jobs
While applying for any virtual sales jobs it is important to evaluate your resume and highlight the skills required for the position. We have listed some of the top resume elements that recruiters look for in remote sales representatives,
Product Knowledge
Client acquisition and retention
Goal setting and forecasting
Closing deals
Self-motivation
Methodical
Time Management
Attention to detail
While skills are important it is important to showcase results. You should showcase your achievements where possible with actual numbers. You can use commonly-used industrial metrics (targets, results).
Remote sales jobs pay structures
The salary for remote sales jobs depends on the location, your experience, and organization. The national average of sales rep jobs from home is $40,147/year. The salary ranges from $27,000/year to $53,000/year. The pay-structure of some internet sales jobs from home are,
For Remote sales representatives, annual salaries can range from $ 24000/year to high as $106,000/year. The average salary range between $36000 to $70,000/year.
Remote inside sales jobs average salary 42,049/year. The salary ranges from $30,000/year to $60,000/year.
District sales job average salary of $90,000/year
National sales account executives are one of the highest-paying remote jobs in the US earning $125,000 to $150,000.
The salary of sales representatives from home per region is as follows,
| | |
| --- | --- |
| Delaware | $85,100 |
| South Carolina | $80,000 |
| Missouri | $77,500 |
| Indiana | $77,500 |
| Minnesota | $75,000 |
Remote entry level sales jobs
The possibility of getting an entry-level at home sales jobs are much easier now thanks to technology. Today fortune 500 companies to small start-up recruit remote sales executives. Most of the work of sales representatives is done over the phone or computer. Here are some tips that may help you get an entry-level remote job,
There are many job boards on the internet dedicated specifically to remote jobs. Once you have zeroed in your job site remember to search for entry-level jobs.
Use your connections or network to let you know of openings or put a good word in for you. Reach out to people who may be willing to help you.
Visit the careers page of the company's website to check if there are openings.
Before the interview is sure to learn about basic sales principles.
If you don't have the required sales experience you can highlight your transferrable skill.
Do your homework before appearing for a company interview.
Avoid a generic cover letter and resume, instead tailor make them.
How to build your sales skills as a fresher using a remote sales job?
Working as a remote sales employee, one has the perfect opportunity to build the skills and prepare for the next position. There may be some opportunities in your company to move up. Often, many remote sales employees start their careers by cold calling. But they can move into positions where they talk to qualified leads, which itself is career growth. Other than this, there are vibrant opportunities for an employee to promote them and work in other departments. 
One can also focus on self-improvement. By preparing the best sales pitch and improve the way of speaking to customers. Trying new ways to build rapport with the customers and learning from the mistakes is crucial and important to improve yourself. Valuing the feedback of the customers and working with them is the best way to avoid mistakes in the future. 
Tips: The attitude of an employee is the major factor that will determine success. The way one approaches the job and taking up the new role as a challenge helps one in building the confidence level.
Also read: 14 Best Productivity Tips to Achieve More At Work & Life
5 things to be careful of before in remote sales jobs
Unfortunately, the remote sales job industry has a lot of scammers. Be careful about some of them like below,
To pay a company for the right to apply is a sign of a scam. None of the company charges for the right to apply for a vacant job. Charging for a background check is an exception because some companies do.

As people work remotely, there are chances that one might quit after completing the training sessions. No company wants to make it a zero return investment as the chances for employees to exit after training is high. So, most of the companies in this industry charge for training. Though it is advisable for the applicants to be cautious while making any prepayment.
While trying to collect a few pieces of information about the customers or selling the product that one doesn't feel comfortable about, it's not going to be a good fit. There could be a possibility for a phone scam operation.
It is advisable to read the job notice carefully and see for any possibility of a scam. The company's name should be verified and the domain of email address should be reconfirmed with the website. If you don't believe that the company is real, it is better not to send personal information. It may contain the details of your email address, contact number, residential address, and other important personal information.
Most of the remote sales jobs offer a payment that is a bit above the minimum wage. If the pay is way too attractive, it could be an alert for a scam.
Not every remote sale job is a scam. At last remember that if a job looks to be true, it probably is! Just ensure that you use verified job boards to find jobs. You can also directly check for openings on the company website.
Read: 14 Best Remote Job Sites: Start your job hunt at the right place!
What is a remote sales job?
Remote sales jobs can be said as the marketing of goods or services by telephone. 
What are the responsibilities of a remote sales employee?
The responsibility of a remote sales employee is to identify the prospective customers, to persuade the prospective customers to buy the goods or services of the company. 
What are the other different terms used to call remote sales employees?
The two common terms are 'telemarketers' and 'online sales representatives'.
What are the best things to sell from home?
Arts and crafts, books, Videogames are the few best things to sell from home. 
What is telecommute sales jobs?
Work from home jobs involving the use of the internet, phone, and email is 'telecommute' sales jobs. It is the same as remote sales jobs.
What are the best remote sales jobs site?
Flexjobs(dot)com, unremot.com, remoters(dot)net; workingnomads and remotive.com are the best remote sales jobs site.
What are the remote sales job requirements?
Good communication skills and networking skills are the two essential remote sales job requirements.
What are the remote sales job checklist?
A proper setup for work (like a private place) and a phone no one could access are the two important remote sales job checklists that should be ensured.