Are you passionate about remote help desk jobs? You are on the right page to start an exciting career as a remote help desk professional. Read on!
Familiarity with the core business and domain of a company is the aspiration of many professionals. Remote help desk jobs provide the unique opportunity of being intertwined with this objective. As a help desk technician or an analyst, you interact with different types of customers.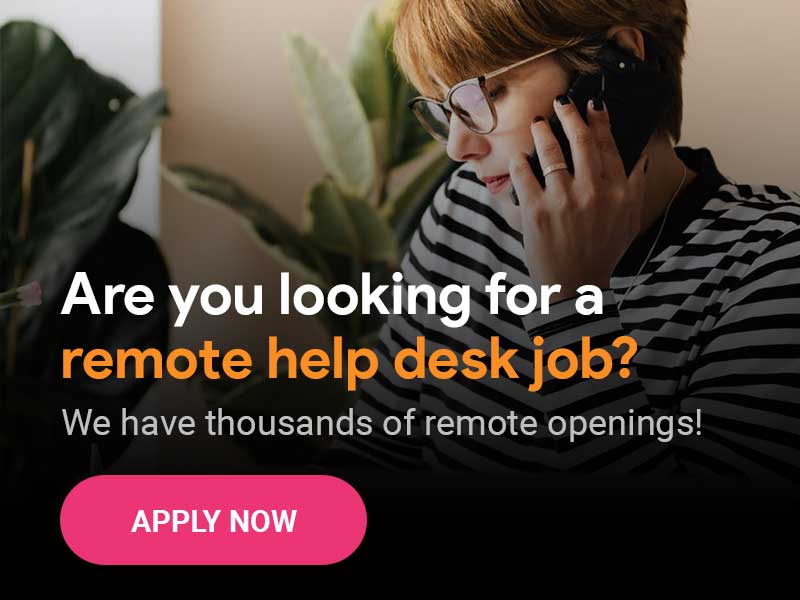 Your awareness and knowledge of the company's core functionality and way of working determine your relationship with the customer. The question arises about how can you prepare yourself for remote help desk jobs. Well, there are specific skills which you need to acquire.
You need to understand the duties and responsibilities of a help desk analyst or a technician. And last but not the least the websites which provide numerous listings of opportunities for remote and work from home helpdesk jobs. This article will provide answers to all your questions.
Companies are now preferably hiring for either full time or part-time remote help desk jobs. Working remotely has gained substantial popularity and help desk jobs are not an exception. It is the easiest form of working since communication and interaction are mostly done via telephonic calls or emails.
Remember: Customers approach the help desk when they are in real trouble and seek resolutions for their problems. It is recommended to ask relevant and pointed questions. Never bother them with inappropriate information or queries that lead to unnecessary frustrations.
Also Read: How to work from home successfully?
Market opportunity for remote help desk jobs
These days, workplaces are embracing remote work options more than ever. As per a survey conducted, the amount of people who work remotely at least once per week has grown by 400% since 2010.  If you are thinking about taking up remote jobs, you will get lots of opportunities.
In the past decade, different tools and technologies have developed. Thus, the number of opportunities for IT helpdesk support jobs has also increased. In a study conducted, it has been said that if given a choice, 99% of people would choose to work remotely.
In fact, almost half of full-time office employees want to work remotely. With the onset of the pandemic Covid-19, the trend towards remote work has also increased. In the present condition, remote helpdesk support jobs are no longer a luxury, but also a compulsion.
The trend for remote help desk work from home will continue increasing looking at the present circumstances. For now, remote help desk support is in rage. Thus, if you are thinking about taking up a full-time or freelance help desk this is the perfect opportunity to take up remote helpdesk jobs from home.
A report by FlexJobs says that many remote workers have a higher salary as compared to regular jobs. So, get set ready to avail the opportunity presented by help desk jobs from home.
Job titles and career paths under remote help desk jobs
Help desk workers are vital for all types of organizations. No matter if you are looking for a career in IT help desk remote jobs or you want to work for a regular corporate sector, there is no dearth of opportunity. You can start your career in remote help desk support by getting the position of help desk technicians, computer support specialist, and system support specialist.
Once you climb up the ladder of success, you will get to work as a network support specialist, service desk analyst, and customer support executive. To get higher growth in this sector, you need to achieve more skills and expertise in the domain you are working.
After achieving the necessary skills and expertise, you will be able to get positions like support manager, system administrator, system analyst, technological consultant, and cybersecurity engineer.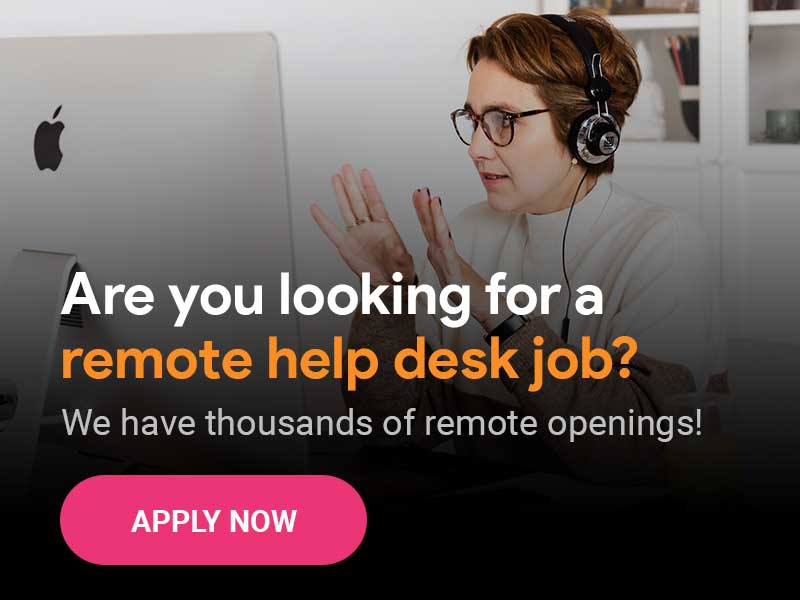 In addition to this, the nature of the position and type of role can vary depending on the sector you are choosing. Once you understand your niche and the nature of tasks you have to perform, you can get lots of opportunities and options in remote help desk jobs. Below is a quick summary of prominent job titles in remote help desk jobs.
Help Desk System Administrator

Help Desk Technician

Windows or UNIX administrator

IT and Desktop Support Technician

Software and Hardware repair Specialist

Field Service Technician
Also Read: Best Remote Working Tools That Make Life Easy
Qualification needed for remote help desk jobs
Students need strong computer skills and the ability to do remote helpdesk jobs. Some of the basic skills that must be present in all candidates looking for a remote help desk job include familiarity with working with PC as well as Mac.
Having experience with network repair, the ability to communicate with all types of customers, good customer service skills, writing and editing skills, and good knowledge about computers is always recommended. All these skills can be acquired by taking admission to a good college/university.
Completing any of these degrees will enable you to get lots of opportunities in getting remote help desk jobs from home. So, complete any of these degrees and open up avenues for lots of opportunities.
Remote IT help desk jobs mandate high school academic qualifications. But if you want to aspire to a higher role, then it is recommended to avail college or university degree. The degree must be mainly on IT or computer systems related. 
You can check this list of colleges and universities in the US so that you can get the necessary skills, expertise, and knowledge about working in the field. Following are the list of colleges,
Delaware county community college: computer help desk operations course
Tallahassee community college: degree in Information and Technology
University of Notre Dame: Degree in IT support and services
University of Georgia: bachelor's degree in Information support services
Marquette University: professional certification in Information and Technology
Also Read: Team Communication 101: What is it & How you can crack it!
Skills required for remote help desk jobs
A help desk analyst or technician must possess both technical and soft skills for betterment in their career. They face the customers and hence the reputation of a company depends largely on their performance.
Before applying for remote help desk jobs, it is advisable to understand thoroughly the skills enlisted below,
1. Domain or Product knowledge
Help desk professionals may either be involved with product or service companies. For one, you need to understand the features of the products and their usage. And for the other, you must know the services offered and their benefits.
There are two advantages to it; one is to recognize the customer's problems and issues. The other is a quick decision on whether the solution can be delivered quickly or requires deep-dive analysis.
Tips: If you are supporting customers from different geography or a country, it is essential to understand the culture and mode of communication. Learn them, adopt them, and then interact as per customer preference.
To acknowledge the queries or complaints from customers, you need to gather requisite information by asking questions. Unless you are aware of the product or domain, the data may not be appropriate. This will eventually slow down the resolution process. The result is customer dissatisfaction and frustration. It hampers the company's reputation and market presence.
Important Tips: The majority of the companies maintain a knowledge database of past issues and their resolution. It is recommended to go through those in detail for assistance in similar situations.
2. Respect for Customer Voice and Dignity
For a help desk technician or an analyst, a balanced customer relationship is the key criteria for success. Maintaining healthy communication, respecting customer dignity, and hearing customer voice are the three main aspects of focus.
Deficiency in either of these three may disturb the trust between the customer and the company. A company's survival depends majorly on high customer satisfaction.
Professionals aspiring for remote and work from home help desk jobs have to specifically focus on this skill. Remote professionals seldom meet customers face to face. Hence understanding their concerns and addressing them with patience are vital skills for remote help desk jobs. 
Did you know? Every country and its people have a unique culture and way of addressing each other. Some prefer acknowledging through surnames, and some prefer the first names.
3. Excellent written and verbal communications skills
Remote helpdesk jobs mandate communications and interactions via emails and telephonic calls. Without strong verbal and written communication skills, it is tough to recognize customer problems and eventually addressing them. Unless you can decipher the issues faced, you will not be able to deliver the right solution.
Customers desire comfort while speaking with help desk personnel. They do not entertain continuously repeating the problems faced both in phone calls or emails. Discomfort may force them to go for escalations, thus severely hampering your career.
Tips: Several online courses and classes are conducted for improving language speaking and writing skills. If you feel you need to undergo such programs, do not hesitate to avail them. It is better to equip yourself before, rather than suffer after being hired for remote help desk jobs.
4. Analytical and troubleshooting skills
Both full time and part-time remote help desk jobs necessitate quick analytical acumen and troubleshooting abilities. Fast resolution of customer queries at the helpdesk level reduces the burden of issues and increases the satisfaction level meter.
Identifying the root cause of the problem and providing a smart resolution are what a customer desires from the help desk personnel. Another important aspect of this skill is collecting the right data that guides the path towards the solution.
Remember: Customers may try to force the additional amount of data and information on help desk professionals. Passionately handling them and driving them towards the problem is an art of its own. Help Desk professionals must master the art, to prevent diversion from the main issue.
5. Active Listener
Customers are approaching a company's help desk with expert care and attention to their problems. Help desk professionals must focus their attention on the customer's conversations, avoiding any kind of distractions in between. They must not interrupt suddenly and try to force their thoughts or words.
Active listening is an important quality and skill required for remote help desk jobs. Unless you listen carefully or listen to half of the conversations, deciphering the problem and mitigating it would be extremely difficult. Besides, it may lead to an incorrect solution, leading to severe customer dissatisfaction.
Remember: While applying and being hired for entry-level remote help desk jobs, it is essential to prevent any kinds of customer escalations. At the vital point of your career, do not neglect your tasks or activities.
Tips: In case you do not understand a problem, immediately refer to a senior or peer. You can politely ask the customer to wait for few minutes for further assistance. 
6. Resolve conflicts
The majority of the customers ring up or email help desk support due to troubles encountered for a certain product or service issue. The problem might have severely disturbed their ongoing work. Hence their language sometimes may be aggressive or desperate.
You need to understand that customers are not furious with the help desk team; it is their helpless situation that drives their behavior.
Help desk professionals must apologize and not ask any questions which increases their frustration and anger further. Compassion and empathy ease difficult situations and conflicts. These soft skills are extremely important while handling customer and their issues.
7. Technology know-how
Working remotely demands constant availability digitally through smart devices, computers, laptops, video and audio calls, and instant messaging. You need to understand the applications installed for achieving the above purpose.
Else you may not be able to establish an adequate online or virtual relationship with your customers, peers, supervisors, or team. Along with your professional editing skills and knowledge, you need to a bit tech-savvy.
Important Tips: Keep yourself equipped with the know-how of the latest operating system versions, chat and instant messaging software, video conferencing systems, and other applications aiding your work.
8. Interpersonal Relation
Customer collaborations and interactions are the key work elements of a help desk technician and analyst. While doing so, it is important to maintain a balanced interpersonal relationship with them. Similarly, it is important to create a positive professional environment with your peers, managers, and subordinates. While working remotely, this quality is must be considered in precedence. The reason being the lack of face to face interactions and physical absence in the office premises.
The completion of your daily tasks and assignments also depends largely on maintaining a relaxed work environment with peers and colleagues. You may need support, advice, and guidance for certain activities. Unless there are trust and confidence, you will not be able to perform your job seamlessly.
9. Continual Learning
Learning upgrades a person's skills and knowledge level at whichever role or position you are in. Advancements happen at both technical and domain levels. Both products and service companies bring in substantial innovations to stand ahead in the competition. Help desk experts need to enhance both their external as well as internal knowledge.
This attributes to fluency in answering customer queries with efficiency. The more you are competent in resolving customer issues, the more you contribute to increasing the relationship meter between the company and its customer base. The management and leadership will recognize your contribution, leading to an advancement in your career.
Important Tips: Scan through the different courses available in your company's training curriculum. Many companies send out an email or online communications on various internal and external learning programs. Register and attend the relevant ones for increasing your competency level.
Also Read: Remote Meeting 101: How to have better remote meeting?
Certifications to get remote help desk jobs
Different certification can help you get different opportunities to help desk remote jobs. Certifications related to IT infrastructure and support like CompTIA's A+, Network+ and Security+, MCSA Windows 10, and MCSE Desktop Infrastructure.
Acquiring the certifications are not mandatory for recruitment in remote IT help desk jobs. But if you achieve the same, then it increases your chances of hiring and enhances your knowledge level too. You stand ahead in competition when it comes to promotion or future growth. Attending online training programs and courses specific for remote desk administrator, technician, or analyst roles.
1. CompTIA A+: More than 1 million IT professionals have acquired this certification and they have received the best opportunities in getting IT help desk work from home. This is an excellent entry-level certification. Thus, it is perfect for beginners.
2. ACMT: This is the perfect certification for candidates who want to get the opportunity to become help desk technicians. Earning the ACMT certification will enable you to qualify to work in Apple-authorized service centers.
3. HDI customer service representative: HDI is the first professional association created for the technical support industry. Getting this certification will enable you to get the resources, knowledge, and expertise in whatever you do.
4. ITIL Foundation: This is an industry-accepted framework that will enable you to get a foundation to perform work from home help desk jobs in the best way possible. This certification defines the service lifecycle model for all activities that take place during the design, development, and delivery of the support services.
5. Microsoft 365 Modern desktop administrator associate: This role-based certification program will enable you to get better at the fundamental, associate, and expert level degree of desktop administrator as per your requirement.
So, choose any of these degrees and certifications as per your requirement.
Also Read: Best resume software | Give the finest first impression
Roles and responsibilities of remote help desk jobs
Here is a summary of the roles and responsibilities of remote help desk jobs,
Resolve problems and issues about both technical and functional queries reported by the 

Attend customer calls via phone or responding through emails

Create or modify user training guides and manuals for quick customer reference

Assist and guide customers on training issues and incidents, sometimes providing a hands-on demo for handling a product or a service

Proactive monitoring and health check of a product or service purchased by a customer

Ask relevant queries to customers for resolving issues and problems

Providing workarounds or temporary solutions to customers for time-consuming issues

Document and maintain a knowledge database mentioning the customer issues and their resolutions for future reference

Identify the root cause of recurring customer complaints and provide a permanent solution

Cascade solution requiring deep-dive analysis, to the wider technical or domain teams

Provide regular updates to the customer on the progress of their complaints and issues

Request feedback, comments, and rating from customer on the quality of the resolution provided

Design innovative methods and means to automate or enhance the customer support and resolution process
Also Read: Time Blocking: All you need to know about this powerful technique
Top 10 tools needed for remote help desk jobs
All help desk support jobs from home need certain tools that will help you to work appropriately. So, have all these tools at your bay to work efficiently from home.
Mobile hotspots: Mobile hotspots not only help you get internet access, but it will also work as a backup in case the power or internet is not working properly.
Remote desktop software: The remote desktop software app will securely connect your computer to another location. This tool is handy for all people who get online helpdesk jobs and want to access computers at Headquarter in a company.
Team chat apps: The app helps you to communicate effectively with your team members.
Screen sharing software: this tool enables you to share your files and other apps that you are using. Your teammates will be able to know what you are working on.
Video conferencing tool: This tool is quite great for those who want to have regular interaction with people from different departments.
Cloud storage: even though you have acquired work from home helpdesk jobs, you will need good cloud storage so that you can keep all your files and folders safe.
To-do list apps: You will receive lots of deadlines when you get remote helpdesk jobs. To submit the work as per schedule and deadline, the To-do list app will be highly beneficial.
Project management software: This tool will help you in case you are working on different projects at the same time.
Note-taking apps: If you are working on online IT support jobs, the note-taking apps will enable you to take down all issues and complaints of the customer.
Security tools: For candidates working at IT helpdesk jobs, security tools will help you to keep your digital devices safe and secure.
Also Read: Virtual Icebreakers – How to have a smooth first remote meeting?
Top 25 dream companies for remote help desk jobs
Everyone wants to work in the best company that offers work from home helpdesk jobs. Following are the major dream companies that can offer you the best jobs,
| | |
| --- | --- |
| Name of the company | About the company |
| ProofHub | The company offers online project management software. You can get the best opportunity of weekend help desk jobs in this company. |
| Basecamp | Basecamp offers project management and team collaboration software. Candidates can get multiple options for part time help desk jobs in Basecamp. |
| Instagantt | The company offers software that can help you plan, control, and schedule your projects. You can get multiple opportunities for online help desk jobs in this company. |
| GitLab | This is an open-source platform for code collaboration. If you have proper IT support knowledge, you can get multiple help desk support jobs in this company. |
| Welocalize | Welocalize offers translations services. If you have knowledge about translation work, you will be able to get the best help desk part time job in this company. |
| Wikimedia foundation | This is a non-profit organization that is committed towards fostering growth, development, and distribution of multilingual content. If you know different languages you will get lots of weekend helpdesk jobs in this company. |
| Toptal | Toptal is one of the best companies to get work at home help desk jobs. The company connects freelancers with startup organizations. |
| Zapier | Zapier is a web-application automation platform. This company will enable you to get multiple opportunities for help desk work from home. |
| Elastic.co | This is a search company and it helps people to leverage the power of search. |
| Percona | Percona is a software company. Thus, if you have IT knowledge, you can get numerous helpdesk IT jobs. |
| Coalition technologies | This is a web design and digital marketing company. |
| Achieve Test Prep | This is an academic support company and thus, you will be able to get lots of entry level helpdesk jobs in this organization. |
| X-Team | X-Team is an IT company and offers different opportunities for IT help desk jobs from home. |
| Ulatus | If you have adequate knowledge about translation, you can get numerous opportunities in this company. |
| Fastly | Fastly is an internet company with a content delivery network. These days the company offers lots of help desk at home jobs. |
| Mattermost | This is a messaging software that addresses technical web challenges. |
| Protocol Labs | This is another software company that offers multiple opportunities for help desk from home jobs. |
| 5CA | This is a customer experience tech company. Candidates with proper customer support skills can get different freelance help desk support jobs in this company. |
| Modern Tribe | This is a digital agency and lifestyle company. |
| Automattic | Automattic is one of the best web development companies. |
| Study | The company aims to bring tuition-free college to the company. You can get numerous opportunities for work from home help desk jobs in this company. |
| Trafilea | This is a marketing and advertising agency |
| 10Up | 10Up is a web design and development company. |
| Arkency | Arkency is a consulting agency. |
| Buffer | This is a social media management company. |
Also Read: Remote Admin Jobs | A Complete Guide
Top job boards offering opportunities in remote help desk jobs
Ample opportunities are available for full-time, part-time, and contract help desk remote jobs. There are many websites listing job opportunities for remote desk administrator, help desk technicians, and analysts. Hep desk professionals can apply from various regions of the world for job titles of their choice.
The job titles specify the descriptions of the roles along with the salary ranges, company website, and the mode of employment. It is recommended to register on the websites and create a profile. The prospective employers scan through the websites and search for profiles as per their needs.
It becomes easier to get recognized and hired if you have a profile created on the websites. The other way is to search for jobs based on location, type of employment, salary, or companies. Some of the key websites offering a listing of remote help desk jobs are enlisted below for your quick reference,
Indeed

People per hour

Zip Recruiter

Jooble

RemoteOK

Upwork

FlexJobs

Simply Hired

Working Nomads

Career Builder

Glassdoor

Remotive

Linkedin
Also Read: Contemplating Career Change? Here's all you need to know
Top resume elements of remote help desk jobs
If you are thinking about getting helpdesk jobs from home, you can't forget to include the best resume elements. Following are the best resume elements,
Personal information like your name, address, and email address.
Objective: It is essential to add the objective or the goal you want to achieve after getting a service desk job
You also need to add your educational qualification and experience to your resume.
If you have achieved any awards, accreditations, or internship certificates, make sure to add these to your resume.
Try to include a separate section that can summarize your entire work profile.
Remote help desk jobs pay structures
The average pay for USA jobs help desk is $17.24 per hour in the USA. An entry-level help desk service provider with less than a year of experience can expect to earn $15.45 per hour. A help desk technician with 1-4 years of experience can expect to get a total compensation of $16.90 per hour. If you have more than 10 years of experience as work from home help desk technician, you can expect to get average pay of $20.64. Technicians with more than 20 years of experience can expect to get average compensation of $22.
Also Read: Online Assistant Jobs: How To Earn As A Remote Assistant
Entry level remote help desk jobs
If you don't have much experience of virtual help desk jobs, you can find different opportunities. Some of the best entry level remote helpdesk include help desk analyst, help desk agent, entry level help desk technician, and junior help desk specialist. So, get any of these entry level remote help desk jobs to start your career.
Also Read: Remote Customer Service Jobs | All You Need To Know
What is a remote help desk?
A remote service desk job is a support system provided by one or more agents. They mostly provide remote support assistance to users as well as customers. Since remote help desk jobs are virtual or web-based, support agents can provide assistance regardless of their physical location.
What makes a good help desk?
To get the best remote it helps desk jobs candidates need to have technical as well as non-technical skills. Candidates need to have complete knowledge about computers, network security, IT support. In addition to this, it is also important to have the best communication skills and analytical skills.
What do help desk jobs pay?
Most help desk jobs get an average payment of $17.24 per hour. If you have little to no experience in working, you may get a payment of $15.45 per hour. If the candidate has more than three years of experience, you will get an average payment of $16.90.
Is help desk stressful?
A help desk job is not at all stressful. The job may get stressful sometimes because you have to deal with different types of customers at different times. But, most often you won't find the job to be stressful.
What does an IT help desk do?
An IT help desk job is responsible for asking queries and questions to the users. They work closely with the IT support team to answer user issues in a timely manner. They interact with system and computer users across the company.
Further Read: Working from home with kids – Parent's guide to remote working
By now, we hope you have gained sufficient information on the details required to achieve success in remote help desk jobs. There are several full time, part-time and contract help desk remote jobs offered by various companies.
You must go through the job titles, descriptions, and salaries offered thoroughly before applying for the jobs. If you have doubts about the authenticity of the companies offering the job roles, it is advisable to consult online expert forums.
You can also discuss with any known employees or friends working in those companies. Help desk jobs are interesting, and the best part is you can easily work remotely at your home or from any co-working space location.