Are you passionate about remote non profit jobs? If so, please read on to find how to find the best non profit jobs!
With the exponential development and usability of technology, remote work, also known as telework, has become more prevalent and successful in linking workers, employers, and business associates in every part of the world.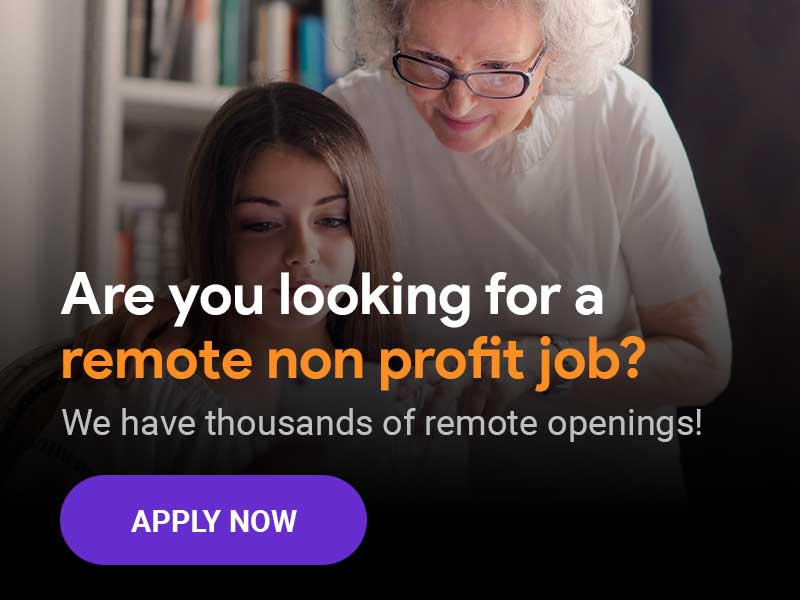 It is a pre-defined contract between an employer and an employee specifying the details of an alternate or temporary period of employment, including adjusted hours, working days, and tasks. Essentially, remote employment is the elimination of an employee's commute to a specific workspace (a non-home office building, for example).
Employees from all fields – public and private are active as remote employees. Remote non profit jobs are also coming up.  Remote non profit jobs or non profit telecommute jobs are also an upcoming sector.
Remote work is trending even more than ever with all the panic surrounding COVID-19. Given that the WHO has declared that it has achieved a pandemic state, numerous non-profit organizations are canceling major gatherings. One of the most rational moves to discourage crowds of people from the meeting is to encourage workers to operate remotely whenever they can.
Typically, non-profits have lagged behind in embracing this trend, but if there has ever been a time to start … it is now. Remote work will help you in a number of ways, even after the pandemic scare subsides. This guide will provide you with all the necessary details for remote non profit jobs.
Tip: Build networks from the non-profit industry for more remote philanthropic opportunities.
What is remote non profit jobs?
Remote non profit jobs or non profit telecommute jobs encompass a broad variety of possibilities because they can be described as operating beyond the main place of employment. The description of non profit telecommute jobs can include multiple responsibilities, individual expenses, and specific time obligations. Given below is a list of such activities that workers will be expected to perform from home,
Propose funding plans

Reach out to or host meetings with current and potential donors through email, web, or off-site, which is outside the main workplace

Schedule existing and the prospective donor or member meetings by phone, email, or other means of online contact

Organize or plan fundraising activities and occasional gatherings off-site and on-site. 

Develop and update web sites or social media accounts (for example, Facebook and Twitter)

Compile research information on a proposed policy plan. 

Provide technical assistance through phone, email, or other online contact modes.
How to work from home successfully?
Market opportunity for remote non profit jobs
The market opportunity for remote non profit jobs has significantly increased over the past year as non profits are being called upon to do more. non profits today are the third-largest employer in the United States. Focus is being given to philanthropic opportunities more and more with human rights being a huge focal point – From BLM (BlackLivesMatter) Movements to Refugee protection programs, all of these are causes that are creating growth in the sector.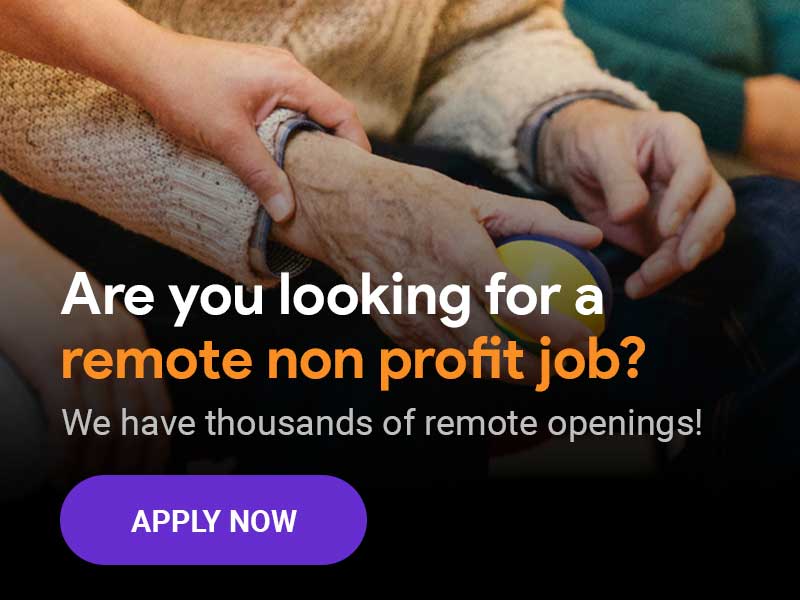 According to the National Center for Charitable Statistics, there are nearly 1.5 million non profits registered just in the U.S. alone and these numbers are continually increasing at an exponential rate. 
A study conducted by Forbes and non profit HR shows that 69% Of non profits are considering long-term remote work in light of the coronavirus pandemic. Where a large number of non profits (69%) indicated that they could support working from home for their staff; a similar majority stated that they were considering remote work may continue even after the coronavirus crisis passes. 
The market opportunity for remote non profit jobs, in fact, will see an even larger growth with Gen Z entering the market – according to a study conducted by Facebook, which surveyed the new generation of young adults, 68% of 18 to 24-year-olds expected brands to contribute to society. In fact, Gen Z is believed to be the most socially conscious generation yet.
Did you know:  During what is known as the boom years i.e. the 1990s, the non profit sector grew enormously. By 2000, non profit assets had reached $2 trillion, and total revenues exceeded $700 billion.
Remote Accounting Jobs | Manage Finances From Home
Job titles and career paths for remote non profit jobs
Some of the most common job titles apart from volunteering are,
1. Fundraising Strategists – Fundraising administrators or strategists prepare, organize, and guide efforts to get their organizations donations. You will also recognize and communicate with prospective donors, set targets for fundraising, organize activities, and arrange or revisit fundraising materials. Several practitioners also apply for organizational grants.
Although fundraising strategists may work through a range of platforms and communications, work from home non profit jobs mostly requires digital channels, like email or social media campaigns.
2. Auditor or Accountant – Non-profits, like all companies, require a steady supply of income to function. This revenue is usually obtained from a mixture of large and small, private, and individual contributions. Many of which are subject to special tax requirements, as opposed to other corporations.
Auditors and accountants examine the financial record of an organization for accuracy and ensure proper handling of taxes. Often, they will educate charities on best practices in fundraising. Today's advanced accounting and auditing tools, and the boom in online donation make working from home simpler for professionals.
3. Survey Researcher – Whether it is for helping a cause or keeping operations updated, survey data is the best friend of a charity. Survey researchers carry out historical studies, plan appropriate surveys, evaluate the resulting data, and record it.
For most situations, this needs familiarity with common tools and techniques for statistical analysis and graphics. Some survey researchers also coordinate and direct the teams which conduct the surveys actively.
4. Grant Researcher and Writer – Numerous non-profit companies depend on donations to thrive, but that is only one key source of revenue. The other major source is in the form of grants. Grant researchers and writers look for rewards that conform to the goals of their organizations and decide whether they are a good match. They also have to publish complete and often highly technical applications demonstrating comprehensive knowledge of the subject matter and/or the project proposed.
5. Policy Analyst – Non-profit groups advocating for reform have their channels identified. Policy analysts or scholars help with the creation and implementation of specific policies, internally or in public and political contexts.
These experts understand the challenges inside and beyond They have a knack to strike a compromise between an expectation and a practical consequence. Few policy analysts take part in seminars and debates while others work silently behind the scenes, researching the problems and debating them with other policy experts.
6. Nonprofit freelance jobs – In this case, the non profit job could be within any field from finance to marketing, etc but the nature of work will be on a project-to-project basis. It could be non profit contract jobs and would not require an employee to work full time i.e. work happens basis contractual terms. 
7. Non profit finance jobs – Many financial professionals have discovered the benefits, satisfaction, and enjoyment of working in non-profit jobs. Non profit finance jobs could be anything from Accountants, Treasurers, Financial Aid Officers to Director of Fund Raising, etc. 
8. Nonprofit writing jobs – The nature of nonprofit writing jobs would focus largely on philanthropy opportunities and endeavors. If you have a way with words and find a cause you feel passionate about then you could become a content writer for a non profit organization of your liking.
9. Non profit travel jobs – If you love both travel and philanthropy opportunities, non profit travel jobs are a great medium to combine both worlds. There are plenty of non profit travel jobs such as teaching etc that could have you move to different countries to share your skills while keeping with your passion for doing jobs for good causes
10. Part time jobs in nonprofit organizations – As we previously mentioned, Non Profit freelance jobs, one could also work out non profit contract jobs that require you to work part time. So you can balance both your passion and another job based on your skills. Most non profit telecommute jobs are flexible and consider employees for Part time jobs in nonprofit organizations
11. Nonprofit consulting jobs – Another way for you to work within the non profit space while also focusing on other skills and interests is to become a consultant and advise non profit organizations on a need basis. 
12. Non profit development jobs – If you are wondering how someone in the development field could work for nonprofit organizations, you need not worry. As the non profit market grows, the organisation's needs for non profit development jobs also increases exponentially. As someone in Non profit development jobs, you will be responsible for acquiring and racking the funds that keep your organization going
13. Non profit communications jobs – Non profit communications jobs could involve everything from marketing to public relations, and donor communications positions.
14. Non profit sales jobs – Within a non profit sales jobs your primary responsibility will be to assist with prospecting, contracting, and managing partners, clients, etc. You would collect and submit rebate information to utility partners and also follow up with existing customers to resolve customer requests etc.
Remote writing jobs | A beginners guide to finding & acing writing jobs
Roles and responsibilities in remote non profit jobs
Non profits can be either small or large organizations consisting of two or more individuals. Typically non profits are also global. Thus when it comes to remote non profit jobs roles and responsibilities, the nature of the responsibilities may vary depending on the sort of organization and the work they undertake as well as if they encourage non profit work from home
If you are looking at getting into non profit work from home jobs and are wondering if you fit the roles and responsibilities, this list will clarify the same for you. Popular remote non profit job roles,
Board Members and Directors 

Financial Aid Representatives 

Coordinators and Policy Analysts 

Human Resource officers 

Community Relations Director 

Public Relations Managers 
When it comes to responsibilities, as we mentioned in our previous section, non profit work from home  jobs encompass a broad variety of possibilities ranging from,
Developing Strategies 

Drafting Public Relation Plans, Scheduling media coverage

Managing and coordinating teams 

Managing and facilitating communities 

Brand Management

Conflict Resolution & Problem Solving

Recruitment and Talent Management

Donor Management.

Non profit Reputation Management

Government Relations & Legislation etc. 
Non profits can be complex entities that focus on adapting their goals towards championing and supporting the cause they stand for. At the same time, to be successful, they have to instill a formal hierarchy with the right staff and volunteers to be successful.
For you to work in a non profit role you must first and foremost be passionate about the cause. Further, below is a summary of the nature of engagements one can expect in remote non profits jobs,
Full-time virtual non-profit jobs – These are for people who connect through mobile communication devices such as tablets, smartphones, iPads, and the like.  These employees work strictly remotely, using equipment provided by the organization. They work at locations outside the central office such as coffee shops, home, or remote bureaus.
Part-time nonprofit telecommute jobs – These are for individuals who sometimes work remotely but not usually at home. Such workers split their workweek between the main office and a remote area allocated for the job.
Ad hoc online nonprofit jobs – This is for persons who work outside of the main workplace on an average of one day every month. In special conditions or for special tasks, employers allow those remote employees to work outside the main workplace.
Contract work from home non profit jobs – In contract jobs, you will have to provide your service to an organization for a time duration as specified in the contract.
How to achieve & maintain Work-life balance
Qualification needed for remote non profit jobs
Non profit work from home jobs do not fundamentally equal volunteering and definitely have a criterion or qualification needed for remote non profit jobs. As with any other job, to apply for a non profit job, you will need to undergo the standard application processes. i.e. draft a resume, match it with the organizations' expectations, etc.
Your qualification needed for remote non profit jobs will also largely depend on the sector the non profit functions in i.e. Education, Health, Social Services, Legal, etc. Some common qualifications for all non profit remote jobs will include,
Bachelors Degree in a particular field (Education, Health, Communications etc) 

Masters Degree in non profit Management 

A demonstrated history of volunteer work or projects 

Knowledge of software including excel

Language skills etc. 
We will expand on some of the qualifications further in our article. While we discuss qualifications let us also look at a list of the top universities and colleges offering a master's in non profit management.
| | | |
| --- | --- | --- |
| # | University  | Location |
| 1 | Texas A&M University—College Station | College Station, TX |
| 2 | University of Texas—Austin | Austin, TX |
| 3 | Indiana University—Bloomington | Bloomington, IN |
| 4 | Carnegie Mellon University | Pittsburgh, PA |
| 5 | University of Southern California | Los Angeles, CA |
| 6 | Syracuse University | Syracuse, NY |
| 7 | University of Georgia | Athens, GA |
| 8 | Grand Valley State University | Allendale, MI |
| 9 | University of Nebraska—Omaha | Omaha, NE |
| 10 | University at Albany—SUNY | Albany, NY |
Certifications to get remote non profit jobs
Apart from a formal degree, a lot of non profit organizations also expect certifications that prove one's proficiency or expertise in a particular field. Here's a list of popular certifications that employers in the non profit sector recommend: 
Non profit Management Certificate from Harvard

Certificate in Not-for-Profit and Social Enterprise Management

Certification in Grant writing

Certification in non profit Leadership Training 

Certification in Volunteer Engagement

Certification in  non profit Marketing

Certification in non profit Human Resources  

Certifying Fund Raising Executives (CRFE), 

Certified Public Accountant (CPA), 

Certified Non Profit Accounting Professional (CNAP)
These certifications will help you focus your skills and enhance your knowledge in your particular field of expertise further. Certifications such as the ones mentioned above can help you learn the common organizational types, the common terminology used, and roles within the non profit sector.
You will also learn about how non profits generate different sources of revenue to execute their programs. Lastly, you will be able to learn about the unique advantages and difficulties of working within non profit and filter what measures you should take to advance your non profit career.
Team Communication 101: What is it & How you can crack it!
Tools needed in remote non profit jobs
There are many tools aimed at making telecommuting and teleconferencing easier. These can help remote employees feel just as connected as they would in a traditional office space. Here are some of the software you could use for remote non profit jobs,
1. Project management software – Trello, Asana, or other related tools can help clarify what other people are working on so you can remain connected even if you are not in face-to-face contact with them.
2. Chat apps – Slack is free or highly subsidized for non-profits (based on the size), making interacting with fellow staff a perfect option when they are operating from home. Many networking programs such as Microsoft Teams or GChat can also function, depending on the other resources you use. It will also serve to demonstrate when there are people available for a task. For example, if anyone has to exit to perform an errand, they could put their Slack status as away. This would help fellow employees know when someone is and is not available.
3. Video conferencing tools – Being able to have regular video calls with other remote staff can reduce the feeling of isolation that can result from remote work. It could also make meetings with remote teams feel more personalized. UnRemot is a great tool to collaborate with your team members. It is among the best video conferencing tools with some great features offered for free or subsidized costs. Next, TechSoup sells subsidized charity Zoom deals and also provides a list of free and inexpensive choices to compare. 
4. Password management tools – Using 1Password or LastPass, workers can keep a record of their passwords irrespective of the software they use. They also offer an efficient exchange of passwords between teams.
e. Documentation tools – Utilize Google Suite, Microsoft Online, or use apps such as OneNote to help keep all the information the staff wants available online. This makes it easy for anyone to quickly access it. It can even assist in teamwork, meaning that many employees can work on the same documents even though they are not in the same place.
Did you know? Non-profit organizations usually reserve the right to monitor remote workers' use of equipment and activities.
Best Remote Working Tools That Make Life Easy
Top 5 qualities for remote non profit jobs
The skills needed for remote non profit jobs are,
1. Charity – Call it drive, passion, or enthusiasm. It is extremely important to display a clear sense of purpose and a real connection to the cause, no matter what you call it. Organizations in the non-profit industry deserve to know that they are hiring people who genuinely care about their goals and are likely to hang around for some time.
If you are changing your career, this is especially important. And it does not have to be all about business – you may have run a side project in your spare time or participated in a charity marathon. This can be demonstrated through any work that you have done in local politics, volunteering, fundraising, or campaigning.
2. Creative skills – The way people donate is changing, and the charities have to adapt and innovate constantly. Over half the population prefers visiting sites on their phones rather than on desktops. For that reason, charity recruiters are always on the hunt for creative thinkers and generators of ideas. It is the original ideas that help move an organization forward when faced with new trends or sudden problems.
These need not be just suggestions for fundraising. Have you offered new ways to cut costs in your old job? Or perhaps you have come up with a way to streamline offline correspondence. In every part of a charity, that is important. If you can prove that you are looking forward and can help find ways to do things differently or save money, you will be a great asset for the team.
Did you know? Donation sites that are mobile-responsive receive 34% more donations when compared to traditional desktop sites.
3. Empathetic communication skills – Many businesses search for candidates with strong communication skills. They need people who are not only great communicators but can also show empathy and sensitivity. Whether you are fundraising, running a helpline or working face-to-face with the public, it is always important to be warm and sincere.
Effective communication enhances your ability to communicate openly and confidently during stressful or emotionally charged circumstances in non-profit jobs where you deal directly with the public. Most importantly, you need to make sure that you help and do not harm vulnerable individuals who come to your organization for help.
4. Teamwork and flexibility – Within the remote charity business, teamwork is about two things other than simply getting along with your colleagues. You must be able to operate outside your own job expectations and give other members of the company some help when needed. Everybody should pitch in during busy times – nobody wants a 'jobsworth' who is not willing to help out because it is not essentially his/her responsibility.
Flexibility is, therefore, such a valuable skill to display on your resume. Not every remote non-profit role adheres to the 9-to-5 standard working hours.  In reality, one of the things that attract candidates to the sector is the work-life balance. You are more likely to have part-time or flexible hours.
5. Other skills – Skills such as time management skills and organizational skills are also required for remote non-profit jobs. However, the four skills mentioned above are what will make you a perfect fit in the eyes of a non-profit organization's recruiter.
Video conferencing etiquette: Best practices for video conferencing
Top 25 dream companies for remote non profit jobs
Whether it is a for-profit or non profit company, the goal for the majority of people is to work with reputed firms and if those align with their beliefs it becomes a win-win. non profit companies tie in not just a reputable brand name but also provide a sense of pride for employees who are working in a field they are passionate about. Here's a list of the top 25 dream companies for remote non profit jobs,
| | | |
| --- | --- | --- |
| # | Organization/Company | Sector |
| 1 | 350.org  | Climate Change  |
| 2 | ASPCA | Animal Welfare |
| 3 | Bend the Arc  | Social Justice |
| 4 | End Rape on Campus  | Social Justice |
| 5 | Financial Clinic  | Financial Security |
| 6 | Earth Justice | Environmental Law |
| 7 | United Way | Educational, financial stability |
| 8 | Feeding America  | Food Bank  |
| 9 | Women's World Banking  | Women's Rights  |
| 10 | Sierra Club | Climate Change |
| 11 | National Domestic Workers Alliance | Social Justice & Human Rights  |
| 12 | Muscular Dystrophy Association | Healthcare and Medicine |
| 13 | Mercy For Animals | Animal Welfare |
| 14 | Human Rights Campaign | Social Justice & Human Rights  |
| 15 | The Salvation Army  | Healthcare & Social |
| 16 | YMCA | Travel & Leisure |
| 17 | Habitat for Humanity  | International Needs |
| 18 | American National Red Cross | Healthcare & Social |
| 19 | Task Force for Global Health | International Needs |
| 20 | St. Jude Children's Research Hospital | Healthcare and Medical  |
| 21 | Hazelden Betty Ford Foundation' | Human Rights  |
| 22 | Freedom for All Americans  | Human Rights  |
| 23 | One Acre Fund  | Human Rights  |
| 24 | Americares Foundation | International Needs  |
| 25 | Direct Relief | Healthcare  |
8 Best free Video Conferencing Software | Connect, Communicate, Collaborate! 
Top global non-profit organizations hiring remote non profit jobs
Centre for Civil Society 

Give India

Social Impact 

The/Nudge Foundation 

Khan Academy
Managing Remote Teams: 13 tips that will come handy
Remote non profit jobs pay structures
The assumption that non profit jobs do not pay is untrue. In fact, non profit jobs can have a decent or even great remuneration depending on experience, role, and company. Pay structures with remote non profit jobs will depend largely on one's position in an organization. For example, 
Non Profit Board Members: Board members will be responsible for overseeing the governance, strategy, and fiduciary duties of a non-profit. non profit board members are typically volunteers who aren't compensated with a salary.
Non profit Executive Director:

A non profit Executive Director will oversee the work performed by all of the departments within the non profit. The average compensation for a non profit Executive Director is around $58,000.

The non profit Director of Philanthropy: The non profit Director of Philanthropy will be someone who manages all of the organization's charitable giving. The average compensation for a non profit Director of Philanthropy's is usually around $72,219 a year.
The non profit administrator: This role typically expects one to work closely with the board members keeping them up to date on the organization's projects and budgets etc. The average non profit Project Coordinator's Salary is $41,000 a year.
Non profit advocacy director: The non profit advocacy director would act in the best interests of the organization towards lobbying and convincing organizations or governmental bodies to implement things that will work to help your non profit's mission. The average non profit Advocacy Director's salary is $67,000 a year.
Non profit COO: The non profit COO oversees all aspects of organizational management. The average non profit COO salary is $144,000 excluding compensation.
34 Best Remote work communities on Reddit, Slack, Facebook
Important elements of a resume for remote non profit jobs
When applying to virtual charity jobs, it is very important to have a good resume. The elements to go into the resume are,
Personal details

including name, age, gender, nationality, and contact information. 

A

summary

of your training, your credentials, and your candidacy. List the most conclusive features specific to the job position that you are applying for in two to four lines. 

Display your

objectives

so that the recruiter knows what you want to learn and what your contribution would be for his or her organization.

Highlight the

skills

you have that are important to remote non-profit employment. 

Mention your

educational qualifications

. 

Include any extra 

certifications or training

. 

Type out all of your

charity experiences

with their assigned duties. 

Write about your

accomplishments

in non-profit. 

Do state your

interests

.   

Offer true and valid

references

.
Best resume software | Give the finest first impression
Online job boards for remote non profit jobs
The following are the top online job boards to find the best remote non profit jobs,
Flex Jobs

Indeed

Zip Recruiter

Glass Door

Virtual Vocations

LinkedIn

Jooble

Simply Hired

Remotive

RemoteOK
Inbox Zero: How to boost your email management! – Productivity hack
Top 5 employer requirements for remote non profit jobs
The following are the requirements for remote non-profit jobs,
1. Educational qualifications – Remote non-profit jobs usually require a Bachelor's degree in an area such as communications, public relations, statistics, social science, accounting, or non-profit administration. Some larger organizations, particularly for directorships, need Master's degrees. The field of study will depend on the job position you are applying for. A few non-profit employees even invest in additional certifications such as the Certifying Fund Raising Executives (CRFE), Certified Public Accountant (CPA), and Certified Nonprofit Accounting Professional (CNAP).
2. Work schedule – Eligible employees are responsible for setting their working hours, obtaining approval from supervisors, and adhering to the agreed timetable. Regular remote work must take place on the days and times pre-approved. Your supervisor must approve irregular remote work which could occur episodically. Designated work may not be exchanged or moved without the supervisor's prior approval. If an employee has to come in on a day that he/she would normally work from home, the employee must resume the remote work schedule the following week. He/she may also exchange the remote workday with supervisor approval for another day.
4. Remote office – Excellence as a remote worker requires having a workspace that satisfies the specifications of the remote non-profit jobs. As a remote employment seeker, you need to accurately decide where you expect to work best. You may not be a good candidate for remote work if you cannot identify an adequate space in your home or other suitable locations. Non-profit requires staff working remotely to have a devoted work area that provides sufficient space, lighting, telephone service, internet access, and power and temperature control.
The assigned place of work should comply with OSHA workplace safety rules including the following – a working fire extinguisher and smoke detector; clear, unobstructed exits, adequate electrical circuitry; appropriate furniture, and a space free from hazards that could cause falls.
5. Skills – To tell the truth, a charity resume does not work the same way as a private-sector job resume. You will have to possess previous work experience to show your abilities, but more than that, you will have to include qualities that underline the humane side in you. Some of the much-needed skills for remote non-profit jobs include – creative skills, charity skills, empathetic communication skills, teamwork, and flexibility.
Can non-profit employees work remotely?
Yes, non-profit employees can work remotely.
How can I get a remote non-profit job?
To get a remote non-profit job, you must have a Bachelor's degree relevant to the position you want to apply for, empathy and passion to work for no profit, communication and teamwork skills, creativity, and flexibility.
Which are the best non-profit organizations for work from home?
The best non-profit organizations for work from home are Give India and the Centre for Civil Society.
What do remote non-profit jobs mean?
Remote non-profit jobs mean proposing funding plans, communicating with prospective donors, and supporting the cause of a non-profit organization. This is done according to one's skills and capacities from a remote location.
Where can I find remote non-profit jobs?
Remote non-profit jobs can be found on popular online job boards like Flex Jobs and Indeed.