If you are someone who loves being your own boss, desire flexible work hours, being location independent, and earning a decent income, you have come to the right place. If the above-mentioned qualities brought you here, we have the perfect job opportunity for you. Welcome to the world of online transcription jobs.
What is online transcription jobs?
Transcription is the process of listening to an audio file and then converting its content to text form. So you've heard about the world of transcription. And have been wanting to find an answer to the question, what is online transcription jobs? Here's the answer for you, the job of transcription requires a transcriptionist or transcriber to listen to audio files and write them down in text format.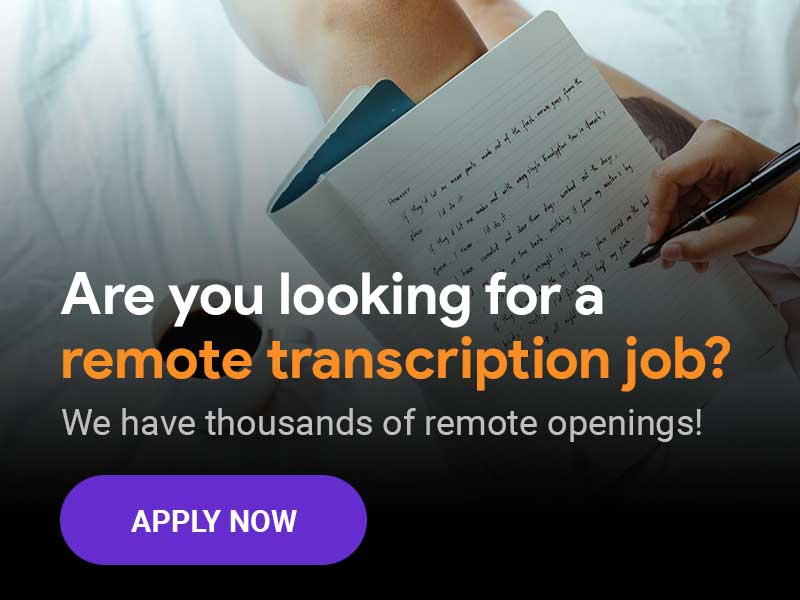 The audio can range be anything like a speech, lecture, interview, podcast, or even conference proceedings, the list is a long one. Earlier, secretaries were handed the duty of being on the spot of such proceedings and note everything down in shorthand.
But, due to the advancement of the Internet, transcription has become a job one can do sitting at home. Remote transcription jobs are the best way for anyone to earn some extra bucks without the need of being present in the situation.
Must read: What is remote working?
Who are online transcription jobs meant for?
Anyone who wants to earn money by sitting at home can go for these remote transcription jobs. Students, single mothers, housewives, everyone can get these jobs preferred they meet the criteria of the job and have the necessary tools.
In current times, online transcription jobs are one of the most sought after jobs to earn money on the internet. Due to its convenience, people who can't leave their homes are opting for it more and more. Mainly there are two types of work from home transcription jobs,
For a particular company: You can work for a particular company that provides transcribing services as an in-house transcriber.
Freelancing: If you don't like the idea of working for someone else, you can opt to be a freelancer and work directly with clients needing transcription services for a certain price
Both types have their perks and downsides. The company job is more cut-throat as there aren't any particular jobs earmarked for anyone. Everyone gets to choose the audio files from a single page available on the platform. So, there's no guarantee that you will be able to get the desired audio. These generally work on the 'First come, first serve' principle.
Must read: 14 Best Productivity Tips to Achieve More At Work & Life
On the other hand, the competition in the freelance market is fairer if not easier. Here you get to work directly with the client but the pool of service providers increases too.
Types of online transcription jobs
Majorly there are two types of online transcription jobs,
Medical transcription

General transcription
For medical transcription jobs online, one needs to have background knowledge of the medical field along with the usual skillset. We have an elaborate page on medical transcription jobs separately.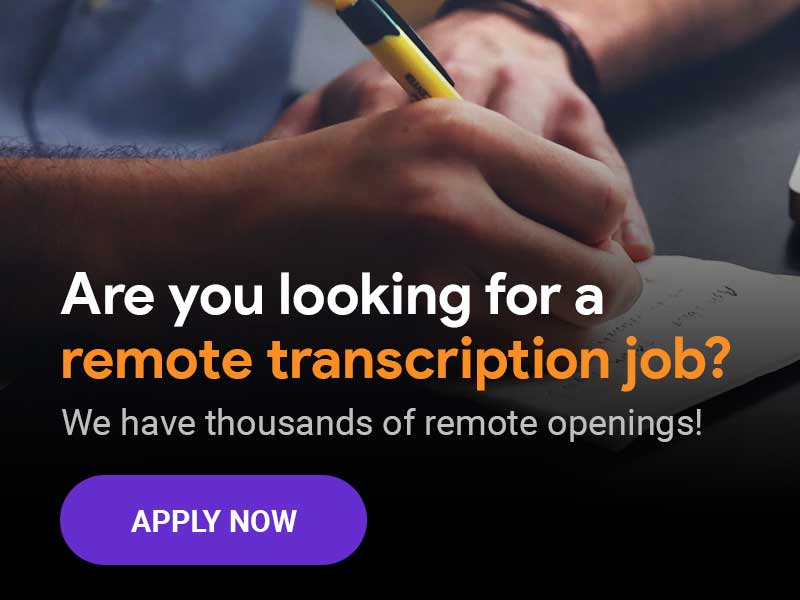 The general transcription jobs, don't need any specialization and anyone having general skills can go for these kinds of work from home transcription jobs. There are four types of general transcription jobs, i.e academic, business, legal, and media production. Although it isn't compulsory, legal transcription clients prefer ones with legal knowledge more than the others. This article is mostly about general online transcription jobs.
Also Read: Remote writing jobs – A beginners guide to finding & acing writing jobs
Market opportunity for online transcription jobs
Retail, scientific research, automotive, or aerospace almost every industrial sector depends highly on transcriptionists for the success of their organizations. And hence the market opportunity for online transcriptions jobs are always on the rise.
The key advantage of freelance transcription jobs is the number of domains where they specialize in. That gives you potentially ample opportunities to opt for a career in freelance transcriber jobs. The typical domains under online transcription jobs being,
Medical transcriptionists
Legal transcriptionists
General transcriptionists who work in government departments, different types of industries, and nonprofit firms.
According to the US Bureau of Labor Statistics, virtual transcriptions jobs are expected to flourish in the legal and general sector more than the medical sector. The simple reason being the industries are focusing more on online videos for advertisement and campaigns. The videos require captions to attract potential customers.
Though the BLS does not maintain the job statistics for transcription jobs online, yet it has been observed that the average salary of a transcriptionist has earned a substantial rise ranging between USD 20,000 and USD 60,000 per year.
On a different note, research conducted by MarketandMarkets, a global market research firm, has confirmed that the transcribing online jobs are expected to provide USD 12 billion revenue by 2022 compared to USD 4 billion in 2019.
Job titles and career paths under online transcription jobs
You can select from a number of job titles and career paths under online transcription jobs. The titles fall under three main categories of medical, legal, and general.
The following job titles are commonly preferred by companies for transcription online jobs,
1. Data entry specialist – Requires less skill and can be easily performed in comfort from home. The pay structure is also less compared to other online transcription jobs
2. Legal transcriptionist – Demands familiarity with legal terms, procedures, rules, and regulations. No special training, learning courses, or certifications are required. You can conduct the work conveniently at home
3. Corporate transcriptionist – The role demands knowledge on the financial terms and topics and understanding of a company's financial reports and statements. He or she should be proficient in reading the annual reports and the analyst reports
4. Medical transcriptionist – The role requires special training or certifications to understand the medical jargon as dictated by a physician or a medical practitioner.
Speaking about the career path, once you have gained sufficient experience as a transcriptionist, you can rise above the ladder as a transcription reviewer or a transcription specialist. It is vital to increase your competency level to gain access to higher roles under transcribing jobs from home.
Must read: Guide to conducting & attending Remote Interviews
Roles and responsibilities for online transcription jobs
The roles and responsibilities for online transcription jobs vary depending on the industry and the domain serviced by them. Yet there are some key duties performed in a transcribing online job for you to refer to and understand before applying for freelance transcription jobs from home.
Interpreting audio and video recordings is one of the key responsibilities in online transcription jobs. You are required to listen to the recordings and convert the medical, legal, or domain-related terms and terminologies into plain simple text
Reviewing reports and documents for any errors or inconsistencies and highlight the same with the necessary corrections. They are also expected to sort out the discrepancies and suggest improvements
Follow the confidentiality guidelines for data, reports and documents of the customers of the company and maintain the same
The transcribed text are meant to be easy to read with consistent formatting, leveraged by the companies to distribute to their customers
They are also responsible for transcribing while listening to live speeches or conversations that require quick interpretations. For faster execution, they leverage transcribing software to aid their work
Review and approval of the transcribed text from the customers, seeking the necessary verifications and validations
Qualification needed for online transcription jobs
A vital point is to understand the qualification needed for online transcription jobs before applying for the same.
First and foremost you must either possess a high school diploma or a Bachelor's degree in a general course of subjects.
Secondly, you must be proficient and have sufficient knowledge of MS-Office tools.
The third is a faster typing speed to capture the text from the recordings or live conversations
Excellent written communication skills and listening skills
Efficient in the English language with grammatical correctness and accuracy in spelling
Knowledge of the legal, medical, or industrial domain-related jargons and basic concepts
The best colleges in the US that offer education and learning courses for those aspiring for transcription jobs remote or online are,
Harvard University, situated in Cambridge, with a tuition fee of USD 67,081
Yale University, situated in Haven in the state of Connecticut, the tuition fees being USD 66.128
New York University located in Greenwich of Manhattan. The tuition fees are almost USD 54,880
The University of Michigan, located near Detroit. If you belong within the state, the fees are USD 15,948 and for others, it is USD 52,226
Massachusetts Institute of Technology in Cambridge, MA. Its fees are approximately USD 53,818
Boston College located at Chestnut Hill was established by the Society of Jesus. It is currently being maintained by Roman Catholics. The fees are USD 60,202.
Stanford University, situated at Stanford in California, with tuition fees being USD 64,554.
Columbia University in New York, tuition fees being USD 72,465
The University of Chicago in Illinois, with tuition fees being USD 66,561
Must read: Best Remote Working Tools That Make Life Easy
Skills needed for online transcription jobs
Whether you choose to do offline or online transcription jobs, the skillset required for both the job is quite the same. Here are the key skills for online transcription jobs for beginners,
1. Knowledge of languages – Transcribing requires you to listen to audio and write it down in document form. Now the language of the audio and the one required for the document may not be the same every time. Though, English is the most common language, at times situation may be different.
So, make sure you are well-versed in the language you're taking the work in before applying for it. Most of the time, there are tests where you need to listen to the sample audio and transcribe it. If you pass the tests with 90 percent of marks, you become qualified to work for the company or even for the platforms for freelancers.
2. Knowledge of the transcribing format – Whatever type of transcription job, you decide to opt for, each one has a particular format which you need to know well. Proper usage of punctuation, grammatical knowledge, speech format, all these skills are necessary to become a transcriber.
3. Listening skills – One of the most important skills you need for both offline and online transcription jobs is great listening power. The better you can listen to the audio, the faster you can complete your work within the set deadline and move on to the next ones. Remember, the only way to earn more money is to keep meeting those deadlines.
So, you need to know how to listen and understand every word of the audio clearly. If there are any unclear words, you need to have the speech formatting skills to recognize the words and write them down accurately in your document.
4. Keep an eye on your typing speed – So you have great listening skills and can understand every word of the audio crystal clear, but if you can't type them fast, it's of no use. Along with your ears, your fingers need to be trained properly, so that both of them work simultaneously without one lacking behind the other.
Also, this helps you to finish the work before the deadline and take up new ones. After all, the more assignments you can take, the more you'll earn. So, practice typing regularly both before approaching the employer and after you get the job. You can't stop practicing once you start getting the assignments. The average typing speed required for these jobs is 80 words per minute, and it is not so difficult to achieve with constant practice.
5. Having a well-written and compelling resume – Resumes play a significant role in how much work you will be able to get from these work from home transcription jobs. If you have all the above-mentioned skills but lack a proper resume, someone else with lesser skills will easily snatch away your prospective clients. The standard format of resumes include:
Name

Contact details

Address

Prior experience

Achievements if any

Goals for the career

The skillset

Testimonials and references, if any.
Recommended: Best resume software | Give the finest first impression
Certifications to get online transcription jobs
While specifying the recommended certifications to get online transcription jobs, it is important for you to remember that the courses or exams differ based on the type of transcription jobs remote. The key certifications and learning courses for transcription work online are highlighted below,
Transcription Certification, granted by the Transcription Certification Institute. It consists of learning courses, study material, and quizzes. After completion of the course, you are eligible to appear for the exam. The price is USD 499 one time or USD 199 in three installments
Transcribe Anywhere offering learning courses on transcription. It has 4 levels of training, each of which you can enroll separately. The price varies between USD 127 at level 1 to USD 797 at level 4.
Transcription Skills – Learn beginning advanced skills, a course of Udemy. The course fee is approximately USD 57, including 8 articles, 39 learning resources, and 2 practice tests. At the end, you will receive a certificate of completion
How to become a transcriptionist by Udemy – The course fee is near to USD 52 that includes 30 learning resources and a certificate of completion
For legal and medical transcriptionists, separate learning courses and certifications are present since they require in-depth knowledge of the jargons and basic concepts
Suggested read: Best Home Office Set Up For Remote Work – Shoot Up Your Productivity
Infrastructure needed for online transcription jobs
If you are looking for online transcription jobs from home, you need to have certain tools along with your skills to complete the work. The tools required you will need are as follows:
1. A computer system and the internet – To start working as a transcriber, you need to have a computer system to work upon. It can be anything from a desktop computer to a laptop. This will be required to listening to the audio and transcribing it in the text format. Also, you'll need an Internet connection to receive and send your audio and completed works to the client.
2. A pair of excellent quality headphones – Headphones of excellent quality are something you need to spend money on, the better your headphones work, the easier it will be for you to do your work. You should go for the ones with a noise-cancellation feature to block the unwanted surrounding sounds from disturbing you.
There are headphones manufactured especially for transcription purposes. These will not only cancel out the unwanted noise but also increase the quality of the audio so that you can listen clearly and write faster. The quality of the audio playback will have a significant role in how much work you can do.
3. Foot pedal – You need your hands to type the words and using them to work on the audio every time is sure to create a nuisance and hamper the quality and quantity of the work. And to solve this problem, you need to buy a foot pedal. A foot pedal is equipment that can be connected to the computer system through USB ports.
This helps you to stop, play, pause, rewind, fast forward your audio using your feet. In this way, you don't need to stop typing every time to control the audio and thus can keep typing without any hindrance. A foot pedal is a great tool to increase the typing speed for online transcription jobs.
4. A transcription software – Transcription software will help you to work in a faster and clearer way.  It will also help you to organize the received audio files in a better way. Some software also provides extra services like speeding up or slowing down the audio, enhancing the quality of the audio, etc for paid subscriptions.
But even without them, you can manage with free software in the beginning. There's always the option to upgrade to a paid plan as your revenue starts increasing with time.
Also Read: Remote rn jobs | A priceless list of tips to succeed
Top 10 tools needed for online transcription jobs
If you are opting to start a career as a freelance transcriptionist, then you must be aware of the top 10 tools needed for online transcription jobs.
1. Express Scribe – A well-known transcription tool, with an audio player, especially curated to assist professionals in online transcription jobs. It has both free and paid versions.
2. Foot Pedal – It is also known as the WAV pedal, allowing your foot to play, pause and rewind audio and video files. USB and series are the 2 types of a foot pedal
3. Freemake Audio Converter – It is free and can transform audio files from one format to another like .mp3 to .wav.
4. Freemake Video Converter – Supporting over 500 formats, the tool can convert video files to audio files and video files from one format to another
5. DFX Audio – An enhancer tool to increase the audio quality by reducing the background noise and usage of various controls for better audio.
6. Slice Audio File Splitter – A transcription tool used to slide audio files to send them over in bits and parts. It can even cut out long silence in the audio files thus reducing the size.
7. Audacity – A free audio recording and editing tool, used for merging audio files too
8. Dragon Naturally Speaking – The software is favorite among transcriptionists since it has the capability to recognize speech and transform it into a text version
9. Grammarly – One of the super-efficient grammar checking tools used extensively by transcribers. If you have a Google Chrome browser, you can use the tools as a free extension
10. WinZip – You may need to compress the audio and video files of large sizes and send them across. WinZip is vital for compressing files. It has a 30-day free trial after which you need to purchase the license.
Also Read: Remote proofreading jobs | A comprehensive guide for beginners
Top 25 dream companies for online transcription jobs
The top 25 dream companies for online transcription jobs, for your quick and easy reference, are specified below,
Quicktate, a legal company offering pay between USD 7 and USD 10 per hour
Verbalink, offering both experienced and entry-level transcription jobs and providing pay between USD 5 and USD 8 on an hourly basis
AccuTran Global, paying USD 0.005 to USD 0.0066 per word for a freelance audio transcriber as well as a video transcriber
com, paying USD 3 to USD 25 per hour. You need to complete a test for qualifying for the job
Appenscribe, demands fluency in multiple languages and the pay scale varies between USD 2 to USD 10 per hour
Tigerfish, offering both full time and part-time transcription jobs, pay scale is 5 to 7 cents per line
SpeakWrite hires on a contract basis from Canada and the US. You can earn up to USD 3000 per month
CastingWords, a transcription firm, hiring for freelance audio transcribing jobs at a pay scale of 30 cents to 1 USD for 1 minute of the audio file.
GMR Transcription, providing an opportunity to earn USD 1000 to USD 3000 in a month, depending on your skills and experience
CrowdSurf, good for both a fresher transcriptionist online job as well as for an experienced person. They pay almost 7 cents for a line.
Ubiqus prefers good writing and hearing skills and paying almost USD 0.006 for 1 word
Scribie, good for both a full time or temporary transcript processor, providing a salary of 50 cents per minute
3PlayMedia, specializing in audio captioning, subtitling, translation, and description. The payment is 5 to 7 cents per line.
Daily Transcription, strictly enforcing working hours and pays 75 cents per minute of audio file
Aberdeen Broadcast Services hires professionals for live real-time captioning of broadcasts. It pays 1 USD per minute of audio file
Same Day Transcriptions, a US company, with a pay of about 70 cents per minute of the audio file.
Hollywood Transcriptions, offering services to entertainment, education, marketing, legal, and government agencies and firms. You can be paid about USD 500 per month for full-time online transcription jobs
Way with Words, a transcription company, paying 45 cents for 1 minute of the audio file. You must be from either of these countries to qualify – South Africa, UK, European Union, US, Canada, Australia, New Zealand, Malaysia, Singapore, or Hong Kong
TranscribeMe, specialized in medical and legal transcriptions, paying 15 cents to 30 cents per hour
Pioneer Transcription Services, hires both English and Spanish professionals, paying 1 USD for 1 minute of audio file
Pacific Transcription, specializing in legal and medical transcriptions, paying 30 cents to 50 cents in an hour
Net Transcripts, a US-based company, paying USD 11 per hour to USD 25 per hours depending on the type of online transcription jobs
Allegis transcribes audio or video recordings for legal and insurance firms. It pays USD 13 to USD 17 per hour
Focus Forward, a transcription, coding, and research company. It hires English and Spanish professionals. You need to pass a 10-minute test to be qualified for hire. It pays USD 40 for 1 minute
GoTranscript, hires transcriptionists globally, paying 60 cents per minute of audio or video file.
Also Read: Remote paralegal jobs | A complete guide
Top job boards to find online transcription jobs
Online transcript jobs are posted by various companies seeking both entry-level and skilled transcriptionists. The companies prefer remote working on a full-time, part-time, or contract basis. The job boards collaborate with the companies offering them to post their job opportunities.
You can search for your dream job and role and apply for the preferred opportunity. The top job boards to find online transcription jobs are enlisted below for your quick reference:
GoTranscript
Jobrapido
Indeed
Workfromhomehappiness
Upwork
Scribie
Freelancer
Dreamhomebasedwork
Financialwolves
The transcription companies hiring remote professionals, post the roles required along with the approximate salary range, and also a summary of the duties and responsibilities.
You can filter based on the location, salary range, employment mode, and roles. It is better to register on some of the websites for receiving updates on job opportunities. Additionally, your profile may appear under the search criteria of potential job recruiters. Ensure you mention all the skillsets and experiences in your profile details and description.
Before applying for the job, it is recommended to check the company background and the authenticity of the roles. Many of the websites facilitate communication between the candidate and the company for any queries before applying for the roles. The websites sort out the recent job postings along with the company names for easy search.
Also Read: Remote finance jobs | Know before you start
Top resume elements of online transcription jobs
A strong resume focusing on your transcription skills and abilities will assist you in securing a respectable role under the portfolio of online transcription jobs. Here are the top resume elements of online transcription jobs that you must focus on mandatorily,
Your language proficiency with a focus on grammatical correctness, spelling accuracy
Specify your roles and responsibilities in prior engagements highlighting the various audio and video files transcripted
Mention the different industrial sectors you have worked for, illustrating the know-how on the basic legal or medicinal or domain knowledge and concepts
Write about your vocabulary and communication skills
Mention your expertise in the usage of the transcription tools and software
Detail out your educational qualifications, learning courses attended and certifications obtained
Do not forget to mention the appreciations, accolades, and awards received for your previous achievements
Online transcription jobs pay structures
Transcriptions are paid handsomely based on their skill and experience. And most important is you can execute the job conveniently at home by working remotely. The salary of a transcriptionist is approximately USD 15, which eventually rises to about USD 25 to USD 30 per hour as you gain experience and expertise. In many companies, you can earn up to USD 3000 in a month.
The US Bureau of Labor Statistics has recorded the average online transcription jobs pay structures as varying between USD 20,000 to USD 60,000 on a yearly basis. The structure is increasing every year at a positive rate and is expected to accelerate till 2022.
The common rate for each assignment of online transcription jobs ranges from $1 to $2.80 per audio clip depending on its length. The audio can be of any duration from 2 to 60 minutes.
Also Read: Remote data science jobs | A how-to guide for beginners
Online entry level transcription jobs
While applying for an online entry level transcription jobs, you must mandatorily possess a diploma or Bachelor's degree in legal, medical, English, or any general category of subjects. You can earn up to USD 3 to USD 11 per hour. On average, you can easily earn up to USD 5 per hour.
You must be able to demonstrate basic knowledge of the domain, listening skills, and interpreting the audio and video files into understandable texts. Besides, you must be proficient in typing fast and with agility. The text interpreted must be accurate with no errors. If you have acquired any certifications or attended any learning courses, then it would be an additional boon.
Should you freelance or get hired by a company as an online transcriptionist?
If you are a beginner with no prior experience in online transcription jobs, it will be better for you to opt for freelance projects. Companies mostly prefer candidates with prior experience. Also, the competition there is something that you won't be handle in the beginning.
Working as a freelancer will make it easier for you as the client will choose the service provider based on work ethics. They also may more than the company will pay you after deducting its share. Unlike company work, freelance jobs don't function on the 'First come, first serve' principle.
Read: Working from home with kids – Parent's guide to remote working
Tips for beginners to succeed in the world of online transcription jobs
Keep gaining experience even if the pay is less in the initial days. The more experienced your portfolio is, the easier it will be for you to get new clients. High paying clients or even companies look for experienced transcriptionists all the time.

Keep practicing the skills. The better your skills get the more work you can complete in a short amount of time. In this kind of jobs, time equals money. So, if you want to earn more, you'll need to practice more.

Take good care of your equipment. Remember you are as good as your equipment, so keep them in the best condition.

If you are planning to freelance, make sure to network with other clients and service providers. The more people know about you, the more chances you have of getting new work.
Read: 34 Best Remote work communities on Reddit, Slack, Facebook
Troubles you may come across during online transcription jobs
Whether you do general or medical online transcription jobs, there are certain hurdles you may come across from time to time like,
Poor audio quality.

Long and boring audio clips.

Uncordial clients.

Short and improper deadlines.

Adapting to the constantly developing technology.
No matter what issue you come across, remember you can overcome it as long as you don't lose your determination. If you start feeling tired or find it difficult to concentrate, just take some time off and come back with fresh energy.
Anyone can start to earn a high amount from online transcription jobs as long as the above-mentioned tips are followed. And the best part of this job is that it can be done without even leaving the couch or getting out of the house.
Suggested read: 14 Best Remote Job Sites: Start your job hunt at the right place!
What are the different kinds of transcription jobs?
Online transcription jobs mainly fall into two categories: medical and general transcription jobs.
Can I do online transcription jobs as a student?
Yes, students can do these jobs.
Do I need any particular certificate for transcription jobs?
No certificate is required for general online transcription jobs, but there are some recommended certifications for medical transcription jobs
Will I need to give a test for certification of online transcription jobs?
Most of the companies and websites have tests. Though they are quite easy to pass.
Are tests for online transcription jobs conducted online?
Yes, there are remote transcription jobs available for interested candidates to do online.