Are you poised to start a career in the call center domain? If so, consider remote call center jobs and this article is a good starting point for you!
The corporate games have seen a major change owing to the onset of the COVID-19 pandemic. Work from home has become the new normal. Most businesses in the US were earlier skeptical of working remotely but, are now finding ways to enable their employees to work effectively.
Remote Tax Preparer Jobs | Guide To Work From Home Tax Preparer jobs
Call center agents are the forefront executives who handle customer support and service queries of a business. For them, working in remote call center jobs i.e. a workplace environment where they have access to laptops, desktops, co-employees working in a similar fashion, stable internet connection with high speed, and more is a comfortable situation to be in.
However, the dynamics have changed a lot when the same agents could no longer be in this typical workplace setting. Not only in the US,  many countries across the globe not are in proper functioning since the lockdown due to the COVID-19 spread. The situation also called for call center agents or the customer service executives to remotely from home. Insights into how the work culture changed in some of the famous call centers in the US are surprising.
Coming on to the remote jobs, the workers have freedom from commuting, flexibility to work their own hours, and they have the liberty to live wherever they want (more savings ensured). But, the benefits are just not one way. Hiring remotely has been a bonus for employers as well. Companies that are hiring for remote positions have open access to a whole new global talent pool and are more likely to keep hold of employees.
Due to restrictions prompted by the coronavirus pandemic, many companies now have a completely, or partially, remote workforce. Indeed, a lot of permanent remote call center jobs are coming up in the market. In the long term, this may lead to more comfort with remote employees (the employers save a lot on the internet cost, electricity costs, providing meals, and outings) and a greater willingness to hire people who wish to work remotely.
So if you are planning to pick up some remote call center jobs then get the details on everything you need to know about working at home policies. Also research well on where to find work-at-home job listings, the best sites for finding genuine work-at-home jobs, and research well about the companies offering work-at-home opportunities to avoid scams or non-payment issues.
There are various kinds of call center jobs that are available in the market. Read on to know more about each of them!
Remote medical call center jobs
Remote medical call center jobs hold a crucial role in any medical institution, serving as the link between patients, medical providers, administrative staff, and other healthcare professionals along with the continuum of care. During a global pandemic such as COVID-19, the role of call center staff has become an even more crucial resource as patients inquiries have increased and call volumes have spiked.
On regular days, remote medical call centers (also called contact centers) have the duties to handle multiple calls, emails, and other forms of digital communication. The important tasks include appointment scheduling, emergency routing, telehealthcare services, referrals and discounts, and transport dispatch.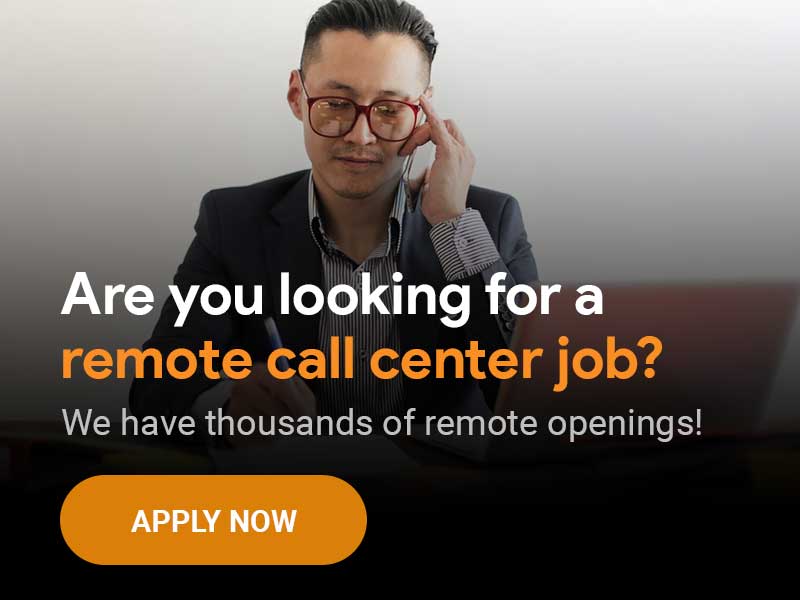 A team of trained representatives, using scripts to guide their conversations, have the responsibility to handle anywhere from 50 to 100 calls or messages per day – and many are on call at all hours of the day and night. Managing a remote medical call center job is not an easy task, especially considering the tendency toward high agent turnover and the need of being present 24X7.
Remote call center retention jobs
If you are head storm on the idea that you want to work regularly as a remote employee then you must find such companies that provide remote call center retention jobs opportunities. Maximizing call center retention jobs begin with finding reliable employers. It may sound easy but, it actually is quite difficult. It requires good psychological capabilities from your end to find out the intention of the hiring manager. You also need to be equipped with the personality traits that the companies are looking for.
Remote QA Jobs | Beginner's guide on where to find and how to crack them and tips on pay scales
Considering that remote call center retention jobs executives handle a steady stream of calls under demanding conditions, communication skills, and personal warmth in an agent is a priority. In fact, research shows that the quality of the employee is more important than the experience and individual attributes of the worker.
Travel company call center remote jobs
The roles and responsibilities of an executive in a travel company call center remote jobs include planning, selling transportations, accommodations, insurance, and other travel services to the prospective clients.
Cooperating with clients to determine their needs and advising them on the appropriate destination, modes of transportations, travel dates, costs, accommodations, providing relevant travel information, brochures, making stay reservations, adhering to special requests, collecting payment/fees are the major responsibilities.
The complicated responsibilities include dealing with the customer's travel problems, complaints, refund requests, network with other tour operators to remain relevant in the industry, maintaining statistical and financial records, and meeting profit and sales targets.
Remote cyber security call center jobs
An applicant for a remote cybersecurity call center position needs to have knowledge about the specific responsibilities and the field in general. While going for an interview the questions might be regarding one specific task—say, designing firewalls or safeguarding information in certain applications.
Perhaps, depending on the role and how encompassing it is, cybersecurity call center agent might face questions that may require having a breadth of knowledge regarding various technologies and programming languages.
The role might involve protecting sensitive business data. You need to prove your skills that you are trustworthy, reliable, and possess problem-solving skills, ingenuity, and calm while facing a difficult situation.
Student call center remote jobs
There is plenty of student call center remote jobs available. You do not require any specific knowledge to work in a call center. The key skills that are required are communication skills, knowledge retention skills, juggling multiple tasks, flexibility to handle a dozen calls in an hour, and not losing patience. You should be able to manage a chatty customer one moment and an angry customer the very next moment.
Remote Help Desk Jobs of 2021 | List of best 25 dream companies and how to crack them?
Remote call center jobs pay rate
The question you must be wondering to be answered about a new job is "How well does it pay?" Perhaps, when considering a remote call center salary, another question is "How to calculate the appropriate salary?" Most call centers have varying methods of calculating pay.
Call center jobs may pay you on an hourly basis, a per-call, or a per-minute basis, or one of these rates plus an incentive.
No matter the pay structure is given, the ones getting into remote call center jobs should evaluate whether they are receiving a competitive pay rate by calculating the true hourly wage. This is by figuring out how much you earn per hour in an average week while also accounting for the costs you incur (electricity, internet, laptop, and more).