Passionate about bookkeeping and want to pursue a career in this field? This is a beginner's guide on how to go about doing it.
Bookkeeping is among the popular career options. You can pursue remote bookkeeping jobs at your home easily. There are many websites like Upwork, unremot.com and Belay from where you can find remote bookkeeping jobs. Also, the market for finance and accounting related domains are set to grow at 10% annually for the next 6 years
Remote Bookkeeping Jobs
Do you like playing with numbers? Are you interested in solving puzzles and untangled knots? Then, the remote bookkeeping job is for you. It is a great option for you to start your career as a bookkeeper.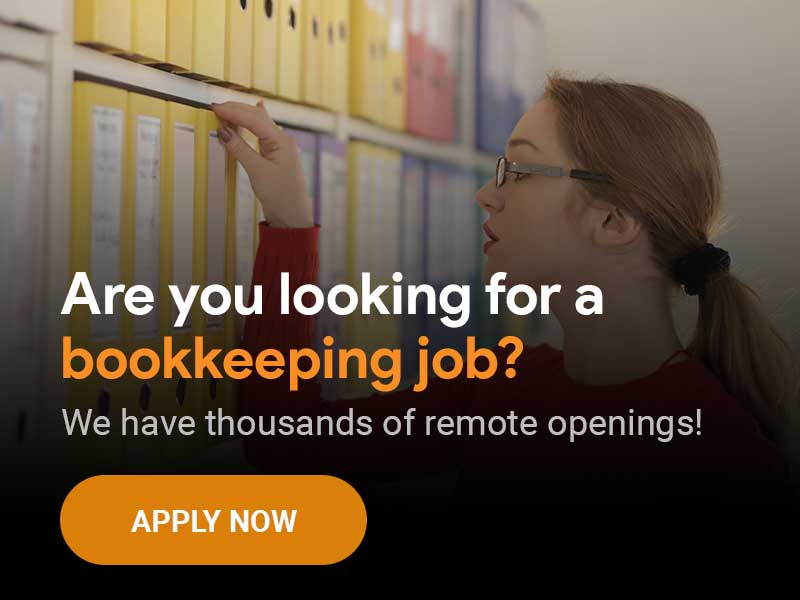 You should have basic accounting skills to get entry-level bookkeeping jobs. These days, many business houses are hiring virtual bookkeepers. Bookkeeping is a part of the accounting process.
The work of a bookkeeper is to put the receipts, payments incorrect columns, classifying expenses, and income. You do not need a professional accounting degree to start your bookkeeper career. You should have these personality traits to start working as a remote bookkeeper.
You should be organized in your work.
You should have strong attention to check the details.
In the bookkeeping job, you have to check the information twice and thrice. You cannot do this work then this is not a job for you.
You need to be a hardworking person.
You should have the ability to handle multiple clients.
You should maintain strong connections with your clients online to get projects online.
You need to be passionate about your bookkeeping job. Then, you can create multiple connections for work and get high paying clients.
How to find remote bookkeeping jobs
Most of you are planning to start your career in the bookkeeping field. Therefore, you can check these websites to get a remote bookkeeping job for you.
AccountingDepartment(dot)com: You are looking for a virtual bookkeeping job then you can apply at Accountingdepartment.com. It is one of the best places to get a secure bookkeeping job.
unremot.com: This is one of the most technologically advanced remote collaboration platform for remote jobs. One can find freelance/remote work from across the recruiters around the world, while also collaborating with them over video-based virtual rooms and chats.
Belay: Belay hires bookkeepers and virtual assistants for different companies. This website does not specialize in accounting and bookkeeping. On Belay, you can find other high paying administrative remote jobs. It is a secure platform to get work from home jobs.
ClickAccounts: You are a virtual accountant and bookkeeper looking for genuine clients then this website is for you. ClickAccounts hire only an accountant and bookkeeper. You have to submit a resume with the cover letter for the job application. Then, search for the jobs according to your skills and apply to them.
ClickNwork: This website hires for different kinds of professional roles that include bookkeeping. In the ClickNwork FAQs, you can find the steps to apply for the remote bookkeeping jobs. You have to send your resume and cover letter to the employer. If your application suits the job profile then you will get the job.
Upwork: You can find bookkeeping work from home job at Upwork. It is a popular platform to get freelancer jobs.
Top Ten Remote Bookkeeping Jobs
Bookkeeping is an essential part of the accounting process. It is much more about performing clerical tasks, preparing a book of accounts, and posting credit and debit items. Bookkeeping has a limited scope. The top ten companies that are offering bookkeeping are,
H&R Block Inc – the company started in Kansas in the year 1995. It is among the largest tax preparation organization in the world. H&R Block Inc. has 12000 offices in the world. This accounting company earns $3 billion in revenue annually.
Supporting Strategies – Supporting Strategies provides outsourcing of the accounting services. This company has ranked among the top 5000 fastest-growing companies in the world. Supporting Strategies are always looking to hire seasonal employees and work from home full-time bookkeeping candidates.
Beech Valley Solutions – Beech Valley Solution is a startup company based out of Atlanta, Georgia. The former Big Four Accountants started this company in the year 2014. Furthermore, the company hires accountants, bookkeeping professionals, and accountant professionals regularly.
Jackson Hewitt Tax Service Inc. – Jackson Hewitt Tax Service Inc. is the second-largest tax preparation company in the United States. This organization prepares the tax fillings of small companies and self-employed individuals. The candidates applying for the bookkeeping jobs in Jackson Hewitt should know how to use apps like WebEx, Zoom, Adobe Connect, BlueJeans and Join Me.
Profitwise Accounting – Profitwise Accounting Company is based in San Diego, California. An accounting organization prepares the accounts of small firms. Profitwise has a well-qualified team of consultants, accountants, and bookkeepers.
SmartBooks Corp. – A husband-wife duo founded the company SmartBooks Corp. in 2009. It values the team over technology. SmartBooks Corp. is the leading provider of bookkeeping and accounting services.
Summit CPA Group – Summit CPA Group consists of a team of virtual accountants, tax professionals, and bookkeeping professionals. It provides accounting services to small business houses. The company does tax preparation and planning for these business organizations.
Accountingfly – Accountinglfy hires employees through the digital platform. They hire bookkeeping and accounting professionals on a full-time, part-time, and contractual basis.
1-800Accountant – 1-800Accountant is a virtual accounting firm. It is the combination of human touch with web-based solutions. Glassdoor ranked the company CEO in the top 20s list. 1-800Accountant Company hires employees on the large scale during the seasonal time.
Inuit Inc. – In Inuit Inc, around 9000 employees are working. It is the largest accounting, finance, taxation, and software preparation companies in the USA. The annual operating revenue of Inuit Inc is around $6 billion. Fortune ranked this company among the "100 best companies to work for" in the accounting sector.
Entry Level Remote Bookkeeping Jobs
You want to make your career as a bookkeeper then there are two options for you to work from home or work with a company. Initially, you can prefer to work from home to get entry-level remote bookkeeping jobs.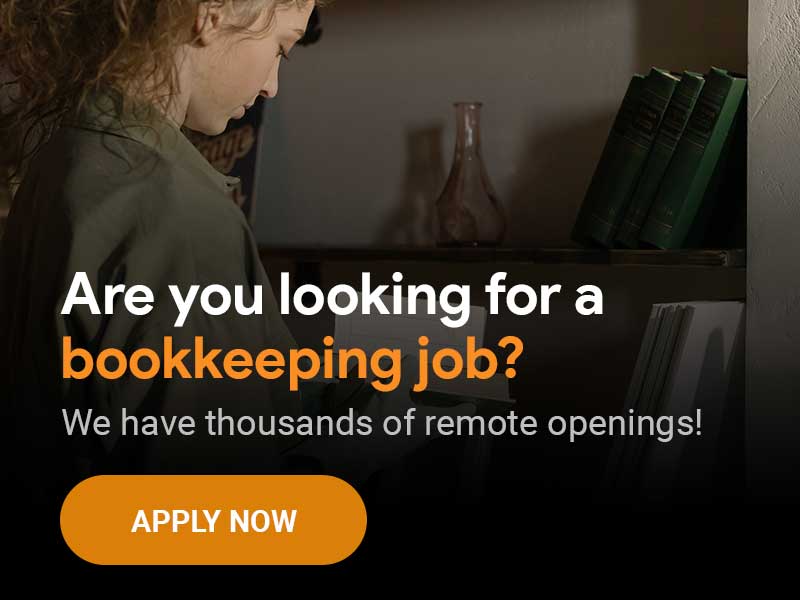 You can search for the jobs through the online websites Upwork, Accountingdepartment(dot)com, ClickAccounts, ClickNwork, and Belay. You can handle several clients while working from home.
However, you will face issues regarding payment there are many intermediaries involved in hiring bookkeepers. In the beginning, you can take small bookkeeping jobs to gain experience and then target big clients. There is no requirement of educational qualification to get a bookkeeper job.
You should the following skills to start working your bookkeeping career,
1. Proper Business Knowledge
There is a constant expansion in the job roles of finance and accounting professionals job roles. You should connect with the company employees to get a general knowledge about the business. Then, you can give 100% effort to your work.
2. Boost Your Communication Skills
The bookkeeping job is work from home. Still, you should work on your communication skills. You have to interact with bosses and other staff members in the organization. Irrespective of you have to communicate online or through the phone. You should have the ability to deliver your message correctly.
3. Update your knowledge regarding the technical accounting software
You should keep yourself updated regarding the latest technical accounting software. The recruiters are looking for those bookkeeping professionals who know accounting software. Accounting automation is popular in many reputed firms and organizations across the world.
Remote Bookkeeping Jobs in the USA
You want to start your bookkeeping career in the United States. Then, there are companies that are offering remote bookkeeping jobs in the USA are,
DNS Management Solutions
Support Strategies
Ignite Spot Accounting
Chipman Services Inc
Integra Global Solutions
Aloha Connects Innovation Program
Californians For Justice
Soul Bookkeeping
Environmental Litigation Group
LC Solutions Michigan
Consultance Accounting
Remote Bookkeeping Jobs in New York City
In New York City, it is not difficult for you to start your career as a bookkeeper. Here you can find many job opportunities and the companies offering bookkeeping jobs are:
The RMG Group
Retensa
Intuit
Wine for the World
Adele Reising Acupuncture
World Wide Home Management
JA & Associates
New York Army National Guard
HamHHammock
Shaxian Snacks Restaurant
Bookkeeping Jobs Remote Boone Iowa
There are many companies in Boone Iowa that are offering bookkeeping jobs. You can visit their official website and check out the latest job openings.
Iowa State University
Campus Advantage
Workiva
Van-Wall Equipment Inc.
First National Bank
Renewable Energy Group Inc
Pivot Bio
Barr-Nunn Transportation LLC
SpringHill Suites/Kinseth Hospitality
Jackson Hewitt
Mechanical Comfort Inc
Remote Bookkeeping Jobs Austin
The Austin based citizens who want to become bookkeeper can apply for the remote bookkeeping jobs in these companies:
Visio Lending
Intelligent Waves LLC
Vital Farms
Tacodeli Holdings, Inc
Health and Human Services Comm, Austin
Ziff Davis
Tangoe, LLC
Continental LTC, Inc.
Remote Bookkeeping Jobs in Birmingham Al
The corporate houses offering remote bookkeeping jobs in Birmingham AI are:
Thompson Tractor Company
America's Thrift Stores
Thompson CAT
ProHealth Group, Inc
STERIS
Inuit
UAB Medicine
Grandview Medical Center
Biohorizons Implant Systems
Altec Industries, Inc
Central Network Retail Group
Remote Bookkeeping Jobs in Minnesota
In the Minnesota region, the organizations that are hiring candidates for the remote bookkeeping jobs are,
Ignite Spot Accounting
Tavour Inc.
Inuit
All Industrial Hamel, Minnesota
Supporting Strategies, Minnesota
Michaels, Rochester (Minnesota)
Home Health Agency, Roseville
AVR Inc, Apple Valley
LB Carlson
Kelsey Osborne, Madelia (MN)
Benton County, Foley
TCG Accounting, Duluth
Nelson CPAs
Remote Bookkeeping Jobs in Los Angeles
A well-qualified candidate who is looking for a job in Los Angeles can check the job openings in these companies based in LA.
Chipman Services Inc, Los Angeles
Supporting Strategies, LA (California)
UnitedHealth Group
LinQuest Corporation
Medtronic
Headspace
Raytheon Missiles & Defense
Cedars-Sinai
Inogen Inc.
NantHealth
Cybertegic
ZarMoney, Los Angeles
Next Health
RefinedKind Pet Products
Pacific West Construction Services
Remote Bookkeeping Jobs in Florida
The companies that are hiring candidates for work from home bookkeeping jobs are:
Supporting Strategies, Florida
Hagerty Consulting Inc, Miami
CRH Healthcare, Tallahassee
Inuit, Lakeland (Florida)
PT Anderson, Boca Raton
Mayo Clinic, Jacksonville (Florida)
Capital City Bank, Tallahassee
Lurie LLP, Fort Meyers
Crowe, Fort Lauderdale
USAA, Tampa
Saltmarsh Cleaveland & Gund, Florida
Remote Bookkeeping Jobs in Washington DC
You are based in Washington DC. You want to start working as a bookkeeper at home. Then, apply in these companies to get secure work.
National Reality Partners
Rubino
Supporting Strategies
Yount, Hyde and Barbour (YHB)
Turn Key Office
Nomadic Real Estate, Washington DC
H & R Block, Washington DC
Southern Management Companies, LLC
365 BOOKSPRO
Ditthavong & Steiner
Thomas A Moorehead Inc B
Bookkeeping Jobs Remote San Francisco
There are well-known and reputed companies have started hiring qualified bookkeepers. You can visit the companies' official website career section and then apply for the bookkeeping job.
Inuit, San Francisco
Gold Drop
Hadad, San Francisco Bay Area
UniversalGiving, San Francisco (California)
Deaf Counseling Advocacy & Referral Agency, San Francisco
Collective Impact
BPM LLP San Francisco, California
Grande Vitesse Systems
Skidmore, Owing & Merril (SOM)
How much does a remote bookkeeper make?
The hourly-rates for the entry-level bookkeeper are $18.50-$60 per hour. This comes out around $40,000-$58,000 yearly income. Mostly, the bookkeepers are freelancers so they set up their rates according to their experience. They have to work with different clients and the bookkeeper's charges are on their work volume.
How do you become a virtual bookkeeper?
There is no need for any professional education qualification to become a virtual bookkeeper. The bookkeeper does not advise the company about the financial position. Therefore, there is no requirement of prior experience for a bookkeeper job. They can gain experience while working in different organizations and understanding their work culture.
12 Highest paying remote jobs in 2020 | Best Work from home jobs
What does a remote bookkeeper do?
A bookkeeper keeps the daily record of the business's financial health. They hold the responsibility of collecting payments and paying bills on invoices.
Other work the bookkeeper does is,
Prepare, update and check the accuracy of financial records
Post the transactions in computer records
Put transactions in debit and credit columns
Next steps for you on remote bookkeeping jobs!
You can find a variety of bookkeeping jobs posted on online platforms. There are freelancing jobs to permanent roles in the company. Therefore, you can choose according to your skills and ability. The key to success for a new freelancer bookkeeper is that sticks to your niche initially and works on it. You may like to work in a law firm or with a florist. It completely depends on you. Then, you can start your freelancing services website and start posting about your service over there. The clients will contact you through the website.