UX designer, architect, developer, writer, and research skills are in high demand in 2020 and it's constantly rising. If you are aspiring to be one, this page is for you!
The supply has sometimes exceeded demand. Now the question is can UX jobs be performed remotely. The answer is a big "Yes". The UX tools are capable of being utilized and leveraged remotely. Therefore companies are now posting a series of openings for remote UX jobs. It not only allows them to tap the resource potentials from various regions other than the home ground, yet it saves them the cost and effort too.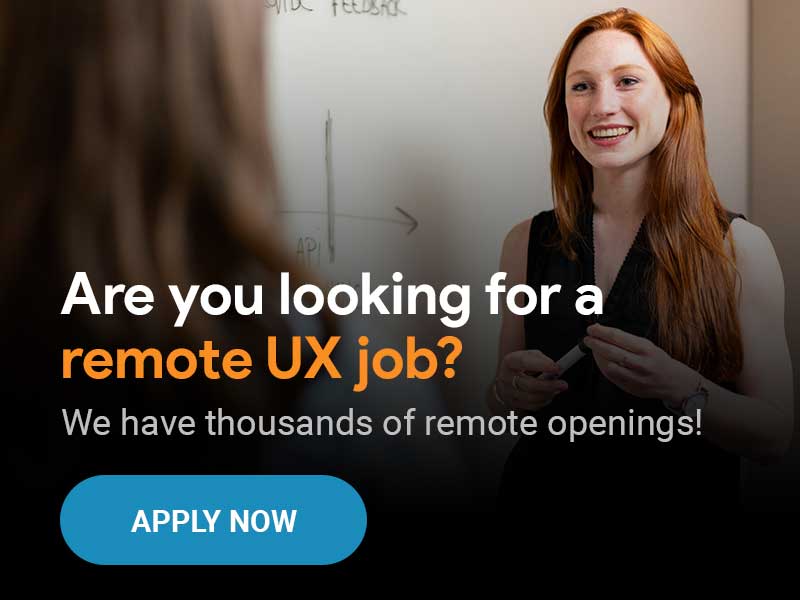 In short and simple term,
"UX skilled professionals are immensely creative, conducting extensive research and analyzing the competition for creating the best of the breed solution for a company's website, application, software".
Remote UX jobs roles and responsibilities
Under the remote UX jobs umbrella, various roles are required and are offered by different companies. There are minute variations among them, but the key remote UX jobs roles and responsibilities are highlighted below,
Market research on the competition and the prospective user base
Conduct surveys and interviews to collect data on the requirements and specifications for UX design
Create new design architecture or sitemaps for the website, application or software of the customer depending on the industrial domain or sector
Document the functional and technical specifications of the design
Devise a well-planned, organized, and value driven framework for deploying the UX design and roadmap
Create the prototypes for receiving stakeholder feedback on the initial design and improvise corrections
Evaluate the current architecture and the design to identify areas of improvement
The UX researcher plays a crucial role in framing a company's long term product strategy
Conduct audits on the current infrastructure and design to assess adherence to the mandated compliances and regulations
The UX copywriter is entrusted with the responsibility of documenting the guidelines for using the software, application or website with proper navigational steps
Conducting testing to ensure the design requirements and objectives are met and satisfied
Maintain stakeholder collaboration for alignment with the company goals
Career paths under remote UX jobs
You can choose a wide range of career paths under remote UX jobs. Here are some of the options you can leverage as a reference while searching for remote UX jobs.
1. UX Designer
The job of a UX designer is to be smart and skillful in research and analysis with a competitive mind. They must possess the mindset of being able to solve problems critically and think of the best possible design. Besides they must be conversant with the business domain and the key performance metrics that drive a company's growth.
2. UX Architect
The duties of a UX architect are to assess the current architecture, identify the potential areas of improvement, and deploy the same. They must be acquainted with the design principles and knowledge of the various design tools like Illustrator, Photoshop, Visio, Powerpoint, etc.
3. UX Analyst
A UX analyst plays a critical role in assessing the user needs and collaborating with the respective stakeholders to bring in synergy in the end to end design process. They further document the functional aspects of the product and figure out methods to communicate the features to the end-users.
4. UX Copywriter
A UX copywriter is significantly effective in creating the appropriate user experience. They need to ensure the documentation related to the product are adequate in feeding the required information to the users. They need to facilitate that the product or the brand is well accepted along with its essential features and benefits.
Work from home government jobs | How to get remote government jobs
Market opportunity for remote UX jobs
When it comes to the question of what is the market opportunity for remote UX jobs, the answer is simply "numerous". With the vision of marketing the brand or product to the prospective consumers, companies are more and more looking for professionals proficient in UX designing and copywriting. The increase in demand has opened up immense opportunities for people seeking remote UX Jobs.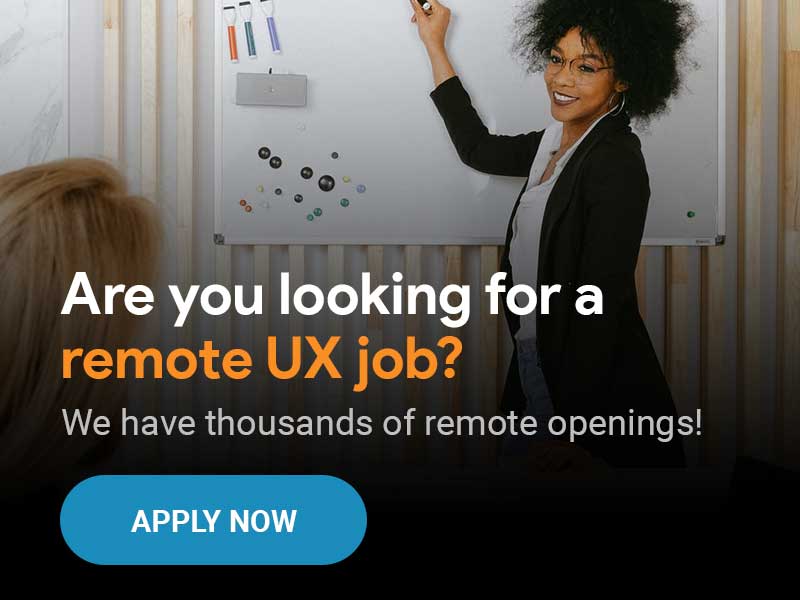 Companies are now preferring to employ professionals working remotely to reap the advantage of skilled resources located at various parts of the city, country, or even in other continents. There are different employment modes for you to opt for as per your preference and comfort,
Full time
Part-time
Contract-based
Daily total hours based work
Per diem work
The salaries are also quite attractive, varying with locations, industrial domains, years of experience, and educational qualifications. In the US, the yearly basic salary of a UX designer is USD 90000. The high-end jobs often spear up to a salary of about USD 150,000 per year. The reason being UX designers drive the success of a business which in turn leads to greater customer satisfaction
A fact to remember: In the modern world of digitization, companies are looking for digital skills even in UX designing. Hence it is advisable to acquire the skill for a stable and permanent career.
Qualification and skills needed to get remote UX jobs
In this section, we would be specifically focusing on the qualification and skills needed to get remote UX Jobs.
Speaking about qualification, you do not need a higher educational degree. A Bachelor's degree or a Diploma in Science or Arts is acceptable. You may even possess a degree in architecture or design.
The important aspect is to develop the acumen for design, known as "Design Thinking". You can attend a short term course of 6 months to develop proficiency and initial skills in UX designing and architecture.
The skills that you need to apply for remote UX jobs are as enlisted below,
Collaboration and interpersonal skills
Analytical ability and problem-solving mindset
Use focused thoughts
Attentive and hardworking
Capable to introduce creative and innovative ideas
Understanding the design principles and the guidelines for compliance
Data gathering and research capabilities both qualitative and quantitative data
Expert in leveraging the various Design tools available in the market
Proficient in analyzing the various data patterns and devise the right solution
Knowledge of the testing methods and the execution of the test cases to ensure design effectiveness
Excellent verbal and written communications skills
Ability to work independently since you will be working remotely
Recommended certifications to get remote UX jobs
There are several full time online or in-person recommended certifications to get remote UX jobs, for you to apply and register for. Here is a list of the top UX certifications programs for your reference,
UX Certification program and UX Master Certification program from Nielsen Norman Group. The duration of the first one is 5 days costing USD 3900 whereas the latter costs USD 11600 for a duration of 15 days.
UX design course at General Assembly's campuses in the US. It's a full-time course from Monday till Friday for 10 weeks, the cost varying between USD 13500 and USD 14950.
Certified Usability Analyst and Certified User experience Analyst programs at Human Factors International, a consulting firm mainly located in the US. There are 4 courses for each track spanning for 10 days, costing USD 6000 approximately.
Certificate in User Experience and Customer-Centered Design offered by the California State University at Fullerton. You can attend online or in-person, costing USD 4240 tentatively.
UX Certificate program from the UX center of Bentley University, at Waltham in the state of Massachusetts. The program has a combination of 3 mandatory courses and 6 elective courses, each for a duration of 2 days. The estimated cost for each course is USD 1400
User-centered Design Certificate provided by the University of Washington at their Seattle campus. The estimated cost is USD 10,348, registration and application fees are additional being USD 45 and USD 50 respectively.
UX Design Certificate offered by San Francisco State University. The course duration is almost 129 hours for 12 months, costing USD 3900 for tuition and an additional USD 50 for the certificate fee.
20 Best low stress jobs | High paying low stress jobs (With median pay)
Top 10 tools needed for remote UX jobs
One of the foremost criteria for a successful career in remote UX jobs is to be familiar and expert in handling the industry-leading UX tools. Here are the top 10 tools needed for remote UX jobs,
Trello for managing tasks and activities with options for collaboration within the team. It's simple to use and is available free.
Jira for working in an Agile mode and leveraging the concept of Sprints and Scrum teams. The tools is a prominent one and are efficient for program and project management, reporting, maintaining tasks, and defect logging
Asana has been a preferable tool by UX designers in the year 2020 due to its user-friendly features. You can create tasks, assign tasks, monitor deadlines, and check the progress status.
Mural is a leading tool in the UX design world, providing a robust collaboration platform. It is used by UX designers during the brainstorming and ideation phase, allowing them to comment, attach sticky notes, and sharing of ideas.
Miro is another collaboration tool which assists to create user stories, mind maps, and different design processes
AWW App is a simple and easy to use the whiteboard for capturing ideas, sketching designs, and inviting feedbacks
Figma is a design collaboration tool where different teams coordinate and share their thoughts, ideas, prototypes, design sketches for transparency and visibility in real-time mode
InVision Freehand is a simplistic tool for assisting and supporting to the creation of fast sketches. The UX designer needs to share the link with other invitees to collect feedback and collaborate on the design
Moqups is a tool providing many functionalities when it comes to ideation, designing, and prototyping.
Maze is an industry-standard tool used for testing, providing a platform to record the test cases and executing them
Top 25 dream companies for remote UX jobs
Imagine a life where you are paid a handsome salary while being in comfort at your home or even traveling at your preferred destinations as digital nomads. Isn't it fabulous to enjoy all the privileges while not compromising your work and personal life? But then, you must be wondering who can provide me with such a dream job?
What is your teaching philosophy? | Writing your philosophy statement
For the creative UX designers and analysts, here are the top 25 dream companies for remote UX Jobs:
Autho, a company operating in 70 countries serving customers in various markets
MonetizeMore, a firm focusing on monetizing websites by offering designs to increase the ad revenues
Modus Create, a firm specializing in optimizing and controlling the user experience on several devices
Trafilea, an advertising and marketing organization that helps in curating e-commerce strategies for customers to promote their products and brands
com, an online portal for education
Landi English, another online company for e-learning with good educational resources
Missional University, an online educational platform providing training on Christian ministry and missional practice
Toptal, a sort of a marketplace where the freelancers connect with companies and firms in Silicon Valley, US
Enago, a company offering editing services to authors
Cactus, a provider for communication solutions focusing on pharmaceutical companies and academic institutions
Wikimedia Foundation, a nonprofit company that develops and distributes free content in various languages
Automattic, a web development company
Aeolus Robotics, an AI-based company that introduced the world's first generation of household robot assistants
GitHub, a website providing solutions for programmers to network and publish content
Status Research & Development,  a company that specializes in chatting, browsing facilities, and making secure payments
Time Doctor, a prominent firm that provides software for tracking productivity and time
Unbabel, a platform for artificial intelligence-driven translation engine
United Nations Development Programme (UNDP)
Appen, a technology services company that uses human-annotated data
io, an online platform for employers to assemble and recruit professionals
Xapo, a company specializing in providing services on Bitcoin
Clevertech, an IT company
DataStax, a private company dealing with computers
Student Loan Hero, assisting college graduates to manage and repay their student loans
co, a company providing a search engine for data exploration and analysis
Top job boards to find remote UX jobs
Searching for remote UX Jobs is quite convenient nowadays as almost all the prominent job websites feature profiles posted by different companies. There are different employment modes opted for by the organizations. The roles for remote UX jobs have also further enhanced. Strategists, designers, analysts, architects, developers, testers, copywriters are some of the key roles the companies and firms are seeking.
How to find a job? | Guide to finding the right job for yourself in 2020
Being located in any state or city in the US, you can opt for UX jobs available in abundance. Almost each of the job website provides extensive search facilities, based on location, job role, mode of employment, or salary ranges. You can filter your search based on the parameters provided and shortlist the opportunities. The top places to find remote UX jobs are enlisted below for your quick reference,
Uxremote.work
Remoteok.io
Uxdesign.cc
Skillcrush.com
Careerfoundry.com
Uxmastery.com
Uxbeginner.com
Weworkremotely.com
Upwork
Linkedin
Dribble
Before applying for the job, it is recommended to check the company background and the authenticity of the roles. Many of the websites facilitate communication between the candidate and the company for any queries before applying for the roles. The websites sort out the recent job postings along with the company names for easy search.
Top resume elements of remote UX jobs
It is essential and vital to highlight your skills related to UX while applying for remote UX jobs and submitting your resume. Here are the top resume elements of remote UX jobs that you must focus on seriously,
Technical Experience on using UX tools for ideation, design, testing, project management
Expertise in programming languages like Java, HTML scripting, CSS
Understanding of how the content management system works like WordPress
Communications skills with special focus on remote working
Interpersonal skills and how are you planning to work with the team remotely
Time management capabilities
Analytical abilities and design thinking capabilities
Remote UX jobs pay structures
In the United States, the latest remote UX jobs pay structures have earned a significant boost. As of November 2020, the salary ranges of a UX professional has been between the ranges of USD 30,000 and USD 173,000 yearly. The ranges vary on the states, experience of the candidates, the years of experience and skill set.
So on an average, if you calculate on an hourly basis, the salary is approximately USD 49. Analysis has proved that the majority of UX designers are now earning a salary as high as USD 81,500 and even up to USD 117,00 in a year.
If you want to compare based on years of experience, then there are 3 categories to do so. Entry-level jobs can range up to USD 80,928 in a year, mid-level jobs with 7 to 9 years of experience can earn up to USD 104,580 in a year and rest seniors are above USD 113,000 in a year.
Remote entry level UX design jobs
With the popularity of remote UX jobs on the rise and demands on the increase, it is not tough to be recruited in remote entry level UX design jobs. The opportunities may be comparatively less than that of the senior UX designers but ample roles are being provided by the companies.
The best way to get yourself hired as an entry level UX designer is to attend a course and certification program on UX design. Another option is to work for a free or minimal salary in a small enterprise on UX design for earning the experience. You will also be acquainted with the job profile and the activities.
Writer Resume – tips to create your best writer resume in 2020!
What is the difference between UX research and UX design jobs?
The work of a UX researcher to analyze the market and the target audience before a UX designer starts ideating and designing the product or the brand. A UX researcher must visualize and understand the competition and user needs. These insights are passed on to the UX designer and team who designs the product that meets the desired specifications and the customer requirements.
UX researchers leverage tools like surveys, questionnaires, interviews to collect the data of consumers. UX designers utilize various design tools and software to ideate and design the product.
What is the difference between UI and UX design jobs?
UI design jobs involve creating and designing the elements that users will be interacting for using a product or a service. So you need to provide the appropriate parameters or metadata to enable the users to access and use the functions and features provided. Focusing on the look and feel is your main objective.
UX design jobs on the other hand comprise of designing the elements that the users will interact for a better experience and greater satisfaction. It depends on how user-friendly is your product or service. It demands more analytical and research skills. Your focus must be on enhancing the user journey.
What is the difference between UX design and UX writer jobs?
By now we have understood the role of a UX designer. He or she is entrusted in enabling the customer journey by providing a well constructed friendly interface for a better experience. UX writer on the other hand is responsible for documenting the design content and specifications for reference and guide. All the details of the design mapped with the requirements must be written with precision and accuracy. It includes pop-up messages, notifications, menus, forms, etc that are part of the design. They sometimes get involved with the UX designer in the testing activities.