For many of us, much of our waking hours are taken up by our work. Quite often, the stress associated with the pay is daunting, and we start wondering if we have to do something else with our lives. Read on!
You have probably heard the phrase, "Do what you love and you're never going to work a day in your life". Definitely, given the alternative, many of us would choose to work in jobs that sustain our souls, and our bank accounts as well.
That said, if it consumes all your energy and time to the juncture of burnout, even a cherished job can turn rough. So, an awareness of the relative stress levels of the different professions is valuable. Here's an article below to help you find some of the best low stress jobs.
Also Read: 12 Highest paying remote jobs in 2020 | Best Work from home job
How to get a low stress job?
To figure out the best low stress job, follow the steps given below,
Step 1: Identify your stress triggers
Your stress could be due to the nature of the work itself, from your schedule or your work environment. Identify it and make a note of it.
Step 2: Look for a job that aligns with your preferences
Once you discover the most common causes of your stress associated with work, you can begin to narrow things down. Think about your industry and the different opportunities therein before you get to specific offers from different companies. Are there any roles that suit you better than the others?
Step 3: Research the roles
If you are considering a new career path, informative interviews with colleagues in your network are a perfect way to get truthful and detailed input on the stress levels of a certain role.
Step 4: Ask questions 
It is necessary, once you reach the job search step, to interview prospective employers as much as they interview you. Consider things like: Do hiring managers discuss valuing the balance between work and life?
Will the business have a flexible policy on "work from home" or do employees have to be in the office always? Does the policy of paid time off meet your needs? Is travel necessary?
Step 5: Finalize on a job and role 
When you have a gut feeling, pursuing it would be wise. Was there something about the tone of a job listing, or a list of responsibilities that made you feel uncomfortable? The job application process itself was perhaps unnecessarily tedious and stressful.
Or, the hiring manager appeared highly stressed and overworked during the interview. All those could be red flags that you may enter a stressful work situation. Make a thoughtful choice that will not trigger your stress.

Also Read: Best Morning Routines | Wake Up And Slay
List of low-stress jobs 
There is a common assumption that low stress jobs mean low pay. However, this need not necessarily be the case. There are several low stress high paying jobs. Please remember that anything that could be stressful to other people on average could be different for you.
So, before you finalize any decision regarding your career path, thoroughly analyze the challenges of any career in the light of your distinctive lifestyle and personality.
1. Actuary 
Median Pay: USD 110K annually
Educational Requirement: Bachelor's Degree
Want to work a fairly low-stress, 9-to-5 job? Do you enjoy maths and statistics? As an actuary, you might be delighted. You will have a responsibility to look at statistics, identify similarities, make conclusions, and report your results. Actuaries also work with insurance firms, assessing risks and trying to reduce costs with their employers.
They also work for various investment firms such as banks and financial consultants. An acturian's job is one of the best low stress high paying jobs out there. It is expected that the profession will grow 20 per cent by 2028, much quicker than average.
Also Read: How to achieve & maintain Work-life balance
2. Operations Research Analyst
Median Pay: USD 80K annually
Educational Requirement: Bachelor's Degree
Operations research analysts collect and analyze data on organizational methods to help solve challenges and identify patterns. They construct simulations and mathematical models to help executives make the organizational planning decisions. Being an operations research analyst is one of the best and least stressful jobs you can get into.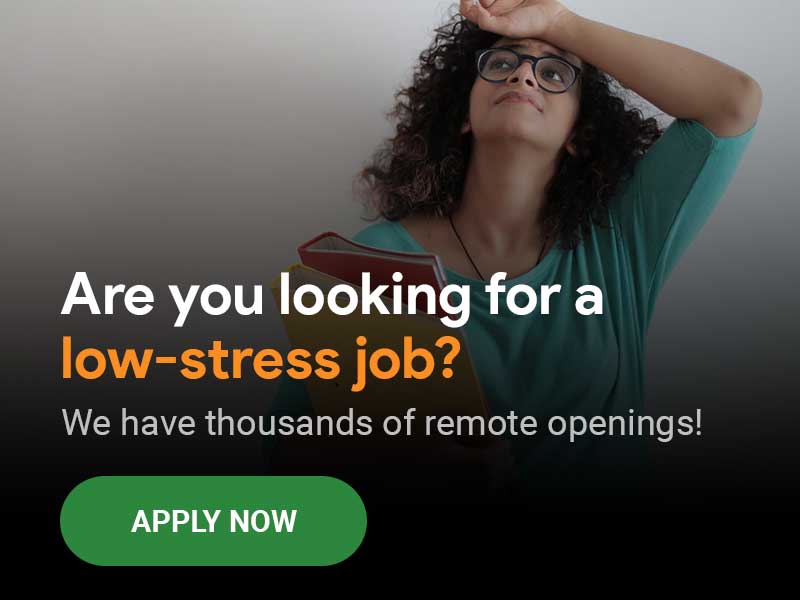 Did you know? Operations Research Analyst jobs are expected to grow at a much faster rate than the average of 26 % by 2028 as organizations are increasingly making decisions based on analysis of data.
3. Audiologist
Median Pay: USD 85K annually
Educational Requirement: Doctoral or Professional Degree
Audiologists have one of the best low-stress jobs. If you wish to support people, and you do not mind making an investment of several years for postgraduate education, you could consider being an audiologist as the perfect job. The audiologists treat hearing loss and other issues with the inner ear. It is among the low stress jobs that pay well.
4. Genetic Counselor
Median Pay: USD 80K annually
Educational Requirement: Master's Degree
Genetic counsellors analyze the clients' genetic profile and inform them about the risk of having an illness or genetic defects for themselves or their offspring. Without a doubt, genetic counselling is one of the best low-stress jobs. Technological advancements and methods to foresee genetic effects have driven development in this sector with projections that these jobs will increase by 27 percent by 2028.
5. Occupational Therapist 
Median Pay: USD 75K annually
Educational Requirement: Master's Degree
Occupational therapists treat people who are sick, injured or have disabilities. They help them deal with their weaknesses while they go about their everyday lives. Being an occupational therapist is one of the best low-stress jobs. They help patients overcome the physical and psychological difficulties that arise through practical challenges. The aged segment of the population and their difficulties are boosting demand for occupational therapists. Their diminishing capacities require therapy. 
Did you know? Jobs in the field of occupational therapy will expand by 18 per cent by 2028, according to the Bureau of Labor Statistics.
Also Read: Contemplating Career Change? Here's all you need to know
6. Software Developer
Median Pay: USD 110 annually
Educational Requirement: Bachelor's Degree (some are self-taught with the help of intensive coding programs)
Software developers are involved in developing computer programs and frameworks that enable the processing of information for technology users. To formulate attractive and effective technological solutions, they combine ingenuity with critical thought. For software developers, developments towards app proliferation and business and consumer functions automation underpin a rapid growth of 21 per cent by 2028. Currently, software development is among the least stressful jobs for those who enjoy working with technology.
7. Dental Hygienist 
Median Pay: USD 60K annually
Educational Requirement: Associate Degree
 A dental hygienist job is one of the best low stress jobs. It involves cleaning the teeth and informing patients about proper dental hygiene. They perform preliminary assessments of emerging dental problems, take x-rays and assist dentists with their procedures. A strong growth of 11 per cent is projected as the population ages through 2028.
Also Read: Remote Software Engineer Jobs | A Complete Guide
8. Researcher 
Median Pay: USD 110K annually
Educational Requirement: Bachelor's Degree
Researchers are required in every middle and big company to gather and validate information and data. It is one of the best low stress jobs after retirement. Often, it is a job that can be done remotely from home. To work as a researcher, the basic ability to use the Internet and search for detailed information, as well as the ability to think analytically, is essential.
9. Data Scientist 
Median Pay: USD 130K annually
Educational Requirement: Master's Degree
Computer and information research scientists build algorithms which are utilized in very massive datasets to define and analyze trends. They investigate data trends to help managers plan future service direction and guide product development.
Organizations' growing dependency on data collection and analysis is projected to increase this sector's growth by 16 per cent by 2028. It is one of the highest paying low stress jobs in the country. 
10. Web Designer 
Median Pay: USD 80K annually
Educational Requirement: Bachelor's Degree (can be self-taught) 
This is a profession that requires more creativity and less stress. As one of the best jobs for people with anxiety, web designing is quite lucrative as well. A web designer's job involves designing web sites for clients. They work in collaboration with a web developer who takes care of the actual coding.
In some situations, both design and coding is done by the same person, but that is pretty rare. You need to have a basic understanding of how the underlying code works, in either case. Websites will work on both desktop and mobile platforms, so web design is less simple than graphic design.
Also Read: Remote Research Jobs | Research From Home
11. Speech Language Pathologist 
Median Pay: USD 70K annually
Educational Requirement: Master's Degree
Speech Language Pathologists (or Speech Therapists) make a diagnosis and treat all forms of speech and swallowing disorders. They usually require a master's degree and certification to practice. You would be expected to work as a speech therapist with children and adults.
You may be helping a patient resolve a speech impediment, use appropriate terminology to express thoughts and feelings better, or even help someone who cannot talk at all. Speech therapy is currently one of the most profitable low stress jobs in India. By 2028, this occupation is estimated to rise by 27 % as the ageing population goes through ailments like strokes and dementia. 
12. Social Media Manager or Online Community Manager 
Median Pay: USD 60K annually
Educational Requirement: Bachelor's Degree
This particular job necessitates an online community to be built, managed, and maintained. The online community will typically reside on a business website or different social media channels. People that take up this job create content to talk to users, moderate comments, and encourage the conversation to assist brand building or cause promotion for a company.
It may also involve controlling and sharing content on a brand's social media pages, including Instagram, Twitter, Facebook, Snapchat, and Pinterest. It is one of the most recommended low-stress jobs for pregnant women because of its work-from-home option. 
Also Read: Remote Graphic Design Jobs 2020 | A Beginner's Guide
13. Radiation Therapist
Median Pay: USD 110K annually
Educational Requirement: Associate Degree
Radiation Therapists provide radiation therapy to cancer and other patients. They modulate and operate the system and exercise caution for safety. Radiation therapists describe treatments to their patients and supervise adverse reactions. 
Did you know? Radiation therapy jobs are predicted to rise by around 9% by 2028 as aging populations face a higher cancer incidence. 
14. Freelancer 
Median Pay: USD 80K annually
Educational Requirement: Bachelor's Degree
For individualists who enjoy working alone, the perfect idea could be to work as a freelancer. As a freelancer, you must assess how much work you are going to do, and decide for yourself the speed with which you want to work.
Freelance writing, web development, graphic design, bookkeeping, ghostwriting, photo editing, being a personal trainer or coach, and much more are the most popular freelance careers. There is no age limit to be a freelance, making it one of the most sought after low stress jobs after retirement.
Also Read: Remote Social Media Jobs | How to earn remotely from social media jobs
15. Geologist 
Median Pay: USD 90K annually
Educational Requirement: Bachelor's Degree
You will have to work in a single team as a geologist, so you do not have to meet new people daily. This makes it one of the best jobs for people with anxiety. Most of the work in geology is in mining.
Be willing to study because you will be expected to have a Bachelor's or Master's degree in geoscience and experience in the laboratory and field. Most generally, through an internship, you will be getting the experience. For geologists, the good news is that their job market is rising, and there are more opportunities now. 
16. Virtual Assistant 
Median Pay: USD 75K annually
Educational Requirement: Bachelor's Degree
What every business person needs, particularly entrepreneurs, is to be organized and get even the small things done effectively. Virtual assistants invest their time in designing and selling their items. This is one of the most appealing low stress jobs for pregnant women because it can be done from home.
You will need excellent Microsoft Office skills for this type of role, quick management of emails, and a bunch of online tools to keep schedules straight and transfer files (Google Calendar and Drive, for example). Some assistants are paid for each task, whereas several others are paid for each hour.
Also Read: Online Assistant Jobs: How To Earn As A Remote Assistant
17. Corporate Recruiter 
Median Pay: USD 60K annually
Educational Requirement: Bachelor's Degree
If you have the benefit of a background in human resources and are a strong judge of character, then it may be the best option for you to hire for corporate jobs. This is also called headhunting.
Corporate recruiters are responsible for designing job requirements, conducting interviews by telephone and prescreening, establishing a list of eligible applicants, and organizing final schedules for interviews.
This form of job requires outstanding written and verbal communication skills, and a passion for an organization to find the best match. Corporate recruiting occupies a prime position in the list of low stress jobs. 
18. Data Processor 
Median Pay: USD 40K annually
Educational Requirement: Bachelor's Degree
For organizations to function, so much written or recorded data must be processed into a system. A data processor is generally responsible for this task. This kind of job requires very strong organizational skills and the ability to stay concentrated when performing repetitive functions.
Typically, you will be given source data. For example, you could be provided with paper files or audio clips – and asked to transcribe them and enter the results for easy retrieval into a database.
Also Read: Remote Video Editing jobs | A-Z Of Remote Video Editing Jobs
19. Video Editor 
Median Pay: USD 50K annually
Educational Requirement: Bachelor's Degree (can be self-taught)
Video editing is a skill that you can acquire on your own, and there are several opportunities to freelance. With just a few hours of preparation, you can begin editing Youtube videos. Keep in mind that editing for movies and bigger projects requires a name and years of experience.
The level of competition among the video editors differs drastically. Big budget projects are the hardest to get because those are what most people are looking for. Nonetheless, for those looking for a low stress job, this is it!
20. Landscaper 
Median Pay: USD 35K annually
Educational Requirement: Bachelor's Degree
A gardener works in a garden whereas a landscaper looks after a whole landscape, such as a park or a private estate. Operating as a landscaper or gardener also involves having little interaction with others.
It gives simple guidelines on what to do. An education is not needed, but if you have a degree in horticulture or botany, it will help you find a job easily. If you can display experience, however, that can work in place of a formal education.
Gift yourself some much-required breathing time by choosing the most suitable low stress jobs for yourself!
Also Read: 8 Simple ways to organize your life
1. What are the least stressful jobs?
The least stressful jobs include audiologists, occupational therapists, and operations research analysts. 
2. How do I get a low stress job?
To get a low stress job, identify your stress triggers. Then, look for a job that suits your preferences. Research the responsibilities of various roles and finalize the one which does not lead to the manifestation of your stress triggers. 
3. What is a good job for someone with anxiety?
A good job for someone with anxiety includes web designing and geology. 
4. What is the easiest high paying job?
The easiest high paying jobs include software development and speech therapy. 
5. What are the most peaceful jobs?
The most peaceful jobs are accounting, actuary, and corporate recruitment.