Passionate about sociology? And keen to look at sociologist jobs? Here you are in the right place – read about sociologist careers, top 25 dream companies, skills and best salaries!
Learners who are interested in exploring the complex forces that keep civilisation in balance determined by various factors such as cultural, political, religious and other ecological factors might find careers in sociology interesting.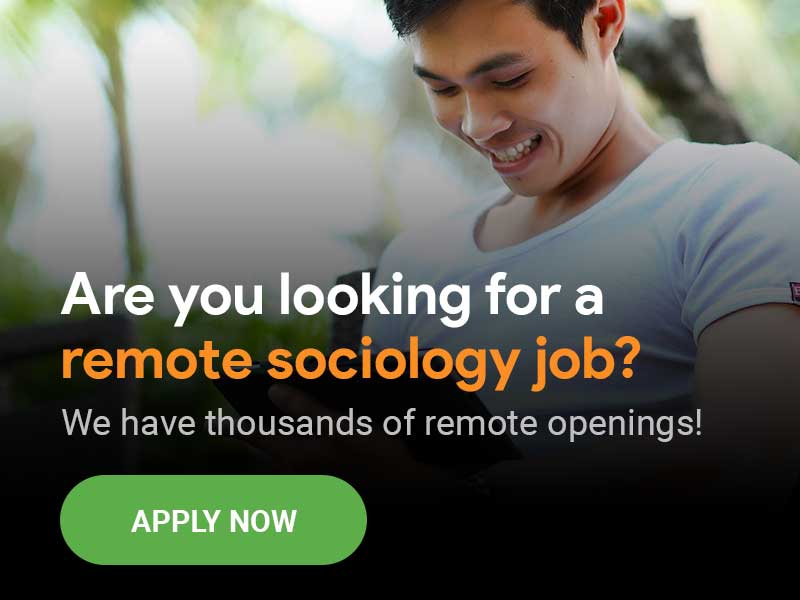 This blog tells about the sociology careers and sociology jobs one can do with a sociology degree. 
What are sociology and sociologist jobs?
Wikipedia says, 'Sociology is the study of society, patterns of social relationships, social interaction, and culture that sounds everyday life. It is a social science that uses various methods and empirical investigation and critical analysis'. Sociology can also be said as the general science of society. 
In simple terms, sociology is the study of human values, beliefs, and relationships with society. The subject matter is diverse beginning from state to family, understanding the social divisions of race, social class, caste, religion to the understanding of shared beliefs of a common culture, etc.
12 Highest paying remote jobs in 2020 | Best Work from home jobs 
Market opportunity for sociology jobs
The market opportunity for sociology jobs is wide and limitless. Schools, colleges, universities, government agencies, media firms, advertising agencies, management consultancy firms, hospitals etc. are hiring professionals for sociology jobs.
The analysis and studies conducted by the US Bureau of Labor Statistics have reported a potential growth of 18% in the year spanning from 2010 to 2020. The rise is far above the average growth earned by other occupations. Professionals with a Master's degree in Sociology are expected to attain the role of supervisors whereas those with Doctorates degree will be employed as Professors in colleges and universities.
As per BLS statistics, the salaries for jobs in sociology vary depending on the companies they are employed. The annual salary can rise up to USD 110K with freshers earning approximately USD 60K per year.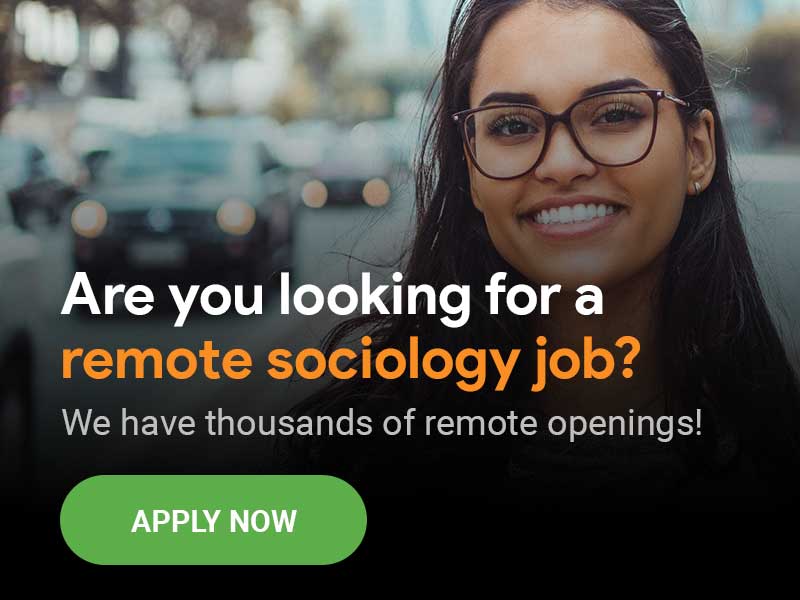 In the US, the states that reported a high level of jobs for sociologists are California, Michigan, Pennsylvania, Washington and the District of Columbia. The best average annual salary is reported to have been offered by Washington DC and California has the highest count of sociologists. The highest paying jobs with a sociology degree are that of below,
Management Consultant
Social Worker
Public Relations Specialist
Human Resources or HR manager
Paralegal
Market Research Analyst
Career paths and job titles in sociology jobs
As a sociology student, you would study the relationship of a human with society in all and detailed aspects. But after your graduation, your work won't be the same as what exactly you studied during your sociology degree. While learning sociology, you add skill sets like critical thinking, problem-solving, leadership, organising, communication, analysis.
Some of the other skills you acquire while pursuing psychology are data collection, research, interpersonal, cross-cultural, computer literacy. Hence, sociology jobs would be a place where you would be exhibiting all the skills acquired while pursuing a sociology degree. A detailed note on what can you do with a sociology degree is as follows.
1. Policy analyst – Policy analysis involves identifying and evaluate the potential policy options that could address the problem and comparing the available options to choose the most effective, efficient, and feasible one. This process of policy analysis is also used in the administration of large organisations facing complex issues. Knowledge of sociology helps to analyse the impact of legislation on social problems. Policy analyst is one of the best sociology major jobs.
Sociology majors have a good understanding of how to analyse societal issues like poverty, substance use, improving education and healthcare, same-sex marriage, etc. Broadly, this kind of analysis tries to explain the role and the influence of the stakeholders with the policy process. The stakeholders include a citizen, community groups, government and non-governmental organisation, businesses and political parties.
In relation to this field, policy analysts like sociologists rely on strong communication and observation skills to represent the findings of their research and communicate it to the legislators and the public about the feasibility of their proposed policy. Policy analysis is the main preference of many sociologist graduates.
2. Market research – The process of analyzing the business market for a particular product or service can be broadly defined as the work of a market research analyst. Market research analysts test the products and services and understand the feasibility of a particular product or service in the target market. They use a variety of researching techniques like primary research, secondary research.
Other social science techniques including data collected through interviews, surveys, opinion polls, government authenticated data, monitoring other business trends to gather data about a particular market segment. Ultimately, a market research analyst works for a business that would target a specific consumer group. Working as a market research analyst is one of the best sociology major jobs.
A sociologists' knowledge of customers' patterns of preferences would help them in the assessments. The analyst also works as a consultant monitoring and analysing the sales trend and measure the effectiveness of marketing programs and strategise market-entry support for foreign companies.
Monitoring the consumer trends, competitor's performance and continuous update on the market conditions is the routine work of market research analysts. A good understanding of the functioning of a specific country's businesses, observing skills, writing and communication skills help a sociology major to thrive in this kind of job.
3. Lawyer – Providing legal advice, researching and gathering evidence information, drafting legal documents, and prosecuting or defending in a court. These are the responsibilities of a lawyer. Lawyers use critical thinking and analytical skills to research and litigate cases.
Many areas of legal practice such as child custody, adoption, divorce, criminal law, worker compensation and employment law benefit are directly or indirectly related to sociology. Though, lawyers as sociology careers require additional qualification.
A field called 'sociology of law' became a recognised speciality course within sociology at the beginning of the 20th century. This subspecialty course is also known as socio-legal studies. A sociology graduate can engage himself/herself in subspecialty course to be recognised by a particular law council body to participate in this kind of legal work.
There are other many legal careers available like engaging with law firms, the criminal justice system, local state and central government agencies. Law firms, government legal offices and private organisations employ lawyers, paralegals, legal sectaries and private investigators. Research and writing skills help them to conduct their work. Just how sociology majors do with their position papers, the lawyers or legal practitioners must gather evidence to support a thesis.
4. Management consultant – Management consultants are experts who deal with business issues, researching remedies, improve the financial and operational health of client's organizations, and evaluate strategies to analyze best outcomings. They are trained to solve complex problems and help their clients solve specific business issues.
Most companies hire management consultants for their knowledge of the particular industry, problem-solving abilities and to analyse the logical objectivity. They apply research, analyse the internal data, interview people and prepare and present reports. Fresh sociology graduates begin their career in this field in positions like research analyst and junior consultant. Consultancy is one of the best sociology degree jobs. 
Sociology majors develop quantitative and qualitative research skills to understand a business problem. Their problem-solving skills help them to generate solutions to solve complex problems. Writing and communicating skills are essential in constructing reports and presenting solutions to the senior management of the organisation.
Tips: Among all sociology jobs, market research analysts, policy analysts and junior consultants are a few perfect entrant level jobs for sociology majors. Pursuing a career as a legal consultant or a lawyer might require additional qualifications. But the analysts and consultant jobs are suitable for entry-level as a certain skill set and quick understanding capacity is what expected for these kinds of profiles. 
5. Social worker – Social workers work with a specific group of people, including children, family members, elderly, and adults in crisis, and help them to resolve the problems they are facing. As a social worker, you will serve the community that they have a presence in by assisting the clients that are affected due to issues such as neglect, domestic violence, child abuse, mental health and substance use by parents or children.
The work of a social worker includes collecting the relevant information about the case, to provide crisis intervention and help them overcome the issue mentally. Generally, social workers specialise in adult or child care. In this job, the clients may be vulnerable, hence the social worker must be able to work under pressure and understand the different people's viewpoints.
The knowledge of social dynamics and social institutions learned by sociology majors helps to assess the clients and help them to resolve their problems. Active listening and communication skills are essential in assessing the clients' problems and advising them on ways to improve their lives. 
6. Education – Graduates in sociology can pursue options as postsecondary educators. The responsibility of these professionals is to plan lessons and collaborate with the department members to assess the learning of the students and design the curricula accordingly.
The work involves closely monitoring the students and their response towards the teaching style of the professors or teachers. This job is also intended to monitor the primary and secondary education levels as the learning pattern is subjected to many questions these days.
At times, sociologists directly engage themselves to teach at different levels. The education sector is the best sociology degree jobs for students pursuing their masters' degree. This kind of job is relevant as assessing or analysing the students also help them to conduct their research.
Sociology majors have a foundation to analyse the perspective of humans from different societies and different backgrounds and its overall impact as a member of society. Graduates with good observation skills, innovative ideas to overcome the issues, interactive skills, analysing and policy suggesting skills would be an ideal candidate for this career. 
7. Human resource representative – As you study sociology, you would have a broad idea about how race, culture, gender, and religion come into play in society and in the workplace. The work of a Human Resource would not limit with processing resumes and application material, manage people's information, and optimise team for a particular project, etc.
The work of an HR is also to connect a good touch with the customers and help employees to solve problem-related works. Human resource representatives also need to show fineness in their interactions in a broad range of groups and individuals. They must also be equipped to analyse the work roles and access the practical suitability for jobs.
Sociologist majors learn the interviewing skills which are crucial for such evaluation. HR staff members use problem-solving skills to mediate conflicts and resolve personal issues. Analytical and decision-making skills help to evaluate the market alternative structures for current employees. 
8. Media planner – A media planner is a brand strategist who works at advertising agencies and creates ad campaigns for various clients. Media planners associate themselves with the clients and work with them regularly to help them make decisions about how a certain media campaign will unfurl.
The main focus of the media planner is to place their clients' advertising copy into various media venues into various media platforms that would maximise the advertising reach towards the target audience. Television, radio, billboards, print, direct mail, and other social media platforms such as Google, Facebook, Instagram, etc.
Media planners also track the performance of the advertising and try to understand the behaviour of the customers towards the advertisement. Post-performance analysis, a media planner, updates the client regarding the return on investment and the value they have received for their advertising. Media planners as careers in sociology are gaining traction these days.
Sociology majors are good at interpreting research and analyse the preferences of their target population. Sociology majors have a good understanding of the characteristics of various groups to select the best media to advertise their product and optimise sales to different demographic groups. 
9. Journalism – Journalists assemble information, write news articles, and present the news in an honest, balanced, and proper manner. A journalist should gather information from different authenticated sources ensuring that they have presented a clear and exact view.
They should also need to aware of the events happening around their locality, country and even world. Every piece of news is valuable and important for journalists. A journalist should also be a fearless person to investigate an article to dig out the real stories to reveal the truth to the general public.
Their job typically involves in writing and editing news, interview sources, attending events, researching articles, establishing and maintaining contacts, attending a press conference, proofreading, verifying statements and facts, etc.
Journalism career can be a great fit for sociology majors. Sociology gives exposure to various societal problems, and this can help a journalist to figure out the right focus. For instance, if you have taken up some criminal justice courses, writing for a crime beat is quite familiar. Good written and oral communication, observing skills and analytical skills is much needed for this profession.
10. Guidance counselor – Jobs for sociology majors include working as a guidance counselor. Guidance counsellors are certified professionals employed by schools and other academic institutions to assist and guide students about academic decisions. After assessing the ability and the potential in students, a guidance counsellor provides counselling to the students privately.
The goal of a guidance counsellor is to ensure that the students reach their fullest potential in their life. Assistance in academics, career goals and social life issues are for what students can rely on the guidance counsellors. Counsellors often conduct a one-to-one meeting, group meetings, presentations and workshops to enhance students.
Guidance counsellors use the knowledge on sociology to help students to navigate the academic world. They also remain in touch with the family members to devise strategies to support student achievement. Interview, group sessions and private counselling are the techniques guidance counsellors use to help students make their academic and career choices.
These counsellors also apply problem-solving skills to mediate and resolve social problems within the school. They also facilitate group sessions and instruct students about social issues like bullying and substance use.
Also Read: Remote data science jobs | A how-to guide for beginners
Roles and responsibilities of sociology jobs
The key roles and responsibilities of sociology jobs are focused on the study of human behavior, their interactions, and different groups or organization. Enlisted below are the typical duties for professional seeking jobs in the sociology field,
Gather and collect data about human behavior, values, and attitudes during their interactions in groups. The methods to leverage can be surveys, interviews, or reviewing documents.
Prepare data collection temples, for example, questionnaires, checklists, etc.
Interpret, analyze, and debug the data to understand human behavioral characteristics.
Prepare documents, reports, and publications to record the research findings.
Develop theories and concepts to resolve the social issues related to crime, poverty, relationships, etc.
As professors and teachers in a college and or university, teach sociology and even conduct learning programs online
Discuss and collaborate with social workers, legal personnel, or administrators to evaluate the social issues
Curate appropriate solutions to the social problems and issues based on the analysis and research performed on the data collected
Once the solution is implemented, observe the progress of the interaction of individuals in groups. Introduce modifications or new ideas to improve social interactions.
Leverage both qualitative and quantitative methodologies to analyze the problems, conducting research, and carve out a solution.
Also Read: Remote copywriter jobs | An ultimate read for best results
Qualification needed for sociology jobs
There are 4 types of degree in sociology, to pursue in order to strive well in sociologist jobs. Let us discuss now the qualification needed for sociology jobs and the type of roles you can apply for,
1. Associate Degree in Sociology – The degree is a 2-year course program where you can take up a sociology major career. The learning courses focus on psychology, behavioral science, communications, political science, family dynamics mainly.
Now you must be wondering what can I do with a sociology degree? The jobs for sociology that you can apply for with an Associate Degree are that of a youth counselor, caseworker, roles in public services or community offices.
2. Bachelor's Degree in Sociology – The job careers with a bachelor's in sociology are immense. Once you clear the Associate degree program, you are eligible for the Bachelor's course. The key courses covered are wide, teaching you about behavioral psychology, history of political systems and societies, social structures, different perspectives of sociology, research methods.
While attending the Bachelor's degree, you may be deciphering additionally what can I do with a sociology major? Well, you will gain access to internships or being part of community service programs that you can avail of for additional experience and expertise.
3. Master's Degree in Sociology – If you want to pursue an advanced sociology degree career, then it is better to obtain a Master's degree in sociology. The course is for a duration of up to 3 years. The different sociologist careers that you can opt for are that of a civil servant, public research services, and administrative leadership roles. This particular degree will assist you to gain a higher rank in the competition.
4. Doctorate (Ph.D.) in Sociology – For pursuing niche careers in sociology, a Doctorate degree is vital, especially if you want to join a university or any research organization. These organizations demand a 3 to 7 years of dedicated commitments for complete research on the selected topics of sociology.
The best US colleges offering courses for sociology careers are,
Harvard University in Cambridge, MA. The course fee is USD 16K for a year.
University of Wisconsin at Madison, WI. The course fee is USD 18K per year
University of California at Berkeley, CA. The yearly course fee is USD 15K
Stanford University at Stanford, CA. The approximate course fee for a year is USD 12K
University of Michigan at Ann Arbor, MI. The annual course fee is USD 16K
Princeton University at Princeton, NJ. The course fee is near to USD 10K per year
Northwestern University at Evanston, IL. The course fee is bit high, being USD 25K in a year
Columbia University at New York, NY. The course fee is USD 23K yearly
New York University at New York, NY. The course fee is costly, USD 42K yearly
University of North Carolina at Chapel Hill, NC. The course fee is USD 14K per year
Also Read: Remote engineering jobs | A priceless list of tips to succeed
Skills needed for sociology jobs
While applying for jobs with a sociology degree, you need to be aware of the skills that the hiring managers look for. Here is the list of skills needed for sociology jobs
1. Research and Domain related Skills – When you are in a sociology job, the domain and business functions of the sector you are in must be at your fingertips. Only then you can perform the requisite research and diagnosis for preparing the plan and design of the projects. Understanding the theories and concepts of sociology are equally important.
2. Analytical abilities – A person with a sociology degree must be capable to analyse and interpret the data critically. The next important aspect is to evaluate the evidence and data captured as per the established theories. He or she must be able to provide logical reasons for the outcome.
3. Interpersonal Skills – If you are working in remote sociology jobs, interpersonal skills are of paramount importance to bring in the synergy between the teams. People from different cultural backgrounds and work ethics can be part of a team. Coordinating with them and introducing a feeling of social harmony are the requisite skills of a sociologist. Besides you need to debug the social aspects of your customers, intervene to prevent discrimination, and ensure equal privilege for all.
4. Communication Skills – Jobs for sociologist demands excellent verbal and written communication skills. Explaining ideas and the concepts clearly in proper understandable terms are the crucial activities of a sociologist. Documenting the research work, analyzing, and preparing reports are also vital activities in jobs for sociology.
Also Read: Remote call centre jobs | A comprehensive guide for beginners
Certifications to get sociology jobs
Sociology career paths are multiple as there are a plethora of opportunities in various industrial sectors. To excel and to stand ahead of the competition for jobs in the sociology field, it is vital to equip yourself with additional certifications.
Many ask, "I have a bachelor's degree in sociology now what?". Well, to answer the question, apply for certification before you proceed to apply for the sociology major jobs. There are essentially two types of certificates in the field of sociology careers,
Undergraduate Certificate
Graduate Certificate
The curriculum includes topics related to population, sociology perspectives related to health, ailments, and other organizational analysis. Demography, anthropology, linguistics, archaeology, and psychology are also a part of the advanced learning courses.
Besides several educational institutions and online learning portals provide courses and programs. The advantage of attending the courses is that you can access them remotely, applicable for both full time and part time employees. Some of the key learning courses and programs are:
Classical Sociology Theory by the University of Amsterdam
Feminism and Social Justice by University of California
Moralities of Everyday Life by Yale University
Conflict Management by University of California
Organizational Analysis by Stanford University
Introduction to Communication Science by University of Amsterdam
Also Read: Remote startup jobs | Everything you must know
Top 10 tools needed for sociology jobs
While applying for jobs and careers with sociology degree, it is important for you to understand the tools needed for sociology jobs. You need to leverage those tools for performing your activities faster and in a seamless manner. The top 10 tools needed for sociology jobs are :
Employee Surveys containing questions to judge the employee morale, interactions and their performance. They also assist in collecting views, opinions and grievances of the employees
Interviews of students or employees to evaluate their attitude, credibility, opinions, feedback on the social ecosystem they interact with
Case studies on certain use cases derived from the company's or an institution's documents or regular observations of the human behavioural patterns
Experiments conducted on humans to study the change in behaviour by introducing to various real life replica of situations
Observations of daily behaviour of a certain sample set of employees or students and the impact of the social aspects on them
Focus Groups comprising of culturally like-minded people to understand their response to the same set of questions asked on demographics
Documents and records of individuals of past performance or social interactions to evaluate their interactions and responses to situations
Oral Histories, a verbal communication tool to collect data from individuals involved in a particular event or program.
Field research involves frequent interaction with people in various forums, events or programs and understand their behavioural pattern
Ethnography, a research method or tool, where the sociologists mingle in a group as a participant to check their way of living and working.
Also Read: Remote medical transcription jobs | A complete guide
Top 25 dream companies for sociology jobs
Are you wondering or inquisitive to know what jobs can you get with a sociology degree? The list is plenty, with many companies hiring professionals for sociology degree jobs. Here is the list of top 25 dream companies for sociology jobs to answer your question on what can I do with a bachelors in sociology or equivalent or higher educational degree,
Apple Inc, renowned company formed in 1976 by the famous Steve Jobs along with Ronald Wayne and Steve Wozniak
University of La Verne, located at Los Angeles, offering various academic courses including Sociology
Bemidji State University, established in 1919 at Minnesota
State of Colorado, the government agencies and institutions of the State
NC State University, a prominent public research university at Raleigh in North Carolina
The University of Texas, located at Austin and established in 1827
Hartwick College, a private college present at Oneonta in New York
United Fire Group, an insurance firm providing life, property and casualty insurance
Leggett & Platt, a manufacturing company for engineer components, located at Carthage in Missouri
Olsen Legal Group, LLC, a law firm at Cheyenne in Wyoming
WES Health System, situated in Philadelphia, offering services related to behavioural health and other primary care services
Mount Carmel Health System, one of the largest health care companies in Ohio
StarVista, a non-profit organization assisting people by offering counselling, child care, crisis prevention etc.
Beacon House, an international school group with branches located worldwide
Truenorth Wellness Services, located at Pennsylvania offering counselling services, wellness services etc.
Arc of Monroe, a health care firm providing services to people with physical and mental challenges
Thomas Allen, INC, a social services firm located at Minnesota
Community Health Network, a non-profit community health centre
Seven Countries Service
Pima Medical Institute, a medical college, present in New Mexico
Berlitz, based out of Princeton, New Jersey, an education and leadership training company
Praxis Institute, a health and wellness company at Miami, Florida
Liberty Village of Pekin, provides homes and villas for retired people
Battle House Laser Combat, an entertainment firm, located in Illinois
Stanbridge University at California, US
Also Read: Remote business analyst jobs | Know before you start
Top job boards to find sociology jobs
By now, you have understood what can you do with a sociology degree. The next question is where to search for jobs for sociology majors? The answer is the companies post their requirements for sociologists on various job boards. You need to visit the job boards and search for jobs for sociology degrees. The Top job boards to find sociology jobs are highlighted below,
unremot.com
Indeed
Glassdoor
Careerjet
Linkedin
Times Higher Education
The Balance Careers
Jobs Chronicle
Zippia
Diversity In Research
You can mention location, preferred role, and salary range while searching the various categories of sociology jobs like applied sociology jobs, communications major jobs, so on and so forth.
Also Read: Remote UX jobs | A how-to guide for beginners
Top resume elements of sociology jobs
The previous sections of the article have now answered the two most critical questions of an aspiring sociologist.
What to do with a sociology degree?
What jobs you can get with a sociology degree?
Let us take a step forward and discuss the structure of your resume while pursuing sociology degree careers. The top resume elements of sociology jobs will be,
Mention your prior experience in data gathering, analysing and interpreting data for designing the theories and concepts on human behaviour
Specify the data gathering and assessment tools used for your activities
Awareness of the different sociology theories and concepts
Various research techniques or methodologies leveraged
Educational qualifications attained
Certifications obtained and learning courses attended
Awards or accolades received in prior engagements
Also Read: Remote oracle dba jobs | An ultimate read for best results
Sociology jobs pay structures
The next important discussion point is the sociology majors' salary. Those who are opting for careers with a bachelors in sociology in the business sector are likely to receive more salary. While those who are seeking jobs for BA in sociology in the educational sector, earn comparatively less salary.
The average salary of jobs in sociology major careers is approximately USD 83K. The state government agencies of the US have reported having been paid high than other sectors, the average is almost USD 92K. Research and development firms normally rank second, average salary being USD 91K.
The US Bureau of Labor Statistics has recorded a salary of as high as USD 141K being offered to few prominent sociologists. The entry level salary ranges between USD 40K to USD 46K.
Also Read: Remote front end developer jobs | A priceless list of tips to succeed
Entry level sociology jobs
Students studying sociology are often in a dilemma trying to figure out what to do with a bachelor's in sociology? There are a plethora of careers with a sociology degree bachelors. You need to on the constant lookout on the job boards to find out your dream job.
The sociology career paths for freshers or entry level sociology jobs are illustrated below for your convenience,
Bachelor's Degree or Master's degree in Sociology or Psychology is a must
Certificate on Sociology or training courses are an additional boon
Registering profile on the prominent job boards
Preparing for the interview
Your next question can be what jobs can you get with sociology, especially as a fresher. You can join as a social worker, management consultant, researcher, paralegal personnel, professor, welfare officer, community development officer.
The entry level salary for sociology jobs is approximately near USD 40K which may rise to about USD 46K depending on the industry and your knowledge and competency levels.
Which is better sociology or psychology?
There is no good or bad between the two learning programs. If you are looking to focus only on an individual's behaviour then it is better to pursue psychology whereas if you are motivated to understand human social interactions then sociology is your way forwards. Both the fields are expected to grow at an average of about 12 to 15 percent in the coming years.
The steps that you must follow to start a career in social work are,
Earn the Bachelor's Degree in Sociology
Select your domain of expertise among the Sociology categories
Complete an internship program
Earning a Master's Degree in optional
Recommended to attend learning courses and obtain a certification on sociology
Search for jobs you can get with a Bachelors in Sociology from the different job boards
Without a degree, you can join as a social worker assistant. But you will not be able to rise up the career ladder without a Bachelor's degree. The National Association of Social Workers mandates degrees or certifications for holding on to the license to conduct social services. Hence if you are seriously looking for future growth, then you must complete the requisite educational qualifications before applying for sociology jobs.
Social worker assistants would need a High School Diploma or a GED certificate to qualify for the jobs. GED or General Educational Development certificate focuses on the 5 main subjects – Mathematics, Science, Social Studies, Writing and Reading. GED trademark is owned by the American Council on Education or ACE. If you can obtain a certification, then your chances of earning the job is much higher.
I hope by now the article has assisted you to understand your question on – "What can I do with a bachelor's degree in sociology or any other higher degree in sociology?"
What are the best jobs for sociologists?
Policy analyst, market research analyst, consultant, lawyers, journalism, media planner, guidance counselor, human resource representative are the best jobs for sociologists.
Is sociology a good major?
If you are thinking to work into fields such as education, social work, law, research, public policy, sociology is a great major. 
What is the main preference among all sociology jobs?
Policy analysis is the main preference of sociologist graduates among all the sociology jobs. 
What does a sociologist do?
Sociology jobs are gaining traction these days. Sociologists study social institution, cultures, groups and the interaction of humans with such elements. Sociologists also help test theories concerning social issues conducting and designing related research projects. 
Is sociology a difficult major?
The sociology major is not a difficult major to get into. The subject and the course is vast, covering all the topics such as cultures, traditions, history, political science, economics, etc. Hence, the course is vast, and it is also not a difficult course as concerned for BA.
What can I do after BA in sociology?
Law, training advisor, social critic, market research survey, community service worker, other sociology jobs, etc. are the sociology careers one can think of after completion of BA in sociology.