Are you an engineer and struggling to figure out a well-paid remote engineering job? If so, you are in the right place – this page is for you!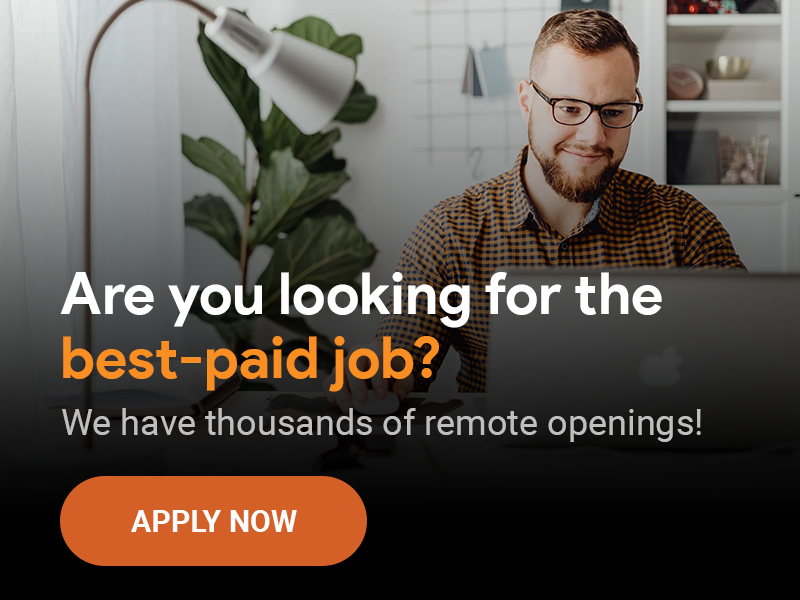 Being a remote engineer is awesome in many ways. You will get more flexibility while working from home. No more struggling in the traffic while you are going and coming back from the office.
Remote engineering jobs
It is a happy thing to get a full-time remote engineering job. You do not have to struggle with the routine traffic issues in your city. Furthermore, there is no need to drain your energy in the office for long hours.
You can easily do your work at home without any issues. Are you thinking that you can work from home as an engineer? Yes, you can get a remote job as an engineer. There are several companies and online platforms available from where you can get a secure job.
Remote Paralegal Jobs: Ultimate guide on top 15 paralegal careers!
Where to find remote engineering jobs?
Many websites on the internet provide engineering jobs to work from home. It offers flexibility to choose your client, payment amount, and mode. Initially, you will get clients at low payment, but within time your payout will increase as you get experience.
Upwork
Fiverr
Gun.io
Lorem
Rent A Coder
Job boards
We Work Remotely
RemoteOK
Who is Hiring
Nodesk
Skip The Drive
Working Nomads
Distant Job
Remote.co
Remote Talent
Fut-ure
Organizations that hire engineers for remote jobs
Here is the list of global companies that provide work from home jobs to engineers. These companies are continuously hiring engineers for remote positions. We have picked the best and reputed organizations for you. You can apply for the vacant job roles in these globally recognized companies.
Appen
InVision
Dell
Twitter
Aeolus Robotics
SAP
Leidos
Trio
Wikimedia Foundation
Alright Solutions
VMware
Study.com
Salesforce
Remote software engineering jobs
Software engineering can get work from home jobs. They need a computer with uninterrupted internet access.
Most commonly, the remote software engineering jobs are published on online websites like Upwork, unremot.com, Fiverr, Gun.io, Working Nomads and Skip the Drive. Here are the lists of companies that want to hire remote software engineers are,
AirBase
Diameter Health
Octopus Deploy
Gitbook
IBM
Dell
Wikimedia Foundation
To know about the vacant software engineer positions in these companies. You can visit their official website and check the recruitment for more details.
Remote mechanical engineering jobs
Mechanical Engineering is another career path that is becoming remote these days. It is happening in the robotics sector. A recent study by the Institution of Mechanical Engineers, US says that the trend is only going to surge post the damages of the pandemic. The companies including Aeolus Robotics are providing work from home job opportunities to mechanical engineers.
Other companies that are hiring mechanical engineers for remote positions are.
Ayar Labs
GMEP Engineers
Onto Innovation
Farask Solutions
Teradyne
Fieldcore
Resco Products
Hooker DeJong
To apply for a job in these companies, you must have a mechanical engineering degree. For more information about the recruitment process, you can visit the official website and check the recruitment/career section of these companies.
Remote electrical engineering jobs
Many recognized companies are looking for electrical engineering for full-time remote positions. Some organizations expect engineers to visit the company in need. The company gives them traveling allowances for it too.
Globally recognized companies offering electrical engineering remote jobs are,
Puget Sound Energy
Penguin Strategies
Smith & Nephew
Volta Charging
White River Technologies
LaborView
Bilfinger
Remote medical coding Jobs 101 – Skills, Requirements, Best companies
These reputed organizations hire remote electrical engineers. You can find the vacancy information on their official website and online recruitment websites indeed and Linkedin. You should have a recognized electrical engineering degree if you want to apply for a job.
Remote structural engineering jobs
Structural Engineering is a sub-discipline of the civil engineering field. Responsibilities of Structural Engineers are,
The structural engineers are trained to design the manmade structures.
They hold the responsibility to check the strength of buildings and other structures.
Additionally, they have to supervise the contractors working on the site and work on the safety parameters too.
The structural engineer holds the responsibility to make the efficient and creative use of funds provided to them.
Do you want a remote structural engineering job? Still, a few companies offer remote job role for structural engineers.
Freelance civil engineering work
Though, there are rare chances when the companies provide freelance civil engineering work. A civil engineer's job is to design, construct, and maintain buildings.
Remote proofreading jobs: Top 10 handpicked ways to become an awesome proofreader
They need to visit the contractor site to review the work. Still, they can't work from home. On the other hand, a few globally recognized companies are providing civil engineering jobs work from home.
You check about these companies on websites like indeed.com, Upwork, Linkedin & unremot.com.
From here, you can track down the company information to get a freelance civil engineering job. You can regularly check the vacancies on these websites.
Freelance AutoCAD engineering work
Are you searching for freelance AutoCAD engineering work? Then, here are the websites you can follow to get a secure job for you.
Upwork
Truelancer
Peopleperhour
We Work Remotely
Skip the Drive
Working Nomads
Fiverr
You can sign-up on these websites and search for AutoCAD jobs. Online recruitment websites are the best platform to connect with the employer easily. You can upload the resume and search for the jobs that suit your skills.
Video Editor Resume: create your stellar resume for video editor roles
DevOps engineering remote jobs
A DevOps engineer must introduce tools and methodologies that can balance the software development life cycle from coding to development. You can find DevOps engineering jobs in remote positions.
The companies that are hiring DevOps engineers remotely are:
Simplero
Gilead Sciences
Power Home Remodeling
Intellum
Cofense
Piggy
Maharishi Foundation International
DEV
Knack
You should visit these websites regularly to check about the vacancies and recruitment process.
Remote biomedical engineering jobs
Biomedical/Medical engineering is an application based on biology and medicine. Biomedical engineers work in the healthcare sector.
Sales Executive Resume – how to create your best resume for sales roles?
The biomedical engineering applications worked on the development of medical and diagnostic devices like imaging equipment MRI, EKG, and ECGs. It is a rare condition when the companies usually offer remote biomedical engineering jobs to the employees.
Machine learning engineering remote jobs
The duty of the machine-learning engineers is to develop self-running and automate the software to create predictive models.
Writer Resume – tips to create your best writer resume in 2020!
Machine Learning Engineers can get remote jobs easily. They need a computer and a stable internet connection to work from home.
The lists of companies that provide machine learning engineering remote jobs are,
Potion
Flyreel
Eino
Movemeback
Possible Finance
Alpha Signal
Sealr
Tennis Line Call
Devron
Ntropy Network
Pachama
Data engineering remote jobs
Data Engineers can get full-time remote jobs easily. They have to work on your computer and need a stable internet connection.
Sociology Jobs 2021 | All you must know about sociology jobs (list of top 20 dream companies & salaries)
These two things are available with them at home. Then, they can start their work from home job as a data engineer.
Companies that offer remote data engineering jobs are,
Icon Fitness
Machine Zone
UnitedHealth Group
The Dyrt
Perchwell
Tyler Technologies, Inc
Arrow Designs
Chemical engineering jobs remote
There are certain high specialization companies that provide remote chemical engineering jobs.
These global organizations have begun their operations to hire chemical engineers in remote positions.
Top 20 Seasonal Jobs of 2021 | How to find the best paid ones and succeed?
You have to follow the guidelines of the companies to work from home. Lists of the companies that hire chemical engineers to work from home are,
Toogit
The Chemours Company
BASF Corporation
Frontline Data Solutions
Low stress engineering job
Are you searching for a low stress-engineering job? We have prepared a career information list of low-stress engineering jobs
1. Biomedical Engineer
Biomedical Engineering requires technical knowledge and creativity. You have to utilize your knowledge and skills to build medical equipment for the healthcare industry. The job responsibilities of a Biomedical Engineer are,
Installing and maintaining medical equipment.
You have to collaborate with the team researching on a particular project.
Educate the medical staff about the equipment.
Best Online Gradebooks | Free and paid grading software for teachers
Biomedical engineers can work in a manufacturing setting, hospital, and laboratory.
2. Civil Engineer
You want a low-stress career then civil engineer is the best option for you. An individual working in a company on the civil engineer position, you will love to travel to different places for work. You should know about designing and construction projects. To work in a higher position in any organization, you must have a bachelor's degree in Civil Engineering.
3. Marine Engineering
You are willing to work in an office then you can choose the marine engineering field. During the designing work, you can work independently. You may travel to ships for testing and maintenance work. The job responsibility of a marine engineer includes designing diagrams, testing equipment, and vendor interaction. To work as a Marine Engineer, you must have a degree in Marine Engineering.
4. Chemical Engineer
A chemical engineer is a good career choice for those people who desire to have minimal stress jobs. You should have a specialization in scientific knowledge. Chemical engineers have to handle hazardous materials.
Part Time Remote Jobs | How to find the awesome part time remote jobs (including salary tips & best companies))
Conclusion – For the first time in history, engineers can find remote jobs. You can now find remote engineering jobs on websites. With technological advancement, now engineers can stay at home and work.