If you have decided to pursue a career in video editing, what's the first thing you do? Look for jobs to apply to obviously. Let's take a step back, before applying to jobs you actually start working on a stellar video editor resume.
Your resume will be your first impression – how you present yourself to your potential employer. Thus it is very important that you learn how to create a video editor resume first. We'll get right into how to create a video editor resume with a video editor resume sample and what skills do you need to be a video editor?
As a video editor, you primarily want to showcase to your potential employer your post-production skills by turning raw footage, into a great marketable video that encapsulates their brief effectively. Although, this is not so straightforward.
To get your foot in the door, your resume needs to do the talking first, through showcasing your experience and skills in the field. Which is not just listing the software you know to use and videos you edited.
If you want to work in the field of video editing, emphasize your knowledge with examples of work that portray your skills.
Also Read: Best resume software
Video Editor Resume Sample
John Jane Doe, Video Editor
Phone: 120-860-3214
Email: johnjdoe@gmail.com
linkedin.com/in/johnjanedoe
www.janejohndoe.com
Portfolio: Add your portfolio containing video production, audio editing, graphic design, photography, and animation can be found at johnjanedeo.com/portfolio.
Professional Summary: Fast video editor with 4+ years of experience, skilled in Adobe Premiere Pro, FCP, and Audio editing seeking a position with YourCompany Productions. Experienced in the field and have finalized 1 hour of finished video per week. Received unsolicited positive comments on my work from 97% of clients. Created a new system for transcript-free interview editing that chopped out 75% of editing time per project.
Experience
2018–Present: Video Editor, ABC Media House
Edited 130+ videos for clients like DEF Consulting, QPR Technologies.

Sorted and edited 5+ hours of raw footage into 10 minutes of finished video per week (Received 95% positive client feedback).

Used Software (eg: Adobe Creative Cloud) to create and edit 20+ images and animations per week for use in client productions.

Sourced new stock video and image vendor, saving 20% on costs.

Created a new clip transcription method adopted by the entire team that saved 10+ hours of transcription time per week.

A particular client video won an award.
2015–2018: Video Editor and Shooter, Advertising Firm
Shot and edited 500+ videos in Final Cut Pro & Premiere.

Captured and logged clips daily.

Sold 15% more videos than the company average.
2014–2015: Founding Member: Random Film Festival
Co-founded film festival with 20+ films and 1,000+ attendees.

Curated videos and films for the film festival

Grew attendance 20% per year for 4 years.

Organized, logged, converted, and played all films on festival nights.
Education
2012–2014, MA Film Studies
Film edited and showcased at Indie Film Festival.

Concentration in screenplays and Editing

Video Editor with XYZ.
2008–2012: BA Film Studies/Liberal Arts, College/University
Created 3 school project videos with Final Cut Pro & Premiere.

Concentration in creative writing and screenplays.

Editor, Unnamed Journal.
Certifications
Adobe Certified Expert, Premiere Pro

Avid Certified Professional: Media Composer

Final Cut Pro
Additional Activities
Attend monthly video editor meetups.

Edited 50+ short clips.
Hard Skills: Adobe Premiere, After Effects, Adobe Creative Cloud, Blender, FCP
Soft Skills: Attention to detail, communication, collaboration
How to create video editor resume
If you are worried about making your video editor resume and asking yourself how do you make a video editing resume? We have summarised it for you.
Choose the Best Format for Your Video Editor Resume

The Reverse Chronological Video Editor Resume Format (Newest first)
The Functional Video Editor Resume Format (Highlights your notable skills)
The Combination (Hybrid) Video Editor Resume Format (can be used if experienced in the field)

Introduce your work with a portfolio
Create the Perfect Video Editor Resume Job Description
Write a Clear Video Editor Resume Education Section
Highlight Your Video Editor Skills
Attach a Cover Letter to Your Video Editor Resume
Also Read: Writer Resume: tips to create the best writer resume in 2020 
Video Editor Resume Do's and Don'ts
When creating your video editor resume you can keep in mind the following list of video editor resume dos and don'ts.
List your newest job and experience first.
Pick a standard font and size (eg: 10–12pt Cambria or Georgia)
Add video editor resume sections: Heading, Summary, Experience, Education, and Skills.
Space out your sections clearly.
Try and keep your video editor resume length to one page. Add only relevant and necessary information
Keep descriptions brief and bulleted
Have one base template. Tailor that to the job & company you are applying to based on what would be relevant for them.
Use specific keywords
Don't steal the Job Description's wording exactly as it is
Don't include obvious skills you possess
Don't go overboard or obsess over a particular job/experience.
Don't copy templates directly from the web. Use the templates to build your own unique resume.
Tailor your resume format to meet ATS (Application Tracking System) requirements
Keep it simple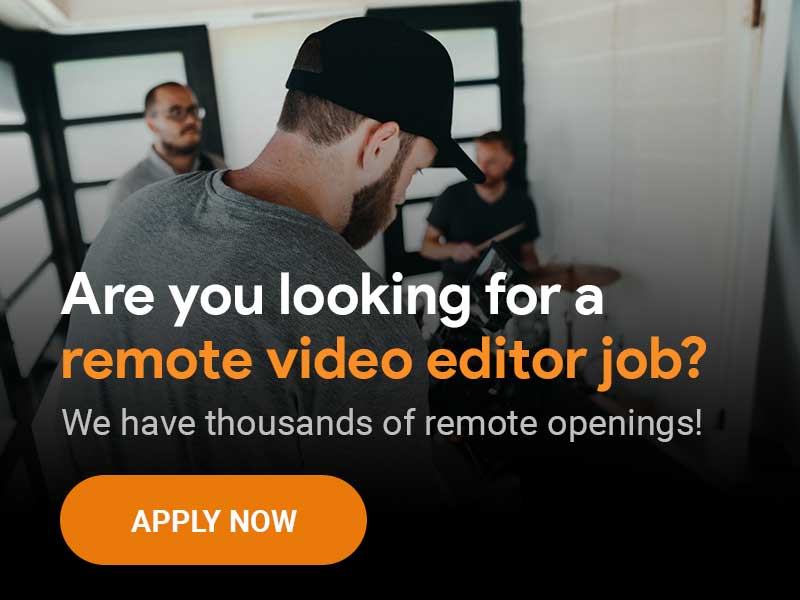 What skills do you need to be a video editor?
Essential skills that can be listed in a video editor resume:
Hard Skills
Soft Skills
Video Editing
Time Management
Adobe Premiere
Organization
Adobe Creative Cloud
Attention to Detail
Sound Editing
Creativity and Storytelling
Animation & VFX
Efficiency
Avid Media Composer
Collaboration
Logging and Trimming Clips
Problem Solving
Blender
Interpersonal Skills
Transcription
Critical Thinking
Final Cut Pro
Communication
Media Management
Stress Management
Academic Requirements: A bachelor's or a master's degree in communication, film studies, or media arts.
How do you write a cover letter for video editing?
Begin your cover letter in a way that catches the hiring manager's eye. Tailor it to this specific job offer. Don't beat around the bush.
Add your passion for video editing with examples (keep it brief)
Close your cover letter by providing potential value to the employer.
Eg: I would love to be given an opportunity to show you how I can help YourCompanyInc market x product better through video editing.
Is Video Editor a good job?
If you have the flair, experience, and passion for it, video editing can be a very lucrative job. It has the right balance of flavours for those who are keen to blend their life passion into their career, while also generating quite a lot in pay.
Does video editing pay well?
The average salary that an experienced Video editor can expect in India is between ₹3 – 9 LPA
The top companies hiring for Video editors are, WEBDEW, Youtube (work under a big content creator), and Regional Networks.
Even Freelancers get good opportunities in the field.
How much do beginner video editors make?
The lowest annual income for video editors was reported at approximately USD 30000/- in the US and about ₹2.1 Lakhs a year in India.
The highest reported salaries are at USD 70000/- in the US and about 28 Lakhs in India
The median salaries for video editing jobs is around USD 50000/- in the US and about ₹ 5  Lakhs a year in India
How much should I charge for editing video?
As a freelancer, your video editing fee would depend a lot on the scope of work and your expertise in the field. It can start at USD 100 (INR 6000) and go upwards.
How long does it take to learn video editing?
A professional certification course in video editing software such as Adobe and FCP (Download Adobe) etc can take a couple of days to 3-4 days or can stretch up to a month. To refine your video editing skills, it can take approximately 2-3 months to a year even depending on your aptitude. Learning, honing, and improving your skillsets will need to be a continuous process.