Are you searching for best-paid, short, temporary openings of 2 to 3 months? Then seasonal jobs are for you. Read on to find everything you must know about seasonal jobs!
Seasonal jobs are temporary assignments provided by companies or firms for performing specific activities. They are a great source of income for professionals who want to fill their pockets with that extra bit of money. Students and part-time employees prefer seasonal jobs to magnify their earnings, eventually serving their additional needs for education or supporting the family.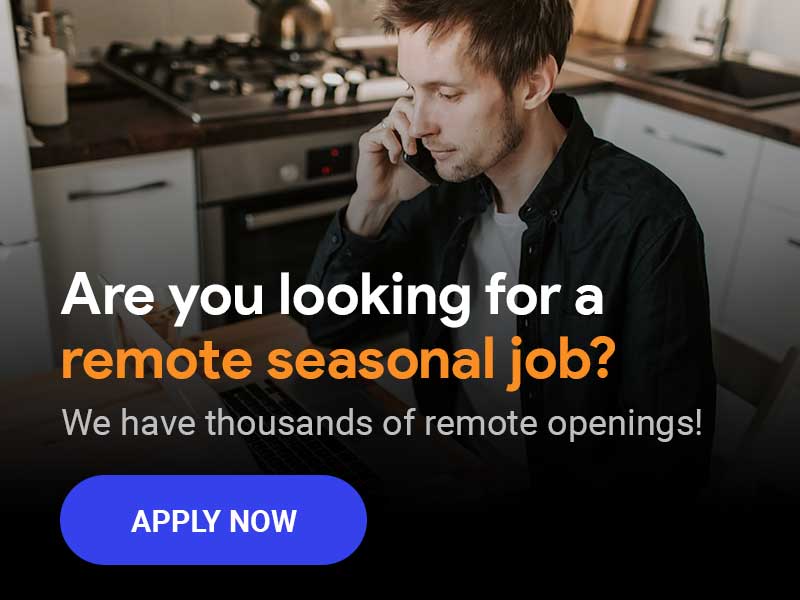 In this article, we will walk you through the definitions of seasonal employment, the different types of seasonal jobs, and how to get hired for seasonal jobs. We will also discuss the best seasonal jobs for you to decide and apply.
Also Read: Remote Social Media Jobs | How to earn remotely from social media jobs
What is seasonal employment?
Seasonal jobs are on the rise for a particular time of the year as per the demands in the market and of the consumers. Climate, weather, geography, vacations, and festivals are some of the key reasons for the rise in seasonal jobs.
And firms hire temporary workers to fulfil their peak season needs. The reason is they find it tough to manage the surge in demands with their regular full-time employees. This strategy is cost-effective and beneficial.
The temporary workers and professionals benefit from the hire, earning a handsome amount of money to cater to their expenses. On the other hand, the companies need not bear the cost of hiring full-time employees yet satisfy the high demands of customers.
12 Highest paying remote jobs in 2020 | Best Work from home jobs
Market opportunity for seasonal jobs
The holiday season brings a huge influx of summer part-time jobs, Christmas job roles, seasonal winter job opportunities in the market. While most of the seasonal jobs are in the field of retail with the target alone hiring 120,000 workers during the holiday season.
Other high demanding companies are offering seasonal jobs for college students, seasonal online jobs, winter break jobs, etc to people looking for extra income. Some of these companies are in the hospitality business, event planning, e-commerce, travel and tour organization which hire employees for summer part-time jobs, Christmas jobs, winter jobs, and holiday help job. 
The market for seasonal jobs soars high during the holiday season in winter or summers. There is a lot of potential for people with the right skill set to earn extra income and add to their resume. Seasonal jobs are a major contributor to the increase in the employment rate in the U.S.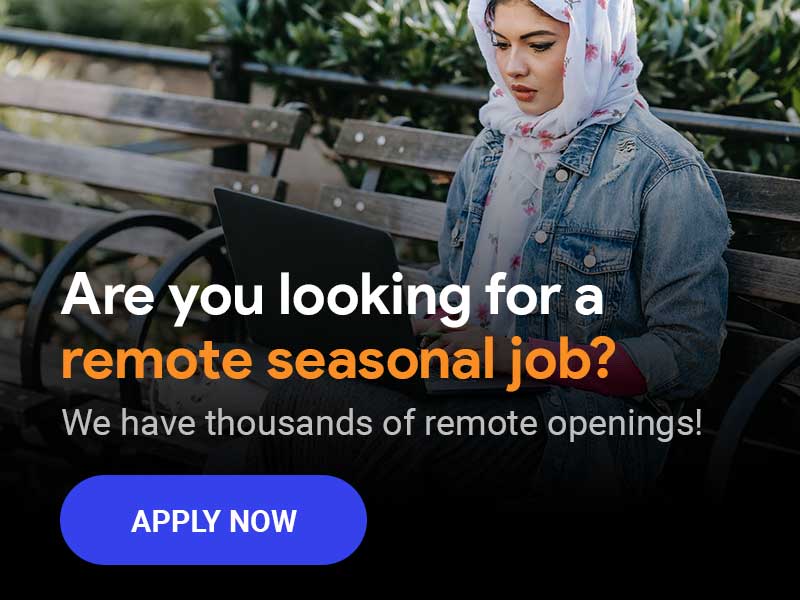 In 2019, around 263,000 jobs were added in different seasons generating summer part-time job roles, jobs for winter break, and full-time seasonal jobs. If you are wondering when do seasonal jobs end then the good news is they keep popping up throughout the year in the winter season, holiday time, summer season, etc.
Also Read: Remote Customer Service Jobs | All You Need To Know
Top industry sectors for seasonal jobs
Various industries hire seasonal workers of different skill sets to meet their demands. The prominent among them being,
1. Retail
The retail industry sector has its peak seasons mainly during Christmas, Black Friday, and other prominent festive seasons. Customers flock in large numbers to buy gifts, decorative items, food, clothes, and many more to celebrate festive occasions. There is a sharp increase in demand, coupled with the need for customer service.
Many retailers face a dire need for salespersons, cashiers, cleaners, maintenance personnel, etc. It is a good opportunity for you to look for Retail temporary jobs in the peak seasons and pile up some funds.
2. Tourism
The tourism industry is one of the best examples of seasonal jobs. Hill Stations normally are frequented by visitors during the summers. The tour operators, hotels, and resorts require temporary employees to serve their customers.
If you have a good knowledge of the historical and natural heritage of a place, then being a temporary travel guide is a good option. You can work in a hotel or a resort in their in-house restaurants or housekeeping too.
Certain places invite tourists due to their fabulous adventure sports facilities. If you have skills, you can try out being a sports guide. The national parks, lakes, camps often need travel guides or camp managers. You can opt for such kind of jobs too.
3. Package Delivery
Online businesses, retail operators, restaurants, and food chains receive high orders during festive seasons and holidays. They require additional help for providing their packages to their customers within their stipulated time and pace.
They do not want to put their reputation on stake due to the high demands. Hence they hire temporary workers, either for delivering door to door or as a driver or at their package centres. These are good opportunities to earn a handsome amount of money.
4. Construction
Certain activities in a construction business occur during summers, especially the foundation work or piling the rooftops. The industry needs project managers and temporary workers to fulfil their demands. If you possess expertise in these areas, you can easily opt for working for them.
Areas that remain chilled for most of the year require temporary hires for drying or heating certain elements in the construction process. At the same time, hot and humid places may need extra cooling facilities and effort. Additional demands are always on the rise in this sector, hence ideal for earning some money.
5. Accounting
If you have a fair knowledge of tax rules and regulations, then applying for a temporary, seasonal job in accounting is a good option. Most tax firms and accountants face high demands from customers as soon as the tax-filing process commences.
They need additional help to perform the tax calculations, filing of tax returns, arranging documents and answering customer calls. The task is a safe and secure way to gain some money.
Also Read: Remote Accounting Jobs | Manage Finances From Home
Which are the best seasonal jobs?
Below is a quick list of top 20 seasonal jobs you will find interesting,
1. Seasonal retail jobs – retail salesperson
Retail stores experience a huge influx of customers during the peak seasons. The supermarkets and stores are flocked by people of different generations with a variety of demands. There is a significant need for salespersons or associates to attend the customers and guide them to their products. You can either be hired as a floor manager or a floor attendant.
Responsibilities involve assisting the customers in selecting or searching for their products. You can earn some extra commissions for influencing a certain percentage of sales. It is one of the high paying seasonal jobs.
2. Seasonal marketing jobs – Social media manager
This is one of the best seasonal remote jobs. Certain online businesses and entrepreneurs campaign about their products or services at specific times of a year. They hire temporary social media managers or assistants to promote in different social media platforms.
The responsibilities usually are to write out emails, announcements, host online campaigns and events with prospective customers. They need to constantly connect with the clients and also respond to various queries.
3. Seasonal customer support jobs – Customer service representative
Mostly retail and tourism industry sectors hire customer service representatives for seasonal jobs. They need to handle a huge number of customer calls and queries to answer during the peak seasons. This is also considered one of the best seasonal remote jobs as you can easily respond via emails, phone calls, or chats.
Some companies hire for their call centres wherein you need to be present physically at the office premises. Other companies require professionals to attend customers face to face.
4. Seasonal travel jobs – Travel Guide
If you love travelling and sharing experiences with travellers, being a travel guide is the best option. During the holidays and vacations, tour operators, travel agents, and companies require guides for handling tourists from various parts of the world.
If you speak multiple languages, then it is an added boon. It is one of the thrilling part-time seasonal jobs where you are acquainted with different kinds of people. You can also move around various places while being additionally earning money for your financial needs.
5. Seasonal festivals jobs – Gift Wrapper
Retail stores mostly need gift wrappers during the festive seasons. People buy gifts to share with their near and dear ones. They prefer them to be wrapped up nicely with colourful papers, ribbons, cards, glitters, and many more. You need to possess an artistic inkling to be a gift wrapper. It is one of the comfortable and best part-time seasonal jobs.
6. Seasonal accounting jobs – Assistant to an accountant
It one of the high paying seasonal jobs where you can earn USD 15 per hour. The responsibilities include preparing the tax for individuals or firms. You need to ensure the tax returns are filed as per the norms and regulations. It is a noble and respectful job. You must be proficient in math, accounting, and the intricacies of tax.
7. Seasonal entertainment jobs – Posing as a cartoon or fiction character
Various resorts, hotels, malls, shops, and stalls entertain their customers by decorating and presenting their favourite cartoon or fiction characters. This phenomenon is normally observed during winter vacations. If you are good at acting, posing, and entertaining, then it is the best option for you. It is one of the most fun-filled winter seasons jobs.
8. Seasonal winter jobs – Winter sports expert
Several resorts and travel companies engage in winter sports like skiing, skateboarding, snow biking, etc. if you possess expertise in conducting these activities, then you can easily join as a temporary worker. The job profile includes guiding and assisting the tourists in sports activities with all necessary precautions. It is one of the best winter seasons jobs.
9. Seasonal summer jobs – Summer camp managers
If you love kids and like their company, then participating in summer camps as managers or instructors is an ideal option. It is one of the noblest seasonal jobs. Summer camps are conducted almost every year by the schools, corporates, and even private business firms.
You can entertain the kids by teaching them yogas, art, crafts, magic, and other extra-curricular activities like conducting games.
10. Seasonal photography jobs – Photographer
The demand for photographers is on a high rise during weddings, vacations, and during some specific professional or social events. You can work as a freelance photographer or associate yourself with an event management company. You just need to possess the skills of photography and photo-editing, and you are in.
11. Seasonal cooking jobs – Chef
Applying the job of a temporary chef is considered one of the best high paying seasonal jobs. The hotels, restaurants, resorts, and food chains hire chefs temporarily to meet their seasonal demands during the holidays. If you are an expert in cooking as a professional, then you can jump in for it. You can showcase your culinary skill and expertise.
12. Seasonal driver jobs – Drivers and delivery person 
Get yourself cool summer jobs by applying for the position of driver and helpers during the holiday season. Many delivery companies like UPS, FedEx have seasonal job hiring for part-time employees during the festive season. UPS may even offer a pick and drop facility to its employees. You should be flexible with working hours and pick up shifts as required.
To get hired for holiday help jobs either go directly to the company's website or search in online job portals for holiday helper or delivery. You can apply online and if there is a demand they will get back to you immediately. If you are good at driving then consider picking up extra shifts for supplementary income.
13. Seasonal hospitality jobs – Resort manager
There are plenty of opportunities in summer and winter resorts which may vary from working at a managerial position, food and beverage, concierge, social media, marketing, front desk, hospitality, retail, resort manager, etc. If you live in a location with a resort community or willing to relocate for some time then this is a perfect job for you. 
Ski resorts have multiple openings for winter season jobs during the winter holiday season for which being a ski expert is not mandatory. Many resorts open year-long allowing you to turn your part-time job into a permanent position. Visit Cool works and look for winter jobs near me or winter seasonal jobs to find relevant job listings.
14. Seasonal tax jobs – Tax manager
During tax season, tax preparation companies hire a huge number of employees providing season jobs to people to help prepare and file taxes. Do not worry if you are not good at taxes, you can apply for administrative, data entry, marketing, etc roles. The Internal Revenue Service also hires employees to help them with processing income tax returns.
Tax season starts in the fall and it's advisable to start applying earlier to land a job. Search for seasonal work near me and look into tax preparing companies such as Taxslayer and apply online for the job. Basic skills and knowledge is required to get hired for specific positions.
15. Seasonal fitness jobs – Fitness trainer
Demand for fitness trainers rises during the summer season and during the new year time when people join gyms or visit beaches. You can take online or offline sessions with the clients. People also hire personal trainers to provide athletic, nutritional advice customized as per clients' needs. 
Some fitness companies hire fitness trainers for full-time and part-time positions. Fitness trainers can earn anywhere between $15-18 per hour. Orangetheory Fitness, Auburn Fitness Solutions, Basecamp Fitness, Planet Fitness Growth Partners, Premier Health, etc are some of the fitness companies hiring fitness trainers for full-time and part-time roles.
Search for seasonal part-time jobs near me, summer seasonal jobs, or summer jobs hiring near me to know about the job openings.
16. Seasonal education jobs – Trainer, teacher & tutor
Work as a private tutor or get hired by a company as a tutor during the pre-exam rush to help prepare students for SATs or GREs. Tutoring is also a great seasonal summer job as the demand soars during summertime. You can earn from 10 to 15 USD for an hour as a tutor.
Among online seasonal jobs, tutoring is one of the options as few employers allow you to work remotely by taking online classes with a headset and a webcam. Look for part-time seasonal jobs near me to find tutoring positions in or around your area. Tutoring can be amongst the highest paying seasonal jobs for subject matter experts.
17. Seasonal catering jobs – Caterer
Make some extra cash by working as a caterer if you have some experience in the foodservice business. Caterers are looking for people with food experience and who thrive in a fast-paced environment. Prepare a resume and a cover letter to highlight your experience and skills to get hired as a caterer.
You can get part-time or seasonal work as a caterer in pubs, fast food chains, or restaurants during holiday or peak season. Jobs in the hospitality sector provide good temporary jobs and seasonal job for college students.
18. Seasonal sales jobs – Sales and marketing coordinator
The marketing coordinator is one of the best paying seasonal jobs in the US according to the U.S. Bureau of Labor Statistics(BLS). The main role of a marketing coordinator is to develop and execute marketing strategies. They are also responsible for conducting and organizing marketing events to promote company products.
Many companies launch new products and sale events during the holiday season hence the need for an experienced and skilled marketing coordinator arises. The position of a marketing coordinator can have the compensation of as much as $52 per hour based on your competency. Simply look for jobs hiring seasonal employees to grab this opportunity.

19. Seasonal inventory jobs – Storage and distribution manager
As a storage and distribution manager, you will be responsible to supervise and manage employees, take care of logistics, look into shipping and customer orders. The responsibilities range from monitoring budget, training new hires and existing staff, ensuring proper enforcement of health and safety protocols according to the industry guidelines. 
A prior job experience is required to apply for some of these jobs by the employer. A storage and distribution manager is amongst high-paying seasonal jobs where according to the BLS, the median wage is at $45 per hour. It is one of the best seasonal jobs in the market.
20. Seasonal golf course jobs – Golf Caddy
A golf caddy is responsible for daily activities at the golf course such as greeting guests, cleaning, driving golf carts, and ensuring the smooth running of the golf course. It is one of the high paying temporary jobs where you may earn between $10-15 per hour. Your primary role is to help the golf course manager and accompany the guests.
A basic understanding of golf is required as your main job would be to spend time with golfers. You should know the various golf equipment that might be needed by the customers. Summer season job, summer temporary job, seasonal jobs hiring now search can list the desired openings in golf courses.
To conclude on the list of best seasonal jobs – all the leading job websites post a list of seasonal jobs every year. You must thoroughly check out the job profiles and read the company reviews. If you are looking for building up a career in a particular sector, then it is recommended to be extra cautious before applying for the jobs.
Ultimately these experiences can be added to your profile, increasing your chances of confirmed employment in the future. You must filter the list of seasonal jobs offered by the websites as per your preferences, skills, and expertise.
Also Read: Remote Illustration Jobs | A guide to landing a remote illustrator job
How to find the best seasonal jobs?
There are quite a lot of opportunities for seasonal jobs, yet it is better to be on the lookout for good roles or positions. Who knows, adding the responsibilities may turn out to be beneficial in the future. You can follow the below-mentioned steps to find out a respectable job matching your skills and criteria,
1. Start searching early
If you want to focus on a particular industry sector, then do homework on their peak season demands. Check the time of the year when the companies start hiring for seasonal jobs. This will provide you with ample time to apply for multiple jobs and select the best among them.
2. Professional and Social Networking
You must start networking with your connections employed in the companies, hiring for temporary workers. It is recommended to hand over your profile to them, in case there is an option for Buddy hiring scheme. Check out professional forums and keep your friends and family informed too. Pursue social media platforms too since some do publish about temporary job vacancies.
3. Opt for different roles
If you are happy and comfortable working in a particular industry sector, it is recommended you continue on it. In the course, if you earn a good name in the company and set up a relationship of trust, then it is an added advantage. You can utilize such an opportunity to apply for different kinds of roles, offered for seasonal jobs. There are chances of earning a full-time job in the same sector in the future, a boon for your professional career.
4. Readiness for the Interview
An interview is a crucial part of the hiring process. The companies offering seasonal jobs will specifically focus on your experience and your eagerness to work. Hence you need to smartly answer their questions. You must speak about your experience and know-how of the industry. Talk about your objective of applying for seasonal jobs like earning additional money, pursuing a career in the industry, etc. Express your eagerness to join the company by inquiring about the tasks and activities that you need to accomplish.
Also Read: Guide to conducting and attending remote interviews
Skills needed for seasonal jobs 
The hard skills needed for holiday part-time jobs vary from industry to industry. As maximum job openings are in the retail sector, here are few skills you should consider acquiring before looking for places hiring for the holidays.
Retail store operations
Customer service
Warehousing
Retail Sales
Loss control
Cash Handling
Merchandising
Soft skills required for seasonal jobs,
Flexibility is a must when working a seasonal job to adapt to your employer's needs. A temporary job allows you to have flexible work timings but you should be flexible to pick shifts and extra hours when your employer requires them.
Adaptability is needed for doing any kind of job thrown your way. You might not be experienced in the offered job but adapt to new work conditions and environment would help you get noticed.
Amiability is a bonus especially for those in the customer-facing roles. A friendly, affable, and courteous person will always be appreciated when dealing with customers.
Fast Learning to quickly adapt to the company's culture and grasp the temporary staff training given by the employer. Holidays are a busy time and you won't get much time to settle down in the job.
A positive attitude helps in dealing with customer complaints and issues without getting stressed due to the huge workload. Work effectively without letting the stress affect you and your work.
Also Read: Remote Tax Preparer Jobs | Guide To Work From Home Tax Preparer jobs
Top 25 dream companies for seasonal jobs
Here are the top 25 dream companies for seasonal jobs, best temporary jobs, seasonal part-time job positions, etc.
Amazon employs around 92,000 employees for seasonal retail jobs, part-time holiday job positions.
Draftkings is a sports technology and entertainment platform that offers fantasy sports contests.
Harry & David maintains a staff of 8000 seasonal employees along with 2500 regular positions.
Huckberry is a lifestyle and fashion brand for men.
Minted is a global community of artists and designers and sell their content.
Modsy specializes in preparing 3D designs of homes to aid in purchasing decisions.
Perkins & Co is an independent accounting firm based in Portland.
Popcorn Factory offers premium popcorn products, flowers, gift baskets, etc.
Sundance Institute is a non-profit institute that works with independent artists, and audiences.
Taxslayer offers several seasonal jobs during the tax paying season.
Uncommon Goods serves customers looking for unique custom made products.
VF Corporation is one of the world's largest apparel company.
Williams Sonoma is a quality home retailer which frequently offer holiday seasonal job.
Best Buy is an American multinational company for electronics.
FedEx delivery system offers part-time holiday jobs during peak season.
The Home Depot hires employees for a seasonal retail job.
UPS is a delivery and supply chain management company.
Target is an American retail corporation offering summer retail jobs, etc. It tops the list of best seasonal jobs in 2018 by hiring 1,20,000 employees.
Walmart is a chain of hypermarkets that hire seasonal help for holiday work.
Staples is an American office retail company offering holiday careers to people.
Walgreens is the second-largest pharmacy store chain in America.
Macy's is a department store chain with plenty of holiday season jobs.
The Gap is an apparel retail industry that hires people for seasonal part-time jobs.
Michaels is an art, crafts, and framing supplies store that provides summer jobs hiring roles.
Hobby Lobby owns a chain of arts and crafts stores across America.
Also Read: Remote travel agent jobs | How to make it as a remote travel agent
Top job boards to find seasonal jobs
Seasonal jobs are a great way for college students or recent graduates to explore different work areas and gain experience before getting a full-time permanent job. It is also a great way to earn money by doing holiday jobs, summer season jobs, winter break jobs for college students.
These summer job experiences can be added to your resume to get a new job or shift careers.  Here are the top job boards to find seasonal jobs from home, part-time seasonal jobs, temporary holiday jobs, etc.
CoolWorks
Indeed
Seasonworkers
SummerJobs
BackDoorJobs
Craigslist
SnagaJob
JobMonkey
Kareeve
These job boards provide an option to find seasonal jobs hiring immediately, seasonal part-time jobs near me, seasonal employment near me, and holiday jobs near me to bring relevant jobs to your doorstep.
Also Read: Team Communication 101: What is it and how you can crack it!
How to be successful as a seasonal worker?
If you are successful in creating a relationship of trust and confidence by showcasing your talent and skill as a seasonal worker, then it may act as a life-saver for you. Every year, the companies may call you without applying for a job. You have better chances of earning recommendations if ever you need to pursue your education or work. In the future, if you want to apply for a permanent job, your chances are better than others. Some tips to help you in being successful,
1. Build long term relationships
Imagine yourself as a permanent employee in the company. You must respect your supervisor and peers. Maintain healthy interpersonal relationships with them. Listen to their suggestions and do not ignore them. Follow the instructions and ensure meeting the deadlines.
Abide by all the rules and regulations without any kind of violations. Focus on gaining as much experience as possible by following the experts and seeking guidance from them.
2. Plan your tasks
Maintain a planner of the activities and tasks that you need to complete. Some seasonal jobs are performed remotely. It is essential to note down the details for daily progress reporting. Planners assist in meeting the deadlines.
It also ensures to drill out additional time for any extra work requested by your supervisor. If you offer to deliver more than expected, you gain more brownie points and better chances of being hired again and again.
3. Seek clarity on milestone
Never hesitate to clarify your doubts on the assigned tasks. It is better to ask queries initially than to fail in the middle of the job. During the peak seasons, companies do not want to entertain failures as they may lose customers to their competitors. Therefore you must pay special attention to understanding your work and performing as per the expectations and objectives.
4. Optimise your spend
Calculate and control your savings and expenses. Do not spend relentlessly as it will defeat the purpose of earning extra money to fulfill your needs. The additional income helps in meeting emergency expenditures. Many save the money for their education, vacation, or supporting family members too.
Also Read: Best Pomodoro App 2020 | All about Pomodoro technique and how to use it
Seasonal jobs payscales
Organizations in the retail, marketing, sales, and hospitality sector hire temporary and seasonal employees to manage the workload during the peak festive season. Nearly 2 million employees are hired in different seasonal jobs in the US. The pay structure of seasonal and temporary jobs may vary according to the type of job you're holding.
As per the Fair Labor Standards Act (FLSA) complying with the ILO standards, states that an employee should get a federal minimum wage and be paid one and a half times the regular pay if the work hour exceeds 40 in a workweek. Work hours above 32 per week makes an employee eligible for health benefits.
Entry level seasonal jobs
There are plenty of entry-level seasonal positions in the market for people with zero experience. If you are fresh out of college or shifting careers, then take a look at the list of seasonal jobs that hire people for temporary summer jobs or best holiday jobs without any experience.
Basic skills such as adaptability, flexibility, customer handling, positive mindset, etc are a must while applying for a summer seasonal job. Expected Salary can range between $10-15 USD per hour. Most fresher jobs can be found in the retail section while looking for holiday jobs near me. A basic certification can help you get a summer job that pays well.
Are seasonal jobs good?
Seasonal jobs are good if you are fresh out of college or you don't have a regular job.  Seasonal work can give you experience and fill in your resume. It is good for people who do not want to work full-time. Most of the season works do not pay much though.
Should I put a seasonal job on my resume?
Yes, you should put a seasonal job experience on your resume if you are a college student, recently graduated, or looking to get back into the workforce after a gap. It showcases your adaptability, flexibility, and willingness to make the best use of time.
How many hours is a seasonal job?
Seasonal workers get an average of 24-30 hrs a week. Seasonal summer jobs in the USA need a bare minimum of 18 hrs if you're working every day of your assigned shift. If the hours exceed 40 then you're entitled to overtime compensation.
How long do seasonal positions last?
Are you wondering when do seasonal jobs start and end? There are seasonal winter jobs that open around October and lasts till February due to the holiday season. Seasonal summer jobs start in April or May and last till August.
Do seasonal workers pay taxes?
Seasonal hires or part-time workers are not required to pay taxes if the salary earned is less than the standard deduction. There is no need to file a federal or state return. However, if you're working multiple seasonal part-time jobs you may have to pay taxes.
Do seasonal employees get overtime pay?
If you're hired by a year-round business to handle the extra workload that comes during holidays then you are entitled to overtime pay. If you are doing more than 40 hours in a workweek, you are entitled to 1.5 hrs of hourly work wage.
Hopefully, now you are aware of how to get hired for seasonal jobs and which are the best options for you. Happy Working!!