Are you planning to start your career as a technical writer? You should have complete knowledge of what is technical writing all about. This page has everything you must know.
The technical writers create documents and guides of technical products. They write simple and clear product guide content so that the users can understand it easily. The internet is the best place where you can find the technical writer jobs of your choice. In this competitive world, a technical writer should have academic qualifications and experience in the field.
Remote technical writer jobs
The people who are interested in science and technology can start their career as a remote technical writer. Initially, you can get work from home writer job or work with a writers' team.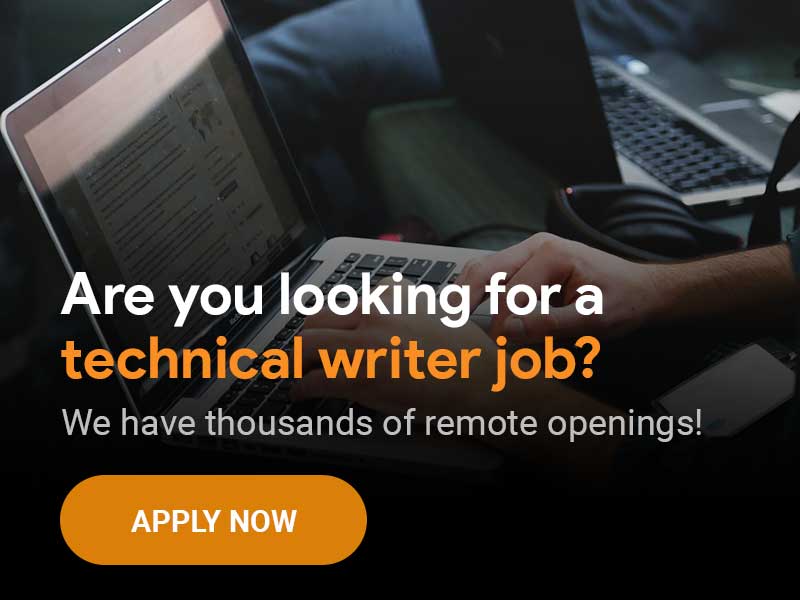 Individuals get a chance to plan the work schedule accordingly. You should give priority to work with long-term clients. Working with short-term clients will give you short-term benefits.
Within time, your customer base broadens and you gain experience. Then, your client recommends you to the other people who want a technical writer to get the job done.The companies that are hiring technical writers are Telestax, CircleCI, Amplified Solutions Talent, Coinbase, and Armand Corporation.
Also Read: Remote Call Center Jobs – Everything you want to know
Remote technical writer jobs roles & responsibilities
The companies are looking to hire technical writers who can produce high-quality content for their products. Furthermore, the success of the product is dependent on the content prepared for it. The writer should be responsible for preparing easy to read content for the product users.
Work with the internal teams to get in-depth knowledge about the products and documents required to research while preparing the content.
The writer holds the responsibility of producing high-quality content to meet the applicable standards as decided by the company.
He or she should write easy to read text that should have engaging stuff like photos and videos to guide the people about the product.
The person should be able to produce tutorials for a variety of applications.
Analyze the existing content and prepare plans to use it in the future.
Create and maintain content quality while writing the article.
You should have the ability to connect with the product managers, quality engineers, and researchers while getting information about a particular product.
The technical writer should write the content incorrect English so that people can understand it easily.
Market opportunity for remote technical writer jobs
The remote technical writer profession is growing 7% annually from 2019-2029. Furthermore, this growth rate is higher in comparison with other professions.
The continued expansion and growth in technical and web-based products will drive youth employment in the coming years. In the future, the growth and change in the technology in electronic industries will result in the bulk-hiring of remote technical writers.
The technical services firms will hire professional writers. These firms are growing at a fast pace. Moreover, applicants with technical skills will get better job opportunities and high payscale.
There will be tough competition among the freelance and full-time technical writers in the future years. According to the BLS survey, around 58,400 technical writers are working.
By the year 2029, the population of qualified technical writers will increase up to 62,700. The product-based companies want to hire such technical writers who have academic qualifications, knowledge, and certification from reputed organizations.
Also Read: Remote front end developer jobs – a must-read for those who are starting up!
Career paths under remote technical writer jobs
The technical writer has to write the user guides of products in easy languages. They should have full knowledge about the product and its usage before writing content on it. You can start working as a technical writer in many career paths.
1. Preparing the company's technical documents
You need to prepare SOP, technical documentation, validation/qualification for the strategy, and operational requirements. Provide well-structured guidelines for the inter-departmental procedures in the company.
2. Subject Matter Experts
A technical content writer can acquire knowledge in a particular subject and start working. They should work closely with other software subject matter experts to prepare user-friendly content for the people.
3. Write Test Plans for potential clients
You have to write test plans and reports of the product. It should include the software/hardware process of the product and risk/hazard assessment. This document is useful for the technical team to reduce errors and improve the customer experience of using the product.
4. Translate Technical Documents into User-Friendly Content
The technical writers are responsible to understand the technical documents properly. Then, they can translate it into user-friendly content. These technical contents include user guides and product information.
5. Writing Maintenance Manuals of the Company
The writers should team up with the product development teams to ensure that they have prepared an accurate maintenance manual of the company's products. Prepare the systematic diagrams and illustrations required for the manual.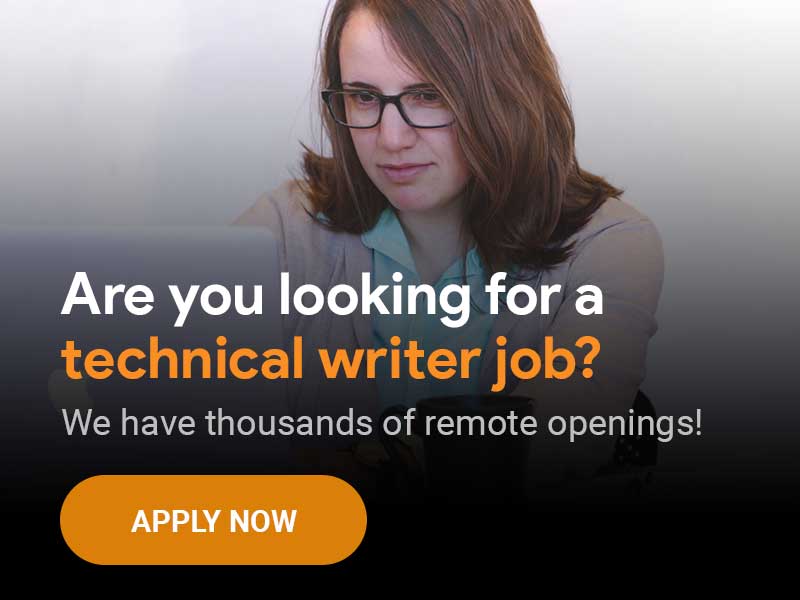 6. Html Writer Jobs
You should create and modify the documents required for the Html conversion. The Html is an online help system used for tracking purposes by the logistics company.
7. XML use in the technical writing job 
The writers have to use SGML/XML to interpret the engineering data. After that, develop the XML-based customer documentation for the clients. You have to work with the technical publication houses as an XML writer.
Also Read: Remote Startup Jobs – A beginners guide to your journey
Qualification for remote technical writer jobs
An individual who wants to work as a technical writer should possess the following qualifications,
1. University Degree in Computer Science or equivalent
Presently, employers are looking for writers who have a diploma/degree in the technical field. You come from a technical background then it increases the chances of selection for the job role.
2. E-learning Proficiency
E-learning has become an important part of technical writing. Therefore, companies want to hire writers who are comfortable with e-learning. The responsibility of the technical writer is to provide accurate information to the audience.
One doesn't need to have work experience to start working as a technical writer. In some jobs, there is a requirement for prior experience. The writer should be familiar with software development topics while applying for a particular job role.
4. Focused Research & Editing of Content
A technical writer should do complete research about the topic before writing the content. After preparing the technical content, the writer should check it twice to see if there are any errors in it or not. Furthermore, he or she should know English and Microsoft Office knowledge.
Skills needed for remote technical writer jobs
We have prepared the list of skills that are necessary for every technical writer should have to start their writing career.
Prepare technical documents for the company
Coordinate with the subject matter experts and other teams during the meetings. Then, prepare the plans for writing the content that matches with the company standards.
The writer should collaborate with the product development teams so that he or she can understand the product. Then, the technical writer has to prepare the test plans. Submit it to the client for approval purposes.
A technical content writer needs to translate the complex technical language into easy to read language. People can understand everything easily.
Collaborate with other employees and prepare Powerpoint presentations for the meetings.
Recommended certifications for remote technical writer jobs
According to the Bureau of Labor Statistics (BLS), a technical writer should have completed primary education. Professional writers should have a strong foundation with effective writing skills. The recommended certifications required to get work from home technical writer jobs are,
1. National Association of Science Writers
The National Association of Science Writers was started in 1934. It aims to share accurate information on science-related facts. Therefore, the scientists and the public are part of this team to prepare and circulate scientific facts. The technical writers who want to make their career in the science field can apply here. To get the membership of NASW the applicant must submit five content pieces for the recommendations.
2. American Medical Writer Association
In technical writing, the medical field is the most demanding and specialized field. Furthermore, the American Medical Writer Association offers the opportunity to the people to become a certified Medical Writer. You should have a medical degree with two years of experience to apply for the certification program. Once your application is accepted by the association then you can continue completing your courses with them. The people who maintain their certificates received can use MWC distinction after their names while applying for the writing jobs.
3. Society for Technical Communicators
The Society for Technical Communicators has prepared a three-tiered professional certification program. It includes three levels foundation, practitioner, and expert levels. There is a rigorous testing process. Every candidate has to pass in all three levels. After completing all the levels successfully, then society gives a certificate to the technical writers. It acts as an advantage for them to apply for the job.
Also Read: Remote medical transcription jobs – the best place to start your research
Top 10 tools needed for remote technical writer jobs
As a technical writer, you need a number of tools to give a professional touch to your content. These productivity tools will help in improving your writing skills. You want to work as a technical content writer. These are the 10 tools you should with you.
1. Zoom – Many companies that hire remote employees use zoom to connect with their writers and web developers. To establish a proper communication system with your clients you must know how to use Zoom.
2. Chrome Developer Tools Item – Not many technical writers are aware of the chrome developer tools. These tools are useful when you are publishing content on HTML/HTML5 platforms. You can get these tools in your Chrome browser. To get these tools, just right-click on any of the webpages on Chrome and then click on to Inspect option.
3. Snagit – Snagit is the all-time favorite tool of all the technical writers. It is a simple screenshot grabber tool available online. With the help of this tool, you can take a screenshot of what is on your computer screen.
4. Asana – You have to work on many things while working as a technical writer. Therefore, this Asana tool is useful for you to collect and prioritize the tasks. You can list these tasks into different sections and then put them into a timeline. Using the task content, you can present it to your clients and then get feedback from them.
5. Zendesk – The technical writers maintain the Zendesk account to get firsthand access to all the content. They can see all the real-world problems. There is an issue in the user content then they can make changes.
6. Oxygen XML Editor –  Oxygen XML Editor Tool is suitable if you want to do XSLT customization of templates. This is the best tool for JavaScript and CSS editing purposes. By using Oxygen, you can do your styling and customization on client requirements.
7. Memsource for translation work – Do you need to translate your technical documents? Memsource is a great tool based on SaaS-based memory translation. There is a translation memory system is in it that matches the new content with the memory available. Then, you can make quick translations in your content.
8. PageLayers – PageLayers is a graphic editing tool. You can make the best use of this tool for taking the screenshots and do the editing of them. You can save pictures in the PhotoShop format and do the editing when you want.
9. Handbrake – We all know that visual content attracts more users. Some users prefer to watch the video and get an idea of the product and services. The other users prefer to read the content. Using the Handbrake software, you can pack your content with video to increase your SEO. This little tool does a terrific job in making small videos that do not affect the page loading time of your website.
10. Algolia – You want to light fast research on a particular topic. Then, the Algolia tool is perfect for you. You can easily do great searches while preparing your content and get the best results.
Also Read: Remote business analyst jobs – a beginners guide
Top 25 dream companies for remote technical writer jobs
You should find a job that allows you to work from anywhere. Searching for such jobs feels like finding a needle in a haystack. You are working from home for a company then you should have a proper communication system.
Below you will find the Top 25 dream companies where you can get the remote technical writer jobs,
GitLab
UnitedHealth Group
com Services LLC
Buena Vista University
General Dynamics Information Technology
Wikimedia Foundation
Data Driver Marketers
Kraken
AardvarkCompare
Police Revision
Seegrid
US Department of Navy Manning Publications
GOAL Property Services LLC
Sartorious Corporation
Welocalize
Toptal
Zapier
Percona
Achieve Test Prep
Coalition Technologies
X-Team
Fastly
Mattermost
Protocol Labs
You should visit the official websites of these companies to check the vacancy available for a technical writer. While applying for the job, you should have the proper work experience, knowledge, and skills desirable for the post.
Top places to find remote technical writer jobs
The serious in the technical writer job is to study complex documents. Then, they have to prepare user-friendly content from the complex technical stuff. You need to learn a lot to get the job of a technical writer. Many companies are hiring technical writers and offer lucrative pay packages to them. You can follow these websites to find remote technical writer jobs. Top websites for finding technical writer jobs,
Upwork – Upwork is the biggest freelancing platform available online. The best thing is that there are tons of technical writers job available. These jobs offer the best salary packages as per industry standards. You need to register on the Upwork freelancing website to search for technical writer jobs.
unremot.com: This is one of the most technologically advanced remote collaboration platform for remote Oracle DBA jobs. One can find freelance/remote work from across the recruiters around the world, while also collaborating with them over video-based virtual rooms and chats.
com – another reputed and trusted platform after Upwork is Freelancer.com. There is a steady flow of writing projects on this website. An interesting thing about Freelancer.com is that you can see bids placed on the writers. Accordingly, you can plan your bid place for the writing project.
Workana – Workana is another worthy platform to get freelancer projects. On this website, you can bid for the projects. Its functioning is similar to other websites. Workana supports a payment protection system for freelancers.
PeoplePerHour – PeoplePerHour is a reliable freelancing platform. It charges for its services provided to the freelancers. In the world of freelancing websites, PeoplePerHour emerged as a rising star.
SimplyHired – SimplyHired is a trusted and popular job providing platform. Here you can find technical writer jobs. You should keep in mind at SimplyHired you get only US-based jobs of all types.
Also Read: Remote UX Jobs – how-to guide for best roles, companies and salaries
Top resume elements of remote technical writer jobs
It is not so tough to prepare a tailored fit resume for a particular technical writer job. You should mention your education, skills, and work experience in your resume to make sure that you should get the job.
The studies have revealed that the employers spent around 5-7 seconds on one resume. Keep your resume short and precise. The top elements you should mention while preparing a resume for remote technical writer jobs.
Mention the relevant content writing experience that you have.
You should describe your skills in the right way using suitable keywords.
Do not forget to mention your unique qualities in the resume.
Choose your strongest content while applying for a particular job.
Write about academic qualifications and achievements.
Remote technical writer jobs pay structures
A technical writer job is not an easy one. They have to do a lot of research on particular product content. Then, they write user-friendly content that highlights an overall description of a particular company product. In the USA, the companies located in the metropolitan regions pay lucrative packages to remote technical writers.
A technical writer working in a company in San Jose gets a $110K annually salary package.
In other regions of the USA, the writers paid around $91K to $98K annual salary.
The technical writers can find the best job opportunities in Boston, San Francisco, Oxnard, and Boulder.
Remote entry level technical writer jobs
Technical Writers have come to stay in the modern era since the advancement in science and technology. The people who want to become a technical writer should have good writing skills.
They should have technical knowledge, communication, and problem-solving skills. You can find jobs as an entry level technical writer in different sectors,
Engineering
Information Technology
Gaming Industry
Pharma Industry
Accounting and Finance Companies
Science and Healthcare Sectors
Research Institutions
These industries need different technical writers based on their demand,
Communicator
Technical Editor
Copywriting
Proposal Writing
Technical Creative Writer
Communicator
Technical Marketing Writer
Also Read: Remote Oracle DBA Jobs – Everything you want to know
Concluding our takes on remote technical writer jobs
You want to work as a technical writer then start looking for jobs that match your skills. Initially, you would find high paying jobs. You should focus on getting experience. Try to learn new skills that will help you to grow in your career as a technical writer