Are you fancied by starting up your career with a startup? Or tired of your 9 to 5 bureaucratic and monotonous corporate routine lives? If so, this is the right piece of content for you to spend a few minutes reading up.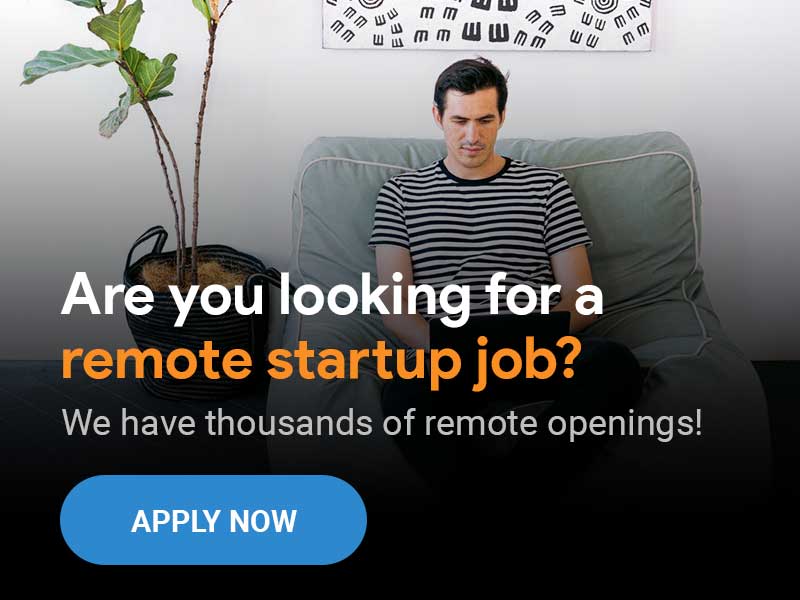 What's special about remote startup jobs?
One of the biggest challenges that all startups face is to choose the right people who can help them get off the ground. Startups don't offer the same compensation package as an established company.
Remote Graphic Design Jobs | Everything about best paid graphic design jobs (with insights into best companies, latest openings, salaries)
But, there are several advantages of working with a startup company as compared to an established company. Remote startup jobs offer an excellent opportunity for creative people. These jobs offer opportunities to apply talent and energy in a task that people love most.
A lot of progressive companies have started to shift most of their tasks to remote workers. Remote startup jobs offer advantages to employers as well as employees. One of the recent coverage on TechCrunch deals with how industry dynamics are set to change for the startup jobs market, post the onset of Covid 19.
One of the biggest advantages of remote startup jobs for employers is that they don't have to make an investment in getting a workplace. Thus, they save lots of money when it comes to rent, electricity bills, internet bills, and other miscellaneous expenses.
Remote Customer Service Jobs | Best paid jobs, top 25 dream companies, salaries, skills needed!
Remote startup jobs are beneficial for employees as they can work as per their convenience from the comfort of their homes. In addition to this, workers can organize his/her duties in a convenient way when they are working remotely.
For youngsters, remote startup jobs are best as it can help them to manage studies as well as work. Lots of opportunities are available in remote startup jobs, and you can choose them as per your preferences and interest.
Pros and cons of remote startup jobs
Following are the major pros and cons of remote jobs.
| | |
| --- | --- |
| Pros | Cons |
| Higher levels of productivity | Communication gaps between teammates |
| Better work-life balance | Difficulty in staying motivated |
| Healthier lifestyle | Lack of social interaction |
| More savings | Management challenges |
| Less carbon footprint | Time management becomes challenging. |
Thus, go through these pros and cons and make a wise choice.
Remote Sales Jobs | How to get the best-paid sales jobs without burning out yourself?
Top startup companies for remote positions
There are lots of top startup companies for remote positions. All you need to do is to check their career pages to know if they offer jobs that can be done remotely. Companies like Automattic, Toptal, and GitHub have lauded the benefits of remote startup jobs. List of top remote-friendly companies with location,
Remote Writing Jobs | A beginners guide to finding awesome writing jobs with top 25 dream companies
| | |
| --- | --- |
| Company | Location |
| MixMax | San Francisco |
| Skillshare | New York |
| Kindly Care | San Francisco |
| InVision | New York |
| StackShare | San Francisco |
| Toptal | Palo Alto |
| GitHub | Washington DC |
If you are interested in joining remote startup jobs, this list can help you to get a job as per your need.
Healthcare startup Remote Jobs
Medical and health jobs are among the top categories for remote startup jobs. The demand for virtual healthcare has increased, and thus there are lots of opportunities when it comes to healthcare startup remote jobs. Some of the emerging startups that are offering remote jobs include,
Aetna,
CVC Health,
Doctor on demand,
Merck, and
Novartis.
Remote medical coding Jobs 101 – Skills, Requirements, Best companies
All of these companies offer flexible timing and good compensation. Some of the major positions available with this job include clinical data manager, clinical social worker, implementation coordinator, strategic account executives, and outreach specialist. Choose a job title that you can perform well.
Remote attorney startup jobs
Attorneys are licensed professionals who practice law and provide guidance and support to clients who face legal matters. These days you can find lots of opportunities for remote attorney startup jobs.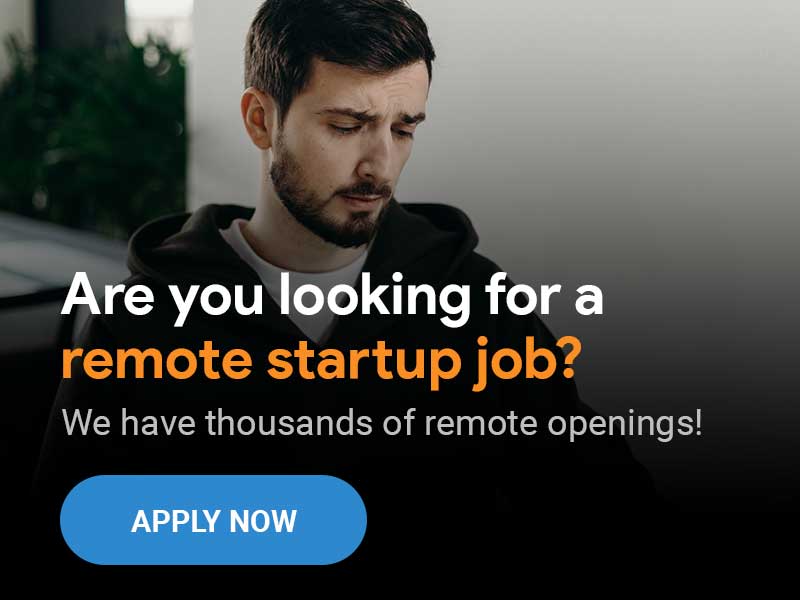 Some courts are now providing virtual case reviews, and thus, remote attorney jobs are available in different law firms in the US. Remote attorneys can also work as a freelancer and on a contract basis. Even if you are employed full time, you can take employment in a startup and help them in formulating different laws and contracts.
Remote Project Manager Jobs | A Complete Guide To Get You Started
Remote jobs startup front end
If you are interested in skilled jobs, you can get multiple opportunities in remote jobs startup front end.
Every day a new startup emerges with a totally new technical task. If you are interested in computer programming and website development, you can find lots of jobs as a front end developer.
Remote Web Developer Jobs | A must read to find best jobs, skills needed & pay scales!
Some of the major companies that are offering remote jobs to technical front end developers include
Azumio,
NOCD,
Nectar and
Festicket
Most of these jobs are related to Artificial Intelligence (AI) and the Internet of Things (IoT).
Remote food startup jobs
The food industry is one of the largest growing industries, and anyone interested in food wants to join startups for remote food startup joints. Although not many opportunities are available for remote jobs in the food industry, you can find positions like wellness associate, research associate, director of innovation, and accounts coordinator.
Remote Legal Jobs | An ultimate guide for remote legal professionals
You can choose positions as per your needs and preferences. If you are new to the formal job industry, you can also work remotely as a packaging operator, production operator, sanitation janitor, and maintenance technician. When you look out for remote food startup jobs, you may get paid as per industry standards.
Remote email marketing startup jobs
If you have a degree in digital marketing and if you are looking for email marketing startup jobs remote, you can get lots of opportunities. You don't need any investment other than your computer/laptop to perform well at this job. Some of the major companies offering email marketing jobs from a remote location in the US include,
| | | |
| --- | --- | --- |
| Company | Job | location |
| Wanderu | Email marketing manager | Boston |
| Eight Sleep | Email marketing coordinator | Anywhere in the US |
| Dark Square | Email marketing internship | Canada and the US |
Since you have to work remotely, you don't have to worry about the location to get a job as an email marketer.
Remote startup jobs in PHP
If you are a PHP developer, you may find millions of opportunities to get startup jobs in PHP remote. PHP developers are involved in writing server-side web application logic. With the digital revolution at its peak, many software companies are looking to hire people who can work remotely.
Remote Software Engineer Jobs | A complete guide on how to become an awesome software engineer!
If you are skilled enough and you have the zeal to crack the interview, you may be working in the next big startup as a PHP developer. Look out for different platforms to choose the highest paying job as a PHP developer.
Remote DevOps startup jobs
One position that has been in the highest demand since the beginning of this century is the position of developers. You can find lots of opportunities for remote DevOps startup jobs. The United States is in need of skilled DevOps, and if you have the necessary skills, you can get lots of opportunities in the software industry.
Remote Illustration Jobs | A guide to landing a remote illustrator job
Software developers are creative, and they have to do lots of brainstorming when it comes to software development or app development. Thus, remote jobs are perfectly suited for the position of developers.
Remote Silicon Valley startup jobs
Everyone has a dream of working in the silicon valley. But, not everyone gets an opportunity. Now, you have the golden opportunity of getting remote Silicon valley startup jobs.
Numerous startups have come up with silicon valley, and you can find lots of jobs suited to your needs. Before you plan to take up a remote job, be clear in your mind about the pros and cons that come up with remote jobs. This is the list of best job positions available in startups in Silicon Valley.
| | |
| --- | --- |
| Company | Position |
| SeedFi | Senior Engineer |
| Bloomreach | Data engineer |
| Webscale Network | Software Engineer |
| imgix | Director of marketing |
Remote real estate startup jobs
Real estate has always been a lucrative sector to earn lots of money. But, no one in their wildest dream must have thought that you can get remote real estate startup jobs. Different companies and startups are building AI-Powered, vertically integrated platforms to revolutionize the home buying and selling process.
Remote Insurance Jobs | Best insurance openings, top 25 companies & skills needed
If you are working remotely and you are a beginner, you may easily earn anything between $25-$50 per hour by working in the real estate sector. Some of the major job positions that you may look for include sales representatives, customer care executives, and lead generators.
Remote startup mentor jobs
Do you like to counsel your friends and family members? If yes, you can easily get remote startup mentor jobs. People who are educated and who have the patience to make people understand a particular topic can easily get a job as a mentor.
Online Transcription Jobs | A comprehensive guide to the world of online transcription jobs
The task of a mentor is not just limited to the education sector. People need mentors for different reasons. Some people may need a mentor to get advice about switching jobs, while others may need a mentor to get career counseling. Thus, numerous opportunities are available in mentor jobs. All you need to do is to brush up your mentorship skills to get suitable jobs.