Are you into psychology? Are you passionate about remote online counselling jobs? If so, you're on the right page – read everything you must know before you plunge. Read on!
Mental health is one aspect of our overall well-being that's avoided the most. We always tend to give more attention to our physical condition than the mental one. And that takes a toll on us in the long run. After all, no matter how fit the body is, it can function only with a healthy mind.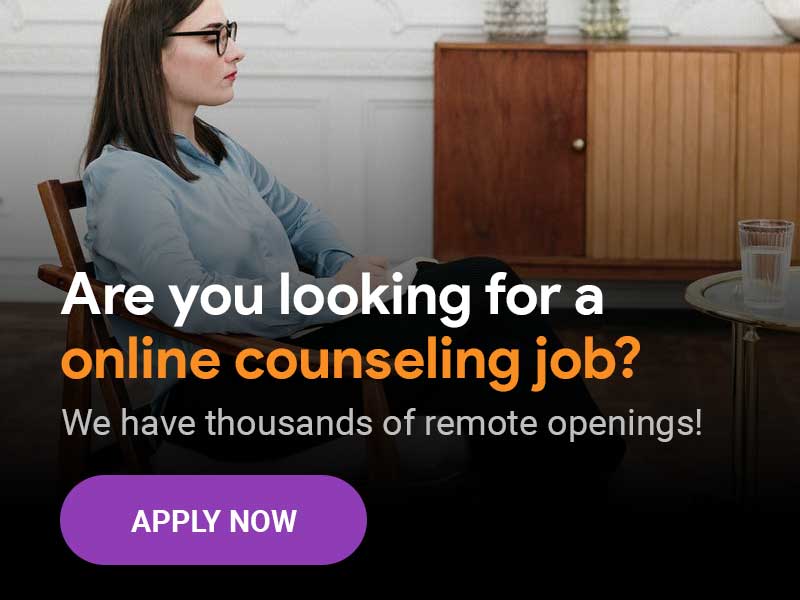 What is the solution? Online counselling! Many people want to opt for online solutions. This is one of the best times for online counselling jobs. If you are someone who has the necessary skills and looking to work from home, this article is for you. In this article, we'll discuss the various aspects of online counselling jobs.
This is where counsellors come to our rescue. But with the world fighting one of the biggest pandemics, we are almost locked inside our homes. And so, it isn't even possible to go for counselling sessions. Have you heard something called virtual counselling or virtual counselling jobs? Read more to find out.
How to work from home successfully?
What is mental health?
The cognitive, emotional, and behavioral well-being of a person is called mental health. Generally, it means the person isn't suffering from any sort of psychological problem or disorder. Having proper mental health is necessary for any person to lead a happy life.
What are online counselling jobs?
You might have heard the terms' counselling jobs', 'counsellor' and asked yourself questions like "What are remote counselling jobs?" or "Who is a remote counsellor?" or "What are the possible psychology jobs from home?". Here are the answers to your questions.
Like any physical problem that needs treatment, we also require necessary treatment while suffering mental problems. Counselling is a branch of psychological therapy for treating mental health problems or mental disorders.
Video conferencing etiquette: Best practices for video conferencing
In remote counselling, a remote counsellor or remote therapist is a professional who treats our mental problems through the practice of talking and he or she does these psychology jobs online. He/she is trained to listen to the patient's problems and cure them with the help of healthy conversation. Remote counselling doesn't have the practice of using medicines to cure a problem. This is because, many of the times, the problems can be solved by a healthy discussion.
Types of online counselling jobs
Traditionally there are four formats of counselling services a counsellor can provide.
Face-to-face counselling
Group or individual counselling
Telephonic counselling, and
Online counselling
For this article, we'll be focusing on online counselling only or you may also call it as work from home psychology jobs. In online counselling jobs, a remote counselor provides counselling services to a patient using technology. What this means is, instead of meeting the patient face-to-face, the remote counselor uses methods like emailing or video-conferencing over the Internet.
In the remote counselling jobs, the therapy sessions can take place with both the patient and the counseling being present in two different places. They don't need to meet face-to-face with each other.
Remote Non Profit Jobs | Serve The Society From Home
Who is suitable for online therapy jobs?
Anyone interested in providing therapy services to people can take up online therapy jobs. Here are some of the reasons you can try to do online therapy jobs,
You have the necessary skills required to provide therapy but lack the capital. Many times, it isn't easy for everyone to rent an office space due to financial constraints. Thus, doing online therapist jobs can be a good alternative.
You have family commitments to attend to. There might be someone in your family who requires constant attention. Due to this, going out to work may be difficult at times. This includes mothers of new-borns who had to leave their practice to be at home for their kids. They can switch to online therapist jobs without needing to leave their babies unattended at home.
You want to do it as a passive income source. There are many times when you want to add a source of generating passive income. For example, if you are a practicing therapist, you can start doing online counseling jobs to earn some extra practice with your traditional practice. These can be considered as part time online counseling jobs.
If you have just started your therapy career, remote counseling jobs can be a good option. For example, you've just got your practicing license and want to start doing therapy jobs. But being new to the job, you might not be able to afford the expenses. Thus, you can start with online therapy jobs to save up some amount and open your clinic.
Best Pomodoro App | All About Pomodoro technique & how to use it
Why should you take up online counseling jobs?
The best thing about doing online counseling jobs is its flexibility. You don't need to be at your office from the morning till the evening. Instead, you get the option of doing the work at any time you desire, and that also without the need of going out. You have the option to choose whether you want to do online counseling jobs part-time or full-time.
Also, as these jobs can be done over the Internet, you don't need to postpone your other commitments. For example, you are someone who loves traveling, but can't go on trips as you can't lose the clients coming to your clinic. But in online counseling jobs, you can attend to your clients even when you're enjoying your vacation in a foreign place.
Best Remote Working Tools That Make Life Easy
Not only that, in the traditional practice where you need to sot the whole day without knowing if you'll have a single booking or a bunch. Online counseling jobs remove this confusion. As the company or platform, you work for will take care of your bookings. This comes as relaxation as you don't need to give extra effort to manage these things.
The most important point is we are in a terrible situation. The world is trying to fight the pandemic, Covid 19. And a major part of the world is in lockdown with no one willing to come out of their homes. Even if the lockdown ends, which will take some time, people might not feel safe going out like earlier times for a long time. This also impacts your business, as your client bookings will have limited growth in the months to come.
But as we all have smartphones and laptops, and are always hooked to the Internet, the world is moving towards a digital way of doing things. Even practices like counseling or therapy need to adapt to changing situations. Another reason why online counseling jobs will get popular now is that the pandemic has had a terrible impact on general mental health.
Many people are losing their jobs, seeing close ones succumb to the deadly disease, etc. Because of these problems, there's more need for counseling now than ever. And as they can't come out of their houses, online therapy services are the only option.
Contemplating Career Change? Here's all you need to know
Market opportunity for online counseling jobs
The market opportunity for remote counseling jobs has an open market. Research has shown that online counseling is just as effective as treating face-face-consultation. Counseling related jobs were listed in the best 100 jobs in 2017. Psychologists with doctorate degrees were ranked at 31, with 1.2% unemployment. Other counseling jobs to occur on the list were,
Marriage and family therapist (Ranked 51)
Clinical social worker (Ranked 62)
Substance abuse and behavioral disorder counselor (Ranked 74)
Child and family social worker (Ranked 96)
Mental health counselor (Ranked 97)
According to the US Bureau of labor statistics, the market opportunity for online psychology jobs is strong across the board. The average growth rate in this sector is 7%. There may difference between specialties, the following estimates have made till 2029,
Substance abuse and behavioral disorder counselors are expected to grow by 25%
Marriage and family counselors are expected to grow by 22%.
School and career counselors are expected to grow by 5%.
Rehabilitation counselors are expected to witness a growth of 10%.
The Bureau of Labor Statistics attributes the growth prediction to main factors,
An increase in new insured patients because of healthcare reform, legislation that will require mental health to have the same coverage as chronic diseases.
More military veterans seek mental health treatment.
Though the general growth for counseling is optimistic, fluctuations may lead to difficulties for counselors and employers. Job conditions may lead to a shortage of psychologists increased further by an aging population. Certain states may be more affected by the shortage.
Also Read: Remote interview guide | Everything you must know
Job titles and career paths under online counseling jobs
At the master's degree level your focal point is on a specific area of study that will eventually develop into your career path. Here are some job titles listed for online counseling jobs. The majority of counseling jobs require a master's degree. Some states offer options for alternative pathways to obtain licenses, it is important to check with your state's licensing board.
1. Mental Health Counselor, marriage counselors, and family therapist
Mental health counselors help individuals, couples, or families suffering from emotional, mental, and psychological disorders and issues. Mental health counselors help with emotional problems. Marriage and family therapists concentrate on improving interpersonal relationships.
2. Rehabilitation Counselor
Rehabilitation counselors help people with physical and mental disabilities. They help disabled people as they transition or enter the workforce.
3. Substance Abuse and Behavioral Disorder Counselor
Substance abuse counselors work with people who have drug and alcohol addiction. You will have to help them cope with their problems and encourage recovery. You can specialize in specific demographics such as college students, veterans, or the elderly.
4. School and Career Counselors
School and career counselors can work from K-12 to high school. You will help students deal with life changes, stress, family problems, addiction, and other emotional or mental problems. You will help students achieve their learning and career goals.
Also Read: Virtual icebreakers for Remote teams | A complete guide
Qualification needed for online counseling jobs
To apply successfully for an online counselor job, you need to have a master's degree in counseling and receive a state license or certification. It is important to note the licensing requirements can vary depending on the state.
Most master's programs are two-year courses after your bachelor's degree. You need to consider your specialty because most counselors work with a specialized population and provide specific treatment and therapy. Many master's programs require candidates to have a bachelor's degree in psychology or a psychology minor. Typical master's programs in counseling are:
Master in Science in Counseling Studies
Master of Science in Professional Counseling
Masters of Art in Counseling
Counseling internship might be done in the final semester of the master's program or after completion. You can opt for a full-time internship or part-time internship. The internship will help boost and refine your counseling technique.
It may be used to qualify for the mandatory clinical experience required for licensure. Licensure need between 2000 and 4000 hours of clinical experience under supervision. The top 5 universities where you can get masters counseling degrees in the US are,
Fitchburg State University
Texas Women University
Concordia University-Chicago
National Louis University
Louisiana State University-Shreveport
What are the skills required for online counseling jobs?
No matter whether you do online counseling jobs part-time or full-time, there are certain skills you need to have. Almost all these are also required for traditional counseling jobs. Here are the skills you'll need:
You need to have great communication skills. Therapy is completely dependent on the practice of talking and listening. The better your communications are, the more you'll have the chance to become popular among the clients.
Compassion is a must for both offline and online therapy jobs. Remember, people are telling you their problems and even secrets they haven't shared with anyone else. To be a good therapist, you need to be as kind as you can to them.
You need to be open-minded. Different people will have different problems. And some of them might not feel so big for you but remember they are for the person. In order to excel in your job, you need to have an accepting nature. You can't have a judgmental approach, that would only hamper your service.
Professional degrees are a must. Like any other medical field, you need to have completed certain therapy courses to be called a counselor.
Counseling can be of different types. Relationships, drugs and addictions, mental health, gender or identity, education are just a few of the long list of varieties. After deciding which type you want to focus your services on, you'll need to first, have complete knowledge of it.
You must have a strong sense of ethics. The clients will be sharing their deepest secrets with you. As they expect the session to be a safe environment. You'll need to be very discreet with the information shared with you. As their therapist, you need to make sure they feel safe; otherwise, the therapy won't have any result.
It can be very difficult to constantly work with problems. Hearing about people's problems all the time will start to take a toll on your emotional state with time. You'll need to learn how to deal with stress and maintain emotional stability.
As a therapist, you'll need to have impeccable observational skills. Noticing the various changes in a patient's facial expressions, behavior, speech, etc will be the tools for you to find a solution according to the situation.
The main goal of therapy is to solve problems. Patients coming to you will be expecting you to solve their problems. Also, many times some patients might not agree with your course of action, so you'll need to come up with alternatives to tackle the situation. This is why problem-solving skills are a must for being a therapist.
For online therapy jobs, as your work will revolve around the computer, Internet, etc. You need to have proper technical knowledge of how to use emails, take notes, conduct video sessions, etc. You'll also need to prepare reports and files of your patients based on the sessions using several medical software. Having or lacking a keen technical knowledge can make or break your career in online therapy jobs.
8 Best free Video Conferencing Software | Connect, Communicate, Collaborate!
Recommended certifications to get online counseling jobs
Certification shows a commitment to the counseling profession. Earning certification will help online counselors gain specialized expertise in a specific subject. In many cases, certification does not give you licenses. For work from home counseling jobs certifications can help you increase your client base or open doors for future employment.
Certified counselors enjoy financial benefits. Board certification from the National Board for Certified Counselors (NBCC) can increase professional opportunities. Certifications from the NBCC open many professional opportunities, including free or discounts to various courses, discounted liability insurance, and membership in their directories.
Specialized counseling certificates offered by the NBCC are,
Certified Clinical Mental Health Counselor
National Certified School Counselor
Masters in Addiction Counselor
National Certified Counselor
Other bodies offer certification programs for mental health counselors. Some of them are,
Certified Addiction Specialist (American Academy of Health Care Providers for Addictive Disorder) (Specialty Course)
Healthcare CPD Associates (Alliance for Continuing Education in the Health Professionals) (Core Course)
EDMRIA Certified Therapist (EDMR International Association) (Advanced Course)
Certified Correctional Health Professional –Mental Health (National Commission on Correctional Health Care) (Advanced Course)
Board Certified Behavioral Analyst (Behavior Analyst Certification Board) (Advanced Course)
Also Read: Remote work policy | Know before you start
Top 10 tools needed for online counseling jobs
Software tools counseling job easier whether you have a large office or are working remote psychology jobs.
1. Patient Scheduling – Scheduling can be tedious. You can outsource this to the latest software available. Scheduling needs to be handled properly to ensure a pleasant patient experience. Scheduling errors can result in missed appointments or no shows and can impact your revenue. Appointment apps allow patients to choose from available slots.
2. Client Portal – Modern therapy software gives patients greater control. These web-based portals allow clients to view upcoming appointments and payment details. Some client portals allow the client to communicate with their therapist via chat.
3. Documentation – Documentation software tools allow you to add notes to the patient's case file. These can contain details such as treatment plan, medical history, and patient progress. Documentation software tools help to eliminate errors and speed up the task.
4. Billing and payment – There are many therapy software help collect payment from clients or insurance companies. Several billing and payment software come with the option for accepting credit cards automatically and on a recurrent basis as per appointment.
5. Teletherapy tools – Online psychology jobs require you to have a stable internet connection. Teletherapy software can help to ensure a smooth hassle-free session. You need to ensure the teletherapy tool you choose complies with HIPPA regulation. Teletherapy software should have an easy to handle interface and the ability to handle group conferences for family and couples therapy.
6. Online tools – There are several websites such as Therapy Aid that contain worksheets, tools, and handouts for mental health counselors.
7. Video chat – There are several HIPPA compliant services are available for video chat. Many therapists also use free video chatting tools such as Zoom.
8. Directories – There are several directories that list remote counselors. Open Path Collective and Therapy Den are the best directories to be listed in.
Also Read: Virtual water cooler for Remote teams | A how-to guide for beginners
Top 15 dream companies for online counseling jobs
If you are looking for online counseling jobs from home you can look at job listings in clinics, hospitals, and private practice. There several online counseling websites that offer their services. The popularity of these websites increased during the pandemic.
Most of these apps or websites operate 24/7 and are perfect for those interested in work from home counseling jobs. Here are some of the best online consulting services,
Better Help is the most popular online therapy platform. The company employs over 4000 licensed professionals.
Talkspace has picked up great credentials and has helped over one million people. The company employs over 3000 remote counselors.
ReRegain.Us specializes in couples counseling. Counselors usually need to have 2000 hours of counseling experience.
TeenCounceling.com specializes in treating teenagers. The company has 1000 online counselors.
Pride Counseling specializes in offering support to the LGBTQ community.
AmWell is a telemedical website. It offers users access to therapists, doctors, and specialists.
7CupsOfTea offers both free and licensed paid therapy.
DoctorsOnDemand offers a great mix of mental and physical health services. The company has both psychologists and psychiatrists.
MDLive is a telemedical website. The website has doctors and counselors.
iCounseling is an online therapist platform offering varied counseling services.
Online-Therapy.com provides cognitive-behavioral therapist and consultant therapist.
Ginger provides on-demand health support throughout the day.
Thrivesworks offers online counseling services with licensed counselors.
Therapy for Black Girls is dedicated to helping black women find a therapist.
Maven Clinic specifically caters to women and families.
ZenCare offers a variety of counseling services.
Top job boards to find online counseling jobs
Whether you are looking for part-time online counseling jobs or online counseling job openings you can start your journey looking at job portals or therapy websites where jobs are listed. You can look for the latest job listings on Google. Some of the best websites for counseling jobs online are,
Indeed
Ziprecruiter
Monster
AngelList
Fiverr
Upwork
Truelance
PeoplePerHour
SimplyHired
Top resume elements of online counseling jobs
Now that you are looking for an online counseling job opening, you need to reevaluate your resume. Remember your resume reflects your requisite professional and educational training. The resume should include,
Contact information should be up to date.
The professional summary should be recent
Work Experience including internships, practicum, and paid employment as a counselor
Education and training should include all your degree.
Additional sections that can be included are,
Skills – Counselors must have strong interpersonal skills. Other important skills include time management and teamwork abilities.
Certifications & License – All valid licenses with license numbers and certificates must be included on your counselor's resume. It is better to add the full name of the credential rather than the acronym.
Honor and awards – Experienced candidates who have been recognized by their peers for any accomplishment or have received an award for their work should be added to the resume.
Volunteer Work – If you have volunteered your services in your capacity as a counselor your resume should include your volunteer work.
Decision Fatigue: What it is & How you can beat it
How much do online counseling jobs pay?
The salary earned for a remote counseling job depends on the number of hours you work and your caseload. Remote counselors can earn more if spend more time online or work in non-traditional hours. The flat rate on some online platforms varies between $25- $30/hour + bonus.
You can opt to provide online services yourself without signing up to platforms but will have to spend on marketing and technology.
The salary for a remote psychologist can witness a lot of variations it can vary from $132,500 to $170,000. The average salary for online counseling jobs from home ranges between $37,500 to $83,00 per year.
| | |
| --- | --- |
| State | Average Annual Salary |
| Alaska | $65,000 |
| Utah | $61,080 |
| Wyoming | $58,020 |
| Oregon | $55,670 |
| New Jersey | $53,410 |
Also Read: Remote graphic design jobs | An ultimate read for best results
Pros and cons of online counseling jobs
Like every other profession, online counseling jobs also have certain pros and cons. Here are some of the pros and cons one might come across while doing remote counseling jobs or virtual counseling jobs. The pros are,
One of the key benefits of doing remote counseling jobs is accessibility. Unlike face-to-face counseling jobs, you can do online counseling jobs from home.
It costs you less than face-to-face counseling. As you'll be doing online counseling jobs from home, you won't be required to rent an office. This way, a major portion of your expense gets reduced.
There are fewer chances of cancellations. Most of the time, patients tend to cancel at the last moment due to not being comfortable with confrontation. In the case of online counseling, they can do the sessions without leaving their homes. Therefore, they feel more relaxed and don't cancel bookings with the counselor.
Online counseling jobs are time flexible. As you'll be working from home, you can fix your schedule according to your convenience.
You can do remote counseling jobs from anywhere in the world. It doesn't matter if you are doing the online counseling jobs from home or some other country. All that matters is that you have access to your phone or laptop and a stable internet connection.
It also broadens your scope of prospective clients. As it is done over the Internet, people are not bound to visit your clinic physically. This gives them the option to even book your services from distant places.
Some of the cons of remote counseling jobs are below,
There's always scope for technical problems. As you are dependent on the Internet for your job, it becomes difficult when internet problems arise. Or there may be some technical issue with your video chat platform.
Many times, it becomes difficult to read the patient's behavioral patterns over the video chat. This makes it difficult for the counselor to analyze the situation and provide necessary feedback.
In some states, the therapist can only work within the place they are licensed. At times, it may be difficult for you to find the bookings depending on the place you live in.
Some people might have confused about the credibility of online counseling. In many cases, they might not opt for it.
Also, as you'll be providing your services over the Internet, your competition in ceases. This is because there are many others on the Internet, providing the same service.
Looking at all the aspects of online counseling jobs, it can be said that this is a good option for earning revenue. Especially for persons who aren't able to provide face-to-face counseling services due to certain problems, the option of online therapy jobs is like a boon.