Are you beginning to research into remote GIS and sensing jobs? If so, this piece is a classic beginners guide for you!
Standing here in 2020 seems like a futuristic era because geospatial data is the most fundamental thing in marketing and even advertising. What other industries do hold geospatial data fundamental?
Apart from missile and unarmed aerial vehicle technology, geospatial data is also crucial for e-governance, the energy sector, urban administration, and remote sensing. Remote GIS and sensing Jobs are a very new field that needs to be explored.
Students don't pursue these kinds of subjects because they are not guided in the proper direction. If you once go through this article, you will be able to know how interesting this subject is and what are the uses of this specific technology.
Remote GIS and sensing jobs are taking over the industry. Are you interested in getting into this particular industry? Let's talk about it, all of it. We will guide you. First, let's explore "what is GIS?" and we will proceed to other aspects.
Unknown Fact: Drones and GIS combined can make a super duo, but the usability of this particular technology depends upon the compact who will take up the challenge to set an example forth.
What is remote GIS and sensing jobs all about?
A GIS or Geographic Information System is basically a system that captures, stores, checks, and then displays the data that is related to the positioning of the earth's surface. It highlights the stress, trees, natural resources on the earth's surface, vegetation, etc.
It helps to understand the spatial patterns and relationships. GIS can be applied to make use of any data that contains locations, that is latitude, longitude, zip code, postal address, etc.
You being a remote GIS and sensing specialist will deal with a profession of identification, compilation, and management of all the data which is generated out of the above methods.
There are five key components while working GIS,
1. Hardware
To operate the GIS technology, one needs a computer. The GIS system runs on a computer. With technological advancements, they are now run on centralized computer servers and even on desktop computers. 
2. Software
There are some market functions of the software in GIS, they are, 
A database management system. 

Various tools for infusion and manipulation of geographic data collected. 

They require tools that can analyze and visualize the data stored. 

The graphical user interface(GUI) is essential for effortless access to instruments.
Remote Software Engineer Jobs | A Complete Guide
3. Methods
The methods are different for different organizations because every organization is unique and has a unique way of approaching customers. Well, designed business plans and rules are unique to each organization. Therefore, we cannot specifically define the method. 
4. People
Without human resources, nothing is possible. You can create a system to run but who will operate the system if the human resource is not available. Hence, GIS technology is managed by a range of analysts, specialists, developers, etc. who can develop new ways, who can manage technical data, analysis is specialized to analyze, and main the data. In contrast, specialists provide expert advice regarding specific data.
How to land the best remote data analyst jobs?
5. Data
A data provider will collect data and supply it to the companies or professionals dealing with GIS. A DBMS method is generally used to maintain and create databases that help to manage and organize the data in readable forms. Advancements in data collection methods and tools have made the readings more accurate. It has also enabled digital-based maps that are available at different levels. 
Areas of application of GIS and sensing jobs
There is a vast area of application of GIS technology. We will mention here the application of GIS. These are a few remote GIS and sensing vastly acclaimed jobs. Let's see what those are. 
1. Mapping
The fundamental function of GIS is used in mapping technology. The data is collected and stored in a GIS database, now using the technology, a visual representation of the data is presented, in the form of a visual map. To make maps, one has to master the art of cartography. Google maps, yahoo maps are an example of a web-based GIS mapping solution. 
2. Urban Planning
When Urban planners want to understand the growth and the basic direction of the expansion of locality and find suitable spots or areas for further development, GIS technology is used.
Team Communication 101: What is it & How you can crack it!
Navigation these days are dependent on web-based navigational maps. They identify ferry paths and shipping routes to help smooth the process of navigation. ArcGIS helps by providing accurate topographic and hydrographic data. There are a lot many uses of it that need a whole chapter to explain. 
4. Natural Resources Management
Natural resources management is an integral part of GIS Remote jobs. These jobs basically try to conserve and manage natural resources like water and forest. Agricultural fields use GIS for figuring out crop rotations, crop yielding, etc.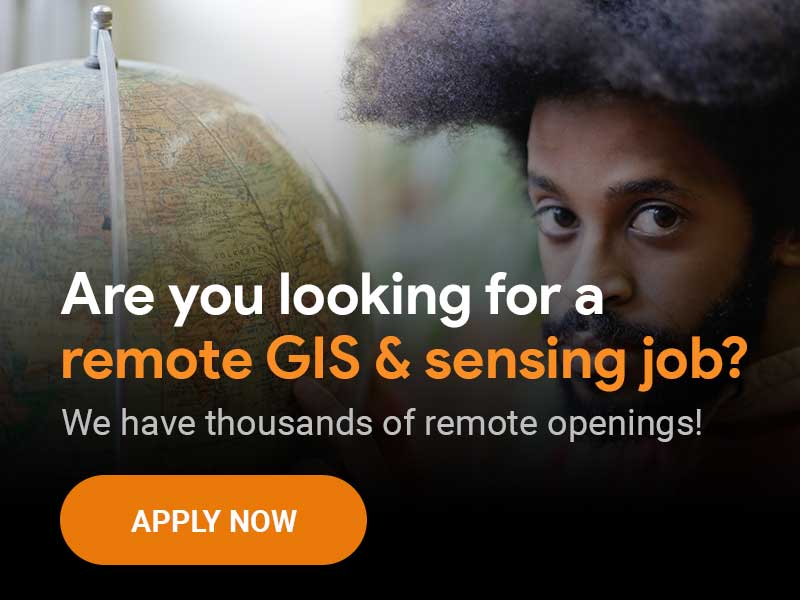 When geologists want to get some real-time data related to seismic movements or analyze soils or create 3D images of geographical features, they use GIS technology. Also, it is used for identifying certain types of rocks, and it's possible geographical areas. 
5. GIS In Marketing
GIS even has importance in this sector. It is used to locate customer locations, pick out a perfect business site, target marketing campaigns, etc. This facility has already helped hundreds of companies become more market-ready and also encouraged them to compete and succeed. 
6. Telecom and Networking
GIS has a great impact on maintaining customer relations and location-based services by the telecommunication industry. GISDATA helps in figuring out complex network designing and planning, maintenance, etc. for telecom industries.
How to achieve & maintain Work-life balance
Did you know? The first GIS concept was used when Charles Picquet created a map which was used to present the outbreak of cholera across 48 districts of Paris, in the year 1839. It was not called GIS back then, the term GIS came into being in the early 1960s when Roger Tomlinson used spatial data to analyze data about usage of land in Canada."
More insights into remote GIS & sensing jobs
GIS includes other components that make it wholesome and workable are remote sensing. Remote sensing is the medium that helps to explain and predict events going to happen on earth. Remote sensing is the technique that measures the earth with sensors.
It basically works using the energy that the earth reflects from itself, the energy helps in data collection, which is done by remote sensing. These remote sensors are well placed on the aircraft and satellites that monitor every movement on the earth's surface.
Remote sensors collect the data from energy and help developers, analysts, and specialists interpret the images and visuals taken by them. They manipulate the data to form images and visuals for the easy interpretation of the data. The GIS and remote sensing are interested in each other because, without remote sensing, GIS wouldn't be of any use.
Working from home with kids – Parent's guide to remote working
Skills needed for GIS and sensing jobs
Every job has its beauty and skill sets required to sustain in a particular field because skill requirements keep changing. Although, few specific skills always required for remote GIS and sensing jobs. The skills that you a GIS specialist needs are, 
You need to learn some very specific programming languages like Java, Python, C++, IDL, R, MATLAB, and FORTRAN. 

Also, you need to have skills like Ecoginition, ENVI, ERDAS, PCI, GEOMATIA, MapInfo, IDRISI, etc. are also appraised additional skill sets. These are the few significant skills for GIS jobs.
Technical skills required for remote sensing jobs
There are a few skills that remote GIS and sensing jobs technicians should possess specifically, compared to other generic software professions.
Photogrammetry is the ability to capture and analyze the spatial information collected from satellites. Also, they try to generate maps. 

Remote sensing used for capturing and collecting data through the earth's reflected energy. 

Python is required to manage relational databases and create CGI. 

SQL or structure query language is used to manage relational databases. It is a programming language. 

Geospatial intelligence is associated with the mastery of the knowledge of tradecraft and spatial information. This type of job is associated with a higher salary. 

Visualization is important to turn raw data into readable, visual data. 

The analysis is important because raw data is of no use if we cannot interpret it. 

Data collection and evaluation is one of the major tasks of a GIS technician.
Best Remote Working Tools That Make Life Easy
Fact About GIS: GIS can stand for two different meanings. GIS can mean Geographical Information Science or Geographical Information System. These two things are interrelated but aren't similar. While, geographical information science means a diverse field of science that helps in understanding geographic information, on the other hand, a Geographic information system means a system that is used to capture, store, manipulate, analyze and manage spatial and non-spatial data. Both are similar but are different. Therefore, don't mix the concepts up, folks!
Careers in remote GIS and sensing jobs
There are varied career options. Let's explore. 
1. GIS Analyst
A GIS Analyst is a huge resource to the company because they are responsible for the creation of data sets, maps, and maintaining the databases for all of these. It's a huge task to maintain all these essential data. An analyst needs to be a multitasker to perform all these. A remote GIS and sensing jobs analyst performs tasks like
2. Cartographer
Cartography is the art of map-making. Anayskusts can have to make maps, not in a conventional way but digitally for web-based applications.
Best Home Office Set Up For Remote Work – Shoot Up Your Productivity
3. Spatial Analyst
The collected geographic data is the raw material that will be transferred to useful data by the analyst. They locate, analyze, manipulate, and extract the data in order to provide modified and readable data in a simpler form. They need to learn to prove making languages like Java, C++, Python, etc. 
4. Database Manager
Data comes every single minute, and therefore, an analyst needs to carefully manage every single data and take care of the fact that nothing goes missing. 
5. Remote Sensing Lead
GIS analysts have to use satellite data and interpret it for various uses in the real-time industries. 
These analysts actually help the archaeologists, geologists, meteorologists, businessmen, urban planners, etc to predict, maintain and analyze patterns, changes, their cause, and even their maintenance and protection. 
There are many other career paths open for an individual skilled for GIS jobs. They can work for private farms and as well as Government Farms.
6. Remote Sensing Tech Lead
7. Research Associate
8. GIS Executive
9. GIS Specialist 
10. Project Fellow/Assistant
11. Technical Associate/Area Manager
12. Remote Sensing and Software Analyst
13. Technical Programming and Remote Sensing
14. Risk Analyst
15. GIS analysts for elections
16. Sustainability Analyst
17. GIS and Map Quality Analyst
18. Geospatial Intelligence Analyst
19. Urban Planner
20. Intelligence Analyst
14 Best Remote Job Sites: Start your job hunt at the right place!
Top 25 dream companies for remote GIS and sensing jobs
For anyone pursuing a niche discipline, the goal is obviously to work at the best companies in the field. If you are wondering what the top 25 dream companies for remote GIS and sensing jobs are, here's a comprehensive list,
Uber (SF USA/Global)
Orbital Insight (Palo Alto, USA)
Urthecast (Vancouver, Canada )
Google (SF USA/Global)
Foursquare (NY, USA)
SocialCops (Delhi, India)
Spatenio (Helsinki, Finland)
Bentley (Exton, Pennsylvania, USA)
Strava (SF USA)
CityMapper (London, UK)
TomTom (Amsterdam, Netherlands)
Boni (Istanbul, Turkey)
Hexagon (Stockholm, Sweden)
Microsoft Bing Maps (Redmond, Washington, USA)
Autodesk (San Rafael, California, USA)
Ubimo (Tel Aviv, Israel)
Swift Navigation (SF USA)
Geocode (Ottowa, Canada)
Cesium (part of Analytical Graphics, Inc.) – (Exton, Pennsylvania, USA)
Spatial AI (Cincinnati, Ohio, USA)
Geographica (Sevilla, Spain)
Wipro (India)
Boston Consulting Group (Bangalore, India)
Factual (LA USA)
Skymap Global (Singapore)
These are just the top 25 dream companies for remote GIS and sensing jobs, but there are so many more companies hiring especially as the field expands and data becomes more and more crucial. You can check out these portals to find the right companies for you: unremot, Glassdoor, LinkedIn, etc.
Public sector companies offering remote GIS & sensing jobs
All India Soil and land use survey

Central groundwater board

Remote sensing laboratories of various university companies engaged in GIS and its application studies. 

Defense terrain research laboratory etc. 

Ministry of environment

National informatics center

Department of Science and technology

Forest Survey of India

Agricultural department and irrigation department

Space application centers and aviation

Watershed and wetland management

Methodological department

Indian council of agricultural research

Ministry of defense

Geological Survey of India

National remote sensing center

Indian space research organization

Indian Institute of remote sensing

Urban development authorities and municipalities, etc
34 Best Remote work communities on Reddit, Slack, Facebook
Market pay & tips for remote GIS and sensing jobs
You have to explore every opportunity you are getting in the initial stage of your career. They might seem not really a type of thing you were looking for, but you have to start from somewhere, isn't it? These jobs generally don't have any employee benefits. Also, they pay really less but don't worry, with time you will be reaching an annual salary of $100,000. 
If you like studying Geography and planning to get into this sector and further pursue GIS as a specialization, start preparing from school. If you're good at map making, practice, and enhance your knowledge and skill. But up all of these in your portfolio, because they might get you your dream job! 
Practice your interview before you really are going for one. We all know "practice makes a man perfect". Hence, there is no other shortcut. If you face any issue regarding any topic or a certain area, you should consult with an expert immediately. The most important thing you need to do is clear your base. 
Being honest with your expected salary will help you understand the company prospects, and also you will be able to have a reality check. Don't ever go for too high on the expectancy or too low with it. High will cut you out of the competition, and low will have a bad impression of you.
Agreeing to relocation is the best option to hold onto a good job opportunity. If you're planning to get a graduate degree in GIS, you should consider relocation. You can't let go of a good chance, because you haven't yet thought about relocation. 
You can become a GIS programmer if you have the skills. They are very well paid. CAD skills are also in demand. 
GIS is an emerging field, you have all the caches to show off your creative skills. Surprise everyone with an out of the box utilization of the GIS technology. The vast area of its usability is just being considered late. There are other undiscovered areas too. Do some research on your own.
Best Morning Routines | Wake Up And Slay
Courses and certifications for remote GIS & sensing jobs
There are various colleges and universities that will help you become a GIS specialist. If you have an interest in geography or want to learn why and how weather or soil is tested, you should take up the career of GIS technicians. 
Some of the best global universities that have GIS as a subject are,
ETH Zurich,

The University of Edinburgh,

Michigan Technological University,

The University of Manchester,

Loughborough University,

The Georgia Tech University of Twente,

Kingston University,

TU Munich,

WWU Muenster,

Florida Institute of Technology,

The University of Southampton,

The Hong Kong Polytechnic University,

The University of Lethbridge,

Utrecht University,

Stockholm University,

Lund University,

The Free University of Berlin,

UT Dallas,

Aberystwyth University,

University of Tasmania (UTAS)
If you have ever thought about contributing to the environment, then this would be a great way to do it! 
What should be a GIS Remote jobs salary?
GIS is a diverse field with a diversified salary structure. The average salary for a GIS specialist should range between $40,000 to $1,00,000 and over. Remote GIS and sensing Jobs are well paying if you can perform satisfactorily. 
What are the Remote GIS job descriptions?
A GIS specialist has to do jobs specific to his degree, which is collecting, maintaining, and analyzing spatial and non-spatial data. There are various job titles like GIS Analyst, Technician, and Cartographer. They have to learn programming languages like Python or ArcObjects that are used for mapping to automate the process or create a workflow and customized tools. These are a few remote GIS job descriptions. 
What are the companies offering remote GIS & sensing jobs?
There are many private as well as government organizations who are looking forward to hiring skilled GIS graduates. From central government jobs to private organizations hiring specialists for better marketing and company growth, GIS skilled graduates are in demand of government organizations like the meteorological department, the forest department, an ideological survey of India, etc.