Are you an aspiring business analyst? Or, one with a remarkable experience, but stuck in the career ladder? If so, this page is worth your time in figuring out a direction in your career as a remote business analyst.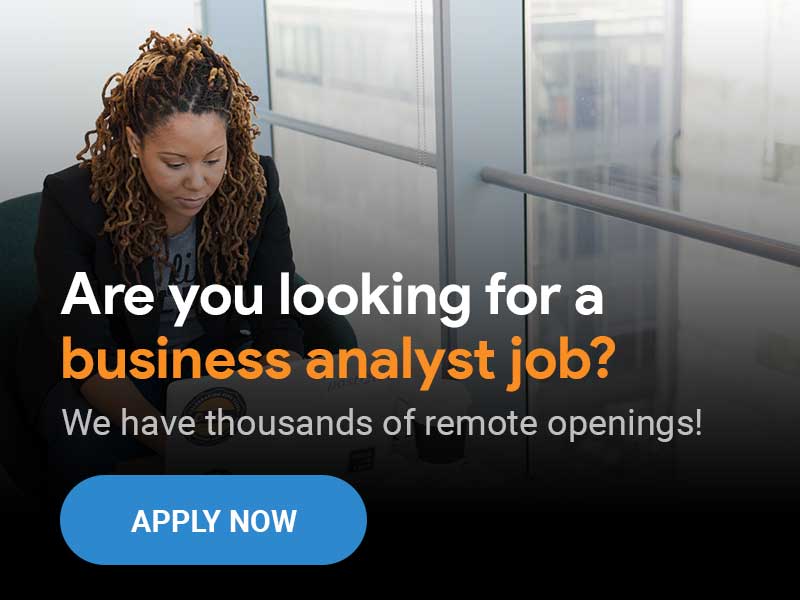 An intro into remote business analyst jobs
Business and IT divisions are the two most vital units that govern a company's execution and delivery procedures seamlessly and smoothly. But the business and IT users specialize in two different aspects – one focused on processes while the other is focused on technology.
Remote Insurance Jobs | Best insurance openings, top 25 companies & skills needed
It is essential to bridge the gap between them, aligning them, and ensure that the business functions and processes are catered to by the IT systems and applications. That's exactly the role played by a business analyst.
Companies are now focusing on hiring such skilled professionals for remote business analyst jobs. Business analysts can perform their responsibilities of establishing strategies to drive business decisions by the optimum and intelligent use of the technologies. And all these can be done remotely at home.
Remote Tech Support Jobs | A complete guide on finding awesome tech support jobs
Job description of remote business analysts
A typical job description of a Business Analyst comprises of,
Analyzing the business requirements and needs
Understanding the problems and challenges
Identifying the opportunities for improvement
Developing solutions and implementing them
Planning, budgeting, and forecasting
Determine the price of products and services
Critically review the variance in the key performance metrics indicators
Operational and Management reporting
The skills you need to acquire before applying for remote business analyst jobs,
Power to think analytically
Problem-solving abilities
Knowledge of the business domain of focus
Capable to perform business reengineering
Stakeholder analysis and impact of changes on them
Formulate business case for bringing in changes in business processes or functions
Cost-benefit analysis and calculate the Return on Investment (ROI)
Future process modeling catering to business needs and mitigating challenges
Basic understanding of networks, infrastructure, databases, operating systems, and technologies catering to the business functions
Good oral and written communication skills
Excellent interpersonal skills
Online Transcription Jobs | A comprehensive guide to the world of online transcription jobs
Educational qualifications of a Business Analyst
Bachelor's Degree in Business Administration or IT
Master's Degree in Business Administration or IT (optional)
Certifications offered by organizations like PMI, IREB, IQBBA, IIBA help to build up your competency and are also an added advantage while applying for remote business analyst jobs.

IIBA Certification of Competency in Business Analysis (CCBA)
IIBA Certified Business Analyst Professional (CBAP)
IIBA Agile Analysis Certification (AAC)
IQBBA Certified Foundation Level Business Analyst (CFLBA)
IREB Certified Professional for Requirements Engineering (CPRE)
PMI Professional in Business Analysis (PBA)
Work From Home Nursing Jobs | A complete guide to grab awesome nursing jobs!
A Business Analyst needs to be conversant with the Microsoft Office suite of products and other analytical tools and products provided by IBM, Oracle, etc. These tools assist in data analysis, graphical representation of facts and figures, and generating reports.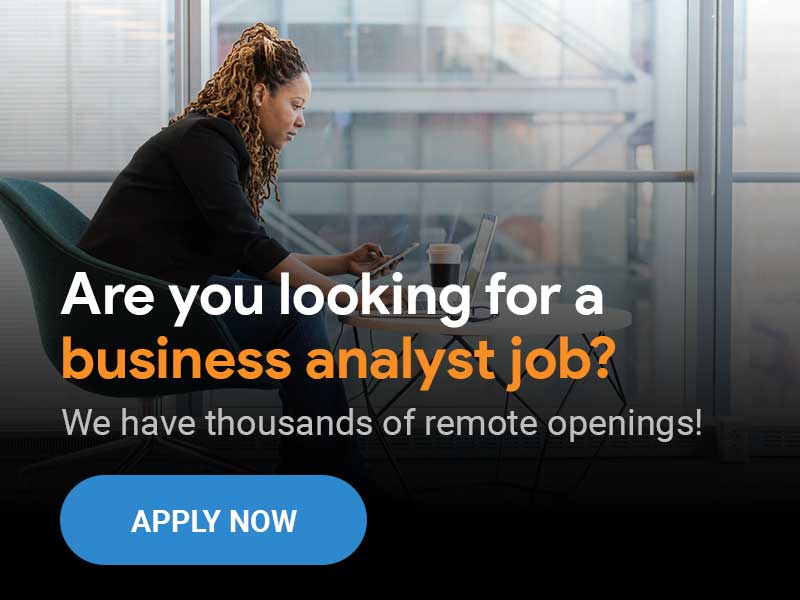 Remote business systems analyst jobs
If you are eager to apply for remote business systems analyst jobs, you must be acquainted on how to bring in improvements in the performance of the technology and computer systems of an organization.
Remote Pharmacist Jobs | How to become the best paid pharmacist, top 25 companies and salaries!
You need to understand the current IT landscape, and the applications being leveraged for the business processes. Identification of technology upgrades or analyzing the need for systems replacement is vital for improving IT performance.
Remote Animation Jobs 2021 | How to find the best animation jobs in shortest time?
You can remotely work from your home or a co-working space and work as a business analyst easily. Many companies are hiring professionals for remote business analyst jobs who are focused on understanding the current IT state and designing the future IT state.
Senior business intelligence analyst remote jobs
Business Intelligence is one of the niche skills and hence companies are preferring for remote professionals to tap potential candidates. Individuals applying for senior business intelligence analyst remote jobs must understand and analyze the transactional and financial business insights required by a company.
Online Assistant Jobs | Best paid jobs, top 25 dream companies, skills needed, salaries!
They should be well acquainted with dashboards, Adhoc and self-service reporting techniques, and business analytical models. Remote business analyst jobs for business intelligence experts demand the adoption of industry standards and best practices driving operational efficiencies.
Remote Video Editing jobs | A-Z Of Remote Video Editing Jobs
The analysis performed by them helps in arriving at strategic management decisions. It is advisable to receive training or appear for certifications related to Business intelligence over and above the Bachelor's degree.
Remote claims business analyst jobs
Insurance claims processing, checking the authenticity, and dispute resolution are critical business functions of an Insurance firm or company. A claims business analyst is entrusted with the responsibility of checking the accuracy, eligibility, and completeness of the claims.
Companies are recruiting remote professionals for claims analysts as the activities can be performed in virtual mode through phone calls, video conferences, and emails. Remote claims business analyst jobs demand the experience of 2 to 4 years since you will be working independently at your home without much assistance.
Remote travel agent jobs | How to make it as a remote travel agent
You need to be conversant with the end to end functions of insurance claims processing. Besides, sometimes you need to connect with the policyholders and explain to them the benefits to be availed.
Technical business analyst remote jobs
If you are aspiring to apply for technical business analyst remote jobs, you must possess extensive knowledge of both computer hardware and software. It is recommended to learn computer programming and be proficient in that.
Simultaneously, you must be aware of the business domain of your company to stand ahead of the competition. A technical business analyst typically analyses and studies the IT systems and applications, redesigning them for optimal utilization. They even detect problems and issues in the hardware and software and rectifies them with potential solutions.
All IT deployments are tested and verified by them. They are responsible for creating data conversion or migration scripts while moving from one technology to another to retain the active data.
Remote healthcare business analyst jobs
A healthcare business analysis is entitled to optimize and control the costs and performance of the healthcare facility of a company. They need to suggest improvements and innovations for cost reduction and efficiency in day to day functioning.
Professionals interested in remote healthcare business analyst jobs are required to acquire additional training and certifications on healthcare management. Extensive analysis and research are the two important duties of healthcare business analysts. The findings are consolidated and scrutinized to suggest potential solutions for betterment.
Remote Admin Jobs | A complete guide on career options, skills needed & how to get placed!
He or she can work remotely at home digging through facts and investigating the data of the company. Phone calls, video calls, emails, and instant messaging are the modes of communication that you can leverage for data gathering and any other inquiry.
Remote silicon valley business analyst jobs
Silicon Valley in the USA has a lot of companies and firms seeking remote professions to work as business analysts. Among the remote silicon valley business analyst jobs, prominent is that of a Business Intelligence analyst, and a Healthcare analyst.
If you are residing in Silicon Valley or nearby then you can easily search for jobs on the various websites. Indeed.com, unremot.com, Angel.co, Simplyhired, Ziprecruiter, Glassdoor, Linkedin are some of the job and professional websites that offer several opportunities for remote business analyst jobs.
Remote clinical data management jobs | Manage clinical data remotely
Full-time, part-time and contract mode – all types of employment modes can be sorted and searched based on your preference of roles and salary ranges.
Business analyst in education domain remote jobs
Business analysts are provided with ample opportunities to work in various industrial sectors and domains and education is one of the prominent among them. In an education firm or institute, a business analyst is entrusted with the duties of analyzing the needs of learning and devising a strategy to frame a learning plan.
They need to understand the competencies to be developed, list them out, and find out a cost-effective learning program. To apply for a business analyst in education domain remote jobs, you need to possess a Bachelor's Degree in any educational domain.
For specialization in any subject, additional certifications or training are a boon.
Sharepoint business analyst remote jobs
Sharepoint is a web-based platform for collaboration offered by Microsoft. A Sharepoint business analyst needs to be aware of the Sharepoint tools, forms, and workflows. He or she must find out innovations for the improvement of Sharepoint usage, access, and approvals.
End to end management of Sharepoint is also a responsibility of the Business Analyst. If you are aspiring for Sharepoint business analyst remote jobs then it is better to obtain a certification and attend online training to increase your expertise.
Remote Clinical Research Jobs | How To Find Clinical Research Jobs
You must be conversant on the Sharepoint collaborative features, ways to segregate roles, and provide access and the approval workflows. You may sometimes need to customize the screens for better usage.
Remote business process analyst jobs
Analyzing the end to end business process flows and identifying areas of improvement are the key duties of a business process analyst.
The improvisations can be a performance enhancement, removing low value-added work, introducing automation for repetitive and redundant activities, increasing productivity, and reducing the cost. Remote business process analyst jobs demand a good understanding of the business processes of the industrial sector or domain.
Remote WordPress jobs | A guide to finding & acing WordPress jobs
You must be aware of the industry standards, best practices, and statutory rules and regulations that need to adhere to. Identifying the challenges and issues in the process flows and suggesting remediations also falls under the purview of business process analysts.
Remote business analyst jobs small companies
For recruiting professionals in remote business analyst jobs, small companies are also at the forefront. Their main requirement is to handle multi tasks by a single business analyst since they operate under a low budget.
Hence they look for efficient associates who can analyze, judge, decide, and execute any innovations or improvements needed in the related domain. The companies preferably look for remote workers and on a part-time or contract mode to invest on and when required.
Remote Research Jobs | How to find a dream research job, top 25 best companies hiring (salaries, skills, qualification needed)
They subdivide the work to assign the parts to single individuals each entrusted to complete the job the end to end. If you are looking for working in small companies, be prepared to be efficient in multi-tasking and acquiring the ownership to execute the complete set of activities.
Entry level business analyst remote jobs
If you are working to build up your experience and knowledge then you can apply for entry level business analyst remote jobs. You will be tagged with senior business analysts for data collection, assist in documentation, testing, and deploying the solutions.
A minimum Bachelor's Degree in Business Administration, Science, IT is a must. You must be ready to work hard since your motive must to learn the work faster to move higher up the role. You must be ready to work under stress and extended hours.
It can be a full-time role or a part-time role. Since you are working remotely and with limited work experience, you need to be vigilant while receiving work instructions.
"If you always put a limit on everything you do, physical or anything else, it will spread into your work and your life. There are no limits. There are only plateaus, and you must not stay there, you must go beyond them."
Bruce Lee, Actor, Martial Artist, Philosopher
Remote Tax Preparer Jobs | Guide To Work From Home Tax Preparer jobs
Therefore if you are eager to build your career as a business analyst at the comfort of your home, then you must gear up to fit into the position.