Want to hire one of the best mobile app developers? Here's a list of top mobile developers, the skills you must look for, and how to hire them!
Android, iOS, or Windows, name any operating system, the demand for mobile devices and their corresponding compatible apps experience a considerable y-o-y growth every year. An obvious reason why the majority of the mobile app development companies are hiring mobile app developers.
Also Read: Remote web developer jobs | A comprehensive guide for beginners
What is a mobile developer?
Mobile Apps developers leverage their technical, analytical, and intellectual skills to program and create apps for mobile devices as per the desired design. Normally they possess software engineering skills, primarily working in teams or as an individual in a freelance mode.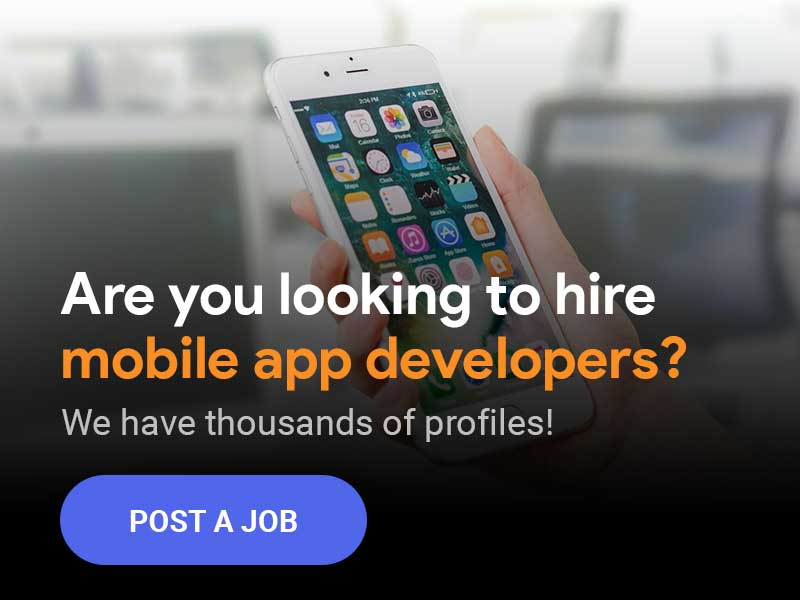 As a recruiting company, you must be aware of the skills and qualities that need to be verified and validated when you plan to hire a mobile app developer. Preparing the job profile and asking the relevant questions are the major activities for hiring managers seeking mobile app development services.
In this article, we will provide you a comprehensive guide on the market know-how, qualities to be checked, and where to find app developers best fit for your company.
Also Read: Remote data analyst jobs | Everything you must know
Market for mobile app developers
Mobile app development is a trending industry. The study conducted by the US Bureau of Labor Statistics has predicted a rise as high as 22% through the year range of 2019 till 2029. Therefore the expectation is a substantial rise in demand for mobile app developers.
In 2019, the number of mobile application developer jobs was nearly 1.5M. Though the exact count of jobs in 2020 is yet to be released, yet it is predicted that by 2029 the count of regular and freelance app developer employment will rise by approximately 316K.
The median salary for a mobile software developer is almost USD 108K per annum i.e. an hourly rate of USD 52. A study conducted by BLS shows the percentage distribution of mobile app developer professionals across various industrial sectors:
˜33% in computer systems design and mobile application services
˜11% in the manufacturing industrial domain
˜9% with software publishers
˜5% involved in management of companies and enterprises
˜4% in insurance and financial services sector
You can hire an app developer working as a remote professional, full time, part time, contract based, or as a freelance expert.
Also Read: Remote software engineer jobs | Everything you must know
Things to note while hiring mobile app developers
To hire mobile app developer compatible and perfect for your company's job roles and description, there are certain things to be noted and executed. Let us discuss the key points in detail to aid the hiring process for mobile app freelance professionals.
Conversant on mobile operating systems – Usually, IT professionals engaged in software development are conversant with programming languages, web development and Java technologies. But for hiring app developers, it is essential for you to check their knowledge level on iOS, Android or Windows technologies.
Prior Experience and Engagements – During the process of hiring app developer experts, you must check on their years of experience and customers they have worked with, focused on mobile apps development or related activities.
Review the apps from the mobile stores – A very basic thing to check while you hire mobile app developers is the reviews and ratings of the developed apps in the App stores. This will give you a fair idea of the competency and expertise of the app developer for hire.
Communication Abilities – Even if you are objective is to find app developers proficient in programming skills, yet do not ignore the aspect of communication. An app developer freelance personnel must possess verbal and written communication skills to document technical specifications and collaborate with external and internal stakeholders.
In accordance with the Design specifications – When you hire a programmer to make an app, you may either expect them to develop as per the design or you may ask the freelance mobile developer to prepare the functional design too. You need to ensure the apps programmer possesses the skills to understand, write and interpret the design.
Testing the developed mobile apps – A mobile app freelancer is expected to both develop and test the applications. He or she must ensure the proper functioning of the apps as per the requirements and design specifications. This is one of the key aspects to be verified when you hire a developer to make an app.
App Maintenance – After the development phase completes, an essential activity is maintaining and upgrading the apps. Mobile app creators for hire must be conversant with the activities that need to be accomplished during the maintenance phase.
Ability to work independently – Companies nowadays prefer to recruit or hire app programmer or developer who can work remotely or in a freelance mode. Hence it is vital to check out whether the candidate is capable to handle activities independently
Report on daily or weekly progress – Once you hire an app developer or programmer it is essential for you to be aware of the daily or weekly progress depending on the complexity of the mobile applications. Ensure to verify it at the beginning to prevent any hiccups after the recruitment process is completed.
Innovative mindset – Though there may be set design specifications, but innovative ideas will aid your company to stand ahead in the competition. When you hire app developer with experience, check the innovative abilities of the individual.
Also Read: Remote tech support jobs | An ultimate read for best results
Qualities of best mobile app developers
You must verify both the soft and technical skills while hiring mobile app developers for your company. Your criteria for the recruitment may vary depending on the development stage you are involved in a particular project or a group of projects.
Enlisted below are the qualities and skillsets that you need to validate for hiring mobile app developers,
Expertise on cross platform development – Apps may need to be developed for various platforms like Android and iOS. You must verify whether the candidate is cross-skilled to work on all operating systems or platforms.
Knowledge on UI/UX – The mobile apps developed by your company must be attractive and user friendly while accessing through smartphone apps library. Knowledge on UI/UX is a vital quality to check while hiring mobile app developers.
Proficient on programming languages – App developers must possess the expertise to leverage the correct programming language for mobile app development. Python, Java, Swift, Objective C, PHP are commonly used and hence you must mandatorily check the abilities while hiring mobile app developers.
Awareness of mobile architectural details – Knowledge on mobile architecture and its details is crucial for building apps, be it in Android or iOS. This particular quality must be verified before confirming a candidate in the role of a mobile apps developer.
Expert in the mobile apps development full cycle – You must mandatorily check the knowledge of the candidate on the end to end mobile development cycle else the person may stumble and falter at each stages of progress
Good Team Player – A mobile app development program demands working in a team with seamless coordination and support for each other. Check on the candidate's past experience and roles played in a team to verify this particular soft skill and quality.
Excellent verbal and written communication skills – Understanding the requirements, documenting the design and executing the development fall under the purview of mobile app developers. Without efficient verbal and written communication skills, the activities will not be fulfilled as per expectations.
Past duties and responsibilities – Focus on the past experience of the candidate, the duties and roles performed by them especially the apps developed and deployed on google app store or Apple iOS store.
Learning Courses and Certifications – Checking the learning courses attended and certifications obtained by the candidate is vital while recruiting mobile app developers. This will highlight the continual learning interests of the candidate.
Social Media Impact – You can check the social media accounts of the candidate and check their contributions in various forums. This assists in understanding the wide capabilities of the candidate on the trends, best practices and standards to be adopted in mobile apps development activities.
Also Read: Remote research jobs | An ultimate read for best results
Mobile app developers rate per hour
As recruiting companies and hiring managers, once you are convinced with the skills and qualities of the mobile app developers; the next obvious question is "How much does it cost to hire an app developer?"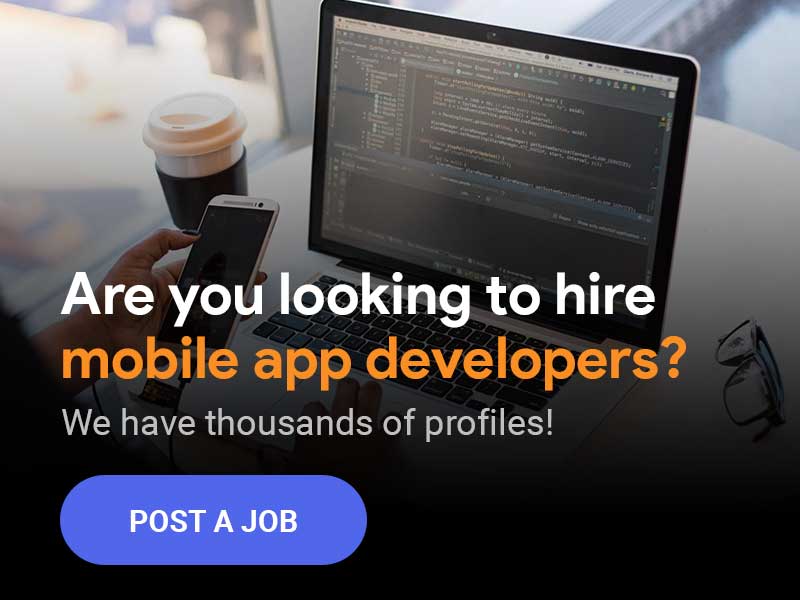 In the US, the mobile app developer hourly rate varies between USD 50 and USD 150. In North America, the freelance app developers cost is usually high about USD 150 per hour. Whereas in South America or the LATAM countries, to hire app developer cost is about USD 50 per hour, lesser compared to the countries of North America.
The rate of Australia based freelance app developers salary is also quite high about USD 110 per hour. United Kingdom comes next in the rank on freelance app developer cost approximately USD 70 per hour.
The freelance app developer salary for Eastern Europe and India are lower and the major contributors for outsourcing mobile app development activities. So if you wondering "How much do app developers make per hour in these 2 geographies?" you will be quite astonished.
The hourly rate to hire mobile app developers with 1 to 2 years of experience in Eastern Europe is USD 35 and rises up to USD 100 for professionals with 5 to 10 years of experience. In India, the hourly rate varies between USD 25 and USD 50, far lower than the other countries.
Also Read: Remote seo jobs | Everything you must know
Places to find best mobile app developers
With a clear understanding of the qualities and hourly freelance app developers rates, let us proceed to understand where and how to find an app developer. If your questions are "How to find app designers near me?", "How to find an app developer near me?", the below listing will provide the answers to your queries.
Upwork – One of the largest job boards to hire app developer personnel. Besides if you have a question on, "How to search for app development companies near me?" – Upwork is the the best option for you.
unremot.com – Enables you to gain access into a global workforce when you need app developer for your company for creating mobile applications. You can even collaborate with the prospective candidates through video calls, messaging and chats.
Indeed – The popular job website containing profiles of a massive pool of freelancers to hire mobile app developers through different search criteria and filters.
Facebook – If you are looking for the best social media platform to hire and pay someone to make an app, Facebook groups are the perfect place for you.
Linkedin – One of the biggest professional networking website connecting companies and interested candidates, ideal to search for and hire mobile apps developers.
Toptal – Toptal helps in creating a team comprising of mobile apps developers for your project. Besides you can individually hire either part time or full time developers too.
Hired – The unique aspects of Hired website is its search ability to locate experienced and entry level mobile app developers with the requisite experience and talent
Websites for recruiting cheap app developers for mobile devices
StartMobile
AppInventiv
Ready4S
HubSpire Corp
Mobile App Development Companies
Hyperlink InfoSystem
Mercury Development
Blue Label Labs
Algoworks
Apptunix
Techahead
Netguru
Creative Communities – Communities like Behance, Dribble etc. consist of portfolios posted by app developers and designers. They also submit proof of concept or samples of their work. You can search and reach out to them for hiring in your organization.
Also Read: Remote scrum master jobs | A how-to guide for beginners
Steps involved in hiring best mobile app developers
A basic question which comes into the mind of recruiting companies or hiring managers is "How to hire an app developer". In this section, we will discuss elaborately on the key steps involved or to be followed to hire mobile application developers or programmers.
Finalize the mobile application needs and the required design specifications – As a first step, you must finalize the mobile applications that needs to be created for any of the operating systems. This will help you to find mobile app developers of similar skill and expertise. Preparing the design specifications at a high level is also essential to prepare the job description and expectation from app builders for hire.
List out the Interview Questions for hiring mobile app developers – Determine the qualities and skills to be sought while recruiting and looking for app developer . Carve out the questions on both technical and soft skills for judging the correct team of freelance workers who can be hired for on-demand projects in your organization
Post job opportunities in prominent job boards and social media platforms – Prepare the job profiles of app developer needed by your company and post the requirements along with the location and the salary ranges. The profiles must be lucrative enough to lure both local app developers as well as app developers worldwide. The duties and responsibilities must be clearly stated with no ambiguities.
Shortlist the potential candidates – In the job boards, the question you must ask while hiring mobile app developers is "Display profiles of mobile app developers near me". You will receive the list of freelance or independent app developer near your location, for shortlisting.
Arrange an interview session with the shortlisted candidates – If you are looking for remote professionals for mobile app development contract, you can plan for video conference calls instead of in-person interview sessions. Ensure the skills and experience mentioned in the resume of the candidates are appropriately verified.
Finalize and float the offer letters – Depending on the outcome of the interview sessions for offering app developer contract, finalize the candidates to be recruited in the company. Once the hourly rates are agreed, float the offer letters or the contract agreements.
Also Read: Remote data science jobs | A how-to guide for beginners
Top 10 interview questions for mobile app developers
By now we have understood, "How to hire a mobile app developer?" The next target is to list out the interview questions for hiring mobile app developers. The questions must be properly articulated to verify the credibility of the candidate.
1. State the difference between designing a responsive web or native mobile app
Rationale: A native mobile app is installed via the Android play store or the iOS Apple store. But the responsive web design is to create websites and access via a browser as per the mobile device. This is a critical question to ask in the interview.
Expected Answer: You must verify whether the candidate is able to clearly state the difference. Besides, the app developer must emphasize on the fact that native mobile apps possess greater functionalities than the responsive web design.
2. What are the pros and cons of using Android and iOS operating systems?
Rationale: An apps developer must understand the differences between the two operating systems for design compatibilities and publication of the apps. You need to verify this knowledge while hiring mobile app developers.
Expected Answer: The candidate must showcase some examples while stating the pros and cons of Android and iOS. Then only you can confirm on finalizing the app developer for your company.
3. Do you have prior experience of developing the features I am looking for?
Rationale: Prepare a list of the features desired in the mobile apps. Before hiring the candidate, you can verify whether the person is able to relate to the features. This will provide you added confidence on the person's ability to design the correct apps for you.
Expected Answer: If the candidate spontaneously explains or throw ideas on the design or development strategies for creating the features listed by you, then you can safely finalise the candidate.
4. How will you design "Push Notifications"?
Rationale: "Push Notifications" are one of the most powerful and widely used tool in mobile apps development. This question is vital since apps developers need to understand when to apply them, without crowding users on unnecessary notifications or messages.
Expected Answer: Ensure the candidate specifies some examples where the push notifications are useful and where they are not desired. This will explain the experience and expertise of the person.
5. What are the potential issues you have faced while installing an apps and during user adoption?
Rationale: The question will assist you to check whether the candidate is aware of the typical issues faced during app installation and how they can be mitigated. It will also help in understanding the knowledge level and expertise of the individual.
Expected Answer: The mobile app developer must highlight examples of issues faced and the steps undertaken to resolve them without hampering user adoption.
6. Do you know how to monetize a mobile app?
Rationale: Sometimes you will charge fees for usage of a mobile app. The app developers must be able to introduce features such as in-app advertising, subscriptions, pay per download etc. into the app.
Expected Answer: Check if the candidate has prior experience of introducing a pricing model for the app. It will ensure the awareness of the candidate on the importance of monetization and how to implement the same.
7. Have you ever used audio to enhance user experience?
Rationale: Apps especially used in vehicles for navigation necessitate audio featured for better user experience. Hence you must check this particular competency since more and more mobile users are opting for audio features.
Expected Answer: If the candidate illustrates an example where he or she has introduced audio messages for easy usage and better experience, then you can safely assume that the app developer has the right potential to execute the work.
8. Do you know when to use infinite scroll and when to use pagination?
Rationale: Infinite scroll is good when users are interested to explore and spend time on the mobile app. Pagination is useful when users want to search for specific content from your app. Hence app developers must understand the target audience and decide on the methods.
Expected Answer: Ensure the app developers for hire are able to explain the difference between the 2 concepts with examples.
9. What is the benefit of using "tabs"?
Rationale: Tabs is one of the key elements in mobile UI/UX. They help in easy navigation between the panes. An expert app developer must be able to elaborate on the usage and benefits of Tabs.
Expected Answer: If the candidate mentions tabs as easy to use and intuitive, introducing a real time feature for the users, you can consider the candidate for recruitment.
10. Mention the difference between filled and outlined icons?
Rationale: Both the icons are required for a UI. It is important for app developers to understand the importance of the icons and when to use them to aid navigation.
Expected Answer: The candidate must articulate the answer so as to mention the outlined icons for highlighting a normal state and filled icons for active state. If the response is centred around this concept, you can tick mark the answer.
Also Read: Remote engineering jobs | A priceless list of tips to succeed
Top 10 tools to use while hiring mobile app developers
While hiring mobile app developers, you must check whether the right recruitment tools or methodologies are being leveraged. The tools have proven to be very effective in the effort to find an app developer. Illustrated below are top 10 tools to use to hire app developers for mobile applications, for your easy reference and guide,
Job Boards – Internet has a plethora of job websites assisting you to hire app developers Indeed.com, unremot.com, Upwork etc. You can post your requirements in the job boards or search for profiles.
Assessment tools – Conducting Aptitude tests in written or online mode to judge the candidate's basic IQ level, personality and behavioural characteristics, is the vital part of any hiring process. Tools used are mainly Pymetrics, HackerRank etc.
Artificial Intelligence and Chatbots – Trending digital tools to shortlist candidates, analyse the information submitted by them and also enable virtual chat or messaging for collaboration. Typical tools used are Zoom.ai, Textio, Ideal etc.
Social Media Platforms – LinkedIn, Facebook, Twitter, Reddit etc are powerful social media platforms for hunting skilled resources as you finalize to hire freelance app developers. You can post your requirements as well as search for potential profiles.
Tracking system for applications – A portal is essential to track the applications received from candidates, along with basic data collection. You can use the tracking system for the end to end hire process and can even screen out candidates. A tracking tool is vital when you hire mobile developer.
Recruitment Portal or Tools – Constant communication and collaboration between the candidate and the HR department is essential with regards to exchange of required documents or salary negotiations. Recruitment tools or a portal is useful for example Yello, SmashFly, Avature etc., an important element once you hire app programmer for your company.
Audio and Video Conferencing Tools – In the world of remote and freelance working, possessing audio and video conferencing tools and software is mandatory to conduct interviews with the candidates. Examples can be Zoom, GoogleMeet, Microsoft Teams etc., efficient for seamless conversation with mobile app programmers for hire
Tools to aid advertisements – Mentioning the right content and phrases for advertising your company's job roles in different job boards and social media platforms is vital. Else candidates may not apply for the roles. Tools like Textio assist in creating the right content for job advertisements for finding app developers.
Onboarding tools – After you hire someone to make an app, onboarding process is initiated for induction into the company's payroll. Initial training, employee id generation, payroll initiation, triggering of employee benefits, finalization of the mobile application projects and supervisor need to be tracked to closure. Tools used are Click Boarding, Applicantstack, BambooHr etc.
Background Check Tools – The tools are super-efficient in verifying the profile by checking criminal records, past experience, educational qualifications etc. For example GoodHire, Intelifi, Sterling etc. have proven to be very effective while recruiting freelance app developers.
Also Read: Remote startup jobs | Everything you must know
Dos and donts while hiring mobile app developers
Awareness of the Dos and donts is crucial while hiring for mobile app development for small business, medium or large scale companies. This will ensure right deployment of app developers freelance or regular professionals in your organization.
The Dos,
Validate the technical skills by focusing your questions on the mobile operating systems, programming languages and the UI knowledge when you hire someone to build an app
Check on the soft skills for freelance mobile app developers since they need to collaborate with internal and external stakeholders
State properly the expectations from the shortlisted app developer freelancer, without any ambiguity
Recruit a freelance mobile app developer with excellent verbal and written communication skills
Since you will be hiring someone to make an app for you, that is proprietary for your company, you must ensure the candidates are backed by good references and strong credibility
State the vision and objective of your company to the app developers for hire, especially focusing on the expectations from the candidate
Verify the prior roles and experience of the app coders for hire by deliberating on duties performed by them
Conduct a background check for security verification of the android or iOS app developers for hire
Video or in person interview must be the norm for selecting an app programmer for hire
The resume details of the android or iPhone app developers for hire, must be validated by asking the appropriate questions related to experience and skill set
The Donts,
Avoid compromising on quality while interviewing mobile app developers for hire as your company's credibility and the proprietary mobile applications depend largely on them
Do not recruit a candidate who fails to provide the supporting documents related to educational qualifications or prior experience
Never recruit a person without a work experience for a crucial program or project.
While hiring iPhone app developers or android developers, never recruit candidates with limited knowledge of the mobile technologies and the app deployment mechanism.
Do not consider an iOS or an android app developer for hire if they fail to elaborate on the difference between the operating systems
You must not state your objective as "I need an app developer". Your statement must be "I need a mobile app developer with awareness on Android and iOS technologies, experienced in working with customers and programming related applications".
You must not wrongly state the job role and description to a mobile app programmer for hire as it may lead to dissatisfaction in future
Health and insurance benefits must never be stated incorrectly
Salary negotiation must not be avoided as you may lose out on talents
Never be rude or unprofessional while interviewing candidates.
Also Read: Remote business analyst jobs | Know before you start
How much does it cost to hire an app developer?
For hiring app developers in US, you need to bear a cost of about USD 100 to USD 150 in an hour. In Australia, the charges are USD 110 per hours whereas in UK its USD 70 for an hour. In Eastern Europe and India, the charges are less ranging between USD 25 and USD 50 per hour.
How do I hire an app developer?
Set up the job description from the role of an app developer with the expectations and objectives. The next step is to search for profiles fit for the job role followed by the hiring process through shortlisting and interview. Job boards, community forums and social media platforms are places for you to search and hire an app developer.