Want to hire one of the best SEO experts? Here's a list of top SEO professionals, the skills you must look for, and how to hire them!
SEO or Search engine optimization is a mechanism for ranking your websites high in the search engine algorithm. The crux behind the success is the tactful and intelligent usage of appropriate and meaningful keywords throughout the entire article or content published on the website.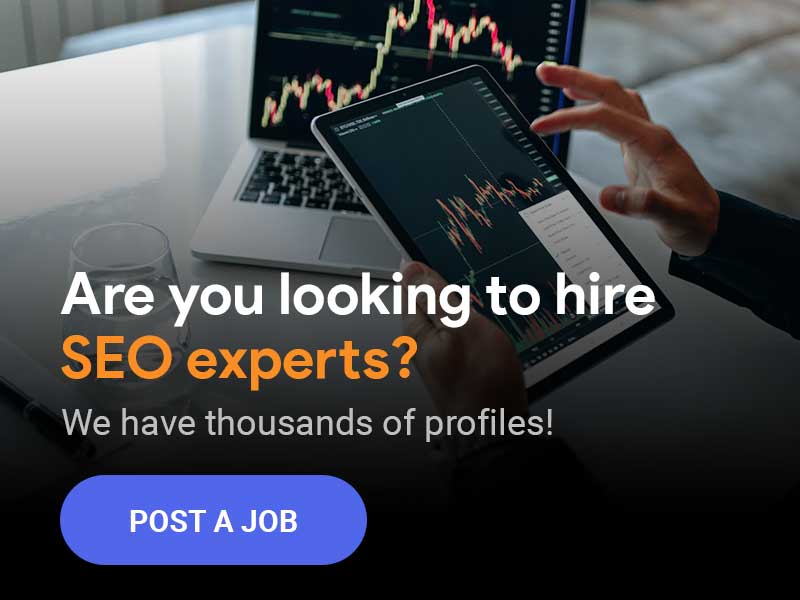 SEO freelancers are experts in achieving the same, prompting companies to hire freelance SEO for optimizing their websites. An SEO expert utilizes various tools and techniques to find out the relevant keywords, placing proper backlinks and other readability aspects of the content like page speed, lazy loading, microdata tagging, etc.
Companies running online businesses or blogs look out for SEO expert services to avail their skill and talent in improvising their websites as well as proper visibility to gain organic traffic.
In this article, we will guide you on how to recruit SEO experts, rates to be offered to a freelance SEO consultant, questions to be asked while hiring a freelance SEO professional, and related topics.
Also Read: Online counselling jobs | Know before you start
Market for freelance SEOs
Though there is no evaluated or analyzed growth rate predicted for SEO freelancer jobs, yet the demand for freelance SEO expert is always on the rise. The main reason being the emergence of online businesses or websites promoting their content on social media for better visibility among its consumers or customers.
The count of jobs is increasing incredibly, thus a substantial rise in SEO specialist jobs. Most of the freelance SEO specialist earn a maximum of USD 5k per month. They offer to provide their freelance SEO services at monthly or hourly rates.
About 41% of SEO specialists are believed to work at multiple pricing models whereas the rest work on either monthly or hourly pricing models. Some even charge their employers price per project.
The average monthly rate of search engine optimization consultants varies between USD 501 and USD 1000 in a month. The hourly rates may vary between USD 100 to USD 150. A local SEO specialist charges less than a global SEO professional.
The hourly rates of a professional SEO consultant are much less in the countries of LATAM and India, being as low as USD 60. Besides, an experienced SEO guy will obviously charge higher than a fresher or a person with 1 to 2 years of experience.
Also Read: Remote scrum master jobs | A how-to guide for beginners
Things to note while hiring freelance SEOs
The process to hire freelance SEO consultants or specialists demands focus and attention. Before you initiate the recruitment activities to hire a search engine optimization expert, you must be acquainted with certain vital points to avoid future disappointments.
Let us try to understand what are the top 10 things to be noted while looking for SEO marketing experts,
SEO cannot be earned in a day or two. It requires months of dedication and effort to rank high on the first page of Google or any other search engine. While hiring SEO freelancers, you must check the patience and focus level of the candidates.
All the keywords cannot be ranked high in the search engines. There are varying results and the search engine specialist you are about to hire must be aware to use the right mix of words.
Search engine optimization specialists are expected to be skilled in analyzing the keywords that are best fit for the business or domain. You must note this particular understanding while recruiting an expert SEO consultant.
The primary responsibility of a search engine optimization specialist is to increase the organic traffic to the websites by tuning the content as well as leveraging the appropriate keywords. Check this quality while hiring SEO professionals for your company.
Once you have hired a SEO marketing expert and the person starts working, it may happen that your website fails sometimes to rank high. Do not consider it as an example of bad or failed recruitment. The ranking does not merely depend on only keywords but on other factors like personalized search etc.
An SEO specialist job is to formulate a strategy to rank the website high by judging the content vis-à-vis the keyword. You must check this aspect while recruiting SEO optimization experts.
A search engine optimization expert will require information from you with regards to the services or products offered, target audience, and even about the domain. You need to enforce constant collaboration between the content owner and the hired search engine marketing expert for better work output
The percentage of organic traffic drawn by search engines varies. For example, Google is the prominent search engine driving traffic more than any other paid advertisements or search engines. Therefore when you hire SEO professionals ensure that they are aware of which search engine to focus on.
Unique content posted in websites drive traffic and lure potential customers too. When you hire SEO experts, ensure they understand the significance and the amount of information to collect from the content owner
Google SEO personnel usually must be proficient in the guidelines set for all websites. These guidelines are vital for positioning your website in their search strategy. Check this particular aspect when you recruit a google SEO consultant.
Also Read: Highest paying Remote jobs | An ultimate read for best results
Qualities of best freelance SEOs
A best SEO consultant is defined to an owner of diverse skills and talents. But as a hiring company or recruiting manager, you need to judge the qualities with efficiency and expertise. Else you may fail to team up top SEO experts in your organization. The key qualities you must seek while hiring search engine optimization experts are illustrated below,
Technical Skills – You must be thinking why does a search engine optimisation consultant needs technical skills. The truth is, it's one of the vital qualities you must look for when you hire SEO consultant. The reason is they must provide you tips on HTML tagging, lazy loading, backlinks, page speed etc.
Analytical Abilities – Registering and logging into Google Analytics or Adobe Analytics are basic functions of search engine optimization professionals. Besides they must understand the importance of business KPIs. Ensure to check out this vital quality when you hire SEO specialist for your company.
Critical Thinking Capabilities – A website SEO consultant must possess capabilities to handle conflicts with content owners and even with customers related to the content acceptability and visibility. It is crucial to judge the quality in a web SEO consultant for better management and planning
Research Mindset – If you desire to be known as a SEO experts company, first and foremost you must ensure your team of search engine specialists are able to search keywords independently. Selecting the right content for your website is another quality you must check while hiring SEO consultant.
Communication Skills – Both verbal and written communication skills need to be verified while hiring the best SEO professional for your company. A SEO person will often need to attend conferences and even write emails to customers or the internal team.
Interpersonal Skills – One of the important soft skills best SEO experts must be equipped with to gain confidence among the team and even with the customers. The key reason behind it is a top SEO consultant needs to constantly interact with content owners, technical developers, and leadership to understand the objective of the content and the target audience.
Understand the Algorithms – Several algorithms determine the effectiveness of a website ranking in the search engine results. Link building, indexing, and crawling, ads, snippets are some of the key success factors. You need to verify the quality when you hire freelance SEO expert in your organization.
Knowledge of the various techniques of SEO – Possessing technical knowledge and applying the right know-how are different ball games altogether. You may tick mark on the technical abilities when you hire SEO developer or consultant, but judge their experience through use case demonstration like on-page SEO, off-page SEO, linking etc.
Measuring the SEO results – Tracking the SEO results and progress is an important task of a SEO technician. Amount of traffic, page ranking, indexed pages, user behavior are the key elements leveraged for measuring SEO results. While hiring SEO experts for your company, do not forget to check this quality.
Handling data in Spreadsheets – Collecting data, analyzing and manipulating them in spreadsheets are one of the key duties of google SEO experts. Check this quality while searching for the best SEO profiles.
Also Read: Work from home government jobs | A priceless list of tips to succeed
Freelance SEOs rate per hour
Awareness of the freelance SEO rates significantly drives a company's hiring process as well as budget estimates and planning. The rates vary for different regions or geographies in the world. In the US the SEO consultant rates are fairly high than in LATAM or India. Let us debug and analyze the region-wise SEO consulting rates per hour for your easy reference.
In the US, the SEO consultant hourly rate is predominantly between USD 101 and USD 150 for almost 36% of SEO professionals. The second highest in the price range of USD 76 and USD 100 for about 21% of SEO people.
In the UK, about 29% of search engine experts charge an hourly rate between USD 76 and USD 100. A significant number of 22% is found to fall in the price bucket of USD 101 and 150 and also between USD 41 and USD 50 per hour.
In Europe majorly in the countries Spain, Italy, France, and Germany, about 36% of search ranking analysts charge a price range between USD 76 and USD 100 per hour. About 22% charge between USD 41 and USD 50 and third in rank about 15% charge at a high price range between USD 101 and USD 150 for an hour.
In LATAM, the rates are between USD 51 and USD 60 for 50% of SEO professionals and less than USD 25 per hour for 50% of the SEO population. In India, the rates are quite low compared to the other regions of the world, less than USD 25 per hour for almost 84% of the SEO consultants.
Also Read: Teacher cover letter | A comprehensive guide for beginners
Places to find best freelance SEOs
By now, we have gained a fair idea of what are the qualities and pre-requisites to be noted to hire SEO freelancer. The next objective as recruiting managers is to find out the places to find the best freelance SEOs. Enlisted below are the job boards, and social media websites to seek top seo consultants,
Upwork – One of the largest job boards to hire freelance SEO consultants. You can search for the top Upwork profiles from the Millions of freelancers and professionals registering their profile on this website.
unremot.com – Enables you to gain access into a global workforce to hire SEO personnel within minutes of search, collaborating through video calls, messaging, and chats.
Indeed – The popular job website containing profiles of a massive pool of freelancers to hire SEO experts through different search criteria and filters.
AngelList – Recommended job board specifically to hire freelance SEO developers and consultants. They support a huge talent pool for recruiting companies to sort and search the best SEO profile.
Fiverr – You can hire SEO services from Fiverr conveniently and collaborate on the rates demanded by the SEO professionals or a SEO servicing company.
ProBlogger – Another popular job board for companies to search for a talented resource pool of freelance SEO specialists.
Craigslist – Great place to hire freelance SEO talent for various positions in your company
Facebook – If you are looking for the best social media platform to find out search ranking analyst Facebook groups are the perfect place for you. You can post your jobs in the groups and even scan through available freelance SEO profiles.
Linkedin – One of the biggest professional networking website connecting companies and interested candidates, ideal to search for SEO experts for hire.
Twitter – You can post your jobs on Twitter using the appropriate hashtags for example #seofreelancers, #seo, etc. Various search marketing expert personnel look for job opportunities in SEO domain.
Also Read: Teacher interview questions | Everything you must know
Steps involved in hiring best freelance SEOs
It is essential to plan out the hiring process for the best SEO expert and follow the sequential steps for seamless execution of the recruitment procedure. In this section, we will discuss elaborately the key steps involved or to be followed to hire freelance SEO experts.
1. Finalize the SEO needs or objectives of your company or business
First and foremost you must decide on the expectations from the search marketing expert. Unless you finalize the objectives, you will not be able to list out the roles required and related job descriptions. Besides, it will help you to determine the salary ranges or the hourly rates to be offered to the desired roles.
2. List out the Interview Questions for the freelance SEO consultant jobs
Determine the qualities and skills to be sought while planning to hire freelance SEO personnel. Carve out the questions on both technical and soft skills for judging the correct team of SEO experts in your organization. You can design a test use case for the candidate to demonstrate his or her SEO skills. It's a proven way to validate the hands-on experience of the individual.
3. Post job opportunities on prominent job boards and social media platforms
Prepare the job profiles of freelance SEO professionals and post the requirements along with the location and the salary ranges. The profiles must be lucrative enough to lure expert SEO candidates and apply for the jobs.
The duties and responsibilities must be clearly stated with no ambiguities. Though some job boards and social media platforms allow collaborations, yet attempt must be to state the facts with clarity.
4. Shortlist the potential candidates
In the job boards, the question you must ask to sort out the prospective SEO profiles is "Display the SEO consultant near me". You will receive the list of freelance SEO professionals near your location, better for easy access and connection. Shortlist them after scrutinizing the experience level, skills, and qualities.
5. Arrange an interview session with the shortlisted candidates
If you are looking for remote professionals for hiring SEO expert, you can plan for video conference calls instead of in-person interview sessions. Ensure the skills and experience mentioned in the resume of the candidates are appropriately verified and validated.
6. Finalize and float the offer letters
Depending on the outcome of the interview sessions to hire SEO expert consultants, finalize the candidates to be recruited in the company. Once the salary or hourly rate negotiations are agreed upon, float the offer letters or the contract agreements.
Also Read: Low stress jobs | A complete guide
Top 20 interview questions to ask while hiring freelance SEOs
Asking the right interview questions while you hire SEO professional is the key success criteria for efficient SEO strategies deployed in your company's website content. Let us elaborately discuss on the top 20 interview questions to hire either a local SEO consultant or freelance SEO consultants from the global resource pool.
1. What are the key elements for SEO that needs focus?
Rationale: Before deep-diving into the SEO key concepts, you must start with an understanding of the basic key elements in the process to hire an seo consultant.
Expected Answer: An expert in SEO must be able to articulate or list down the key elements of SEO like keywords, metadata, link building, quality content, etc. You must check out these elements are correctly mentioned by the candidate
2. How can you measure the success of SEO strategies?
Rationale: The effectiveness of SEO strategies require evaluation as to if they have met the desired objectives else it won't be fruitful to apply them. A search engine optimization seo specialist must be able to measure the success and work on improvising on the strategies.
Expected Answer: If the candidate mentions google analytics, key performance indicators, page traffic insights then you are rest assured the person is fit to work as an independent SEO consultant
3. Which SEO tools have you used in your prior engagements?
Rationale: SEO optimization tools offered by different companies like Yoast, Moz, Semrush etc. assist in providing suggestions on SEO and curating the best ways to gain traffic. A top SEO consultant must be aware of them and their usage.
Expected Answer: If the candidate is able to explain how he or she has used the tools with clear examples then you can tick mark the efficiency of the candidate and go ahead in confirming the recruitment.
4. How do you perform keyword research?
Rationale: Google keyword planner is the best tool available in the market for keyword research. In a SEO hire process, the candidate must be able to demonstrate the usage of the tool with examples
Expected Answer: You must verify whether the candidate is able to explain clearly the research process as well as the strategy to be adopted to decide on the keywords. For example usage of long phrases as keywords, the competitiveness of the keywords, etc.
5. What do you understand by Link Building and its benefits?
Rationale: Search engines like Google check whether your website is being referenced by external websites through backlinks. This increases your webpage ranking and searches visibility. An expert in SEO must be fluent in the concept and its usage.
Expected Answer: If the candidate is an expert search engine optimization personnel then he or she will accurately describe the process of link building and how it can increase webpage visibility. You must mandatorily check this ability before confirming the candidate.
6. Define Page speed and its importance
Rationale: If your webpage load time is slow, readers or customers will lose patience and may tend to avoid visiting your website. Page speed is the concept used for the same. An expert SEO for hire must be aware of the factors that contribute to the increase or decrease of page speed.
Expected Answer: If the candidate is able to elaborate in detail about compression, reduction in image sizes, browser caching, server response time, code optimization as some of the key techniques to achieve the desired page speed, you can safely consider for recruitment.
7. State the difference between do-follow and no-follow and their significance
Rationale: Search engines crawl through all the links and ranks them. But sometimes you may not want a particular web page or post link to be ranked, the no-follow attribute assists in achieving the same. Rest all possess do-follow attributes.
Expected Answer: In the process to hire freelance SEO analysts, check whether the candidate is able to specify the difference clearly. You may ask for examples for better clarification on the person's experience level.
8. What is on-page SEO and what is off-page SEO?
Rationale: A SEO specialist must be aware of the factors that can be controlled i.e. the on-page SEO elements and improvised. And the factors that are external and out of control or off-page SEO.
Expected Answer: Ensure that the candidate mentions backlinks as off-page SEO key elements and keywords, internal linking, page speed etc as the elements of on-page SEO.
9. Do you understand the difference between SEO and SEM?
Rationale: Since SEO is free and SEM is paid, a SEO freelancer USA, Europe or from any other Asian countries must be conversant of their significance.
Expected Answer: The candidate must be able to provide examples of SEM as pay-per-click advertising, display of purchased ads and examples of SEO as page ranking, the importance of keywords, lazy loading, etc.
10. What trainings or learning courses have you undergone to increase your competency level?
Rationale: The field of SEO is evolving constantly, new techniques are being discovered to handle the changing algorithms of search engines. You must verify the continuous learning abilities of the candidates.
Expected Answer: If the candidate can elaborate on the SEO certifications undergone and state the future plans for training, you can confidently rely on the learning spree of the person. Besides, if he or she speaks about attending learning courses then it's a boon.
11. What kind of analytics you generally perform and what are the key parameters to check?
Rationale: It is very important to leverage the analytics tools example Google Analytics to gain insights into the SEO visibility and optimization results. A SEO specialist must evolve and improve the strategies based on the results.
Expected Answer: You must check whether the candidate can elaborate usage of google analytics tools with examples or use cases. Also the person must mention the improvements chalked out after verifying the results.
12. Are you aware of the canonical issue?
Rationale: Canonical issue occurs when Google encounters duplicate content and penalizes the website for doing so. It must be mitigated and eliminated as fast as possible.
Expected Answer: If the candidate specifies the understanding of the concept of canonical issue, then half of your answer is correct. Next, if the SEO professional mentions referencing a canonical tag to redirect search engines to the master copy of the webpage, then you can tick as 100% answered.
13. What are accelerated mobile pages or AMP?
Rationale: Many users prefer reading content on their mobile devices. AMP assists in loading webpages faster in mobile devices with good readability.
Expected Answer: You must check whether the candidate is aware of the concept of AMP, the plugins that are related to AMP, and how the AMP can be set up for the webpage.
14. What are the common SEO mistakes you must necessarily avoid?
Rationale: This particular question is applicable for experienced consultants who have executed multiple and complex SEO projects. This will help you to judge their experience level as well as decision abilities.
Expected Answer: There is no fixed answer to expect from the candidate. The probable answers are mentioning about the incorrect usage of keywords, neglecting google analytics insights, ignoring page speed etc.
15. Mention what do you understand by Page rank.
Rationale: Page rank determines the richness of your SEO strategies to appear high above in the search engine results. These are the key criteria for SEO success.
Expected Answer: Page rank definition is comparatively easy to state. But most importantly you must check whether the candidate is able to explain what determines the page rank like quality content, backlinks, internal links etc.
16. Why should you opt for content marketing in our SEO strategy?
Rationale: Content marketing is one of the key success criteria for SEO. A SEO specialist must be aware of its significance and usage via blogs, podcasts, ebooks, videos etc to build up backlinks and audience.
Expected Answer: It is better to ask the candidates to state their experience their usage of content marketing and how it had improved the SEO optimization results. The answer will help to substantiate the hands-on experience.
17. Describe your approach in devising the SEO strategy for your firm
Rationale: If you are looking for top 10 SEO experts for your company, you need to mandatorily verify the SEO strategies curated by each of them and the results for the same. The question is vital to understand the credibility, experience level and expertise.
Expected Answer: The experts must be able to articulate clearly the key considerations and scope ring-fenced while creating the SEO strategies like the content genre, target audience, reach expected etc. And additionally must mention the results achieved through both qualitative and quantitative benefits.
18. Do you think internal links are important and why?
Rationale: Internal links are vital to enable crawling of the search engines to the various content in your website. This is an important consideration for SEO optimization, hence its awareness is crucial.
Expected Answer: The candidate must able to state the definition of internal links as linkage to a different post or page in your website. Additionally must be able to relate its importance to SEO optimization.
What is Domain Authority or DA?
Rationale: Moz provides a score to your website depending on the search engine results and the ranking. This score is named as DA, very common in the SEO world, judging the age of the website and the quality of the website.
Expected Answer: Other than answering the definition of DA, the candidate must showcase his or her personal analysis on the range of DA scores good for a website and how it can be improved through backlinks, traffic, and internal links.
20. Which of the following best describes the role of an seo specialist? (a) keyword research (b) frame SEO strategies (c) optimize the web pages (d) link building both outbound and internal
Rationale: Unless a candidate understands the role of a seo specialist, its completely irrelevant to hire the person. Therefore last but not least, it is one of the important interview questions to be included in your list while you hire freelance SEO specialists.
Expected Answer: If the candidate is smart enough to say all the options are applicable and add more roles to your list, you can be sure you have the right candidate at your doorstep.
Also Read: How to find a job | Know before you start
Top 10 tools to use while hiring freelance SEOs
While hiring freelance SEOs, you must ensure you possess the right recruitment tools or methodologies. The tools are commonly used by recruiting firms or hiring managers in almost all disciplines of work and have proven to be very effective.
Illustrated below are top 10 tools to use while hiring freelance SEOs, for your reference and usage,
Job Boards – Numerous job websites are available in internal hosting job opportunities for freelance SEO roles for example Indeed.com, Unremot.com, Upwork etc. You can post your requirements in the job boards as well as search for relevant profiles.
Assessment tools – Conducting Aptitude tests in written or online mode to judge the candidate's basic IQ level, personality and behavioural characteristics, is the vital part of any hiring process. Tools used are mainly Pymetrics, HackerRank etc.
Artificial Intelligence and Chatbots – Trending digital tools to shortlist candidates, analyze the information submitted by them and also enable virtual chat or messaging for collaboration. Typical tools used are Zoom.ai, Textio, Ideal etc.
Social Media Platforms – Linkedin, Facebook, Twitter, Reddit etc are powerful social media platforms for hunting the right talent for Freelance SEO developers and analysts. You can post your requirements as well as search for potential profiles.
Tracking system for applications – A portal is essential to track the applications received from candidates, along with basic data collection. You can use the tracking system for the end to end hire process and can even screen out candidates not adhering to the mandatory requirements for the role.
Recruitment Portal or Tools – Constant communication and collaboration between the candidate and the HR department is essential with regards to exchange of required documents or salary negotiations. Recruitment tools or a portal is useful for example Yello, SmashFly, Avature etc.
Audio and Video Conferencing Tools – In the world of remote and freelance working, possessing audio and video conferencing tools and software is mandatory to conduct interviews with the candidates. Examples can be Zoom, GoogleMeet, Microsoft Teams etc.
Tools to aid advertisements – Mentioning the right content and phrases for advertising your company's job roles in different job boards and social media platforms is vital. Else candidates may not apply for the roles. Tools like Textio assist in creating the right content for job advertisements.
Onboarding tools – Once a person is recruited, the onboarding process is initiated for induction into the company's payroll and culture. Initial training, employee id generation, payroll initiation, triggering of employee benefits, finalization of the SEO projects and supervisor need to be tracked to closure. Usage of tools like Click Boarding, Applicantstack, BambooHr etc. are effective in smooth execution of the activities.
Background Check Tools – The tools are super-efficient in verifying the profile by checking criminal records, past experience, educational qualifications etc. For example GoodHire, Intelifi, Sterling etc.
Also Read: Best online gradebooks | A how-to guide for beginners
Dos and donts while hiring freelance SEOs
It is vital for all recruiting firms and hiring managers to be aware of the Dos and donts while hiring freelance SEO experts. This will prevent deployment of inefficient SEO consultants in your organization, thus protecting the integrity and credibility of the company.
The Dos,
Check on the SEO technical skills focusing specifically on use case demonstration
Verify the soft skills too since the SEO consultants need to collaborate with both internal and external stakeholders
State properly the expectations from the job roles without any ambiguity
Recruit a person with excellent verbal and written communication skills
Hire candidates who are backed by good references and strong credibility
State the vision and objective of your company to the candidate, especially focusing on the expectations from the candidate
Verify the prior roles and experience of the candidates by deliberating on topics of the duties performed by them
Conduct a thorough background check for security verification
Video or in person interview must be the norm for selecting candidates
The resume details must be validated by asking the appropriate questions related to experience and skill set
The Donts,
Never offer incompatible hourly rates to freelance SEO specialists as it disrupt the reputation of the company
Avoid compromising on quality while interviewing candidates as SEO specialists as your website credibility depends largely on them
Do not recruit a candidate who fails to provide the supporting documents related to educational qualifications or prior experience
It is advisable not to hire SEO consultants who cannot measure the SEO results and insights offered by the SEO tools
Never recruit a person without a work experience for a crucial program or project.
You must avoid hiring a person with limited ideas of the SEO optimization techniques as it may jeopardize your project.
You must not wrongly state the job role and description as it may lead to dissatisfaction in future
Health and insurance benefits must never be stated incorrectly
Salary negotiation must not be avoided as you may lose out on talents
Never be rude or unprofessional while interviewing candidates.
Also Read: Sociology jobs | An ultimate read for best results
How do I hire a SEO freelancer?
When you hire freelance SEO specialists, you must firstly be confident on your expectations from the role. The expectations must be clearly specified in the job description as well as to the candidates appearing for the interview. The next step is to search for profiles fit for the job and conduct the hiring process through shortlisting and interview. Job boards, social media platforms are the right place for you to search SEO freelancer profiles.
How do I choose SEO for Google?
While selecting the SEO strategies for Google, first identify the target audience. Leverage Google Keyword planner to search and select the keywords to be used. Ensure the content is rich in quality and relevance. Ensure internal and outbound links are embedded into the content. The size of images must be optimized and page loading performance must be checked too.