Hiring video editors? Hire from top 25 video editors at best prices – dedicated project managers, assured delivery – 100% money-back guarantee!
Editors are part of the post-production team. They utilize raw video footage, sounds, and graphics to tell a story. Hiring video editors can save a production team time as they the expertise to edit videos faster.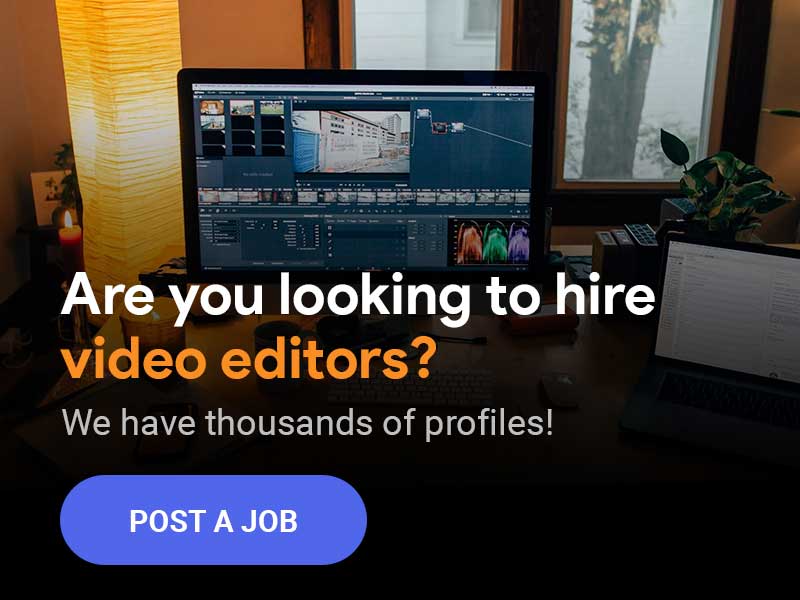 Video production editing can prove to be more expensive as the production house will have to pay overheads, administrative, and training costs. It is just not production houses that hire video editors, Youtube artists are hiring youtube video editors to help their videos look more professional. You may need to hire video editors for,
Commercials
Corporate training videos
Feature films
Music videos
Documentaries
Tutorials
Also Read: How to find a job | Know before you start
Market for video editors
According to the US Bureau of Labor Statistics, there were 67,900 video-editors in 2019. According to projections, it will increase by 18% by 2029. The projected growth rate is faster compared to other professionals.
Experts have attributed the growth to the growth of internet-only platforms. The internet as an entertainment source started with Youtube It was the platform where video content could be uploaded and shared.
Today streaming service providers such as Netflix and Amazon Prime give access to their programs and movies along with existing content. Netflix alone has over 2 million subscribers in the US. The freelance video editor rates have gone up, the average freelance video editor rates in 2018 were $25.64/hour, presently video editing costs per hour are $39/hour.
The prospects video editor profession is very bright. Companies are willing to pay higher wages to tap the best video talent. The film and video editing business are around New York, California, Los Angeles, and Florida.
Also Read: Low stress jobs | A complete guide
Things to note while hiring video editors    
Before hiring a video editor, you must verify their experience and view their portfolio. Hiring a video editor who is not suited for the project could ruin the movie and distort the message.
Before you hire a video editor, you need to know what you need. E.g. You may need a graphics video editor or a youTube video editor.
You should check the portfolio of the video production editor to ascertain the quality of their work. Four important aspects to look for are sound, image, transition, and overall style. Ensure their editing style is similar to what you want.
They need to know how to use different video-editing software. The candidates should be well versed in using the latest video editing software in the market. They should have a strong computer network at their workplace.
Have a single communication point with the video editor. While discussions with team members are essential. Instructions should go from a single source.
Discuss the workflow of your organization. How will the footage be sent? How many hours of footage will you be sending?
The video editor should be able to work independently and well under pressure.
A freelance editor needs to open to re-editing the work. You need to be clear about things you like and things you want to be changed.
Also Read: Teacher interview questions | Everything you must know
Qualities of best video editors
While looking for a video editor freelancer, you need to examine the video editor's portfolio, and you will get an idea of their skill set. Finding the best professional video editors is a combination of their skills and their video editing hourly rate. Here are qualities you need to look looking for,
Excellent communication skills and storyboard skills – A good video editor will need to communicate with different team members. They need to ensure the project turns out as envisioned. Decisions are made in a collaborative environment. They need to understand the story and how to enhance it.
Ability to work under pressure – Video editors often have to work in a time crunch. An editor should be able to perform well under pressure.
Excellent time management skill – Freelance video editors often handle multiple projects simultaneously. The editor needs to get the job done quickly and accurately.
Versatile – You may be looking to hire a YouTube video editor or a video editor for your commercial. Try looking for an editor who can work with audio, creating LUDs, color grades, visual effects, and other post-production areas.
Expertise in using video editing software – When you hire a video editor, you need to ensure they know how to use various video editing applications such as Adobe Premium Pro, After Effects, etc.
Also Read: Teacher cover letter | A comprehensive guide for beginners
Video editor rate per hour
A freelance video editor salary is $57,284/year. The salary ranges from $29,000/year and can go up to $88,000. Cheap video editors can charge as little as $13/hour. The freelance video editing rates in different parts of the US are,
Freelance video editor NYC = $55-$59/hour
Freelance video editor California = $35-$44/hour
Freelance video editor Los Angles = $36.01/hour
Most video editing professionals work for 8 to 10 hours.
Places to find best video editors
Various websites will help you find video editing professionals. In case you prefer to work with local video editors. You can use search phrases such as "video editing companies near me" or "video editing near me", or "video editing services near me" on your search engine.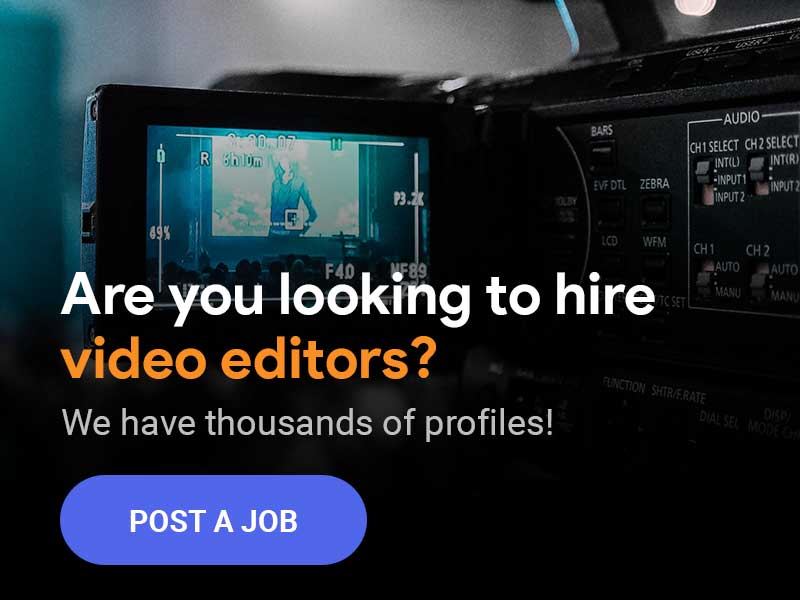 The search engine will direct you to local companies or freelancers who offer the service. If you do not have geographical constraints, using job board websites will give you access to a larger talent pool. Some of the best websites to hire a video editor are,
Upwork is one of the most popular sites to find video editors for hire.
PeoplePerHour can help you find a video freelancer. Once you post a project you will get several candidates.
unremote.com gives you access to a large talent pool of freelance video editors. Unremote is geared to help you hire video editors, based on your requirements.
ProductionHub is said to be a leading job site for media production. It is a great resource to hire a youtube video editor or find adobe video editors.
Fiverr is an ideal resource for hiring a video editor.
Viedit is a freelance video editor website. You can check the portfolio before hiring a video editor.
Behance is a platform for artists to showcase their work. The website has an extensive list of video editors for hire.
Videopixie is a website dedicated to video production professionals.
Mandy is an online database for video production and job services.
Simply hired is one of the most comprehensive job board websites.
Also Read: Work from home government jobs | A priceless list of tips to succeed
Steps involved in hiring best video editors
Before you sign a video editor contract with the freelancers, there are several steps you need to follow. It can seem daunting and overwhelming. Breaking down the tasks into small achievable steps will make the job seem less complicated.
Write down the job description for the video editor. What skills are you looking for? Writing down a detailed job description will help remove ambiguity when you have discussions. Have an idea of the present how much does video editing costs in your area.
Prepare a budget for post-production. Video editor, video editing services rates can vary widely. You need to be aware of how much you are willing to pay. Location and experience play a role in the rates. You should have an idea of the length of the raw footage before you interview candidates.
Post your job on various job boards, there are general freelancer board and sites that are specifically for video production personnel. The job posting must contain a detailed job description.
Search for video editor candidates on these portals. You should need to analyze their experience and technical skills.
Shortlist candidates after viewing their profiles.
Schedule interview with the shortlisted candidates, view their portfolios to determine the quality of their work. The interview process can be for multiple rounds.
Negotiate the video editing service rates.
Sign the video editing contract mentioning the video editor price rates.
Also Read: Highest paying Remote jobs | An ultimate read for best results
Top 10 interview questions to ask while hiring video editors
Whether you are hiring a youtube video editor or film video editor, you need to select the best person for the job. Here are some questions you can ask during the interview,
1. What specific duties have you performed in the role of a video editor?
Rationale: helps to determine if the candidate has an understanding of the required roles and responsibilities.
Sample Answer: As a video editor, I usually meet the director to understand their requirements and project goals. I review the raw footage to determine the shot list. I trim the footage, insert dialogues and music. Special effects are added as per the demand of the script. One of my main responsibilities in any project is to ensure the final product follows a smooth logical sequence.
2. If you get a 1-hour video that you need to edit to 30 minutes immediately. How would you handle it?
Rationale: Help you determine the candidate can work under pressure
Sample Answer: It is not possible to edit 1 hour to 30 minutes. To complete the task, I would do a rough cut using fast forward. I am sure the work would have errors.
3. What video editing software do you have experience with?
Rationale: A professional video editor should be using robust video editing solutions.
Sample Answer: I use Adobe Premiere Pro for 5 years and have been using Final Cut Pro X for 3 years.
4. Which editing tip is both real and important?
Rationale: The question helps you gauge the understanding of the editing process.
Sample Answer: Make sure the music levels are adjusted during the video so that audiences can hear dialogues or voice over.
5. Can you tell us about your video editing experience?
Rationale: This will help you view to understand if the editor will be able to handle the scope of the project.
Sample Answer:: The candidate should be able to show you a short portfolio of their work. Maybe they will show some raw footage with the final result.
6. What is your expectation from directors and other people you work with within the studio?
Rationale: Film production is a collaborative process. Editors need to communicate with different stakeholders.
Sample Answer: It is important to have an open discussion with the director. I need to understand their expectations and deadlines in the project.
7. Describe a time when you struggled to meet a deadline?
Rationale: Meeting deadlines is a big problem in the film industry. The answer lets you know how they will work under pressure.
Sample Answer: When there is a deadline to be met I am not averse to working hard. I prioritize my work and concentrate on one particular project. I worked for 14 hours a day for a week and was able to meet the deadline.
8. What is the one skill you depend on while working as a video editor?
Rationale: Help you determine what skills the video editor thinks are relevant.
Sample Answer: As a freelance video editor, I have excellent time management skills. I can handle multiple projects without it affecting the quality of my work.
9. How do you keep yourself updated?
Rationale: Technology is always evolving it is important for a video editor should keep themselves updated with the latest.
Sample Answer: I think it is important to constantly try to upgrade your knowledge. I take relevant courses to ensure I remain updated on modern editing techniques.
10. What are your 5-year plans?
Rationale: This will give an insight into the candidate's hopes and aspirations. You can determine how your project will help the candidate achieve their goal.
Sample Answer: My long-term plans are to edit a Hollywood movie.
Also Read: Remote scrum master jobs | A how-to guide for beginners
Top 10 tools to use while hiring video editors 
Hiring video editors can be tedious. But thanks to technology the process has become much easier. The tools used while hiring video editors are,
Job board – there are several job boards where you can post requirements. The websites allow you to view candidate profiles. We have already mentioned some of the best profiles to view candidate profiles. Upwork, PeopleforHire, and Unremote are some of the job boards you can work with.
Recruitment marketing system – Recruitment marketing software will help you attract the best candidate for the job.
Application tracking system – The application tracking system can help recruiters streamline your recruitment process. ATS software is particularly useful when you are hiring multiple candidates. The ATS software can crawl through resumes and help you shortlist candidates. Jobvite and Betterteams are some of the more popular application tracking systems in the market.
Social Media – Social media is an effective tool to find the best candidate. Twitter, Facebook, and LinkedIn are commonly used platforms.
Cloud – In many cases, candidates are asked to edit raw video in a stipulated time frame. The data exchange can take place in the cloud. There are several cloud-application software such as Dropbox or Google Drive you can use.
Video conferencing tools – Video conferencing tools are a potent medium to correspond with an interviewee. It helps to cut through the distance and make face-to-face conversations possible. There are several video conferencing tools you can use such as Zoom, Skype, and Google Meets.
Chatbots – Chatbots is a simple program that performs simple tasks and responses. It can respond to potential candidates during off-hours. Ideal, Jobpal is some of the chatbots you can use.
Candidate relationship Management Software (CRM software) – CRM software helps to improve applicant engagement and experience during the recruitment process. It helps you to build a relationship with the recruit before you hire them. Smashfly and Aventure are a few of the CRM software available in the market.
Background check software – Background check software tools help you carry out criminal background checks on potential candidates. Accurate Check, Sociable is some of the tools you can use.
Onboarding tools – Onboarding tools help to integrate a new team member successfully with the team. Vultus Connect is a popular onboarding tool.
Also Read: Online counselling jobs | Know before you start
Dos and donts while hiring video editors
While hiring a remote video editor here are some dos and don't that may help,
Seek a candidate with a mix of technical and soft skills
View the candidate's portfolio for his editing skills. Questions during the interview can be based on the portfolio and fact written on a freelance video editor's resume
The candidate should be able to relate to your vision of the project. Have a precise idea about your goals for the vide
Hire candidates after you check their references
Have an interview either via video-conferencing or person
Ensure the professional video editor is using licensed software
The freelance video editor rates should be in-line with the market rate
Ensure there is clear contact between both parties
A non-disclosure clause in the contract
Treat the candidate with professional courtesy
Donts list is below,
The price should not be the only criteria for selection. You need to select the freelance video editing candidate who will be able to deliver.
Don't select candidates who do have a portfolio of work.
The candidate cannot substantiate what is written in their resume.
It is unadvisable to hire someone who has not edited your genre of filming.
Don't rush the editing process. Editing is a painstaking process that takes time.
Don't give unclear audio or video recordings to the video editor.
Don't work with a candidate who does not give a source file. You should insist you need the source files and project file so that you can make modifications later.
Don't negotiate too hard.
Don't deviate from the negotiated terms.
Don't attribute the video editor work to someone else.
Also Read: Remote dispatcher jobs | A complete guide
What does a freelance video editor do?
A freelance video editor converts raw film material into a compelling finished product. They combine graphics, audio, and special effects and ensure the final product has a clear narrative.
How much do editors charge per video?
The freelance video editor's hourly rate can differ depending on their years of experience and location, video editing rates range from $75 to $150/hr. Various parameters determine video editor cost such as,
How many days will the project take to complete?
Video editing ratios for a 2 to 5 minutes marketing video production ranges from 5:1 to 25:1.
2 hours of source recording edited down to 3 minutes of marketing videos with an average of 10 cuts per finish minute. A 34 hours video will cost $3400 to $4250/hour.