Hiring a logo designer? Need to know how and where to find the best candidates? Here is a comprehensive guide to finding the best logo designers. Read on!
What is a logo and what is the logo design scope of work?
Before we embark on acquainting with the methods and techniques to be leveraged when you hire logo designer, let us first clarify the above two questions.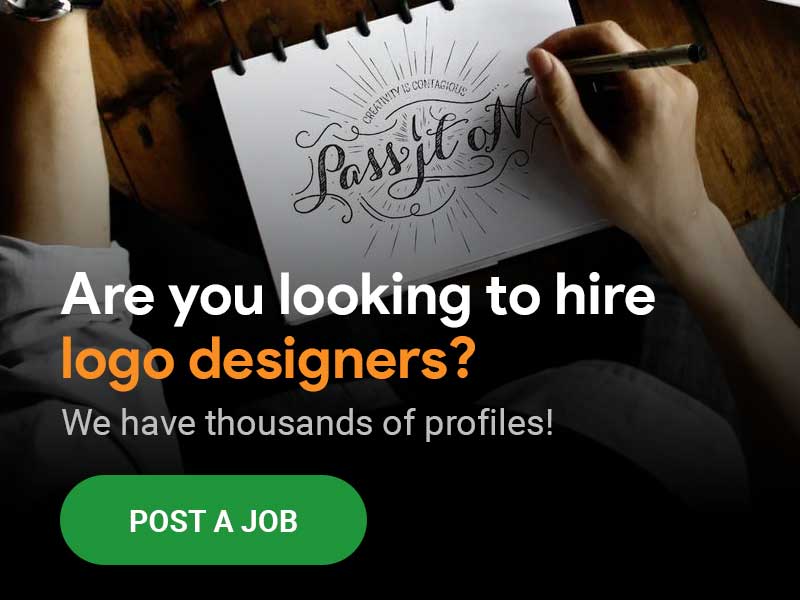 A logo identifies the brand or symbol of a company's product or service. Designing a logo and determining logo descriptions fall under the purview of freelance writer logo specialists or designers.
Companies or entrepreneurs provide the logo design request to the freelancers or design firms and expect the creation of a logo replicating the brand name of the organization in the market.
To ensure the hired logo designers are the best and top-rated, recruiting companies must be aware of where to search for the best place to get a logo designed and the pre-requisites for the same.
There are several logo design bidding freelance sites where you can ask candidates to bid on logo design. Besides you can search through forums, job boards for suitable profiles for logo designing.
Also Read: Hire UI Designer | A complete guide
Market for freelance logo designer
As per the study and analysis were done by the US Bureau of Labor Statistics, the growth rate of logo designers will not change between 2014 and 2024. It will remain constant at 2% to 4% growth, especially due to the advent of digital technologies replacing manual intervention.
Another hindrance to the job of logo design is the free online logos offered by many websites and companies. The average salary of a freelance logo designer is said to be approximately 50K per annum, which can rise up to USD 85K, or can go as low as USD 30K in a year.
However, the demand for logo designers will not decline since there are a lot many firms or websites being created for conducting online businesses. These organizations require logos, which are unique and help them to stand ahead of the competition in the market.
Hiring professional logo design experts to increase their chances to bring up a highly sophisticated logo symbolizing the brand and creating a significant awareness in the market.
Also Read: Dispatcher interview questions | A priceless list of tips to succeed
Things to note while hiring logo designer
Before you hire logo designer, it is important to understand a few key things or pre-requisites. In this section, we will discuss the top 10 things to note for hiring logo designer,
Verify the past experience of the freelance logo designers. The roles performed by the candidate must be in sync with your expectations
Check the innovative capability of the candidate while hiring the best logo designers.
Seek a work sample for example a logo of a company or a brand designed by the candidate to check the competency
Connect with the references mentioned in the resume when you decide to hire a logo designer
Verify the domain knowledge of the freelance logo designer related to your company brand
Set the expectations to the logo artists for hire before sending out the offer letter
While recruiting logo freelancers, face to face interactions or video call is essential
Check the trending logo designer freelance rates and offer the salary in similar lines
Scan through social media handles of the logo artists for hire and blog forums too
Validate the time management abilities while hiring logo designer for your company
Also Read: Video editor interview questions | A comprehensive guide for beginners
Qualifications of best logo designers
While hiring the top logo designer for your company, it is vital to verify and validate the educational qualifications. The list of valid degrees for professional logo designers is,
Associate degree in graphic designing or similar field
Bachelor's Degree in graphic designing or similar field
Master's Degree in graphic designing
Please note: Logo Designing is a subcategory of graphic designing. Unless a candidate had a degree in graphic design, you must not select for hiring as logodesigners. Besides, if the logo designer for hire possesses a degree in psychology it's an added boon.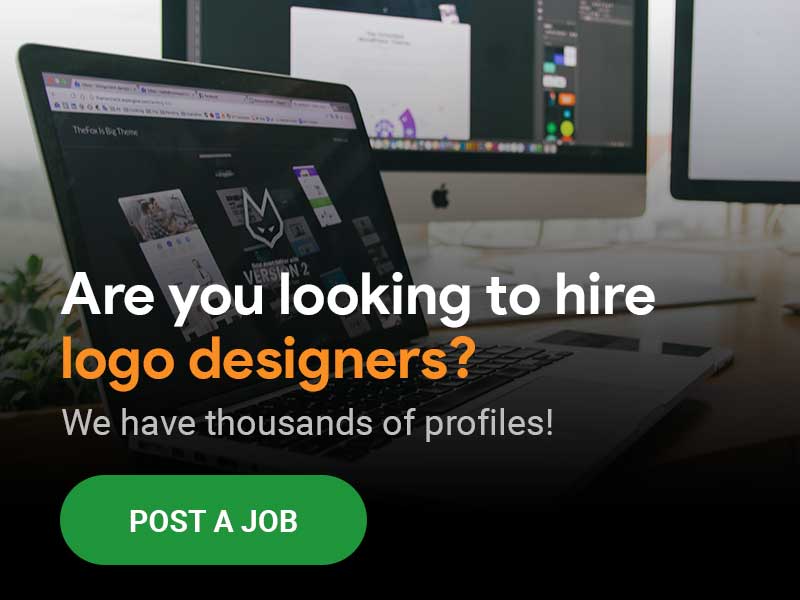 Here are the top US schools and universities which provides degrees and learning courses for logo consultants,
The University of Pennsylvania, located in Philadelphia, has a Fine Arts department
The University of Florida has a department for the School of art and art history
Boston University has a department for fine arts offering both BFA and MFA in graphic design that includes logos as well
Carnegie Mellon University offers 8 courses for best graphic design jobs in its school of graphic design including logo designing
The University of Miami in Florida has a department for art and art history
Rhode Island School of design requires a freelance graphic designer logo portfolio submission
Rochester Institute of Technology has a department for Imaging arts and sciences.
Maryland Institute College of Art has a department for graphic design
The University of Minnesota providing undergraduate and graduate courses for a designer profile
Yale University provided a program for art graphic design
Also Read: Animation interview questions | Everything you must know
Skills and qualities to look for in logo designer
Hiring best graphic designers demand verification of both technical and soft skills. Here is a list of the top skills to be validated while hiring a graphic designer,
Proficiency in freelance logo design tools like Adobe Illustrator, Adobe CS, Logo maker, Laughingbird, Logo Design Studio Pro, etc.
Expertise in leveraging MS office product suite, HTML and Adobe Creative Suite
Must possess basic knowledge of typography in determining the spacing, layouts, fonts, etc.
Past experience of executing similar projects as freelancing logo designer
Educational qualifications especially a Bachelor's Degree in professional graphics design including logos
Excellent written and verbal communication skills
Planning and organizing skills for timely delivery of best new logo designs or any other project freelancer logo assignments
The freelancers logo design specialists mainly work in remote locations at their homes or co-working space. They must be capable to handle the majority of their work independently.
Check whether the freelancer logo design person for hire is able to interact comfortably and easily leveraging the audio and video conferencing tools.
A freelancer logo designer must be aware of the latest trends and developments in logo designing
Also Read: Illustration interview questions | A complete guide
Certifications to look for in logo designer
Over and above the regular educational qualifications there are certain certifications or courses that you need to check for graphic artist logo design specialists. Enlisted below are the key certifications to check-in logo freelance specialist candidates,
LogoCore Masterclass for beginners and intermediate level. The course fee is between USD 72 and USD 320 with a total duration of 15 to 20 hours
Coursera offers a specialization course for freelance logos designing. The First 7 days of the course is free and later the charges are USD 49 per month for a duration of 6 months
Udemy course on Logo Design Masterclass with 13 sections and 85 lectures for USD 10 for a duration of 8 to 15 hours
LinkedIn Learning courses for freelance graphic designer logos at a price of USD 59 per month with 1 to 2 hours duration video
Skillshare offers short duration classes assisting those who are pursuing logo design career with a minimalistic fee of USD 10 to USD 20 per month
CreativeLive offers courses on freelance logo design pricing at USD 39 or USD 25 month for a one-year subscription
Futur provides a course on freelancer logos design and construction, pricing at USD 149 with 6 modules
Udemy course on expert logo design in Adobe Illustrator offered free of cost for a duration of 8 hours
Also Read: Health coach interview questions | Know before you start
Logo designer rate per hour
When you outsource logo design to a freelancer or any company, it is essential to be aware of the logo design pricing freelance charges. Depending on educational qualifications, skill set, and work experience logo design rates or salary varies.
In the US, the hourly rate for junior freelancers logo designers varies between USD 28 and USD 30. The hourly wage for mid-level designers logo freelancer varies between USD 35 and USD 45. Whereas rates of a senior professional lie in the range of USD 45 to USD 60 per hour.
In the UK, junior-level logo designer rates vary between USD 25 and USD 34 per hour. The hourly rate of middle-level logo designer is between USD 35 and USD 47. And for seniors, the rates are as high as USD 69 per hour.
If you are looking for cheap logo designers, then the countries of India and the Asian countries are the best option. The hourly rate for logo designer at junior level varies between USD 9 and USD 15. Whereas for seniors the rates can go up to USD 50 per hour.
Also Read: Teacher interview questions | A how-to guide for beginners
Places to find best logo designer
"How to find a logo designer" and "Where to find logo designers for my company?" – Two very common questions of companies who want to hire someone to make a logo. Here are the top 10 places to search for best logo designers,
Upwork, a popular job board in the world, which has 30,000 profiles listed for logo design outsource work and freelance job.
unremot.com, a comprehensive website to search when you need best logo design service and specialists
Freelancer to find logo designers for hire from their huge profile list
Fiverr to bid on logo design freelance expert and pay for the service
99designs, a platform where you can submit projects and select the top logo designer with the desired pitch
Toptal, assists in selecting the best logo designers freelance as per your logo designer job description
Guru, where you can hire a logo designer by searching through profiles or submit job opportunities
PeoplePerHour, a website where you need to submit the project details. You can hire top designer logo specialists whose quote is acceptable.
Dribble comprises of a team who helps you to find logo designers by matching your project requirements with the registered profiles
5dollarslogo, a website where you can opt for logo design 5 dollars per piece, designed by professional experts. They provide highly rated logos exclusively designed for the companies placing their demands.
Also Read: Hire Android developers | Everything you must know
Top 10 companies hiring logo designer and salaries
In this section, we will discuss the companies or firms hiring logo designers and the approximate salaries offered by them.
The Banana Republic in San Francisco, California, offering USD 29K to USD 110K per annum salaries depending on the experience level
Dipsea, a start-up company in the US. It offers a yearly salary ranging between USD 29K to USD 88K
Franklin Covey Careers in Salt Lake City, Utah. The yearly salary varies between USD 28K to USD 64K
Soundstripe in Nashville, US, is a content technology company. The remuneration ranges from USD 30K to USD 130K per year
Tapestry, a leading design firm in New York. Salary offered approximately varying between USD 32K and USD 100K per annum
EnVeritas Group in Greenville is a content marketing agency. Salary varies between USD 31K to USD 88K per year
Deloitte, a leading consulting and advisory services firm in the US. The average salary offered by the company varies between USD 40K to USD 150K per annum
Newell Brands in Kalamazoo, US. The yearly salary typically is between USD 27K and USD 81K
Google, world-famous multinational technology firm of the US. The salaries are in the range of USD 50K to USD 1.1L per year
Apple, a leading multinational technology company in the US. It offers salaries ranging from USD 52K to USD 120K per year.
Also Read: Hire front end developers | Know before you start
Steps involved in hiring best logo designer
Now when you have understood how much to pay someone to make a logo and how to hire graphic designer for logo. The next task is to understand the key steps to be followed when you need a logo designer.
Write out the Job description with clear duties and responsibilities and expectations before initiating the process of hiring logo designers.
Prepare the interview questions and answers, focusing on both technical and soft skills when you need logo designer
Fix the average freelance logo design online rates, depending on the roles, mode of employment, location, and years of experience.
Post your job listings on the websites to hire logo designer mentioning the job description, the expected salary, location, and mode of employment.
Scan through profiles in the job boards and websites to outsource logo design or to find logo designer
Shortlist the logo design freelance candidates after viewing their resume, analyzing their experience and expertise and appropriateness for the roles
Schedule an interview with the shortlisted candidates, comprising of both technical and managerial or HR evaluation
Finalize the candidates to be recruited and circulate the offer letter. And yes do not forget to get the contract agreement signed.
Also Read: Hire PHP Developers | A priceless list of tips to succeed
Top 10 interview questions for logo designer
Listing down the interview questions when you hire logo designer is vital to judging the credibility and ability of the candidate. Enlisted below are some of the key questions for your reference:
1. Why have you selected logo designing as your career?
Rationale: To check the sincerity of the candidate towards the profession.
Expected Answer: Ensure the candidate is dedicated to his or her job and tasks and is eager for future growth in career
2. What are the major steps in your design strategy?
Rationale: Illustrates the past experience and knowledge level of the candidate
Expected Answer: If the candidate specifies about understanding the objectives and problems, and data collection, you can tick mark the person
3. Which are the collaboration techniques adopted while working with developers, copywriters, project managers, etc.
Rationale: Assists in understanding the interpersonal skills of the candidate
Expected Answer: Check if the candidate is able to elaborate by showcasing examples and past experiences to be suitable for recruitment
4. How do you design a new logo for a company?
Rationale: To check whether they can align a company's brand visibility with the logo design.
Expected Answer: If the candidate mentions understanding the company's brand, potential customers, and sync up the logo with them, you can consider the response as correct.
5. What are your key considerations of working remotely?
Rationale: This Will showcase whether the candidate can work independently.
Expected Answer: The candidate must be able to demonstrate about the collaboration techniques and remote communication mechanism to be considered for the recruitment
6. How do you measure the performance of your design?
Rationale: Important question to judge the candidate's credibility in measuring the success and seek improvements in the design
Expected Answer: Check whether the candidate is focusing on user feedback, click-throughs or conversion rates for measuring the performance.
7. Elaborate an example where the timelines were aggressive and how did you meet the deadline
Rationale: To check the tenacity and potential of the candidate to work under pressure and meet deadlines
Expected Answer: The candidate must demonstrate with an example highlighting the sequence of activities performed for you to consider for the hire.
8. Describe a scenario where you had to face tough criticism for your design and how did you handle it?
Rationale: To check the ability of the candidate to resolve design issues with ease and comfort.
Expected Answer: Try to understand if the candidate's answer showcases the capability to handle constructive criticism and resolve the problems.
9. Which tools have you used for logo designing?
Rationale: This will help you to judge which tools the candidate is comfortable with and have leveraged in logo designing.
Expected Answer: Tools like Adobe Illustrator, Adobe CS, Logo maker, Laughingbird, Logo Design Studio Pro, etc.
10. Will you be able to create a logo without any documented specifications from the customer?
Rationale: To check the capability of the candidate to handle unplanned activities with sharpness and using intellectual skills.
Expected Answer: The candidate must talk about asking questions to gather data and information from the customer for creating the logo design.
Also Read: Hiring video editors | A comprehensive guide for beginners
Top 10 tools to use while hiring logo designer
When you hire logo designer for your company, very important success criteria is to understand the tools that must be leveraged for recruitment.
Job Boards – You can post your logo design description job requirements on the job boards like Indeed.com, Unremot.com, Upwork, Flex Jobs, etc.
Assessment tools – Utilize assessment tools like Pymetrics, HackerRank, etc. for conducting aptitude tests
Artificial Intelligence and Chatbots – Use digital like Zoom.ai, Textio, Ideal etc. to shortlist candidates via analysis and data collection.
Social Media Platforms – LinkedIn, Facebook, Twitter, Reddit etc. are powerful social media platforms to find a logo designer.
Tracking system for applications – Use a tracking system to track the applications received from candidates, screening out candidates and other processes.
Recruitment Portal or Tools – Leverage recruitment tools like Yello, SmashFly, Avature etc for communication and collaboration with the candidates.
Audio and Video Conferencing Tools – Utilize audio and video conferencing tools like Zoom, GoogleMeet, Microsoft Teams etc. to conduct interviews when you hire logo designer.
Tools to aid advertisements – Leverage tools like Textio to assist in creating the right content for job advertisements.
Onboarding tools – Use tools like Click Boarding, Applicantstack, BambooHr etc. for conducting the onboarding process.
Background Check Tools – Tools like GoodHire, Intelifi, Sterling etc. help in background checks of the candidate.
Also Read: Hiring freelance SEOs | Everything you must know
Dos and donts while hiring logo designer
Listed below are the dos and donts for logo design freelance hire process.
The Dos,
Check the capability of the candidate in using Adobe Illustrator, Adobe CS, Logo maker, Laughingbird, Logo Design Studio Pro etc. tools for freelance logo design
Verify the soft skills of the candidate
State concisely and clearly the job expectations to the candidate
Recruit a person with excellent verbal and written communication skills
Hire candidates who are backed by good references and strong credibility
State the vision and objective of your company to the candidate
Verify the prior roles and experience of the candidates
Conduct a thorough background check for security verification
Video or in person interview must be the norm for selecting candidates
The resume details must be validated by asking the appropriate questions
The Donts,
Never offer incompatible hourly rates to the candidate
Avoid compromising quality on graphic designer for logo
Do not recruit a candidate who fails to provide the relevant supporting documents
Never recruit a person without a credible prior work experience
You must not wrongly state the job role and description as it may lead to dissatisfaction in future
Health and insurance benefits must never be stated incorrectly
Salary negotiation must not be avoided as you may lose out on talents
Never be rude or unprofessional while interviewing candidates.
Do not miss out on checking the sample logo descriptions designed by the candidates in prior engagements
Do not forget to check out the innovative mindset and creative thinking abilities of the logo freelance professionals
Also Read: Hire mobile app developers | A complete guide
How much does it cost to hire a logo designer?
The average hourly rate of a logo designer approximately ranges between USD 28 to USD 60. It depends on the years of experience, skillset, educational qualifications, and countries. In the US, UK, and European countries, the rates are comparatively higher. Whereas in the Asian countries with the same skill set, the rates are low almost USD 10 to USD 20 per hour.
How do I hire freelance logo designer?
First and foremost you must decide the job description and the expectations from the logo designer. Second, you must sort out the questions to be asked to the candidate. The third is to post job opportunities on different job boards or search for prospective profiles. Shortlist candidates for the interview and once selected negotiate the salary and float the offer letters